Abdul Rahim Aama- Makers of Indian Literature
$2100

$21.00
Tax included.
Shipping
calculated at checkout.
---
---
Book Specification
| | |
| --- | --- |
| Item Code: | UAM220 |
| Author: | Marghoob Banihali |
| Publisher: | SAHITYA AKADEMI, DELHI |
| Language: | English |
| Edition: | 2021 |
| ISBN: | 9789391017019 |
| Pages: | 62 |
| Cover: | PAPERBACK |
| Other Details | 8.50 X 5.50 inch |
| Weight | 120 gm |
Book Description
About The Book
Abdul Rahim Aama (1839-1914) was the first major Kashmiri poet in the vast region of Kashmiri speaking people in the Jammu province. Abdul Raheem Aama gives an impression of having mastered every prevalent literary genre. As a Naat composing poet he has taken forward the custom of his great predecessor and Persian poet Maulana Ahmad ullah Banhali. In his Munajats and Manqabats he presents the pain and pangs of getting blind due to smallpox right from the age of twenty one years, unpremeditatedly. By translating a major portion of the Shahnameh by the national poet of Iran Abul-Qasem Ferdowsi Tusi and the romantic mathnavis he creates a memorable masterpiece in the shape of 'Gulbadan'. A comparison with Maqbool Shah Kralwari's Gulrez, gives a proof of the acumen that this physically blind poet had, having an inner spiritual vision and spirituality. Margoob Banihali through this otherwise brief monograph has brought to limelight this significant poet who has stayed in oblivion for a long time.
About the Author
Marghoob Banihali (1937-2021): An eminent Kashmiri writer. His contribution to Kashmiri literature is well-acknowledged. His major works include his poetry collections, Partavistan, Tajalistan, Deedman, Khasehsan, Illa-Bisultan, Chiragan and Deedvar-Kiya-Yatsan besides other books Ikhlakiyat-e- Marghoob, Kashmir Shinasai, Ruma Reshun Aaie, Qadeem Keashur, Kalam-e-Iqbal ke sarchashmay and Kashmir Across Pirpanchal. His outstanding contributions include development of Marghoob Theory-20 guidelines for improvement of existing Kashmiri Script and Spellings of polyglot vocabulary. His literary awards include, the Sahitya Akademí Award (1978), J&K Governments State Award (2007), President of India Award as an outstanding Scholar of Persian (2007), besides many others.
Mohammad Zahid (b. 1977) is a poet and translator from Kashmir. He has translated two volumes of Kashmiri Zuban and Shayiri by Abdul Ahad Azad, a landmark literary work, from Kashmiri to English, published by the Academy of Art Culture and Languages, J&K, and Aan e Khane by Aziz Hajini to English published by the Sahitya Akademi. He is a translation editor for Kashmiri at Muse India and Lakeview International Journal of Literature and Arts. His maiden poetry collection The Pheromone Trail bagged the Best Book Award from the Academy of Art Culture and Languages, J&K (2015).
Foreword
The names of many significant poets of Kashmir were in oblivion till T the sixth decade of the twentieth century. Towards the end of this decade, in 1960 CE, the second volume of Abdul Ahad Azad's Kashmiri Language and Poetry was published. In this volume biographies and poetic specimens of sixty one poets were presented in a very fine manner. Following this Kashmiri speaking writers in Kashmir and Jammu kept on adding such introductory series intermittently. This brought to the fore certain individual research monographs in addition to some descriptive items, for example Autar Krishan Kaul's The History of Kashmiri Literature, Moti Lal Saqi's Gashir, and The Histories and Accounts Kashmiri Literature, published by the Department of Kashmiri, University of Kashmir, wherein besides other poets Abdul Rahim Aama was also introduced to some extent. But my brief write up that had appeared in the Sheeraza twenty seven years ago in 1971 was made the centre point of his every introduction. Since then many poetry loving friends kept requesting me to shed light in detail on Abdul Rahim Aama and his invaluable poetic treasure. Particularly, in respect of response to Gulrez, the masterpiece mathnavi of Kashmiri language through his own mathnavi, Gulbadan. And also as to how prior to Abdul Wahab Hajini, what sort of poetic translation of Iran's national poet Firdousi, was done by Aama. Thanks to the Almighty, it was through the request by the Sahitya Akademi, that I got the opportunity to fulfill the demand of my poetry loving friends. Although a brief introductory work (monograph) does not provide enough space for discussions in great detail.
**Contents and Sample Pages**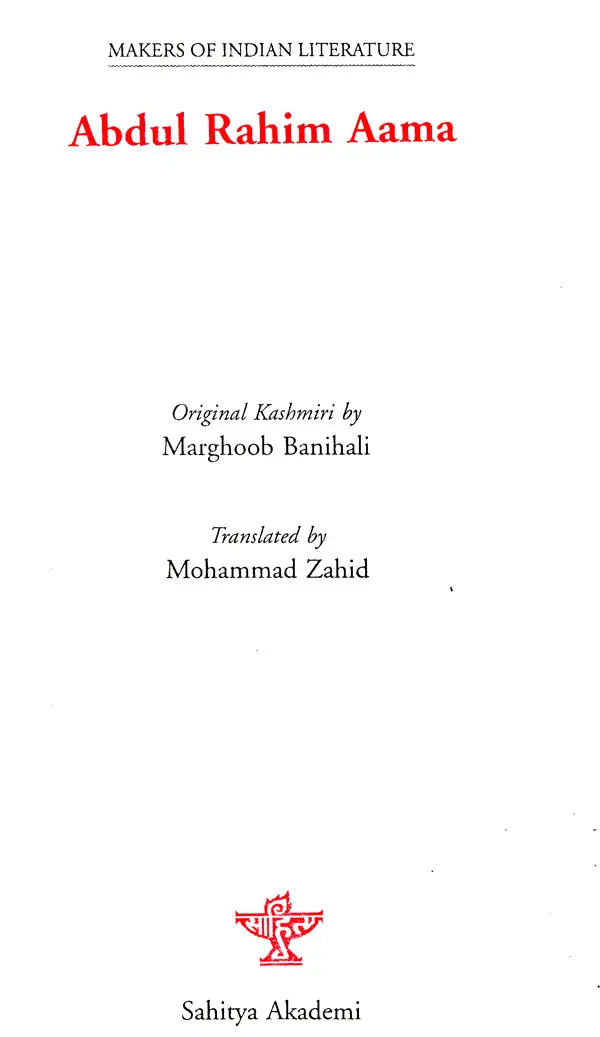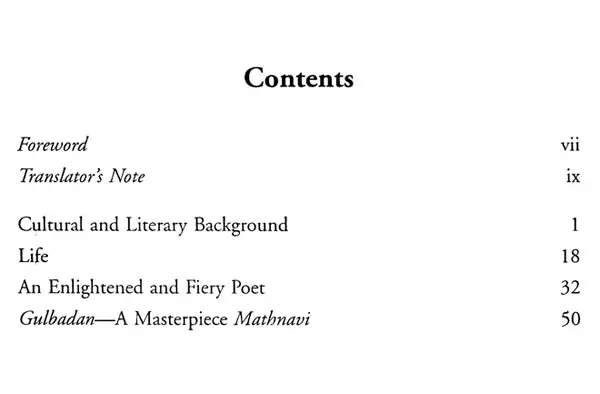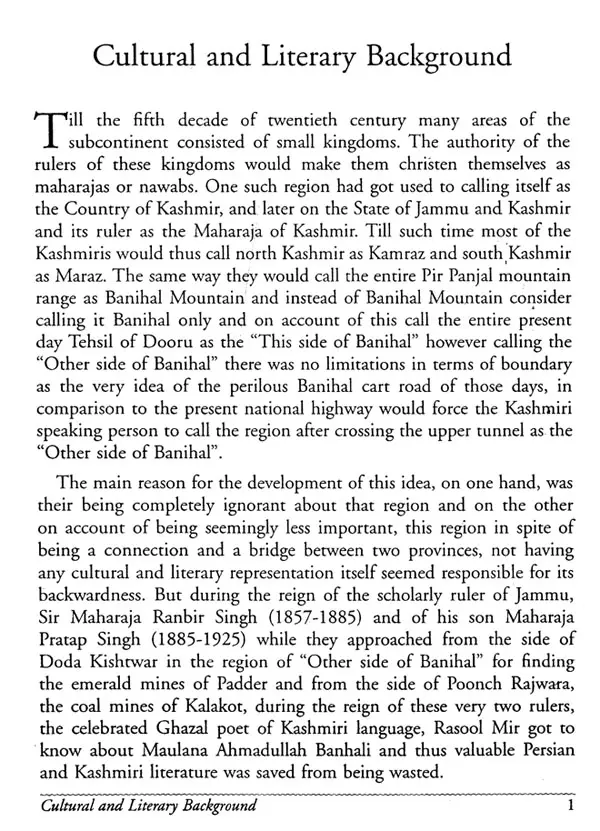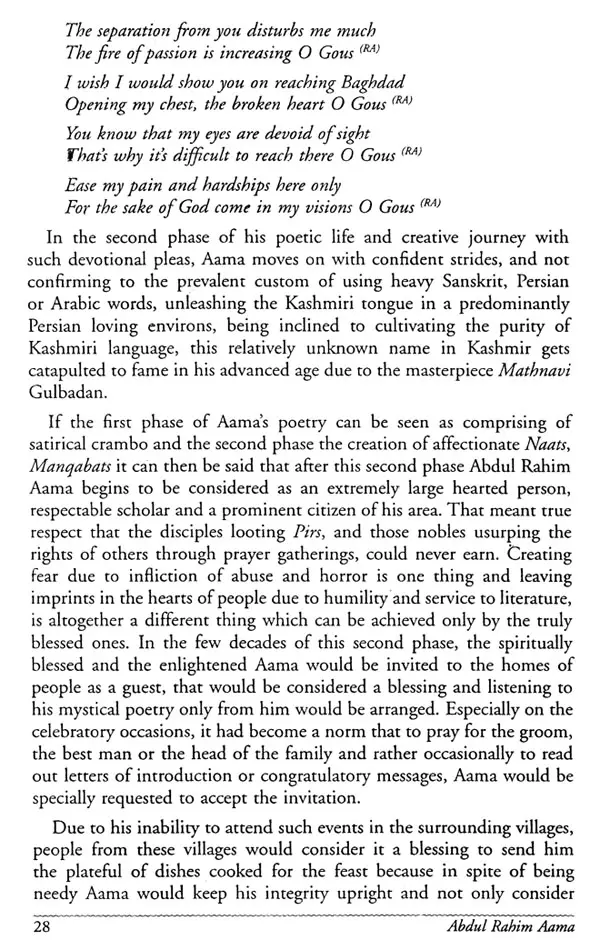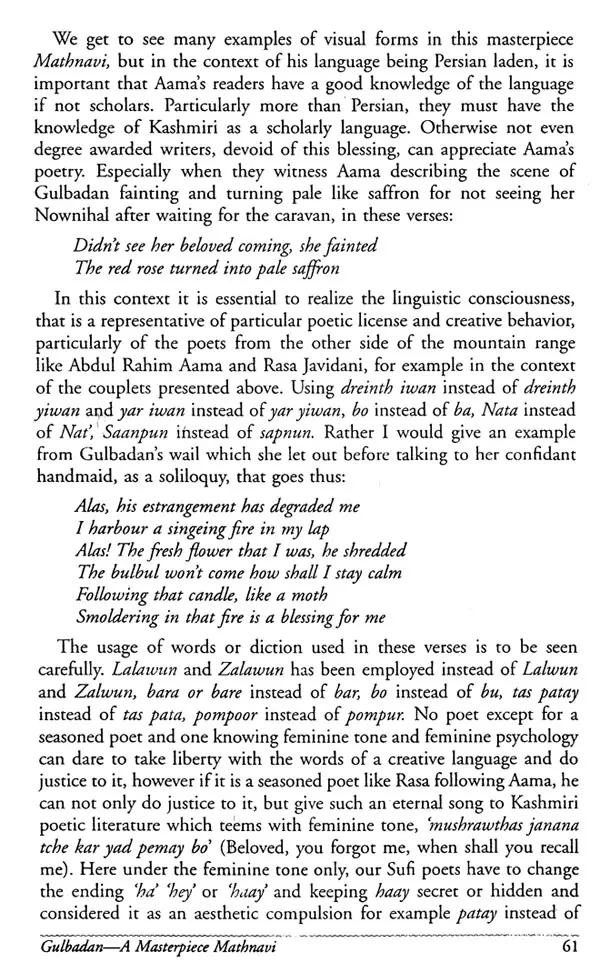 ---
We Also Recommend