Annamayya and Purandaradasa
$2000

$20.00
Tax included.
Shipping
calculated at checkout.
---
---
Book Specification
| | |
| --- | --- |
| Item Code: | NAX130 |
| Author: | G.S. Mohan |
| Publisher: | Dravidian University Campus |
| Language: | English |
| Edition: | 2012 |
| ISBN: | 9789381112304 |
| Pages: | 72 |
| Cover: | PAPERBACK |
| Other Details | 7.00 X 5.00 inch |
| Weight | 80 gm |
Book Description
Foreword
That the foundations of Indian culture were deeply embedded in Dravidian culture is now an incontro-vertible fact. Dravidian culture is one of the most ancient cultures of the world. Those cultures, slightly contemporaneous to one another, slowly started fading out. However, the primordial Dravidian culture continues to thrive without losing its quintessence despite the apparent changes in systems of dress and address.
Dravidian University was established in 1997 to mirror the real and rich picture of Dravidian culture not only in its linguistic, literary, cultural and philosophical facets but in science and technological angles also.
The main objectives of Dravidian University are to augment the common weal and social well-being of the communities of marginal languages and to build bridges among the Southern states. While working on each language separately in varied areas, it aims at a synthesis and a discovery of the common heritage through Comparative Studies. The Centre for Publications and Extension Services is most significant wing of the University because of its several on-going progressive activities.
Annamacharya lived between 1420 A.D. and 1503 A.D. He is known as "Padakavithapitamha'. Annamacharya composed 32, 000 songs, which were classified into Adhyatma sankeertanalu and Sringara sankeertanalu. Annamacharya was the first to preach the surrender of self through his songs. Annamacharya's command over Telugu remains inimitable and unsurpassed. The spiritual values of his compositions is unfathomably profound. Annamacharya's passion for celebrating the glory of the Lord remains eternally inspiring to devotees of all times and climes.
Annamacharya was the founder of Sankeertana literature in Telugu which paved way for Purandaradasa in Kannada. Many similarities can be traced in the Keertanas of Annamayya and .Purandaradasa. The compositions of Annamayya and Purandaradasa were influenced by folk literature to a great extent. They cast an indelible spell on the masses. The words of Purandaradasa are not merely lyrics extrolling the glory of the Lord, he has encapsulated the quint essence of Upanishads in his songs. The poetic talent of Purandaradasa is multidimensional. The present work deals with the life histories of Annamayya and Purandaradasa and with their songs.
I congratulate Prof. GS. Mohan, a well known folklorist and Translator in Telugu and Kannada for writing such a pioneering book, which will be very useful for the student scholarls who are pursing a comparative study of Annamayya and Purandaradasa.
Preface
Talapaka poets were a distinguished family of poets, music composers and scholars in Sanskrit and Telugu in the 15" and 16" centuries. They popularized the Srivaishnava faith in Andhra. Talapaka Annamacharya (Annamayya) (1408 — 1503), the most distinguished among them had composed 32,000 songs, which are classified into Adhyatma Sankeertanalu and Sringara Sankeertanalu. These songs engaged the attention of masses and came in handy for them to reflect and express their cultural aspirations, philosophical introspections and joys of life.
A Contemporary of Annamayya, Purandaradasa (1484-1565) stands on a par with him in Kannada Literature. It is said that Annamayya and Purandaradasa met at Tirumala. Purandaradasa was young the Annamayya was quite old by then.
The Hardidasas were constituted by Vyasakuta and Dasakuta and Dasakuta began with Purandaradasa and that tradition became popular and continued through the centuries. It is said Purandaradasa composed 4,79,000 padas in his life "ime.
Annamayya and Purandaradasa have significant place in he Telugu and Kannada literary and music fields. Annamayya is known as 'Padakaritha pithamaha', 'Panchagama Sarvabhowma' where as Purandaradasa is 'Karnataka Sangeetha pithamaha'. We find many similarities in their Sankeertanas. These Sankeertanas are useful in tracing the Karnatakandhra cultural heritage of Vijayanagar dynasty. The oresent work deals with the life histories of Annamayya and Purandaradasa and their songs.
I extend my sincere thanks to Prof. K. Sarvothama Rao, Tirupathi for his valuable suggestions. I also thank Prof. Ramesh, retired principal of National College, Jayanagar, Bangalore, Smt. Girija, Prof. of P.E.S. College, Bangalore and my neiceV. Manjula who have gone through this monograph and made corrections.
My special thanks to the authors of several English, Telugu and Kannada works, who have indirectly helped me in bringing out this work. I have freely refined to the sporadic material produced by experts and critics of Keertana Sahitya. I have also incorporated the original translations of Annamayya and Purandaradasa Keertanas from the works of Adapa Ramakrishna Rao, Dr. M.V. Krishna Rao, R. Bharadwaj and K. Narasimha Murthy etc., and I humbly acknowledge them with sincere thanks.
Last but not the least, I should express my gratitude to Prof. K. Rathnaiah, Vice-Chancellor of Dravidian University, Prof. P. Adinarayana Reddy, Registrar.
I am also grateful to Prof. D.V. Sravana Kumar, Director, Prasaaraanga, who has encouraged me to publish this work through Prasaaraanga, Dravidian University. My thanks to Dr. V. Gopal, Asst. Director and Sri Venkata Swamy, Smt. S. Hemalatha and Dr. P. Murali Krishna Reddy, Prasaaraanga.
I dedicate this work to the lotus feet of Lord Venkateswara.
**Contents and Sample Pages**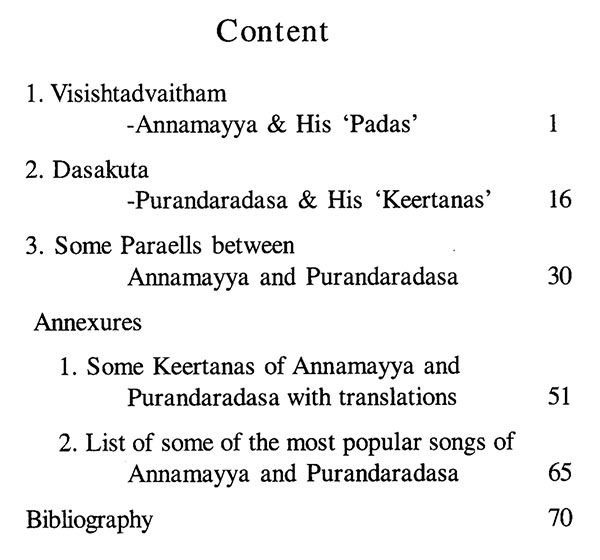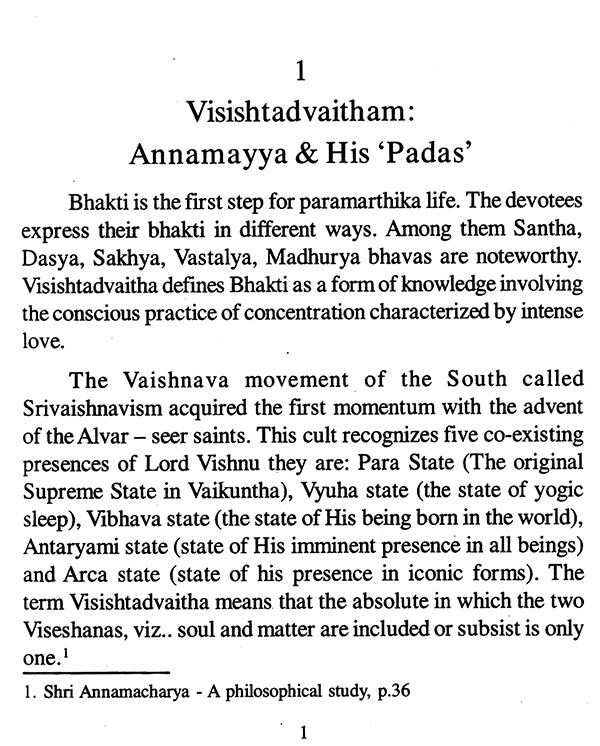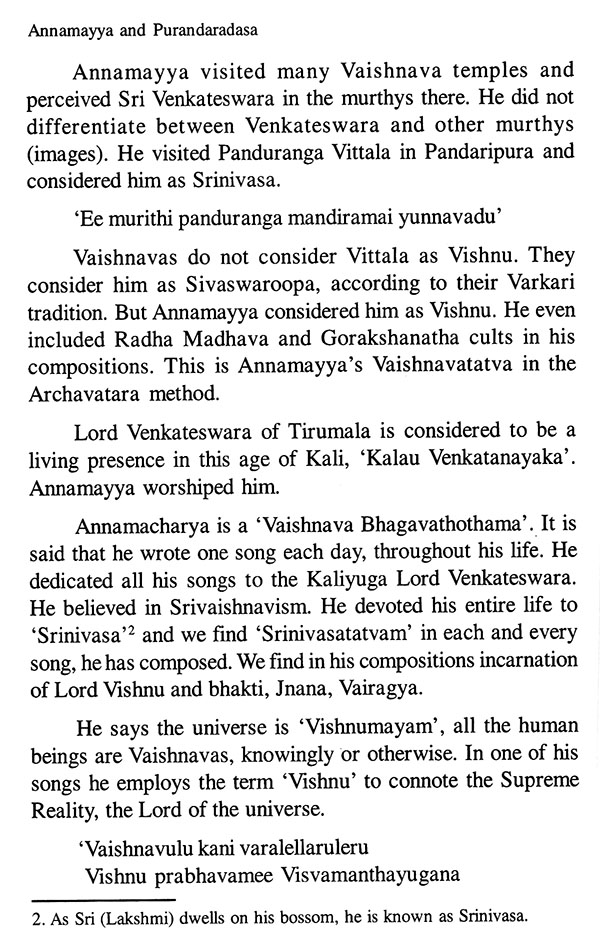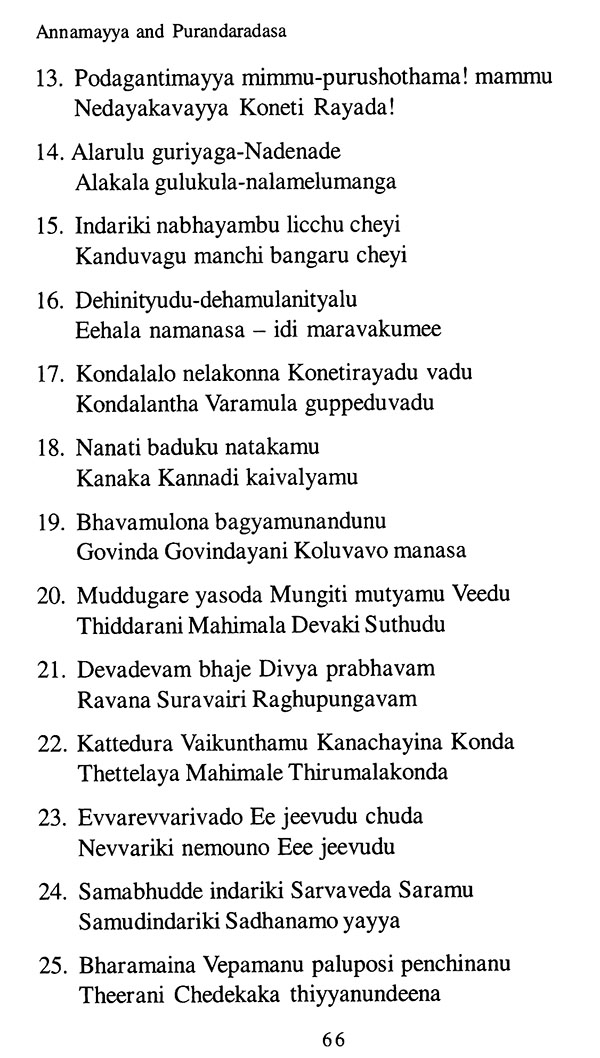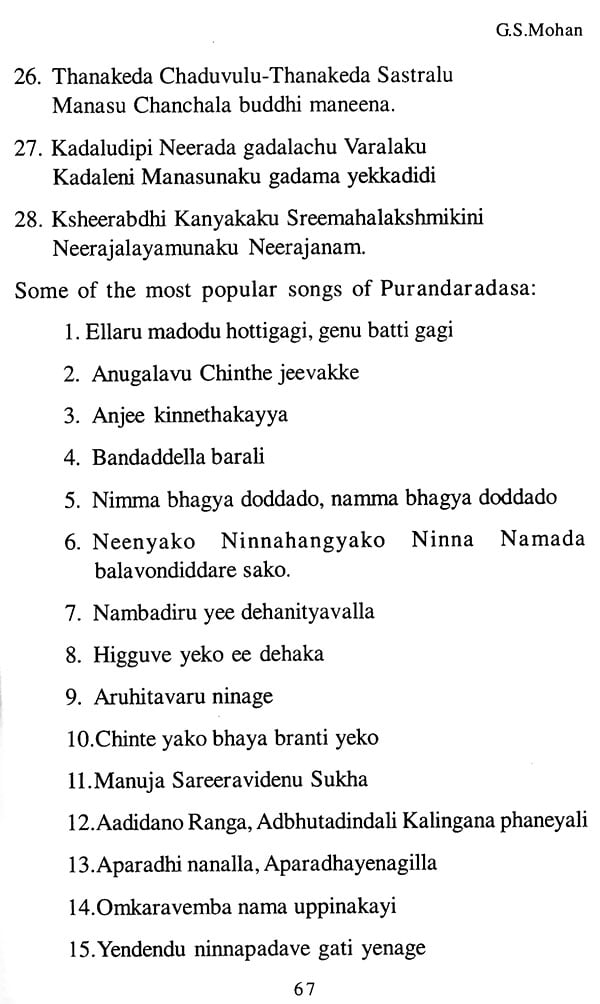 ---
We Also Recommend