Applied Yoga
$3300

$33.00
Tax included.
Shipping
calculated at checkout.
---
---
Book Specification
Book Description
About the Author
Dr. Manohar Laxman Gharote, M.A., M.Ed. (Phy.), Ph.D., D.Y.P., born on 21st May 1931 is the Principal, G.S. College of Yoga and Cultural Synthesis, Kaivalyadhama, Lonavla. He has worked in the field of scientific, literary and therapeutic research and training for over 25 years. He has worked on number of Government and University Yoga Committees. Extensively traveled the world over and participated in International and National conferences. He has contributed several research papers on scientific and literary aspects of Yoga and has been author or co-author of a number of popular Yoga books, important ones are: Guidelines for Yogic Practices, Art of Survival, Gheranda Samhita and Brihadyogi-yajnavalkaya-smriti (English translation).
Preface
The condition of modern life offers us much less, in spite of our material wealth, than it did to the previous generations. We suffer from the modern disease-stress; stress created by selfishness, competitiveness, acquisitiveness and insensitivity to the destruction of our human relations and environment. As a result we suffer from all sorts of physical and mental illnesses, which even our modern schools of medical science cannot alleviate. Instead, many people are turning to a far older tradition, a tradition that appears to be steeped in religion and mystery, but in fact, is much more pragmatic in its application to our everyday lives than it would first appear. While it is true that the purpose of yoga is spiritual unity, we cannot ignore the fact of its greatest benefits for many people on a much more earthly plane.
Twentieth century living has no place for asceticism, yet we may be more in need of periods of regeneration than our ancestors were. We no longer adhere to natural cycles of rest and work, eating and sleeping. We are governed more by our appetites than our common sense. The process of earning a living and/or raising a family in the midst of noise and air pollution, under the constant threat of numerous disasters-both natural and man-made has made keeping our physical and mental health a precarious business. In such conditions, many people have come to realize the value of yoga as a practical method of improving not only their state of health, but the quality of their lives.
But in spite of its growing popularity, there is still a certain mystique about yoga and this has led to some confusion about its various aspects and their practices. Rather than simply explaining yoga as a theoretical or philosophical system, I have attempted to show how practical it is in its application to each and every aspect of life, beginning from the most fundamentally personal to the social and educational implications of society as whole, rather like the process of yoga itself, which sprouts like a tiny seed, spreading its roots downwards for stability, pushing it's way up into the light and exploding in all its beauty into the world a fully realized part of nature.
There are many people practicing yoga today who are still unclear about the relevance of certain aspects of yoga. Much of the confusion has arisen from the very age of yoga. Its origins are lost in time, so that though we may be clear about the essence, that is, the purpose of yoga and its underlying concept, we may yet be very hazy about just what to do when and under which circumstances. This is largely due to the fact that yoga was originally an ascetic practice undertaken by a few religiously inclined people who retired from everyday life to contemplate its meaning. The realizations these ancient sages experienced from the backbone of our present day wisdom. No matter how times and lifestyle change, the soundness of their judgment in matters relating to life and conduct is still relevant. Furthermore, even though our attitude to the nature of yoga itself may be different form those through whom it originally evolved, its wisdom still applies: as long as man lives it will be human nature of strive for knowledge about the human conditions, to banish ignorance and live a better, more fulfilling life.
Through yoga, any person, man, woman or child, old or young, infirm or healthy, can apply himself/herself to the task and experience the sublime peace of the ancient yogis without retiring to cave or forest. Yoga has something to offer everyone and however little you are able to do, provided you practice sincerely and diligently, you cannot fail to get results.
In this book, I have attempted to show that what 'Applied Yoga' means, how effective it is in many life situations, regardless of our handicaps, be they financial, physical or psychological. In short, I have shown what the modern world has to gain from this ancient science for, despite our advances in medicine and technology, we still suffer from many ills. But through yoga, we can bring ourselves back to health and harmony. By simply applying ourselves to yoga we can discover the riches, success and happiness that has been the secret of this ancient science for thousands of years but still has a message that applies to the modern age.
This book is an outcome of the series of discourses given at the Seminars of Yoga, which were organized by International Center for the Advancement of Research and Education at Villa Era, Vigliano Biellesse, Italy in the summer of 1981. There has been a consistent demand by the students of Yoga for publishing these discourses in the form of a book. Dr.(Mrs.) Maureen Lickhart Sandhu, Ravi Varma Press, Malavli (India) was particularly helpful in giving the present form to the discourse for which I am grateful to her. My thanks are due to Giorgio Barabino, Secretary General I. C.A.R.E. who was mainly responsible for organizing the Seminars at Villa Era, which formed the source for this book. I thank Dr. M.N. Palsane who read the text meticulously and made useful suggestions for improvement. I am indebted to Swami Digambarji, the Director of Kaivalyadhama for his constant encouragement and to Shri O.P. Tiwariji for bringing out this publication.
Contents
| | | |
| --- | --- | --- |
| | | Page |
| Preface | | v |
| Illustrations | | vii |
| PART 1 | The Background | 1 |
| Chapter One | The Concept of Yoga | 3 |
| Chapter Two | Integration: The Purpose of Yoga | 7 |
| PART 2 | The Practices | 11 |
| Chapter Three | Yamas and Niyamas | 13 |
| Chapter Four | Asanas | 18 |
| Chapter Five | Pranayama | 22 |
| Chapter Six | Kriyas and Mudras | 27 |
| Chapter Seven | Dhyana | 30 |
| PART 3 | The Applications | 33 |
| Chapter Eight | Useful Situations | 35 |
| Chapter Nine | Yoga and Sport | 38 |
| Chapter Ten | Yoga and Adaptation | 42 |
| Part 4 | Yoga and Health | 49 |
| Chapter Eleven | The Definition of Health | 51 |
| Chapter Twelve | Guidelines for Diet | 55 |
| Chapter Thirteen | Tradition and Therapy: | 58 |
| | Yoga and Aging | 61 |
| | Yoga for Handicapped People | 64 |
| | Yoga as a Remedy of Addictions | 65 |
| | Yoga and Social Problems | 68 |
| PART 5 | Yoga and Scientific Research | 71 |
| Chapter Fourteen | The Scientific Basis | 73 |
| Chapter Fifteen | Kaivalyadhama's Contribution | 76 |
| PART 6 | Yoga and the Future | 81 |
| Chapter Sixteen | Role of Yoga in Education | 83 |
| Chapter Seventeen | The Modern Approach | 86 |
| Chapter Eighteen | Methods of Application | 88 |
| Bibliography | | 117 |
| Index | | 119 |
Sample Pages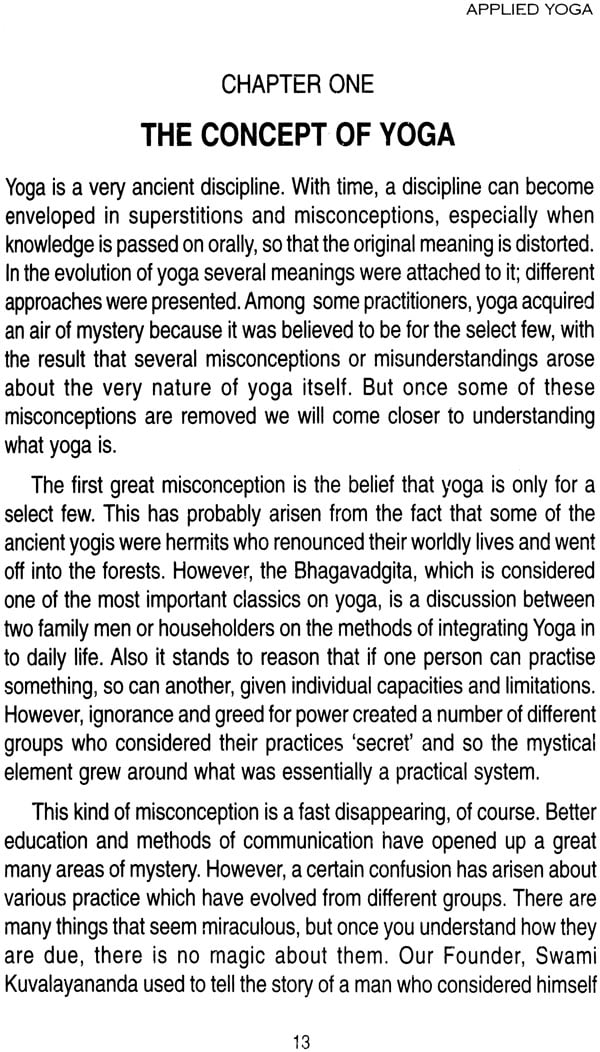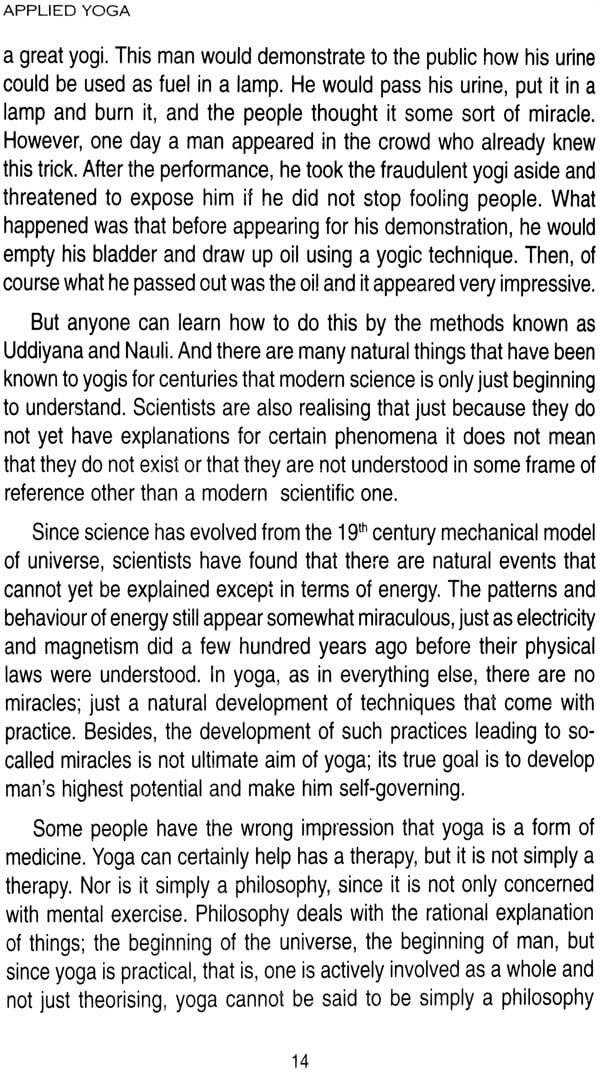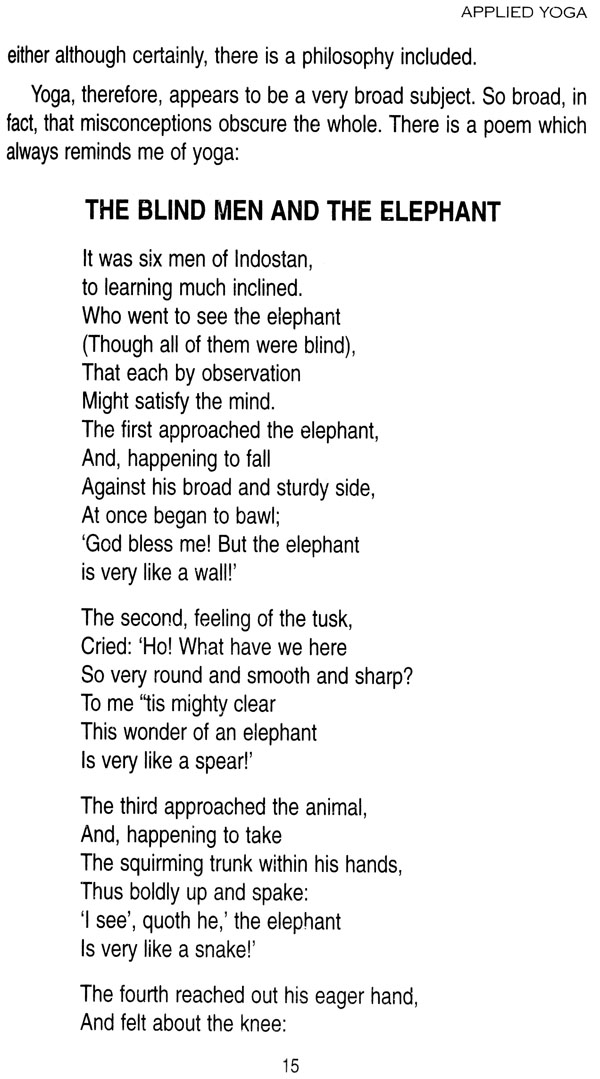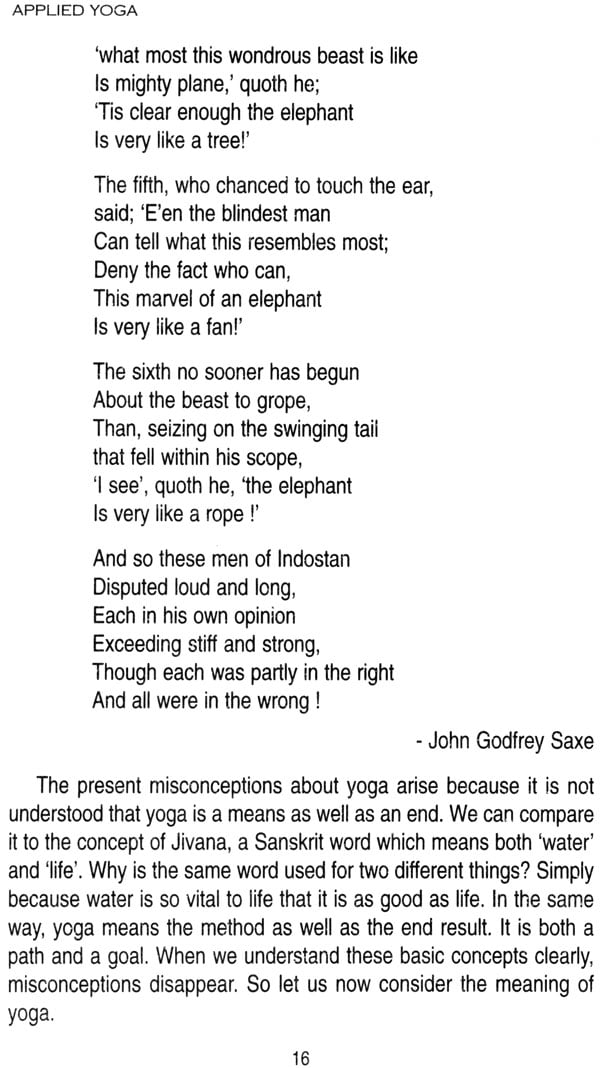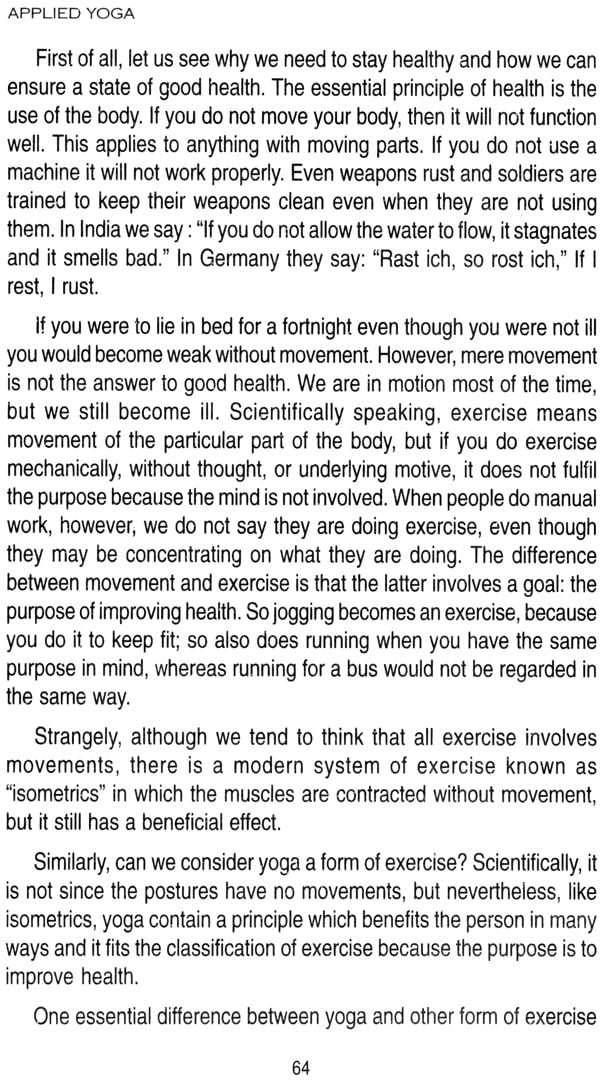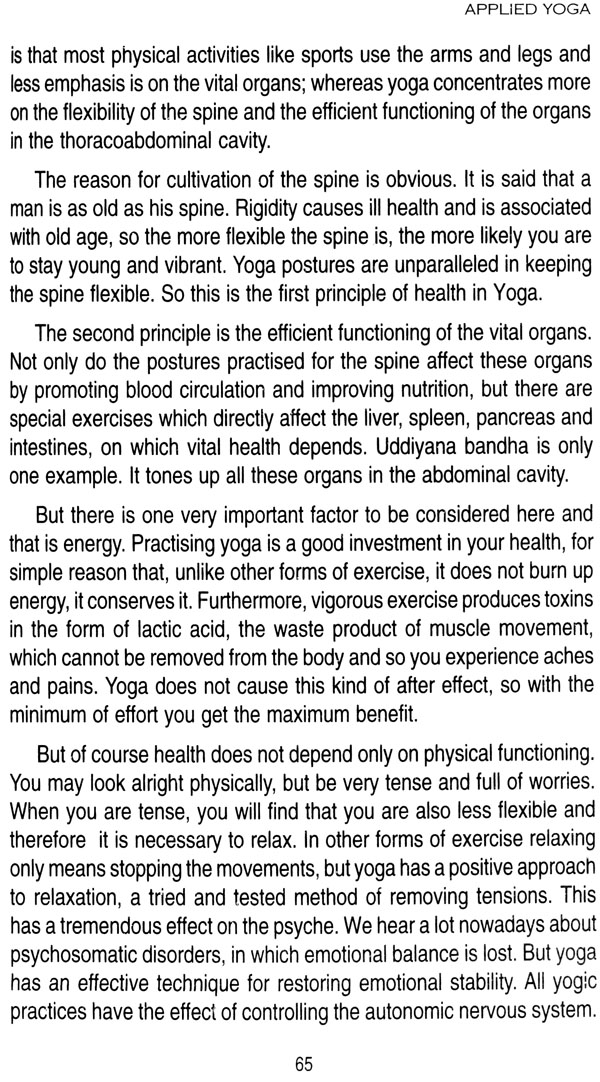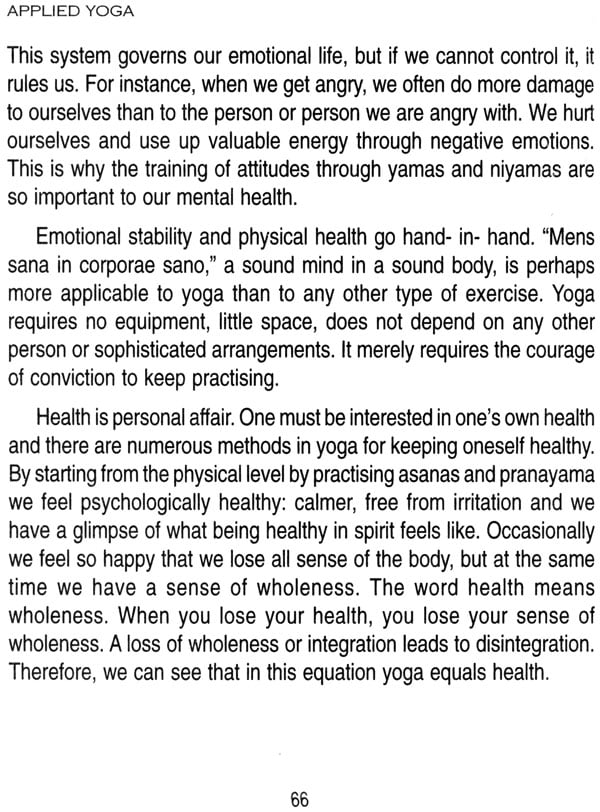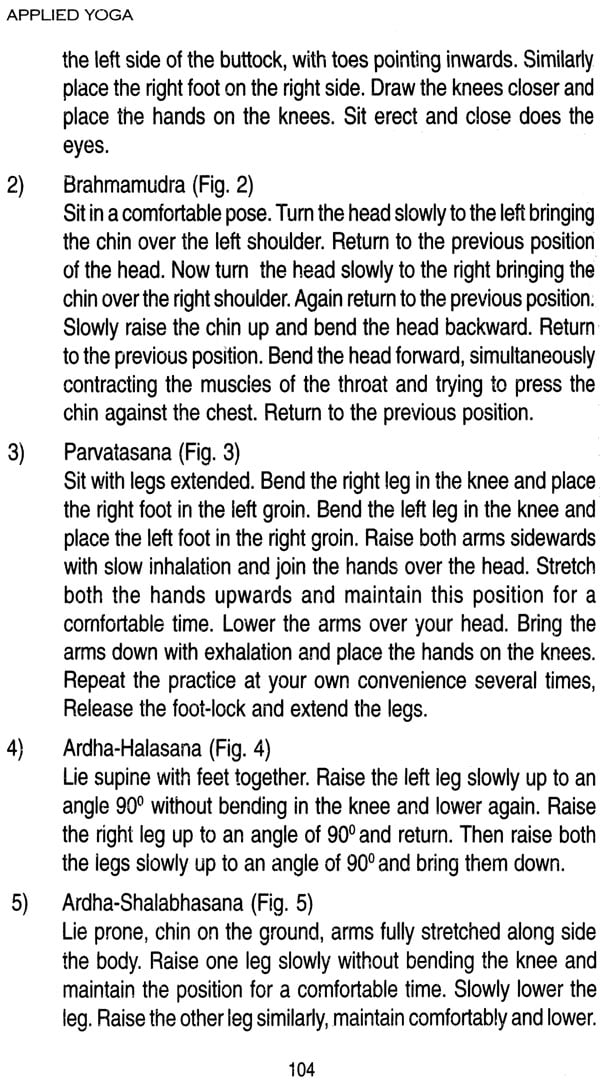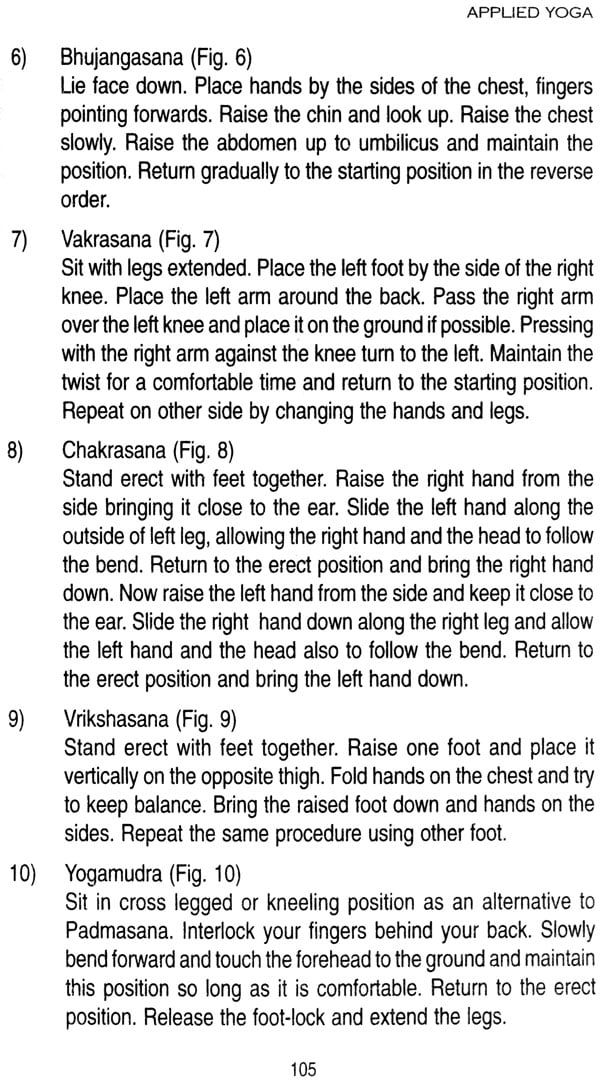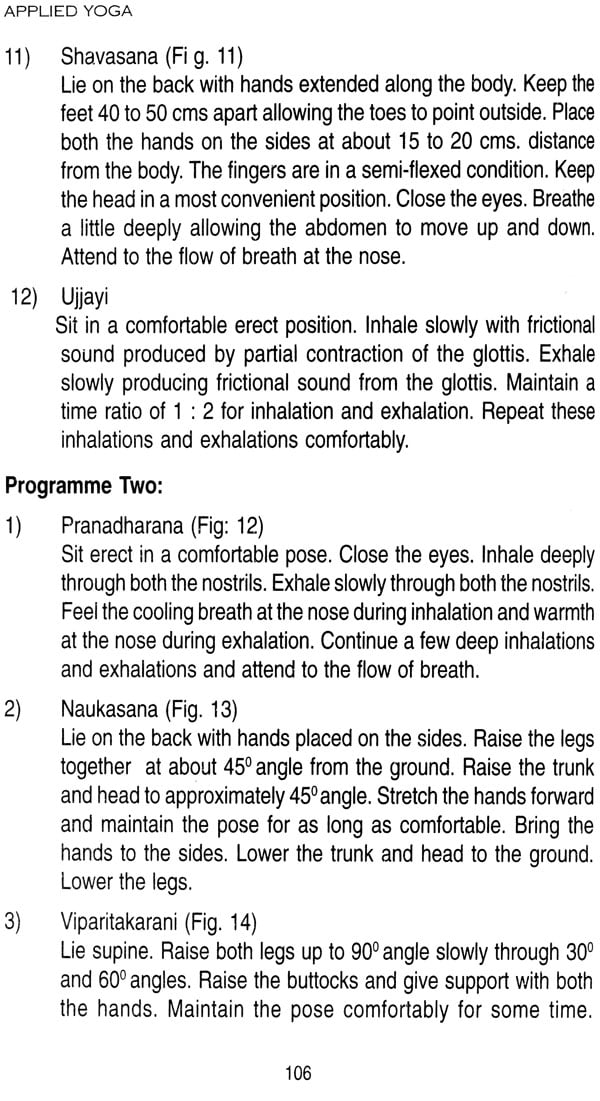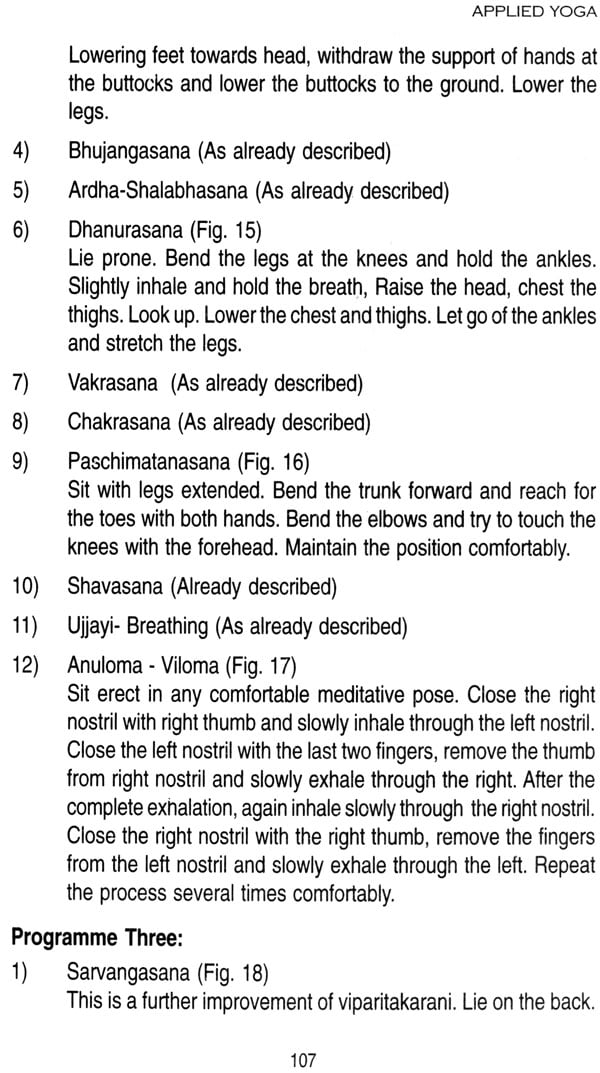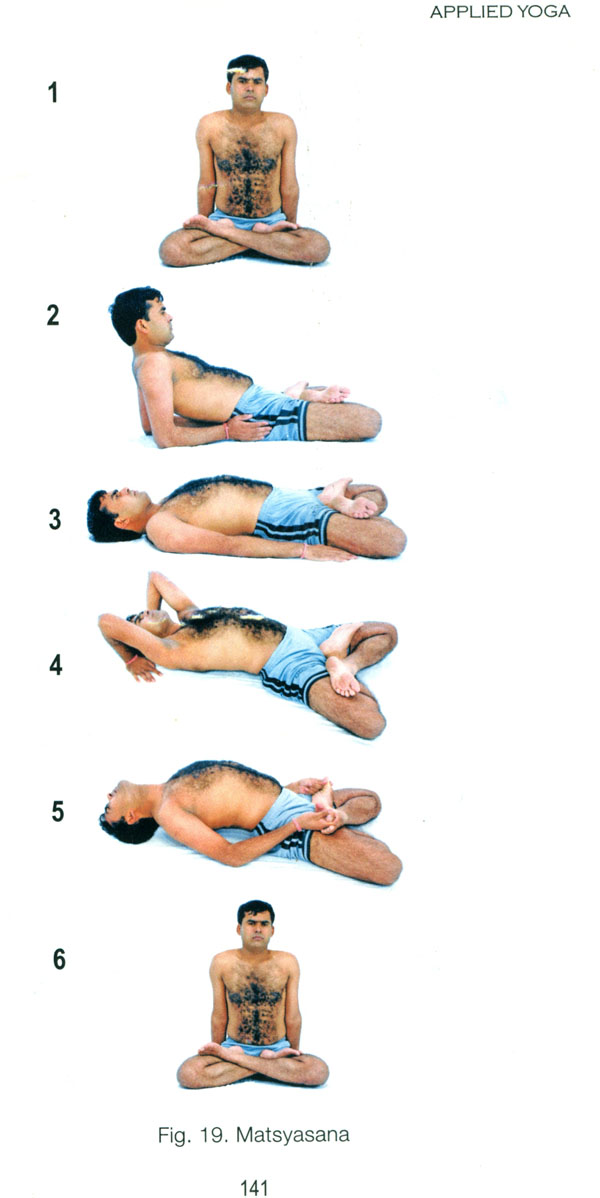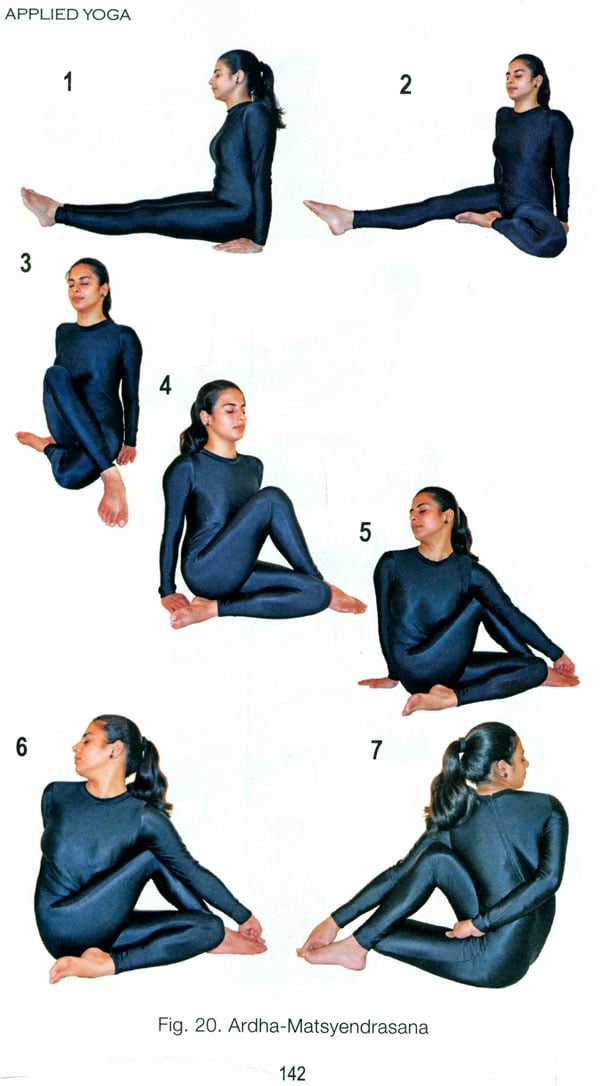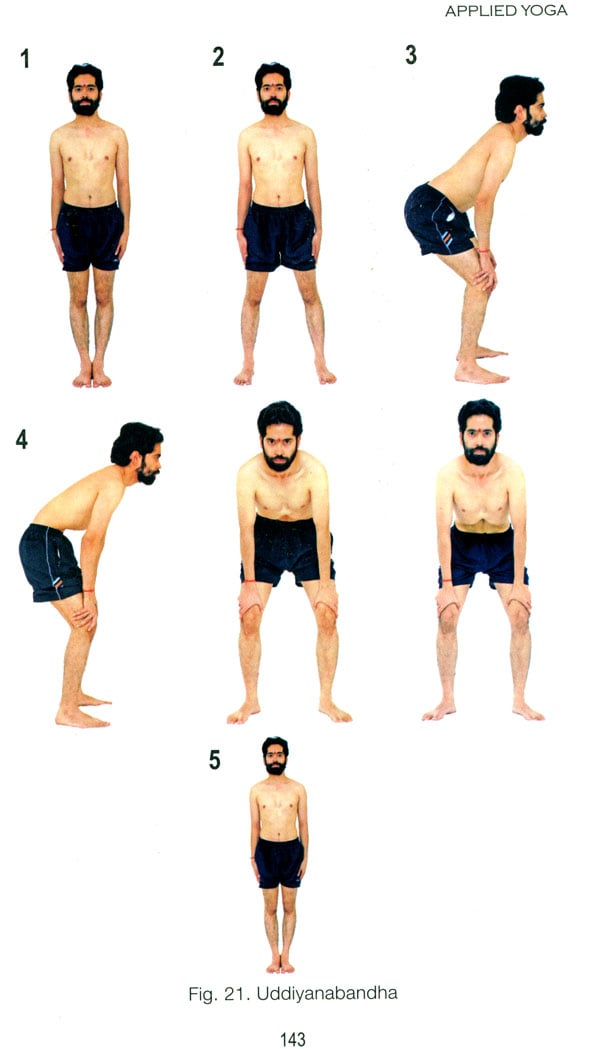 ---
We Also Recommend