The Architecture of I.M. Kadri
$10800

$108.00
Tax included.
Shipping
calculated at checkout.
---
---
Book Specification
| | |
| --- | --- |
| Item Code: | AZE860 |
| Author: | Kaiwan Mehta |
| Publisher: | NIYOGI BOOKS |
| Language: | ENGLISH |
| Edition: | 2016 |
| ISBN: | 9789385285301 |
| Pages: | 232 (Throughout B/w and Color Illustrations) |
| Cover: | HARDCOVER |
| Other Details | 11.00x11.00 inch |
| Weight | 1.55 kg |
Book Description
About the Book
The Architecture of LM. Kad traces the body of work of iftikhar M. Kadri, architect of IMK Aunder, partner and princip who began his practice in Mumbai in the 1950s. As an architect who shaped his practice largely in the early decades ofter India's Independence, in the commercial capital of a young nation, he contributed greatly to the design of emerging typologies like the high-rise apartment, the office tower and the hospitality industry in Mumbal and India, going on to build in the Middle East, Hong Kong. Tajikistan, Malaysia, and so on.
Kadri's journey and practice as an architect in the five decades following India's independence account for a different history of architecture In India than the one otherwise available. His journey is also the journey of Bombay/Mumbai as the emerging commercial capital of India - a city whose tryst with architecture is very different from that of Delhi or Ahmedabad, the other two sites of important Modern architecture in India. Kadri's career charts not only an important journey in India's history, but he is also someone who contributed to the discourses on Modern and Traditional architecture in India, working within the forces of real estate and commerce, and with state, private and corporate clients. His works help us open the debates on what is the role of architecture, its ideas of beauty and strength, its existence within the world of politics and economics.
Although Kadri has been a stalwart in the field of architecture in his own right, not often has his deep involvement with architectural thought in India been recognized, or for that matter, recorded and analyzed.
About the Author
Born in Mumbai, Kaiwan Mehta, has studied Architecture, Literature, Indian Aesthetics, and Cultural Studies. He is a theorist and critic in the fields of visual culture, architecture, and city studies. He is completing his doctorate at the Centre for the Study of Culture and Society, Bengaluru, under the aegis of Manipal University, he has now published as well as exhibited his research work and ideas internationally. Since March 2012 he has been the Managing Editor of Domus India (Spenta Multimedia) and is associated with Jnanapravaha (Mumbai) where he set up the Art, Criticism and Theory programme as well as the Architecture, Resources and Culture segment. He has been elected as the Jury Chairman for two consecutive terms (2015-17 and 2017-2019) for the international artists' residency programme across 11 disciplines at the Akademie Schools Solitude in Stuttgart, Germany. He is also the co-founder and director of Arbor Research Initiatives in Architecture and has been the Executive Committee member with INTACH, Mumbai. Additionally. Mehta has also co-curate with Rahul Mehrotra and Ranjit Hoskote the national exhibition on architecture "The State of Architetcure: Practices and Processes in India" (UDRI, 2016) at the NGMA, Mumbai. Another book by the author is Alice in Bhuleshwar: Navigating Mumbai Neighborhood.
Foreword
The architecture of Iftikhar M. Kadri has long populated my visual knowledge of India Indeed, when I first visited the country as a young traveler, and again, not long after as a recent graduate in architecture seeking experience and insight that might confirm my chosen vocation. Kadri's iconic buildings in what was then still Bombay - the Nehru Centre and Shivsagar Estate in Worli, and the Islam Gymkhanal on Chowpatty Beach, among others were some of the first and the last buildings to impress themselves upon my memory on the road to the international airport. Back then, however, these buildings stood out because, quite frankly, they did not conform with the images that 1-like other inadvertently prejudiced onlookers that came before, and after-held in my imagination of the modernising India that sought to witness, and of what its architecture ought to be.
A substantially different critical perspective and appreciation seems possible today. Looking back to the concerns of mainstream architectural thinking and debate when those buildings were conceived in the 1960s and 70s, one can see now that Kadri's design for the Nehru Centre, for instance, was a strikingly original concept for its time, and not only in India. In this mixed-use commercial-cum-convention centre a cylindrical office tower that crowns the complex with its boldly expressed diagonal lattice structure, pierces through a sloping podium which is literally pried-up from the ground plane like a chunk of sod, landscaping and all. This anticipated much better-known schemes designed years later in other parts of the globe, most notably perhaps the radical topographic propositions of the late 1990s by avant-garde Dutch firms such as OMA, MVRDV and Mecanoo, who were intent on re-booting the potential of modern architectural form and technology to drive the programmatic innovation and evolution of contemporary urban life.
In his own distinctive yet relatively un-self-conscious way, Kadri's architecture has consistently explored the interface between the evolving culture and possible forms. of contemporary urban life in India, and that of his adopted city in particular - the former Bombay that has become Mumbai over the course of his career.
**Contents and Sample Pages**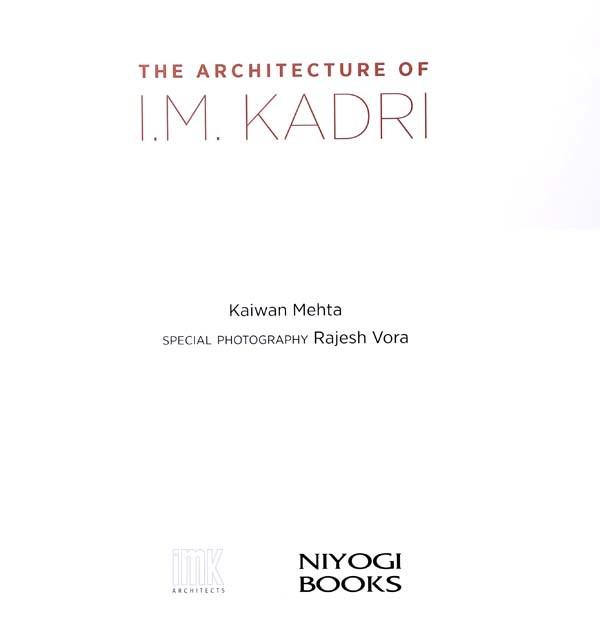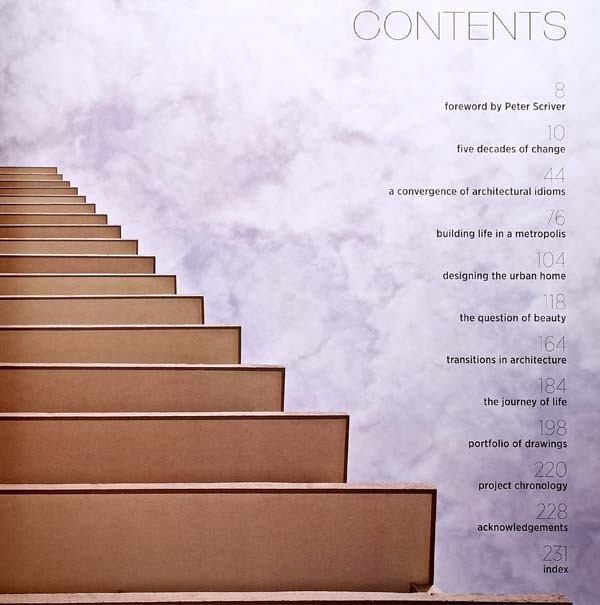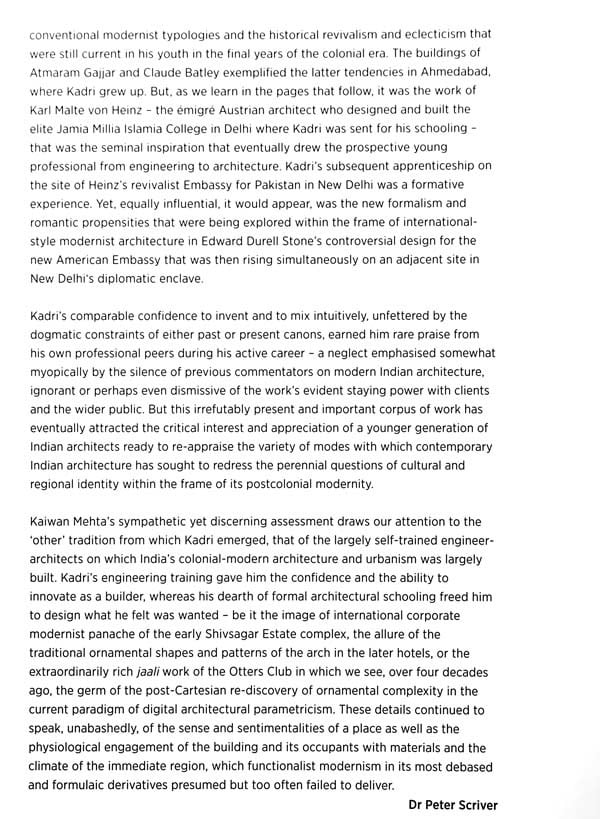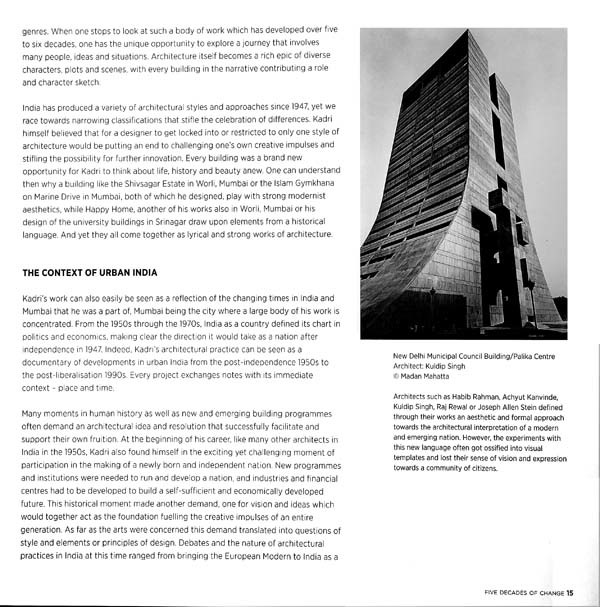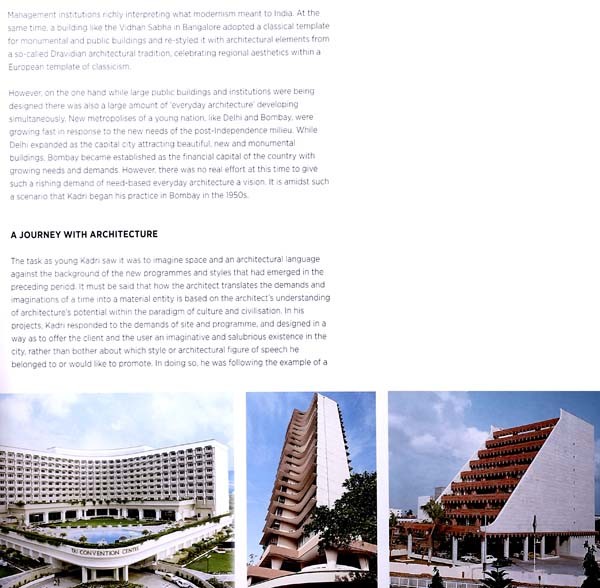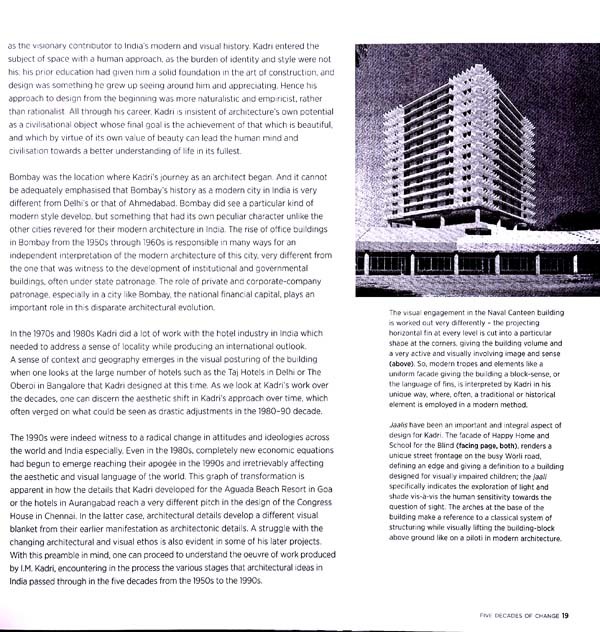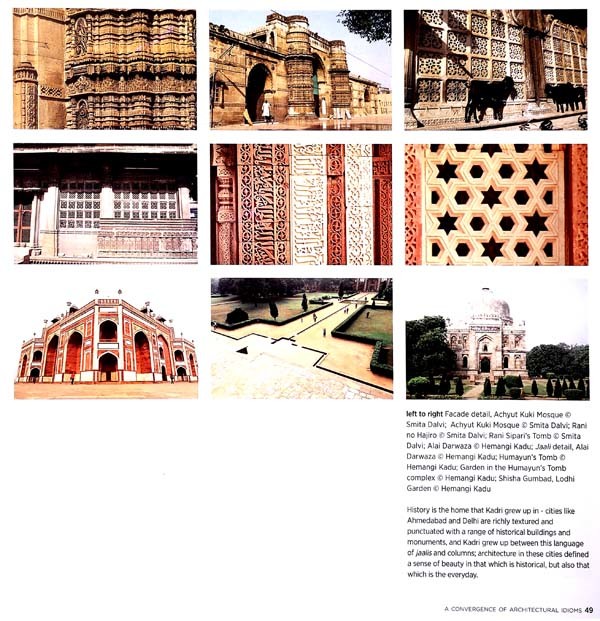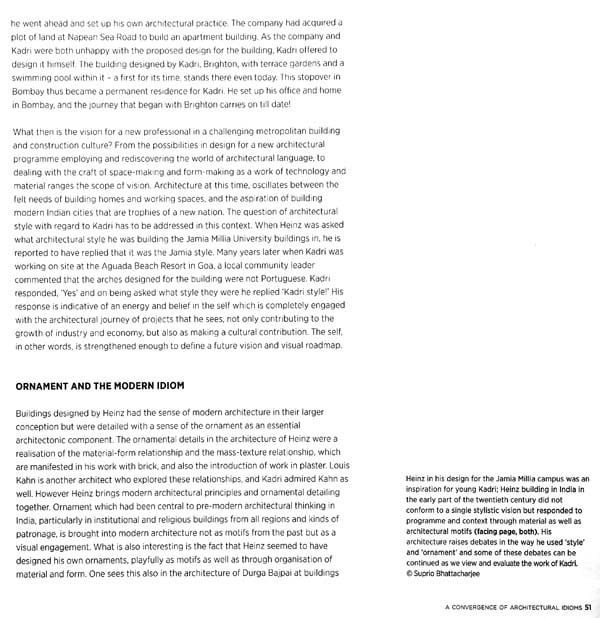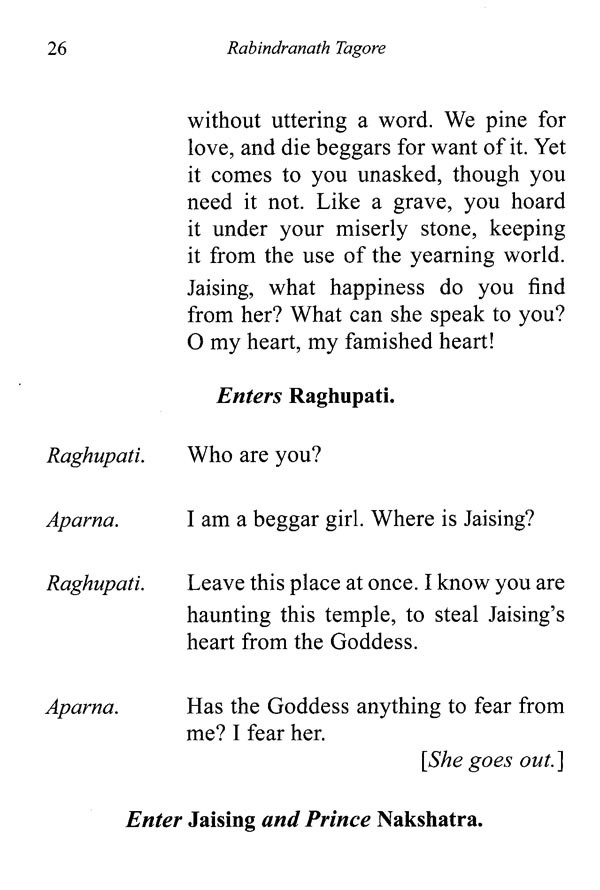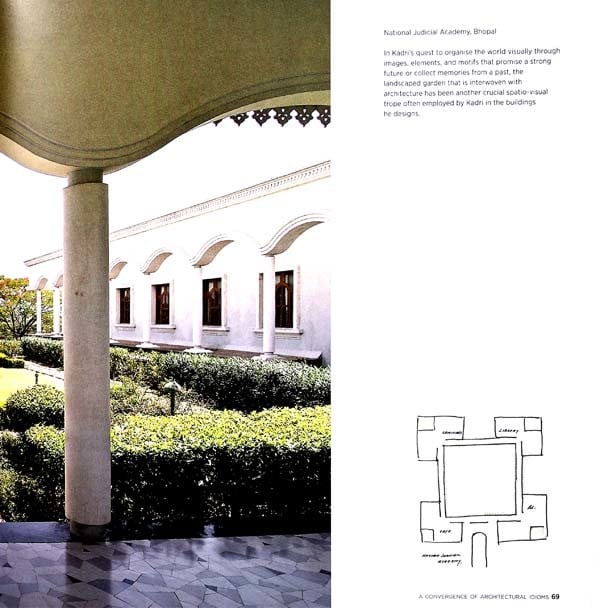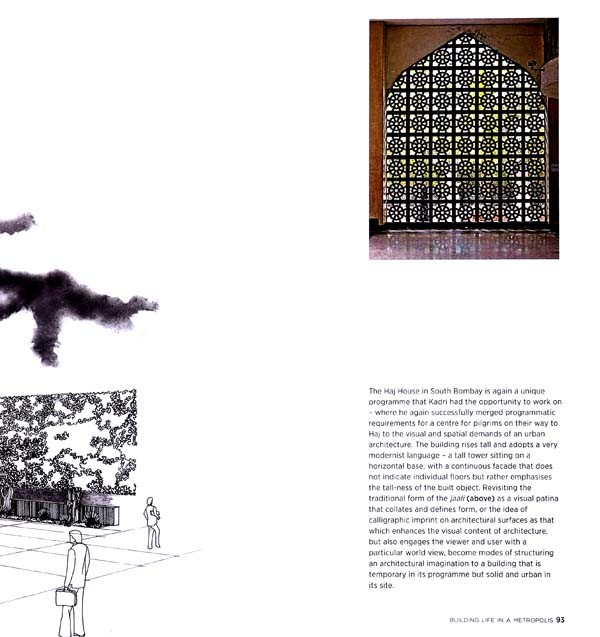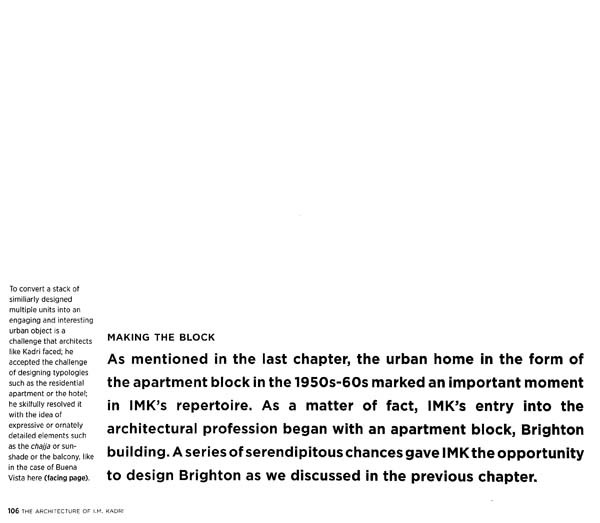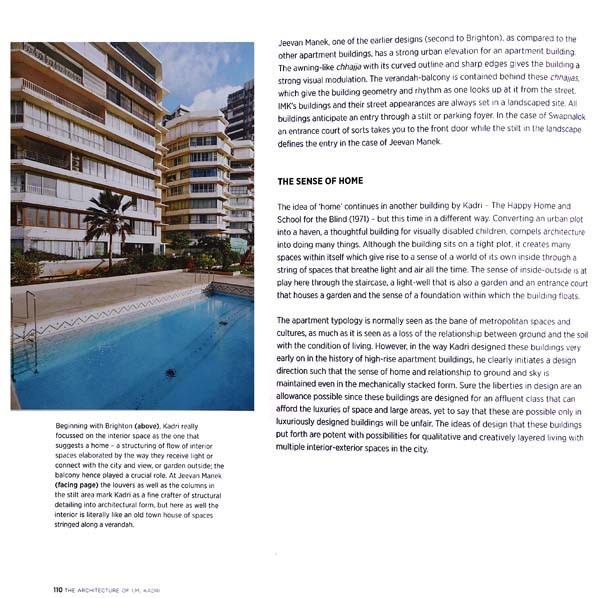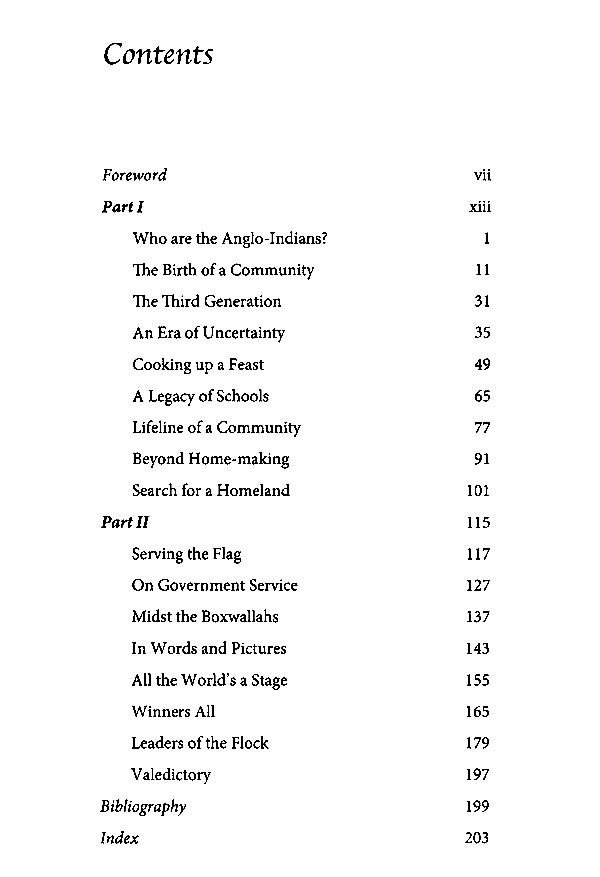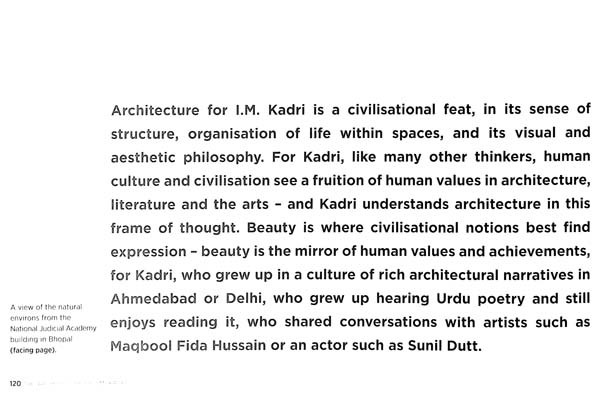 ---
We Also Recommend