Avesta Reader (Text, Translation and Explanatory Notes with Sanskrit Cognates)
$3500

$35.00
Tax included.
Shipping
calculated at checkout.
---
---
Book Specification
| | |
| --- | --- |
| Item Code: | NAH047 |
| Author: | Prof. M. F. Kanga |
| Publisher: | Vaidika Samshodhana Mandala, Pune |
| Language: | Text, Translation and Explanatory Notes with Sanskrit Cognates |
| Edition: | 1988 |
| Pages: | 332 |
| Cover: | Hardcover |
| Other Details | 9.5 inch X 6.5 inch |
| Weight | 680 gm |
Book Description
Preface
This book lays no claim to any special merit beyond presenting in lucid and intelligible form some material for beginning to study the Avesta language and literature. It is merely meant for an introduction. The selections here given are such as may easily be learnt. The present selections included in this Avesta Reader are fairly representative, as far as excerpts can be, of Yasna, Yast, Vendidad and Niyayisn. I have given Haoma Yast (Yasna Has IX,X, XI) complete in order that Sanskrit scholars may get ample chance of comparing the ideas of the Avesta about Haoma with the Vedic Literature. I have given a long introductory remarks to this Haoma Yast. I have selected Yasna Ha 12 known as the Zoroastrian Creed, wherein I have given paras 1-2 and 8-9 only. Linguistically this selection is among the oldest in the Younger Avesta or the youngest of the Gaoic dialect. The essential portions of this prayer are the last two paragraphs which are repeated by every Zoroastrian each time he ties on his sacred girdle and they embody the essential features of the Zoroastrian Religion –the establishment of peace and the stopping of bloodshed and war. Next I have taken up Yasna Ha 54 which deals with the Yazata Airyaman, Vedic Aryaman and I have added a lengthy introduction. Then I have selected Yasna Ha 60 named "Avestan Tandruvistih" by the well-known Avesta scholar Ervad K. E. Kanga. This Ha or Chapter gives a very good idea of what the Zoroastrian conception of happiness is. In this text para 5 is most enchanting and most interesting. This world would be transformed into Heaven if the ideas mentioned therein are acted upon by the people and by the Nations. Further I have selected for the beginner of Avesta language Fragard II from the Vendidad text, known as 'the Legend of Yima,' which may prove of interest to the Sanskrit scholars. Moreover, I have selected two Niyayisns, Xarset Niyayisn and Atas Niyayisn for this Reader from the Xartak Avistak Text. To this small text Xarset Niyayisn I have added a long introductory remarks. Lastly I have appended in this Avesta Reader a small note on "The 'Ahurian' and 'Daevian' Vocabularies in the Avesta". The notes in general have been made brief and concise and explanatory and will prove useful in giving the student an occasional hint regarding books of reference and will thus give him interest in the literature of the subject. The comparisons with Old Persian Inscriptions, Pahlavi and New Persian, Sogdian and Manichaean Middle Persian and Parthian are added with the idea to familiarize the student with the studies next akin to his subject. Besides I have used many terms of Sanskrit grammar which are more familiar to Vedic Scholars.
Prof. A. V. W. Jackson of Columbia University, New York, published his Avesta Reader, First Series, Stuttgart, in 1893, wherein he has given the Selected Texts in original Avestan characters, notes and Vocabulary. Then in 1911, Professor Dr. Hans Reichelt, pupil of the most well-known Savant and Professor Christian Bartholomae published his Avesta Reader –Texts, notes, glossary and Index in Strassburg. In this book the author has given selections from Vendidad in Avestan Characters pp. 37-65 and the rest in modern transcription in English. After a lapse of about 11 years, Professor Dr. Irach J. S. Taraporewala published in 1992 in Calcutta "Selections from Avesta and Old Persian" First Series Part I edited with translation and notes. Unfortunately, part 2 has not appeared. He was the first Director of Avestan studies in this Institute.
I take the opportunity of expressing my sincere thanks to Mrs. Nalini Dhadphale for going through the proofs of this book minutely and carefully. The delay caused in the publication of this book has been due to the great difficulty of composing a work of this kind which required types of such varied languages. For the patient and accurate work of the Vaidika Samsodhana Mandala Press in dealing with a troublesome text I wish to express both thanks and admiration.
Aevo panta yo asahe –there is only one path which is of Righteousness. Aoa Jamyat yaoa afrinami.
Contents
| | |
| --- | --- |
| Preface | |
| A List of Ahuric and Daevic words | |
| Abbreviations | |
| Haoma Yast | |
| Introductory Remarks | i-vii |
| Yasna Ha IX | 1-64 |
| Yasna Ha X | 65-115 |
| Yasna Ha XI | 116-146 |
| The Zoroastrian Creed | |
| Yasna Ha XII | 147-159 |
| A Airyama Isyo | |
| Yasna Ha | 160-169 |
| Tandarosti | |
| Yasna Ha LX | 170-200 |
| Yima's Legend | |
| Vendidad II | 201-262 |
| Xarset Nyais | 263-284 |
| Atas Nyais | 285-315 |
Sample Pages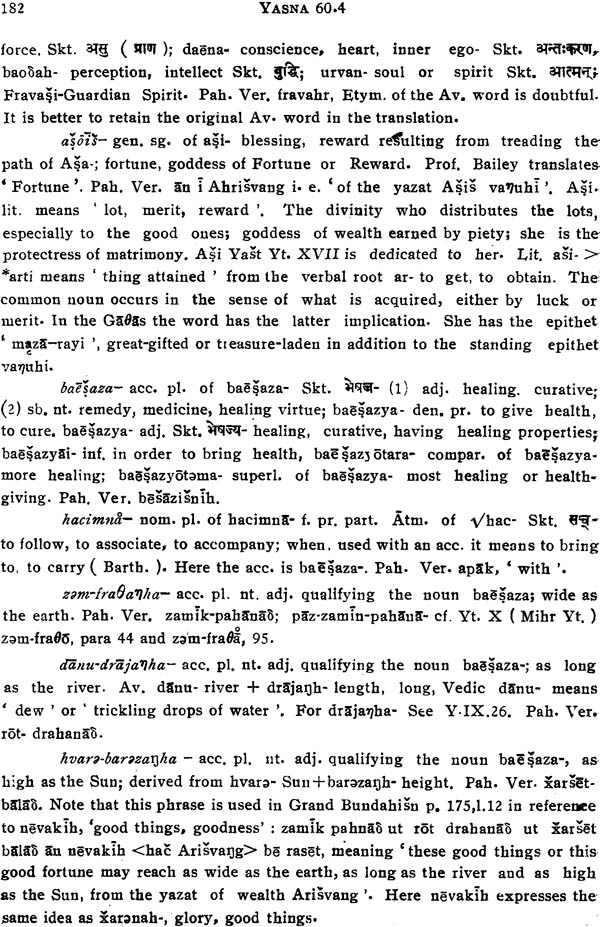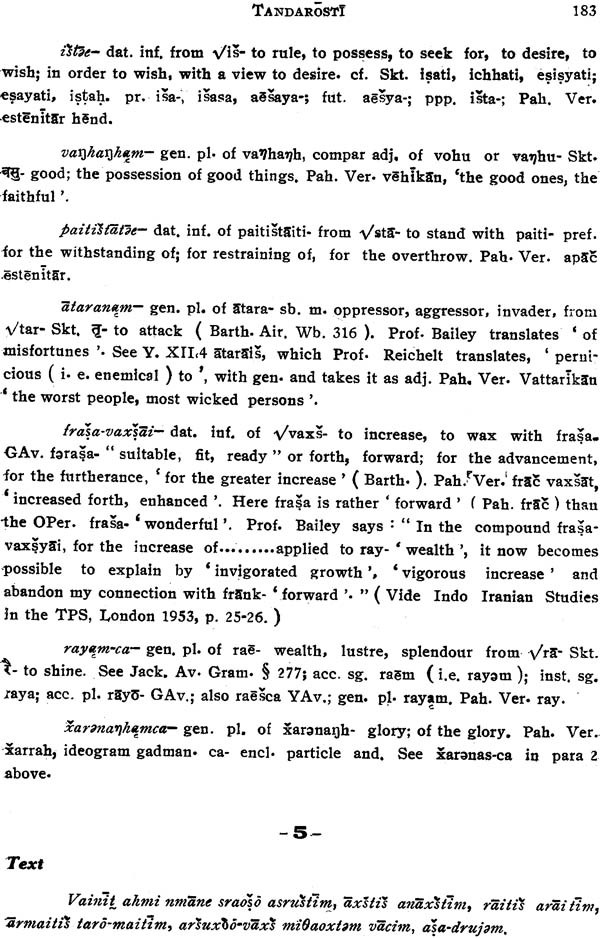 ---
We Also Recommend