Badal Sircar Search for A Language of Theatre
$4800

$48.00
Tax included.
Shipping
calculated at checkout.
---
---
Book Specification
| | |
| --- | --- |
| Item Code: | UAJ842 |
| Author: | Kirti Jain |
| Publisher: | Niyogi Books |
| Language: | English |
| Edition: | 2016 |
| ISBN: | 9789383098965 |
| Pages: | 460 (Throughout B/W Illusterations) |
| Cover: | HARDCOVER |
| Other Details | 9.00 X 6.00 inch |
| Weight | 750 gm |
Book Description
About The Book
Badal Sircar was one of the most significant modern playwrights of post Independence India. Starting in the fifties, with his deep understanding of the concerns and anxieties of the Indian middle class coupled with his delightful sense of humour and wit, he made an immediate connect with the people and brought a new energy and excitement to the theatre arena with his large body of plays. He stands out for his innovativeness and the sheer range of his plays in terms of subjects, forms and styles. He is probably the most translated and staged Indian playwright of the last century. Badal Sircar with his unique and characteristic restlessness, passion and social commitment was constantly experimenting not only with dramatic form and language but also with performance spaces, acting styles and performer-spectator relationships. Through experiments and exposure to different methodologies he explored and developed his own theory and practice of theatre called the Third Theatre—a theatre of synthesis between the urban and the traditional theatre. Donning many hats — of playwright, theoretician, actor, director and activist — he was a composite theatre personality, and liked to be known as such. Single-handedly, he created a brand of theatre all over the country and overseas which empowered small amateur theatre groups to practise theatre without much infrastructure and training and with a strong sense of purpose. This book, through memoirs, interviews, essays, dialogues, reviews and notes by directors, traces the life and theatre of this iconic but lonely figure, from different viewpoints, piecing together his relentless creative journey of more than six decades.
About the Author
Former Director, NSD, Kirti Jain is a theatre director and pedagogue; she contributed articles to books and journals on theatre including entries in The Oxford Companion to Theatre. She has produced plays and documentaries for Doordarshan and directed several plays over nearly forty years. Her works are a synthesis of politics, aesthetics, dramatics, innovation and showcase a rare directorial skill. She initiated the Theatre in Education company at NSD; concern for developing theatre spaces and audience in Delhi resulted in her organising Week End Theatre through Natarang Pratishthan; curious about women's aesthetics, she took on Poorva—the Asian Women Theatre Director's Festival and Conference. Honours include the B.V. Karanth Smriti Puraskar (NSD, 2010) and the Sangeet Natak Akademi award for Direction (2011).
Preface
My first meeting with Badal Sircar was way back in 1972, when I was invited by All India Radio to interview Badal Sircar. I could not believe my luck—interview the Badal Sircar! After all he was one of the big four of modern Indian playwriting, and I would meet him in person! I had just finished my course at the National School of Drama (NSD), had studied Badal-da's plays, had been completely awestruck by Ebong Indrajit which I felt I hadn't fully understood. I remember the two sleepless nights I spent trying to prepare the questions for the interview. And answers, in case he quizzed me about his plays. He seemed quite formidable but was very friendly and encouraging during the interview. I also remember sitting for a long time in the lawns of All India Radio drinking tea and talking to Badal-da about his plays, his theatre and his politics. We also struck a friendship of sorts which continued for several years through letters, meetings, arguments and discussions. His passion and intensity fascinated me. Part of my idealism relating to the role of theatre in social change, I think, also came from him, the other part from my parents with their stint in Indian People's Theatre Association (IPTA). With this personal contact I naturally followed his trajectory as a playwright and theatre person with greater involvement and interest. Therefore when Natarang Pratishthan asked me to edit a book on Badal Sircar I decided that this is my opportunity to pay tribute to 14 Badal Sircar: ScareIs for a Language of 'Theatre. a theatre person who stuck to his beliefs against all odds and at a great personal and professional cost; to a theatre person who followed a very unusual trajectory from the mainstream to the marginalised because he felt committed to the cause; a theatre person who became a legend and a trail blazer for the entire amateur theatre fraternity of the country but strangely was marginalised in his own state of West Bengal! This book on Badal Sircar is part of a series of three books that Natarang Pratishthan had undertaken to publish on three Indian theatre directors. The task was given to me in 2009 and I was quite sure that I would be able to put it together in a year's time. Badal-da was still very much on the scene and when I told him that I was taking on this book on him he had seemed happy, probably because almost nothing had been published on him till then, in the form of a book. I met him at his residence in 2009-10 and gave him an idea of the kind of pieces I would be using in the book and he had given a few suggestions as to who I should speak to regarding the follow-up on his theatre work. I was very sure that I would be able to show him the final version of the book and get him to write a preface, but that was not to happen. I regret to this day the delay on my part in putting the material together, because we lost him and with it the chance to get him to see the book.
**Contents and Sample Pages**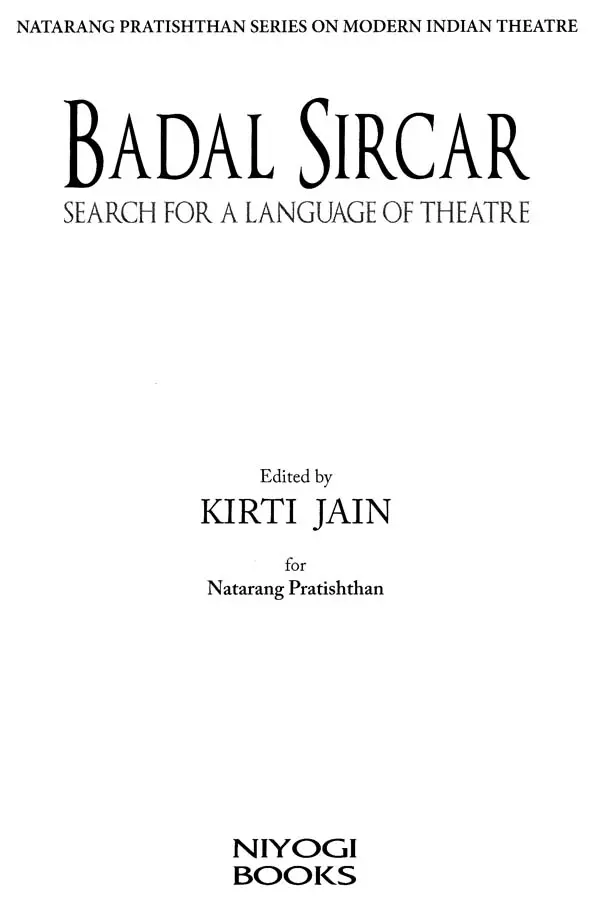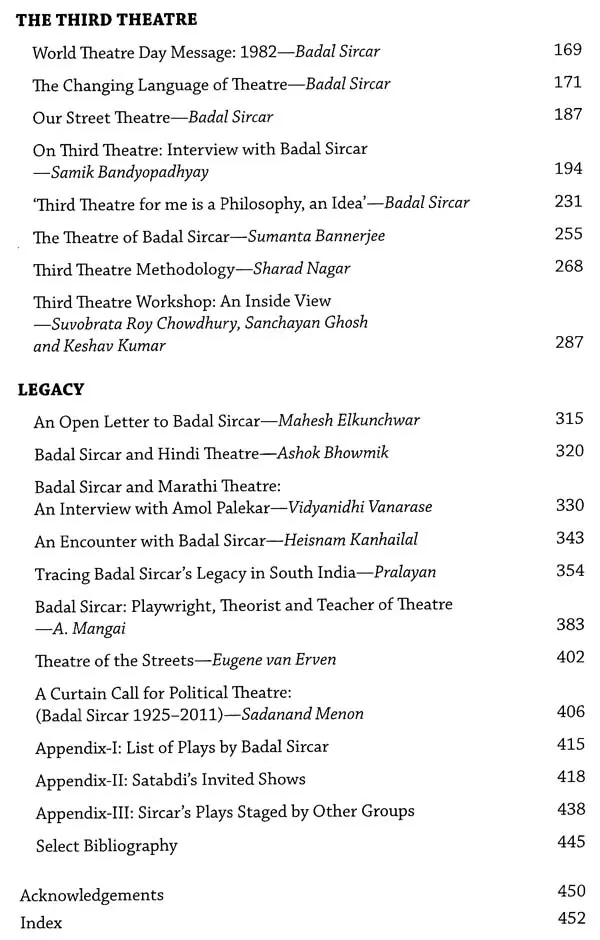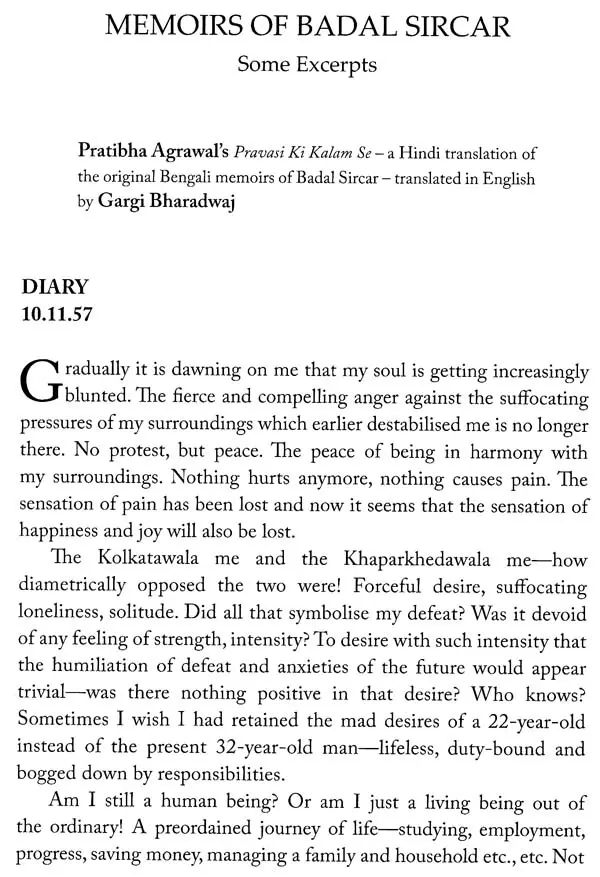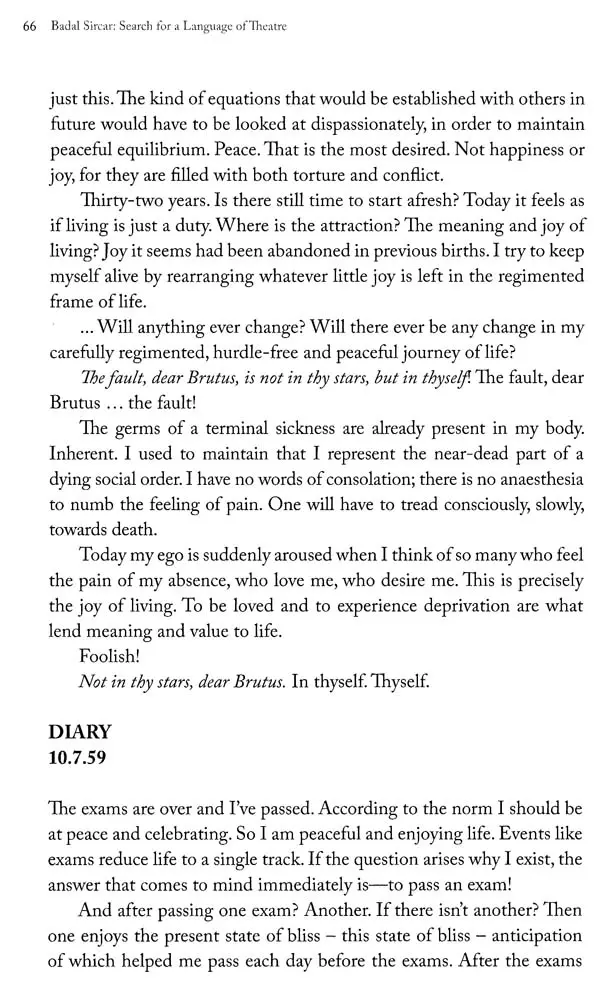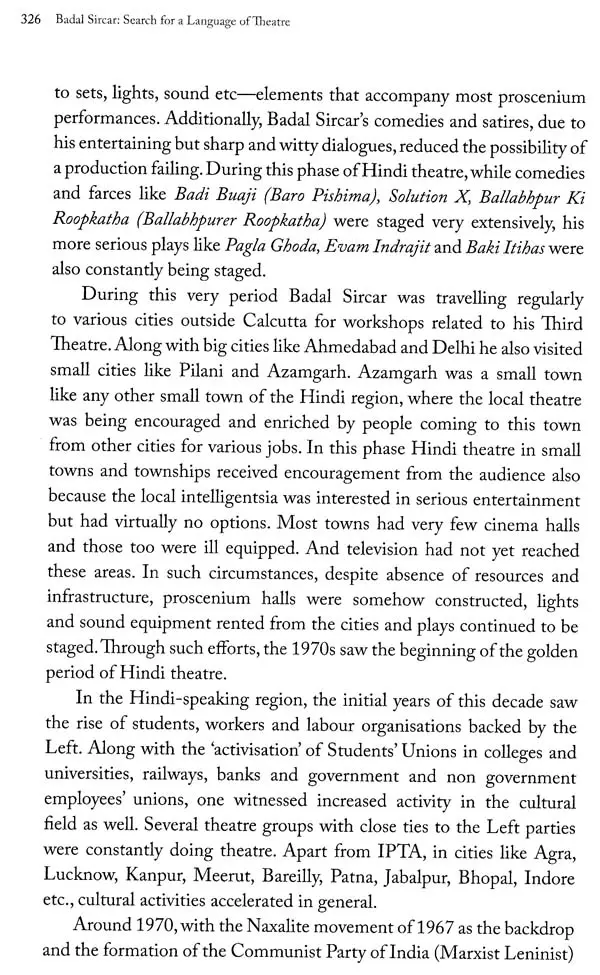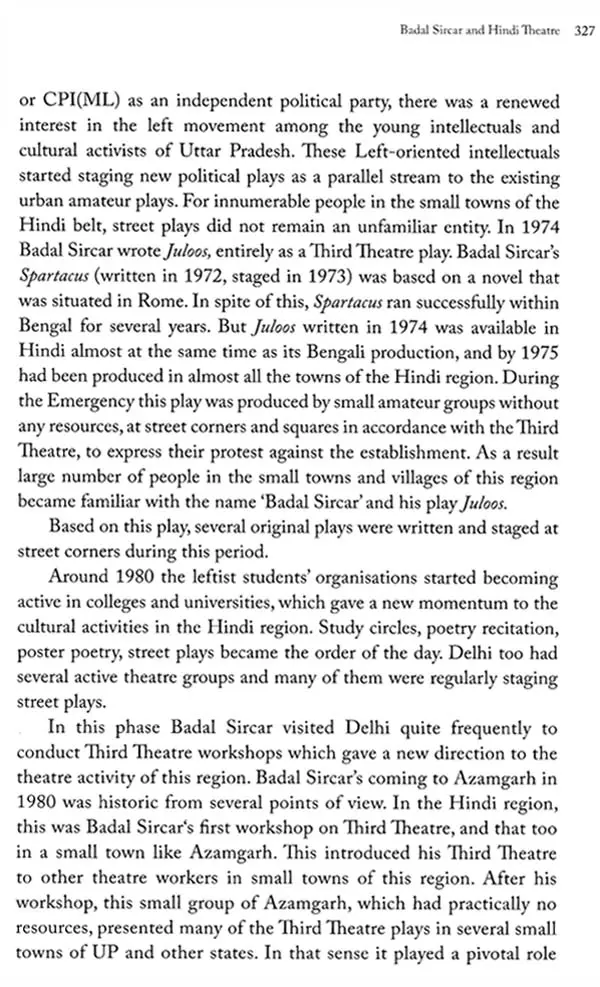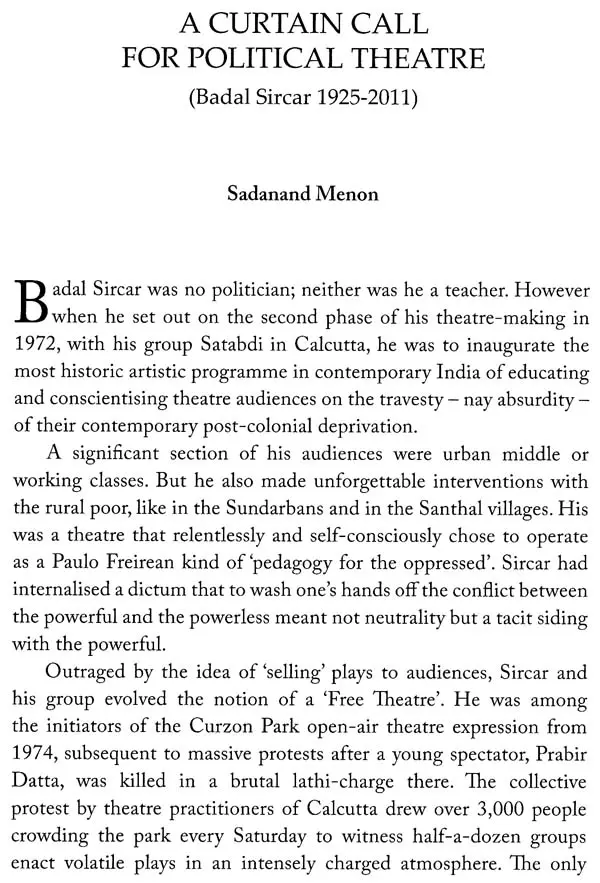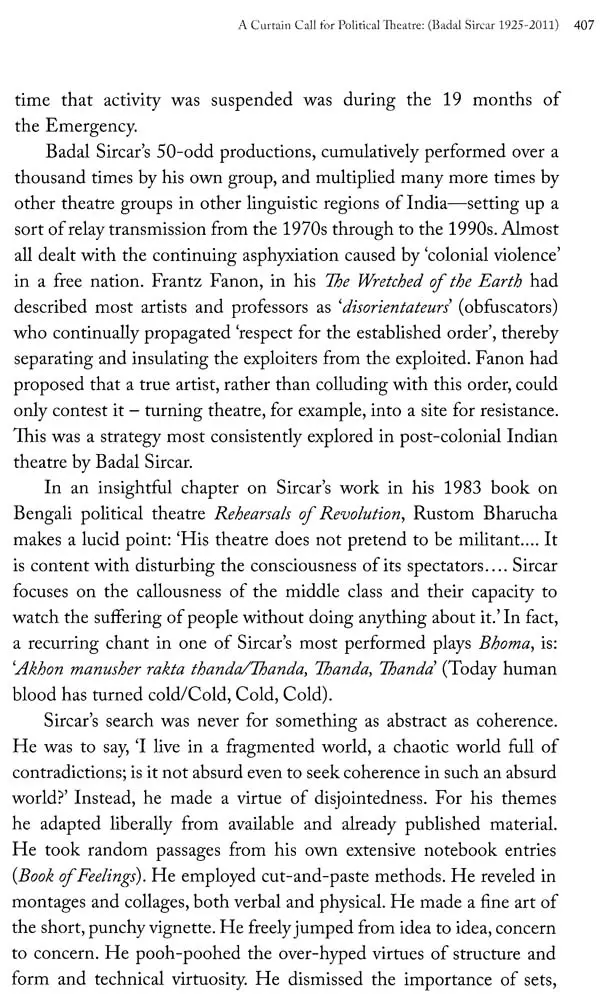 ---
We Also Recommend