Bhairava: Cult & Iconography in Karnataka
$6200

$62.00
Tax included.
Shipping
calculated at checkout.
---
---
Book Specification
| | |
| --- | --- |
| Item Code: | UAL719 |
| Author: | Vasanthi S.T. |
| Publisher: | Dr. Vasanthi S.T, Bangalore |
| Language: | English |
| Edition: | 2020 |
| ISBN: | 9788193669242 |
| Pages: | 272 (Throughout Color and B/W Illustrations) |
| Cover: | HARDCOVER |
| Other Details | 10.00 X 7.50 inch |
| Weight | 760 gm |
Book Description
About The Book
This book focuses mainly on the Iconographic delineations of Bhairava sculptures prevailing in the temples and shrines of Karnataka. The book is divided into six chapters expounding various aspects such as Mythology, Literature, Cult practices etc, which are related to Bhairava as a concept and an Image. This is supplemented with adequate Maps, Illustrations, Photographs, Appendices, Selected Bibliography to enable the readers to get a comprehensive understanding of the subject. This book serves as a source book of reference for students of Art History interested in the subject.
About the Author
Dr. Vasanthi. S.T. is a freelance researcher, interested in the field of Indian Art, Religion and Philosophy. She holds ant M.A. (Philosophy) degree from Mysore University and a Post Graduate Diploma (Indology) from Bangalore University. She also holds a Ph.D degree (Ancient History and Archaeology) from Mysore University. She has contributed text assistance and documentation for the book "Temple Heritage of Karnataka" published by the Department of Hindu Religious and Charitable Endowments, Govt. of Karnataka. She has presented many research papers in Seminars and Conferences. As a freelance writer she has published articles on art, sculptures, fairs, festivals and other related subjects in news magazines, journals and felicitation volumes. The present book endeavours to shed light on the Iconography of Bhairava Sculptures prevailing in the temples and shrines of Karnataka.
Foreword
Hindu religious thoughts and practices derive their strength from serious philosophical and metaphysical deliberations and enquiries made by ancient Hindu seers and saints. Vedic seers who contemplated continuously on realising the ultimate TRUTH found their answers in the myriad forms of natural energies existing in this universe.
Every aspect of nature evoked awe, love and respect in them. They also realised the enormous magnitude of the Absolute Reality. Hence descriptions such as Omniscient, Omnipotent, All-pervading, Infinite, unfathomable, Supreme, Absolute and so on were tried to explain the nature of this TRUTH. They also realilsed that each and every aspect of nature serves as one of the dimensions of the 'TRUTH' or 'WHOLE'.
This firm foundation of Hindu religion and philosophy serves as an answer to the criticism leveled against it mostly by western scholars quoting its polytheistic approach and claims of superiority of one deity over the other by respective devotees. The second part of the criticism is attributed to a flaw i.e. ignorance and lack of proper knowledge among the devotees.
His Holiness Sri Shankaracharya of Kanchi Kamakoti Peetham explains this with an allegory of a man standing under the first arch at the beginning of a bridge with many such arches. He thinks that particular arch is higher than the rest of the arches. But when he passes through all the arches he finds all of them to be of same height. [Vedic Roots of Hindu Iconography, Kaveri Books, New Delhi 2012 Foreword P-x]
This allegory holds good for a Sadhaka (seeker) on his spiritual Journey also. Hence when these formulations were applied in temples and sculpture every aspect of it carried with it immense significance and symbolic meaning. Hence Stella Kramrisch says "... Each has definite place and is part of the whole" while explaining nature of Indian art. [Stella Kramrisch Exploring India's Sacred Art, IGNCA, New Delhi 1994, P-20].
The perception of ultimate Reality as three-fold process of Creation, Preservation and Dissolution represented by Brahma, Vishnu and Shiva also recognizes 'Gunas' (nature) such as Rajasika, Satvika and Tamasika respectively. These three aspects though seems contradictory on the surface level merge with each other and become complimentary in the final analysis. The sculptures of 'Lingodhbava' can be cited as the best example of this. concept. Thus the Hindu religious sculptures, backed by a firm footing in philosophical formulations, depict effortlessly and confidently factors such as birth or death on the individual level or creation and dissolution at the cosmic level very effectively.
This publication entitled "BHAIRAVA Cult and Iconography in Karnataka" by Dr. Vasanthi S.T. is a commendable work which can serve as a source book of reference for scholars and students in the field of Art History.
I congratulate and wish Dr. Vasanthi S.T. success in her endeavours. I am sure the book will be well received by the readers.
**Contents and Sample Pages**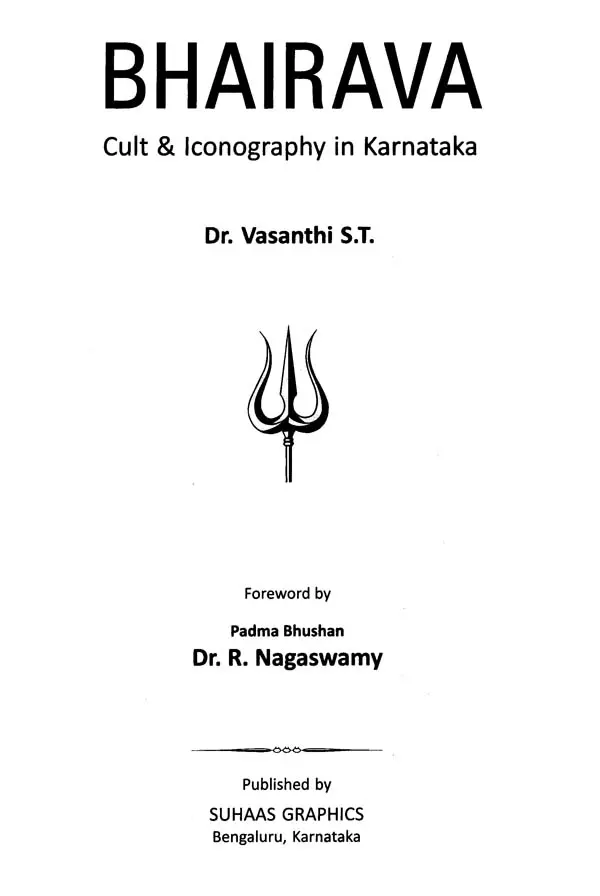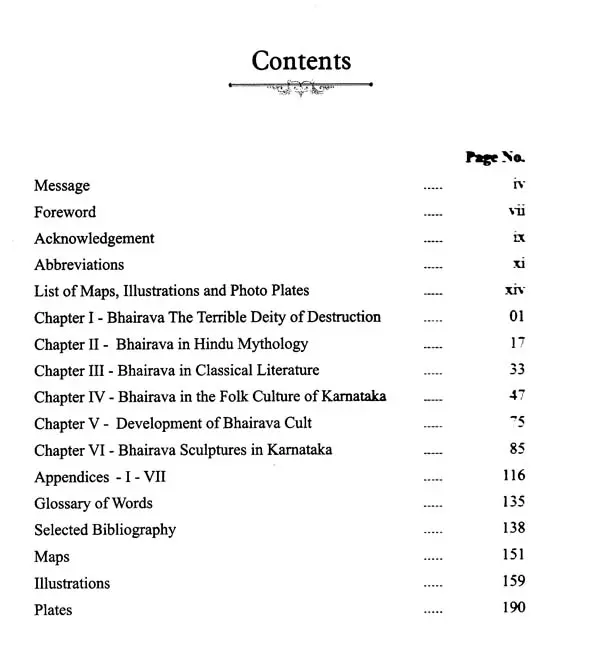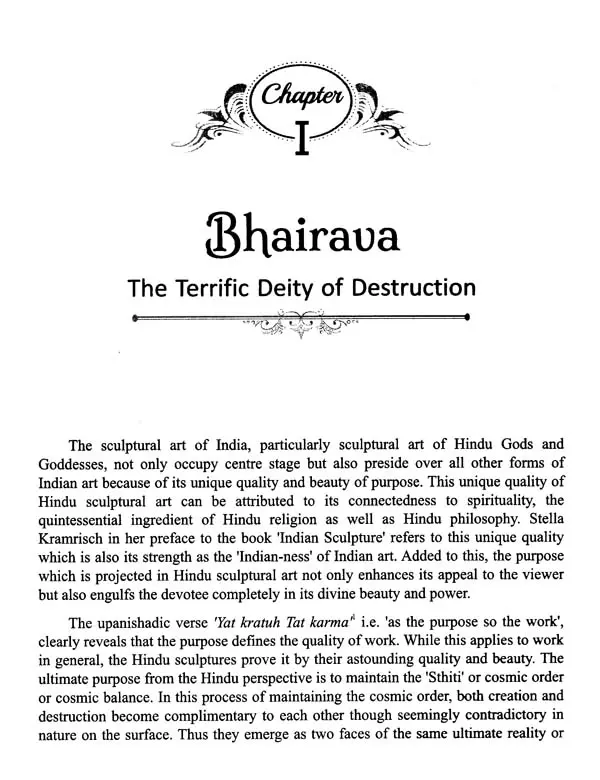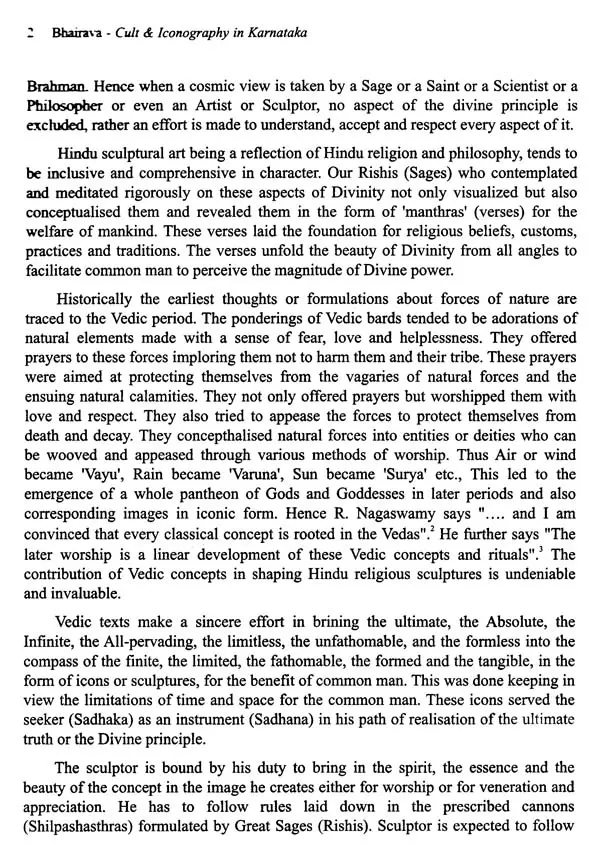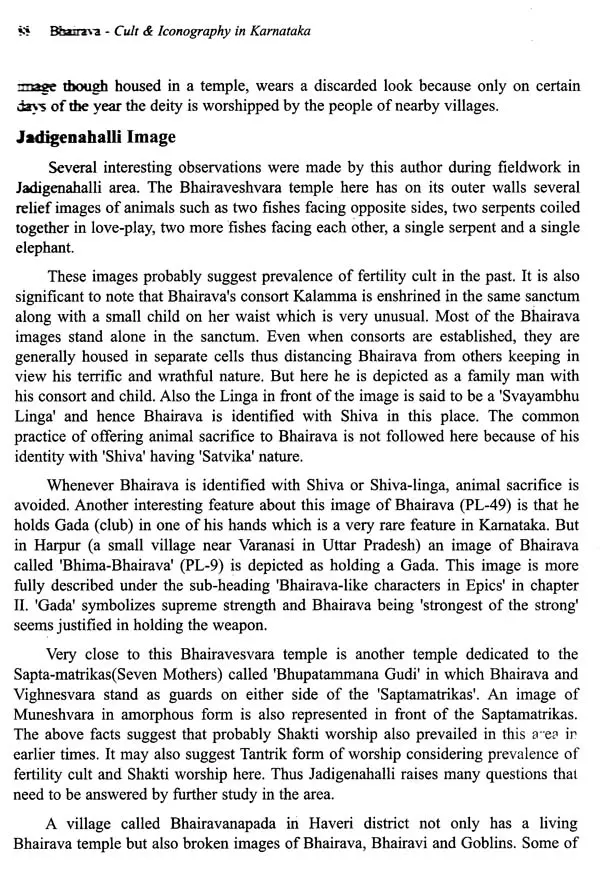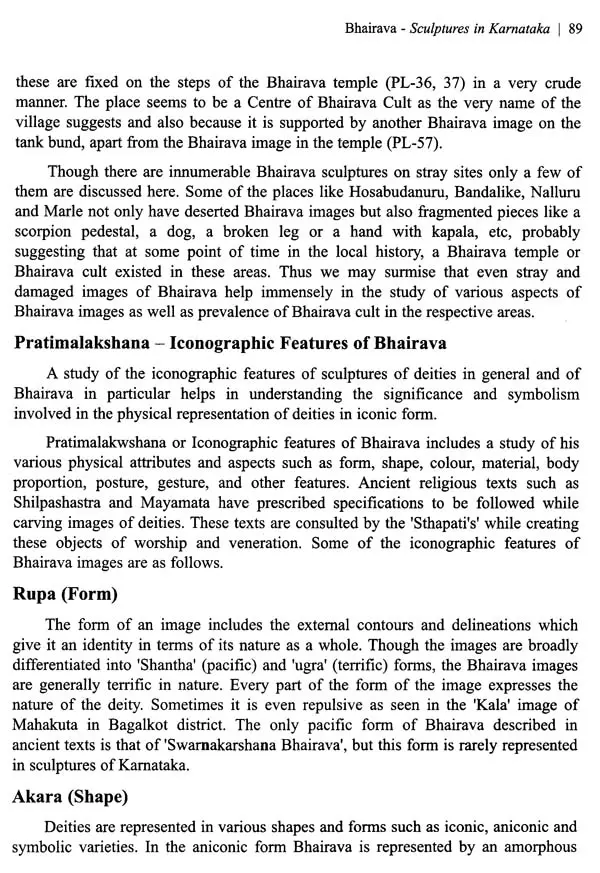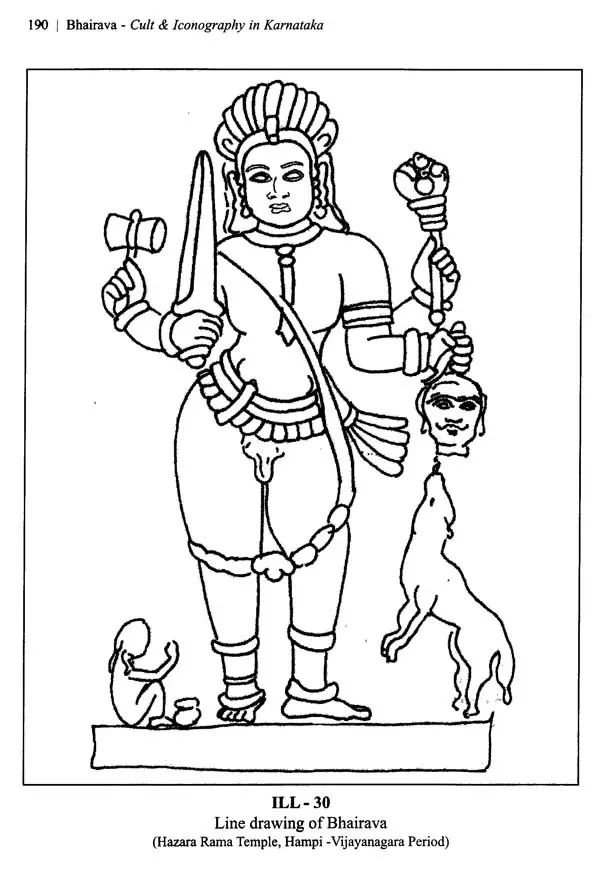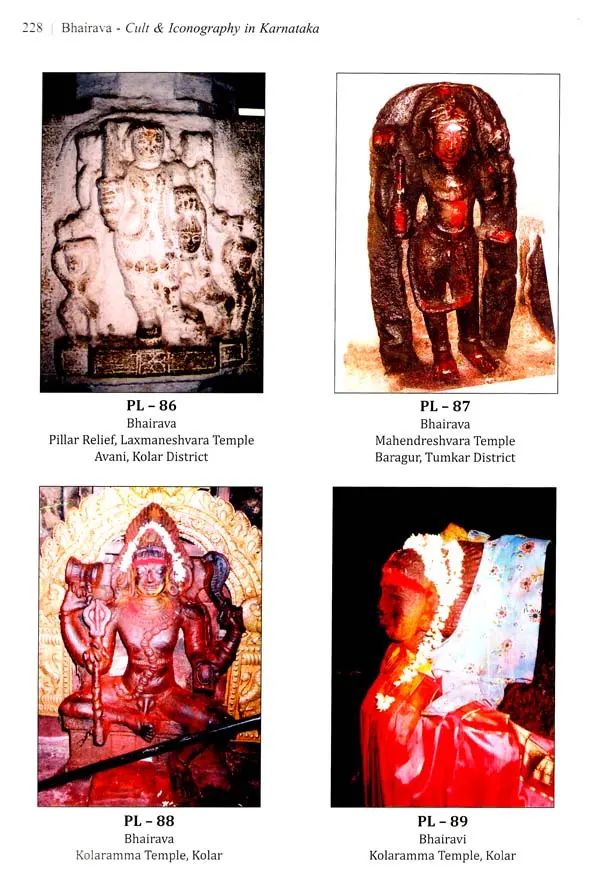 ---
We Also Recommend