Bhasa
$3500

$35.00
Tax included.
Shipping
calculated at checkout.
---
---
Book Specification
| | |
| --- | --- |
| Item Code: | IDG896 |
| Author: | V. Venkatachalam |
| Publisher: | SAHITYA AKADEMI, DELHI |
| Language: | English |
| Edition: | 2017 |
| ISBN: | 9788172016753 |
| Pages: | 178 |
| Cover: | Paperback |
| Other Details | 8.6" X 5.9" |
| Weight | 270 gm |
Book Description
From the Jacket
Bhasa, a renowned Sanskrit dramatist of the pre-Christian period, was the most prolific and versatile among classical Sanskrit dramatists. With thirteen plays to his credit, his works outnumber those of Kalidasa, Bhavabhuti, Sudraka, Sriharsha and others. His plays present a diversity of forms and techniques as well as themes, characters and sentiments unparalleled in Sanskrit drama. Unlike other Sanskrit dramas of the later ages, Bhasa's plays rank highest in respect of stage-worthiness. He is also considered a humorist par excellence.
About the Author
V. Venkatachalam (b. 1925) the author of this monograph is a former Professor and Head of the Department of Sanskrit, Vikram University, Ujjain and presently the vice-chancellor of Sampurnanand Sanskrit University, Varanasi.
At home in three languages-English, Sanskrit and Hindi-Prof. Venkarachalam has ten books and more than hundred research papers to his credit. He has been awarded Certificate of Honour by the President of India (1986).
In this monograph, he presents, within its limited compass, the colourful spectrum of the thirteen plays of Bhasa with a view to projecting some of the best features of Bhasa's dramatic and literary art. Though primarily addressed to the general reader, the book is designed to appeal equally to the interests of both the common intellectual and the demands of the serious student and the specialist.
Preface
In the overall design of this monograph, I have attempted to strike the happy balance between the interests of the general reader and the demands of the more serious student of literature. If at all the scales have tilted at any time, it has mostly been in favour of the general reader. As a corollary, academic subtleties and hair-splitting controversies, of which we have God's plenty in Bhasa-studies, have not generally been allowed to poach on these preserves. The conspicuous exception to this is the stormy debate that raged among scholars for nearly fifty years about the very authenticity of the thirteen Bhasa- -plays, recovered after centuries of hibernation, by Mahamahopadhyaya Ganapati Sastri in 1912. The brief resume of this vivacious controversy given in Chapter 2 'Bhasa-Problem' is just the tip of the iceberg! On this highly sensitive issue, I have joined the positivists as much out of conviction as by expediency. Expediency did demand this of me, for, if Bhasa had no terra finna to stand on, where was the terra finna for me to stand and write about Bhasa? It is somewhat amusing to think of what would have happened to this monograph if I had belonged to the anti-Bhasite or Bhasa-doubters' camp. I would then have written of the 'so-called' author of the 'so-called' Bhasa-plays and would have been constrained to affix a 'so-called' to the thirteen plays, practically every time I spoke about them or their author, with the result that the book would have ended up as a 'so-called Bhasa'-monograph! Thank goodness! I am a pro-Bhasite and subscribe to the-genuineness of the thirteen plays as we have them now!
The other sensitive issue concerning Bhasa is his date, which is inextricably linked with the vexed problem of the date of Kalidasa, On the question of Kalidasa's date, I hold that the root of the whole mischief behind this never-ending (perhaps never-to-end) debate is the unfortunate and unwarranted presumption made by the early western scholars that the traditional Vikramaditya of Ujjain was a myth and that the Vikram Sarnvat was a later fabrication. With this miscalculation, started the misguided efforts of those first pioneers to locate some Vikrmaditya (with reliable credentials!) to foist Kalidasa on. This hunt led them to the historical Vikramaditya of the Gupta age. Since then, this Candragupta II Vikramaditya of the 4th century A.D. has served them excellently well as a convenient hook to hang Kalidasa on! And there, poor Kalidasa hangs, dislodged from the real age he lived in and dislodged too from his favourite Ujjain, the scene of his creative activity! I The truth of the whole matter is--and truth has been bitter more often than not-that no western protoganist of this school of thought, nor any of the redoubtable Indian champions of this Gupta age theory, has ever adduced any valid fool-proof historical evidence-in the sense historians understand 'historical evidence'-to associate the celebrated Kalidasa with this particular Vikramaditya. The moot question is this: if the main part of the tradition about the existence of Sakari- Vikramaditya in Ujjain in the first century B.C., coeval with the universally current Vikrama era is to be discarded as a myth, where is the need to retain the tail-appendage of that same tradition that Kalidasa was a protege of Vikramaditya? After all, there is no unequivocal historical evidence anywhere to club Kalidasa with Vikramaditya, It is this irrational ardhajaratiya approach-to use the familiar maxim of our sastras that has, in my opinion, wrought havoc with the date of Kalidasa and clouded the truth beyond repair. If only the tradition clubbing Kalidasa with Vikramaditya had also been discounted as a myth along with the tradition of Vikramaditya in Ujain in the first century before Christ, there would have been less of wasteful exercises by scholars in our journals over the last hundred years and the date of Kalidasa would have been tackled independently of Vikramaditya and some acceptable consensus might have emerged. The right thing to do is to discard tradition or accept it in toto, according as it conflicts or does not conflict with proven historical facts. In this case, there is no sound reason to discredit the strong tradition of Vikramaditya of Ujjain n the rust century B.C. So the tradition stands and with that, stands the tradition associating Kalidasa with this Vikramaditya.
With Kalidasa thus lodged in the 1 st century B.C., Bhasa has to be placed earlier. By how many precise decades or centuries Bhasa preceded Kalidasa, none can say. Luckily however, Ganapati Sastri could trace a verse actually found in one of these thirteen plays in Canakya's Arthasastra" Luckier still, Canakya has specifically declared that it is a quotation from another writer. Normally, this Bhasa-verse quoted by Canakya should have been more than adequate to clinch the issue and conclude that Bhasa was pre-Canakya, that is to say, earlier than 3rd century B.C. But scholars have their own ways! They can keep controversies alive or even create controversies, where there is no scope for one! In the present case, for instance, scholars who cannot countenance a pre-Christian date for Bhasa say that Canakya must have quoted the verse from some other earlier source and Bhasa may have harrowed it either from Canakya or from Canakya' s source. There can be no end to arguments or .to interpretations. Long ago, Bhartrhari described the endless dilemma of arguments in his Vakyapadiya in a charming little couplet, which Sankaracarya has almost paraphrased in a discussion on this subject in hisBrahmasutrabhasya.Freely rendered, the couplet runs thus: "Even the firm conclusions arrived at by highly gifted men with sharp brains with considerable effort arc challenged and disproved by more highly gifted men with much sharper brains!" As for the endless trickery behind interpretations, one of Shakespeare's fools has put it best: "A sentence is but a chev'ril glove to a good wit. How quickly the wrong side may be turn'd outward." So, the controversy goes on. Kalidasa's date still hangs in the balance! And Bhasa's fate hangs in another balance behind Kalidasa's! There is still a large section of scholars, who are convinced that Bhasa should be placed in the 3rd century A.D., just about a century before their Kalidasa in the Gupta age. And it must be admitted, in fairness to them, that "they are all honourable men!" and that their theory is not so hollow as to be rejected outright. The upshot of all this is, Bhasa's date is still an open question.
CONTENTS
| | | |
| --- | --- | --- |
| | Preface | ix |
| 1 | Introduction: Greatness | 1 |
| 2 | Bhasa-Problem | 8 |
| 3 | Life and Date | 16 |
| 4 | Works: Bird's eye View | 27 |
| 5 | Ramayana Plays | 33 |
| 6 | Mahabharata and Krsna-Legend Plays | 66 |
| 7 | Legendary and Historical Plays-Other Works | 83 |
| 8 | Critical Appraisal | 98 |
| 9 | Conclusion: Footprints | 112 |
| | Devangari version of verses and prose-extracts | 117 |
| | Glossary | 125 |
| | Select Bibliography | 143 |
| | Index I (General) | 156 |
| | Index II (Bhasa, etc.) | |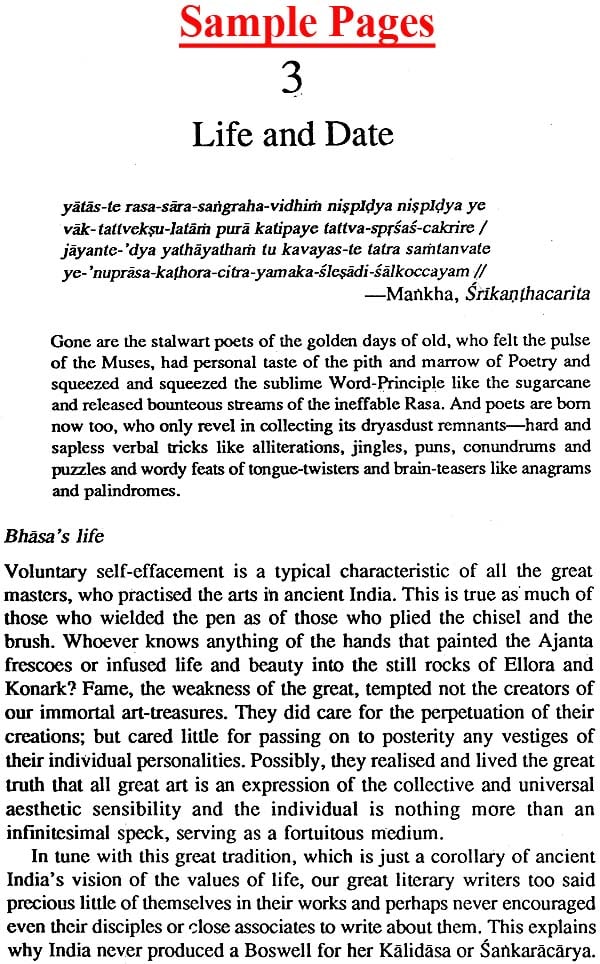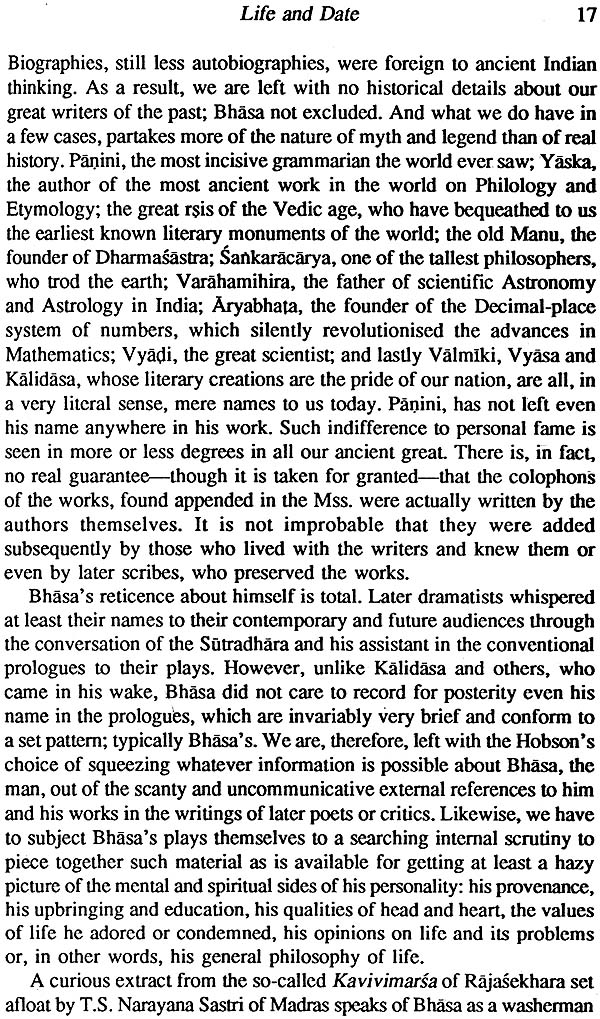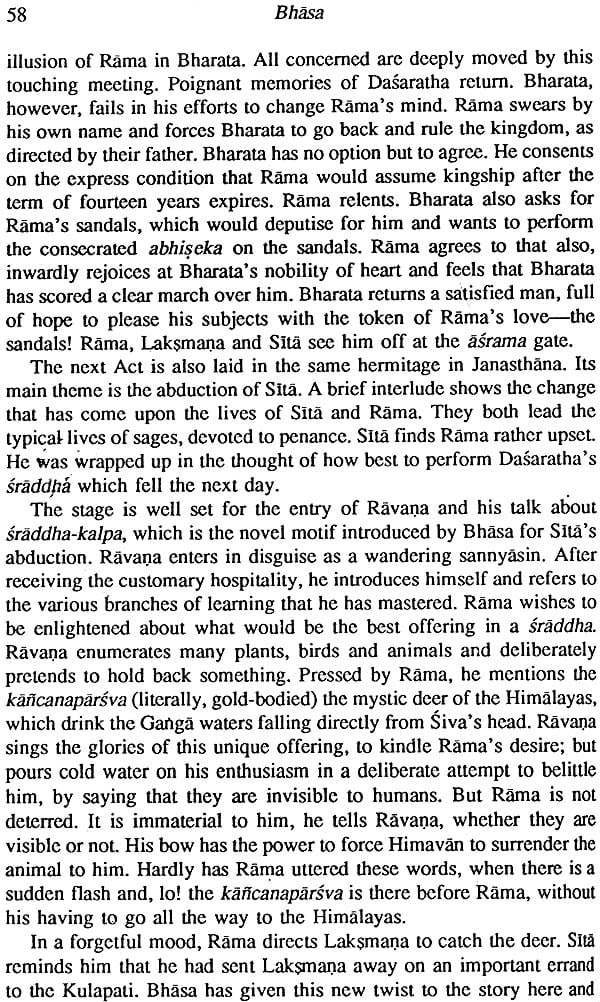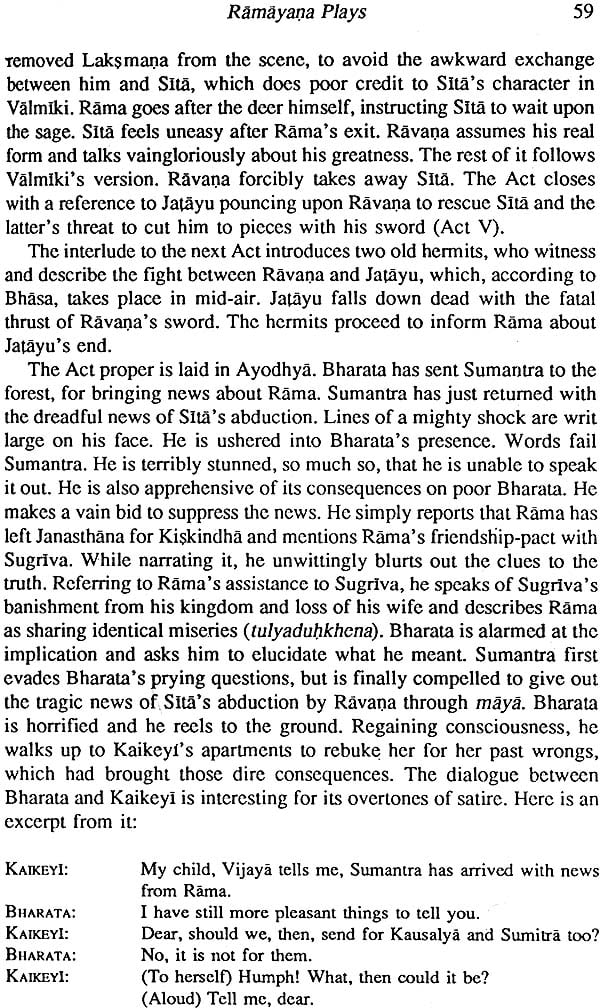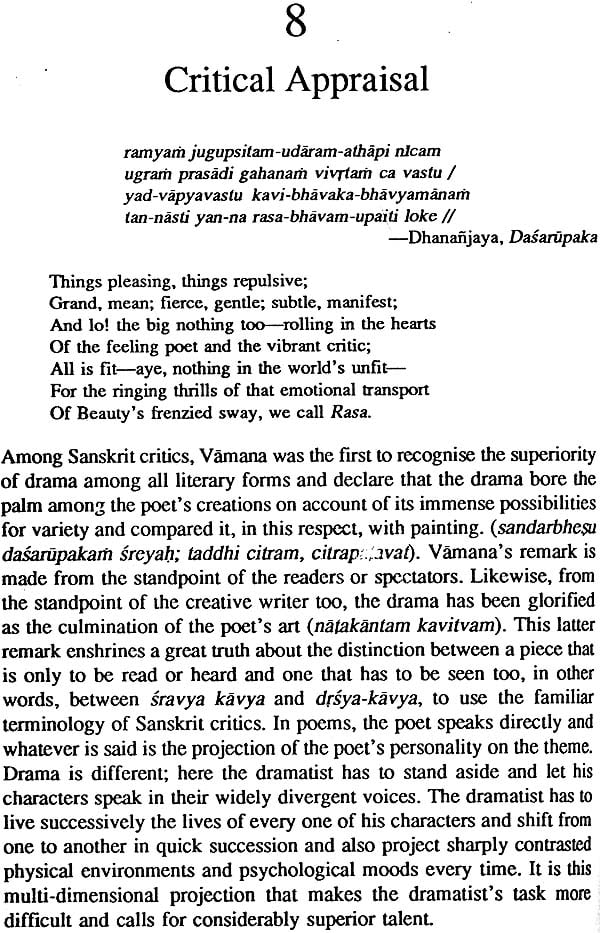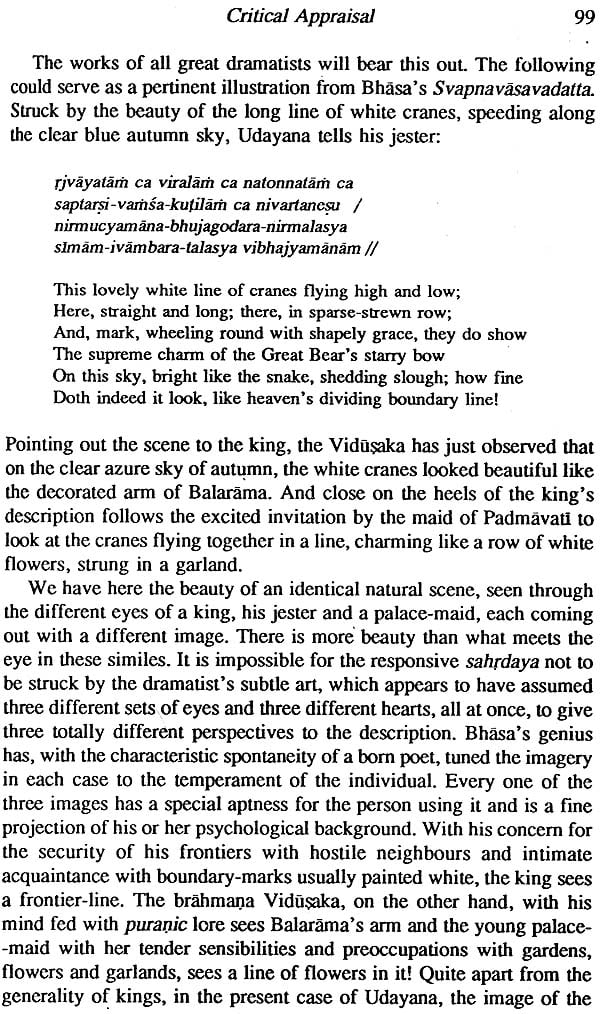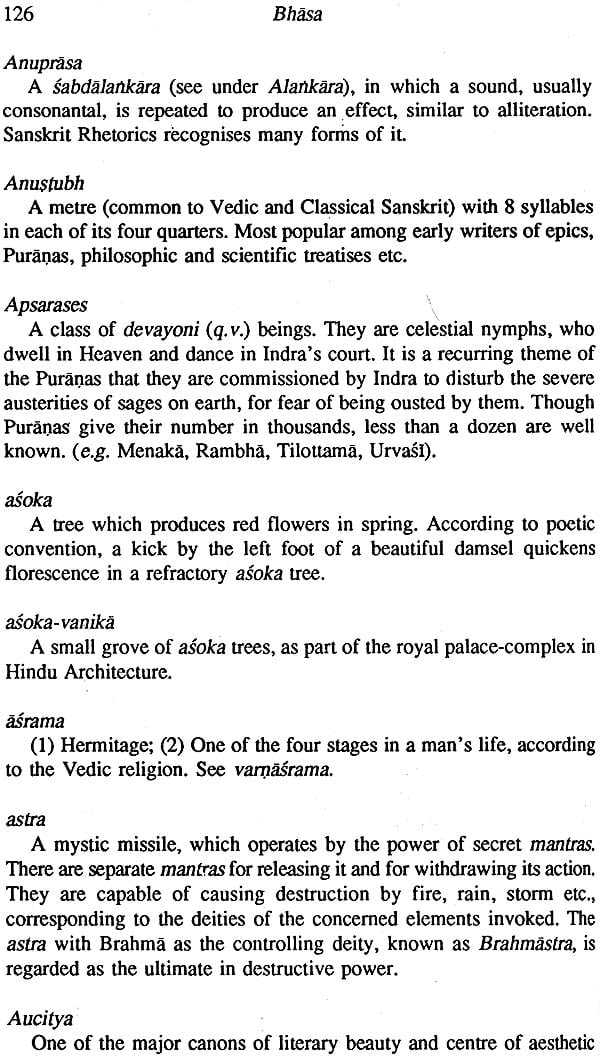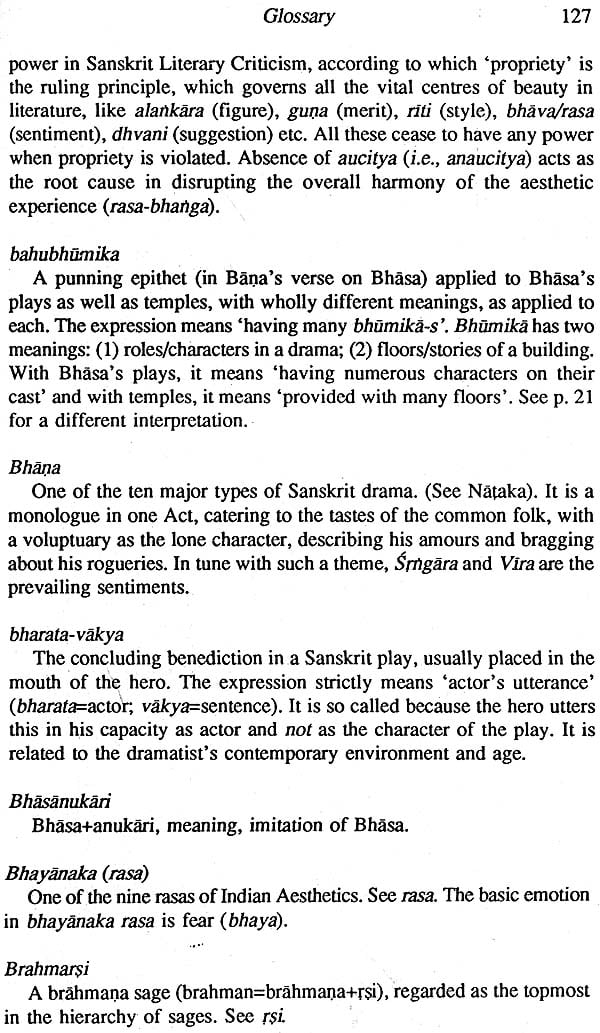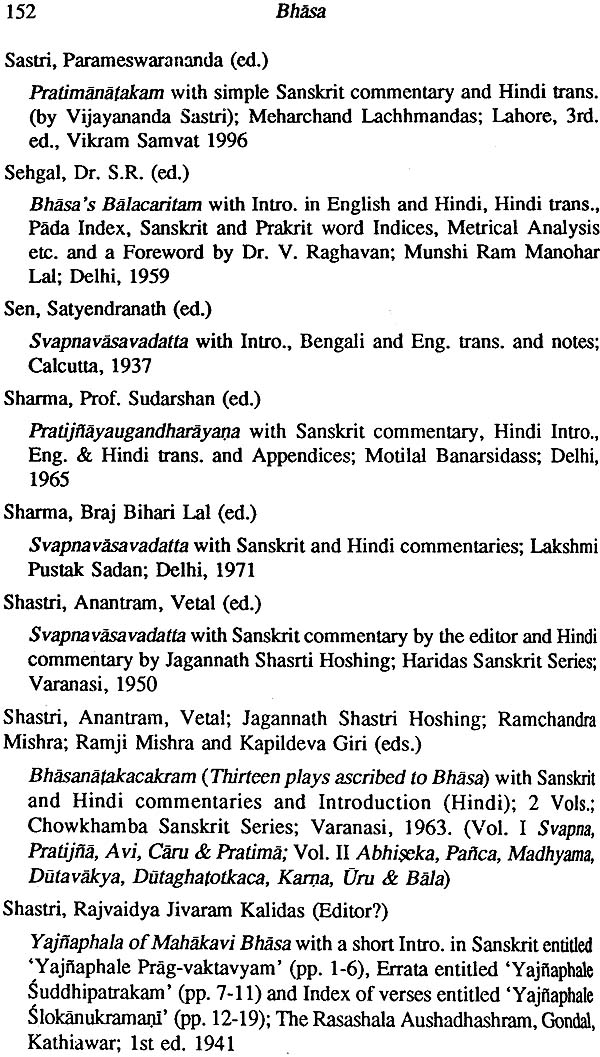 ---
We Also Recommend