Bihar- History and Archaeology of Incredible Madhepura
$4600

$46.00
Tax included.
Shipping
calculated at checkout.
---
---
Book Specification
| | |
| --- | --- |
| Item Code: | UAM517 |
| Author: | Raman Kumar Soni and Gunjan Kumari |
| Publisher: | Kaveri Books |
| Language: | English |
| Edition: | 2014 |
| ISBN: | 9788174791511 |
| Pages: | 250 (Throughout B/w Illustrations) |
| Cover: | HARDCOVER |
| Other Details | 9.00 X 6.00 inch |
| Weight | 470 gm |
Book Description
About the Book
This book is pioneering work on history archaeology Madhepura based extensive research expanding over number of years. It tries explore, analyze reconstruct landscape, history, and settlement and subsistence pattern Madhepura district and Kosi region in.
The book begins exploring question as to Madhepura forgotten land, attempt discover to why is incredible. Then moves on to trace out district's location, administrative history, and condition of reconstructing Madhepura's landscape, work traces out geological formation, topography, features, climatic conditions, flora and fauna. This followed by description general Madhepura from ancient modern times, describes archaeological historical sites remains found author's exploration.
The strongly believe that this help filling up gap in historical archaeological knowledge about marvelous land. might enlighten about great saga of "forgotten among people help the uphold its glorious culture and tradition while not lagging behind the race of modern development.
About the Authors
He conducted researches and taught across countries and continents. possesses illustrious academic background earning several degrees, diplomas, certificates while international schools and top notch Indian foreign institutes of higher learning. His area of specialization interests are Indian History and Archaeology and African History Archaeology.
Dr. Soni conducted archaeological historical including the excavation of Indus Civilization He dozens papers articles published international national journals, magazines, and news papers to credit. Dr. Soni's book Incredible Egypt: The History Early Egyptian published in 2007 and book, History and Archaeology of Eritrea: From Earliest Time Medieval Period published in 2013.
keen pursuing doctoral research (Ph.D.). She born and brought in Kosi Bihar, so well acquainted with Madhepura and its people and culture. She studied from well-known schools, colleges, and universities. She has widely travelled attended several Seminars and Conferences and published number research papers reputed journals and periodicals.
Preface
The present work, Bihar: History and Archaeology of Incredible Madhepura is a dream come true. It is result of several stimuli. One of them is strong attachment with the homeland (Madhepura, Kosi River region, and Bihar). Secondly, Kosi belt is wanting in systematic and scientific historical and archaeological researches. All these together created a powerful desire to contribute to this area and its people in one's own field of study.
The current book is the result of extensive research work. It involved thorough archaeological cum historical exploration of Madhepura district with special focus on its historical settlement pattern. The latter was specifically aimed as it is relatively new and piquant in South Asian archaeology. Such type of study also helps in understanding the interaction between human beings and environment in the past as well as the present.
The first author believes that he and his academic life has been immensely influenced and shaped by five people namely Dr. Firdos Anwar, Late Dr. J. P. Sharma, Prof. R. C. Thakran, Prof. Ravindra Kumar, Late Dr. Surajvan, and Ram Chandra Guha. So, in a way their contribution to the present work directly or indirectly is very obvious. Moreover, Dr. Raman Kumar Soni strongly feels that his whole life, he has been probably preparing for this work.
Book's Contents and Sample Pages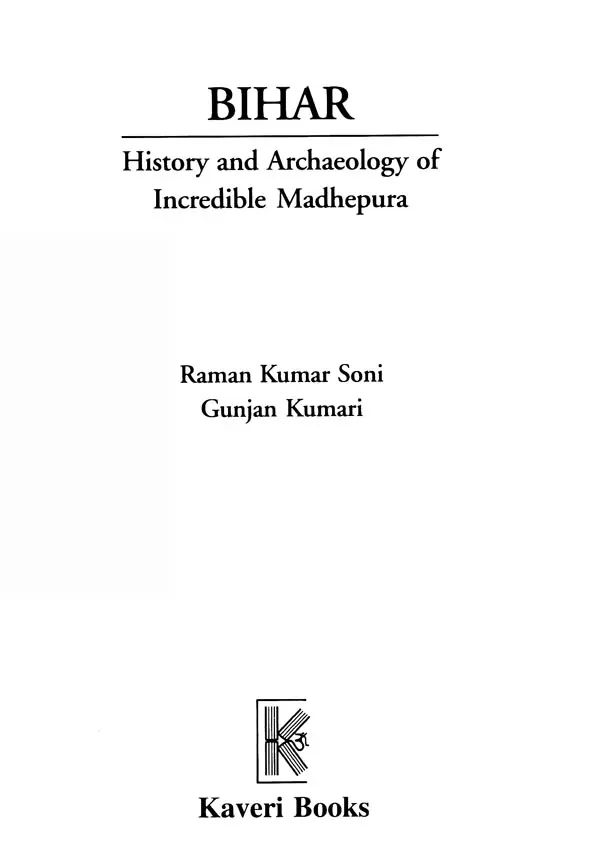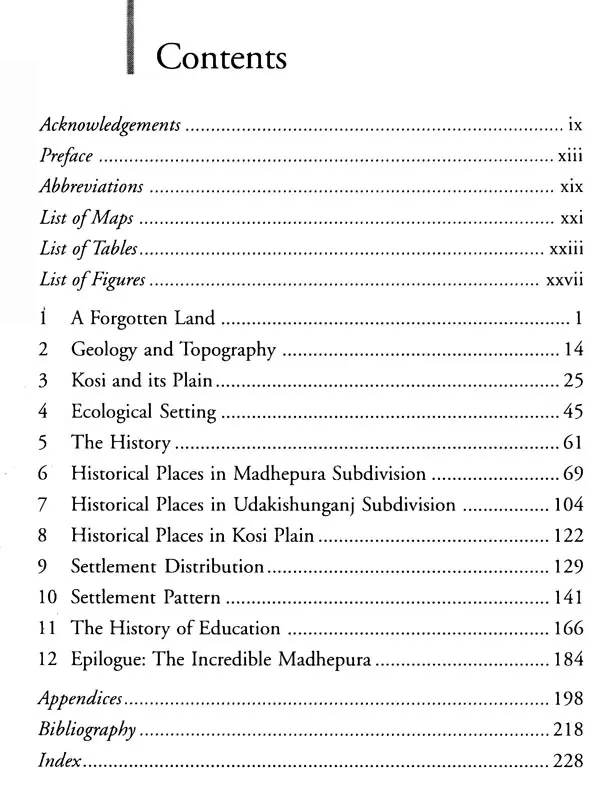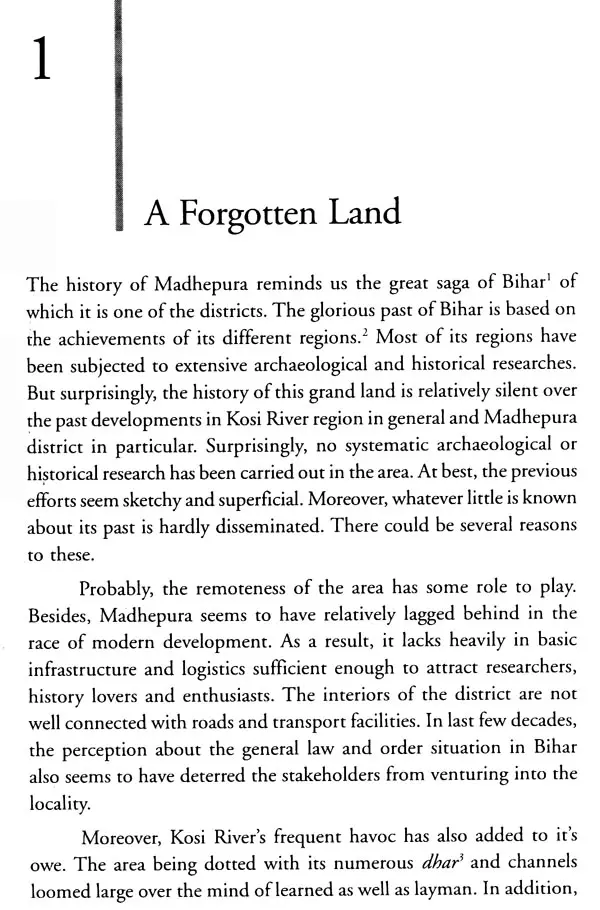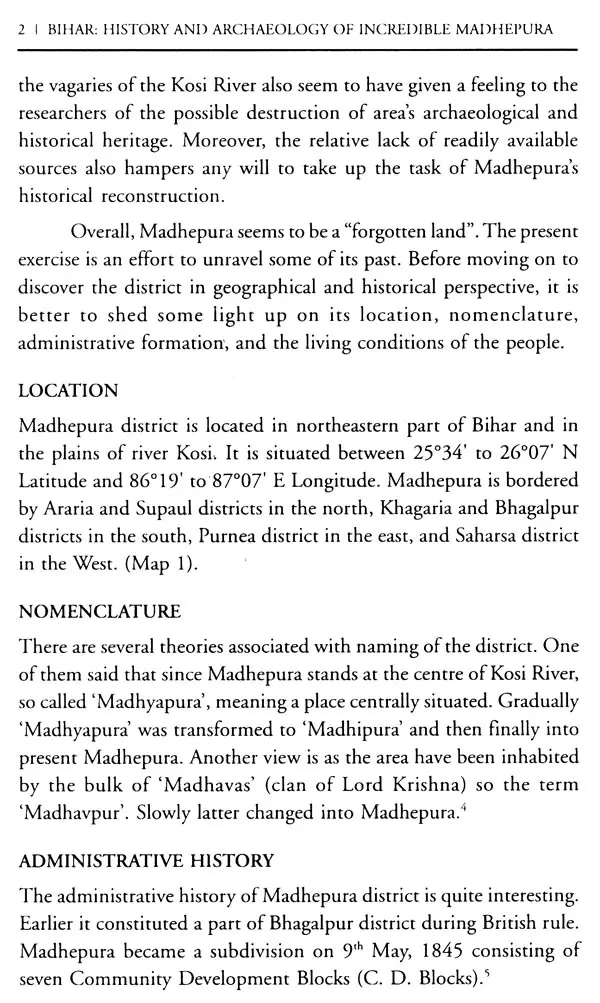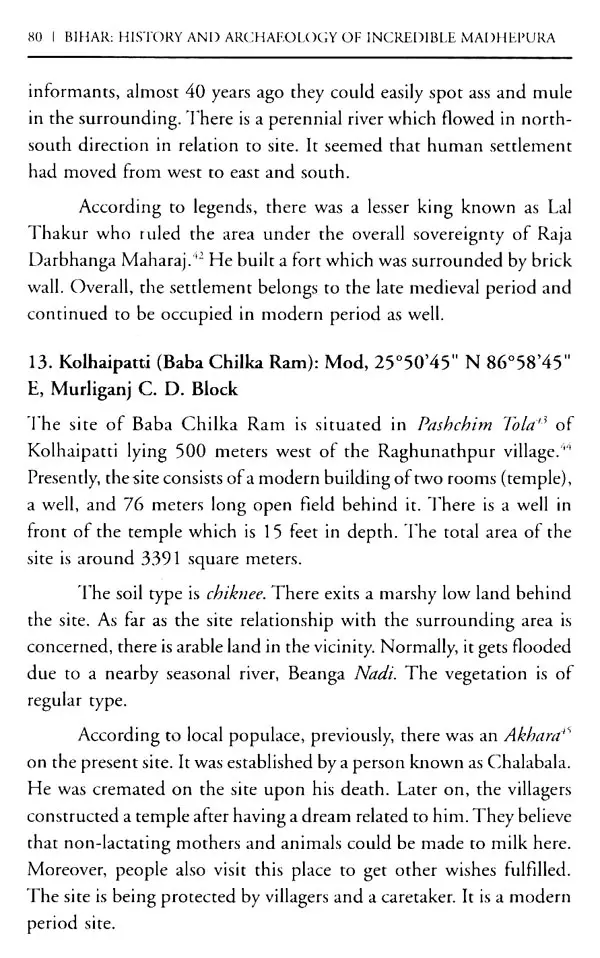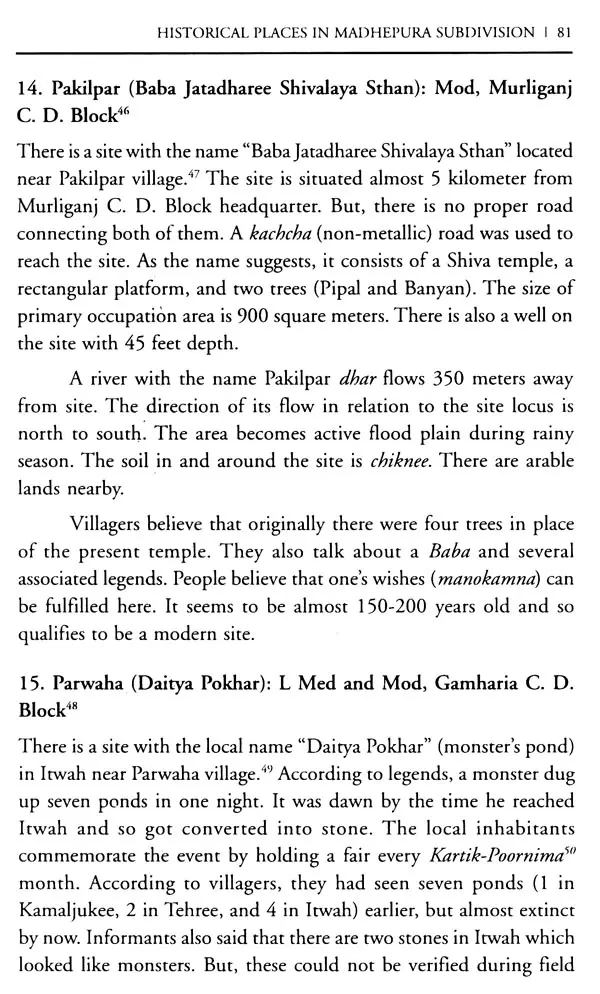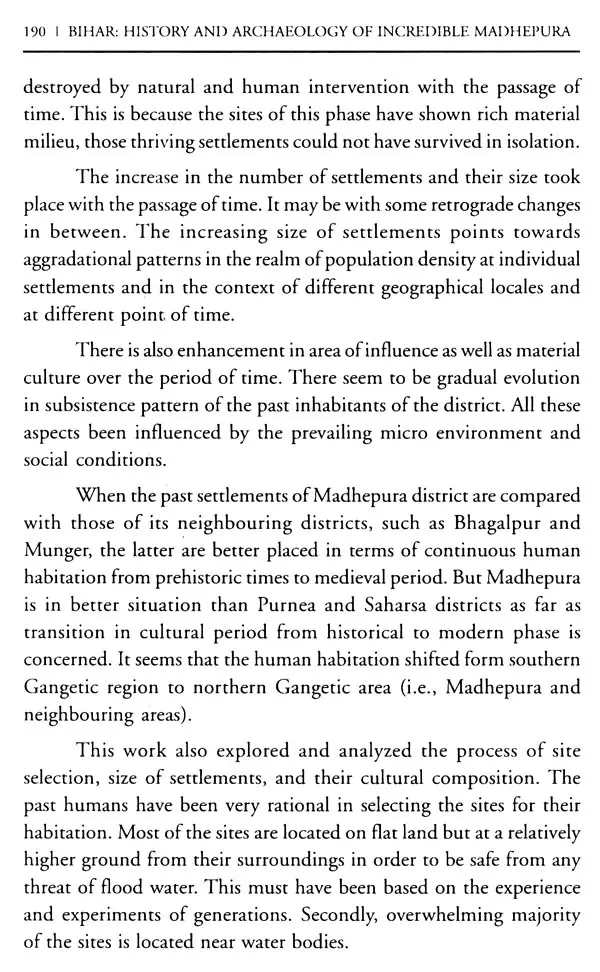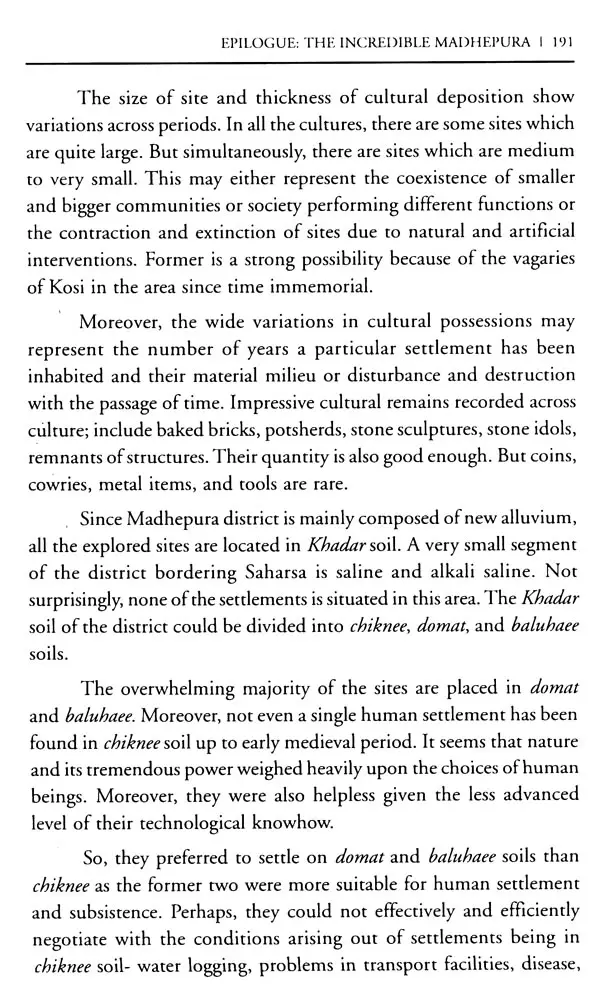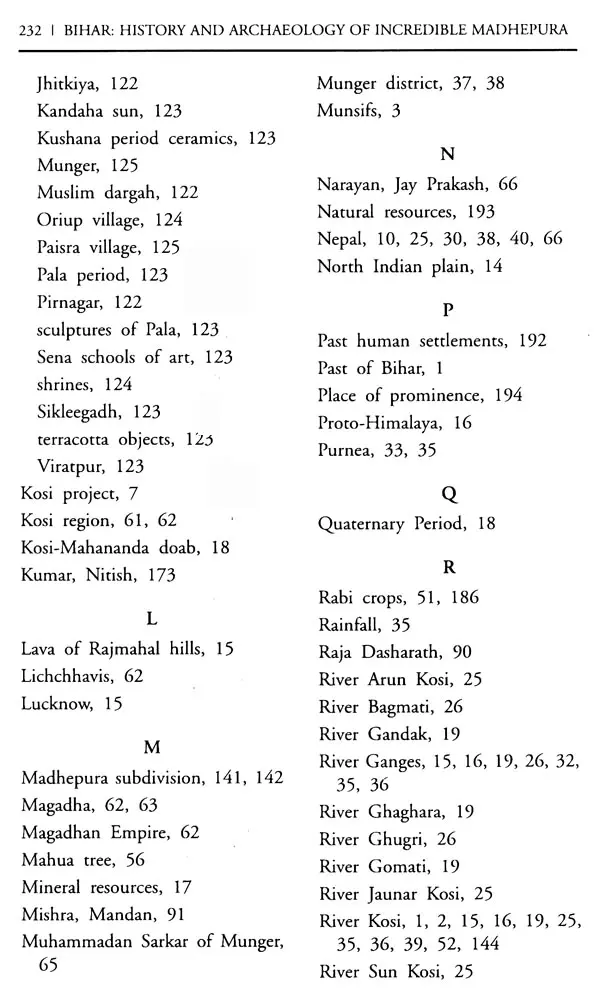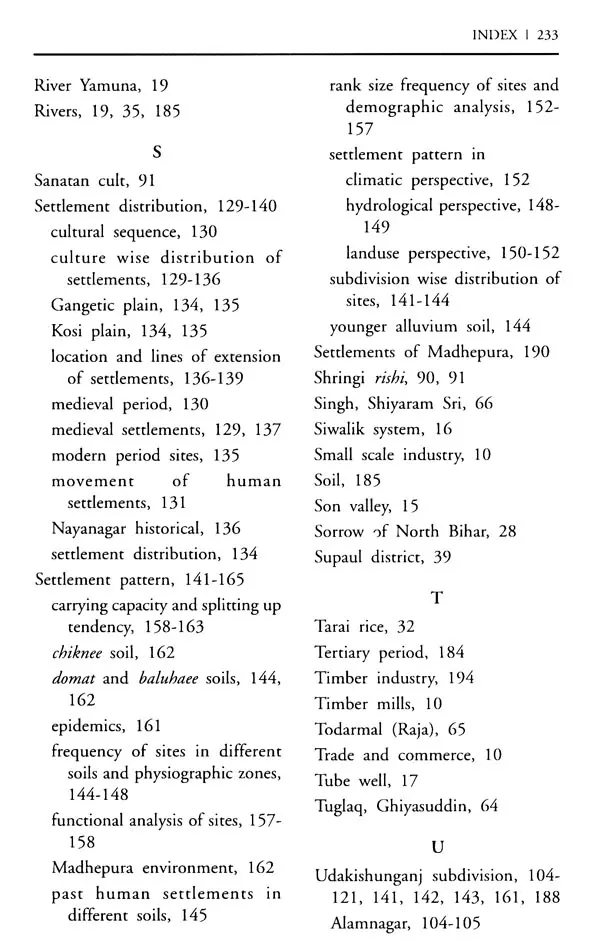 ---
We Also Recommend