Brahman is Visnu (Visnu the God Paramount)
$3200

$32.00
Tax included.
Shipping
calculated at checkout.
---
---
Book Specification
Book Description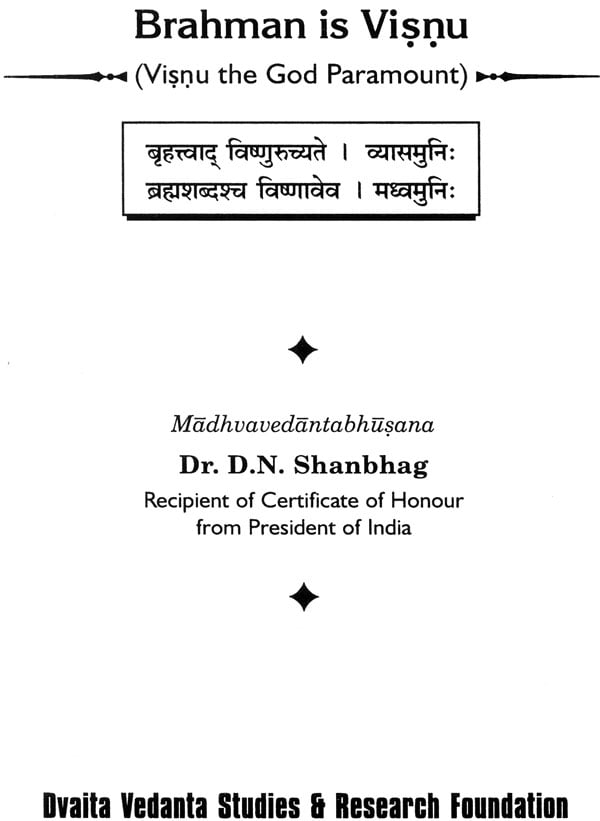 Preface
Under the short term Research Project instituted in the memory of the great Saint, Shri Shri Vidyamanya Tirtha Swamiji of Bhandarkeri Math and Palimaru Math, a research monograph 'Brahman is Visnu' is prepared by Dr. D.N. Shanbhag, Professor of Sanskrit (Retd.) Karnatak University, Dharwad. We are glad to present this research work on the Dvaita Vedanta to the inquisitive scholars and students of Indian Philosophy, as it embraces a philosophic enquiry into the Dvaita declaration—'Brahman is Visnu' in a logical and comprehensive method. Dr. D.N. Shanbhag derives the conclusions in an unequivocal manner on the basis of authoritative texts from the Vedas, Upanisads, etc.
The Dvaita Vedanta Studies and Research Foundation is engaged in bringing out such research publications on the Dvaita Vedanta. We are interested in publishing original Sanskrit texts as well as studies in English and Kannada. We solicit co-operation of both scholars and readers in our endeavour. We are glad to record our appreciation of good work done by Dr. D.N. Shanbhag, a student of Prof. K.T. Pandurangi at Karnatak College, Dharwad.
Foreword
I have great pleasure in writing this Foreword to Dr. D.N. Shanbhag's latest book 'Brahman is Vishnu'. I know Dr. Shanbhag since 1955 when he joined the Karnatak College, Dharwad, as a M.A. (Sanskrit) student of the Karnatak University. Then I was teaching Madhva's Brahmasutrabhasya to M.A. students. I found him to be very keen and serious in his studies. I still remember how he was asking thought-provoking questions in the class. Sankara's Brahmasutrabhasya was also a prescribed text for him. Very often he used to compare Madhva's interpretation of crucial sutras with that of Sankara. This comparative study made him believe the validity of Madhva's interpretation of important sutras.
Dr. Shanbhag was demonstrating his logical skill while understanding the interpretations of sutras given by Sankara and Madhva. Due to this comparative and critical study being conducted by him at that early age itself. I could find him gradually becoming convinced about the truthfulness of the tenets of Madhva's Dvaita Vedanta. After passing M.A. examination, he continued his research in the field of Dvaita Vedanta. He was fortunate to get Dr. B.N.K. Sharma, the Dvaita doyen, as his Ph.D. guide and his thesis 'Some Problems in Dvaita Philosophy in their Dialectical Setting' was approved by the Bombay University for its Ph.D. degree. Thereafter, he continued his research in the same field of Dvaita Vedanta.
Dr. Shanbhag's works on Dvaita Vedanta amply 5how his conviction of both veracity and acceptability of the doctrines preached by Madhva through his several works. Dr. Shanbhag makes use of his sharp intellect and critical acumen in justifying Madhva's tenets. The present work serves as a brilliant example of his method of justifying Madhva. Rightly does he pinpoint that Madhva is quite justified in identifying Brahman, the Supreme Being highly estimated by all the schools of Vedanta, with God Visnu of the Hindu pantheon. He has advanced a variety' of evidences to prove that Visnu occupied the highest status right from the Vedic times. The sacred literature as a whole, comprising of Vedas, Brahmanas, Upanisads, Bhagavadgita, Puranas and the like extols throughout, Visnu as God Paramount. His wide study of scriptures has inspired Dr. Shanbhag to proclaim the verdict that Visnu alone, by His right and might, enjoys the highest place among the galaxy of Hindu gods. It is a fact that Taduasrano Parmam Padam is declared by different scriptures. Visnu did not become the supreme God later in the age of puranas. Truly, He was so since the earliest times. The appendices in this book are helpful to any reader desirous to know more about the topic viz., 'Brahman is Visnu'.
I congratulate Dr. Shanbhag and wish that many more such well-documented works on Dvaita Vedanta will appear from his sharp intellect and wide scholarship.
Contents
| | | |
| --- | --- | --- |
| | Preface | iii |
| | Blessings | v |
| | Foreword | vii |
| | The Author submits | ix |
| | Abbreviations | xvii |
| I. | Man, Mighty but Helpless | 1 |
| II. | Man's Discovery of God | 11 |
| III. | God's Nature and Functions | 16 |
| IV. | Visnu alone is Brahman | 32 |
| V. | Visnu in Rgveda | 46 |
| VI. | Upanisadic Brahman is Visnu Alone | 58 |
| VII. | 1 | 92 |
| VIII. | Purusa-sukta is Yienu-sukta | 99 |
| IX. | Gayatri-mantra is Visnu-mantra | 116 |
| X. | 'Brahman' and 'Visnu' are synonyms | 127 |
| XI. | Visnu alone is Independent and Bhagavan | 136 |
| XII. | Verdict of the Bhagavadgita | 145 |
| XIII. | Final Verdict | 156 |
| | Appendices | |
| I. | सर्व विष्णुमयम् | 173 |
| II. | शौनकस्य ऋग्विधानम् | 188 |
| III. | Importance of puranas | 196 |
| IV. | भगवद्गीता- एकोदशोअध्याय | 199 |
| V. | Panegyrics of Visnu | 202 |
| VI. | Purusa of Purusa-sukta is Visnu alone | 211 |
| VII. | Gayatri-mantra is Visnu-mantra | 215 |
| VIII. | अथ तंत्रसारोक्तविष्णुपूजा | 217 |
| IX. | अन्तर्यामि ब्राह्मणम् | 219 |
| X. | तद्विष्णो परमं पदम् | 221 |
| XI. | द्वादशपत्रकयोगम् | 223 |
| XII. | पुरुषसूक्तम् | 225 |
| XIII. | मासे मासे विष्णुमेव पूजयेत | 227 |
| | Bibliography | 229 |
Sample Pages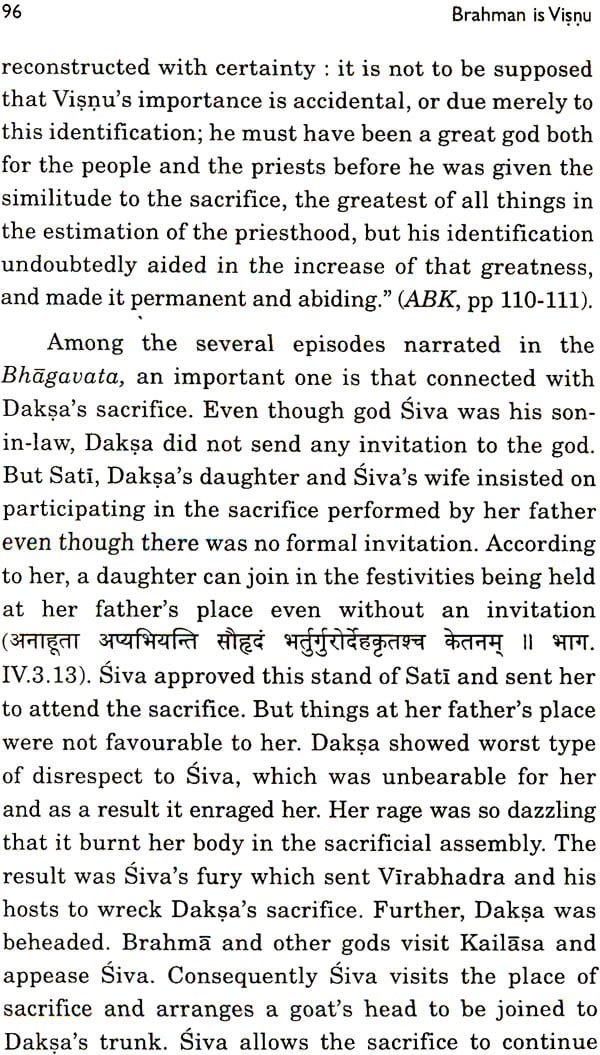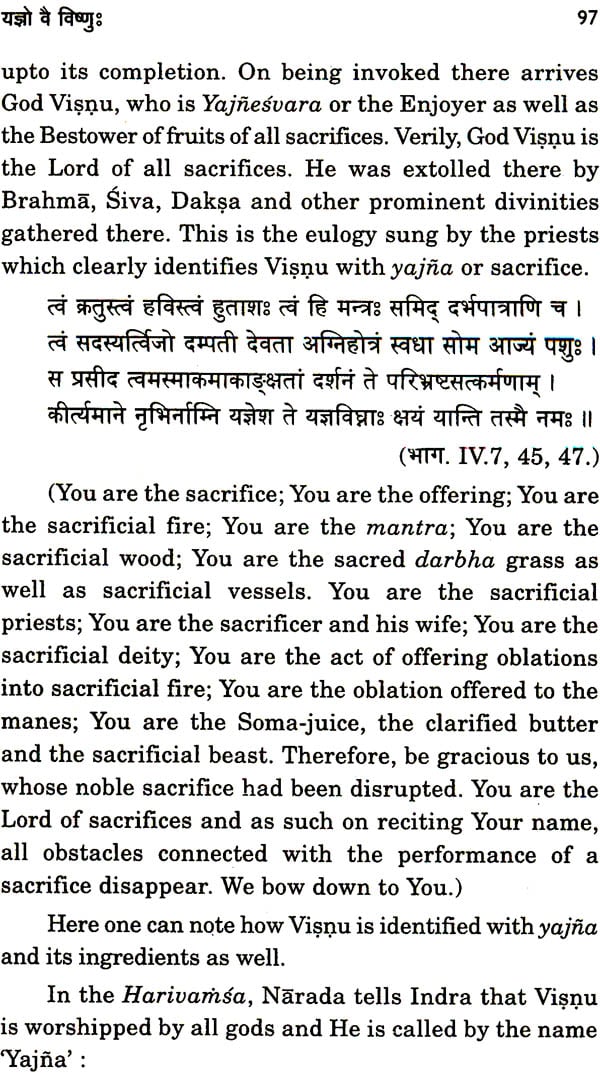 ---
We Also Recommend