Caraka Samhita- As I Understood It: Part-1, Sutra Sthana (Chapter 1-16)
$5700

$57.00
Tax included.
Shipping
calculated at checkout.
---
---
Book Specification
| | |
| --- | --- |
| Item Code: | AZE029 |
| Author: | Prabhat Tiwari |
| Publisher: | CHAUKHAMBHA PRAKASHAN, VARANASI |
| Language: | SANSKRIT TEXT WITH TRANSLITERATIONS AND ENGLISH TRANSLATION |
| Edition: | 2022 |
| ISBN: | 9789393068200 |
| Pages: | 444 |
| Cover: | PAPERBACK |
| Other Details | 10.00x7.50 inches |
| Weight | 640 gm |
Book Description
About the Author
Prof. Dr. Shivenarain N. Gupta Distinguished Professor, Post Graduate Department of Kayachikitsa in JS. Ayurveda College, Nadiad (Gujarat), which is the oldest Institute in Gujarat state. He has about 40 years of experience in teaching Ayurveda.
He has authored two books on Kayachikitsa and Panchakarma. Both the books have been highly appreciated by medical professionals and medical media of German-speaking European countries. Publication of about 60 scientific articles in national, international, and peer-reviewed journals is credited to him.
He was awarded a Gold medal from the University of Indore for his first rank in the final examination of Ayurveda Graduation. On 18th February 2017, he was awarded the Jugatram Vaidya LASTAM award for excellence in teaching in Ayurveda' at BHU during an International Conclave on Translational research in Ayurveda. Awarded 'Fellow of Rashtriya Ayurveda Vidyapeeth' by Rashtriya Ayurveda Vidyapeeth (Ministry of AYUSHI, New Delhi. Awarded 'AYURVEDA SHIROMANI' award from All India Ayurveda PG Association. New Delhi March 2019. Excellence in Integrative medicine research Award 2019 (10000 Euros) by The European Society of Integrative Medicine (ESIM) as co-author for the study Reliability of Ayurvedic Diagnosis for Knee Osteoarthritis Patients: A Nested Diagnostic Study within a Randomized Controlled Trial". Holzschuh-Preis for complementary medicine 2020 by The Karl and Hilde Holzschuh Foundation, Germany as co-author for the study - "Effectiveness of an Ayurvedic treatment approach in knee-osteoarthritis-A randomized controlled trial.
He has been invited to deliver key-note lectures and to chair the sessions in several reputed and well-attended international symposia, seminars, and conferences.
He is a popular teacher among the students from India and abroad because of his good capacity to explain the ancient philosophy with modem logic to make them digestible for the students of modern times who are over fascinated with modern science. Several of his students are successfully practicing Ayurveda in the country and abroad, and have achieved good name and fame. Besides several hundred Indian students, he has trained more than 700 medical professionals in Europe in the last 25 years through the European Academy of Ayurveda, Germany of which he is the Head of the Academic advisory board. He has a principal role in the foundation of Rosenberg European Academy of Ayurveda, Germany which is the biggest organization today offering education and health care services in Ayurveda through its setups in all German-speaking countries. He has been interviewed by German media several times.
He is one of the authors and contributors to the Caraka Samhita New Edition Project, Orlando, Florida, USA.
Besides his academic achievements, he has achieved remarkable success in the management of diseases of chrome and obstinate nature including the diseases of kidney and liver with a research oriented classical approach. As a result, the popularity of P.D. Patel Ayurveda Hospital, Nadiad (teaching hospital of J.S. Ayurveda college) has crossed the boundaries of the state and the country, having patients from nearly all parts of the country and all continents of the world.
He was the advisor and clinical planner, in the most prestigious and first of its kind of research project in Europe on Osteoarthritis, conducted by Charité Medical University, Berlin, sponsored by the Ministry of AYUSH, Government of India. Vice President of IASTAM (India).
Preface
Faith is often the boast of the man who is too lazy to investigate. Farquhar McGillivray Knowles.
Ancient literature is in aphorism and often in a poetic form. It was useful in remembering the text by heart. It always requires elaboration and practical clarification. Samskrita is a rich language. There may be huge description in small size of writing. There are several meanings of a single word and there are several names for a single entity as carakasamhita itself sites this: santi hyarthantaran samanasabdabhihitänt, santi canarthantarani paryayaśabdabhihitäni (ca.vi.6/4). Often it is needed to decode the ancient writings to make them practically applicable. Therefore, the commentators have done this job time to time excellently. In case of carakasamhita there are about 7 commentaries in samskrita language. However, in Hindi and other Indian languages these may be several. In English usually the original text and earlier commentaries are translated either in complete or in partial form. In recent years, Dr. Gopal K. Basisht MD, Orlando, Florida, USA has done an admirable job in this direction. He under the umbrella of Charak Samhita New Edition, Charak Samhita Research, Training and Development Centre has launched a project in which the chapters of carakasamhita have been translated and commented by different authors. This work is available online.
Introduction
Heraclitus, a famous Greek philosopher (500BC) told: "No man ever steps in the same river twice. for it's not the same river and he's not the same man. River looks same but its water is changing every moment and therefore the river is also changing The river is not same at this moment which was there in the moment passed. Same time the person who is stepping in the river is also changing the cells of his body are changed the thought contents of his mind are changed and therefore he is not the same person this moment which was there in last moment. This theory is applicable on all universal phenomena. Things are constantly changing in universal flux. Existence is changing. Facts related to existence are changing. This is same with life. Life is a flow. Knowledge is also a flow. River may be same river, only when it is frozen. Existence can also be same existence if it is frozen. Life can also be same if it is frozen. Knowledge can also be unchanged if it is frozen. Life is life if it is a continuous process. As soon the process stops, it is death. Knowledge is knowledge if it is a continuous process: As learning is a continuous process in an individual, knowledge system is also a continuous collective process.
Even if a core principle of something is steady the peripherals of that may always be changing. In all ancient civilization this principle of renewal, reforming and restructuring has always been kept active. This is the reason that the ancient texts of vedas are unchanged but commentaries on it have always been renewed. Upanişads are extensions of vedic texts. In Ayurveda also this process of addition, deduction and modification can be seen. The present picture of the science is result of this process of evolution. The process continues and must continue. As survival of species requires adaptation, science also needs adaptation for its survival.
**Contents and Sample Pages**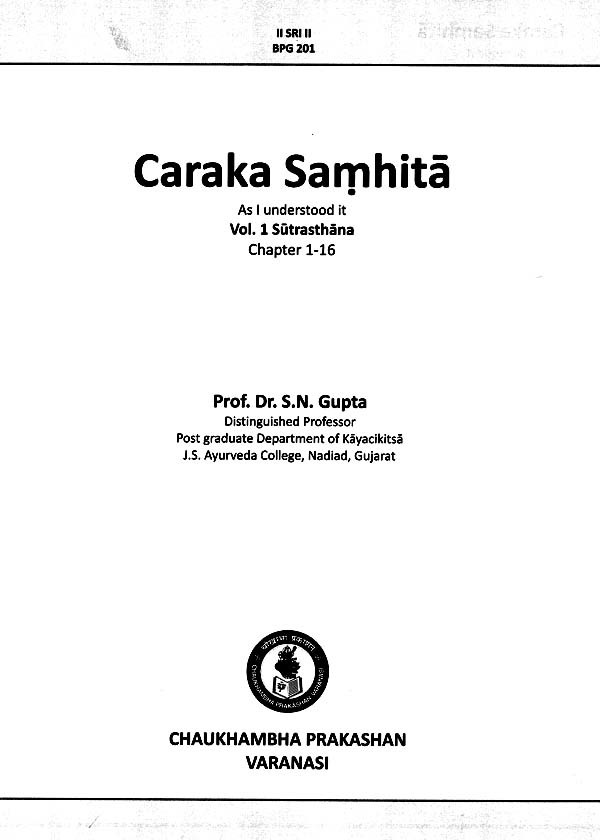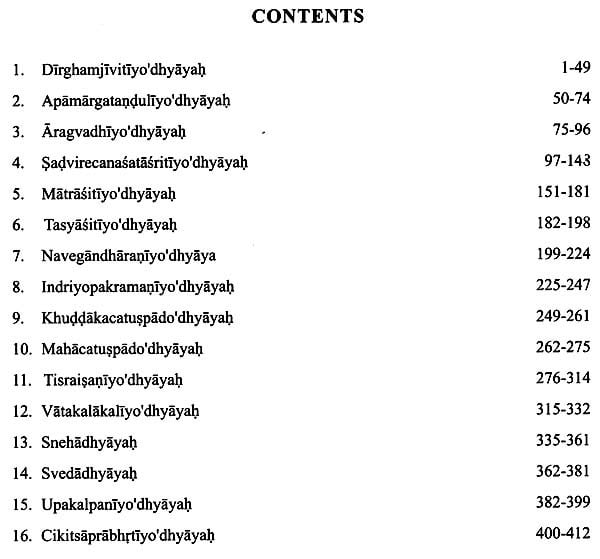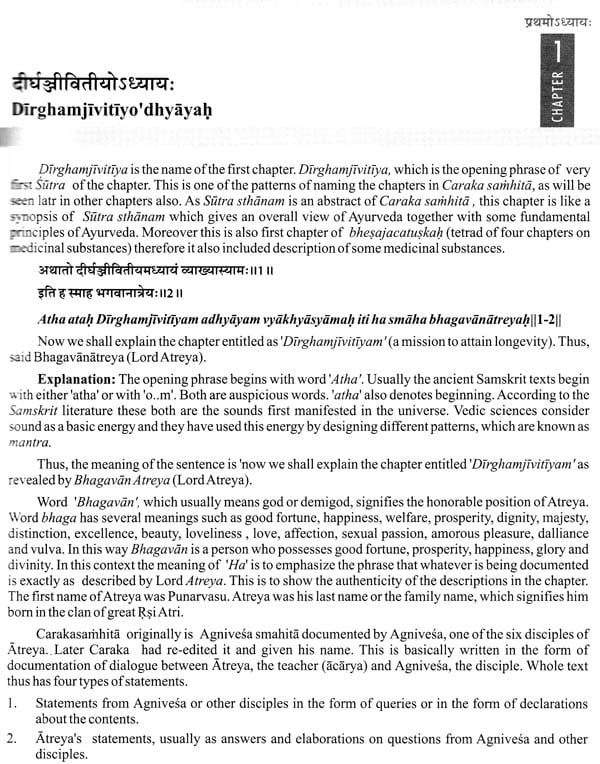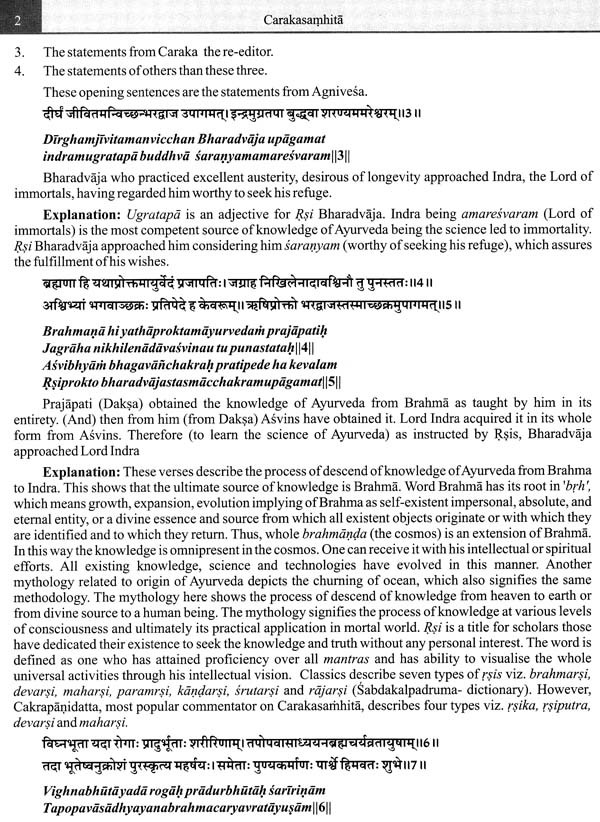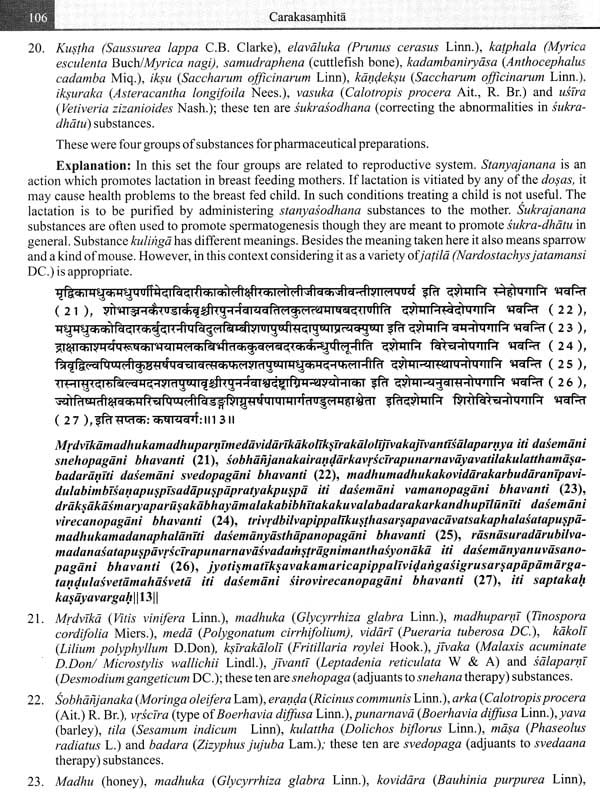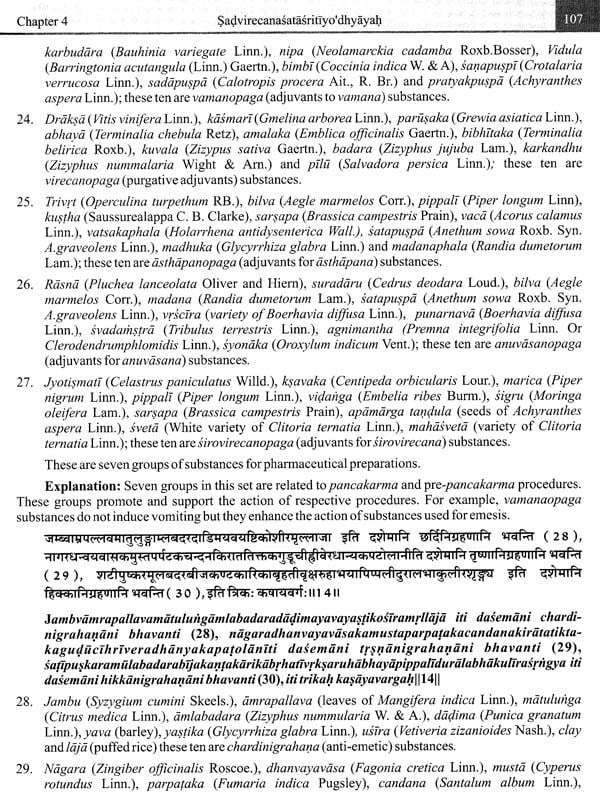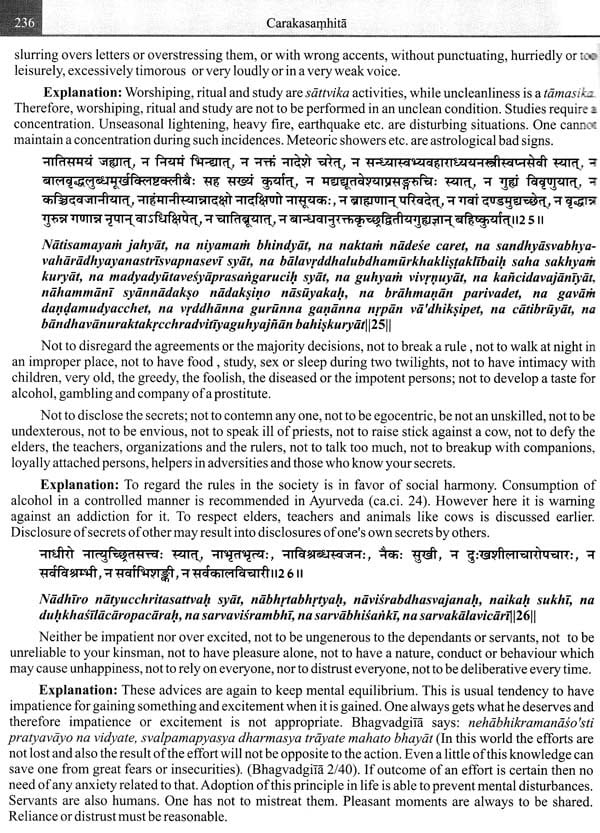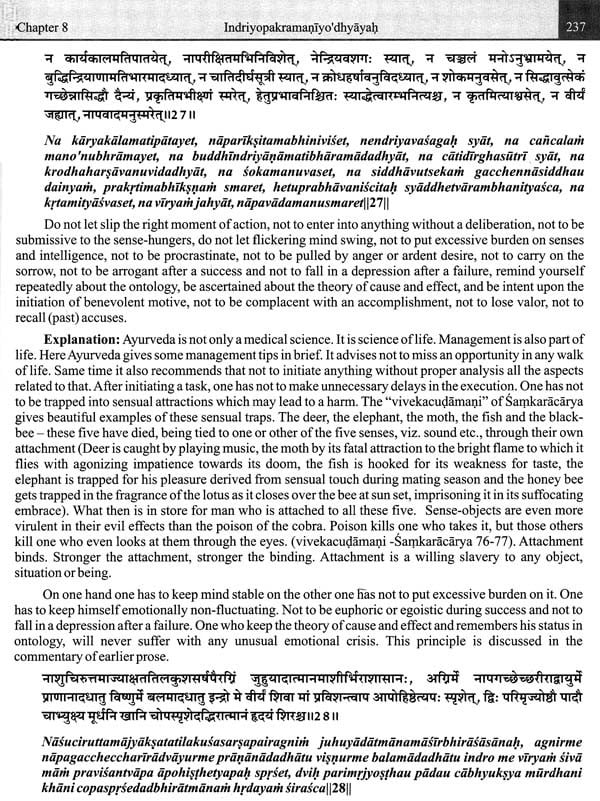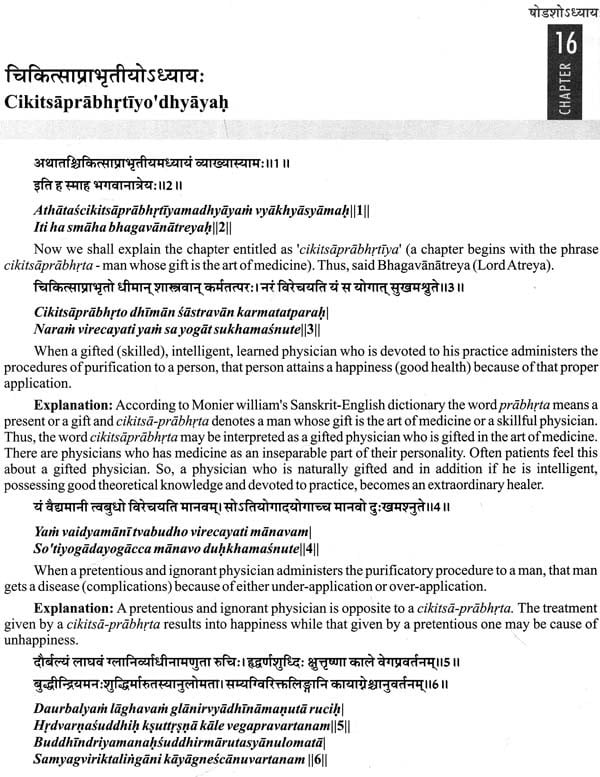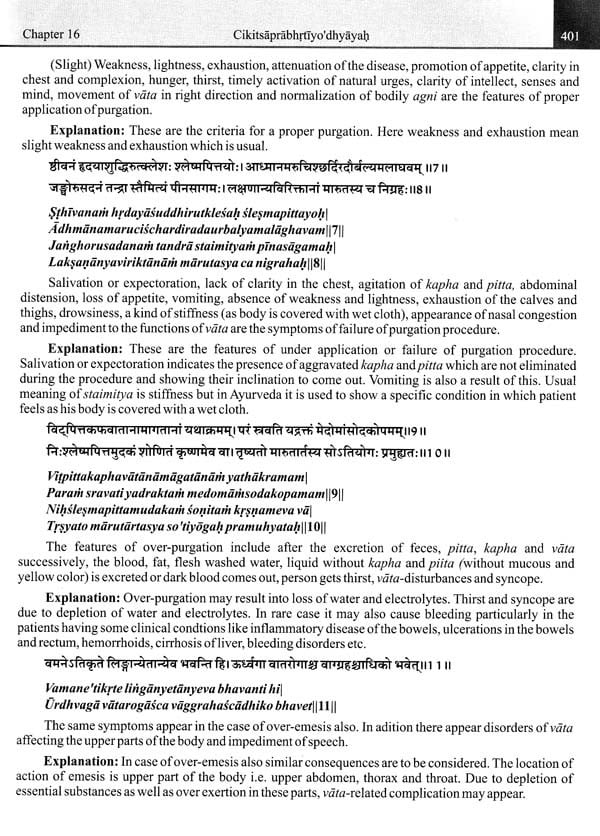 ---
We Also Recommend