ಚಿಲ್ಲರೆ ರಹಸ್ಯಂಗಳ್ (சில்லரை ரஹஸ்யங்கள்): Chillarei Rahasyangalÿ Volume-3
$2800

$28.00
Tax included.
Shipping
calculated at checkout.
---
---
Book Specification
| | |
| --- | --- |
| Item Code: | UAN239 |
| Author: | K. R. Krishnaswami |
| Publisher: | A & K PRAKASHANA |
| Language: | Tamil, Kannada and English Translation |
| Edition: | 2013 |
| Pages: | 126 |
| Cover: | PAPERBACK |
| Other Details | 8.50 X 5.50 inch |
| Weight | 160 gm |
Book Description
PREFACE
It gives me great pleasure to present the third and concluding volume of the Chillarei Rahasyangal series. I owe it to Swami Desikan's anugraham which enabled me to complete the sixteen chillarei rahasyas in three companion volumes.
Completing the three volumes with original text in three languages and providing meanings in English was almost like a yajna. I thank the Almighty for His grace in my venture.
My wife has provided support in transliterating the Tamil texts into Kannada. Mrs. Sudha has as usual done an attractive type setting a sizeable part of writing this book took place when I was on a holiday in California and the MS was scanned and e-mailed to Mrs. Sudha for DTP. I thank her, as also Kiran Ranganathan for cover page design. Ganesh Maruthi Printers have completed the printing within a short period. I thank Sharada Prasad for the same.
INTRODUCTION
The present volume contains two of the major rahasyas viz. Tathvatraya Chulakam and Rahasyatraya Chulakam. It is specially recommended to those who have decided to undergo Sharanaagáthi that they study these two rahasyas, especially, Rahasyatraya Chulakam which prepares them for the post-sharanaagathi life.
As I keep mentioning, a mere reading of the texts, which are in mánipravaala language, itself gives one immense pleasure. Swami Desikan has used the choicest words to convey the sense. It is indeed our great fortune that he gave us such great treasures.
Tathvatraya Chulakam' deals with all aspects of the three tathvaas viz. insentient, sentient and Eeshwara. Swami Desikan elaborates each entity under three headings respectively: Anaathmaniroopanaadhikaara, jeevaniroopaṇaadhikaara and Paramaathma niroopanaadhikara. One should in particular study the eloquence when he describes the attributes of Eeshwaran, the Lord.
In 'Rahasyatraya Chulakam' Swami Desikan tells us about the significance of pranava, and the three rahasyas vide moolamanthra, dvaya and charama sloka.
We owe it to his kind consideration that he wrote about the great rahasyas for the benefit of ordinary people like us to imbibe at least the minimum significance and lead a saathvic life thereafter, and engage ourselves in kainkaryam to the bhaagavathas and the Lord.
**Contents and Sample Pages**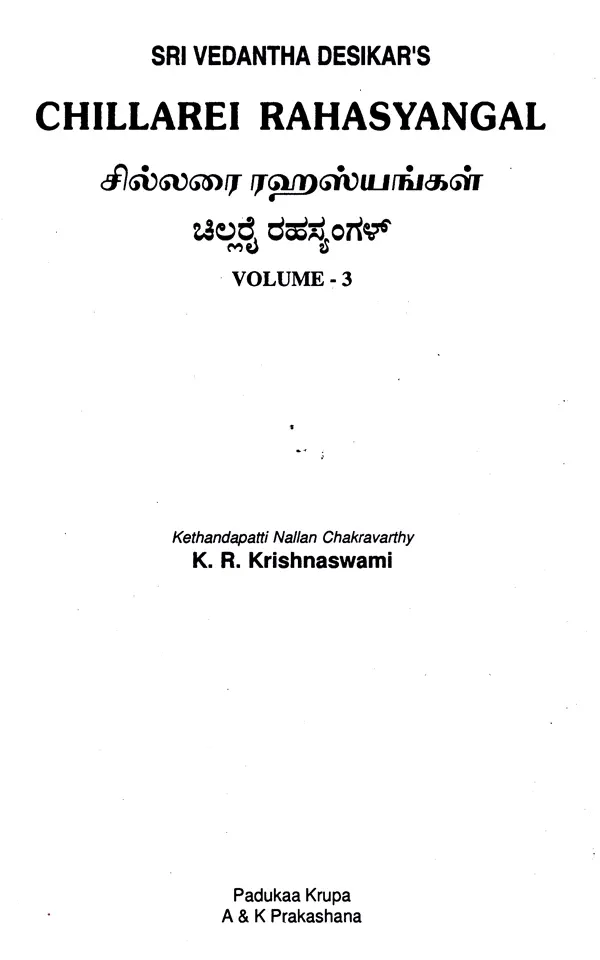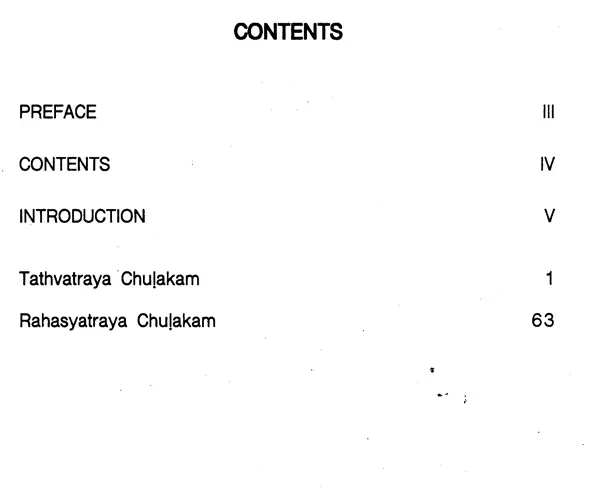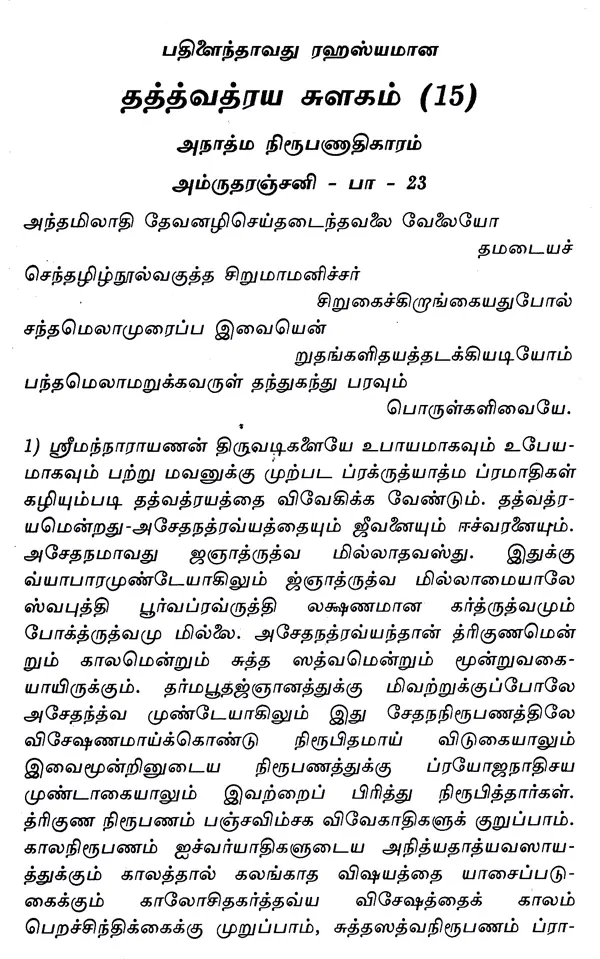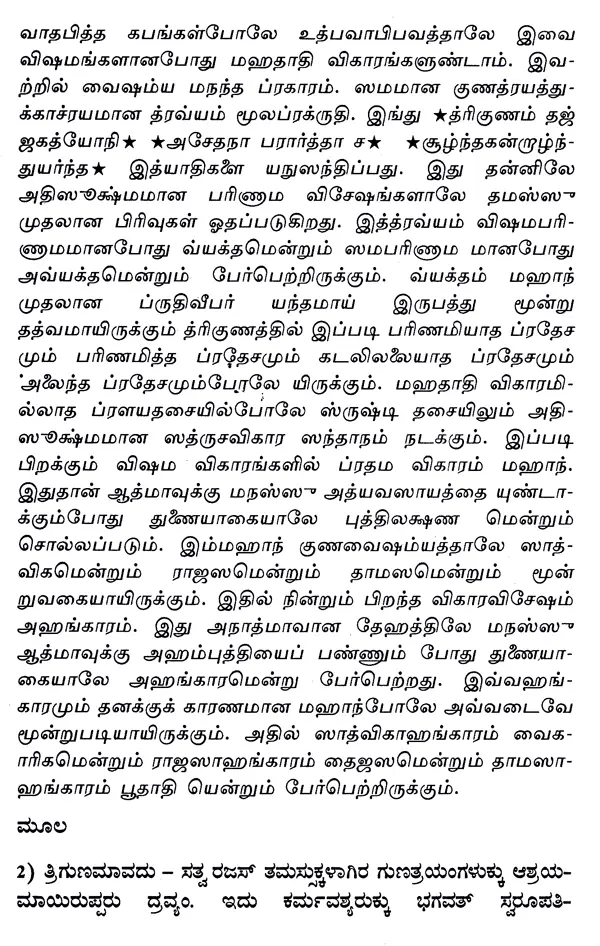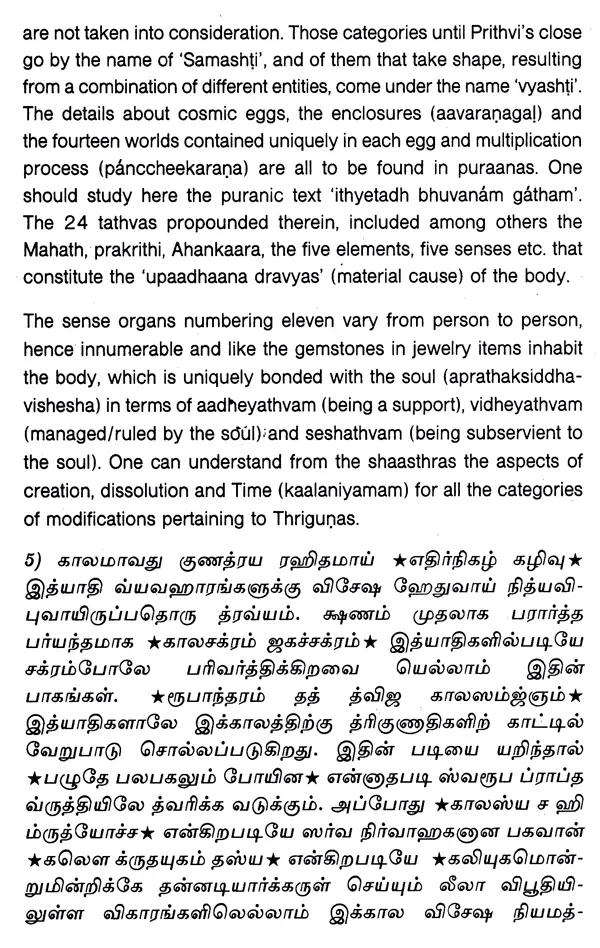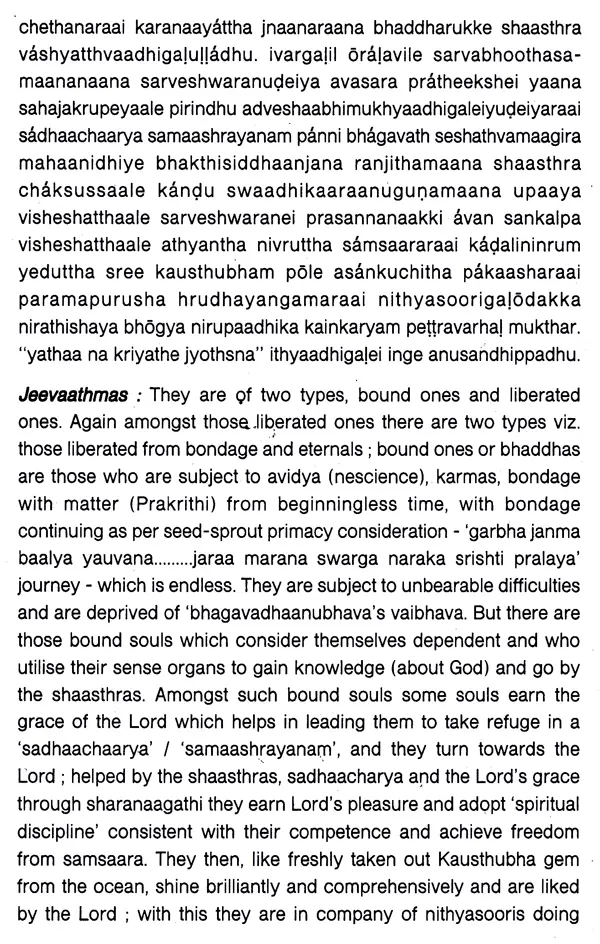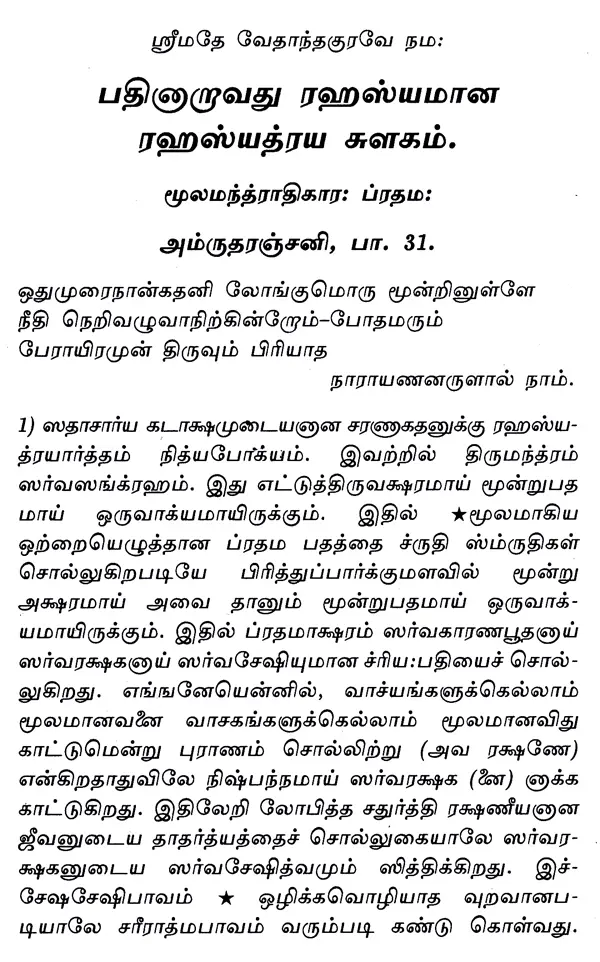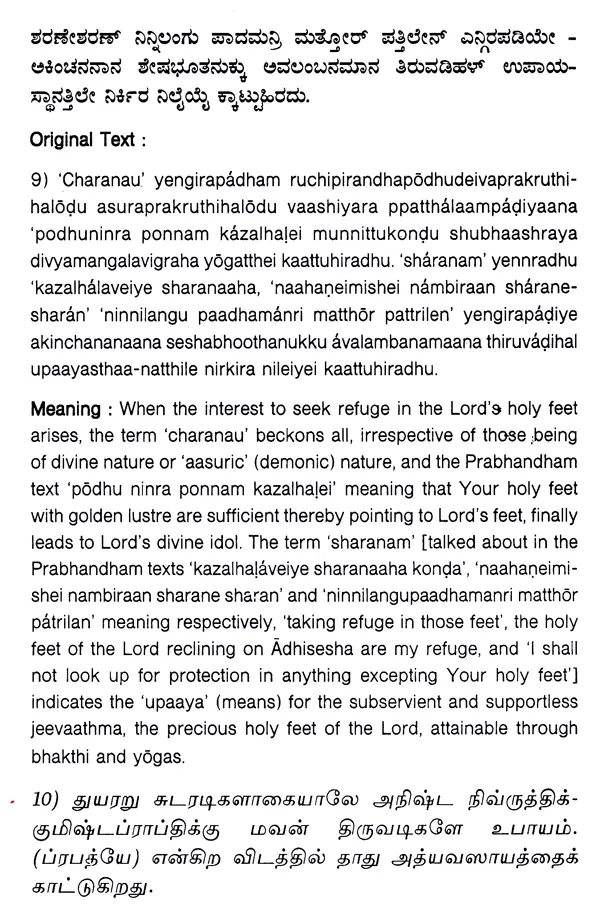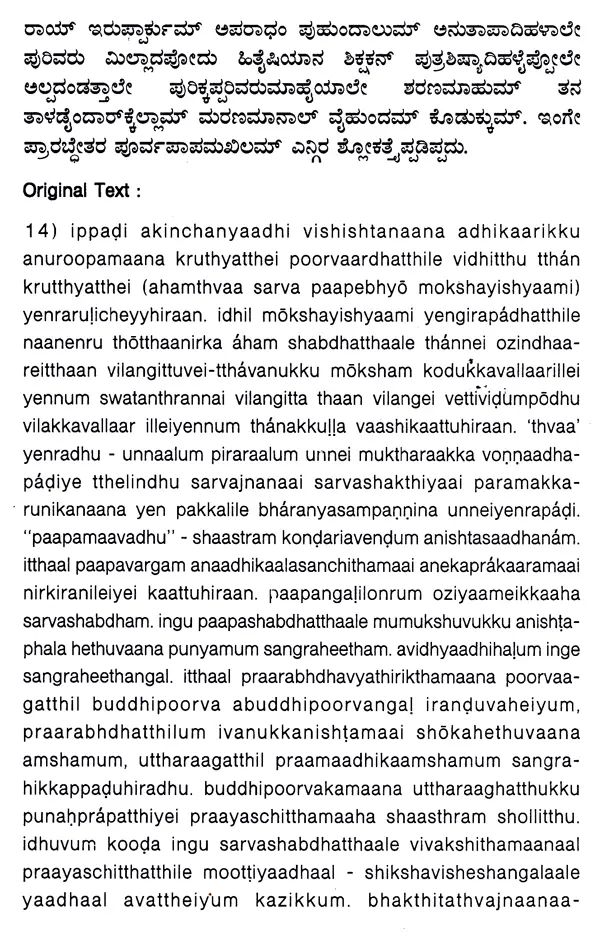 ---
We Also Recommend