Cinema Bhojpuri
$2380

$23.80
Tax included.
Shipping
calculated at checkout.
---
---
Book Specification
| | |
| --- | --- |
| Item Code: | IHL487 |
| Author: | Avijit Ghosh |
| Publisher: | Penguin Books India Pvt. Ltd. |
| Edition: | 2010 |
| ISBN: | 9780143103783 |
| Pages: | 310 (34 Color Illustrations) |
| Cover: | Paperback |
| Other Details | 7.6 inch X 5.0 inch |
| Weight | 260 gm |
Book Description
Preface
I spent most of my teenage years in Arrah, a small town in Bihar's Bhojpur district. In the 1970s, the price of a balcony ticket never exceeded Rs 3.70 in any of the theatres. But we preferred to watch Hindi films in the cheaper rear stalls, or, even the special student class that used to cost just Rs 1.05.
My first Bhojpuri movie was Balam Pardesia (1979). I enjoyed the family drama though I was addicted to the action films of Amitabh Bachchan, Dharmendra, Feroze Khan and Dara Singh. That's because I already knew the movie's songs by heart. A neighbourhood grocer owned a record player and used to play them over a loudspeaker throughout the day. Thanks to the grocer, I had developed a fondness for Bhojpuri film songs by the time we left Arrah.
The idea of writing this book first came to me in 2005 after I saw Sasura Bada Paisewala and Panditji Bataeen Na Biyah Kab Hoee. I started working on the book in fits and starts in 2006. The work gathered momentum in 2008 after I finished writing my first novel, Bandicoots in the Moonlight, which incidentally is located in Ganeshnagar, a fictional Bhojpuri—speaking town.
This book tells the story of Bhojpuri cinema since its inception in 1962. I have spoken to many people associated with the industry, including those who worked in the industry in the 1960s. Their narratives have hopefully given the book an up, close and personal view of the times. I have also referred to regional newspapers of the 1960s and 1980s. This will provide some insight into how Bhojpuri films impacted the intelligentsia in cities like Benares, especially in the 1960s.
With the help of my esteemed colleague Vinay Pandey, I have offered English translations of every Bhojpuri film named in the book, either in the filmography or in the text. This wasn't easy because the nuances, located in a particular cultural context, are often lost in translation. In some places, we have offered a flavour of the text rather than a literal translation. The responsibility of any error is, of course, only mine.
I sincerely hope that the book will be enjoyed both by Bhojpuri film buffs as well as anybody who enjoys cinema.
Many people have contributed to the shaping of this book. I am indebted to Munnu Prasad Pandey, veteran journalist who owns and edits Rambha, for letting me look at the old issues of this Benares—based weekly film newspaper. I am also grateful to Harmandir Singh 'Hamraaz', the famous collector of melodies, for helping me with the filmography. I will always be indebted to Ramesh Kumar Singh (Pioneer) for his generous help during my Benares visit in May 2008 and to Sushil Mishra for being my friend and guide on the same trip. I will never forget the motorbike ride on a searing summer afternoon to the qasbah cinema halls about twenty kilometres from Benares.
I am equally grateful to Subodh Verma, Manoj Mitta, Peggy Mohan, Vanaja Thekkat and S.P. Pachauri for their support.
I wish to record my appreciation for Kunal Singh, Rakesh Pandey, Ashok Bhatia, Sanjay Sharma, Anil Grover, Firoze Rangoonwalla, Shiv Viswanathan, Susmita Dasgupta, Imtiaz Ahmed, Bipan Chandra, Aditya and Mridula Mukherjee, Chandra Bhan Prasad, D. Shyam Babu, Ananth Srinivas and jagdish Yadav.
I believe this is also a suitable occasion to say thanks to some friends and colleagues: Shishir Prashant, Deepika Sahu, Sidharth Gautam, Chitra Padmanabhan, Anuradha Raman, Namrata Joshi, Samita Bhatia, Amita Shah, Monobina Gupta, Anirban Das Mahapatra, Pradeep Thakur, Dhananjay Mahapatra, Syed Saud Akhtar, Shashi Prasad, Malini Sen, Asha Ramachandran, Renu Pachauri, Novy Kapadia, Diwakar Nandita Sengupta, Meenakshi Sinha, Shreya Roy Chowdhury, Deepak Manki, Geetashree, Rakesh Batabyal, S. Anand, Shankar Raghuraman, Amit Bhattacharya, Nirmal Sharma, Neeraj Paul, Vijay Lokpalli, Yeshi Sell and Atul Tiwari.
I would also like to thank Udayan Mitra and Anupama Ramakrishnan at Penguin who edited the manuscript and hammered it into shape. I must express my gratitude to my mother Anjali, sister Bani and my Jamai babu. And last, but not the least, this book wouldn't have been completed but for the support and help offered by my wife and first reader-editor, Rachna. My gratitude cannot be expressed in words.
PS: Abhishek and Diya, if you want to know more about Bhojpuri films after watching one of those VCDs kept in the study, you know what to do.
Introduction
Everybody knows of Rani Mukherjee. But few have heard of Rani Chatterjee. Just as Ms Mukherjee has reigned over Bollywood, Ms Chatterjee is a star in her own right in Bhojpuri films. Yet an overwhelming majority of the cosmopolitan multiplex audience is unaware of her existence why? This book strives to answer that question by narrating the story of Cinema Bhojpuri.
In less than two years, Bhojpuri cinema will celebrate its golden jubilee. It has been a remarkable journey, involving men and women who may not have made it to the covers of glossy Bollywood film magazines, but who have contributed enormously to the making and shaping of this genre. It is a journey marked by highs and lows, a journey that encapsulates as well as maps the evolving social and political trajectories of the region in the larger context of a changing India.
For instance, back in the 1960s and 1970s, the audience of Bhojpuri films was largely confined to eastern Uttar Pradesh and Bihar. Now, due to migration, the genre's footprint has expanded significantly to include cities like Mumbai, Delhi, Calcutta, Ludhiana, Jalandhar, Amritsar and the various towns of Gujarat and Rajasthan.
Roughly speaking, Bhojpuri films can be divided into three phases. The first period (1962-68) begins with Ganga Maiya Tohe Piyari Chadhaibo (1962), followed by other high—quality movies such as Bidesiya (1963), Laagi Nahin Chhute Ram (1963) and Hamaar Sansar (1965).
Between 1969 and 1976, only one Bhojpuri film, Dher Chalaaki Jim Kara was released. The comatose genre burst back into life with Dangal (1977), gathered momentum with superhits such as Balam Pardesia (1979) and Ganga Kinare Mora Gaon (1983) and continued with crests and troughs till 2001.
There is no gap between the second and the third phase, but the third phase marks the advent of a new, confident Bhojpuri cinema. In the five years between 2004 and 2008, over 275 Bhojpuri films have been produced. In 2006 alone, a whopping seventy-six Bhojpuri films were cleared by the censor board. The fledgling cottage industry of the 1960s has now become a bustling regional film industry. In all, between 1962-2008 at least 475 Bhojpuri films have been releasecl.3 By now, the figure would have easily crossed 500.
In the 2001 Census, about 3.3 crore Indians recorded Bhojpuri as their mother tongue, though the number of those who speak or simply understand the language must be several times higher. In other words, in terms of geographical reach as well as population, the industry has plenty to play for.
Over the years, Bhojpuri films have become visually glossier than before. Gone are the days when films were canned in 16mm and blown up to 35mm. Now big-budget films are shot in. Cinema Scope and some have even been shot abroad in London, Mauritius and the Middle East.
Thematically, a majority of Bhojpuri films belong to the broad category of family dramas, with plenty of songs, dance, laughter and tears. Most superhits till the end of the 1980s fall in this category. With time, however, the percentage of action films has grown significantly in the genre.
There are a few mythologicals too, but these have generally flopped. Other categories are exceptions to the rule. Bairi Kangna (1992), Piparwa Paar Ka Brahm (2004), and Naag Nagin (2008) are rare supernatural movies in the genre. Tu Hamaar Haoo (2007), which borrowed heavily from the Bollywood thriller, Darr (1993), is one of its kind. Ho jaye Da Naina Chaar (1995), a remake of Bollywood film Kohinoor (1960), which starred Meena Kumari and Dilip Kumar, is la one—off costume drama with palaces, kings and swordfights. There are some dacoit dramas too: Saiyan Bedardi (2002), Ganga Jwala (1987), Dhartiputra (2005) and Hum Ta Ho Gaini Tohaar (2005) to name a few. Half-hearted attempts to film Rabindranath Tagore's classic, Nauka Doobi, had a disappointing outcome: Piya Bin Nahi Chain (1991).
In recent years, the genre has attracted Bollywood biggies, actors as well as producers, leading to it gaining some prestige. Way back in 1984, Amitabh Bachchan made a special appearance in director Sujit Kumar's Paan Khaye Saiyan Hamaar. In recent years, he has played major roles in two big-budget films, Ganga (2006) and Gangotri (2007). And who in his wildest dreams would have foreseen six prints of Spiderman 3 being dubbed in Bhojpuri and actor Ravi Kishan (also spelt as Ravi Kishen and Ravi Kissen) being the desi voice for Toby Maguire?
The early whispers of the current aggressive stage could be heard in the moderate success of Saiyan Hamaar in 2002 and Kanyadaan in 2003. But this third wave became a tsunami with the blockbuster Sasura Buda Paisewala in 2004, which turned actor Manoj Tiwari into a superstar. Superhits such as Panditji Bataeen No Biyah Kab; Hoee 2005) and Nirahua Rickshawala (2007) ensured that the industry continued to enjoy the upward surge.
The going was too good to be true. In 2007, Cinema Bhojpuri became the target of sectarian violence aimed at migrants from Bihar and Uttar Pradesh. From Mumbai to Nashik to Ludhiana, cinema halls showing Bhojpuri films were attacked. Posters were torn, prints were burnt and the audience beaten up. In Punjab, the Sikh extremist group Babbar Khalsa was suspected to be involved in the blast in a cinema hail showing a Bhojpuri film. In Mumbai, these attacks were allegedly carried out by Raj Thackeray's political outfit, the Maharashtra Navnirman Sena (MNS). Social scientists feel that the attacks are expressions of envy and resentment stemming from the politics of insecurity? Political scientist Imtiaz Ahmed believes that in cities such as Mumbai and Ludhiana, Bhojpuri films had not only become synonymous with a particular social group but also symbolized its success, an observation that highlights the enormous distance covered by the genre. Despite many such hiccups, however, the journey continues.
So let us get back to the beginning and find out how it all started.
Back of the Book
Considered garish and crude by some sections of the urban elite, Bhojpuri cinema's astounding box office success can only be explained by its overwhelming popularity among the other half of new India. What is it that makes Bhojpuri cinema tick? Does its audience simply want to view rural India? What is the logic of its aesthetic? And most importantly, how did these regional language films become such a profitable industry?
Cinema Bhojpuri answers these questions and probes the history and themes of this genre that is dismissed all too often as Bollywood's poor cousin. Basing his research on extensive personal interviews and analyses of film journals from the 1960s onwards, Avijit Ghosh's fascinating study sheds light on Bhojpuri cinema's trajectory. From the making of the first Bhojpuri film, Ganga Maiya Tohe Piyari Chadhaibo, to the breathlessly paced masala entertainers of Manoj Tiwari, Ravi Kishan and Dinesh Lal Yadav 'Nirahua', this is the definitive study of the vibrant genre of films that everyone is talking.
CONTENTS
| | | |
| --- | --- | --- |
| | Preface | ix |
| | Introduction | 1 |
| | THE STORY OF BHOJPURI CINEMA | |
| 1 | Jai Ganga Maiya | 7 |
| 2 | High Noon | 18 |
| 3 | Life after Death | 33 |
| 4 | The Third Wave | 56 |
| 5 | Widening Horizons | 66 |
| 6 | The Diaspora Within | 78 |
| 7 | Deciphering Bhojpuri Cinema | 88 |
| | PEOPLE AND PLACES | |
| 8 | Twinkle Twinkle Little Superstars | 105 |
| 9 | New Heroes: The Three Aces in the Pack | 116 |
| 10 | The Directors | 132 |
| 11 | The Heroines | 149 |
| 12 | People and Places | 167 |
| | THE EVOLUTION OF BHOJPURI FILM MUSIC | |
| 13 | Melody to Rhythm | 181 |
| 14 | The New Kings and Queens of Music | 198 |
| | Epilogue | 207 |
| | Endnotes | 209 |
| | Filmography | 233 |
| | Sources | 275 |
| | Index | 280 |
Sample Page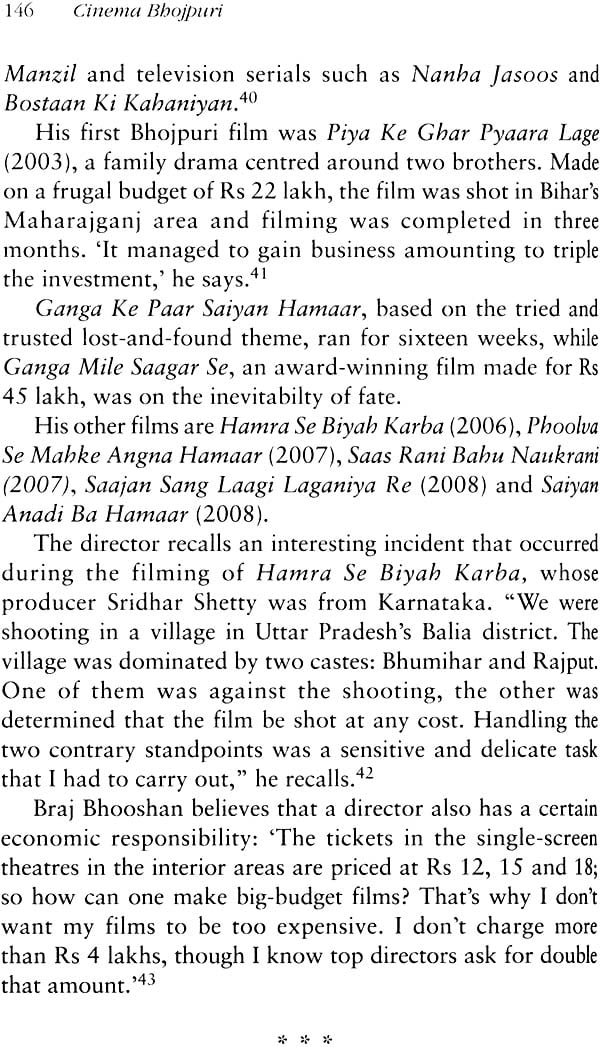 ---
We Also Recommend