Cities, Crafts & Commerce Under the Kusanas
$6720

$67.20
Tax included.
Shipping
calculated at checkout.
---
---
Book Specification
Book Description
About The Book
The Work is the first systematics and comprehensive study of towns in Kushana times. Based on original literary and archaeological sources, it discuses the concept of urbanization in the Kushana period, their location, town planning and structures under the Kushanas. The author has also highlighted the economic part played by towns under the Kushanas and maintains that economic factors were the most important for the growth and decline of towns in India. The early centuries of the christian era represent the most flourishing phase of urbanization in ancient India towns began to loose their economic importance from the post-Kushana period which ultimately led to the decline and desertion of towns Gupta and post-Gupta times. This may appear shocking to the believers in the 'Golden Age of the Gupta period, but this is an archaeological fact and has been ably demonstrated by the author.
About The Author
Dr. Kameshwar Prasad (b.1947) was educated at Patna College, Patna, from where he graduated with First class, Honours in History, in 1966. He took his Master's degree from Patna University in 1968 and was awarded Patna University and Shri Nirshu Narain Singh Gold Medals for securing first position in first class. He did his D. from Patna University in 1979. He is teaching in the Post-Graduate Department of History, Patna University since 1970. He also worked as a Research Fallow of The Indian Council of Historical Research, New Delhi. Dr. Prasad's filed of specialization is urban and economic history of ancient India. He has got published nearly a dozen of papers in different research journals in India.
Foreword
I have great pleasure in commending the book of Dr. Kameshwar Prasad to students of ancient social and economic history. The author presents a balanced, systematic and scholarly account of the urban centres in Kuşana India and underlines the importance of trade and trade-routes in this context. There is no doubt that urbanism reached its peak under the Kuşānas. Although Kusana sites have not received due attention from the archaeologists, nearly 450 explored and excavated sites have been identified in this study. But so far no adequate justice has been done to these settlements, especially towns. This lacuna has been removed by Dr. Prasad's work. Assembling the enormous data found in inscriptions and archaeological reports, it not only locates towns but also accounts for their full blooded growth under the Kuşânas. The artisanal and commercial dimensions of urbanism are discussed at length and the cause of its decline in post-Kusana times analysed. All told the book makes valuable contribution to ancient urban and commercial history. I am confident that it will be of use not only to historians but also to sociologists and geographers.
Preface
THE EARLY centuries of the Christian era witnessed the growth and development of the Kusana empire, extending from Bihar in India to central Asia. This led to the restoration of political stability in north India after a period of disintegration, increased cultural contact with the west and economic prosperity resulting largely from more established commercial links between Indian and the outside world. The progress in trade and commerce facilitated the growth of towns in Kusana times on an unprecedented scale, a fact borne out by archaeological excavation in India, Pakistan and central Asia. The towns played a pivotal role in shaping the socio-economic and cultural history of India. The study of towns, therefore, is a very fascinating subject. It has attracted the attention of historians, archaeologists and sociologists alike in India and abroad. Several Seminars and Symposia have been held to discuss the meaning and nature of urbanization, the origin and growth of towns. Some monographs on ancient Indian towns have also appeared. One of the earliest works on the subject is C.P.V. Aiyyar's Town Planning in the Ancient Deccan (1911) which discusses the lay-out of some of the South Indian towns on the basis of literary evidence. This was followed by B.B. Dutta's Town Planning in Ancient India (1925) which follows more or less the same pattern as found in the former work. These early studies were handicapped by the fact that archaeology had not made enough progress when they were undertaken. Their authors had therefore to rely mainly on literary material. Not surprisingly both Aiyyar and Dutta have failed to mark the stages in the growth of ancient towns. The same is also true of Altekar's A History of Ancient Towns and Cities in Gujrat and Kathiawad (1926) and his History of Banaras (1937). Neither of these works rises above the level of miscellanies containing desperate literary references to towns arranged under different heads. In none of the above mentioned works, due attention has been paid to towns in the Kusina period. Altekar's History of Banaras, for example, devotes hardly a paragraph to the Kusana phase at Banaras. Similarly, N.N. Ghosh in his Early History of Kaulambi (1935) discusses the Kusina phase of this town in hardly two pages (pp. 64-65). Stuary Piggot's Some Ancient Cities of India (1945) may serve merely as a guide-book for the tourists. It does not convey much of historical importance. The Sarthaváha (1953) and Kail Ka Itihasa, both written by Motichandra in Hindi, also do not contain much information on the Kuşapa phase of Urbanization, though the Sarthavdha refers to some towns, B.N. Puri's Cities in Ancient India (1966) is no more than a mere list of ancient Indian towns. More comprehensive, however is Udai Narain Rai's Hamare Purane Nagar (1968). It discusses the origin and development of towns, their planning and administration and socio-cultural aspects though like other works referred to above, is deficient in discussion about Kusana urbanism. Ancient Cities and Towns of Rajasthan (1972) by K.C. Jain deals with the history of towns in Rajasthan in the carly mediaeval period and hence the study of Kuşaņa Urban settlements do not come within its purview. A. Ghosh in his City in Early Historical India (1973) has for the first time discussed the literary and archaeological material and traced the development of urbanization in ancient India. This work too, does not examine the evidence bearing on Kuşana Urban developments. But its real importance lies in the number of conceptual problems to which it has drawn our attention. In view of the limitations of the published works on the subject, a separate study of Kusana towns in India appears to be a desideratum.
**Contents and Sample Pages**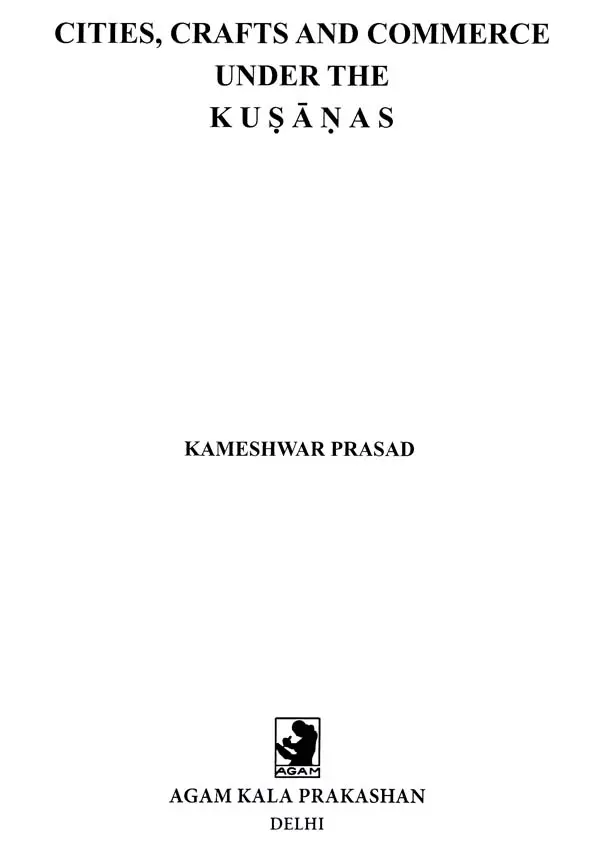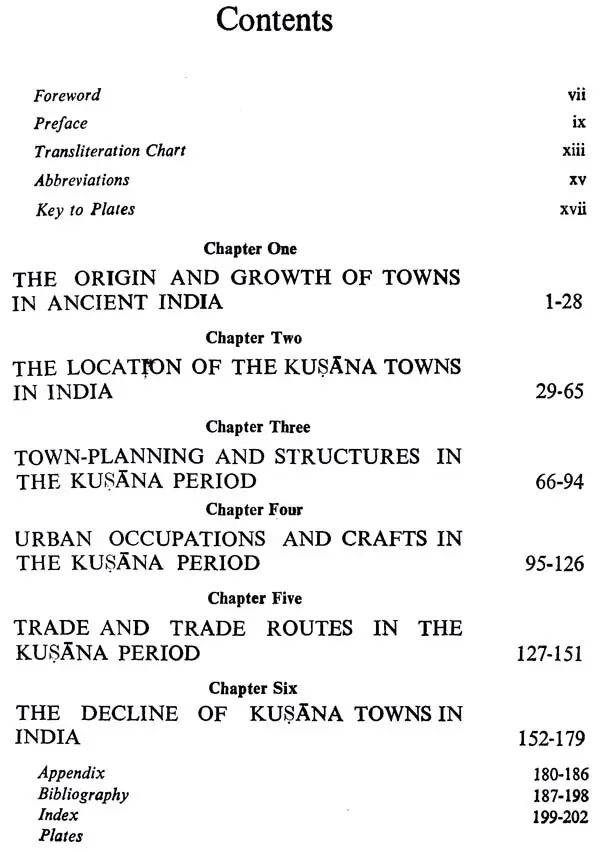 ---
We Also Recommend