A Comparative Study of Tadhbhavas in Major Dravidian Languages
$5400

$54.00
Tax included.
Shipping
calculated at checkout.
---
---
Book Specification
Book Description
About the Author
Dr. L.K.Malleswara Rao was born to Smt. Kotamma and Sri Kameswara Rao on 10th March 1952 at Mori village, Sakhinetipalli Mandal in East Godavari District. He POT ace MET CMR eT TAME ME AMO CLL AY education at Mori. Further he studied P.U.C. and B.A. in Government College, Razole. He took his M.A. (Telugu), Ph.D., M.A. (Sanskrit) P.G. Diploma in Linguistics, Diploma in Tamil and Diploma in Hindi from Andhra University.
As one of the compilers he participated in the compilation of eight volumes of Prestigious 'Telugu Etymological Dictionary" published by Andhra University.
He joined Dravidian University in 2006 and participated in Compilation of "Vajrakosam" and "Dakshina Bharatiya Janapada Vijnana Kosam". He personally compiled the "Bhashasastra Nighantuvu".
He published 35 articles to his credit and eCoiarnet 32 Radio talks from AIR, Visakhapatnam.
FOREWORD
That the foundations of Indian culture were deeply embedded in Dravidian culture is now an incontrovertible fact. Dravidian culture is one of the most ancient cultures of the world. Those cultures, slightly contemporaneous to one another, slowly started fading out. However, the primordial Dravidian culture continues to thrive without losing its quintessence despite the apparent changes in systems of dress and adress.
Dravidian University was established in 1997 to mirror the real and rich picture of Dravidian culture not only in its linguistic, literary, cultural and philosophical faces but in science and technological angles also.
At a time when no special attention worth its name was paid by the Centre with regard to language, the Southern states except Kerala. had established all by themselves their own Universities - Telugu, Tamil and Kannada - to research on their languages and cultures.
The Government of Andhra Pradesh took a step ahead and started Dravidian University, with the cooperation of the sister states, to research and reflect on the inherent oneness of the cultures of the four states whose languages number up to 27. Its endeavour is to promote unity and amity in the family of several langauges. The main objectives of Dravidian University are to augment the common weal and social well being of the communities of marginal languages and to build bridges among the Southern states. While working on each language separately in varied areas, it aims at a synthesis and a discovery of the common heritage through Comparative Studies.
Prasaaraanga (Centre for Publications and Extension Services) is the most significant wing of the University from out of its several on going progressive activities.
The cloth called Indian culture is woven by the warf and woof called Indo-Aryan and Dravidian cultures. As a result vocabularies of these languages entered from one family of languages to the other even from the Vedic period. The Sanskrit and Prakrit vocabularies which entered in the form of Tadbhavas into the major Dravidian languages are discussed in this work. Many scholars have worked on the loanwords in Telugu and other major Dravidian languages. Some of them are comparative works between two languages only. This is the pioneer work in comparative study dealing with the four major Dravidian languages. There is no exaggeration in saying that this type of works are catalysts for the national integration of India.
PREFACE
The interest in knowing about 'Prakriti' and 'Vikriti' took place in me during my high school days, at my native place (Mori, E.GDt.). But until I entered the Andhra University and heard the lessons of Prof. T. Donappa, I knew nothing about their formation. While selecting the research topic, knowing my interest, my director suggested to me to work on the present topic.
As far as research on loan words is concerned, many scholars worked on various topics in Dravidian Languages. To mention a few of them are Prof. T. Donappa, Dr. L. Chakradhara Rao, Dr. R. Srirama Sastry,Dr. G.V.S.R. Krishna Murthy, Dr. S. Akki Reddy, Dr. P Kusuma Kumari, Dr. S. Vaidyanadan, Sri S. Anavarata Vinayakar Pillai, Dr. K. Goda Varma and others. Among these the work of Dr. T. Donappa on 'Old and Middle Indo-Aryan Loan words in Telugu' and that of K. Goda Varma on 'Indo-Aryan Loan Words in Malayalam' are directly related to the present work. But none of the above mentioned works is comparative. Though Prof. Donappa's work mainly concerned with Telugu, sometimes comparative vocabulary is also given. Hence with a view to study the Tadbhava Vocabulary in Major Dravidian Languages the present work was undertaken.
The work is mainly divided into two parts of which the first part contains four chapters.
Among these four chapters the first chapter deals with the Linguistic and Historical Introduction. In this chapter bilingualism, causes for bilingualism, Aryan immigration, Time fo Aryan immigration, Early contacts and latter contacts of the Aryans and Dravidians are discussed.
The second chapter deals with the classification of vocabulary among Dravidian grammars and views of the grammarians about tadbhavas.
The third chapter deals with the phonetic changes of Sanskrit and Prakrit Phonemes comparatively.
The fourth chapter is semantic change and deals with the semantic change in tadbhavas in Major Dravidian Languages.
The Second part is comparative Etymological Index of Tadbhavas in Major Dravidian Languages in which 1516 entries are given.
I hope that I made justice to the present topic to the best of my ability and get the blessings of the scholars.
**Contents and Sample Pages**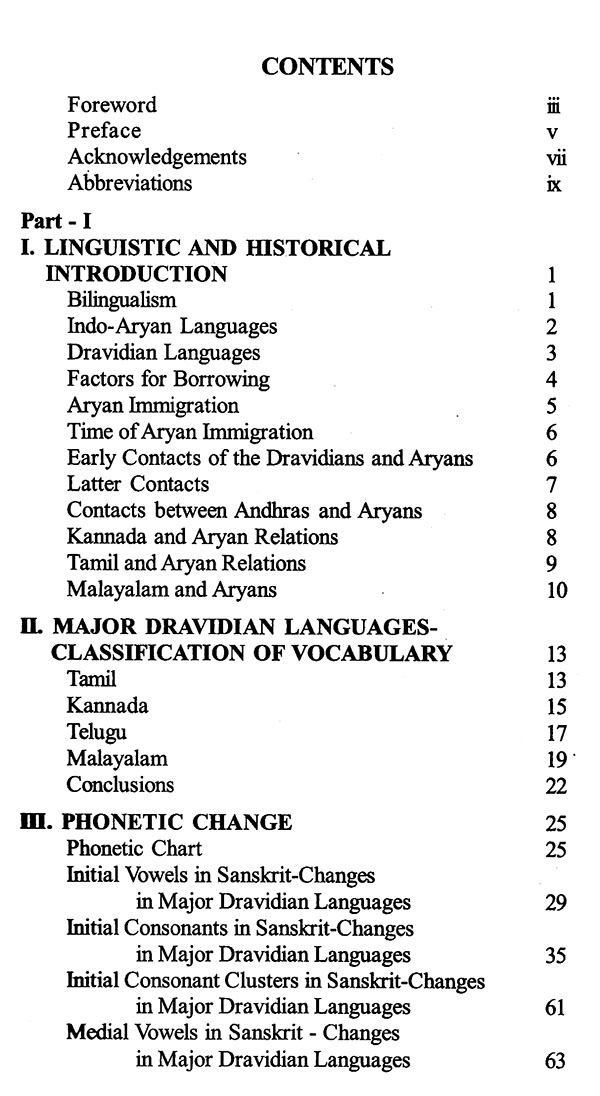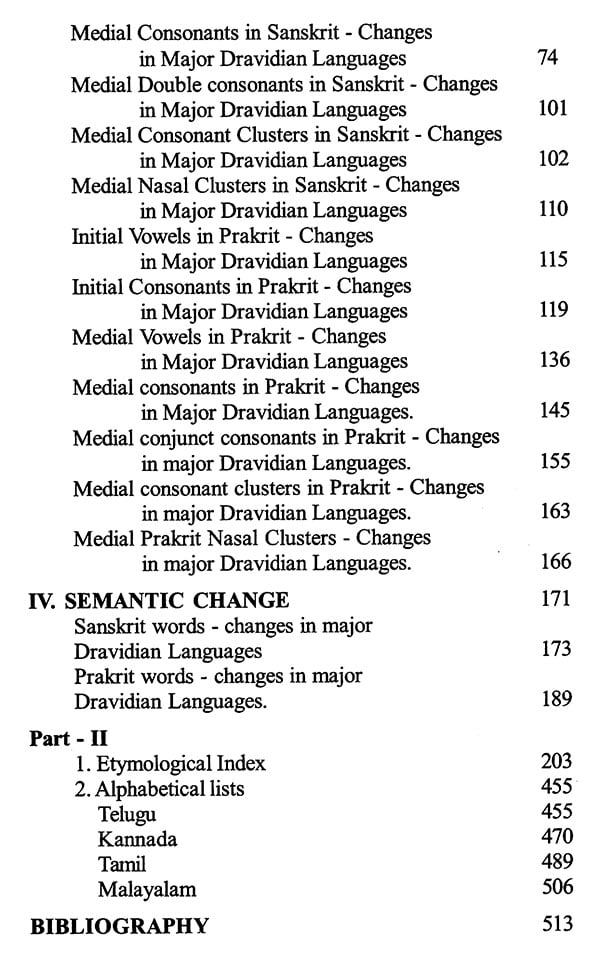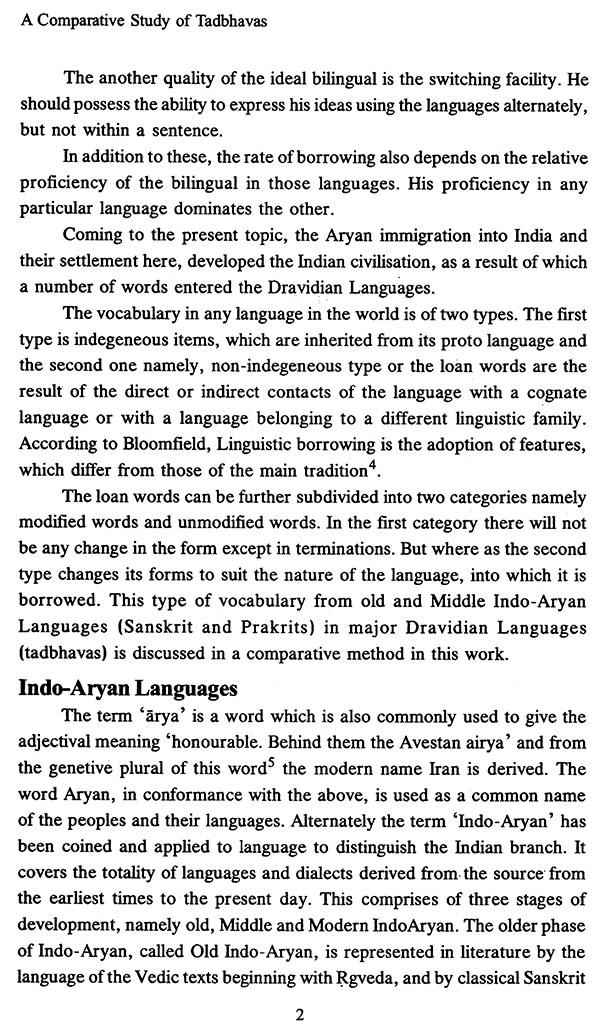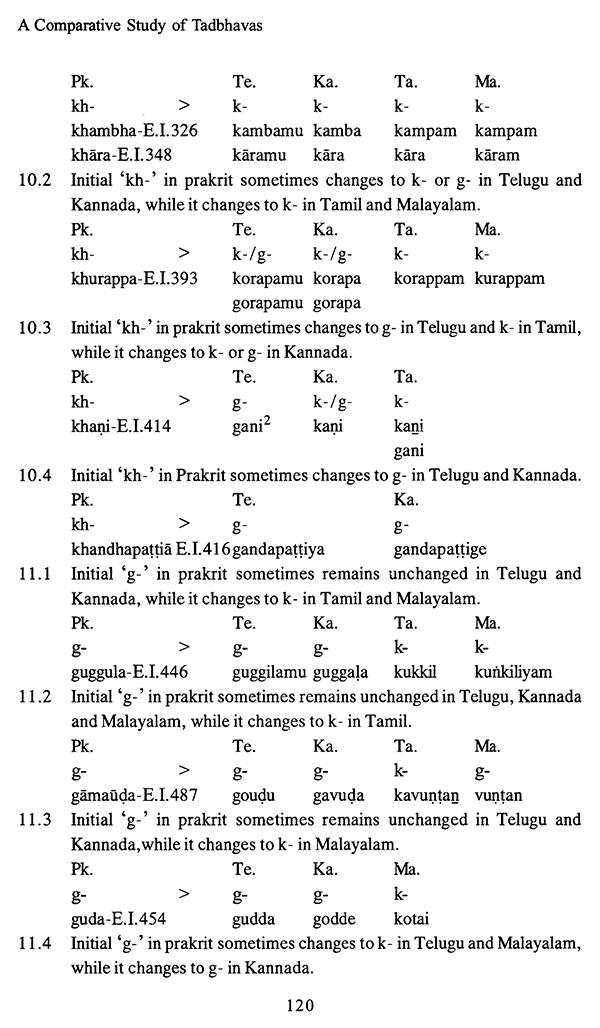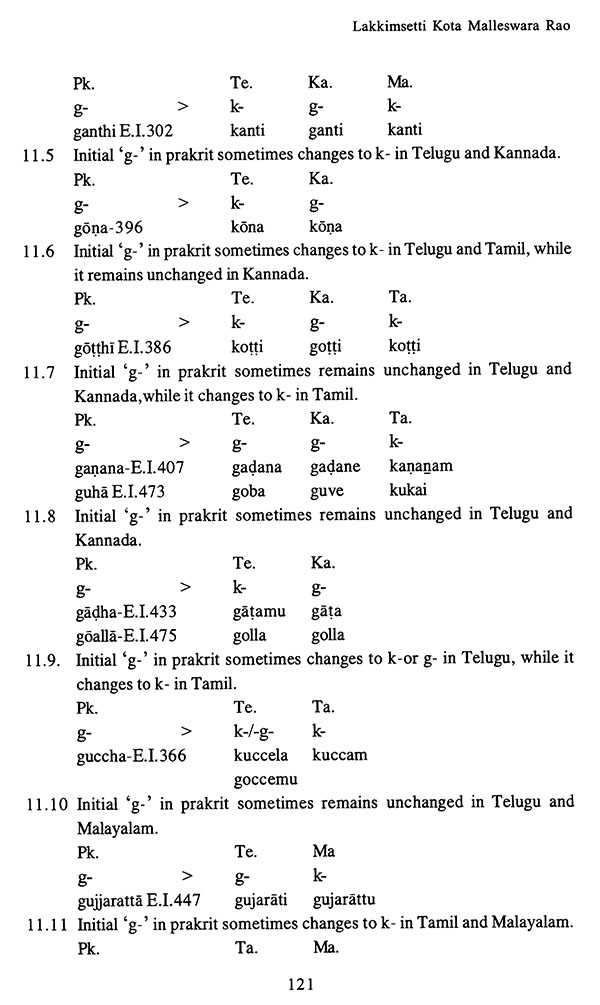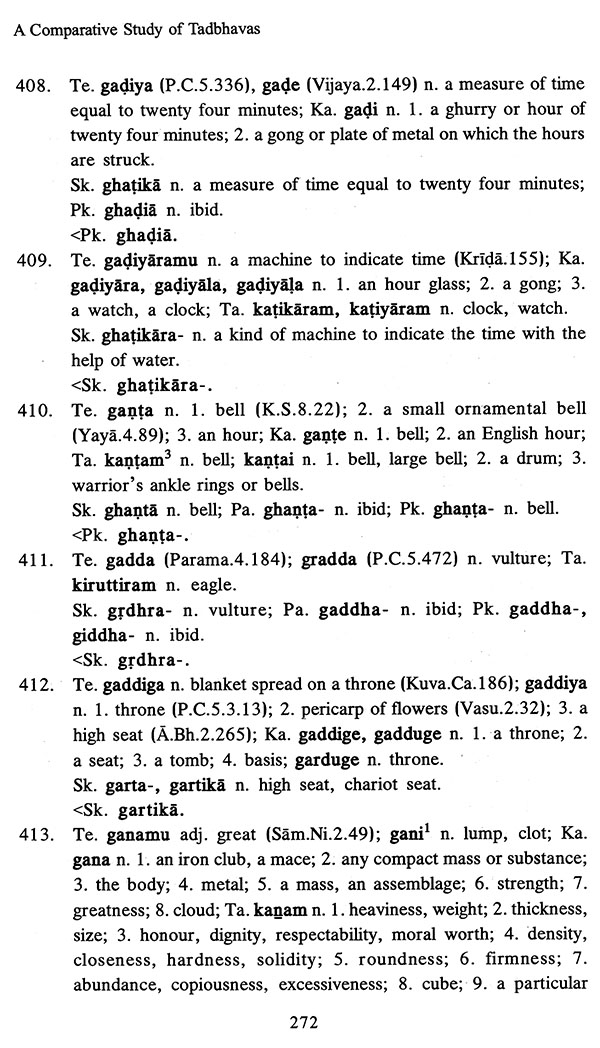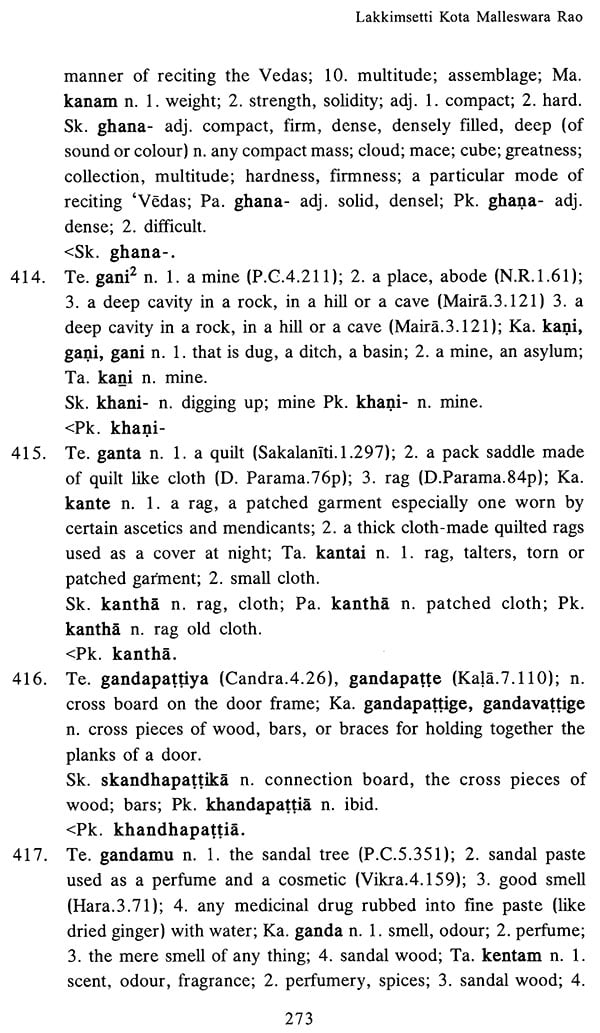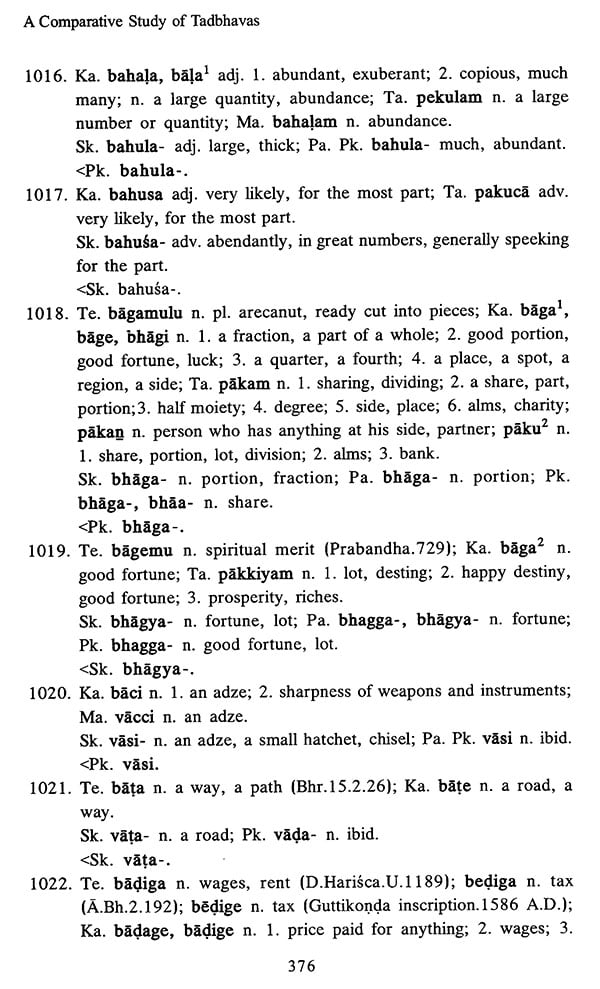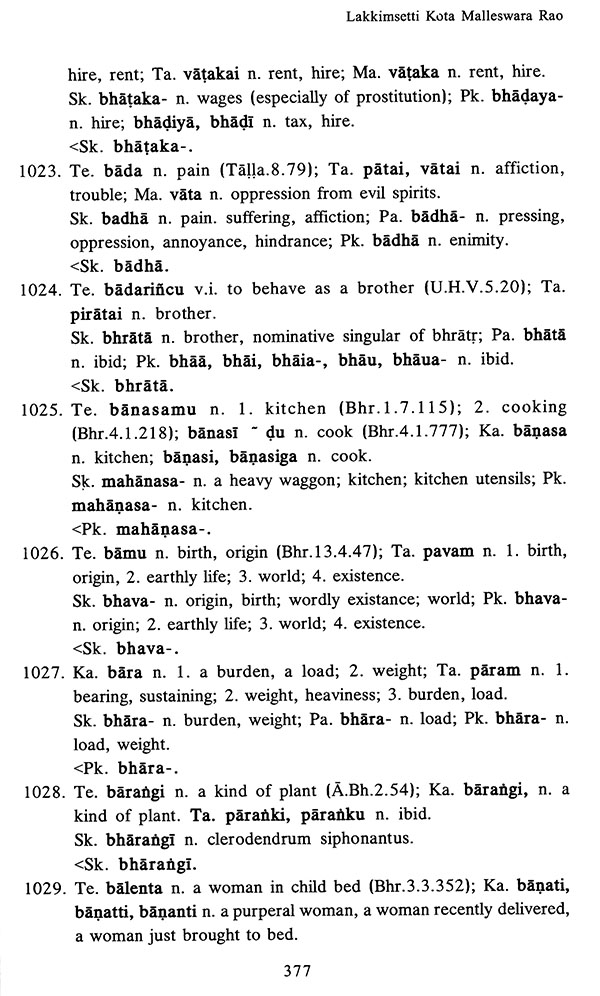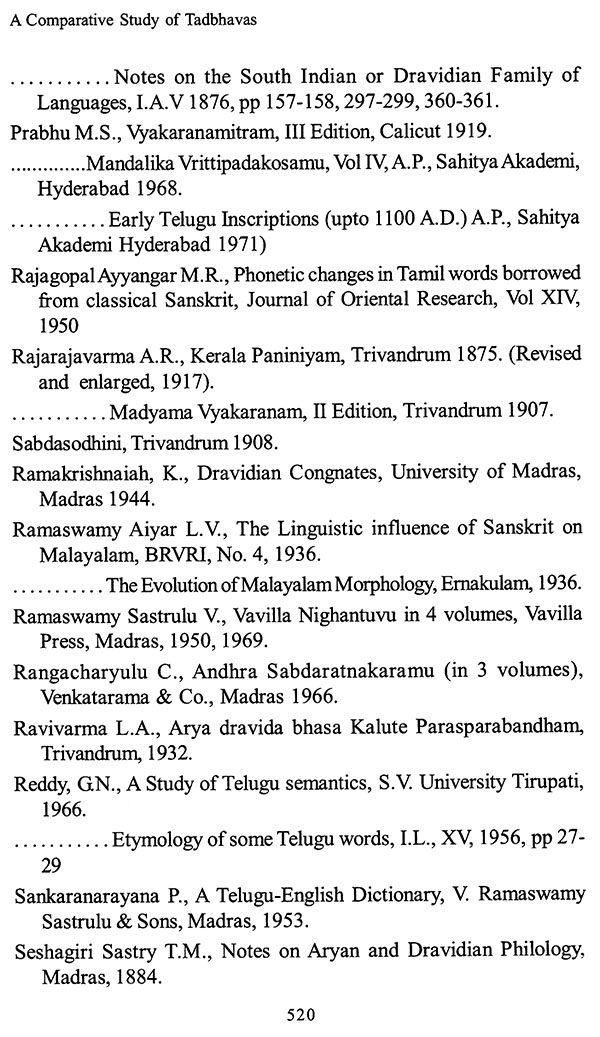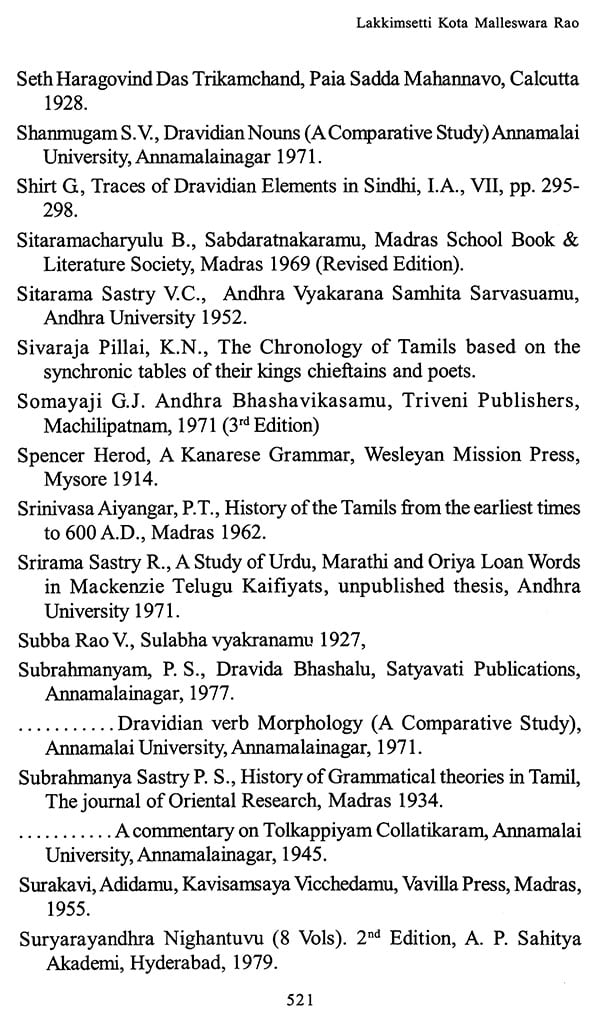 ---
We Also Recommend