Conservation and Museum Techniques
$4640

$46.40
Tax included.
Shipping
calculated at checkout.
---
---
Book Specification
| | |
| --- | --- |
| Item Code: | AZG169 |
| Author: | A.P. Singh |
| Publisher: | AGAM KALA PRAKASHAN, DELHI |
| Language: | ENGLISH |
| Edition: | 2019 |
| ISBN: | 9788173201882 |
| Pages: | 142 (Throughout B/w Illustrations) |
| Cover: | HARDCOVER |
| Other Details | 9.50x6.50 inch |
| Weight | 390 gm |
Book Description
About the Book
India is vast country with its cultural hostage spreading over several millennia beginning with the Stone Age through the proto-historic, historical and modern periods. The cultural vestiges, whether it is stone artifacts, prehistoric cave paintings, terracotta's, coins or the monumental temples, stupas, etc., are Important tools for reconstructing the history and culture of Indian people and hence have to be preserved. While small moveable objects can be exhibited in a museum, gigantic temples, tombs, rock-cut caves, etc. some of which have been damaged by nature or through wanton vandalism have to be conserved in situ for the posterity. This is what the present book aims at. The Book is divided into two main parts: outdoor or in situ conservation of temples, etc, and indoor preservation. In the first part besides recounting the several legislative measures enacted both by the central and State Governments, deals with the various kinds of ancient monuments, the causes for the decay and their remedial measures, different kinds of masonry, restoration of superstructure, type of damages and civil engineering techniques of repairing the damages. Besides, an account of maintaining archaeological gardens in included. The conservation techniques adopted in some of the major monuments such as the Sun temples, Konark, Gol Gumbad at Bijapur, the Taj Mahal at Agra, the Shore Temple at Mahabalipuram, etc. are recounted. Besides, the ever increasing need for transplantation of monuments, due to developmental projects requires special techniques and knowledge. This has been lucidly explained.
The second part of the book is entirely devoted to indoor preservation, mainly in the laboratory. The methods for preserving stone, terracotta, pottery, glass, metal, etc. include vacuum flask impregnation, chemical treatment of metals both mechanical and electrical process. Preservation of organic materials like birch bark, palm leaf, paper, parchment, lather, bone, ivory, shell, etc, need special attention. Methods adopted for these have been explained. Painting murals or miniatures need special attention. A separate chapter entirely dealing with these highlights the causes for their decay and the remedial measures are incorporated. An entire chapter deals with museum display, techniques, lighting, mounting methods, pedestals for objects, etc. The book is well illustrated.
About the Author
Dr. Ajay Pal Singh was born in 1933. He graduate in Science from Allahabad University in 1955 and received diploma in civil engineering from I.T.C. Engineering College B.H.U., Varanasi in 1958. He took his MA. degree from Vikram University Ujjain in 1965 and completed his Post graduate diploma in Museology from Bhopal University in 1973 with first division and first position in the faculty. He was awarded Ph.D. degree from Bhopal University in 1985. Dr. Singh is at present employed as an Assistant Engineers (Conservation) in the Directorate of Archaeology & Museums, Govt. of Madhya Pradesh, and Bhopal. As an engineer by profession Dr. Singh has been practically handling the conservation work of monuments and antiquities almost single handed for the last two decades besides his through experiences in the field. Dr Singh has contributed nearly half a dozen research papers to various reputed journals.
Dr. Singh's book entitled "Forts and Fortifications in India "is in press.
Preface
During the past decade rapid social and political changes have been taken place and thus the responsibilities to preserve the cultural property have considerably increased. The cultural property is being damaged even today by several agencies. Sometimes during the process of preservation they face disastrous end or the results and the efforts are unsatisfactory.
As these are irreparable and irrecoverable, Serious steps should be taken up by Government and occasionally even by cultural societies to be organized for the purpose. Government frames as a precaution, different acts as and when required to protect the cultural heritage; similarly different states also enact different laws for the same purpose.
Central and the concerned state departments of archaeology are implementing faithfully these acts enacted from time to time. Besides these private organizations have also shown their interest in this field. Scientists, technicians, engineers are thus essentially involved in such jobs, and science and latest technology have essentially helped us considerably.
It has become significant that some proper and latest manuals should be popularized which can help us in protecting and preserving our heritage. It is with this aim this monograph has been prepared to facilitate the novices and students as well in this endeavour. The experiences gained by the author in the field have been expressed in a more convincing manner rather than the theory evolved by European scholars who are working in altogether different atmosphere than India.
The text is divided into five major chapters and each chapter is further divided into sub-headings to analyze in detail the related problems. Thus chapter I deals with outdoor conservation of the monuments. It is further divided into three sub-sections viz. section (A) deals with the definition of conservation and different techniques of conserving and protecting the monuments.
**Contents and Sample Pages**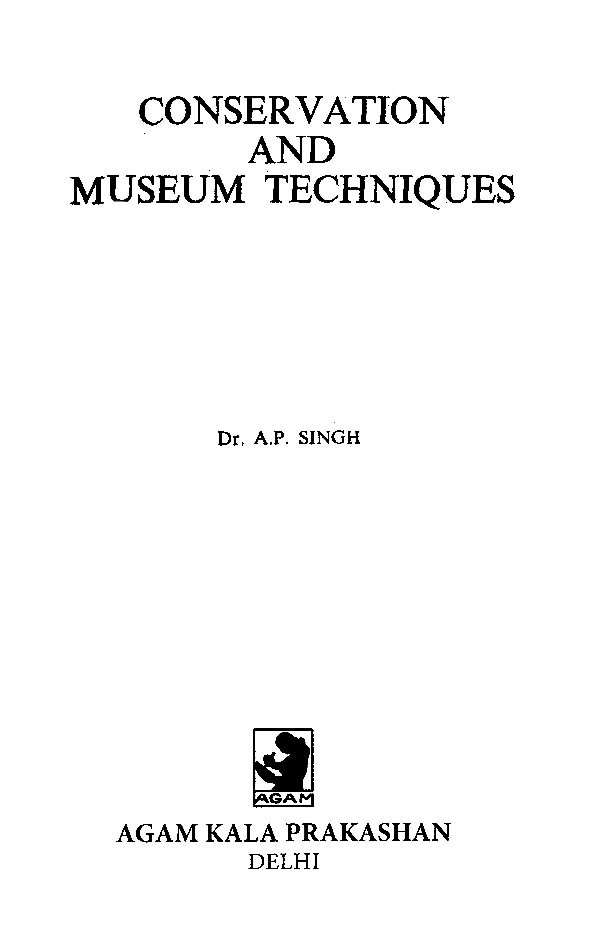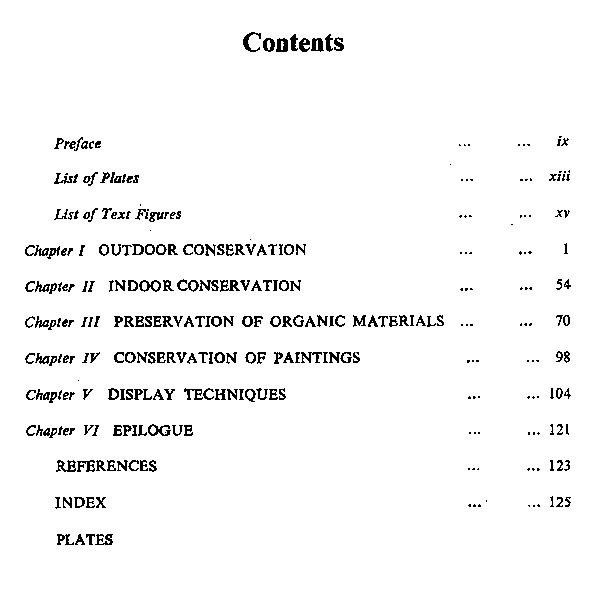 ---
We Also Recommend