Conservation and Restoration of Cultural Heritage
$6720

$67.20
Tax included.
Shipping
calculated at checkout.
---
---
Book Specification
| | |
| --- | --- |
| Item Code: | UAM219 |
| Author: | Arun Ghose |
| Publisher: | Agam Kala Prakashan, Delhi |
| Language: | English |
| Edition: | 2022 |
| ISBN: | 9788195009855 |
| Pages: | 208 (Throughout B/W Illustrations) |
| Cover: | HARDCOVER |
| Other Details | 10.00 X 7.50 inch |
| Weight | 540 gm |
Book Description
About The Book
It is known that oil paintings are complicated, multi-layered structures. They are even more complicated because the materials used in them vary from painting to painting, from one period to subsequent period and also from one school of art to another school of art. It is, therefore, only to be expected that the causes of deterioration of oil paintings will depend on its particulars structure and on the materials used in building such a structure. The nature, extent, type and rate of decay, in any two paintings, are therefore seldom alike and so are their treatments for restoration.
There was, so far, no single book available in which all the relevant aspects of Conservation and Restoration of Oil Paintings were discussed. This book is an attempt to fill these lacunae and is expected to benefit not only the Conservators but also the Curators. This book also attempts to outline the historical developments of different materials and techniques used in Restoration. The First Three chapters deal with lining and structural repair, cleaning of paintings and in-painting techniques. To these are added two more dealing with scientific examination and preventive conservation. For the serious readers the appendix on adhesives in Restoration of Paintings is expected to be of much use. A survey on contemporary materials and techniques used in the examination and Lining of Paintings in different museum laboratories in the world adds much to the usefulness of this book.
The Author has long been associated in the profession and it is expected that this book, resulting mostly out of his own experiences, will benefits others, Conservators and Curators and Art Connoisseurs, in this noble task of Conservation and Restoration of a major part of our Cultural Heritage.
About The Author
Engaged in Conservation and Restoration of Art since 1974 the Author first studied physics from St. Xavier's College and then Fine Arts from Government College of Art, Calcutta. After a brief stint of lecturing on 'Design & Lay-out' at the Regional Institute of Printing Technology he joined the Restoration Department of the Victoria Memorial, Calcutta and later was awarded a British council Scholarship to study for one at the Courtauld Institute, London. Since 1976 he was held independent charge of the Restoration Department of the Victoria Memorial and developed the laboratory to what it is today. During this period he has lectured regularly at various National Seminars and to students and was elected to the Vice-Presidentship of Indian Association for the Study of Conservation of Cultural Property in 1985. He has also been invited to various Institutions and Committees as consultant- the most notable among them are the Ramakrishna Mission, Art Advisory Committee of the government of West Bengal, Visva Bharati University, Special Committee for the restoration of mural painting at the Rashtrapati Bhavan in New Delhi, N.R.L.C., the INTACH Conservation Centre Etc. He has travelled extensively in India and also in the U.K., Europe, USSR and Japan and visited many museum laboratories.
Foreward
Paintings constitute a very important part of our Cultural wealth. The art of painting was known in India from a very early period. Excellent examples of paintings are available from 2nd Century BC. to the present times. The most well-known are murals of Ajanta, Ellora, Bagh, Badami and so on. Paintings were done on wooden panels, palm-leaves, cloth, paper and other supports.
All objects of art are vulnerable to factors of deterioration- natural as well as man-made and paintings are no exception. In fact paintings are the weakest of all and are damaged easily by the slightest provocation. For this reason, there is a greater need for their care and restoration. A book on the restoration techniques of oil paintings is always welcome particularly when there is a dearth of good literature on the subject. In writing this manual Mr. Arun Ghosh has done a singular service to the cause of conservation.
It is indeed heartening to see that Mr. Ghose has dealt with the subject in a systematic manner, giving details first of all the structure of the paintings, and their dealing with the defects and how to deal with them. Most techniques of restoration, like lining, cleaning, inpainting and varnishing have been described by Mr. Ghose mentioning full details.
The manual would have been incomplete if the scientific techniques of analysis of paint materials were not included. Similarly, Mr. Ghose has given a Chapter on preventive conservation and that is also very useful and necessary information.
I would like to complement Arun on this most commendable effort.
Preface
I am only vaguely aware of my goal yet I know there is one. In fact I felt very uncetrtain throughout, trying to compose my thoughts and translating the same into words, about the nature of my goal and how to achieve the same in this book.
One of course know that restorers, particularly the newcomers, joins the profession from diverse other fields to one of which they have earned their expertise. The problem of Conservation and Restoration of art objects, as a profession, is that it demands expertise of not one but at least two subjects which are never taught together. The physicist, therefore, may find his scientific knowledge hardly adequate while attempting to detect early re touchings to start with. Similarly artists too may find themselves hopelessly unsure if asked to comment upon radiographs of paintings.
One of course may read and learn. The problem is that most reading matters are scattered, in bits and parts, in numerous scholarly magazines. These articles presume certain degree of familiarity with the subject. It is almost similar to the plight of the portrait-painters. Commissions comes only to those who have already painted many portraits and established some reputation. How then to start to become one?
But what is more painful is the plight of the curatorial staff in museums. The paintings, and all other works of art, remains under their care in galleries and in store. It is they who are to take preventive measures, ensure display and lighting arrangements to be beneficial to the objects health, liaise with conservation scientists in interpretation of radiographs and other results of scientific analysis, advice restorers on to what extent early retouchings are to be removed from paintings undergoing treatment and so on. This book is aimed primarily for them, for curators and conservators, but mainly for the newcomers.
**Contents and Sample Pages**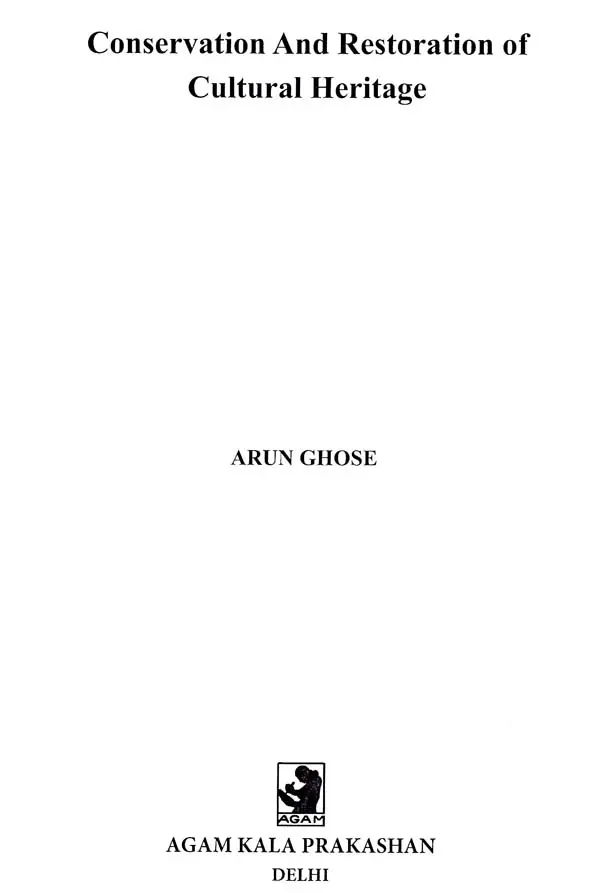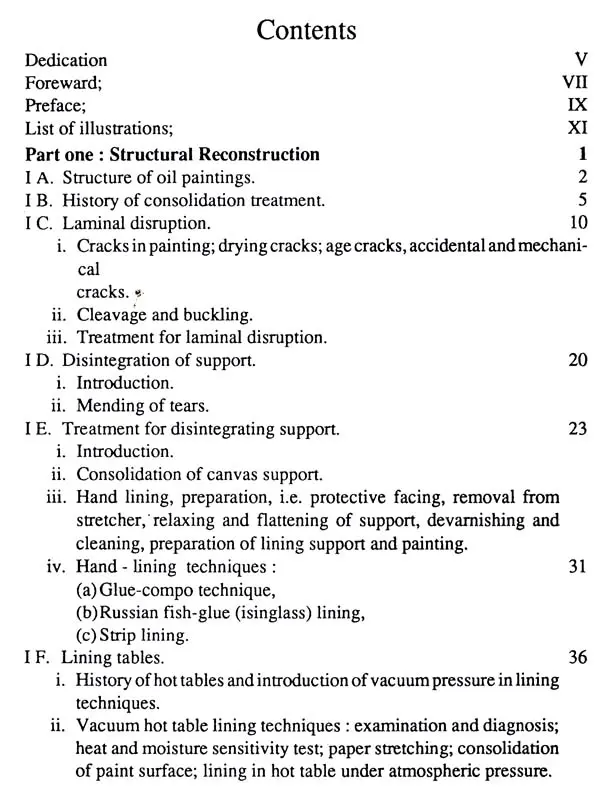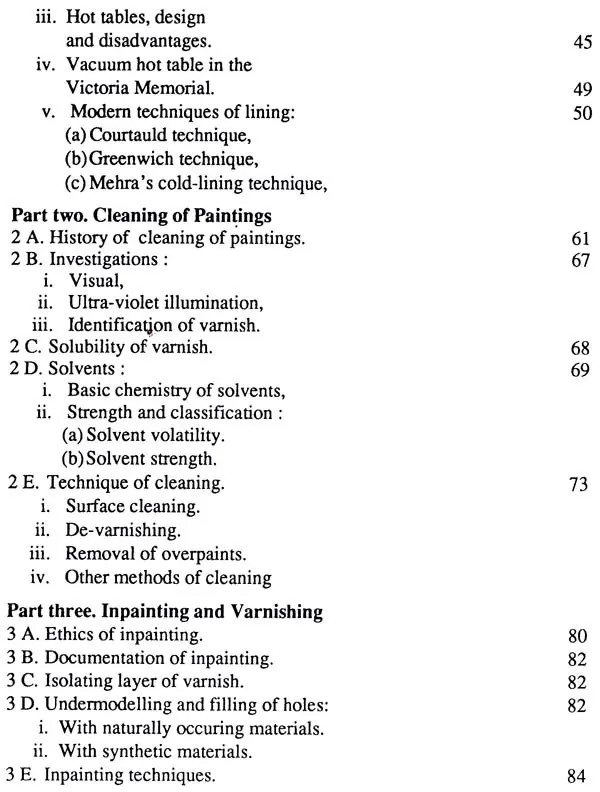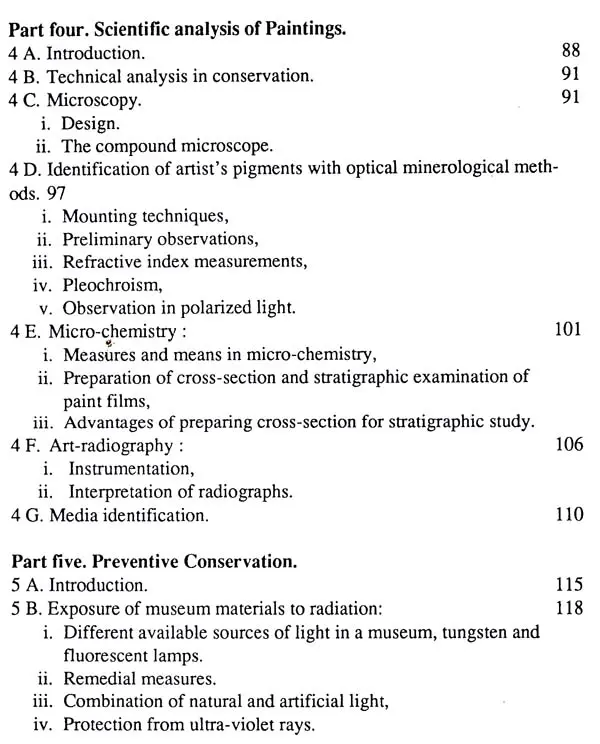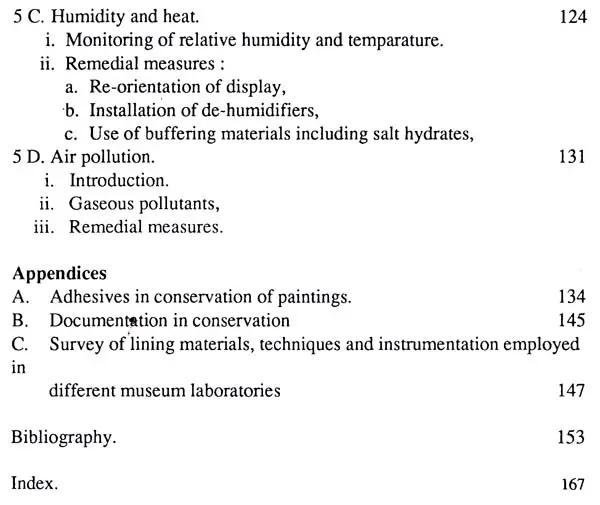 ---
We Also Recommend