The Copper Anthropomorphic Figure
$5680

$56.80
Tax included.
Shipping
calculated at checkout.
---
---
Book Specification
Book Description
ABOUT THE BOOK
This Book Copper Anthropomorphic Figure is 64 publiction of author. The book has 19 paper of eminent Archaeologisht like-KP Rao, Krishna Kum, J. Manual, DP. Sharras, SK. Manjul, Arvin Manjul. Manju Pant B.K. Saran, Madhuri Sharma, PYule, MP Joshi, JW Frembgen, Harry Falk amd M. Learner Total 31 copper Anthropomorphic figures and O.C.P pottery were reported by D.V. Sharma & J. Manual from Madarpur During 2000-2001 Madarpur was excavated by D.V Sharma and he got Harappan red ware, OCP and copper hoard. The discovery of Harappan red ware, perforated pot sherd, O.CP pottery and copper hoard together from one sites is unique finds. First time we got cultural deposit of O.C.P. at Eslempur which is mature Harappan site near Madarpur. In western UP. of upper Ganga plain there are around 500 sites which have mono cultural sequence of Harappan, O.C.P. and copper hoard tradition. Total 7 copper hoards wepons which includes 2 Antennac sword. 2 hooked sword, I flat axe and 2 weed chisel weapons were also reported from Sanouli. These Anthropomorphic fgure are religious or ritual cult objects or Idols Thin silver and copper sheet idols is still worshiped on each Saturday as Sanidevata and people put oil and coins on it; They do this to avoid bad happening in coming future. This silver sheet of Anthropomorphic shape were found in large number from Gangeriya which are partly identical with copper Anthropomorphic figures. These figurs are still under worship in shrine of Muslim saint Hazratshal denia (1581-1676 A.D.) in the town of Gujarat, Punjab and Pakistan. People worship it for wish the birth of son Fish (Matsya) symbol found on copper Anthropantorphic figure of Shivrajpur shows fertility culf. The paper of Madhuri Sharma is on Tivo unique lugged shoulder copper axes. These lugged axes were discovered from Sitapor, seems to be mining implement. These are two variety in this lugged axe one has flat lugs on two side other have conical lugs. Indentical axes were reported from Kathmandu and Lothal According to author O.CP. and associated copper hoard in upper Ganga plain are oldest tradition in upper Sarasvati and upper Ganga-Yamma doab during 4000-1100 BC. Copper anthropomorphic is unique in all copper/bronze tradition of northern south Asia. Copper Anthropomorphic are 7 variety. Earliest evidence of Anthropomorphic shape terracottas taurine symbol were reported from mature Harappan sites at Mohenjodaro, Bhimrana and Banawali which are now in National Museum collection, New Delhi. Miniature gold anthrophic shape gold pendant were reported from sanouli and Kaushambi which were used as Jewellery items. This taurine or Numilipada appear like Brahmi script ma or Devanagari script four. Nandipada is auspicious symbol. This also appears as pendant in jewellery item of pitalkhera Yaksha and Yakshi image of Bharhut and Mchroli which is ascribed 2 to 1st CBC. This Anthropomorphic shape is identical with copper hoard Anthropomorphic figures. A gold leaf depiction of taurine symbol was found in Buddhist casket of piprahawa which has been dated up to 5 BC.
ABOUT THE AUTHOR
Prof. D.P. Sharma is an Archacologist, Museologist and Art Historian. He did his M.A. in Ancient Indian History Culture & Archaeology form Allahabad University and D.phil research on Art and Architecture of Lower Ganga Yamuna Doab Region from University of Allahabad. From 1980 to 1985 he was working as Antiquities Registering officer at Allahabad and Varanasi Regions During 1983-84 he was awarded commonwealth scholarship and he qualified M.A. Archaeology from the Institute of Archaeology University of London. He did excavation at Sussex (UK) and Pincenvent (France) under Dr. Mark Newcomer and Prof. Gourhan. During 2003-04. He did excavation at Sterkfontein cave in South Africa, under RJ. clark, Where 3.3 M. old Australopithecus skelton was discovered. Since 1985 2005 he had been working as head of Harappan and prehistoric collection of National Museum, New Delhi, In 2005 become Associate Professor & H.O.D. Museology in National Museum Institute (Deemed University).Dr. Sharma has published 220 Papers and 78 Books in which few new are given below: Early Harappan and Indus Sarasvati Civilization Vol. 1 & 11, Harappan Art, Prehistoric Art and Archaeology Vol. 1. Gupta Classical Art, Mauryan Art, Harappan Minor Art & Crafts, Harappan Jewellery, Harappan Terracotta, Harappan Seals, Harappan Potteries. Garunda in Asian Art, Copper Hoard Weapons of South Asia, O.C.P & Copper Hoard (ed), Harappan Script on its way to Decipherment, Harappan Science & Metal Technology, Archaeology of Lower Doab, Vol. 1 & II, Lost Sarswati Civilization, Bharat Ka Puratattva (Hindi) and Roots of South Asian Art. He was working As Director in Bharat Kala Bhavan Museum of Banaras Hindu University, at present he is visiting Professor Archaeology in Amity University Noida & various Other University in India, Archaeological Department and other Institutions. At present he writing book on roots of simbol in Sindhu Sarswati Civilization under IGNCA Varanasi, Madhuri Sharma is an Art Historian, Museologist and Archaeologist. She participated in excavation work in Narmada Valley, Chopani Mando, Belan Valley and Bhardwaj-Ashram. Apart form participation in national and international seminars, she has published 60 research papers and 11 books including 'Museum and Museology" Early Buddhist Metal Images of South Asia and Mouryan Art and Architecture". At present she is working as research associate in a project on roots of simbol in Sindhu Sarswati Civilization.
PREFACE
This edited work on copper hoard is 64 book of Author (Dr. D.P. Sharma). During 2003 present Author has published on copper hoard weapons in south Asia. The other Archaeologished who have done on copper hoard and o.c.p. Traditional, are: D.P. Agrawal J.Kharkwal, P.K Agrawal, R.C. Agrawal, Vijay kumar, F.R Allchin, Arun kumar, H.C Bhardwaj, Subhra Bose, Carlleye A, D.k chakrabarti, P.k chattopadhya, P.S. Chaturvedi, J.Cockburn T.k. Das gupta, A. Datta, K.N. Dikshit, M.N. Deshpande, R.C. Gaur, C.S Gupta, P.L. Gupta, S.P. Gupta, D. Handa R Hooja, M.P joshi, K. Deva, Krishna kumar, B.B. Lal, M.L. Srivastava: S.K. Manjul, Arvind Manjul, S.C. Saran, M. joseph, V.M Misra, V.D. Mishra, A.K. Nag. S. Piggot, S.R. Rao, Amita Ray, S.C. Roy, H.D Sankalia, S. Nath, Madhuri Sharma, G.R. Sharma, Y.D. Sharma, K.S. Shukla, S.P. Shukla, L.M. Wohal, Vijay Kumar, D.V. Sharma, S.B. Singh, S.D. singh, A.K Sinha, S. Srivastava, G Stagul, B. Subrahmanyam, S. Bhan, K.K. Thoplyal, R. Tiwari, B.N.Tripathi, Piyush Bhat, Nayanjit Lahiri, Bhuvan, Vikram, N.R. Banerji, H.K. Narain, L.K Narayan, R.S. Bisht, K.T.M. Hgde, O.P. Agarwal S.N. Hasan, R.P. Sharma, F.Hextable, H.A. Thakkar and Jagdish Gupta.
The first hoard of copper weopon were discovered in 1870 at Gungeria (Bala Ghat). This hoard was kept in wooden Box (Yule 1989). Later on hoard of copper weopon were reported from Sapai, Bithur, Parihar Sheorajpur, Namoul (Hisar), Fatehgarh, Madarpur, Pondi (Rewa), Mehsana, Amaroha, Chandausi and Itwa (Varanasi). O.C.P.and Copper hoard weapon were found together from Bhadla (Patiala), Pouli (Jind), Dhuskaha (Near Koushambi), Mirapati (Handia), Khera Manpur (Bullandshahr), Kannouj, Anghaikhera, Kamalpur, Sanouli, Hariharpur, Majhadpur, and Shahabad (All in Hardui), Bithur (Valmiki Ashram) and Nasirpur (Saharanpur). These two Traditions were found together through excavation at Kaushambi, Bisuali, Rajpurparsun,Kiratpur, Lalquila, Saipai, Bahadarbad, Baharya, Madarpur, Harinagar (Bijnaur), Pariyar, and Parihati. The O.C.P. sites were also found at Katpalon (Punjab), Ambala, Guragaon, Hisar all district, of Haryana; Ganeshwar and Jodhpur in North Rajsthan. In 1951 B.B. Lal got Copper Hoard and O.C.P. in Bisauli excavation. Later on O.C.P. were found North South at Bahadarabad to Noh near Bharatpur and Katpolan (Jullunder) to Ahichchetra from west to East. This O.C.P. pottery first appear from site of upper Ganga Yamuna doab and copper board weapon were also found along with these sites. Later on this pottery was found in middle Ganga Yamuna doab along with copper hoard weapon at Sapai excovated by L.M. Bahal & B.B. Lal. M.N. Deshpande observed that copper hoard weapons are also associated with O.C.P. and they came in contact with mature Harappa people (3000-2000 BC) and this has been confirmed through excavation from Harappan site at Ganeshwar, Lothal, Sanouli, Madarpur, Mithathal and Harinagar where copper hoard weapons were also reported. O.C.P. has relationship with mature Harappan because some shape of mature Harappan Pottery and O.C.P. are common From where did O.C.P. originate? M.D.N. Sahi (2018) and D.P. Sharma suggested it has its origine from Hakraware and let Mesolithic around 4000 BC? How ever me need more clue from new excavated site which is lackin. Now we are geting copper hoard and O.C.P. in lower Ganga Yamuna doab. O.C.P. and copper hoard. weapons were reported from Parihar, Bithur, Shivarajpur and Koushambi, all located in lower Ganga Yamuna doab. We have to confirm it thorugh future excavation. Dropati Ghat, Jhunsi, Sringverpur and Hetapati all located in Allahabad are eastern most sites in lower Ganga Yamuna doab. Western limit of O.C.P. is at Ganewshwar and Jodhpur in Rajsthan. Copper hoard weapons we get in whole Northern South Asia. And rare finds in south India where these weapons (sward etc.) were transported by army of lord Rama.
**Contents and Sample Pages**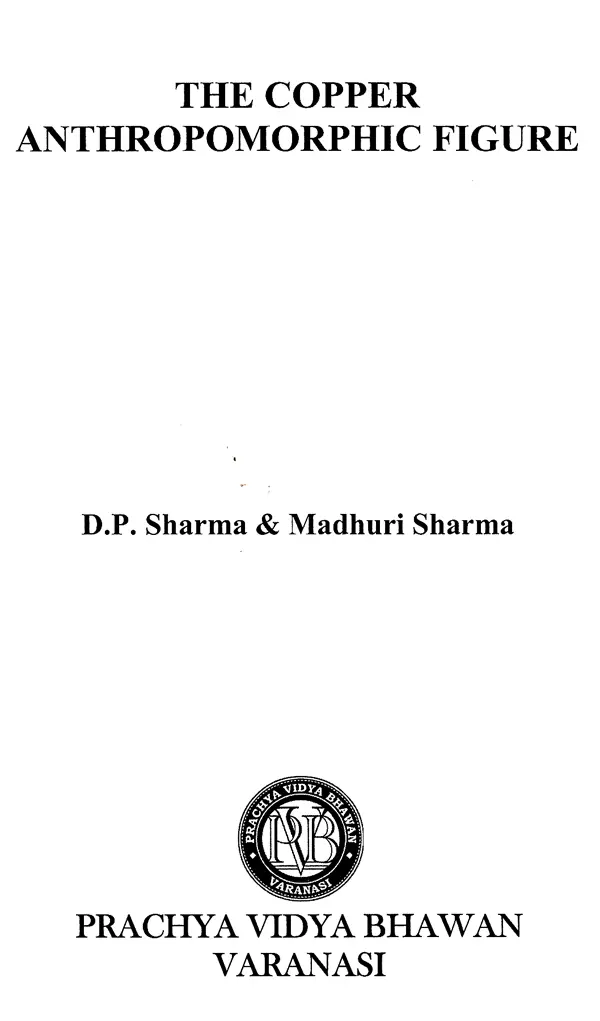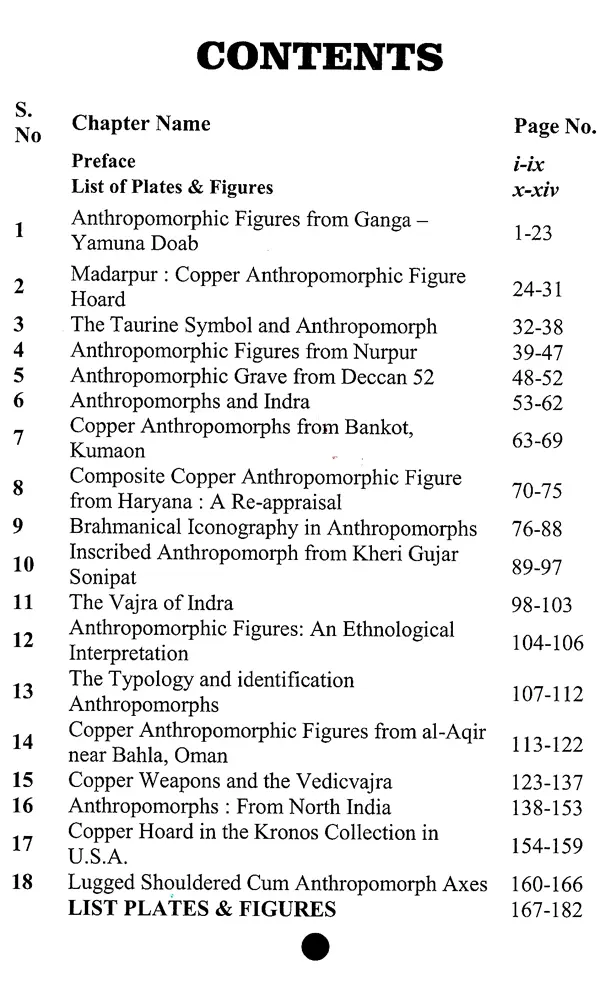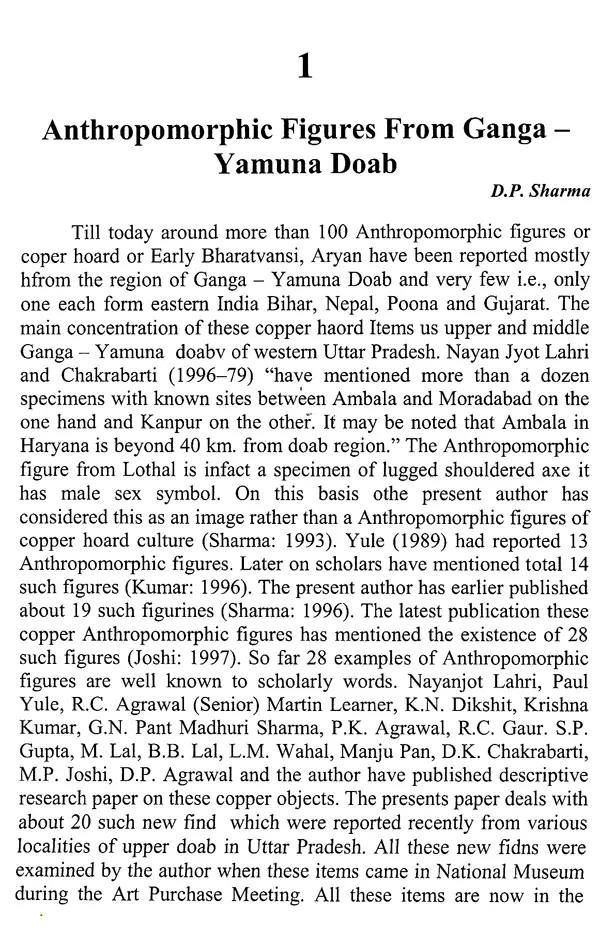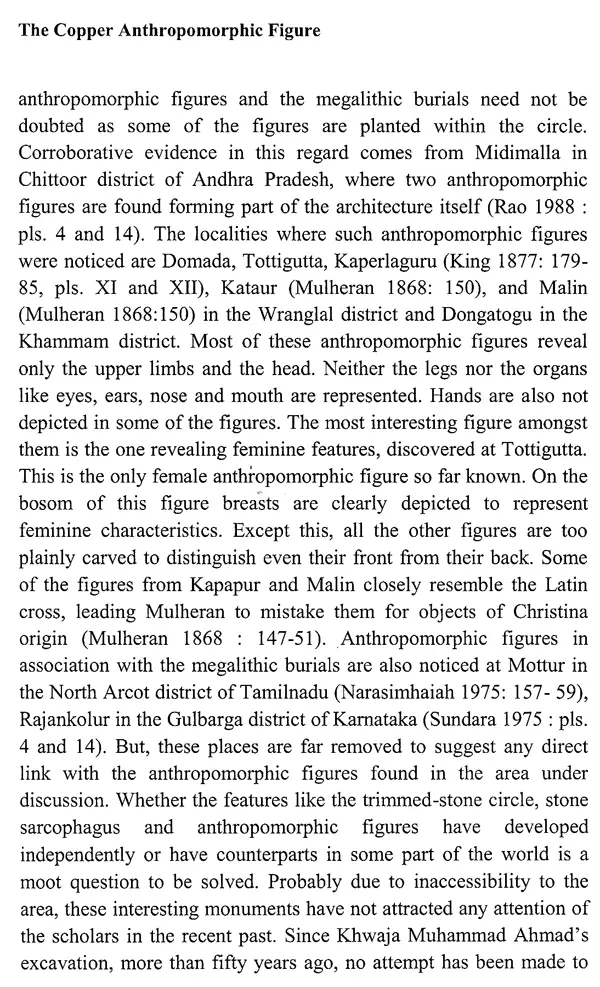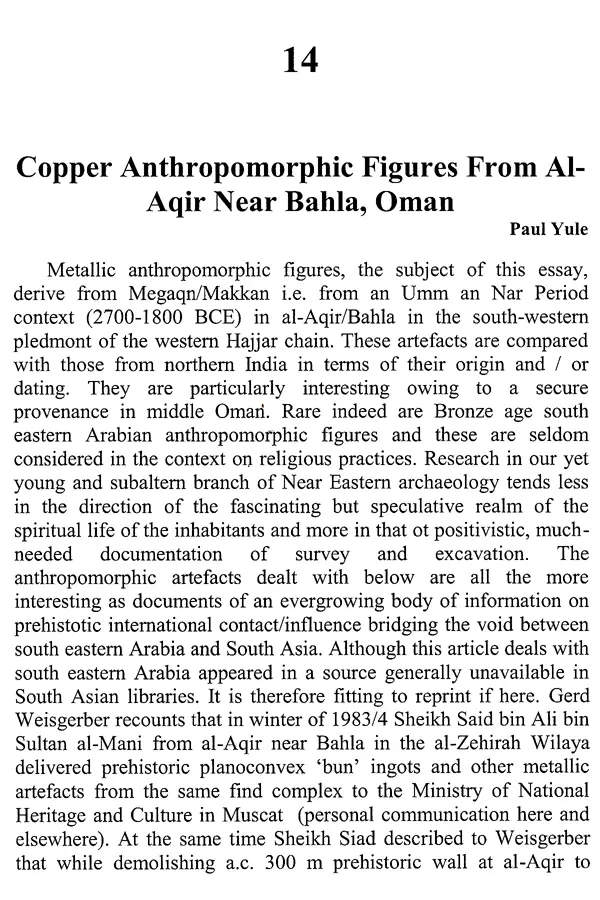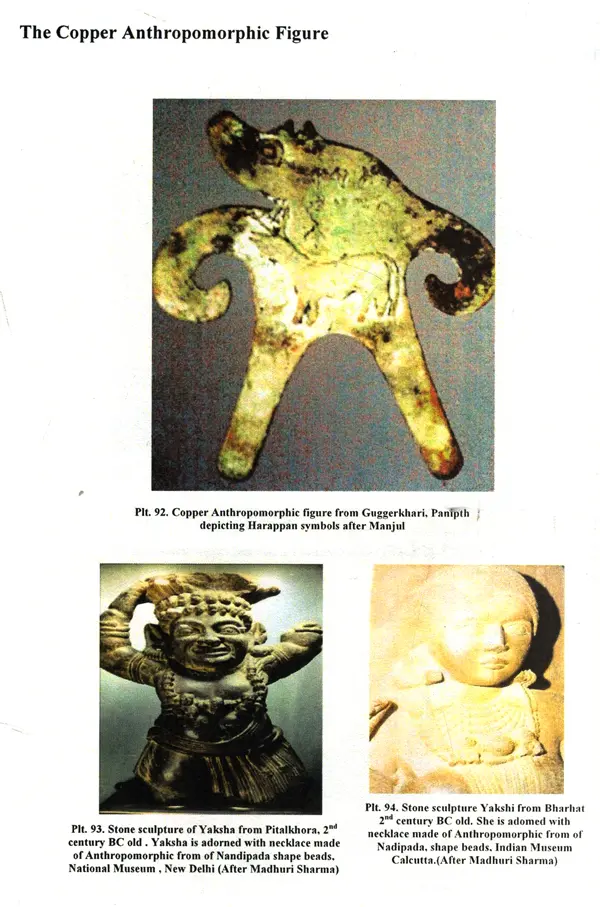 ---
We Also Recommend