The Copper Hoard Weapons in Ganga-Yamuna Doab (Circa 4000-1500 BC)
$5280

$52.80
Tax included.
Shipping
calculated at checkout.
---
---
Book Specification
Book Description
About The Book
This Edited book THE COPPER HOARD WEAPONS IN GANGA YAMUNA DOAB consists 25 research papers on various problems of copper hoard written by eminent archaeologist like S.P. Gupta, Vijay Kumar (IPS), R.C. Agrawala Nayanjot Lahiri & D.K. Chakrvarti, M.P Joshi, Krishna Kumar, LM. Wahal, S. Vijay Kumar, K.S. Shukla, Paul Yole, Madhuri Sharma, Priyanka Singh, Umesh Kumar Singh & Ajit Kumar, R. Tiwari & R.K. Srivastava, D.P Sharma, M. Dhar, Amit Rai Jain and Satish Jain. Till today around 7550 copper hoard weapons have been reported from 251 sites mostly from Gangetic plains. The copper hoard tradition could be divided in two groups as follows: (A) North Eastern group of middle and lower Ganga plain. (8) Upper Ganga plain and North-West India. The copper hoard weapons of North-Eastern group 'A are cruder whereas copper hoard weapons of 'B' region are more refined. During the mid of third millennium BC migration of copper hoard people took place from 'A' region to 'B' region and these two met together in the contact zone in upper Ganga Yamuna doab with Mature urban Harappans and they learnt new mould made technique from Harappans copper-smiths. We noticed this at Sanouli, Ganeshwar, Harinagar and Madarpur, all in west UP: Rajeshthan, Haryana, where we get of Harappan, Copper hoard weapons and O.C.P. together from same deposits The Anthropomorphic hure of copper hoard is a cult object and a symbol of good omen. The lugged shouldered axes and weed chisels are all new type in copper hoard weapons. The shouldered axes show their origin from South East Asia via North East India and Middle Ganga plain. The copper hoard weapons and O.C.P. ceramic are presents in stratified deposits at Ganeshwar, Jodhpura, Mithathal, Sanouli, Bithur, Madarpur, Harinagr, Saipai, Parihar and Khatoli, which confirm that the authors of these two tradition met together at these sites. The Copper hoard weapons of Western group show genetic relationship with Harappans and OCP The author has fixed the period of Rama during the early. phase of copper hoard period These copper hoard weapons were used in war between Shri Rama and Ravan and fatter on these weapons were also use: in Mahabhart war. The copper hoard weapons. have been generally found in caches of hoards, According to scholars the author of copper weapons were the Atharvavedic people who were contemporary, Early. Mature and late of Harappans. These weapons bigan around 4000 BC and continued in used til 1500 B.C
About the Author
Prof. D.P. Sharma is an Archaeologist, Museologist and Art Historian. He did his M.A. in Ancient Indian History Culture & Archaeology form Allahabad University and D phil research on Art and Architecture of Lower Ganga Yamuna Doab Region from University of Allahabad. From 1980 to 1985 he was working as Antiquities Registering officer at Allahabad and Varanasi Regions During 1983-84 he was awarded commonwealth scholarship and he qualified M.A. Archaeology from the Institute of Archaeology University of London. He did excavation at Sussex (UK) and Pincenvent (France) under Dr. Mark Newcomer and Prof. Gourhan. During 2003-04. He did excavation at Sterkfontein cave in South Africa, under R.J clark, Where 3.3 M. old Australopithecus skelton was discovered. Since 1985 2005 he had been working as head of Harappan and prehistoric collection of National Museum, New Delhi. In 2005 become Associate Professor & H.O.D. Museology in National Museum Institute (Deemed University).Dr. Sharma has published 220 Papers and 78 Books in which few new are given below: Early Harappan and Indus Sarasvati Civilization Vol, I & II, Harappan Art, Prehistoric Art and Archaeology Vol. 1. Gupta Classical Art. Mauryan Art, Harappan Minor Art & Crafts, Harappan Jewellery, Harappan Terracotta, Harappan Seals. Harappan Potteries, Garunda in Asian Art, Copper Hoard Weapons of South Asia, O.C.P & Copper Hoard (ed), Harappan Script on its way to Decipherment, Harappan Science & Metal Technology, Archaeology of Lower Doab, Vol. I & II, Lost Sarswati Civilization, Bharat Ka Puratattva (Hindi) and Roots of South Asian Art. He was working As Director in Bharat Kala Bhavan Museum of Banaras Hindu University, at present he is visiting Professor Archacology in Amity University Noida & various Other University in India. Archaeological Department and other Institutions. At present he writing book on roots of simbol in Sindhu Sarswati Civilization under IGNCA Varanasi Madhuri Sharma is an Art Historian, Museologist and Archaeologist. She participated in excavation work in Narmada Valley, Chopani Mando, Belan Valley and Bhardwaj-Ashram Apart form participation in national and international seminars, she has published 60 research papers and 11 books including "Museum and Muscology' Early Buddhist Metal Images of South Asia and Mouryan Art and Architecture. At present she is working as research associate in a project on roots of simbol in Sindhu Sarswati Civilization.
Preface
This edited, THE COPPER HOARD WEAPONS IN GANGA YAMUNA DOAB is 62th book of Author. This publication is consists 24 research papers on various problems of copper hoard weapons written by eminent archaeologist like. S.P. Gupta, Nayanjot Lahiri & D.K. Chaudhari, M.P. Joshi, Krishna Kumar, L.M. Wahal, S. Vijay Kumar, K.S. Shukla, Paul Yule, Madhuri Sharma, Priyanka Singh Umesh Kumar Singh & Ajit Kumar, R. Tiwari & R.K. Srivastava, D.P. Sharma, M. Dhar Amit Rai Jain and Satish Jain. Till today around 7651 copper hoard weapons have been reported from 251 sites mostly from Gangetic plains. The Anthropomorphic figure of copper hoard is a cult object and a symbol of good omen. The lugged shouldered axes and weed chisels are a new type in copper hoard weapons. The shouldered axes show their origin from South East Asia via North East India and Middle Ganga plain. The copper hoard weapons and O.C.P. ceramic are presents in stratified deposits of Ganeshwar, Jodhpura, Mithathal, Sanouli, Bithur, Madarpur, Harinagar, Saipai, Parihar and Khatoli, which confirm that the authors of these two tradition met toghter on these sites. The Copper hoard implements of western group shows genetic relationship with Harappans. The author has fixed the period of Rama during the early phase of copper hoard. These copper hoard weapons were also used in Mahabharat war.
According to editor "The copper hoard weapons have been generally found in caches of hoard. According to scholars the author of copper hoard weapons were the Atharvavedic Aryans who were contemporary Early Mature and late of Harappans and this tradition continued till 1500 B.C. The copper hoard tradition could be divided in two groups as follows: (A) North Eastern group of middle and lower Ganga plain. (B) Upper Ganga plain and North-West India. The copper hoard weapons of North-Eastern group 'A' are cruder whereas copper hoard weapons of 'B' region are more refined. During the mid of third millennium BC. migration of copper hoard people took place from 'A' region to 'B' region and these two met together in the contact zone at upper Ganga Yamuna doab with mature urban Harappans and learnt new technique from Harappans copper smiths. We noticed this at Sanouli and Madarpur Rajeshsthan, Haryana where we get of Harappan Copper hoard and O.C.P. together from same deposits. Copper hoard weapons were used by Rama army against war with Ravan." (Sharma DP 2003)
Book's Contents and Sample Pages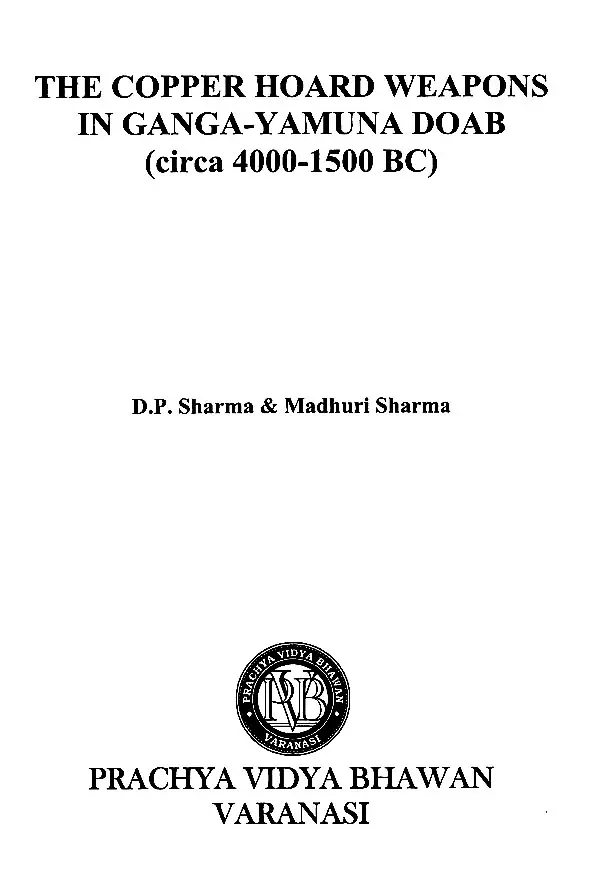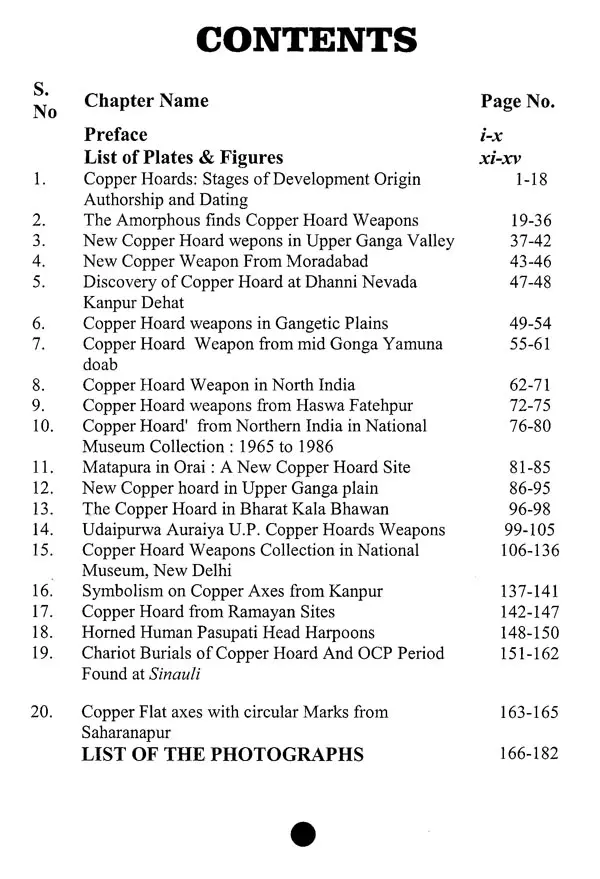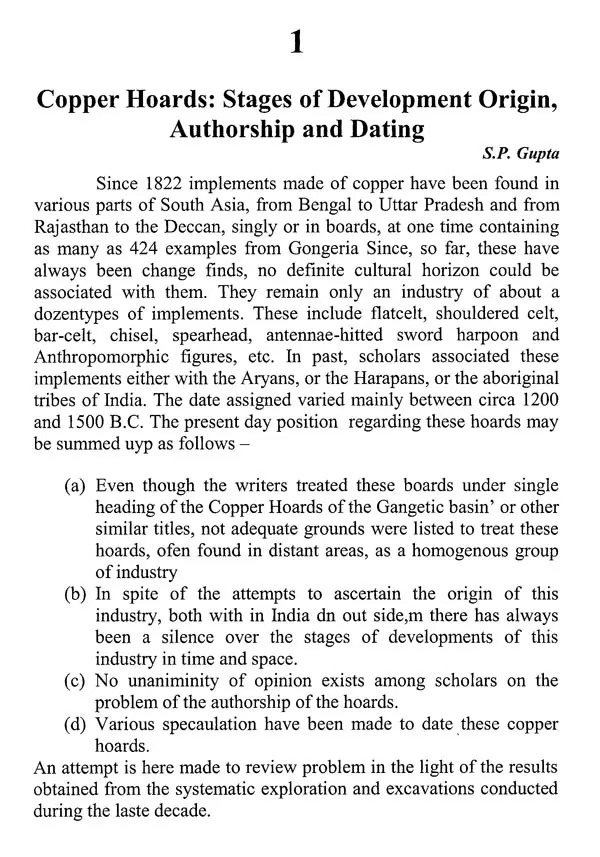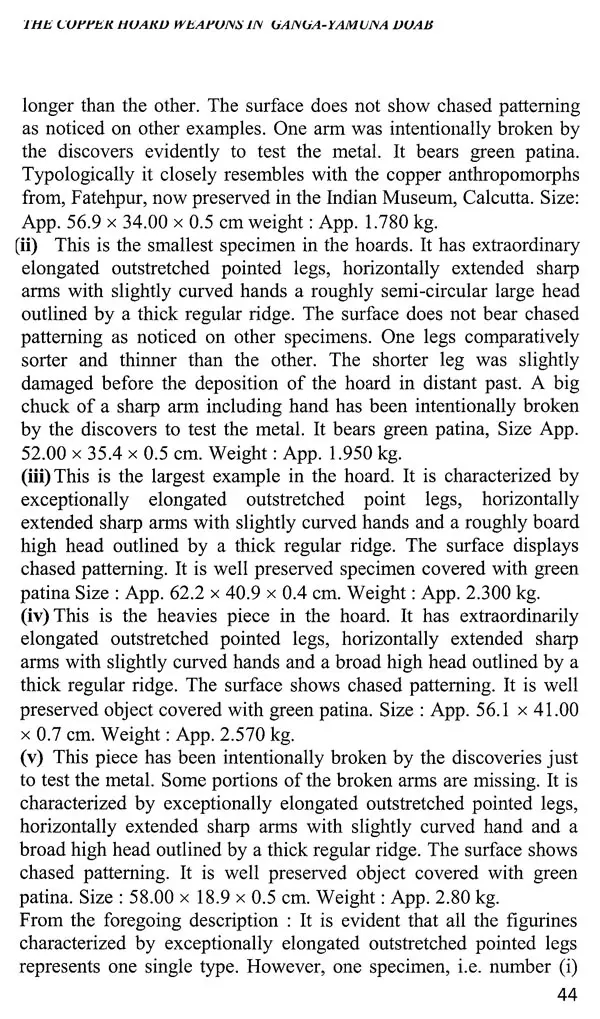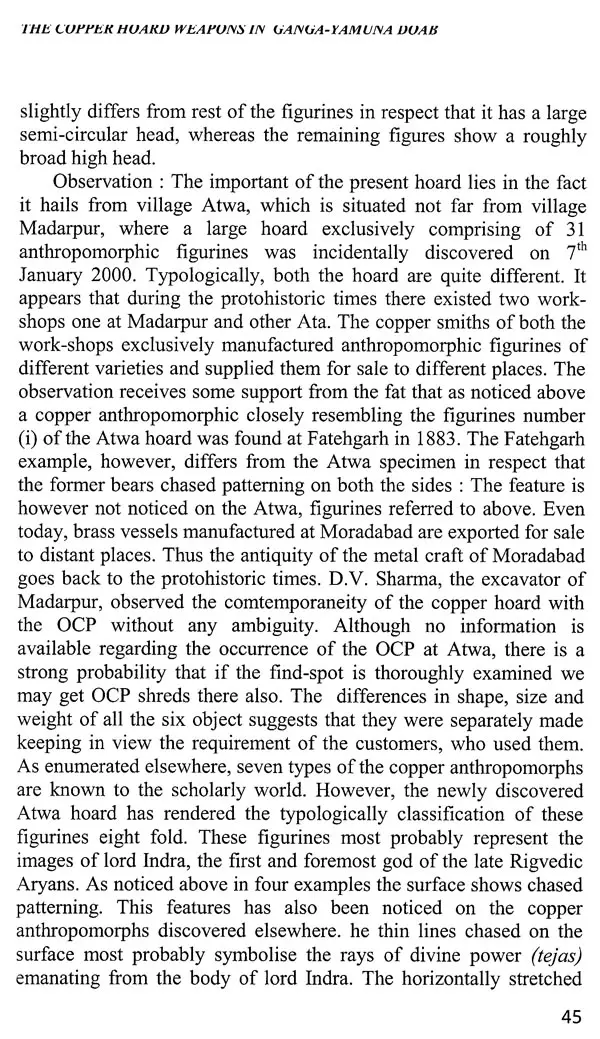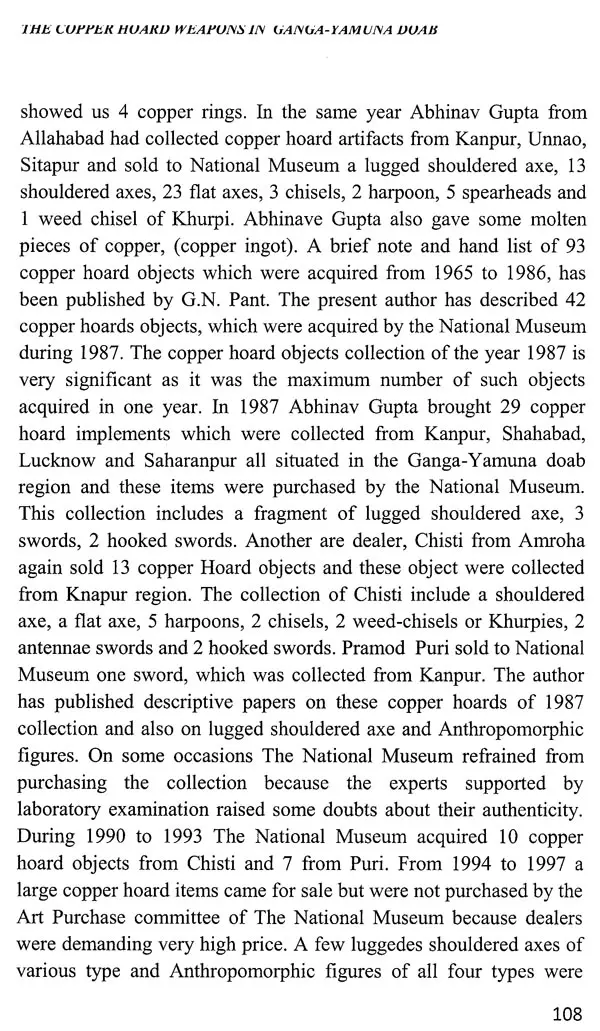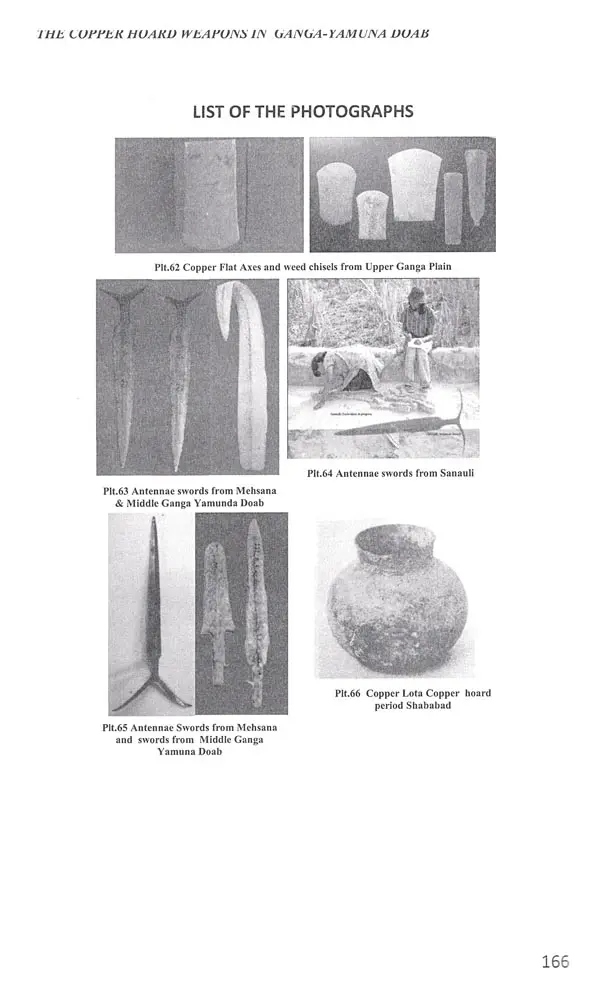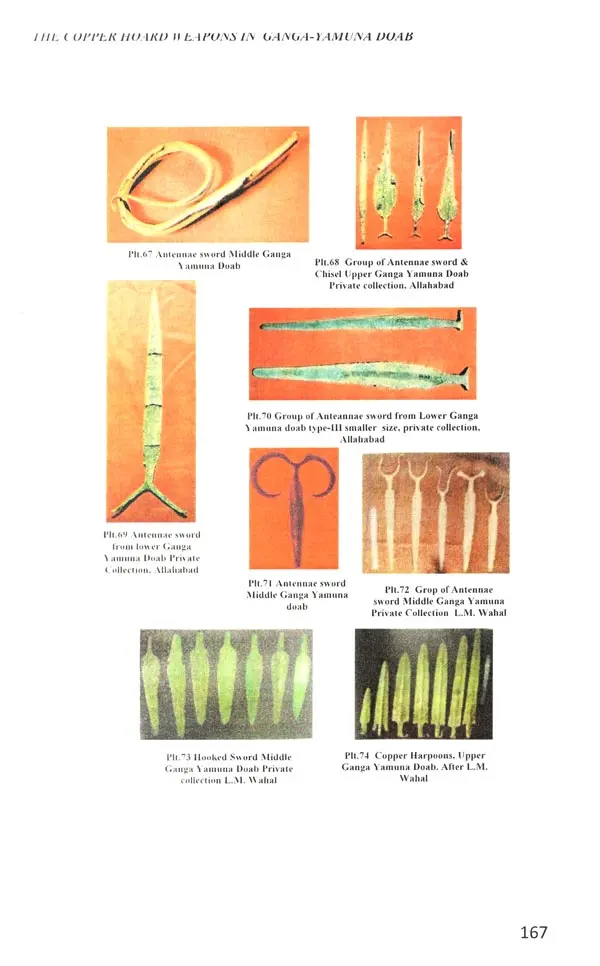 ---
We Also Recommend