Culture and Customary Law in 'Sugali' Tribal Society Anantapur District
$4600

$46.00
Tax included.
Shipping
calculated at checkout.
---
---
Book Specification
Book Description
About the Book
Custom is a totality of the socially approved behaviouristic pattern, which is practiced by the members of a community. Law regulates any deviance from it. Tribal customary law is to be studied as a part of tribal society. This work opens the debate on the place of customary law in a pluralistic society and the strenuous efforts by the nomadic tribes like Sugali in constructing their social and cultural identity by making customary law as part of their life. As a reference text, this book will be useful to scholars and students of History, Sociology and Cultural studies.
About the Author
Dr.K.Shyamala is Assistant Professor in the Department of Folklore and Tribal Studies at Dravidian University. She has evinced keen interest in the study of History at Post Graduate level in University of Hyderabad. Her M.Phil and Ph.D on Tribal Studies from S.K.University reflect her attention towards Subaltern Studies which includes Folklore studies. Also as a Post Graduate of Women Studies, Sociology, and Education, she promises good contribution to the area of research on marginal communities with an inter- disciplinary approach. Her commitment and micro level studies are now reflecting with clear images .She is the author of Vanishing Nomadism. The saga of Dommara (2009), Monograph on Chenchu(2011), Monograph on Lambadi (2011), Cultural Tourism in India(2012), Social and Economic History of India(2012), History of India upto 1206 A.D (2012). She is the editorial member of the Encycolpaedia of South Indian Folklore. She has presented more than 40 papers in several National and International seminars and conferences and published 35 papers in various journals.
Preface
This book began as a dissertation at Sri Krishnadevaraya University ,Anantapur , and I am grateful for the wisdom of my teacher and mentor Prof.K.Krishna Naik in the Department of History who has been the most long standing of all my teachers. He encouraged me to work on Tribals who are marginalized from the mainstream society and I hope that this work may attest to his acumen, inspiration, and meticulous care. I would especially like to thank Prof.K.Krishna Naik, who supervised my thesis, not only for his support and guidance, but especially for making me know more fully both what I knew and what I did not. I am highly indebted to him for suggesting the topic and for inspiring guidance throughout the period of my research. I am deeply grateful to him along with the other teachers in the Department: Prof.P.Sudhakar and Prof. M .Mallikarjuna Reddy.
I am deeply indebted to Honourable Vice-Chancellor of Dravidian University Prof.K. Ratnaiah garu, a man of consistent commitment and a guiding spirit for encouraging me to publish this work. My sincere thanks are due to the Registrar of Dravidian University Prof. P.Adinarayana Reddy for his immense support in this regard.I am also thankful to the Director of Prasaaraanga Prof.D.V.Sravan kumar for taking keen interest in publishing this work. I am thankful to Dr.M.Kumaraswamy Raju, Professor of English who offered me timely and most helpful suggestions in completing the thesis.I would particularly like to thank Mrs.M.Padmini, who provided me continual enthusiasm and inspiration.
I also express my heartfelt thank to the Librarians of Kannada University, Hampi, University of Mysore, National Institute of Rural Development, Rajendranagar, Hyderabad, State Archives, Hyderabad and Tribal Research & Training Institute, Hyderabad for providing the books for my research.
I thank my revered parents and my brother for their moral support. I take pleasure in recording my obligations to my husband Mr.K.Rangaswamy, my children Chi. Vishnupriya and Chi.Sri Pranav who made an important contribution by their ungrudging cooperation and encouragement which were instrumental in the completion of this work.
An unrepayable debit is due to Mr. P. Lokanna and Mr. T. Venkata Swamy for their unfailing support and assistance with the computer.
Foreword
The foundations of Indian culture were deeply embedded in Dravidian culture is now an incontro-vertible fact. Dravidian culture is one of the most ancient cultures of the world. Those cultures, slightly contemporaneous to one another, slowly started fading out. However, the primordial Dravidian culture continues to thrive without losing its quintessence despite the apparent changes in systems of dress and address.
Dravidian University was established in 1997 to mirror the real and rich picture of Dravidian culture not only in its linguistic, literary, cultural and philosophical facets but in science and technological angles also.
The main objectives of Dravidian University are to augment the common weal and social well-being of the communities of marginal languages and to build bridges among the Southern states. While working on each language separately in varied areas, it aims at a synthesis and a discovery of the common heritage through Comparative Studies.
The Centre for Publications and Extension Services is most significant wing of the University because of its several on-going progressive activities.
India is a vast and complex country with a rich treasure of records from a literate past stretching back through several millennia. It is one of the few countries in the world where survival and continuity of culture is of unique in nature. There is a remarkable coexistence between human groups of all levels from it's primordial stage of savagery to the level of high civilization. While there are so many instances of survivals of pre-historic traditions in material culture and subsistence pattern, similar situation can be expected in respect of social and political institutions. Nomadic communities provide interesting examples of cultural continuum of a million years of duration. They represent an unique institution of the country. According to sociologists South Asia has the world's largest nomadic population in India. Roughly speaking 7% of the population is nomadic. These communities on the move play certain definite roles in the set ups in which they operate. Despite their large number, they are the marginal people and it appears that they become marginalized to the academic interests also. The Sugalis who are popularly known as Banjara or Lambadi are close knit community and collective consciousness is the characteristic feature of their social life. The function of their customs is to maintain integrity of the social system. Their Customary Law is a part of their social customs and are not made by any law making authority but are handed over by one generation to the succeeding generation through the social mechanism of cultural transmission. It is the sovereign and cultural right of the sugali to explain, interpret, change, enact, and apply their own laws, oral and written, through various mechanisms they choose. The structure of relationships is paramount to the legal system exemplified by the clan system. Their law determines clan identification, which is patriarchal. The clan system regulates the behaviour of their individuals. The culture of Sugali is based on the clan based patriarchal organization and economy with the fundamental institution of law making. Despite great potentialities for working on Nomadic communities, however no general transformation of nomadic studies has yet occurred. The present work 'Culture and customary Law in Sugali society', makes an insights into the studies on nomadic phenomena, by highlighting the cultural transmission through law in Sugali community. It is a study of the self- making of a community shaped by intersecting vectors of civic governmentality and missionary religiosity. Dr. K. Shyamala's work on this marginal community offers a comprehensive historical and sociological account of the Sugali, studying their customary law, thus explicating the complex linkages between their culture and customary law.
Dr. K. Shyamala's research work will hopefully add to the sociological and historical studies already under taken.
**Contents and Sample Pages**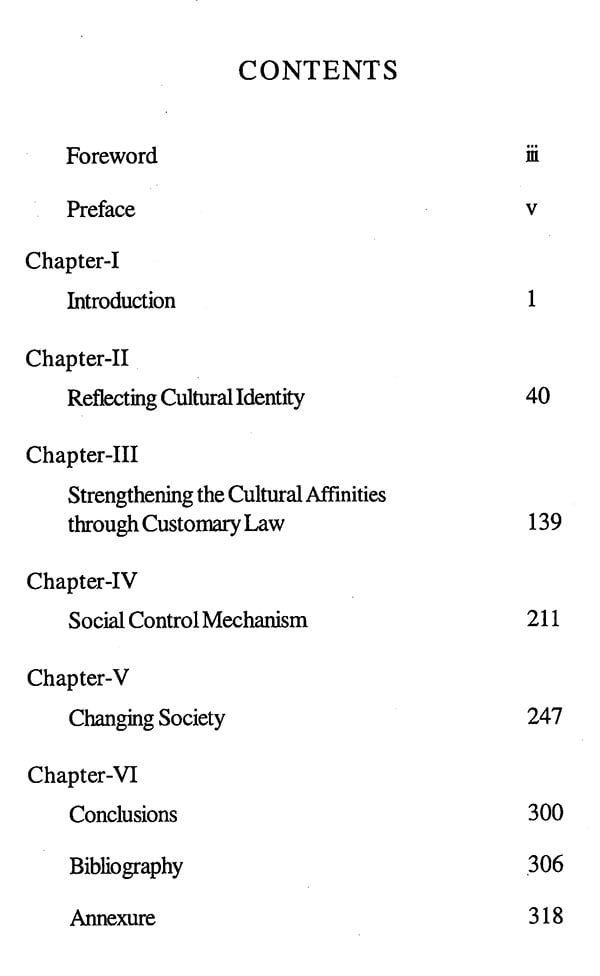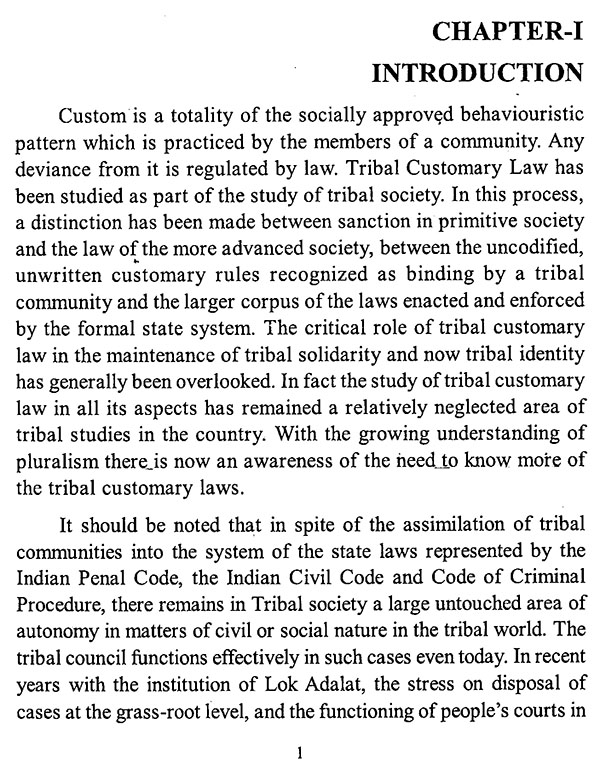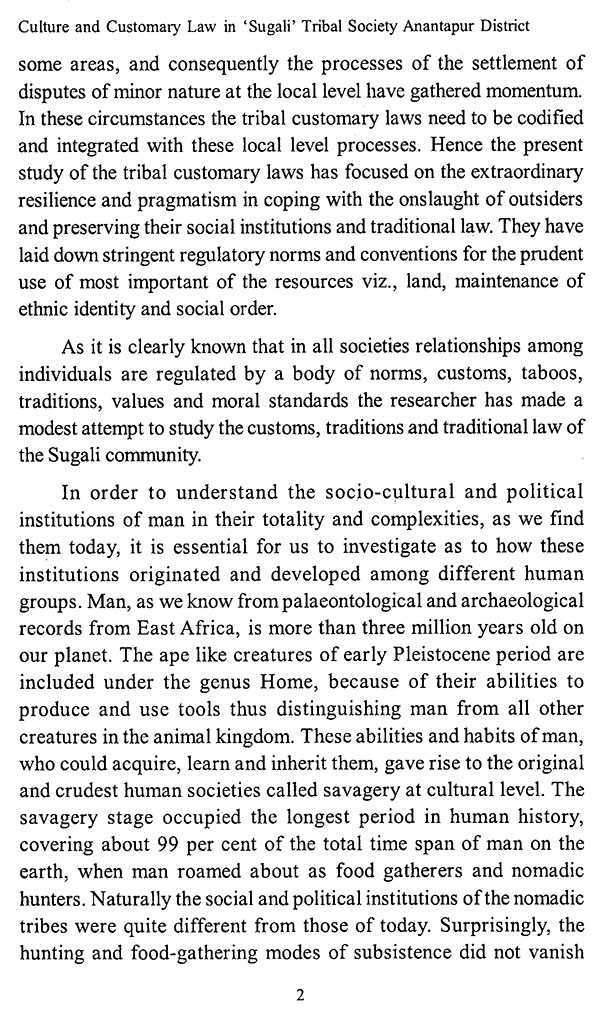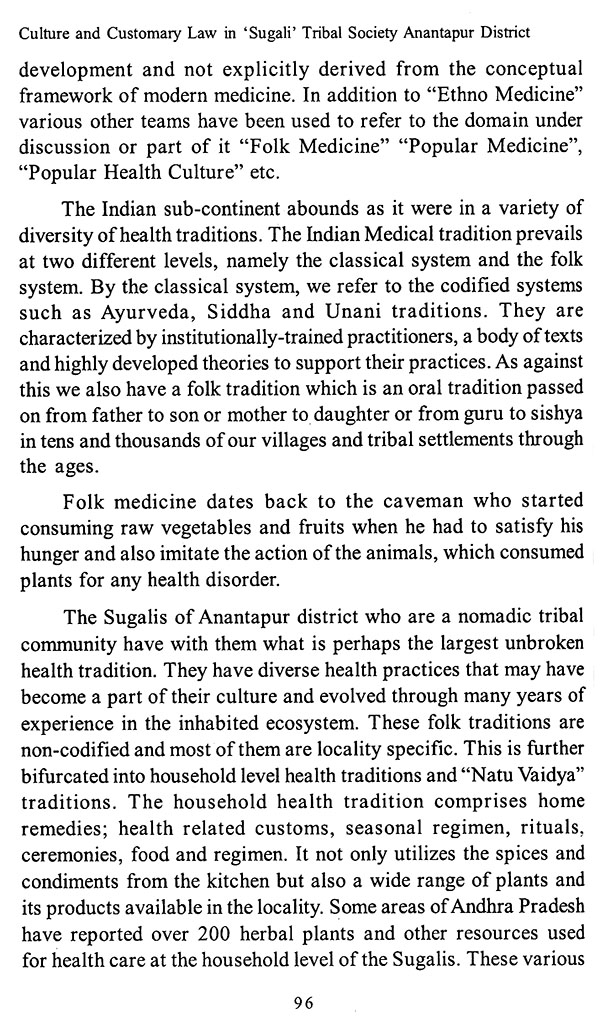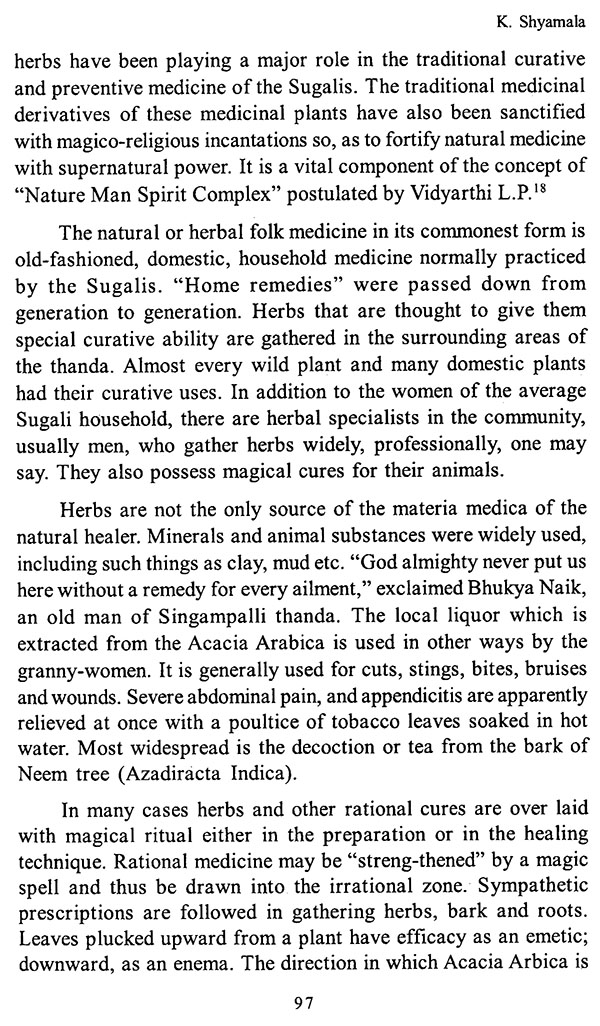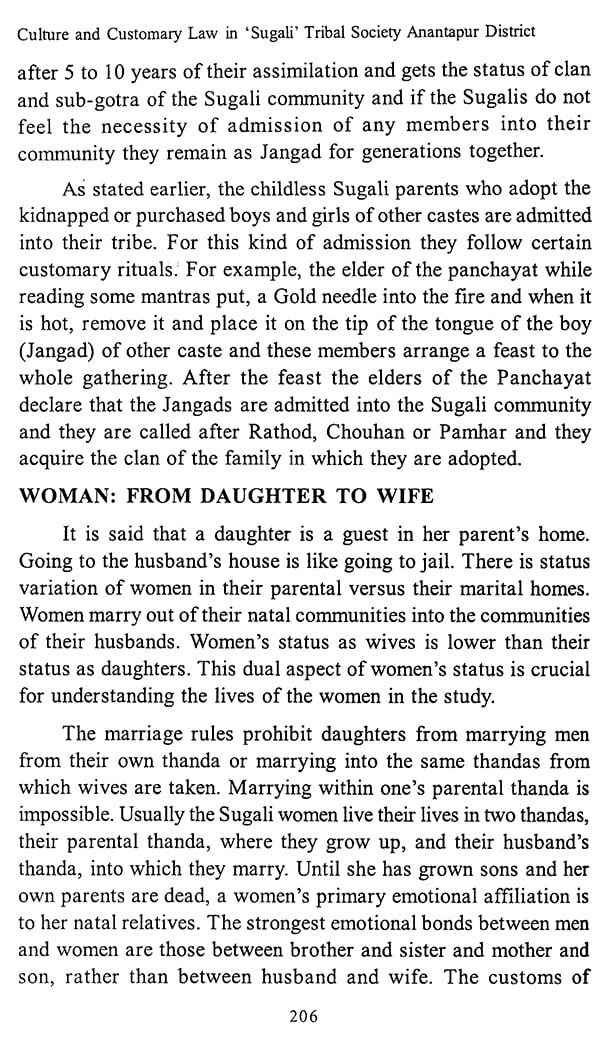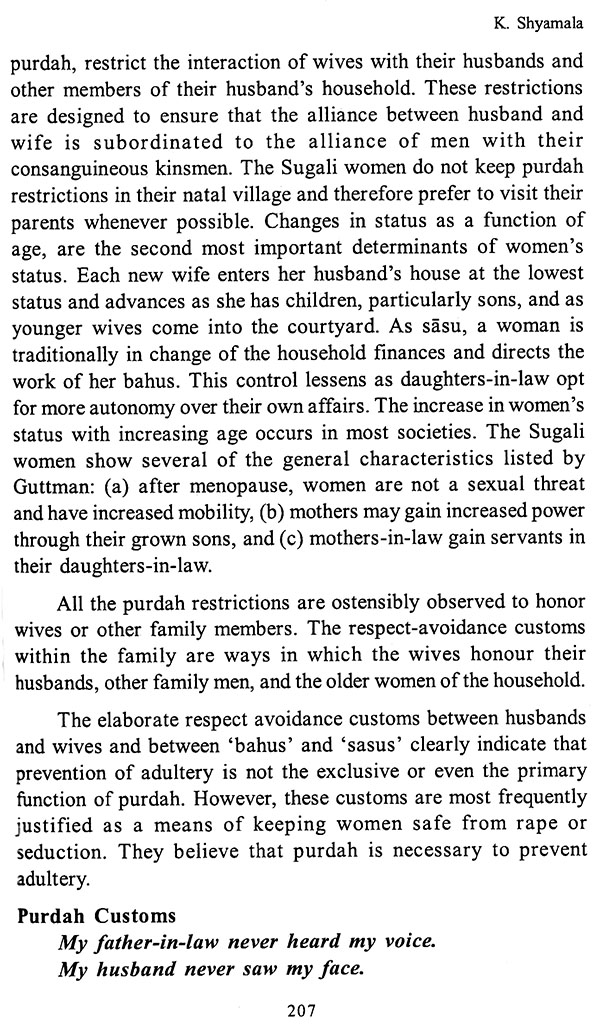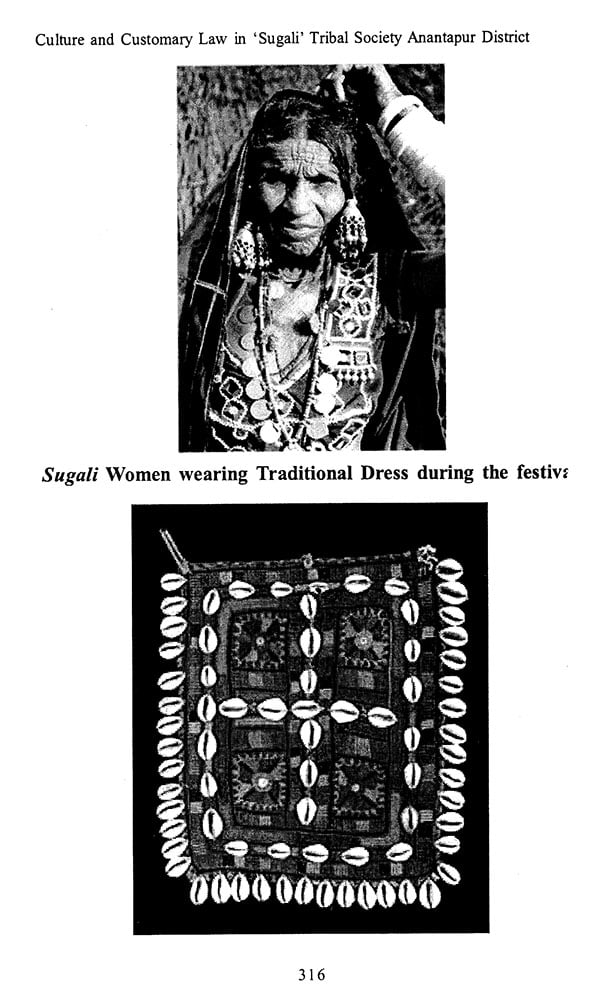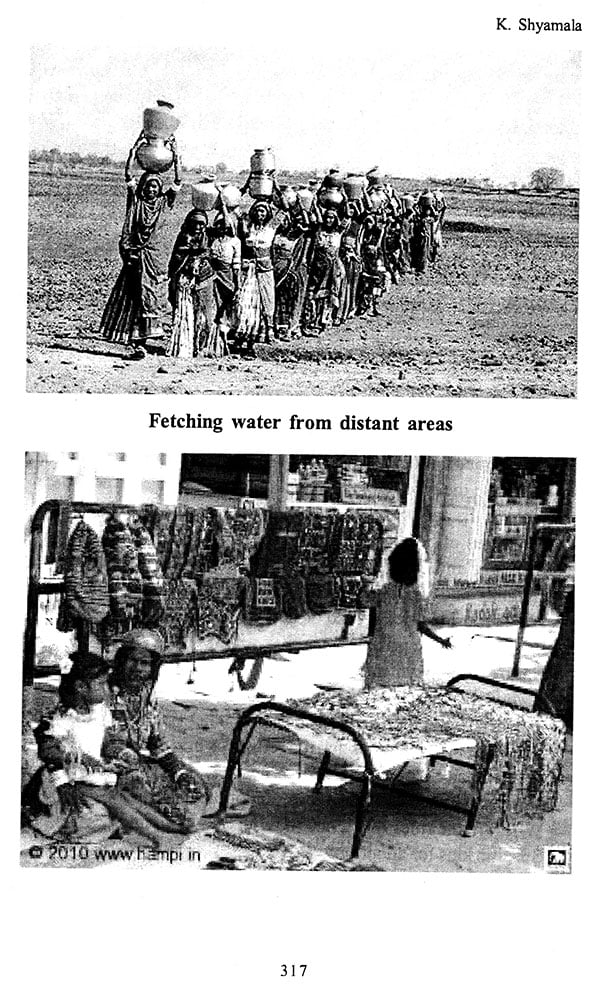 ---
We Also Recommend