D.R. Bendre- Kannada Writers and Their Work (An Old and Rare Book)
$2300

$23.00
Tax included.
Shipping
calculated at checkout.
---
---
Book Specification
Book Description
Introduction
Kannada, is one of the major languages of India. It is the language of the state of Karnataka in South India. Karnataka has an area of about 1,92,000 square kms and a population of about 45 million. It has made a unique contribution to the wealth of Indian Culture through its significant achievements in literature, in fine arts and in religious and spiritual realms.
Kannada people have their unbroken literary heritage of more than one thousand years. This heritage is very rich in quality, variety and volume. From the point of view of antiquity Kannada is next only to Sanskrit and Tamil in India. The earliest specimen of the language belongs to the fifth century A.D. The first available work is Kavirajamarga (9th century AD.) which deals with poetry and poetics. No doubt, a fairly rich literature was existing prior to this, although the works of this period bave not survived. The tenth century A.D. was the golden period in the history of Kannada Literature. The twelfth century A.D. was the age of revolt. A new literary form called Vacana, which is very typical of Kannada Literature, emerged during this period. As a result of it literary usage came closer to the spoken word. Saint poets, epic poets, scholar poets and mystics have subsequently enriched the tradition.
The modern period may be said to begin with the advent of English in the 19th century. Modern Kannada literature takes its colour and tone from the contemporary life. It has been. acquiring new dimensions from ever-growing contact with the literatures of other regions of the country and the world at large. Kannada Literature with its glorious past and rich heritage has great achievements. The literary products of the last half a century assure us of a great future.
This series, 'Kannada Writers and their Work', is designed to provide the student of literature and general reader with a brief introduction to the major writers in Kannada Literature.
Preface
Kannada literature has produced many worthy poets like Govinda Pai, K. V. Puttappa (Kuvempu), D. R. Bendre (Ambikatanayadatta), P.T.Narasimhachur (Putina) and others. These ports have enriched Kannada poetry by their contribu tions I am a connoisseur of poetry, and since my school days I have been attracted by the poetry of Bendre and Kuvempu. My inclination for poetry is due to the poetic atmosphere I had in my house. My father late H. Gangaiah was an ardent lover of Lakshmisha, His recitation of Lakshmisha's Jaimini Bharata, enchanted the evening assemblage which used to meet in my house at Bangalore.
I came into contact with Sri D. R. Bendre in Bangalore. The more I read his poetry, the more I was attracted by his style and presentation of facts. In course of time, I became completely engrossed in his poems and made it a point to spread his thoughts wherever I had the occasion to meet people. I have published in Kannada a work of Bendre's life entitled Hidubakki Ambikatanayadatta in 1995.
On the request of Dr. K. Kempe Gowda, the then Director of the Kuvempa Institute of Kannada Studies, the work on Dr. D. R. Bendre has been prepared in English for publication through the Mysore University. I am extremely grateful to Dr. K. Kempe Gowda for his encouragement and I take this opportunity to acknowledge my thanks to Dr. D. K. Rajendra, the present Director of the Institute for his kind co-operation. My respectful thanks are due to Prof. M. Madaiah, Vice Chancellor of Mysore University for the publication of this work.
I am obliged to Dr. C. P. Krishnakumar, Dr. Pradhan Gurudatta, Dr. Vamana Bendre, Dr. K. S. Sharma, Dr. K. Anantharamu, Sri C. Naganna, Sri H. S. Harishankar, Sri Shivaramu Kadanakuppe, and Sri Kyatanaballi Ramanna for giving me useful suggestions in preparing this work.
**Contents and Sample Pages**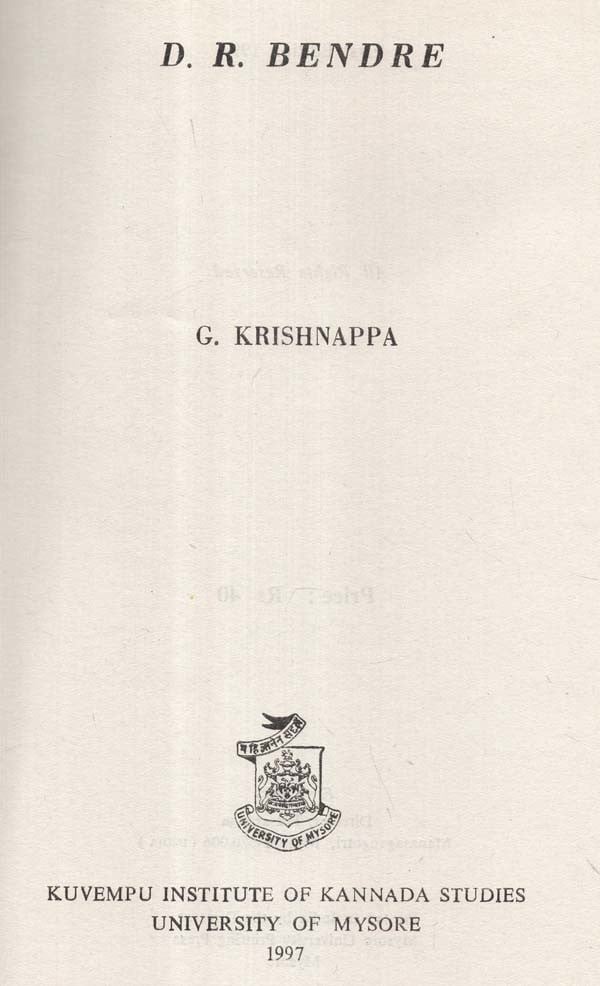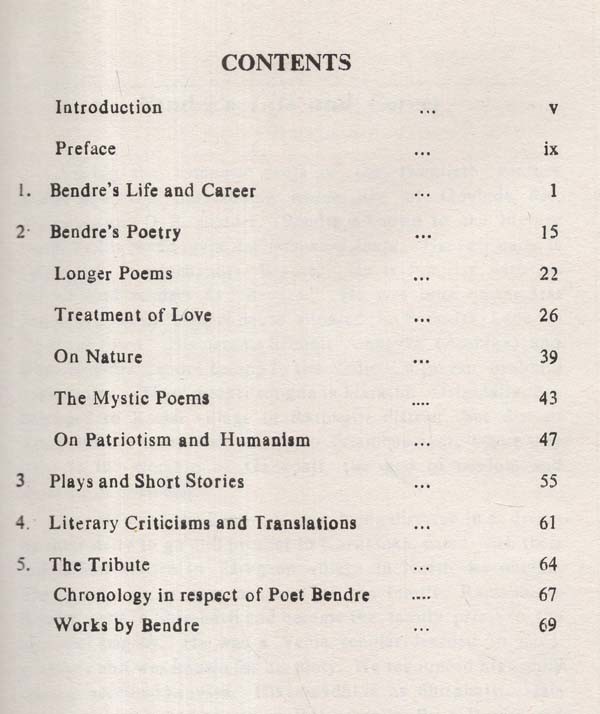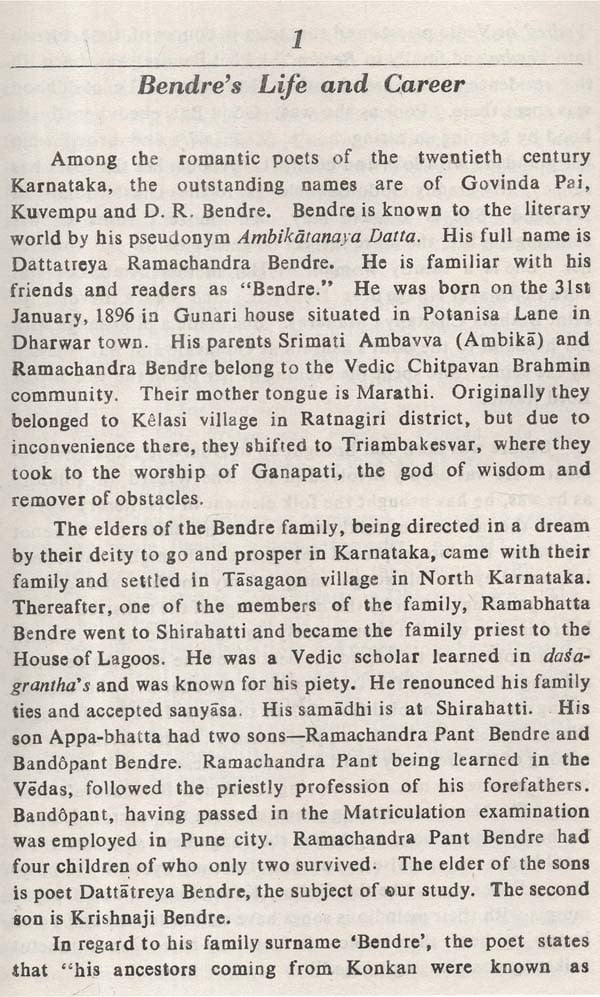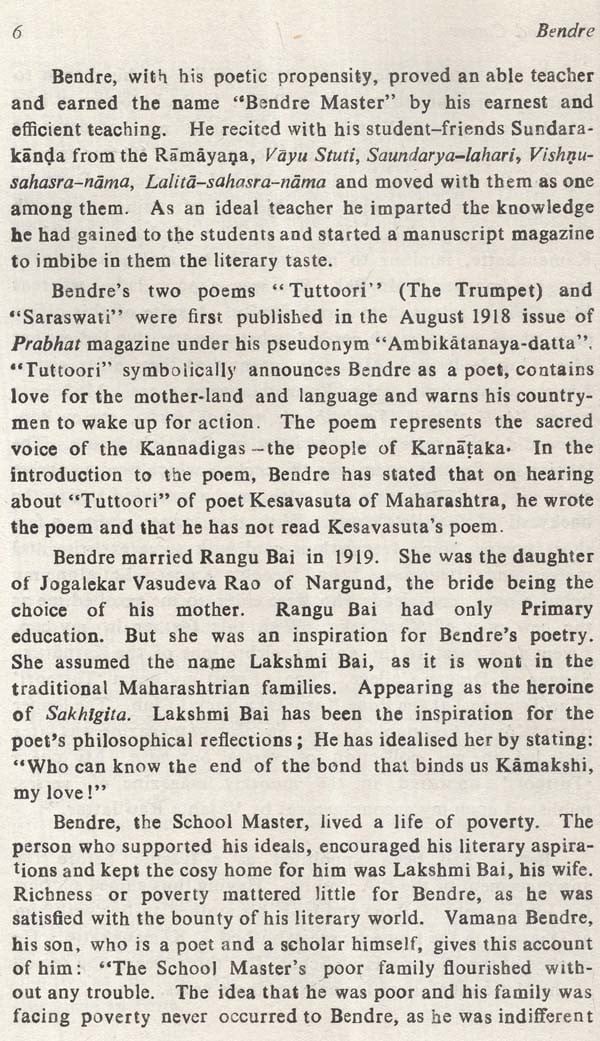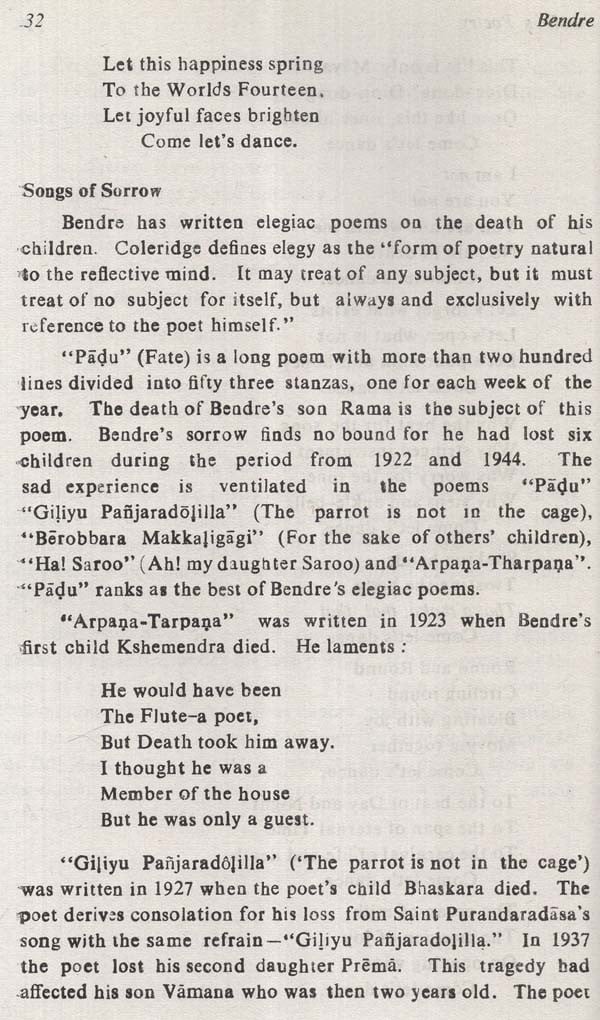 ---
We Also Recommend