Dating the Rock Art of Central India
$7600

$76.00
Tax included.
Shipping
calculated at checkout.
---
---
Book Specification
| | |
| --- | --- |
| Item Code: | UAM206 |
| Author: | S.S. Gupta |
| Publisher: | Agam Kala Prakashan, Delhi |
| Language: | English |
| Edition: | 2022 |
| ISBN: | 9789392556142 |
| Pages: | 260 (Throughout Color Illustrations) |
| Cover: | HARDCOVER |
| Other Details | 10.00 X 7.50 inch |
| Weight | 730 gm |
Book Description
About The Book
Dating aspect of rock art has been a critical issue right from very beginning in the researches, as the parameters, assigned for enumeration, have not been accepted by the scholars by and large. Now, with the development of direct dating methods, it has been possible to assess the age of rock art in chronometric years absolutely. However, it is not feasible to date the rock art at every site owing to its magnitude in occurrence. With a view to emphasize on its date, efforts have been made to include every aspect of rock art in the treatise. The book has focused mainly on the traditional methods of relative dating and direct dating methods which have been developed in recent years. The dates obtained from both the methods have been given accordingly. Besides, it has incorporated previous researches made by Britishers during the British period, spatial distribution of rock art in the sub continent and probing operations carried out in the floors of the painted shelters at various sites in search of associated culture in general and direct evidences related with the imageries in particular. Since the rock art has striking resemblance with the tribal art and its occurrence in the region inhabited by different tribal people, ethnic parallels have been assessed for proper perspective. Further, the rock art has global presence excepting Antarctic zone it makes worldwide distribution. Hence its prevalence has been shown in all the continents with emphasis on the probable dates. As in every research work, data collection is very important, therefore, case studies, carried out at various sites of Central India, have been included in the publication. Classification of rock art imageries, made on the basis of style analysis, contents and forms, has been incorporated in a separate chapter. Statistical analysis of the contents has revealed the cultural traits, which have been shown appropriately through charts and tables. In last, the dates, obtained from direct dating methods and traditional module, have been integrated, which is the main objective of the publication.
About The Author
Dr. S.S. Gupta, Former Superintending Archaeologist of A.S.I. has conducted a number of archaeological investigations all along the length and breadth of the country right from Kashmir to Andaman- Nicobar Island and North East region to Goa and abroad including Maldives. He has visited Japan and Belgium towards display of Museum sculptures special exhibitions in organized in these countries. Besides, he made a Korea visit in connection with the presentation in an International conference on World Heritage. He has worked in various Archaeological Museums and Circles and attended restoration and conservation works in different monuments of Central India and North-East region during his tenure in A.S.I. A good number of research articles authored by him are published in various Journals and Felicitation Volumes. Further, there are publications 'Sculptures and Antiquities in the Archaeological Museum Amaravati' and 'Archaeology of North East India' to his credit. He has been awarded Senior Research Fellowship by Dr. Vishnu Sridhar Wakankar Archaeological Research Institute, Bhopal in the year 2015 for the research project 'Buddhist Monastic Establishments in Rock Art Sites of Madhya Pradesh' which is under publication by the Research Institute.
FOREWORD
There are not many scholars in our country who have made an in-depth study of the rock shelters bearing paintings, and have published their findings, thus, the present book by Dr. S.S. Gupta is most welcome. It contains a fairly exhaustive treatment of the subject. There is a detailed discussion of many sites with rock-paintings, one of which is Jhinjhari near Katni in Jabalpur District, Madhya Pradesh. Particular attention is drawn by the chapter on chronology, which includes not only traditional techniques, but also the recently developed one based on a study of Uranium Thorium direct-dating method.
There is a good deal of Illustrative Material, both in terms of photographs and charts the Tables giving analyses of various kinds are noteworthy. I would like to congratulate Dr. Gupta on bringing out this book.
Preface
It was the discovery of painted rock shelters at Gupteswar in the outskirts of Gwalior on Tighra road, in 1973 made by my Pitamaha Guru Prof. B.B. Lal along with Mrs. Lal, which instilled in me first initiation with the rock art during studies of M.A. previous in the Department of Ancient Indian History, Culture and Archaelogy, Jiwaji University, Gwalior. In the same year a lecture on rock art researches by Dr. Wakankar was also arranged by my Professor in the Department. Further, an article entitled" Bhimbetka ki Guphaon ke Rahasya" by Prof. V.N. Mishra of Deccan College, Pune in the same year dated 30 September in the Hindi magazine Dharmyug turned me to visit Bhimbetka in the year 1974 during vacations. In fact, Prehistoty Branch, Nagpur of A.S.I. is to be credited for my rock art investigations in Central India, which I joined in the year 1977. A project on its study was assigned to me by Dr. K.D. Banerjee, the then Superintending Archaeologist of the same office. From 1977 onwards, researches were conducted in the rock art sites of Central India till 1984-85. Its brief reports have been published in the Indian Archaeology Reviews in the respective years. Later, I did my Ph.d. also on "Date of Rock Shelter Paintings of Central India" from Nagpur University. In the present publication, the same research work has been updated, as the studies in the discipline have been progressed and a larger horizon has been developed with great efforts of scholars. It has led to many new discoveries and methods to unravel its dates.
Introduction
Since the discovery of rock art in the nineteenth century, its imageries have been dated to Prehistoric times owing to location of sites occurring in hilly areas amidst deep jungles far from towns or villages of main land and execution of wild animals and hunting scenes in the panorama of human depictions on rock walls. Representation of extinct animals specifically rhinoceros in the rock art has added to its score. Besides, occurrence of microliths and haematite nodules on the floor of the painted rock shelters and their surroundings has strengthened its correlation with the rock art. Based on these facts, the pictographs association with the prehistoric times has been framed logically. But its age in numerical terms could not be assigned as yet. However, efforts have been made for its chronological sequence made through its relative dating based on the subject matter shown in the art, style analysis of the figures, superimpositions or their stratigraphic analysis, comparison of the art with other dated archaeological material, ethnographic parallels as noted in the regions of ethnic people and excavated finds. The probable periods or dates assigned on the basis of above parameters do not convince the academicians specifically rock art scholars by and large as the method of their association lacks the authencity of the age determination. There is no doubt about that it is the thorniest problem to date the rock art adequately. The periodisation of rock art is now bone of contention among the rock art scholars engaged in the discipline's research activities. In place of culturally confining these figures to archaeological chronological sequence viz. Upper Palaeolithic, Mesolithic and Neolithic-Chalcolithic, they prefer to frame the pictographs in the domain of hunting gathering and pastoralists-agriculturists societies. Significantly, the green colour has been employed to depict figures drawn in simple vertical strokes and stick like fashion occurring at Bhimbetka, Lakhajuar and Kathotia. They are claimed to be of the earliest and pertain to the Upper Palaeolithic Period as the figures are very much faded and their state of preservation also corroborate it. The rock art of following archaeological period i.c. Mesolithic too is drawn in simplistic and naturalistic body outline hence appears to be closer to graphic representation. The subject matter of the art, belonging to these early periods, includes depiction of wild animals, hunting scenes, fishing and dancing activities; thus reflecting the dogma of their socio-economic and cultural activities. The pictographs are grouped to the subsequent cultural period i.e. Neolithic-Chalcolithic basically on stylistic ground. The Neoliths occur in very small numbers in the form of grinding stones, mullers, ring stones, hammer stones from the excavation only and the Chalcolithic pot sherds are also found at the rock art site. The parameter, assigned to this group of art, is body decorations on the back of animal figures, which show similar design traits noticed on Chalcolithic pot sherds. The figures of this period are found to be articulated with curvaceous body contours and the adornments appear in the form of criss-cross patterns, wavy designs, dots and concentric circles. The body limbs of animal figures are found more proportionate and thicker with their neck turns elongated with firmness. Pictographs are painted in bichrome as well apart from infilled with the colour. Human body becomes broader with masculinity and seen in opposed triangles. The scenes of this cultural period include dancing, agriculture and domestic activities. Wild animals including rhinoceros recur in this group of art. Domestic animals make their presence including humped bull predominantly. Stylistically, these figures are more schematic in their execution.
**Contents and Sample Pages**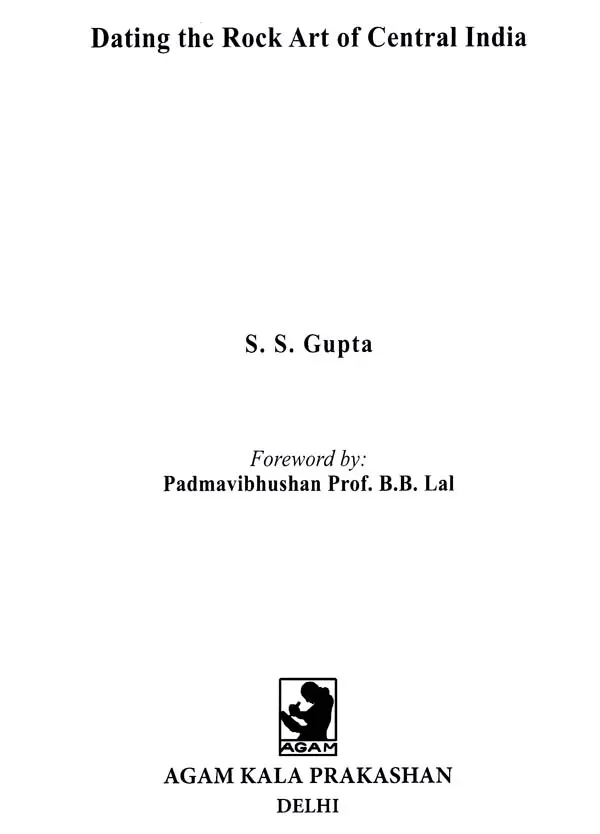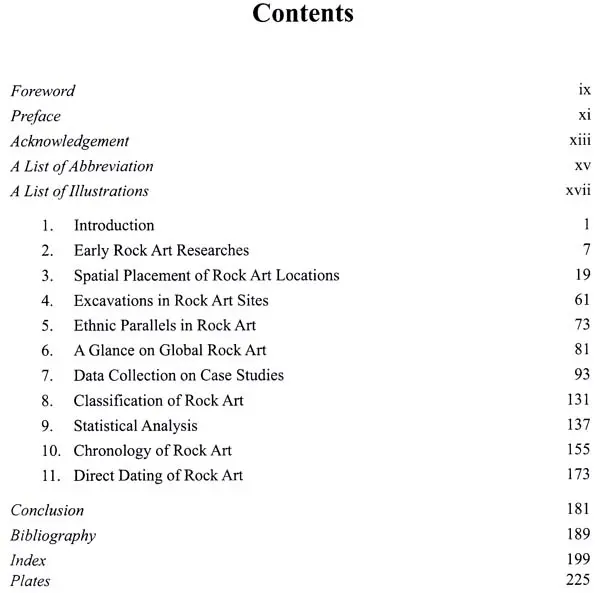 ---
We Also Recommend