Devaraya II and his Times-History of Vijayanagara (An Old and Rare Book)
$4100

$41.00
Tax included.
Shipping
calculated at checkout.
---
---
Book Specification
Book Description
About The Book
I have great pleasure in introducing to the world of Scholars Dr. H. M. Nagaraju's well documented and laudable work on the Vijayanagara emperor Devaraya II and His Times. Such indepth studies of individual rulers and their times, as the present one by Dr. H. M. Nagaraju, have their own importance in better understanding and evaluating the course of connected events over a longer period in the empire's history. His chapters on imperial, regional and local administration, territorial as well as revenue, on agriculture, industries, commerce and the monetary system, furnish useful confirmatory information as well as some additional data.
Dr. H. M. Nagaraju's work is a very useful contribution pertaining to an important reign in the history of an important empire and could serve as a model for those who wish to further enrich the stock of authentic secondary source material by writing other books of similar nature.
About the Author
Dr. H. M. Nagaraju did his M.A. in History from the Post-Graduate Department of History, University of Mysore, Mysore in the year 1971. He worked as Research Scholar between 1972-75 and was awarded the degree of Ph.D., from the University of Mysore in the year 1980. He has taken keen interest in the study of Karnataka History. Apart from his Doctoral thesis he has to his credit several research as well as general articles both in Kannada and English published in reputed Journals, Kannada Encyclopaedia and periodicals. His Monograph "Gangaprabhu Durvinita" in Kannada published in 1973 is a significant contribution to the study of Historiography of Gangas. He has published another book by name "Vijayanagara mattu Mysoru Ithihasa" in Kannada in 1982.
The benefit of his scholarship is also extended to the Pre-University students through his books "Studies in Indian Culture" in English and "Karnataka Ithihasa" in Kannada as a co-author in year 1975 and 1982 respectively.
Dr. H. M. Nagaraju joined Government service as a Principal of Pre-University College in the year 1975. Since then he has worked in different colleges. He has worked also on deputation as a Deputy Director of Youth Services and Sports of the Mysore Division for about two years. He is a resourceful man with rich experience as an administrator and as well as an academician.
Introduction
This thesis is about DEVARAYA II AND HIS TIMES. Devaraya 11 was one of the rulers of the Vijayanagara Empire. In many respects his times were not different from those of his predecessors, who reigned between A.D. 1336 and 1423. Like them, he was necessitated by his times to protect the religion and culture of the country and save these from being engulfed by the rush of new ideas and forces. Under him the Empire of Vijayanagara was more extensive than at the commence meat of the fifteenth century. His reign also witnessed the height of imperial glory and the zenith of prosperity under the first or Sangama dynasty. The times in which he lived and the circumstances which kept him ever vigilant in the task of defending the country clearly assign him a place no less than that of a national hero.
**Contents and Sample Pages**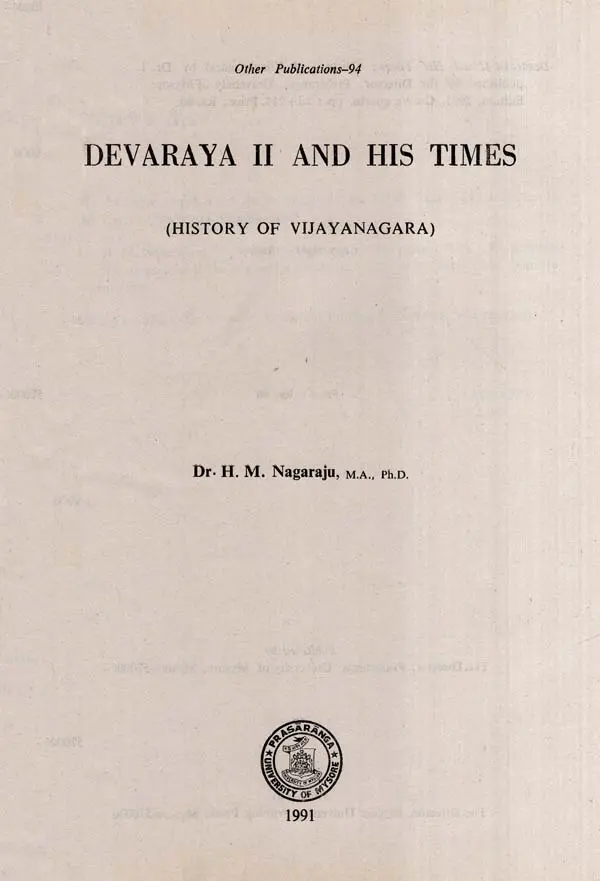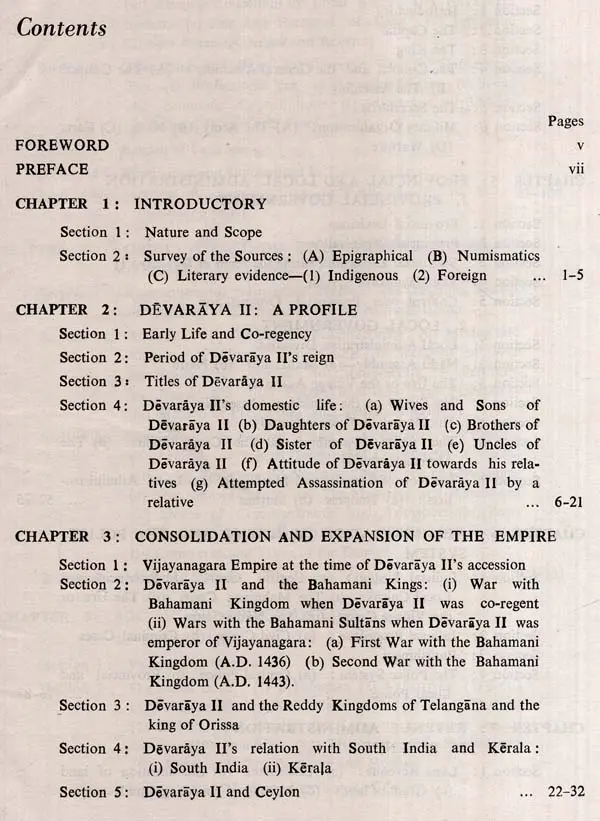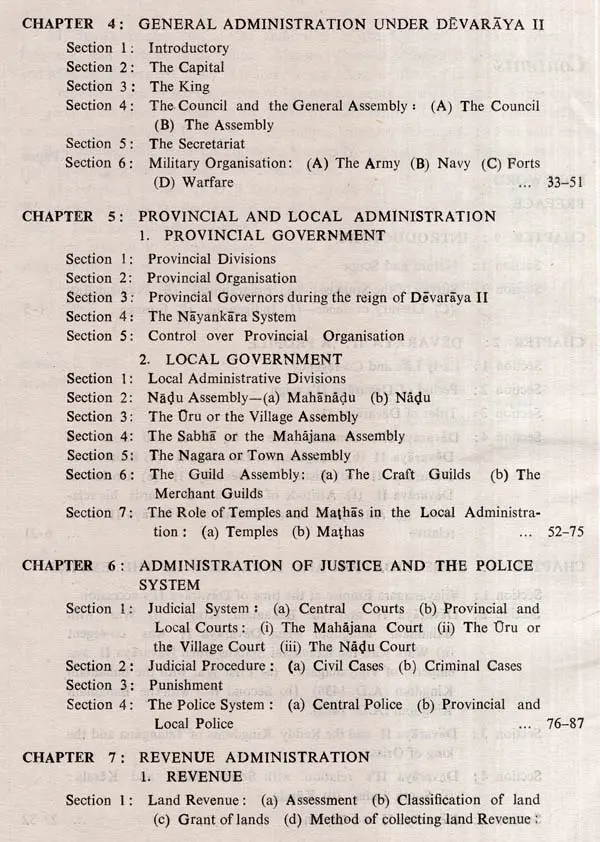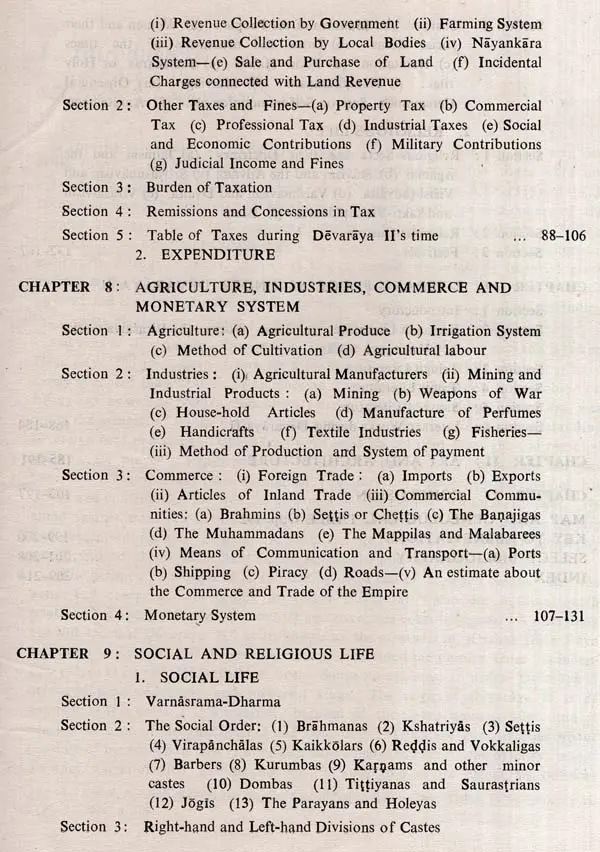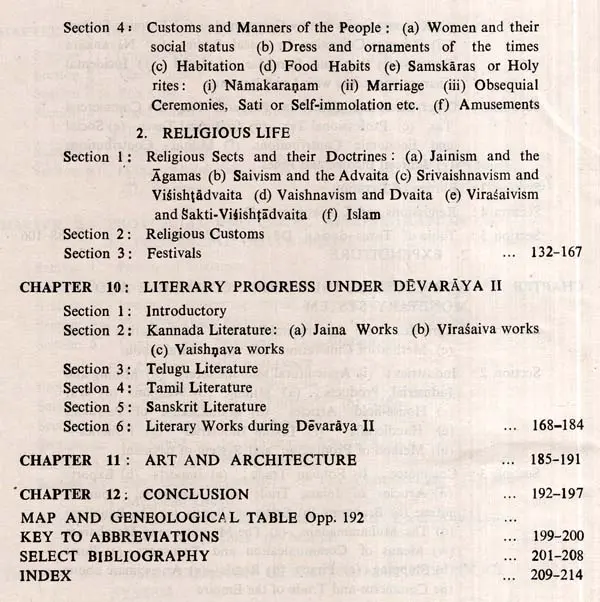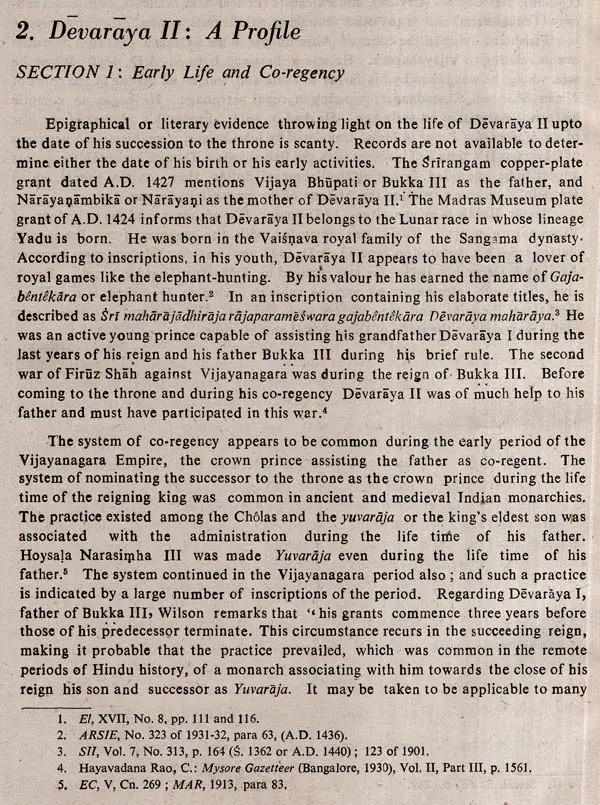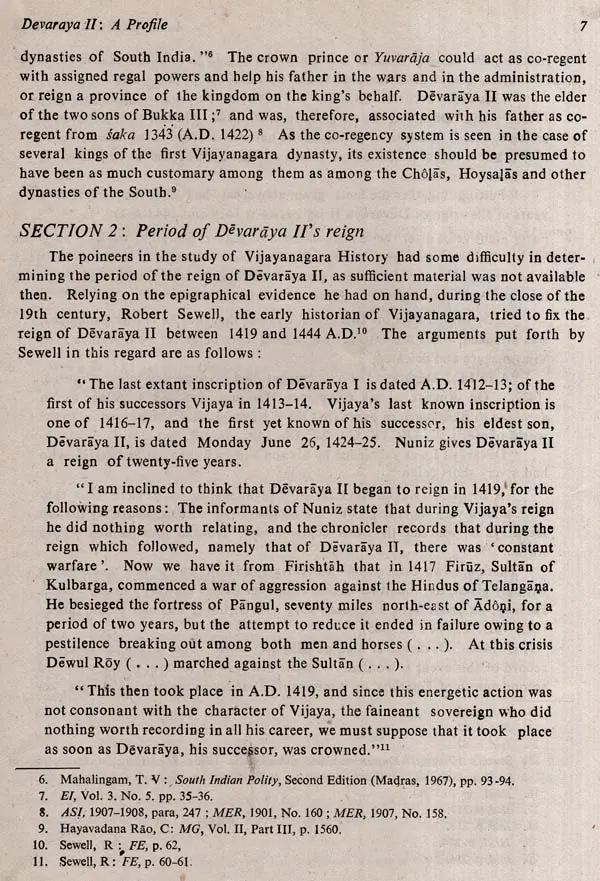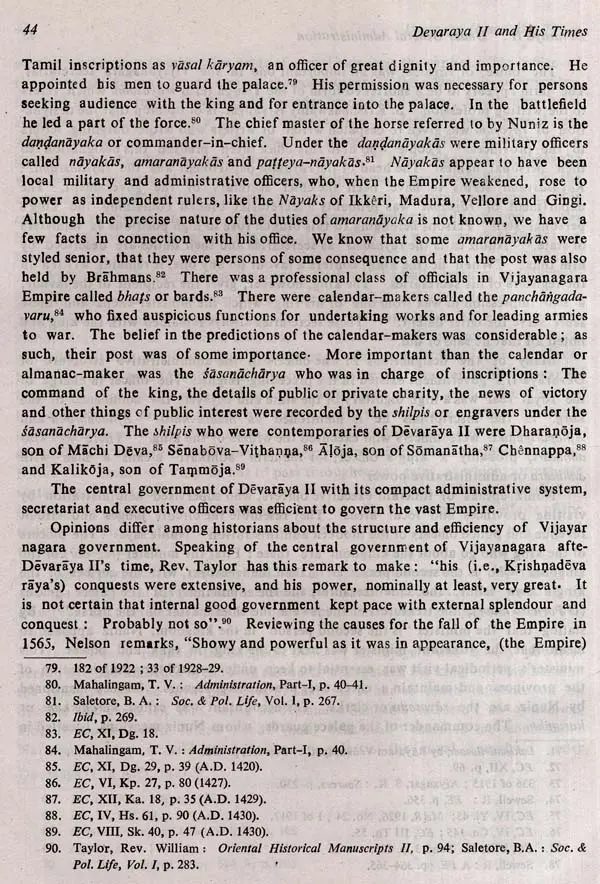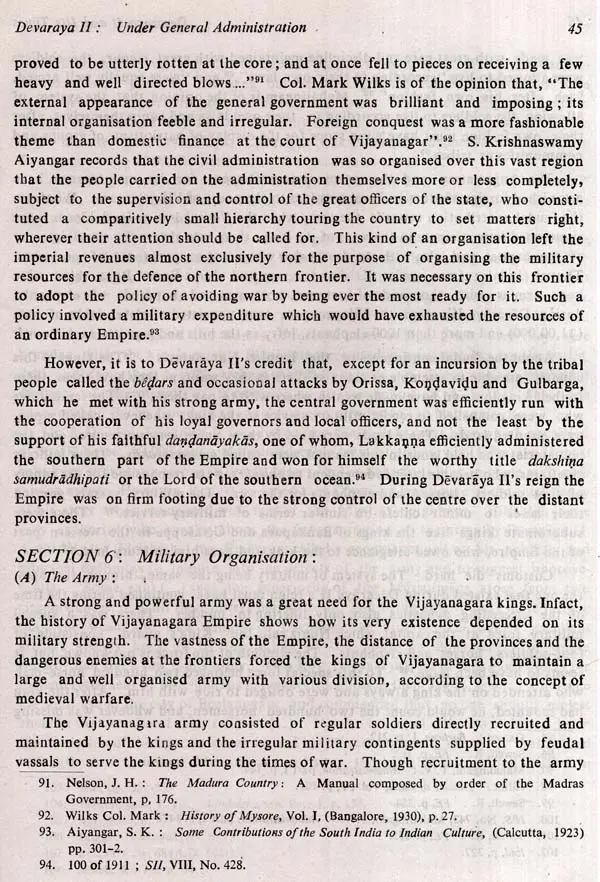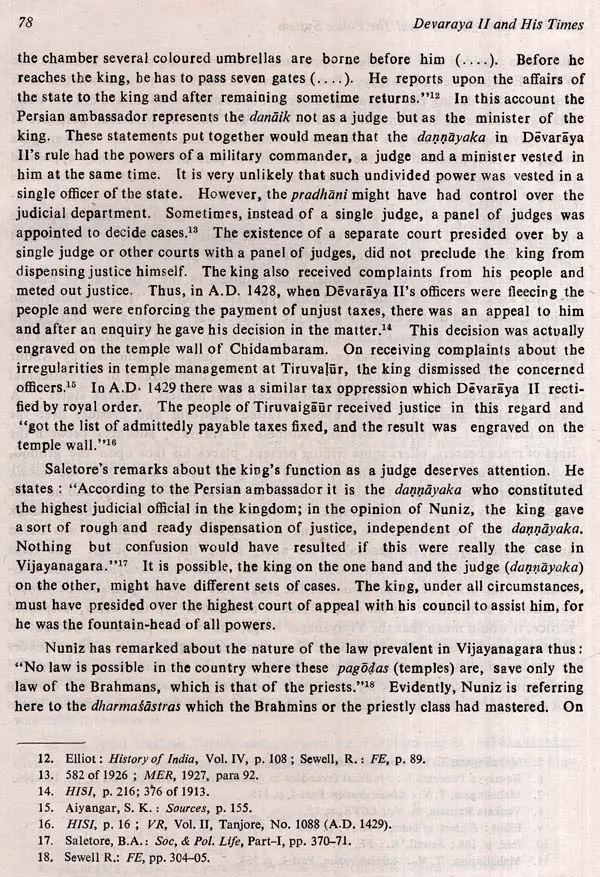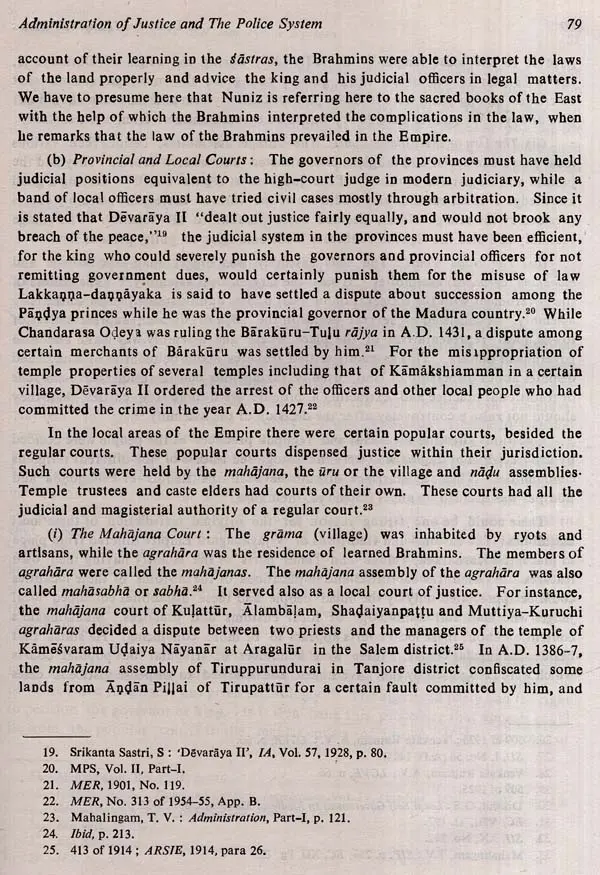 ---
We Also Recommend