Educational Media in India
$3120

$31.20
Tax included.
Shipping
calculated at checkout.
---
---
Book Specification
| | |
| --- | --- |
| Item Code: | UAO104 |
| Author: | D.R Goel |
| Publisher: | Bharatiya Kala Prakashan |
| Language: | English |
| Edition: | 2000 |
| ISBN: | 8186050426 |
| Pages: | 291 |
| Cover: | HARDCOVER |
| Other Details | 9.00 X 6.00 inch |
| Weight | 490 gm |
Book Description
About The Book
The purpose of this book is to string the different scattered articles to produce a logistic view of educational media in India. It contains twenty four articles, mostly co-authored by Dr. D.R. Goel. It is inclusive of articles, such as, Media Crowd to Media Culture, Technotronics and the Problems of Morrowbeing, Tele learning-An Anlytical Perspective for Tele-production, A Summative View of Educational Teleconferencing in India Cutting Across Indo-US Sub Commission Project Classroom 2000+, ISRO-UGC Talk-Back Experiment in India, NOS-DECU-ISRO Talk-Back Experiment, New Information/ Communication Technologies-A Course Taught Through Telecon ferencing, Technology in Instruction, Alternative Modes of Assessment of Learning Through ETV, Relative Effectiveness of ETV in different Institutions through different Tele modes, and Relative Effectiveness of Piagetian Teaching Model Through Live Demonstration and Video Pre sentation. Also, it contains articles on Computers in Education, such as, Research and Development in Teacher Education Through Computer Edu cation, Educational Management Through DBMS, Assessing Affect Attributes Through Computers, Testing Research Aptitude Through Computers and Effectiveness of Computer Assisted Learning Material on a Rhyme in Different Modes.
This book contains some con ceptual articles and many data based papers. It will be useful for people genuinely interested in application of media in education, such as, student-teachers, teacher-educators, researchers in education, media students and media agencies.
About the Author
Dr. D.R. Goel is presently working as a Professor in Education and Head, Department of Education, Centre of Advanced Study in Education (CASE), Faculty of Education and Psychology, M.S. University, Vadodara. He has to his credit the following qualifications, M.Sc., M.Ed., Ph.D. He has been consistently working on various media, such as, Radio,TV and Computer. His doctoral research was on Educational Radio and post-doctoral research was on Educational TV. He has designed and planted Computer courses in Education at DAVV, Indore. He has been extensively writing on Educational Media. He has also been guiding researches in edu cational media. He has contributed significantly in the areas of Edu cational Technology and Computer Education. He is genuinely interested in Educational Media Research and Development.
Preface
Media implosion is directly proportional to knowledge: explosion. New ways of communication and information have brought about drastic changes in the field of Education. This alliance of technology with pedagogy has led to the emergence of educo-engineering. Massive utilisation of empirically tested and available media technology resources is important for exploring further possibilities of technology in Education. The paper Media Crowd to Media Culture is an attempt in this direction. It is imperative that media should go for promoting a Media Culture to find bigger market possibilities of pedagogic interest.
Nature of Tele-Learning which serves as the background for planning, designing, and producing Instructional Television Programmes has received lesser attention. Organisation and sequence of Audio-Visual stimuli in an ETV programme must be footed on some theory of Teaching and Learning to ensure its pedagogic worth. The article Tele-Learning: An Analytical Perspective for Educational Tele-Production provides with an analytical perspective of the nature of tele-video learning process, learners's characteristics, and the tele-learning situation and corresponding implications for better tele-production.
Information revolution, its immediate application and the technological accessibility have brought faster social changes to the extent of adaptive problems in different spheres of life. As such the educational dimension of this technotronic society falls no bar. How is the formative trend? What are its implications with respect to the pedagogic premises? How to tune the system to the fast changes and the ensuing uncertain future-being? The issues have been attempted with imperatives for learning continuity for continuous development in terms of Acculturating, Preparatory, Compensatory and Future Education in the Paper Technotronics and the Problem of Morrow - Being.
Under the auspices of the INDO-US Sub-Commission, the Central Institute of Educational Technology (CIET) conducted a project INDO-US Sub-Commission Project Classroom 2000'. The Project demonstrates how children education can be made interactive by using TV, Satellite, Computer, Keypad, Telephone etc.
The paper ISRO-UGC Talkback Experiment in India presents details regarding an experiment conducted in India to study the feasibility of one way video and two way audio communication in Countrywide Classroom Programme. This experiment shows how distance education students could talkback to their teachers through the use of media technology.
Foreword
With the approach to the new millennium, all our activities are becoming highly knowledge based. There is a shift from the industrial era to the information era. Globalisation, liberalisation and a market-oriented economy have added new flavour to our activities, with the result that knowledge and skills of every professional, including teachers need to be continuously updated. Continuous updating can only occur if learning technologies.
Technologies are here, there and everywhere-reaching far and away; they can lower the unit per capita cost of communication; and by and large, they seem to be driving force behind both the" global" and the "knowledge based" descriptors of our age. In the area of staff development, technology can provide quality training at a faster speed, at a cheaper rate, at chosen places, at convenient times and for larger masses, with untiring repetitions and continuities. One can now reach the otherwise unreached groups. With the use of technologies one can do what one was unable to do before. One can see rare objects of the technologies one can do what one was unable to do before. One can see rare objects of the universe, which would otherwise have been beyond the means and scope of unaided ordinary learners; one can listen to voices and sounds unheard before; one can even hear the murmur of the universe. All these years technology for one's own individual benefit.
Apart form the general characteristics, media have certain special characteristics. We have to be cautious. One can not use any media anywhere. Inappropriate use of media could have a backlash effect. One must know the media thoroughly before using it. Media may act in a biased fashion. Media have to be used with careful thought, extreme sensitivity, knowledge and planning.
Book's Contents and Sample Pages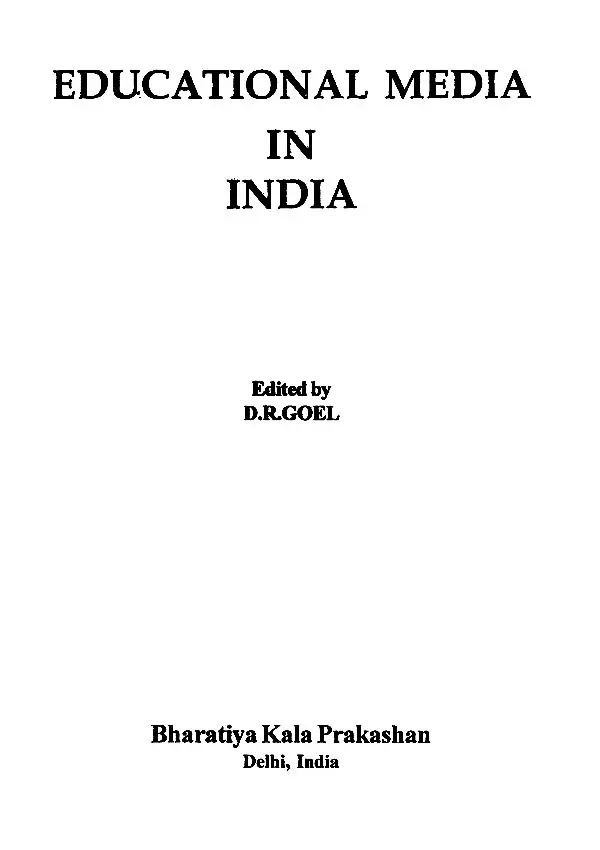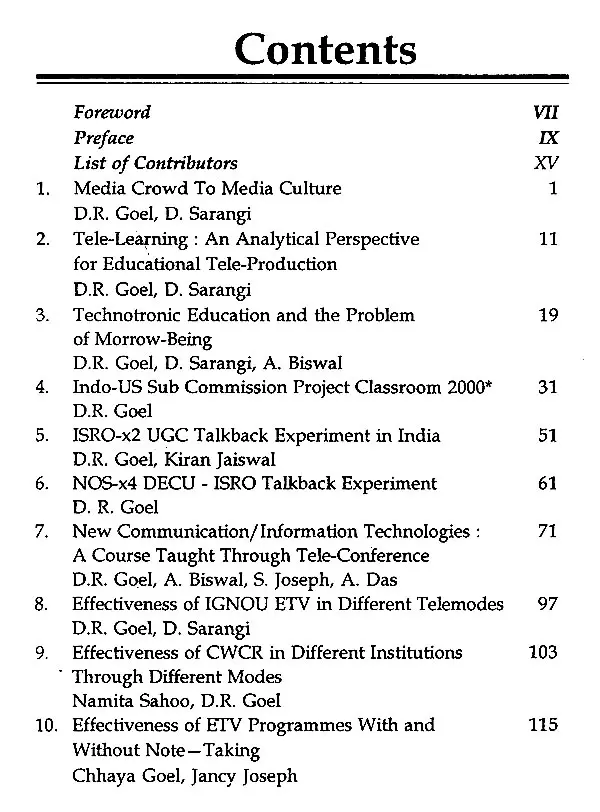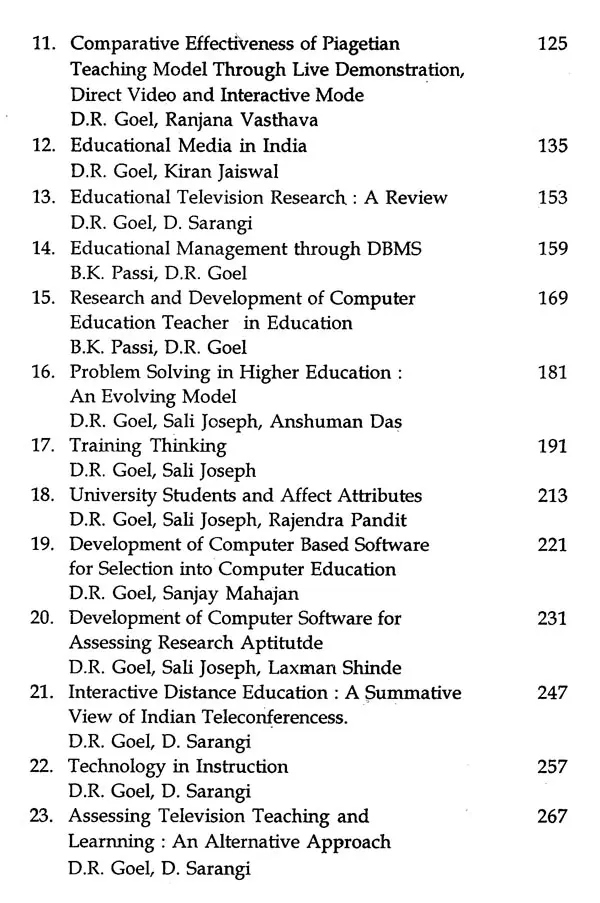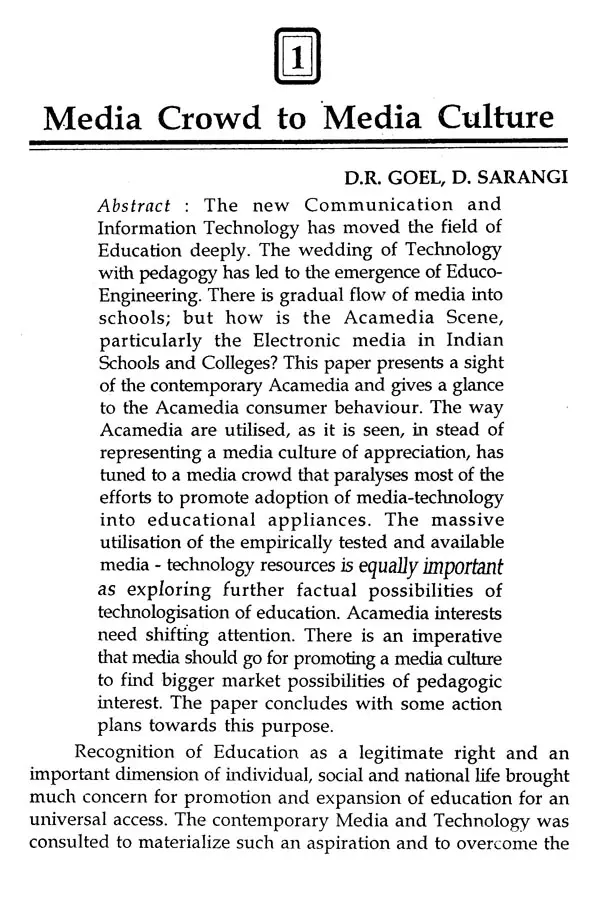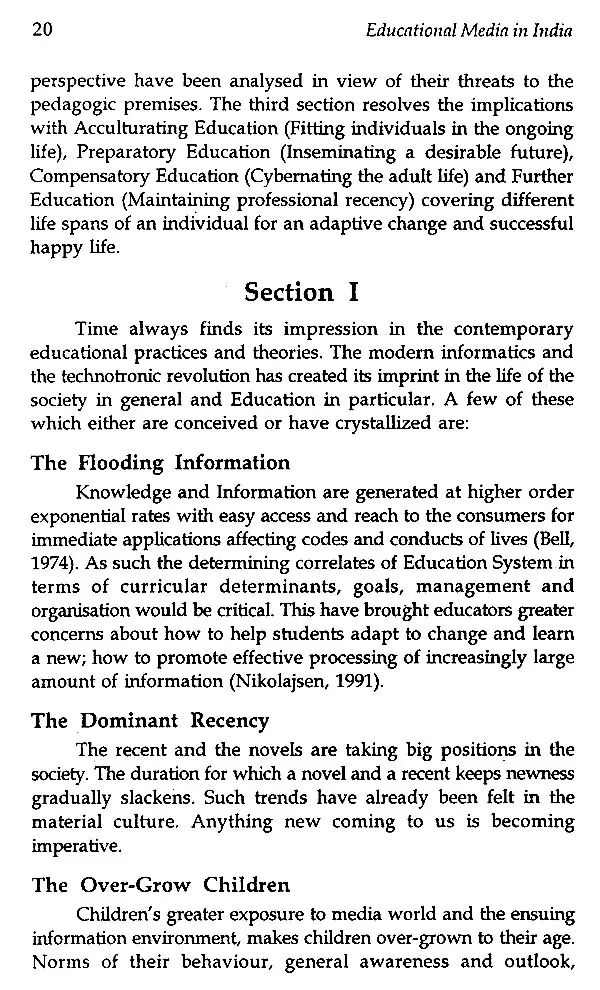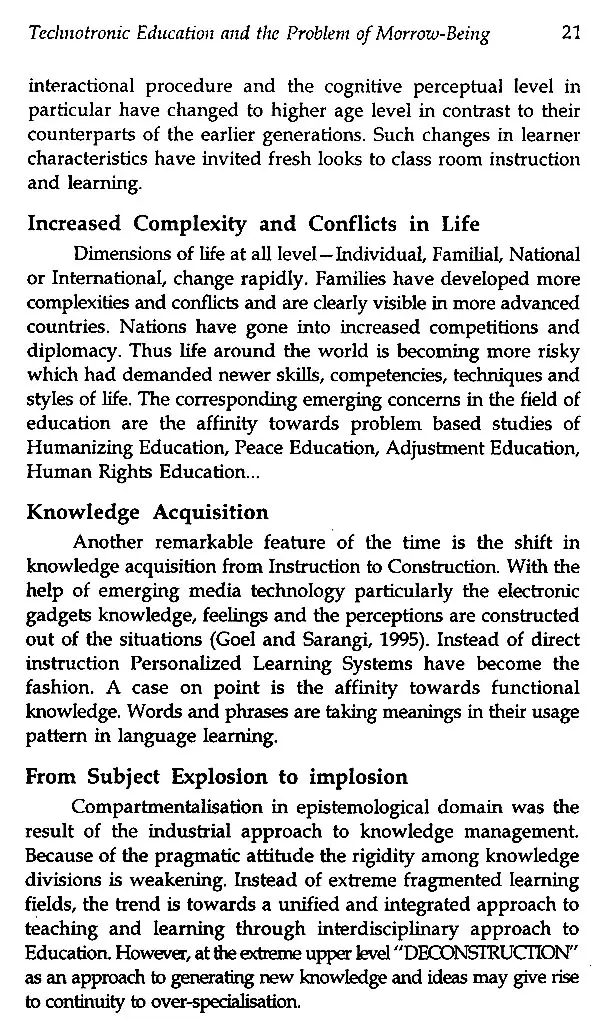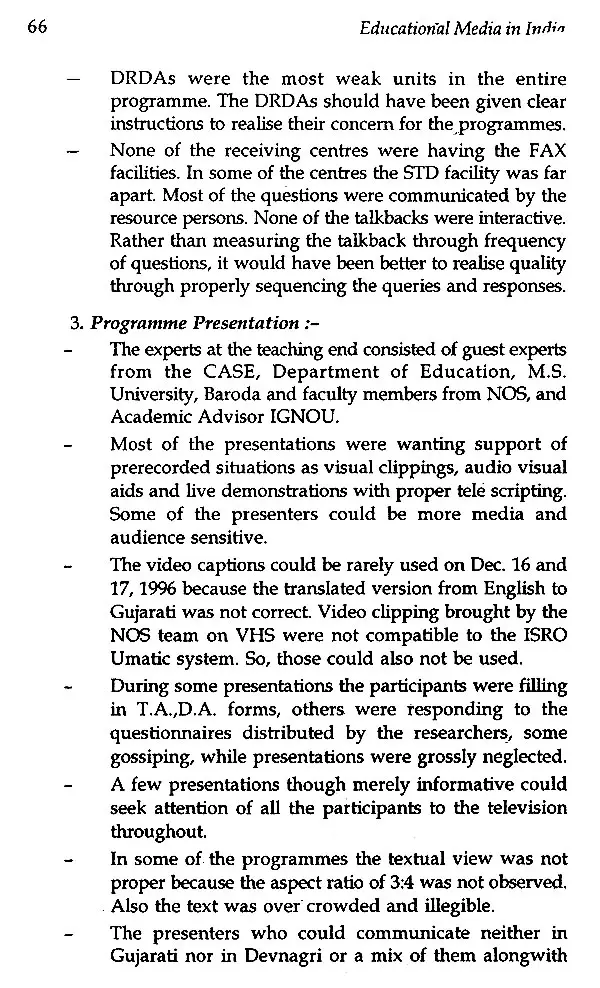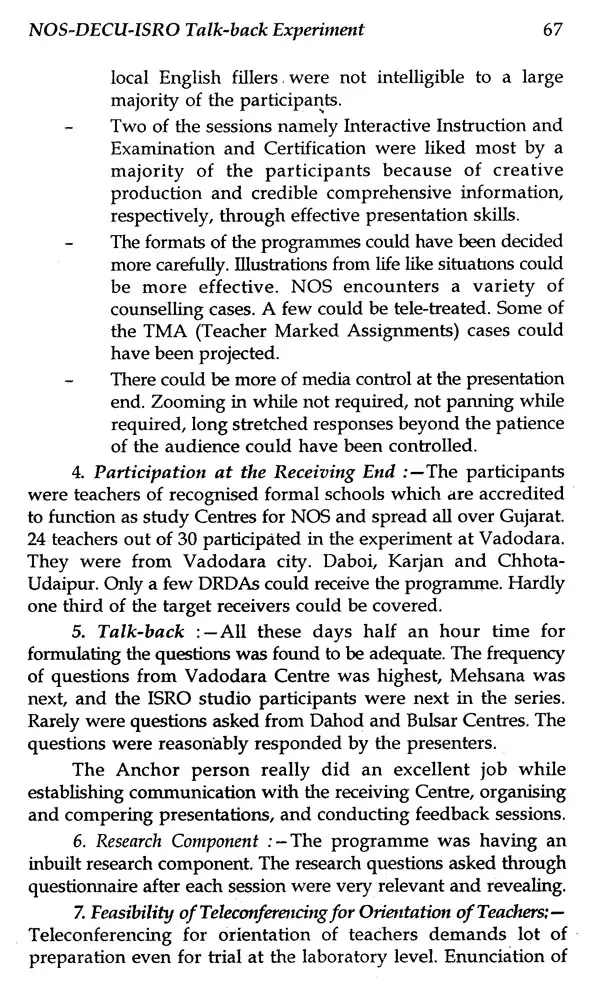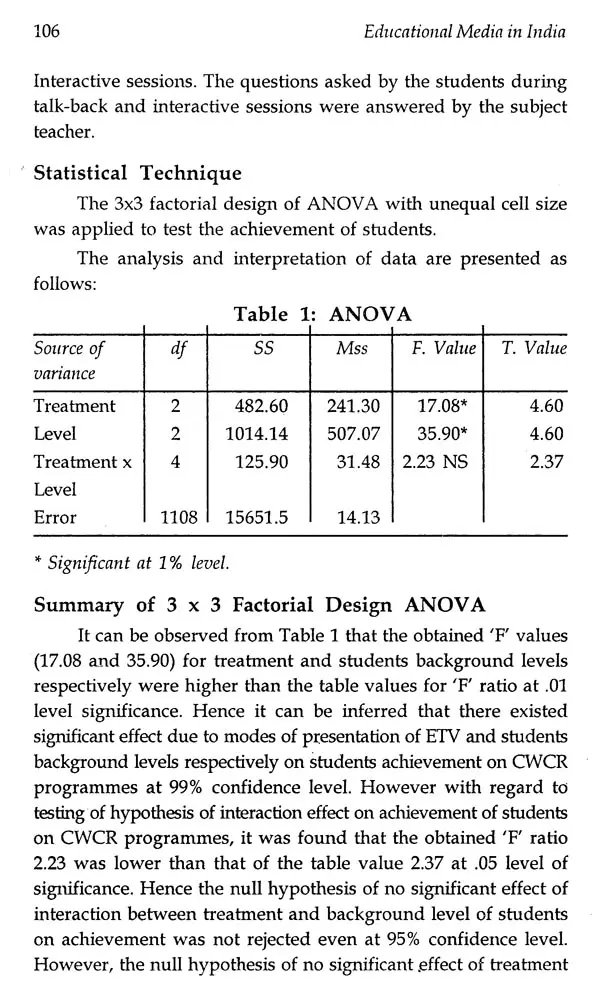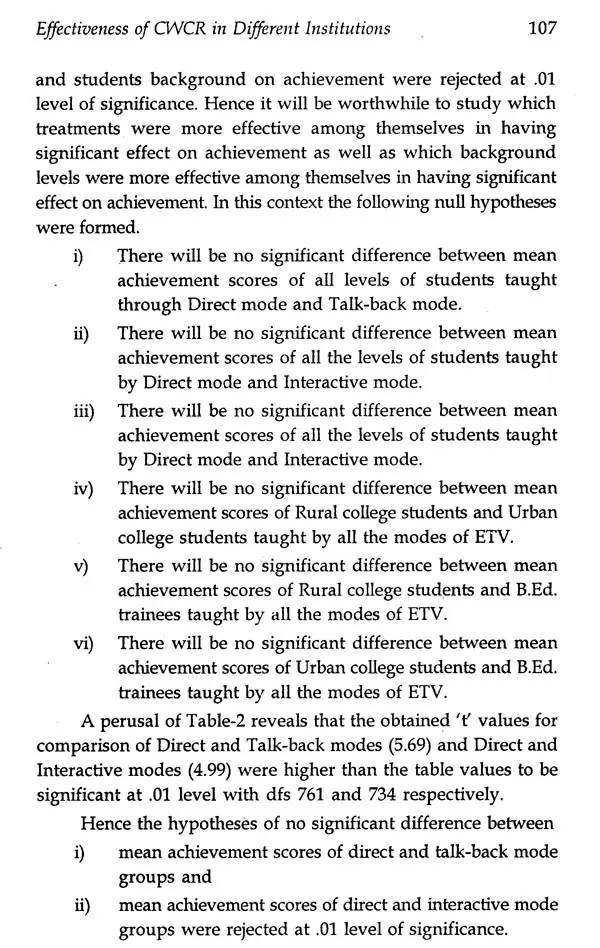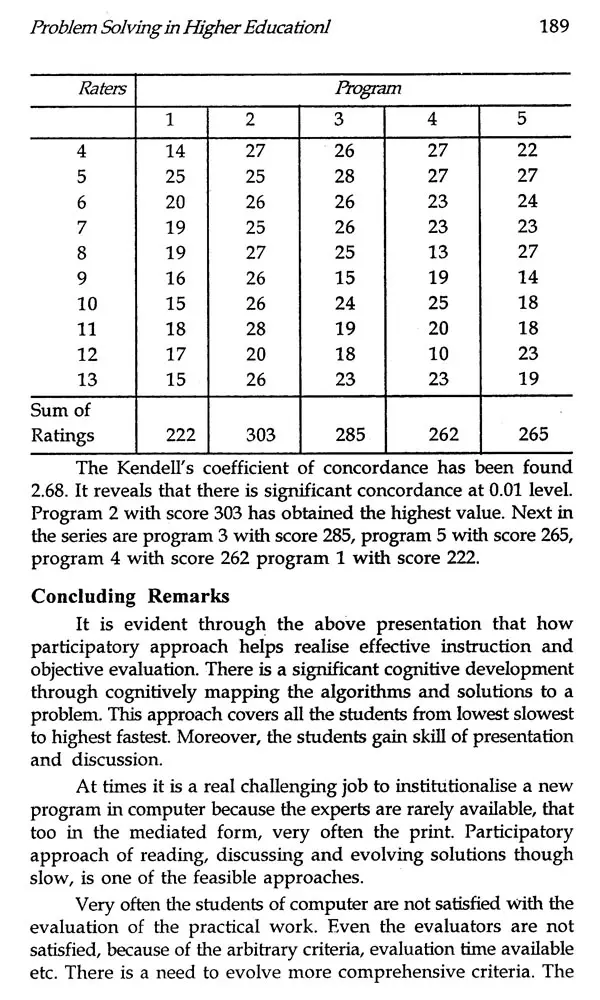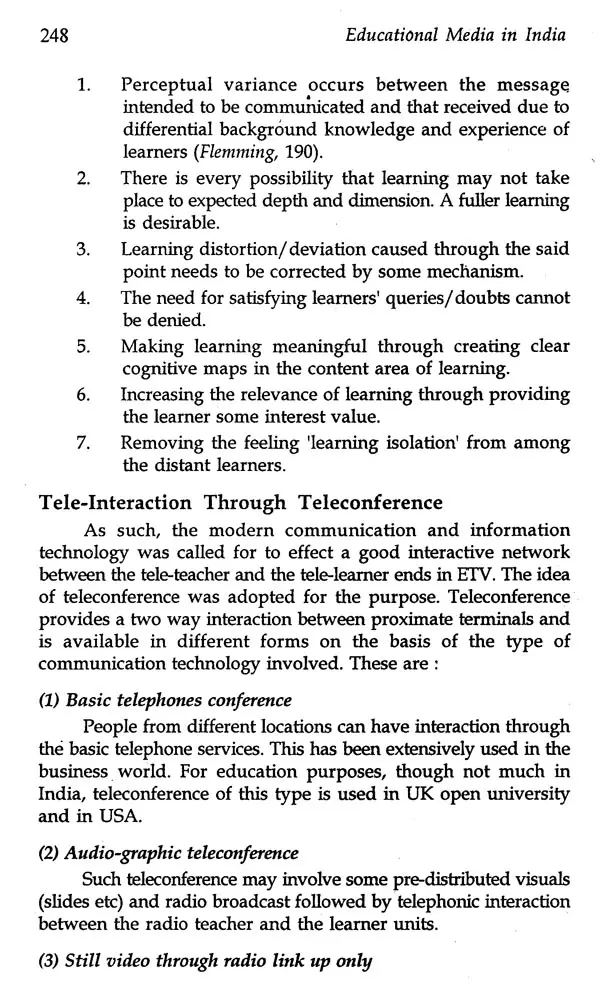 ---
We Also Recommend