The Essence Of Kalam's Educational Philosopy
$3300

$33.00
Tax included.
Shipping
calculated at checkout.
---
---
Book Specification
Book Description
About the Author
Anshu Rupainwar, a selfless wife and a caring mother gives all credits of her achievements to her family especially her husband.
Her husband Mr Rajroop Rupainwar is suffering from Muscular Dystrophy, a genetic disease, since last 25 years. Despite his physical disability, he always encouraged his wife and children for doing the best according to their own choices and capacities in life. The author has two kids Niharika and Nikhil who both have done well in their studies and settled as software developers in reputed IT companies in Maharashtra, India.
She is a passionate teacher and a creative skilled designer as well. During her struggling phase of life when she was not much qualified, she established a boutique and a Fashion, Textile and Interior designing Institute named as Crayala Institute of Art & Design (CIAD) at Varanasi. She worked there for 10 years as Center Head and teaching faculty as well. She also worked as Interior designer and designed some houses and hospitals for some time. She also conducted many fashion shows for showcasing the talent of the students of her designing Institute at Varanasi under the banner of CIAD.
Thereafter, she again developed her interest in further studies and choose Education as a subject, for pursuing teaching as a profession at college and university level. Finally, she decided to complete her left-out studies.
And finally, she received her doctoral degree from the Integral University, Lucknow. She holds a double master's degree in M. A. Home Science from the University of Lucknow, Lucknow and M.A. Education from U.P. Rajarshi Tandon Open University, Allahabad. She did B.Ed from Lucknow University. She was the batch topper of B.Ed at the college level. She is a UGC Net qualified scholar in two subjects: Education and Home-science. She was the topper of the 2014 batch in M.A Home Science and thereby honoured with Vidyavati Memorial Gold Medal for scoring highest aggregate marks in M.A., Ganga Dei Memorial Gold Medal for scoring highest aggregate marks in Arts Faculty and Canning College Gold Medal for best student of Canning College in M.A. from the Lucknow University.
She started her career with a nursery school teacher and thereafter, with god's blessings she touched the Central University. She successfully played a various role in her professional career as Registrar at an Engineering & Management Institute, Principal at Private Degree College, Head of the department of B.Ed./B.T.C. Institute and many more. Currently, she is working as 'guest faculty at various Institutes, Self- financed, State and Central Universities since 2006. Her recent paper publications include:
Azimuddin, Shaikh, & Rupainwar, Anshu (2014). Education as a base for entrepreneurship in Journal Of Humanities & Applied Sciences, Vol-4; Issue-3; pp-01-05; ISSN: 22489673
Azimuddin, Shaikh, & Rupainwar, Anshu (2014). Message from a teacher for a teacher in International Research Journal, Vol-1; Issue-2; pp-07-12; ISSN 2321-6301
Rupainwar, Anshu (2018). A mentor is mandatory at adolescence in International Education and Research Journal, Vol- 4; Issue 2; pp-08-10 ISSN 2454-9916
Rupainwar, Anshu (2018). Great Dr. Kalam..Transformation from Scholar to Philosopher in New Man International Journal Of Multidisciplinary Studies, Vol- 5; Issue 1; pp-14-19; ISSN 2348-1390
Rupainwar, Anshu (2020). Value-based education is core element vision for 2020 in International Research Journal of Commerce, Arts and Science, Vol-11; Issue 1; pp31-33; ISSN 2319-9202
Rupainwar, Anshu (2020). Human Resource Management in Higher Education, in International Research Journal Management Sociology and Humanities, Vol.11; Issue 1; ISSN 2277-9809
Preface
The Essence of Dr. Kalam's Educational Philosophy is written from the fundamental perspective of how the Dr. Kalam imperative can revolutionize the mind sets of thousands of teachers and professors we have been producing and witnessing in our country. India, one of the oldest civilizations of the world, has a history of having been blessed by teachers of the utmost potential .One among them, whose contributions as a 'teacher' were not highlighted to the effect that his teachings and perceptions were adopted by the Indian Education system, is the missile man of our country, Dr. A.P.J Abdul Kalam. In this book, we have tried to apply the great values and ideologies of Dr. Kalam, as one of the pioneer 'teachers' we have ever had in the field of Education. Furthermore, we have paid attention to the processes associated with how these ideologies can be understood and applied to the present day system in our country.
Today's scenario of aspiring for 'perfect teachers and perfect students' is achievable if we start inculcating values of accountability and responsibility in the minds of the target audience, and this book is a humble gesture in that direction. It is our sole motive to create insurgence in the young minds and encourage them to adopt qualities from the man who thinks that learning gives creativity, creativity leads to thinking, thinking provides knowledge and knowledge makes us great! It is high time that we change our role models from fake Instagram profiles to people who have perspired and achieved milestones.
Therefore, the purpose of this book is to assist both students and teachers, in the area of 'how to get educated' and ' how to impart education better' respectively. More specifically, this book keeps Dr. Kalam in the centre and extracts the excerpts from his phase of life that he enjoyed and cherished the most 'as a teacher'. The impact that his mentors, his mother and his colleagues had on his life will definitely leave the readers thinking about how to value and learn from the people around us and how not to become bookworms. The very foundation of righteousness, respect for the teacher and the pupil, along with perseverance, gratitude and commitment becomes extremely important to understand and absorb in order to help build a strong and educated community in our country, and Dr. Kalam is the epitome of the same.
In a nutshell, the book will not only provide the detailed insight of the thoughts and ideas of Dr. Kalam on the education system, it will also persuade it's readers especially the students and teachers, to think positively and not just teach or get taught for the sake of it. Dr. Kalam was surely a man of many words, but it will be a blessing for the young Indians if they get the chance to dive deep into the ocean of thoughts and analysis that is beautifully done in this book for the readers, from his perspective as a teacher, the area that is least explored till now.
**Contents and Sample Pages**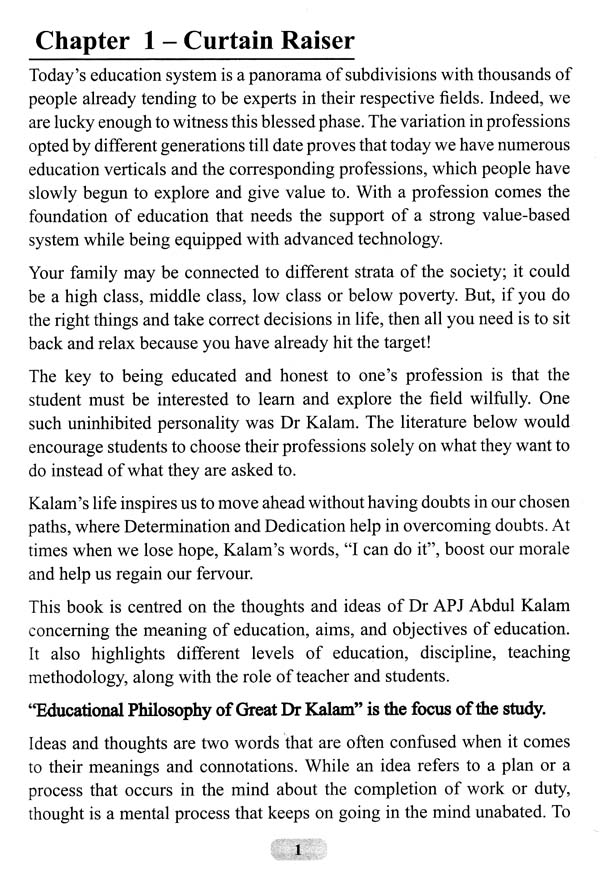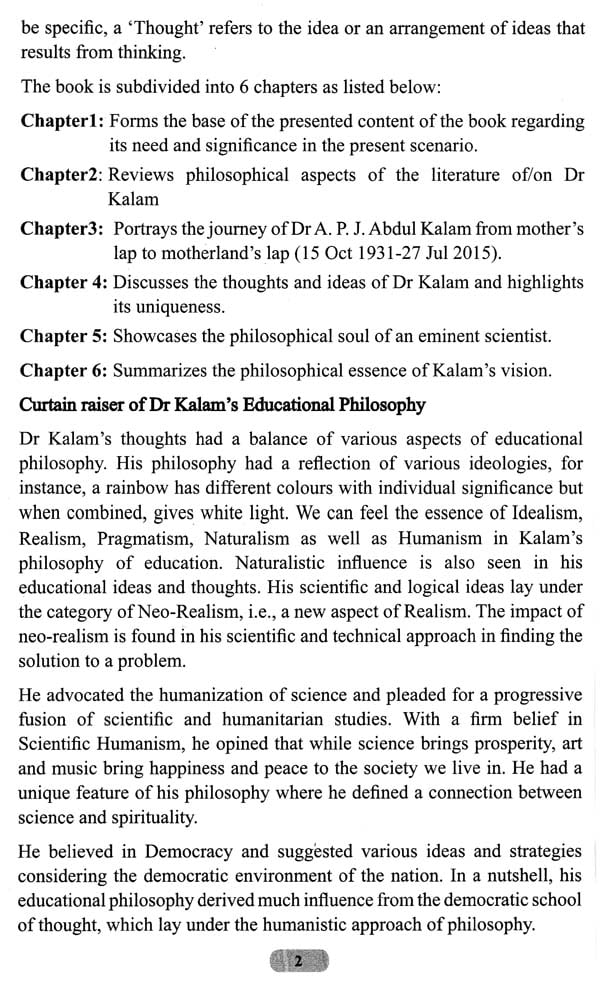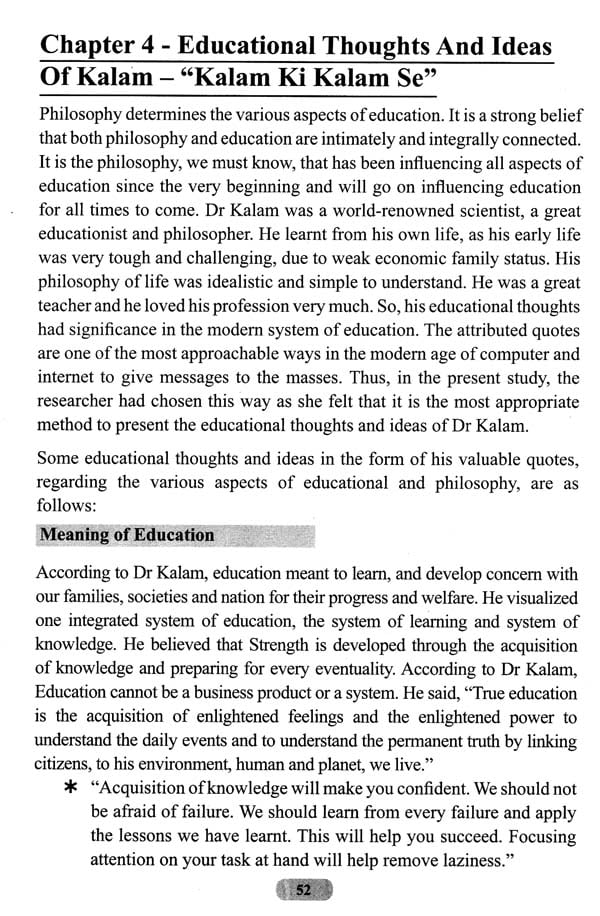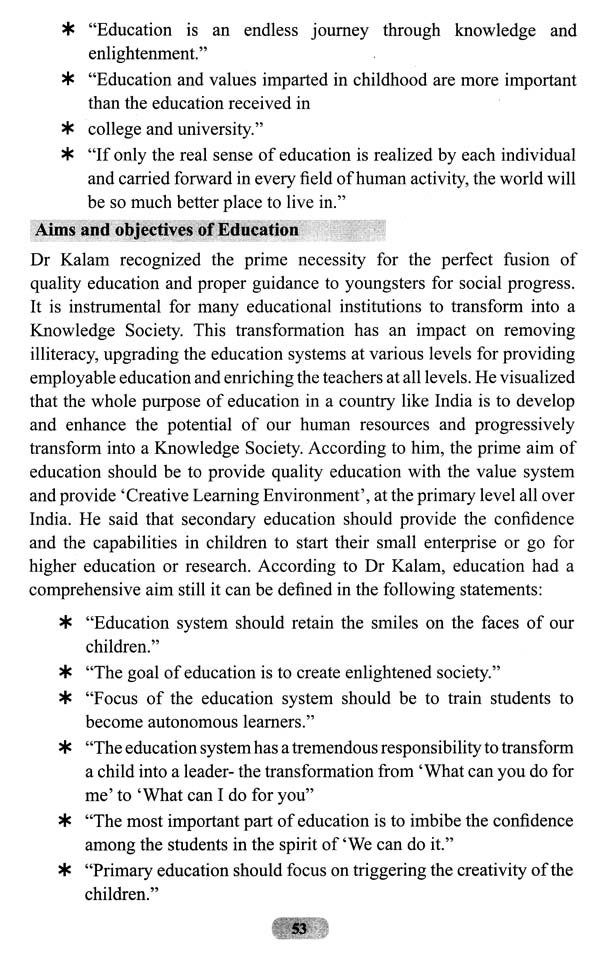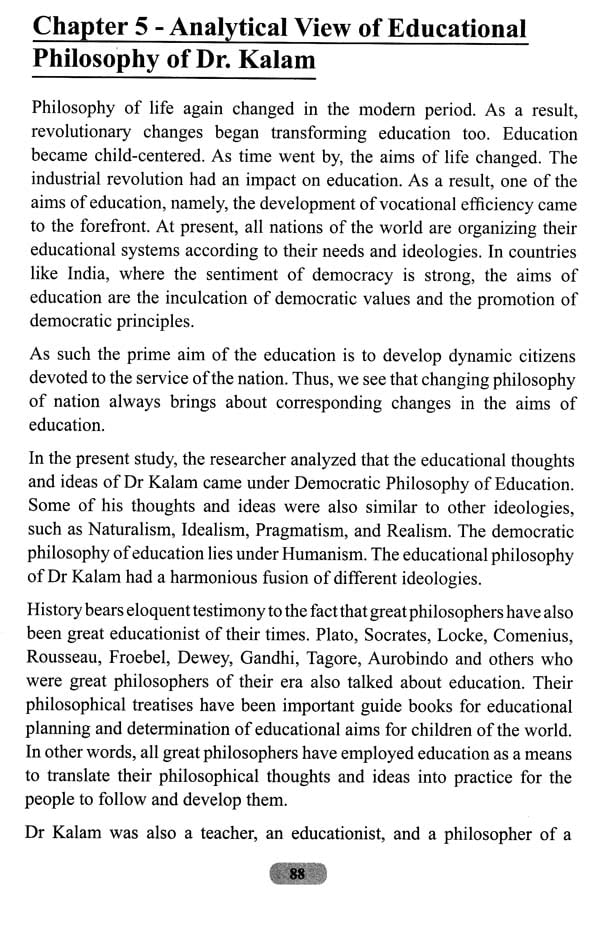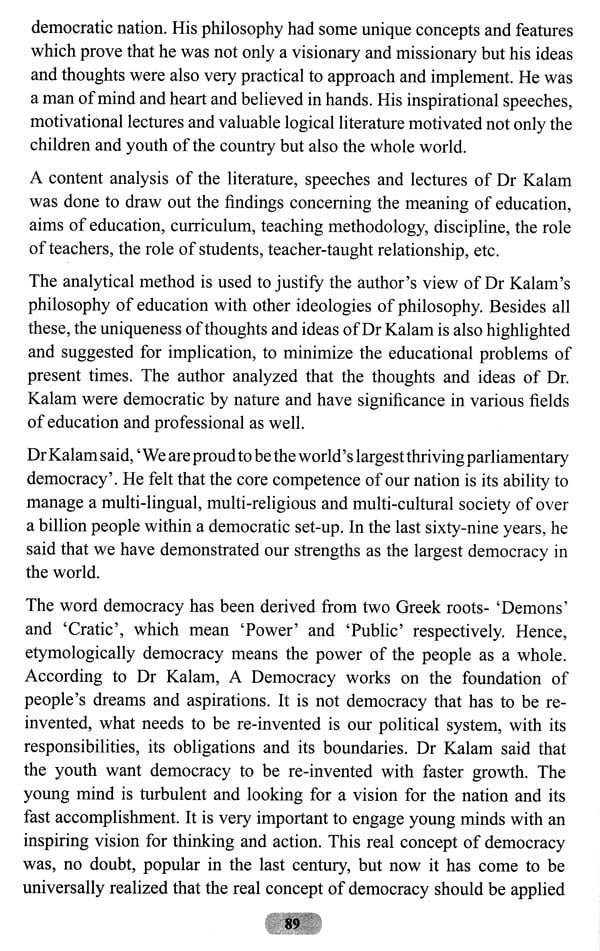 ---
We Also Recommend