Fr. Thomas Stephans: Makers of Indian Literature
$2000

$20.00
Tax included.
Shipping
calculated at checkout.
---
---
Book Specification
| | |
| --- | --- |
| Item Code: | AZI001 |
| Author: | Cecilia Carvalho |
| Publisher: | SAHITYA AKADEMI, DELHI |
| Language: | English |
| Edition: | 2017 |
| ISBN: | 9788126053148 |
| Pages: | 58 |
| Cover: | Paperback |
| Other Details | 8.50x5.50 inches |
| Weight | 101 gm |
Book Description
About The Book
Fr. Thomas Stephans (1549-1619) was an English Jesuit Priest and a linguist. His highly acclaimed poetic Khristapurana apart, he is revered until the date for his outstanding linguistic achievements in Marathi and Konkani languages. He had lived in Goa for 39 years, and for a year in Vasai, Maharashtra. The services he had extended during these 40 years to society, languages, religion and culture clearly establish his deep commitment and magnanimity.
About the Author
Cecilia Carvalho, the writer of this monograph, is a renowned writer and poet in Marathi. A recipient of a number of prestigious awards for her contribution to literature, she presided over the Marathi Christi Sahitya Sammelan held in 2000. Currently, she is Principal, St. Gonsalo Garcia College of Arts and Commerce, Vasai, Maharashtra.
Preface
Fr. Thomas Stephans (1549 1619) a Jesuit priest originally from England came to the then Hindustan and worked as a missionary on the coastal area of Konkan till his death at the age of 70. He was born in Bushton, Wiltshire. Renowned English writer William Shakespeare born in the same year 1549 in England. Both are contemporary personalities. William Shakespeare impressed and influenced the globe through his literature (Dramas and Sonnets) whereas Fr. Stephans crossed the globe, stepped on the coast of Goa as a missionary, learnt their language and worked for the downtrodden people through literature (poetry, grammar and translations) in their colloquial language. The Portugese were ruling in Hindustan, when Fr. Stephans trying to learn the local languages, he has the ideal of the Marathi Saint poets. This was the era of Chatrapati Shivaji Maharaj (1630-1630) Marathi Saint pc ets like Saint Eknath (1533-1599), Saint Tukaram (1608 1649), Saint Ramadas (1608-1681). Saint Mukteshwar (1609-1660), Shridhar Nazarekar (1658-1729-30) etc.
This is the period when and where the people from all the sections of society and from different professions were writing in their own local languages, and were trying to have dialogue with people and with their God Vitthal. Prof. G.B.Sardar a scholar has rightly said that it was like 'Spiri tual Democracy' in those days.
The 16th century Marathi literature is famous for its variety in the compositions. Writers from different communities were writing in Marathi. The different sects from this area like Mahanubhava, Nath, Varkari, Lingayat, Jain, Muslims and Catholic Christian were writing in Marathi. Fr. Thomas Stephans (1549-1619) Shaikh Mohammad (1560-1650), Shah Muntoji 1575-1650) Hussain Amberkhan (Birth 1603) etc were writing in Marathi. Though they belong to different religions other than the original people of Hindustan, there was a deep urge to meet the God. Shaikh Mohammad was called as the disciple of Kabir (Sekha- fr or Sakha - f of Kabira).
The above mentioned Muslim poets were originally from the soil of this country. No one will doubt their loyalty towards the culture of their society as they were the part and parcel of the country. But there is a place to doubt about the literature of the foreign people like Fr. Thomas Stephans or any other writer from England, France or Portugal. As the fear of conversion was lying underneath their writings and also they were totally foreign to our country.
Today we are in the post globalization era. In which we need to have inter-religious and inter-cultural dialogue. But during those days the foreigners, the missionaries who came to Hindustan tried to adopt and acquire the Hindustani or Maharashtrian language and culture. Not only that but they became one with culture. They must have had their motive of conversion. But they learnt 'Marathi' language and also expressed themselves in 'Marathi' and at the end of their life they were buried here in this soil. They became one with the soil. I think this is the harbinger of the globalization.
**Contents and Sample Pages**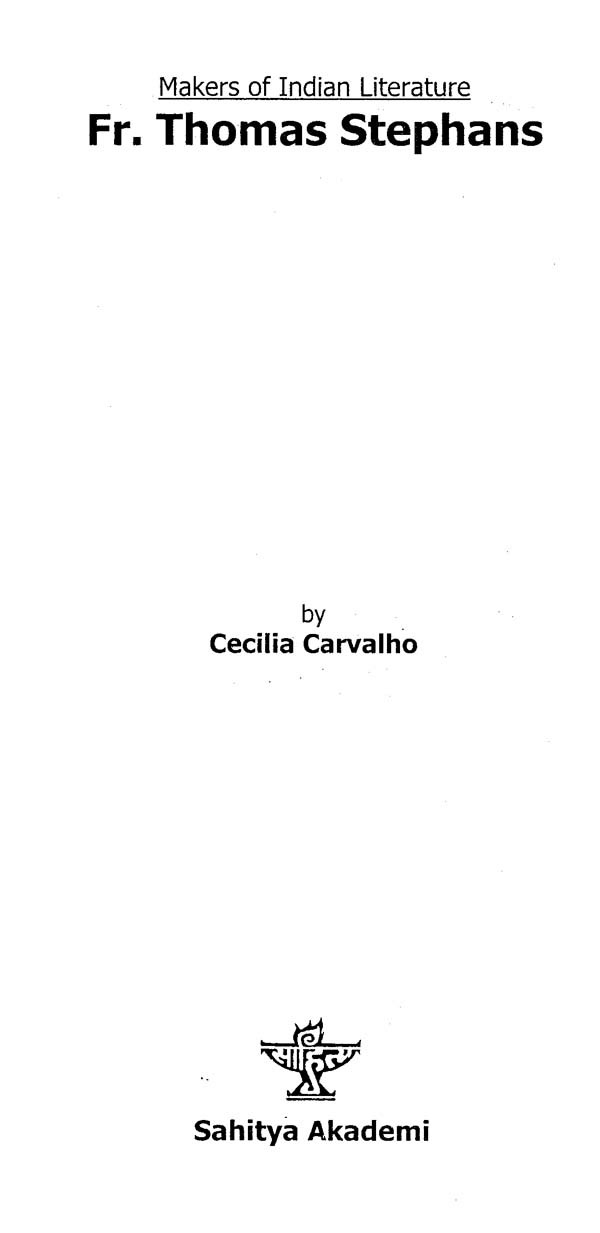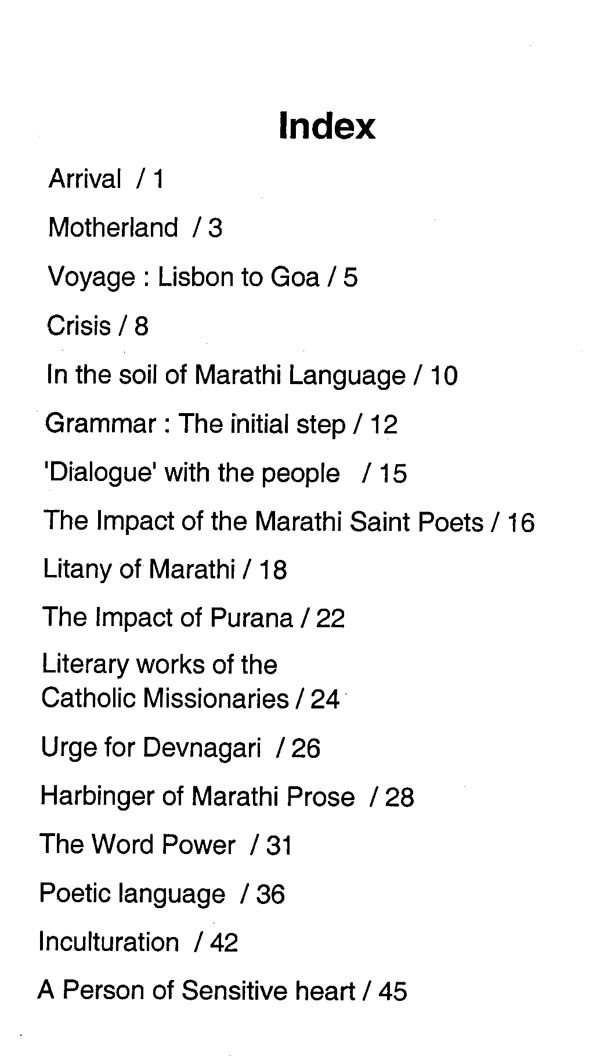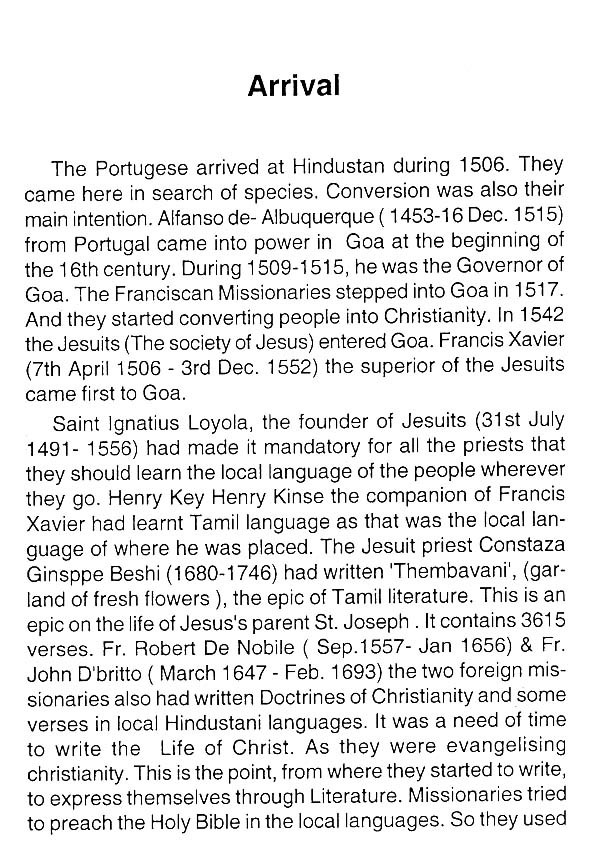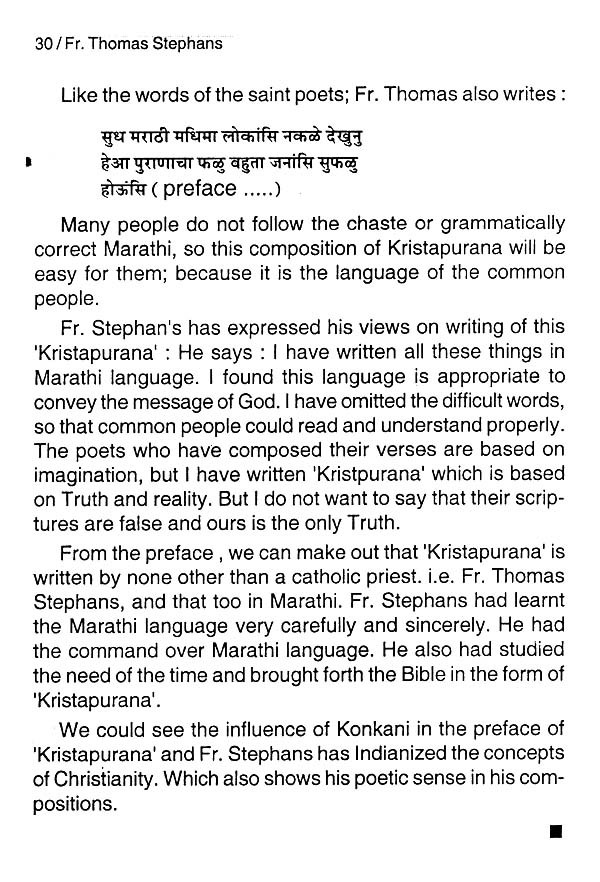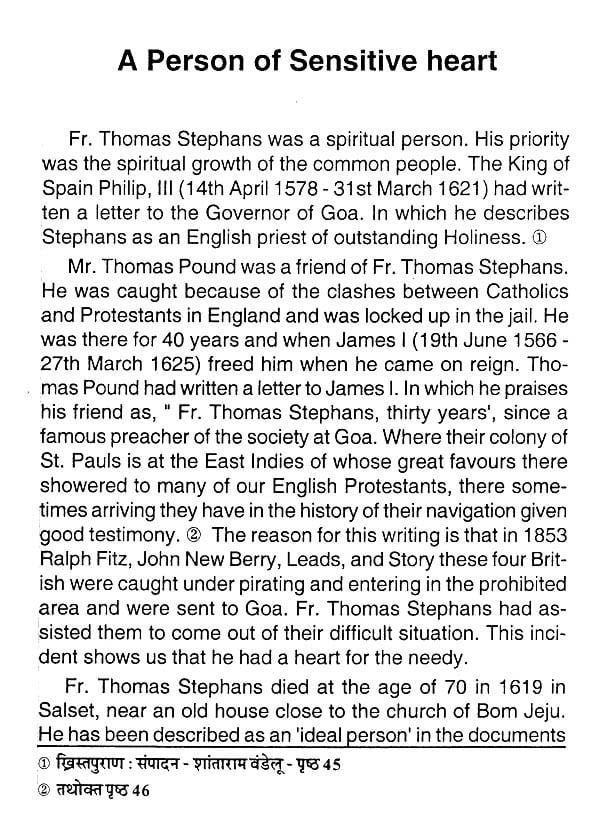 ---
We Also Recommend