Ganapathi
$2300

$23.00
Tax included.
Shipping
calculated at checkout.
---
---
Book Specification
Book Description
About the Book
Ganapati's birth is described severally in many Puranas. Co-relating these fables would make a seeker realize the importance and magnanimity of Vinayaka. The form of Ganapati suggests the close relation to various aspects of nature. The idol is made of mud and water. He is worshipped with 21 types of leaves, fruits, and flyovers. Durva (Garika) is his most favorite ingredient of Puja. These rich traditions always remind and teach us to respect all aspects of nature and constantly ordain us to preserve and protect ecology. To further this commandment, the scriptures corroborate that Swetarka Tree is an embodiment of Lord Ganapati. Thus the worship of Ganapati puts onus on ethical, righteous and ecological uprightness in one's life.
Foreword
'Rashtrothana Sahitya' made me write this book and published it first, seven years ago in 1971.
All the four thousand copies of the first edition were sold in two years and it was not possible to bring out the second edition soon after. Now after seven years, I offer the second edition to Kannada reading public.
In this edition I have included some new aspects and rare illustrations.
The publishers of the first edition, 'Rashtrothama Sahitya' have helped me by sparing all the blocks used by them. Sri V.
Subramanian made kindly available to me a couple of photographs of bas-reliefs of Ganapati sculptured on the outside of the walls of the temple of Srisaila Mallikarjuna Swamy. My artist friends Sri Kamalesh, Sri S.
Chandranath and Sri G.K. Satya helped me in preparing the cover page and by furnishing me with some useful photographs. Sri P. Subba Sastri of Rayadurg made available to me a photograph of Dasabhujaganapati at Rayadurg. Sarvasri, M. Gopala Karman, B.R.Veera Bhadraiah, BV Vaikunta Raju, V.R. Syam, P.R. Thippe Swamy, K.R. Nagaraja, G. Srinivasarnurthi, Ramachandra and Arunanarayana of Jaya Karnataka Press helped me with their valuable suggestions. My heartfelt thanks are due to all these friends and well-wishers.
I express my appreciation of the assistance extended to me as usual by Chi. Sriharsha and Satya.
I render my thanks to the proprietors of Jaya Karnataka Press for bringing out this book beautifully.
My thanks are also due to the State Government for supplying me with paper for this book at a concessional rate.
Along with this, a Telugu translation is also published. My cousin Sri Janamaddi Hanumath Sastri, Lecturer in English, Govt. College, Kadapa, translated this book into Telugu. I hope the Telugu speaking public will welcome this.
Preface
Ganapati, a deity with animal-human form occupies a unique place in the Hindu pantheon. There are other Hindu deities with the animal-human form. Some of them had come into being even before the elephant-headed Ganapati. Unlike Ganapati, those deities have not become prominent and popular. In all the Hindu religious rites the very first offering goes to Ganesa. It is but natural that the origin and the evolution of Ganesa in different forms have roused the curiosity of scholars and researchers, not only in India-but also in other parts of Asia.
It is the western scholars who actually started this curious investigation into the origin and the evolution of Ganapati. The belief that probing into the origin of the deities does not do good is still alive in us. There were times when people believed that it was inauspicious to inquire into the origin of deities as well as of rivers and rishis. Many a western scholar in the name of research indulged in sacrilegious criticisms about Hindu gods, festivals, customs, traditions and scriptures to such an extent that it became imperative on the part of Hindu scholars to proceed on the same lines of research with a view to. countering the disrespectful criticism.
Many western scholars from Monier Williams to Alice Getty wrote books on Ganap.ati. Ananda Coomaraswamy, the most sympathetic critic of Indian arts also wrote about Ganapati. But all the scholars are more or less, of the opinion that Ganesa is not an Aryan deity, of the Vedic times, but a later offspring of popular belief.
There has been a school of thought classifying Indians into the Aryans and the Dravidians. This divisive tendency has caused not only disunity among people but also bred hatred towards deities. Expert Indian researchers and historians have proved, with enough evidence that the Aryans were not alien to India.
"Aryan" means an elderly person, rather more appropriately, a man of wisdom. Our country is in fact known as "Aryavarta". It is ridiculous to state that this name is the result of alien migrants settling in our country. Can we conclude that Ravana belonged to the Aryan sect of North India, simply because he was addressed by his wife Mandodari as "Aryaputra"? Dr. Bhagwandas mentions that there were Rakshasas called "Salakatankata" during the times of the Ramayana and that this name is still obtaining among Mangolian tribes. It has been traditional to give the names of deities to human beings. In conformity with this tradition, the "Salakatankata" Vinayaka mentioned in the Smritis of Manu and Yajnavalkya can be regarded as the deity belonging to the Mongolian aborigines known as Salakatankata tribes. If this thesis is taken for granted then Vinayaka Ganapati will have to be regarded as belonging originally to Mongolians. The classification of the Hindu deities as Aryan and Dravidian is as futile as this thesis that Vinayaka is a Mongoloid deity. It is not only futile but also harmful. The question why Ganesa is not mentioned in the oldest scripture, the Rigveda, may naturally arise. This question will be dealt with, in detail, in the coming chapters.
The fact that the Rigveda does not make any mention of Genesa only shows that the deity is one without primordium (Anadi). Ganapati is a two-faced deity. In the beginning he was conceived as a god of obstacles. In course of time he was regarded as capable of clearing off obstacles also. Evolution of this concept indicates that he might have been a deity worshipped by the lower echleons of society. Are there not in our history many instances of plundering poligars turning into benevolent kings and emperors? Likewise, Ganesa might have been a chieftain of hill tribes. In the SAHASRA NAMA of Maha Ganapati we come across the epithet "pratigramadhidevata" (presiding deity of every village). Haridasa Mitra also vindicates this argument. But thousands of years have elapsed since Ganapati as a deity, presiding over every village found a niche in the mind and the household of every Hindu. Once a sect which worshipped him as the supreme God, dominated in our country. The fact that Aurangzeb, who was hostile to Hinduism, also gifted lands to the Ganapati temple or Chinchiwada near Poona, shows how powerful a deity Ganapati is.
The historians are of the opinion that the worship of Ganapati in Tainilnadu began as early as the reign of Pallavas. It is said that there were no idols of Ganapati in the temples built before the period of Narasimha Varma, the Second. Likewise there is no mention of . Ganapati in the Tamil-literature of Sanga period. The above facts prove that Ganapati is not a Dravidian deity. There is an epithet : "Arya Ganapati" in an invocatory hymn of the Buddhists of Nepal. The Ganapatya cult originated in North India, developed in central India and spread to the South. Some scholars are of the opinion that Muthuswamy Dikshitar's Composition, "Vatapi Ganapatim bhaje" indicates that Chalukyas'. Badami, was a pilgrim centre of the Ganapatyas. Badami is also known as Vatapi.
Book's Contents and Sample Pages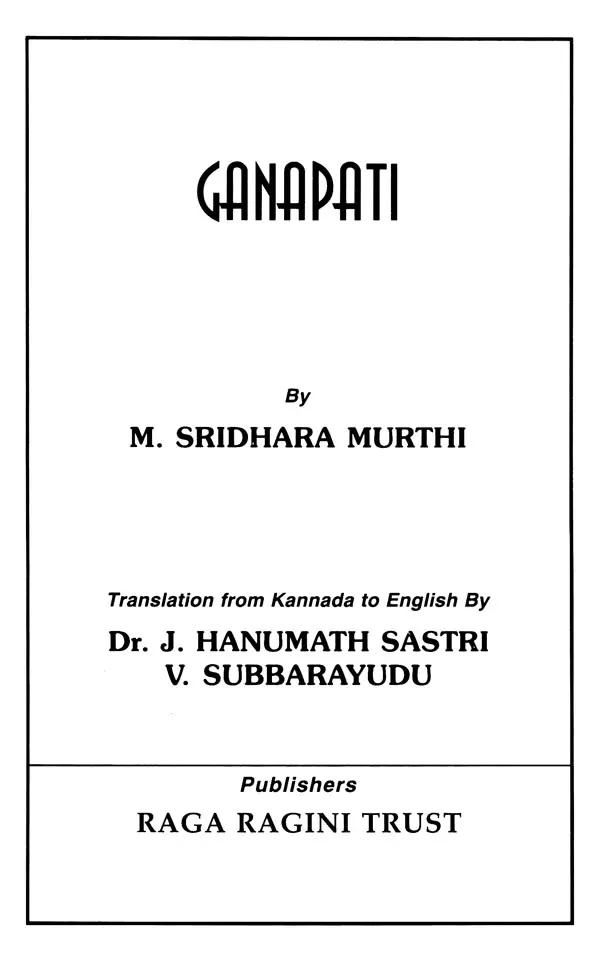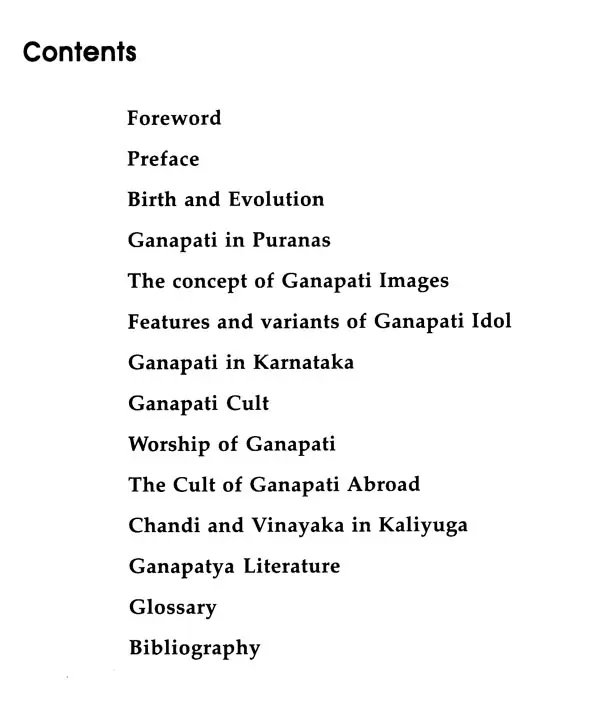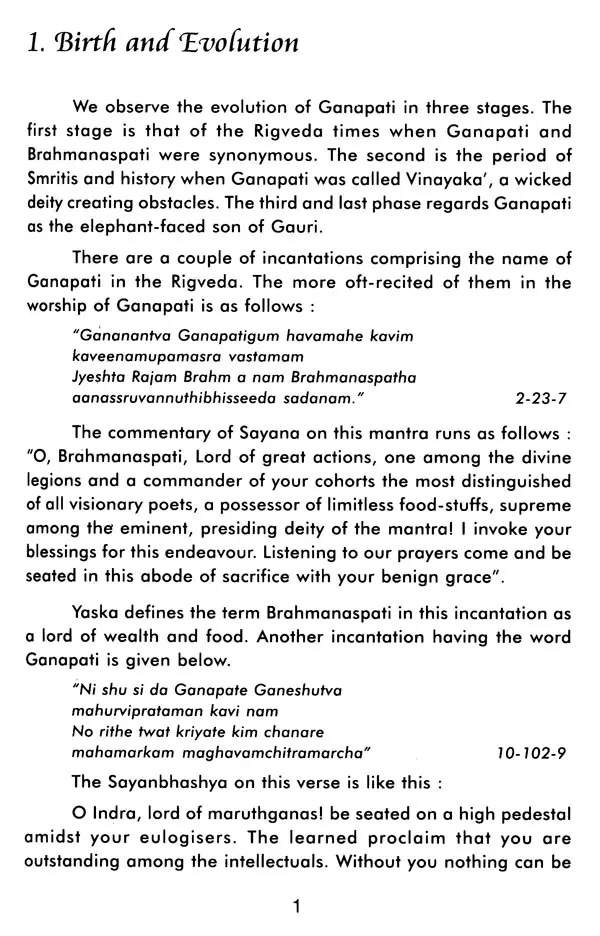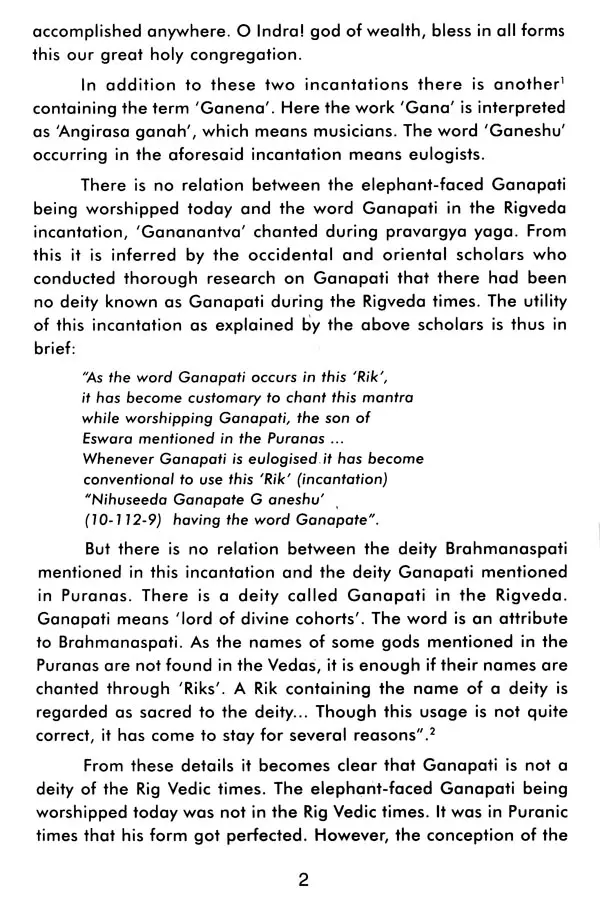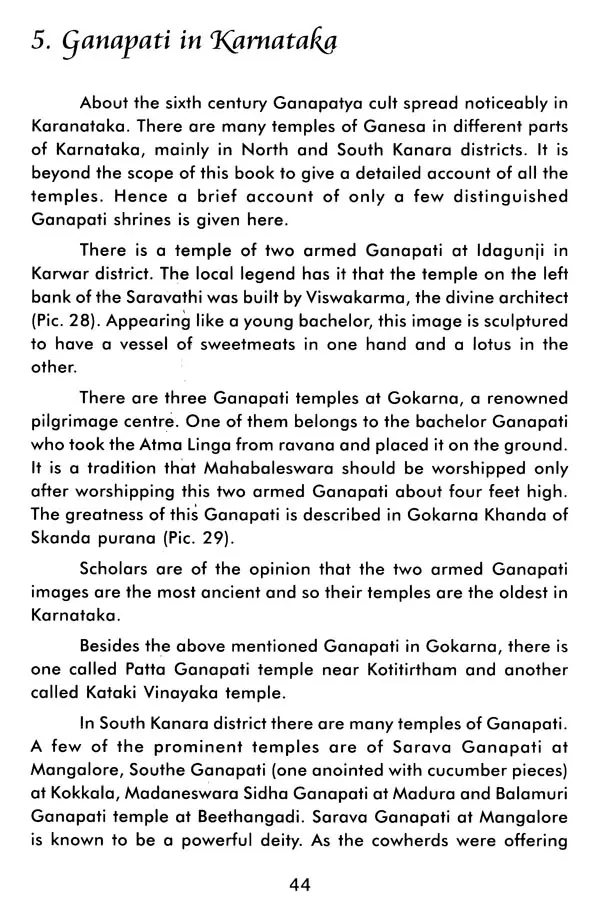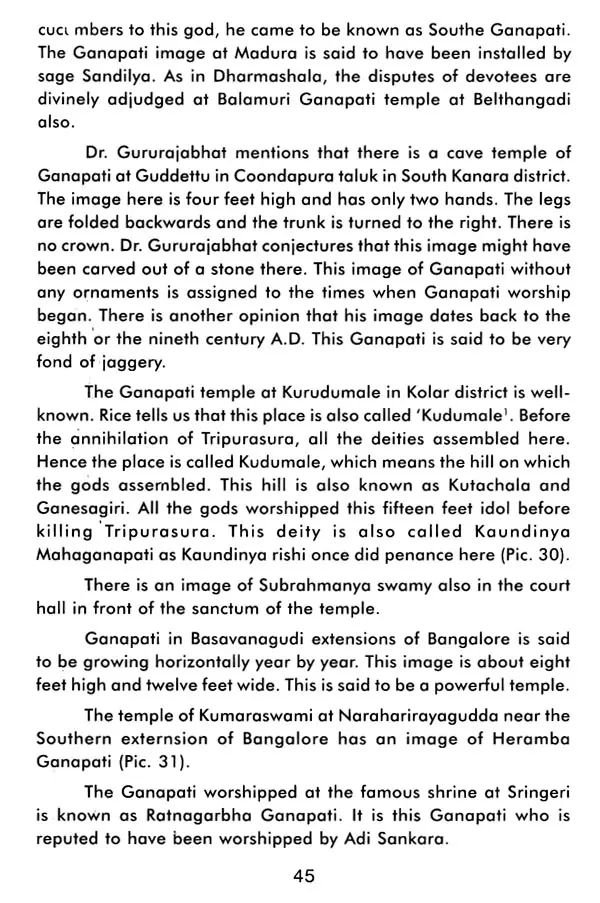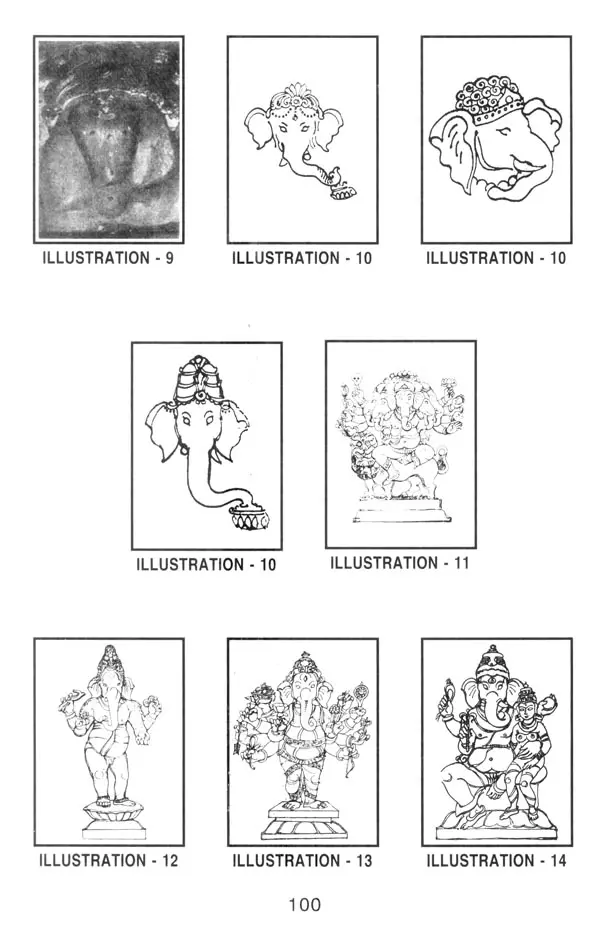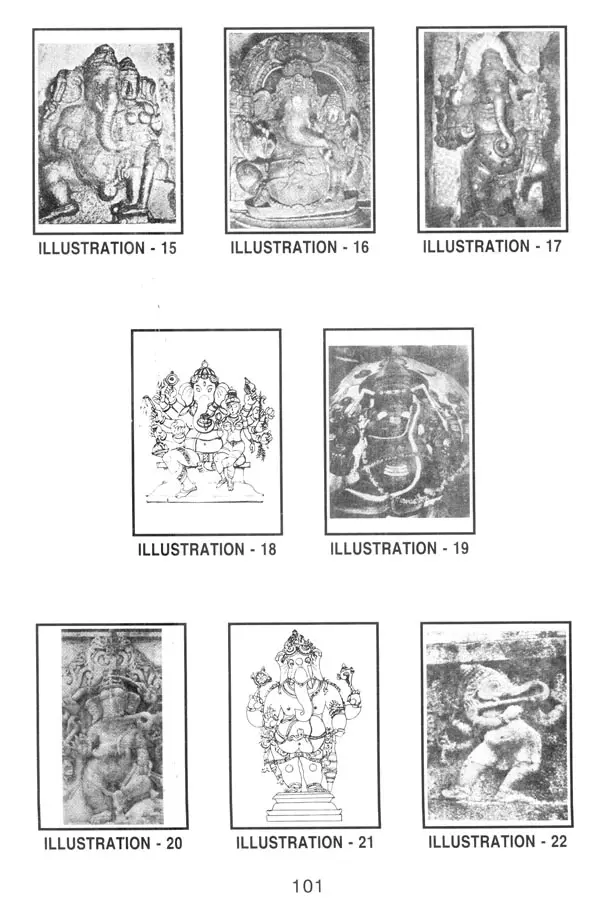 ---
We Also Recommend