Gender and Langauge
$2700

$27.00
Tax included.
Shipping
calculated at checkout.
---
---
Book Specification
| | |
| --- | --- |
| Item Code: | NAX078 |
| Author: | S. Prema |
| Publisher: | Dravidian University Campus |
| Language: | English |
| Edition: | 2010 |
| Pages: | 180 |
| Cover: | PAPERBACK |
| Other Details | 9.00 X 6.00 inch |
| Weight | 230 gm |
Book Description
PREFACE
Study on language in relation to gender is a less advanced area in India. The purpose of this work is to provide an introduction to the relation between language and gender with special reference to Malayalam. How gender differences are reflected in language and how femininity and masculinity are constructed by language are explored and discussed through five chapters. Arguments in this study formulated only based on primary conversational data. It is the first comprehensive study of a language in relation to gender among Indian languages. I wish to record my deep gratitude to Prof. Cuddapah Ramanaiah, Vice-Chancellor Dravidian University to publish this work as one of the publication of Dravidian University. I wish to thank the University of Kerala for its financial support through Research Fellowship during 2000 - 2004 to complete this study. am thankful to my supervising teacher Prof. N. Rajendran, Department of Linguistics, University of Kerala, whose valuable suggestions and advice were of utmost use in preparing this work. I am thankful to Prof. Sravana Kumar, Director and the other members of Prasdranga to bring out this book. At last, I owe my special thanks to all those who allowed their conversations to be recorded and used in the study.
Foreword
That the foundations of Indian culture were deeply embedded in Dravidian culture is now an incontrovertible fact. Dravidian culture is one of the most ancient cultures of the world. Those cultures, slightly contemporaneous to one another, slowly started fading out. However, the primordial Dravidian culture continues to thrive without losing its quintessence despite the apparent changes in systems of dress and address. Dravidian University was established in 1997 to mirror the real and rich picture of Dravidian culture not only in its linguistic, literary, cultural and philosophical facets but in science and technological angles also. The main objectives of Dravidian University are to augment the common weal and social well being of the communities of marginal languages and to build bridges among the Southern states. While working on each language separately in varied areas, it aims at a synthesis and a discovery of the common heritage through Comparative Studies. Prasaranga (Publications wing) and Anusrjana (Translation Bureau) are the two most significant wings of the University embarking on several on going progressive activities. Literary and philosophical movements in the last there or four decades have necessitated a revolutionary lingual and linguistic change to accommodate the aspirations of feminist writers. They redefined role of language in gender studies with reference to its tonality, structure and usage. They analysed how language used as a common tool to determine the behaviour of men and women. In this backdrop Mrs.Prema did her Ph.D 'Gender and Language. Though her research is based on Malayalam she could focus on certain universal issues that are related to women. She observed that linguistic structures are analysed generally from three basic components of language, viz, phonological, grammatical and semantic features. The laudable thing in her work is that she has taken examples for her study from day to day affairs. Mrs.Prema began her work with a concrete framework; She could explore the formation of gender identity and the cultural interpretations of masculinity and femininity. She could even study the way in which men and women adopt strategies in conversations and selection of topics. In her view, the changing pattern of society reflects upon gender and the very mechanism of gendering. I whole- heartedly commend Mrs. Prema for the serious effort she has put in her research and hope that she would continue her work in much more vigorous way in the times to come.
**Contents and Sample Pages**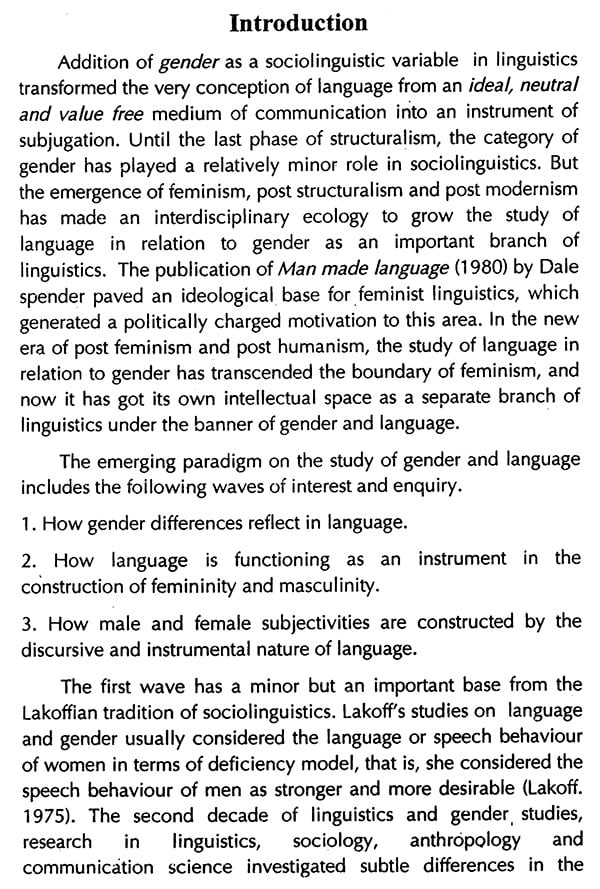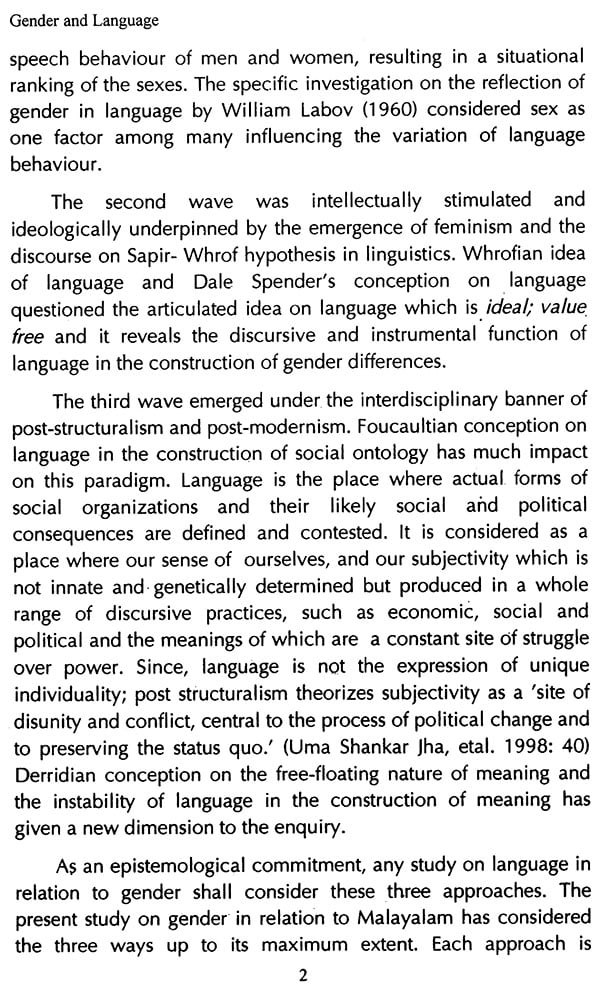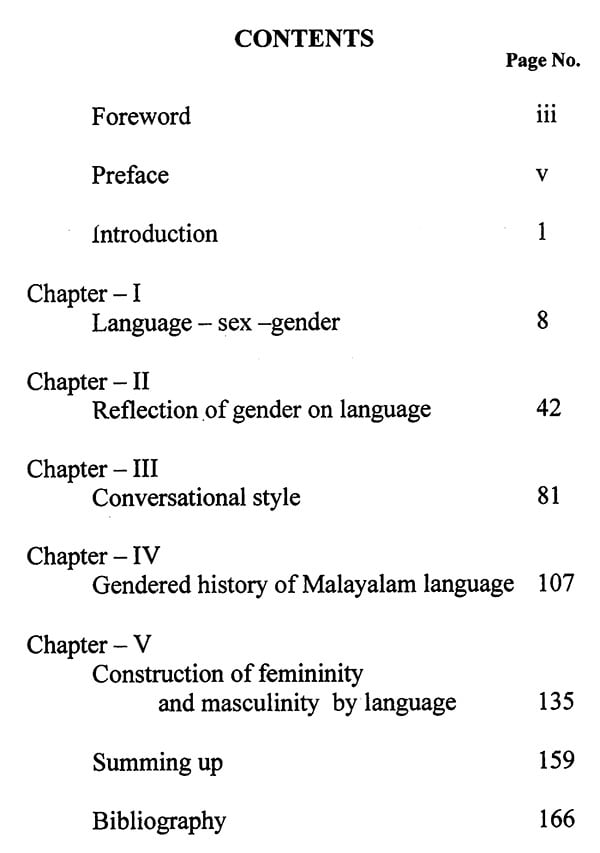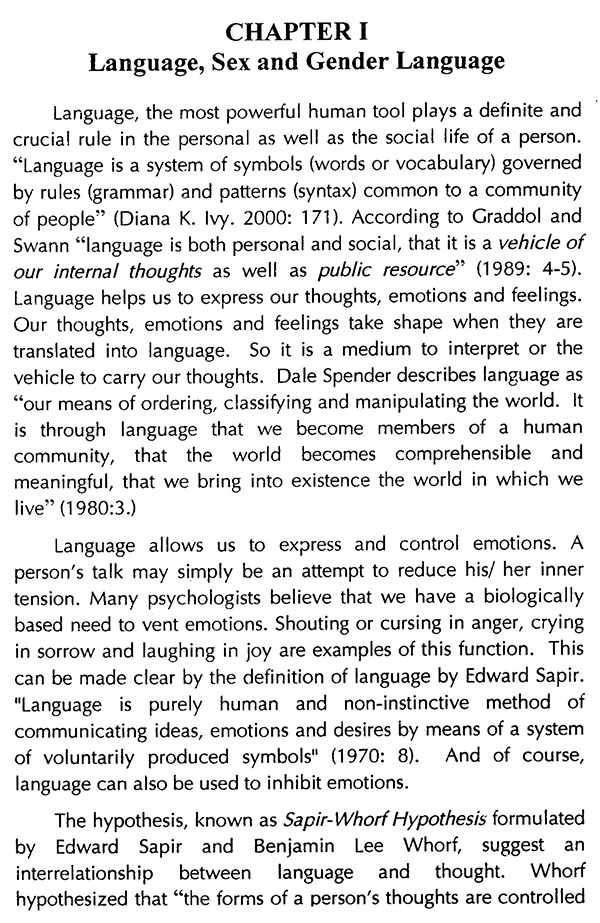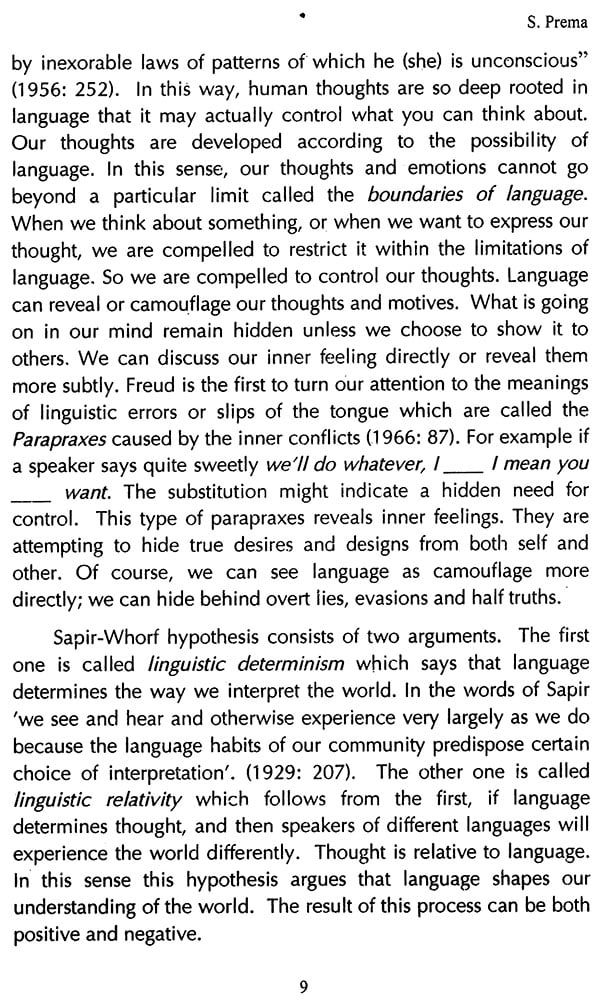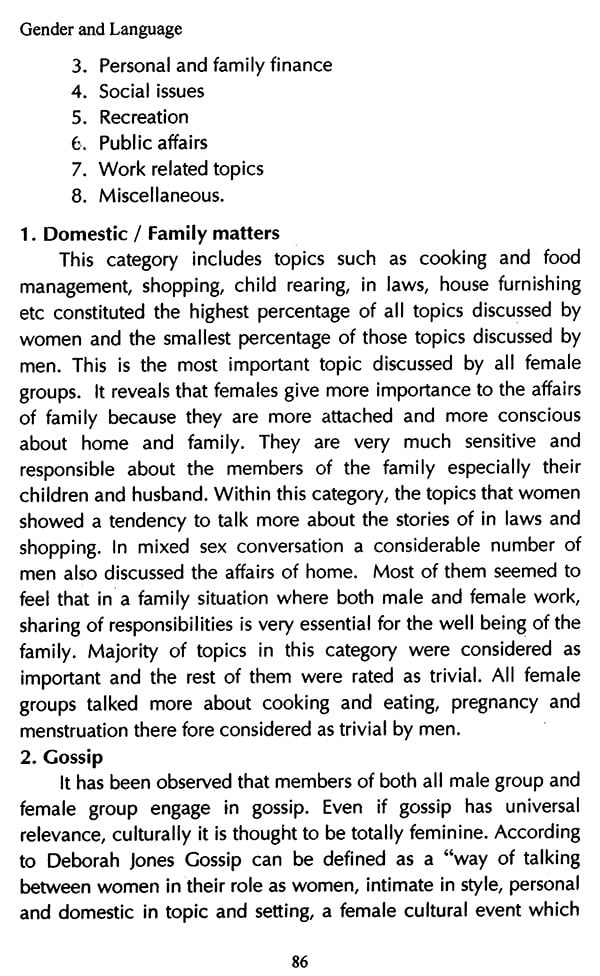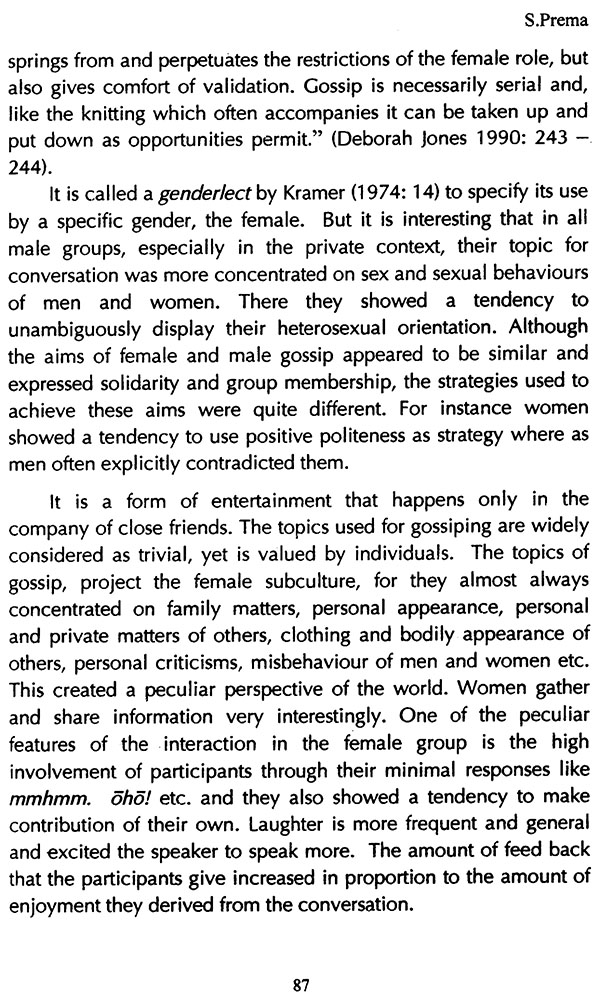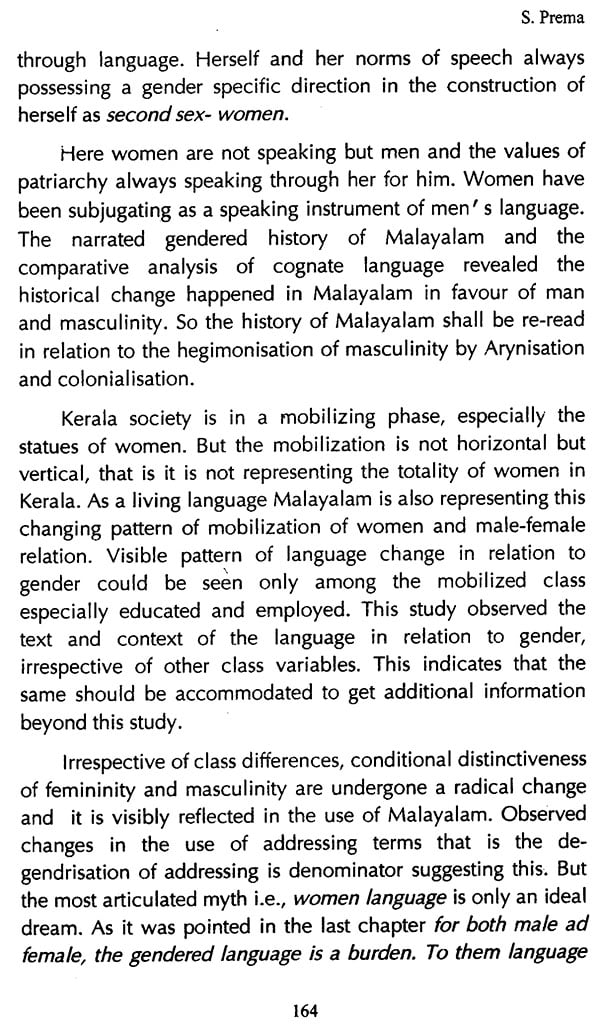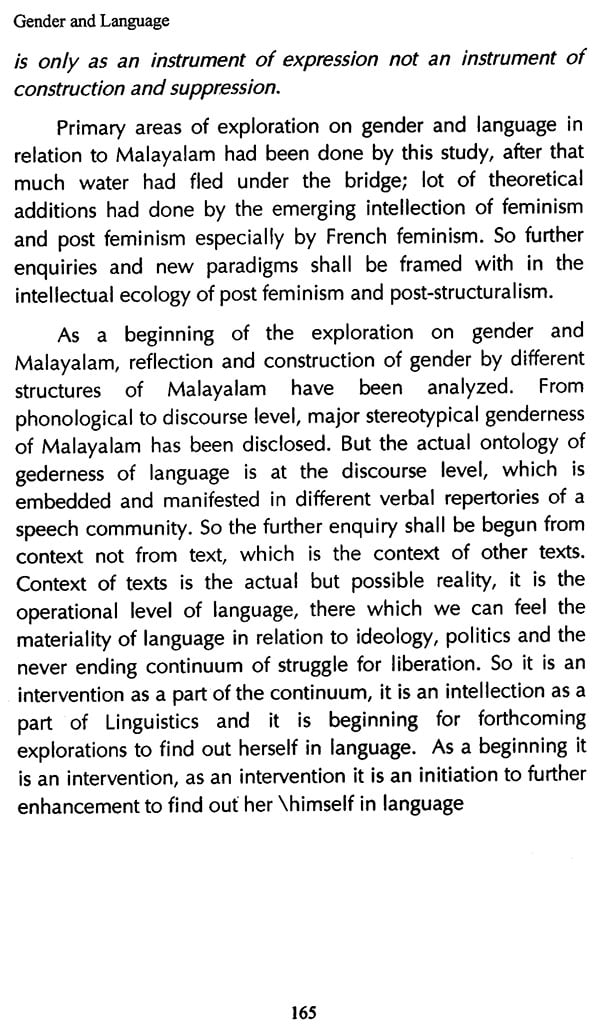 ---
We Also Recommend