A Gift of Grace (The Essence of Guru Nanak's Spirituality)
$4400

$44.00
Tax included.
Shipping
calculated at checkout.
---
---
Book Specification
| | |
| --- | --- |
| Item Code: | UAJ821 |
| Author: | Daler Aashna Deol |
| Publisher: | Niyogi Books |
| Language: | English |
| Edition: | 2019 |
| ISBN: | 9789389136166 |
| Pages: | 231 |
| Cover: | HARDCOVER |
| Other Details | 9.50 X 6.50 inch |
| Weight | 480 gm |
Book Description
About The Book
All beings seek Your protection. They leave their worries with You. Whatever pleases You is good. That is Nanak's prayer. Guru Nanak's spiritual beliefs and practices, based on his direct experience of God, were profoundly transformational. He brought the path to enlightenment closer to the masses by his use of a language that they understood. His monotheism, coupled with his emphasis on the pursuit of divinity while living the life of an ordinary householder, was a significant departure from the prevailing beliefs in renunciation, pilgrimage, and other rituals. A Gift of Grace: The Essence of Guru Nanak's Spirituality simplifies the Guru's core spiritual message for the modern reader. The author, at the outset, enunciates the spiritual foundation of the Guru's worldview and his conception of reality, including the nature of God. Japji Sahib, a foundational religious text, is presented in its original form together with an English translation and an in-depth commentary. The book concludes with a representative selection of the Guru's hymns.
About the Author
Daler Aashna Deol served as a lecturer in Political Science at the Delhi University for 13 years during which she published three books on political theory and comparative politics. After moving to the USA in 1983, she worked as an independent consultant, teaching Indian languages, culture, and politics to American foreign service officials and other agency staff. She co-authored Japji: The Path of Devotional Meditation with Surinder Deol, which was published in the USA in 1998. Her first collection of poems in Hindi titled Rubru came out in 2012. She has also translated Tu Hi Tu, a collection of selected poems by Maulana Rumi and Rabindranath Tagore, and Masiha, an adaptation of Khalil Gibran's classic The Prophet. She lives in Potomac, Maryland.
Preface
He spoke of love and compassion for all. He saw in the skies not only stars but the ..worlds beyond our world in an endless loop—an idea that his contemporaries could not fully comprehend. He called upon his followers to burn worldly love and think of the love that is endless and eternal. He knew that sickness in the human heart is not a common disease but a condition caused by our indifference to spiritual life. It is an eternal agony that is cured only by the love of the Lord, the Creator and sustainer of this universe. When we forget Him, we go astray and miss the opportunity to gain enlightenment in this life, which is a precious gift. He told his listeners that the sacred word (shabad) is a priceless pearl, and, when not used, it slips out of our grip and is hard to get back. He implored people around him, 'Love the Lord as lotus loves water: Get thirsty for the Name. He compared himself to a papiha (a songbird that is known to call for rain), seeking the water of God's mercy. Our life, he said, is like a long and sleepless night. There is only one source of light and grace—Ek Onkaar Sat Naam (One True Name). Don't wander all alone in the wilderness. Don't try to swim in the turbulent sea on your own. Seek help from the One, the Only One. He will tell you how to find pearls in the ocean, how to transform your ordinary mind into a temple, and how to end the sorrow of your soul permanently. He was Guru Nanak, born in 1469 in a modest Hindu family, who founded one of the newest world religions. He wrote 976 hymns and other compositions in 19 ragas that are exceptional in their poetic beauty and spiritual depth. This book simplifies Guru Nanak's message for the modern reader. Some of the foundational themes found in the first part of this work include love and compassion for fellow human beings, being a caring member of the family and the community to which one belongs, charitable giving, caring for and working to retain nature's beauty and environment, and maintaining a regular practice of name recitation (naam simran).
**Contents and Sample Pages**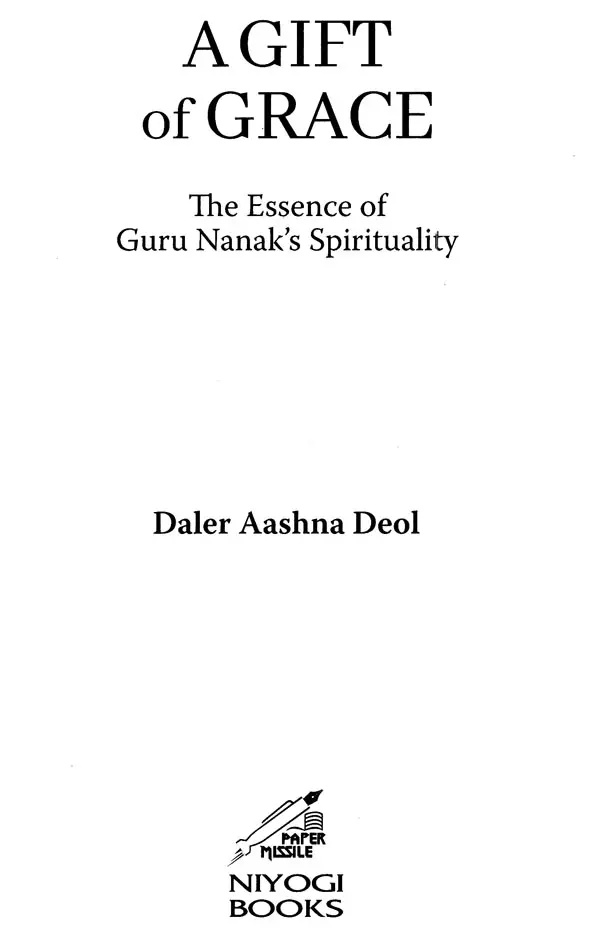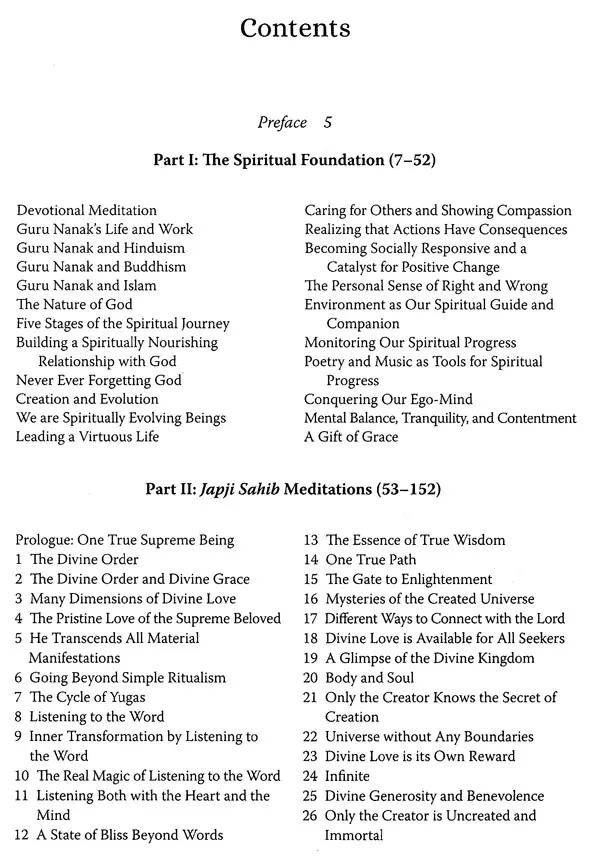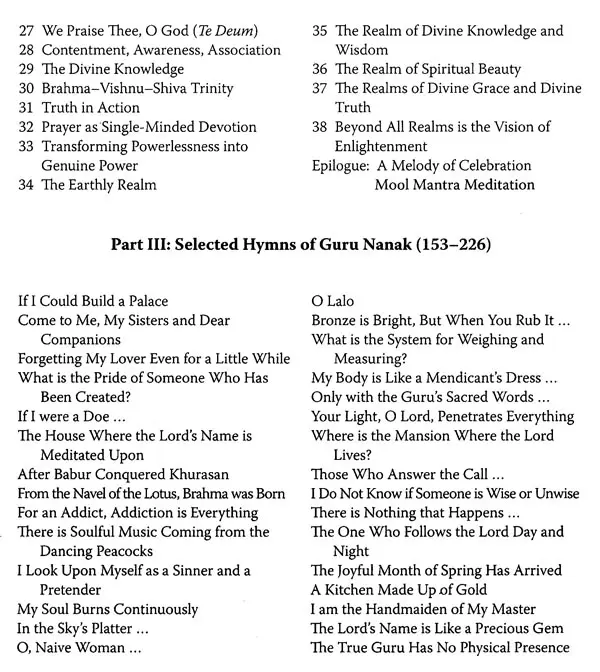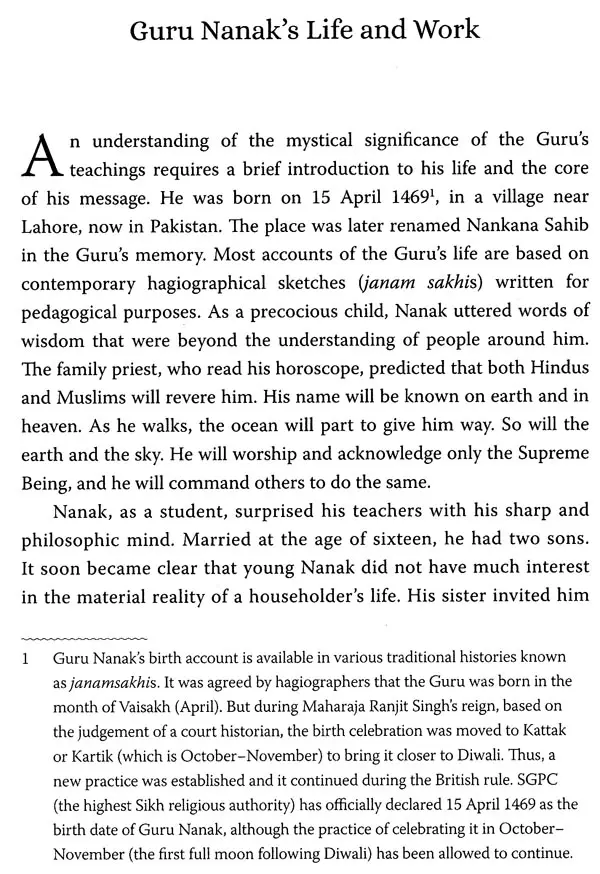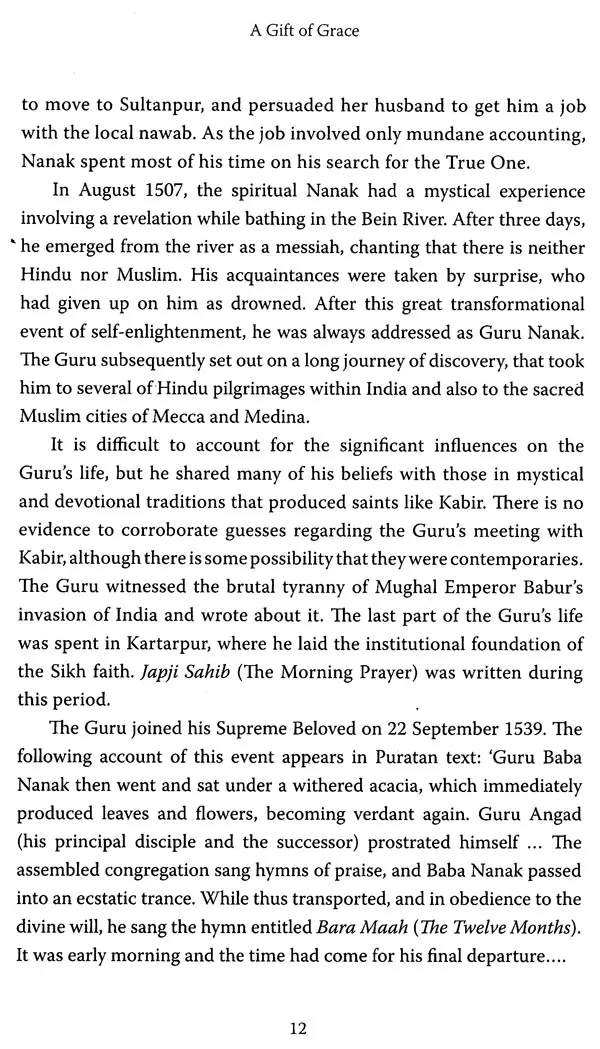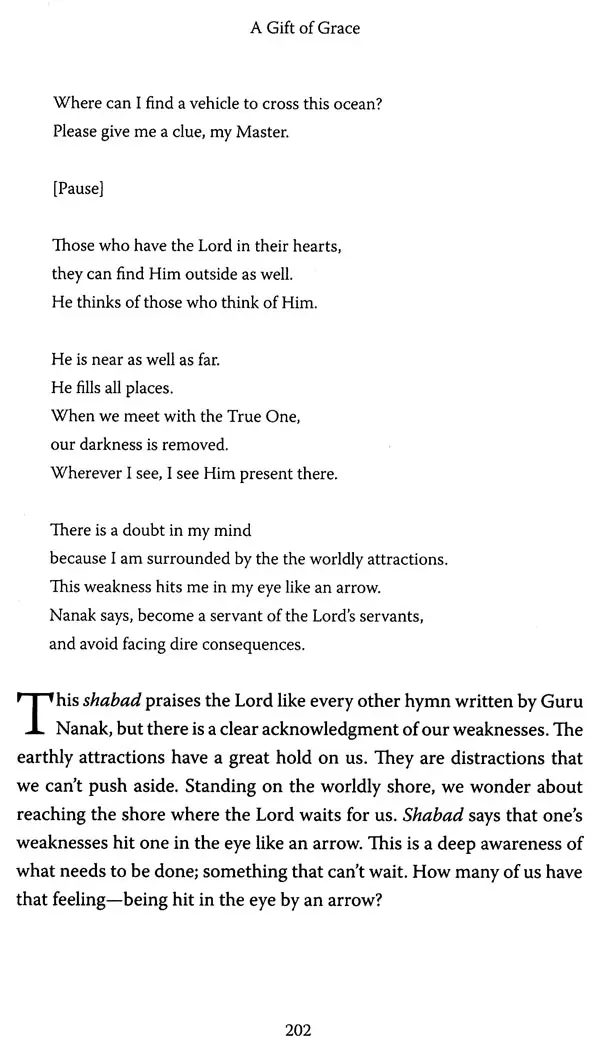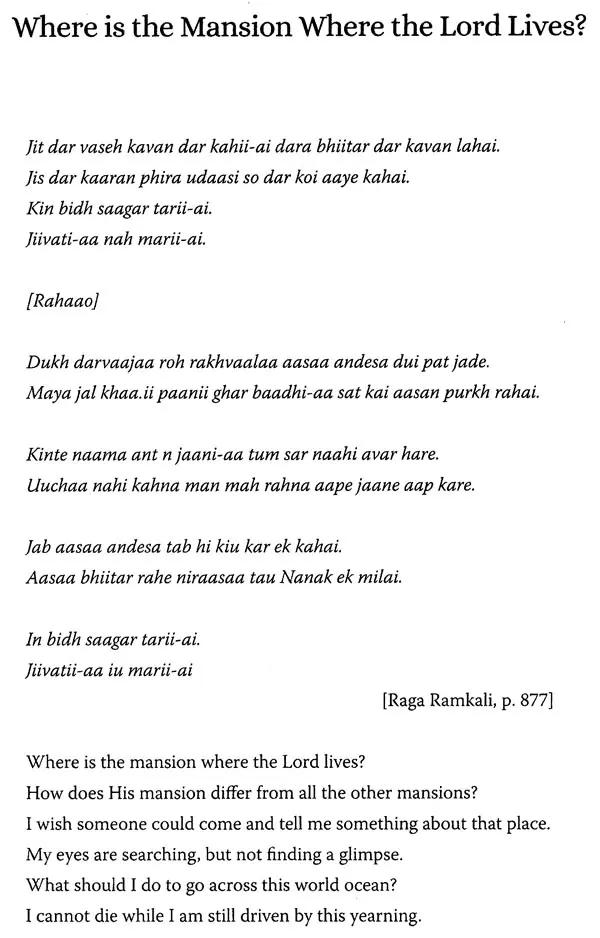 ---
We Also Recommend