Globalization Impact on Indian Economy, Society & Culture
$4480

$44.80
Tax included.
Shipping
calculated at checkout.
---
---
Book Specification
Book Description
About The Book
The present work on 'Globalization covers the transformation of Indian society and economy, both positive and negative changes, in the aftermath of LPG process initiated by the then government under the stewardship of Prime Minister Sri P. V. Narasimha Rao. Since 1990s, India witnessed radical changes in all most all spheres and there is no section left untouched without being affected. The policy formations since then by the political establishments to whichever party they belonged to, centered on capitalism. These policies led to the creation of corporate culture with the onslaught of multinational companies. This has become the mainstay of the rulers till this day and beyond. There is large-scale expansion of commerce with the introduction of private banking and insurance. Job opportunities multiplied in private sector but government jobs decreased correspondingly. The rapid utilization of natural resources resulted in luxury life but at the same time affected the environment notoriously leading to global warming and ecological imbalances. Cut throat competitions among the business world led to unhealthy practices. Corruption, ill health, pollution, degradation of culture has become the order of the day. Education has become a money-minting industry. Trade unionism is taking new form. Thus, this book has eminently scrutinized various components of the effects of globalization in India and will definitely make an interesting reading.
About the Author
Mr. I.L.N. Chandra Sekhar Rao has been rendering his services as Lecturer in History to UG and PG courses since 1990. Besides, his forte lies in writing books in Telugu. To his credit, he has published 20 Books and has contributed more than 3000 Articles in Telugu Dailies, weeklies and monthly magazines. At present, he is writing serials and columns for various Telugu magazines. In the weekly ANDHRA BHOOMI he has been writing a column under the title ALAYADARSHANAM for the past 13 years and it is the well reputed column which has received applause from all sections of people. He has involved in preparing lessons for Modern World History for UG 3" year and History Text Book for I year Intermediate which have been published by the Telugu Academy, Government of Andhra Pradesh, Hyderabad. At present, he is working as Head of the Department and Lecturer in History, Government College for Men (Autonomous), Kadapa, Andhra Pradesh. In addition, he is holding many responsibilities as Chairman of Board of Studies Department of History, Controller of Examinations and Coordinator of District Resource Centre of Government Degree Colleges, Kadapa District. Another feather to his cap is in organizing a National Seminar on Human Values and has published a book titled, "SIGNIFICANCE OF HUMAN VALUES: A PERSPECTIVE". Above all, he is a man of letters and has felt the pulse of the people and stakeholders in his journey as a good teacher of all times.
Introduction
In the present global scenario, the concepts like globalization, privatization and liberalization has occupied more public space than other areas. In light of this background the present book, Globalisation Impact on Indian Economy, Society and Culture, edited by I.L.N.Chandra Sekhar Rao, delineated the current debate on globalization from multiple dimensions and got its own name and fame and credibility. It carries seminal articles on globalization with regard to Indian economy, banking system, reforms, business, industry, trade and trade union movement, society, education, biodiversity, environment, natural resources, literature, and culture. Articles titled "Impact of Globalisation on Indian Economy" were written by host of authors, U. Krishna Mohan, N. V. Vasumathi, T. Penchalaiah, Sri B. Purushatham, Sri. N. S. Hanumantha Rao, D. Prabhu Das, and V Debora. They focus on the emergence of globalization and how it influenced the areas of agriculture, industry, finance, and merits and demerits of globalization on the one side and it effects on trade including imports and exports, income, human resource development, foreign exchange reserves, poverty, unemployment, food grains and some of the reform measures taken by the state on the other with illustrations and graphic accounts.
**Contents and Sample Pages**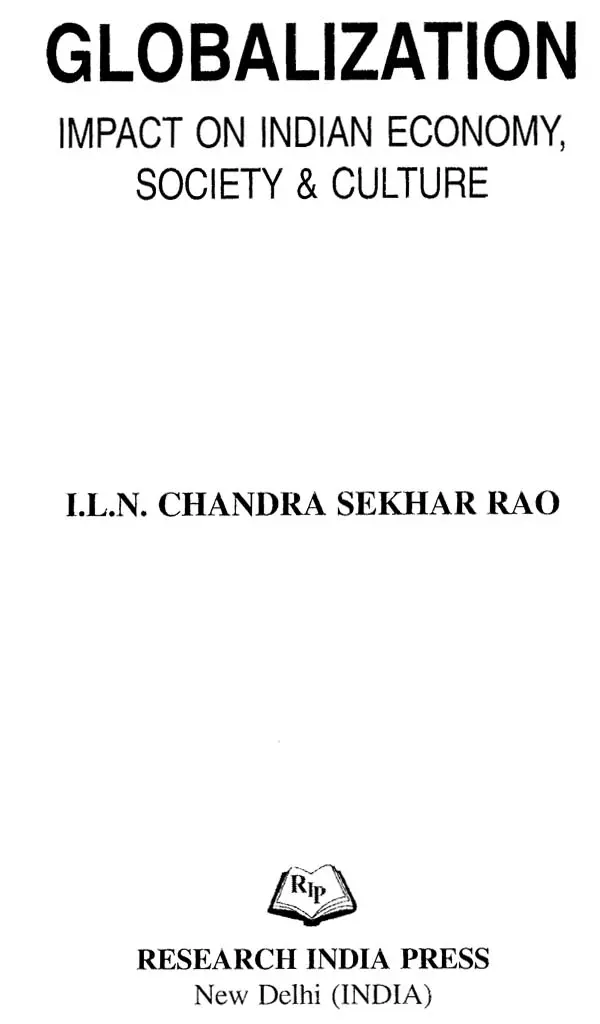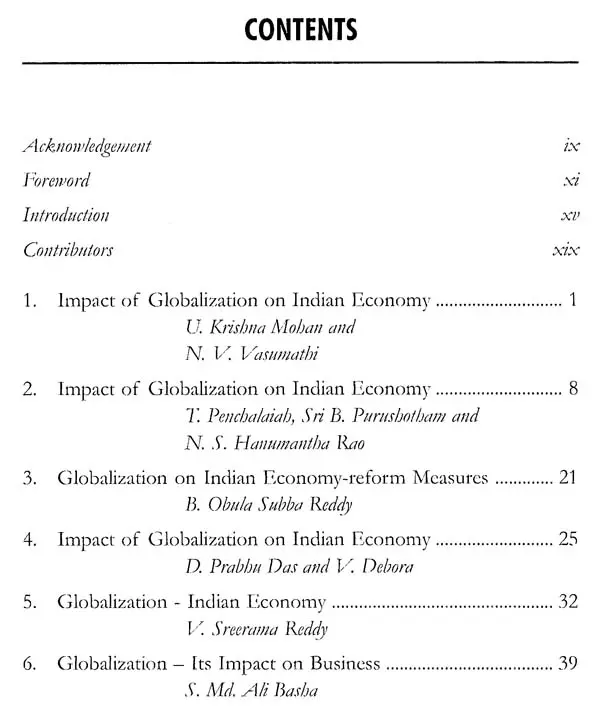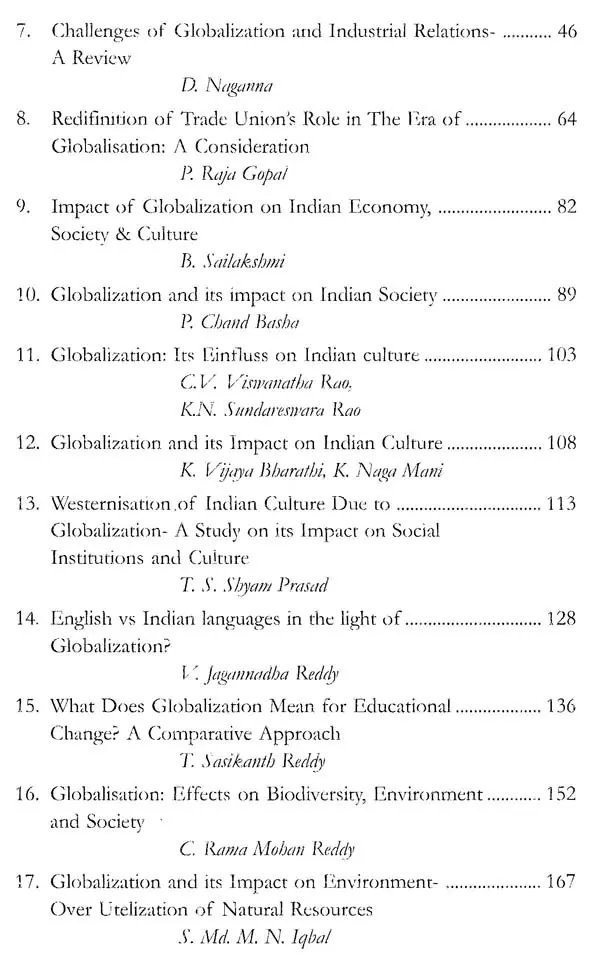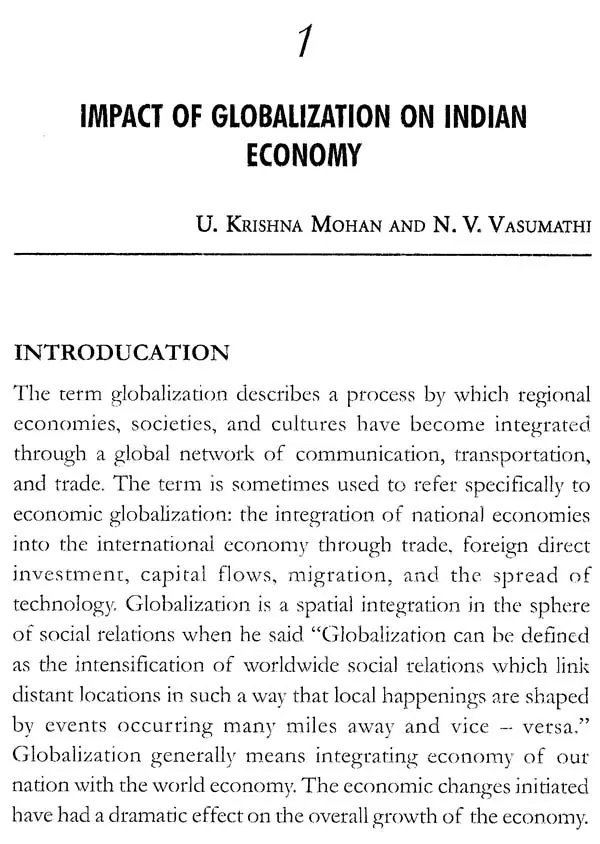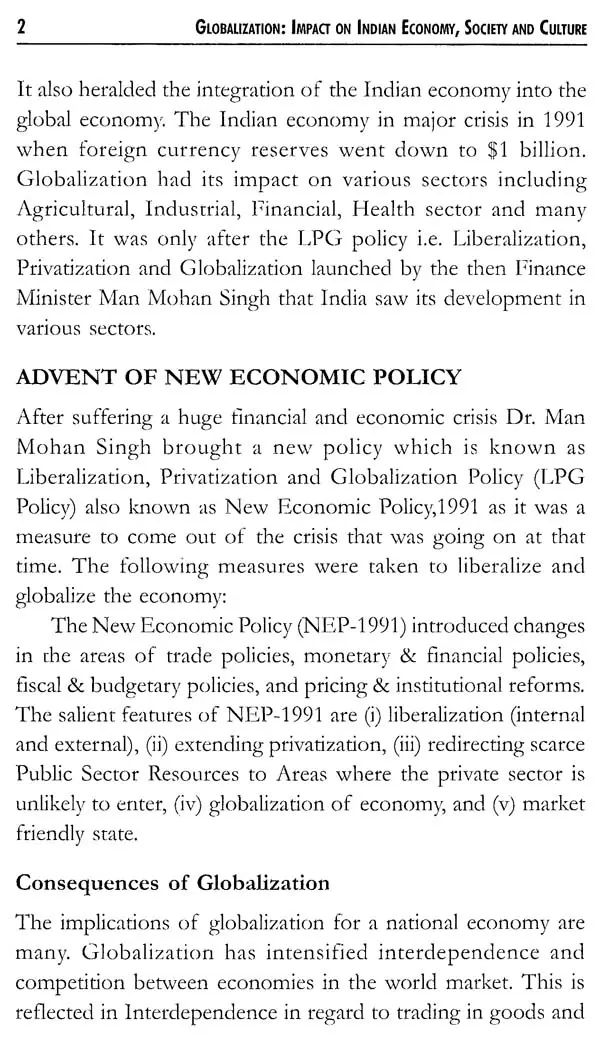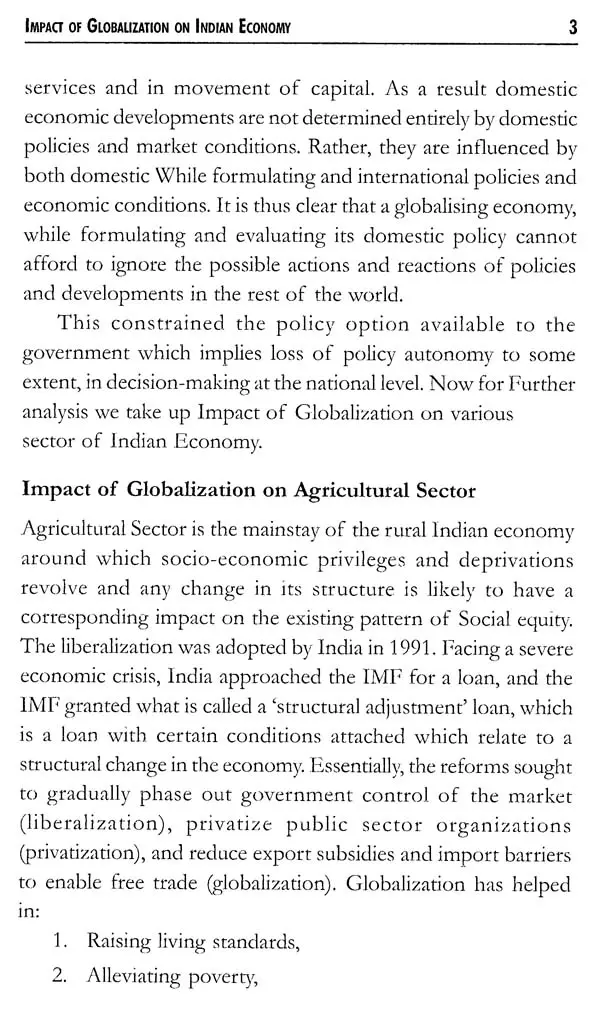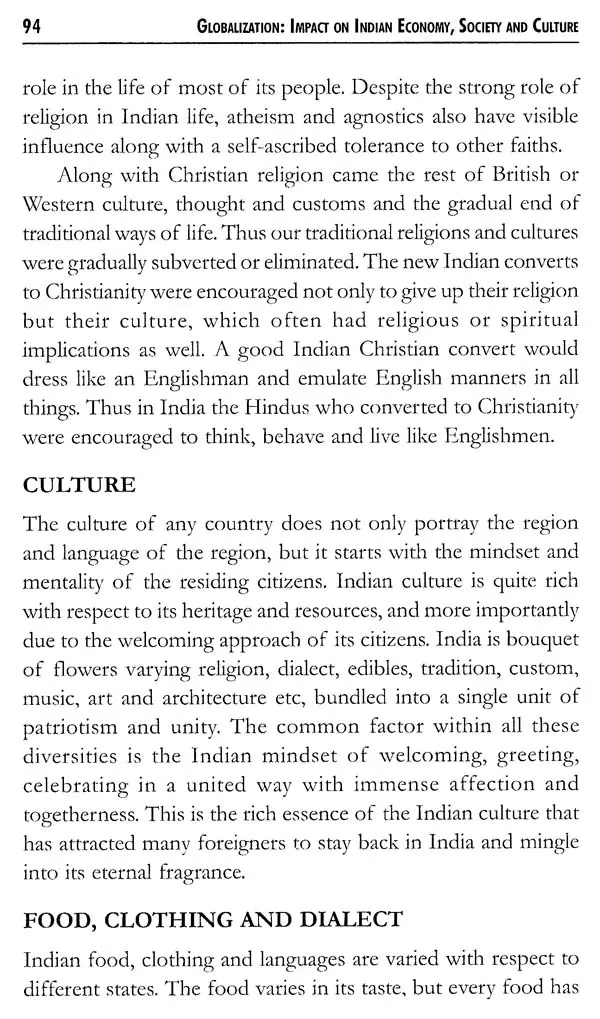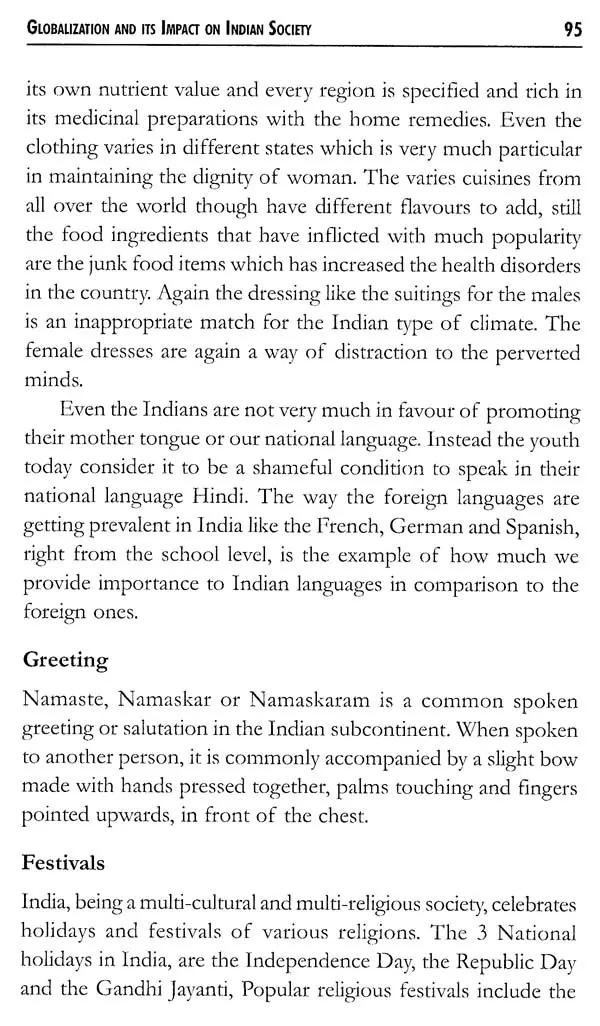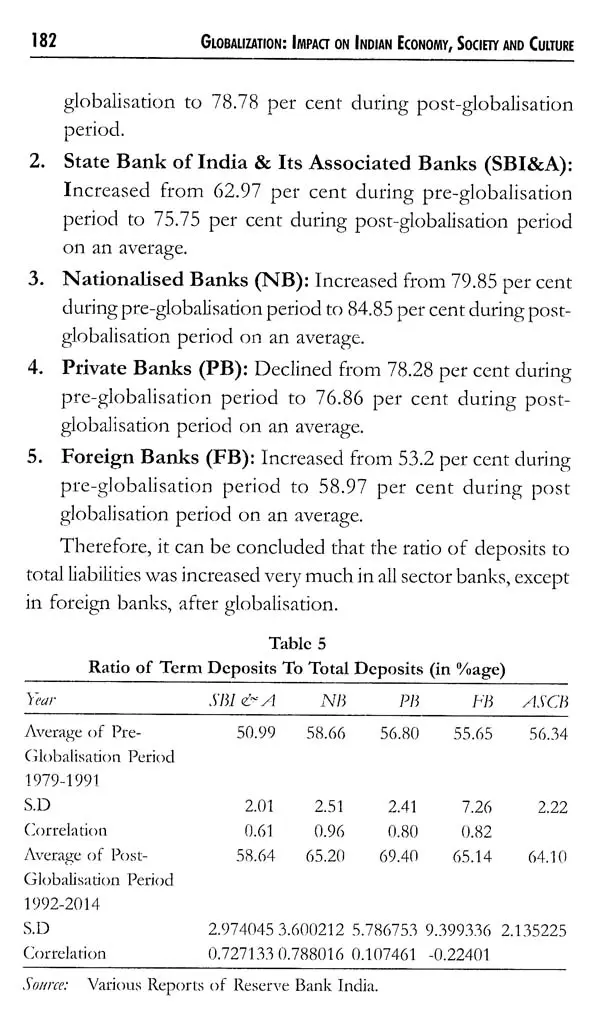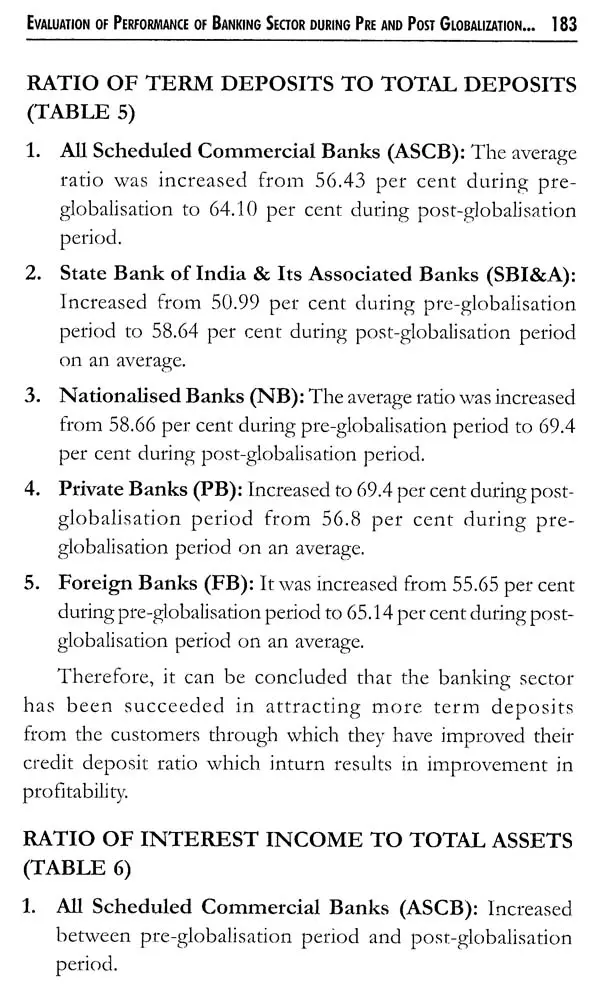 ---
We Also Recommend