Go Together: Adhyathma Ramayanam
$3800

$38.00
Tax included.
Shipping
calculated at checkout.
---
---
Book Specification
Book Description
ABOUT THE BOOK
"Adhyathma Ramayanam has a subtitle here 'Go-Together (Go-To-Get-Her). There are abuur thiny right versions of the Ramayanam. Among them all, the Adhyathma Ramayanam' is completely epitomized as a paragon. It is so, because, the origin of it is traced to Lord Shiyan. The Adhyathma Ramayanam has been expounded from the lotus lips of Lord Shivan Himself. At the behest of His Divine Consort Sri Parvathi Devi who wanted to know all about the Avathar (incamation) of Sti Raman and Sri Sica Devi, Lord Shivan recounts the saga of the Divine couple. Adliyathma Ramayanan is so important and special for it reaches pure spiritualism, mainly, through the chapter Rama Gital which is not found in any other Ramayanams. This Rama Gitai is preached to Lakshmanan by Sri Raman.
The great Sage Vyasar has anunciated the Adhyathma Ramayanam for the betterment and welfare of humanity. It emancipates the reader from all actions and inaction, Hence it embodies such tenets of the highest rank and serves as a guiding force, drawing inspiration from it, to lead this materialistic life in this mundane world. So let us immerse ourselves in the vast ocean of spiritual treasure to soothe our soul, refresh our spirit and enlighten our mind and thereby get the blessings of Lord Raman upon us.
Om TAT SAT
ABOUT THE AUTHOR
Subramaniah aged 63 years, living in Dindigul (India) with family is absorbed by the Almighty's Mighty grace and, was blessed by his Guru and the Guru blessed him and gauged him as the lover of God and God's love is his, in this sense he is called Iraianban. His followers and votaries admirably call him 'Swamiji', Iraiji, Guruji in the true sense of the word.
Though a science graduate, he is a versatile genius. Unlike mediocre human beingy, swamiji is a well versed preacher of spiritualism, a noted personality in the literary and spiritual fields. He is an eloquent orator and has delivered more than 4000 spiritual discourses and lectures in several temples. He is not only an orator but is also a prolific writer, poet and an eminent scholar in palmistry, astrology, music and a down to earth philosopher. He has a number of books to his credit, such as Qualitative Quatrains (Naaladiyar) Adhyathma Ramayanam (Go to Get Her) Preaching Vedanta, Mind and Meditation, Emancipational Commentary on Bhagavad Gita, Ennum Eluthum, Sundarar Devaram, Awai Kural, Aranericharam, Thirumanthiram and has translated many Tamil Classical works into English.
Most importantly he stands out as a Devaprachnam specialist and has given live programmes on as many number of televisions in several towns to show the way of getting rid of human woes and troubles. The welfare of the whole of humanity runs through every fibre of his body from head to foot. An unseen divine touch is felt in everything he does and says. He is the Universal Mind which knows and reads other minds.
PREFACE
"Adhyathma Ramayana' is the soul stirring epic of the sublime human being, Raman, an incarnation of Lord Vishnu. While it is sheer human nature, which tends to deify men of heroic qualities, in this scriptural epic it is God enfleshed, God who humanizes as Raman, the hero, epitomizing a person who should elevate himself to a perfect state through his efforts, thus serving as a role model for mankind.
Our deep sense of spiritual values have been deluged by a new sense of misapprehended or misinterpreted secularism, rapidly weakening our hold on the basic truths of spiritualism and religion. This breathtaking new sense has inevitably led to the present tempo of materialistic modes of thought and life, which pose as a serious distortion to morals, philosophy. religion and God. Hence there is an urgent and great need for a reinterpretation and a redefinition of the role of religion and spirituality in human life.
At this stage it has become necessary to fall back on our great epic "The Adhyathma Ramayanam to delve deeper into the realms of spiritual knowledge for a mobilization of our spiritual resources and for an insurgence of spiritual values into the tenor of our life, to mould the thought and moral life of mankind, as the Adhyathma Ramayanam' is the fountain head of our spiritual heritage, with an elaboration of even the minutest details relating to several miniscule facets of life.
There happens to be scores of Ramayanam. Yet, the Adhyathama Ramayanam' is a lofty work presented in the form of an interlocution between God Shivan and Devi Parvathi in the Padma Puranam. It is taken for granted that the great Sage Yagnavalkya reproduced it in the form of Adhyathama Ramayanam. However, as the name indicates, the "Adhyathama Ramayanam' is a hypostatic union of the 'Word made Flesh", a living embodiment of words presented out of divine will.
The original Sankrit text is classified into Seven Kandhams (Parts) with sixty-four chapters (Sargas) comprising four thousand and hundred slokas together with hundreds of Sruthis with analysis of the Tattvas. The *Adhyathama Ramayanam conveys the story in brief but touches all the themes, yet its contents are quite summarized and briefly dealt with. It too has the sixth kandham as the Yudha Kandham whereas Tulasidas has given the name Lanka Kandham.
The descriptions here are given in slightly different styles. The Bala Kandham commences with Sage Naradhar's invocation to Lord Brahman to suggest an easy way out for the atonement of one's sins. Brahman propagates that there is no greater spiritual exercise benefiting mankind than the reverential study of the 'Adhyathama Ramayanam', the most efficacious act of expiation, which is par excellence.
Then unfolds the interlocution between Devi Parvathi and God Shivan, the latter revealing to the former the hidden mysteries of Sri Raman's life history, which liberates human beings from the seemingly unbreakable link of bondage with transmigration in this secular world. Then ensue the episodes or Raman's birth, His departure to the forest, the annihilation of the demons, Raman's marriage to Sita and the encounter with Parasuraman. The episodes of the ensuing Kandhams unravel naturally and fluently.
INTRODUCTION
Yes! Go together...! For what? With whom? Why? To get her, i.e., Go to Get her. 'Her' means victory both mundanely and as well as spiritually, the sole motto of human life is nothing but to realize the inner self, that is Paramathma, which is shielded by the fleshy body and thus it underestimates itself as the body itself and it wastes its whole life in earning everything to attain mental contentment and lastly it comes to realize that nothing can be had full-fledged through the processes of all the passages of this life. So, Lord Rama Himself, incarnates as a human being and thus he leads a simple (Soulapya bava), orthodox life by which he exemplifies Himself as the life's motto, to be attained. He shows the pathways thoroughly to adhere to the principles and regulations to attain ecstasy. In Ramayana, (the pathway which was shown by (the Lord) Ram Himself feels everything and shows the depth of nothing in this world and He, as a son, shows His eminence and teaches us now to behave the livelihood of son and parent; He shows the inner eminence prophecy as a master with Gughan and Hanuman and thus He reveals the best relationship between both the planes of mundane life. As a warrior, he shows bravery and valour and How we should be ready to forgive anyone, if he surrenders wholeheartedly, and even Lord Ram was ready to give Ayodhya to Ravanan and thus the Golden sentence is in upto date life i.e., whoever rules, Rama or Ravana everybody is quite suitable to rule and give a balanced government. As a husband, he lived along with His wife Sita and children Lava and Kusa-without any narrow mindedness and he shows his vast love, and delivered all of his duties to the entire satisfaction of all, even today also. Rama's life, whenever we go through it with a divine taste, giving so many experiences and we can taste the inner ambrosia of Rama nama's excellence. As a king, he ruled over the country very well and he established 'Rama Rajya'. As a Guru, he preached 'Rama Gita' through which he insists on the holiness of Dharma and ceremonies. As a brother, he mounts himself as everest in all of his six brothers (Lakshman, Bharathan, Sathrughna, Gugha, Sugrivan and Vibishana) through a faithful approach not only by word, only through Rama's deeds. Rama is everliving as a word, holy manthra and an Epic and that is why so many saints and Rishies, chanting this manthra, dhraga divine word attain the Eternal Bliss. This can be experienced through our own livelihood only; it can be written inwards but it is to be realized only by our self; this is the motto of our life; and that is why we are having this unequivalent and unfparallaled most enriched valuable life. Through Ramayana, we can know easily the synopsis, i.e. if a man lives with ahimsa and sathya, all human beings, Rakshasas, even birds and everything will assist and help us to attain success in our worthful succeeding without any failure., at all.
**Contents and Sample Pages**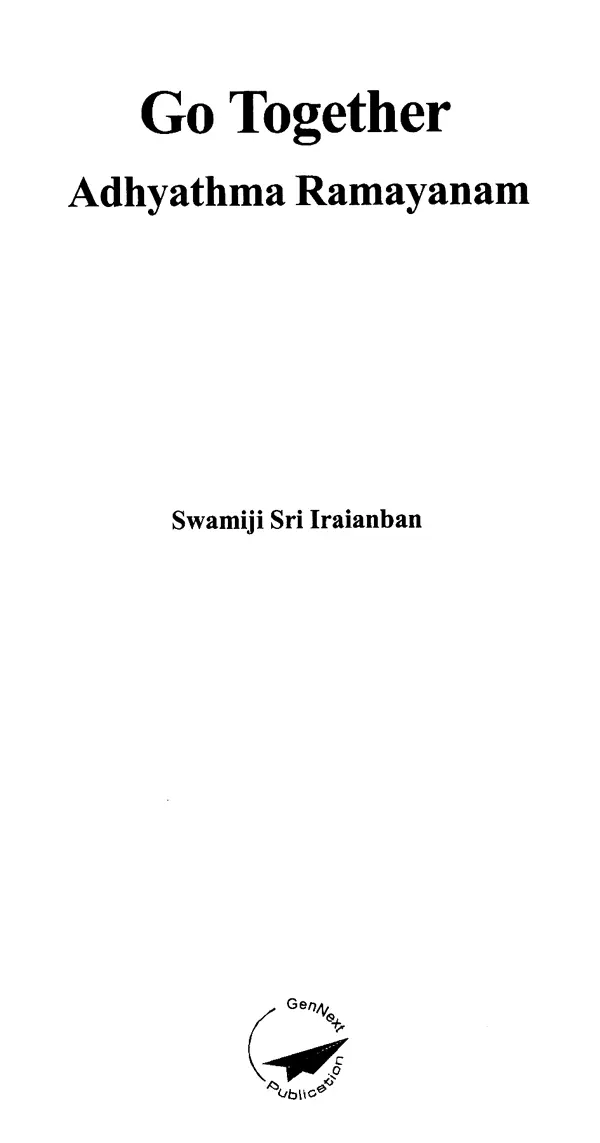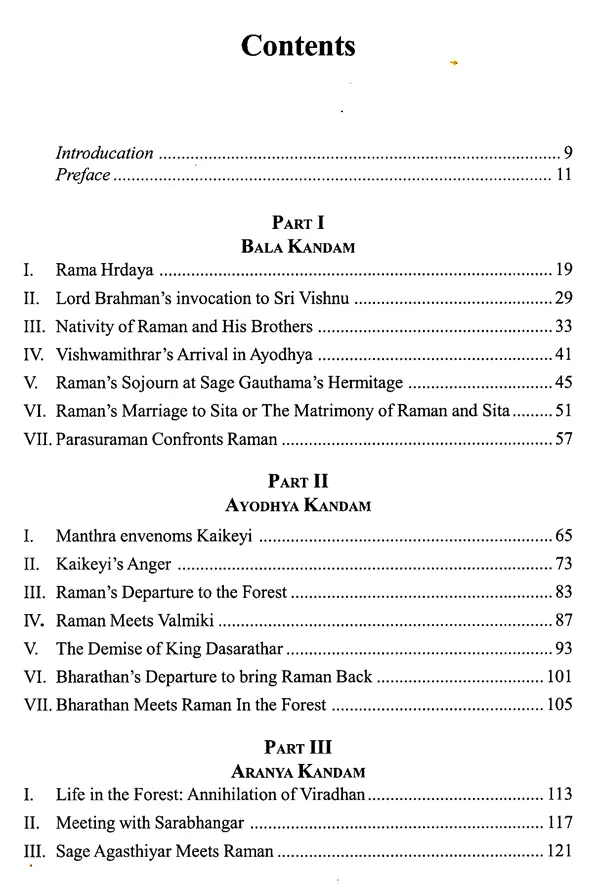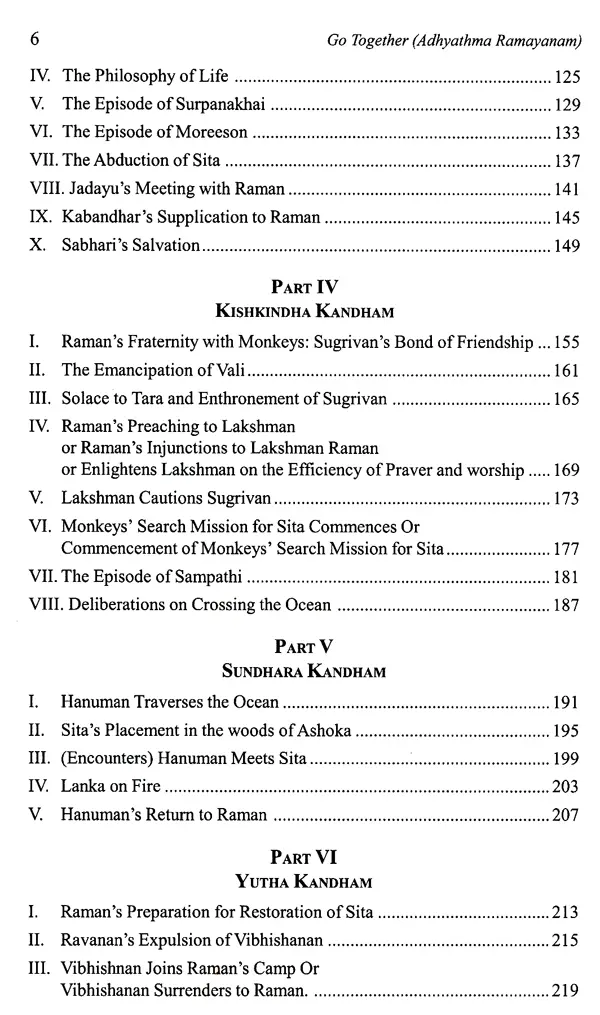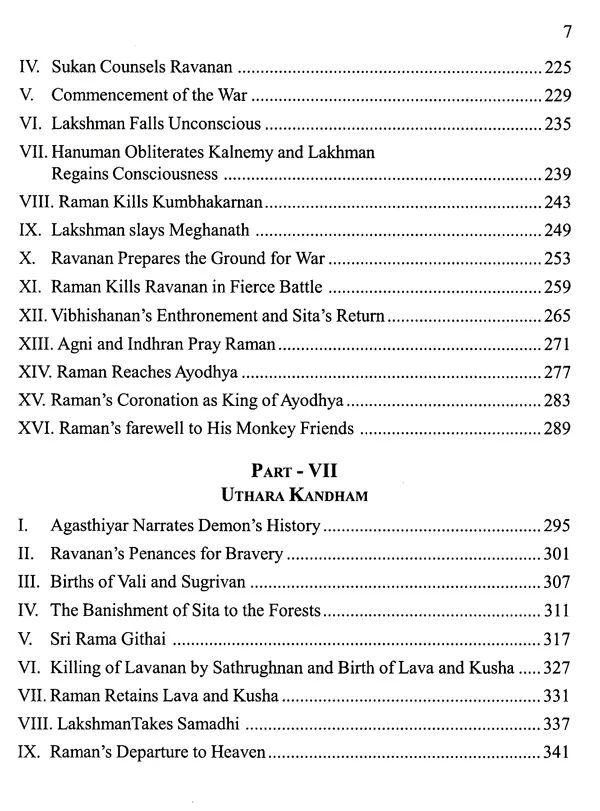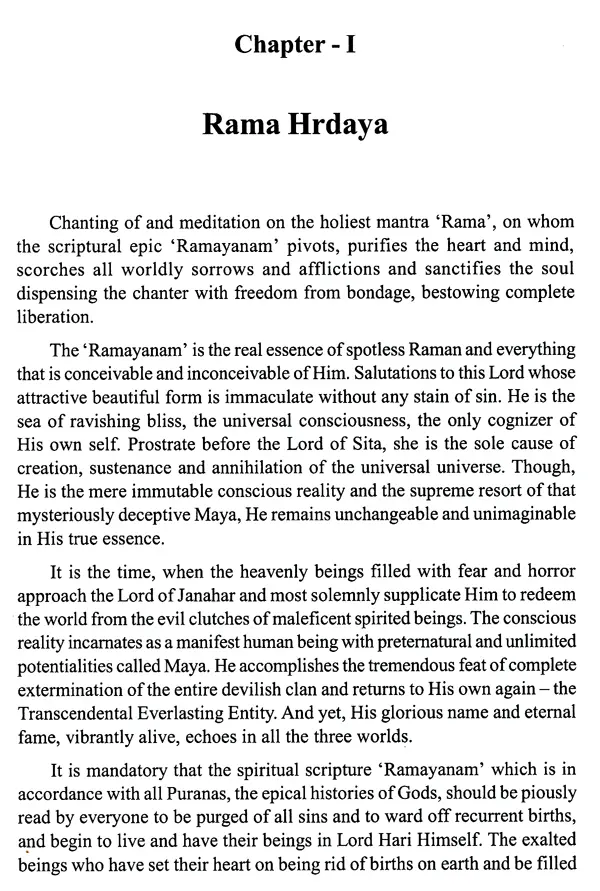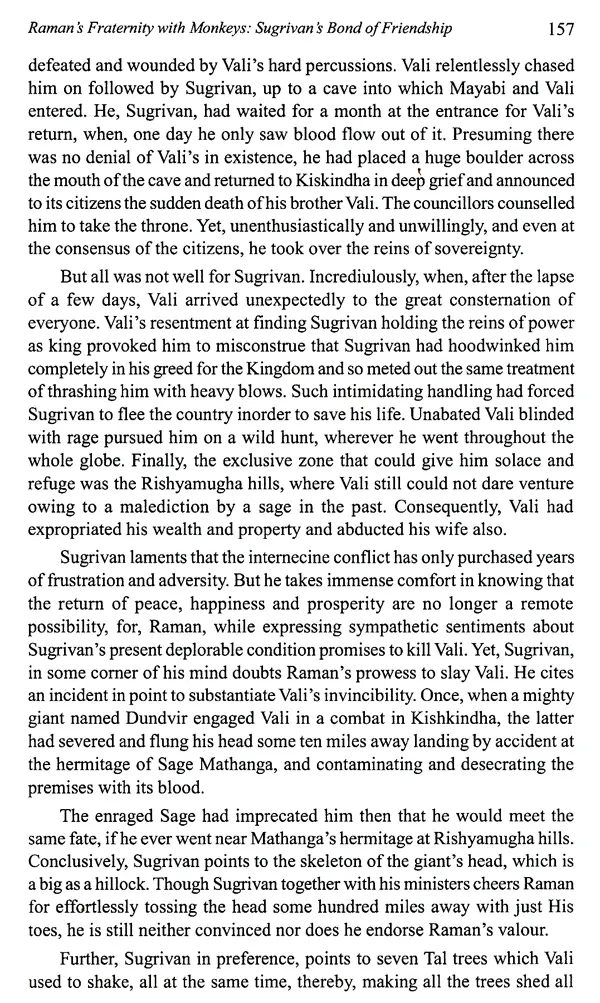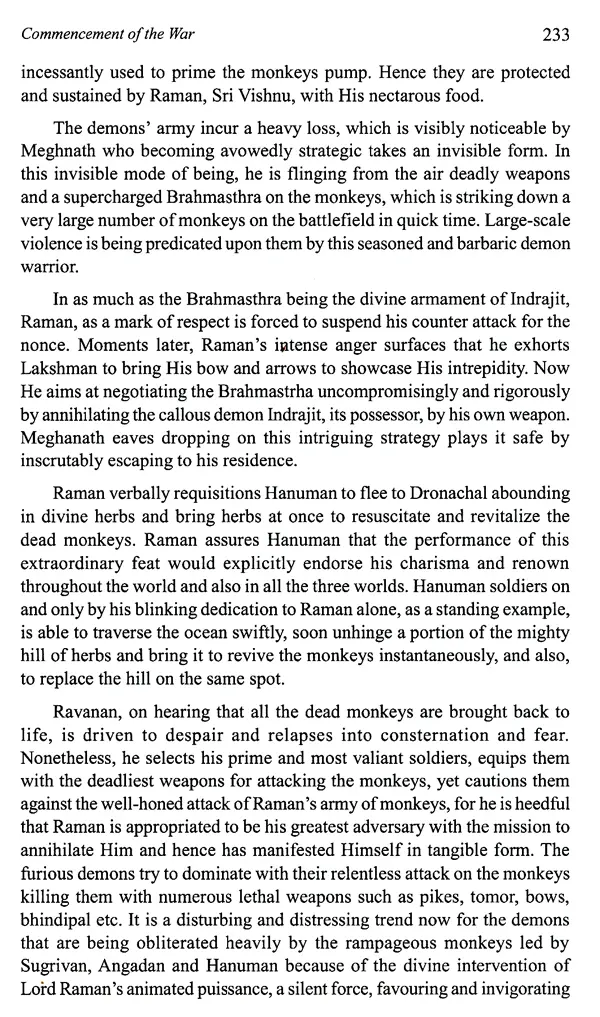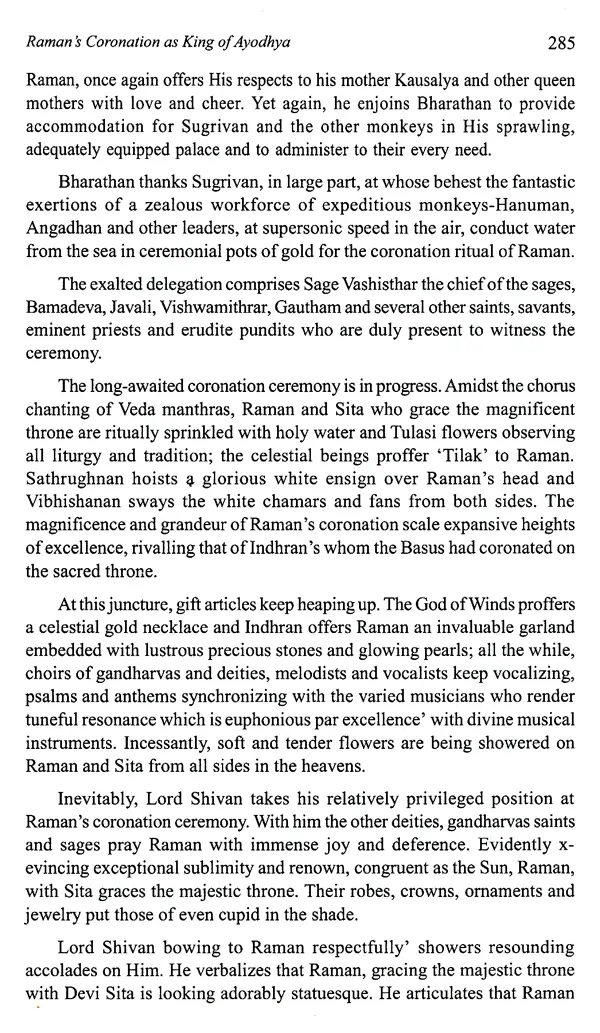 ---
We Also Recommend