A Guide to Ayurvedic Competitive Examinations (P.G. Entrance Examinations, Medical Officer's, Screening tests, J.R.F. Examinations etc) (Volume 1)
$4000

$40.00
Tax included.
Shipping
calculated at checkout.
---
---
Book Specification
Book Description
Preface
In ancient period the teaching system of Ayurvedic of Ayurvedic is purely based on Guru sisya parampara (Teacher taught Pattern) which is rarely found in present times. In this present era many of the universities in Indian in western countries have introduced graduation (B.A.M.S.), Post to getting the admission in above said course candidates are facing entrance examinations. Even after completion of above course for getting services as medical officers, lectures all State public service commission, Union Public service commission, E.S.I.C. have conducting the screening test in order to select the good scholars in Ayurveda. Hence there is a competition not only in getting post graduation but also in government service too. But the competitors are handicapped without proper guidance and proper precise book to face the competitive examinations in Ayurveda. With a view to serve the needs of aspirants I made an earnest attempt to prepare this book.
A guide to Ayurvedic competitive examinations is in two parts. In this book which is the first part all non clinical and para clinical subjects are taken viz. Ayurvedic itihas, Padartha vijnanam, Sarira racana, Sarira Kriya, Dravya guna, Rasa sastra, Bhaisajya kalpana vijnanam and Swastha vritta vijnanam. Each subject is deal with briefly but consisely choice questions alongwith key. The material prepared in this book is lucid, very systematic covering the almost all the topics of C.C.I.M. syllabus. The MCQ presented in this book are framed in different angles utilising the full experience of the author with utmost care
This book is very useful for those who are out of touch with the subject for longer and for whom it can serve as refresher and ready reconer. The candidates appearing for competitive examinations will find this useful to test their depth of knowledge, alertness, and ability to view the problems form different angles. Candidates can make genuine self-assessment and after going through this book face competitive examination with greater confidence.
For the under graduates and post graduates this book can be used as a ready reconer and in preparation for vivavoca examinations. If any scholar finds any lacuna in this book his/her positive suggestions will be obliged whole heartedly.
Highlights of this book
1) This book covers the following subject I) Ayurveda itihas II) Padartha Vijnanam III) Sarira racana IV) Sarira Kriya V) Dravya Guna VI) Rasa sastra VII) Bhaisajya kalpana vijnanam VIII) Swastha vritta vijnanam 2) Each and every subject is provided with an important and most informative material to have a nut shell picture of the subject.
3) In each subject several relevant multiple choice questions with key are provided at the end to have a good idea as well as quick moments 4) Most of the material and multiple choice questions presented in this book are based on CCIM syllabus and previous question papers of different M.D. (Ay) entrance examination, medical officers screening test etc.
5) Most of the material is presented in tabular from to have a good look and quick understanding.
6) Utmost care is taken to cover the entire syllabus by framing good number of multiple choice questions and subject material in tabular form.
7) All multiple choice questions are presented very significantly and systematically with a view to possible formation of questions in different angles and their multiple options.
8) The material and multiple choice questions of this book are very consize and precise. Repetitions are rarely done with a view to show its importance or the change in style of questions in different angles and also to a void the confusion.
9) Some questions are prepared in negative manner to let the aspirant know the concentration on the questions, as well as the multiple options.
10) Special care is taken to prepare key to multiple choice questions in order to a void mistakes.
About the book
'A Guide to Ayurvedic competitive examinations' is in two parts. In this book which is the Ist part all non clinical and para clinical subjects are taken viz.
*Ayurvedic Itihas,
*Padartha Vijnanam
*Sarira Racana Vijnanam
*Sarira Kriya Vijnanam
*Dravyaguna Vijnanam
*Rasa Sastra
*Bhaisajya Kalpana Vijnanam
*Swastha Vritta Vijnanam.
Each subject is dealt with briefly but consisely and important matter are highlighted followed by 'Multiple choice questions' alongwith key. The material prepared in this book is lucid, very systematic covering the almost all the topics of C.C.I.M. syllabus. The MCQ's presented in this book are framed in different angles utilizing the full experience of the author with utmost care
Index
| | | |
| --- | --- | --- |
| | | |
| | 1. Ayurveda Itihas | |
| S. No. | Contents | Page No. |
| 1. | Caraka Samhita | 1.1 |
| 2. | Commentaries of Caraka Samhita | 1.1 |
| 3. | Susruta Samhita | 1.2 |
| 4. | Commentaries of Susrutra Samhita | 1.2 |
| 5. | Astanga Samgraha | 1.3 |
| 6. | Commentary on Astanga Samgraha | 1.3 |
| 7. | Astanga Hridayam | 1.3 |
| 8. | Commentaries of Astanga Hridayam | 1.4 |
| 9. | Sarangadhara Sahmita | 1.5 |
| 10. | Commentaries of Sarangadhara Samhita | 1.5 |
| 11. | Madhava Nidanam | 1.5 |
| 12. | Commentaries of Madhava Nidanam | 1.5 |
| 13. | Bhava Prakasa | 1.6 |
| 14. | Kasyapa Samhita | 1.7 |
| 15. | Bhela Samhita | 1.7 |
| 16. | Harita Samhita | 1.8 |
| 17. | Books and authors | 1.8 |
| 18. | Books Nidana and their authors | 1.8-1.9 |
| 19. | Books of Cikitsa and their authors | 1.9-1.10 |
| 20. | Books of Dravyaguna and their authors | 1.11 |
| 21. | Books if Bhaisajya Kalpana their authors | 1.12 |
| 22. | Multiple choice Questions | 1.13-1.31 |
| 23. | Key to Multiple choice Questions | 1.32 |
| | 2. Padartha Vijnanam | |
| 1. | Vedas and their upavedas | 2.1 |
| 2. | Books and authors | 2.1 |
| 3. | Types of darasanas | 2.1 |
| 4. | Sankhya darsana | 2.2 |
| 5. | Sristi vikasa krama as per Sanikhya darsana | 2.2 |
| 6. | Nyaya darsana | 2.2 |
| 7. | Padarthas as per Nyaya darsana | 2.3 |
| 8. | Sidhanta | 2.3 |
| 9. | Pancavayavas | 2.3 |
| 10. | Types of Chala | 2.4 |
| 11. | Types of Tarka | 2.4 |
| 12. | Types of Jati | 2.4 |
| 13. | Nigraha sthanam | 2.4-2.5 |
| 14. | Citta Vritties | 2.5 |
| 15. | Astanga yoga | 2.5 |
| 16. | Yama types | 2.5 |
| 17. | Satkarmas | 2.5 |
| 18. | Niyama types | 2.6 |
| 19. | Asta siddhi | 2.6 |
| 20. | Panca klesa | 2.6 |
| 21. | Cittabhumikas | 2.6 |
| 22. | Sadcakras | 2.6 |
| 23. | Vaisesika darsana | 2.6-2.7 |
| 24. | Purva mimamsa | 2.7 |
| 25. | Uttara mimamsa | 2.7 |
| 26. | Carvaka darsana | 2.7-2.8 |
| 27. | Bauddha darsana | 2.8-2.9 |
| 28. | Jain darsana | 2.9 |
| 29. | Common features of Sankhya darsana and Ayurveda | 2.9 |
| 30. | Common features of Vaisesika darsana and Ayurveda | 2.9 |
| 31. | Common features of Nyaya darsana and Ayurveda | 2.9 |
| 32. | Common features of Yoga darsana and Ayurveda | 2.9 |
| 33. | Common features of Bauddha darsana and Ayurveda | 2.9 |
| 34. | Padartha laksanas | 2.9 |
| 35. | Padartha samkhya | 2.10-2.11 |
| 36. | Classification of Padartha | 2.11 |
| 37. | Panca mahabhutas and their gunas | 2.11 |
| 38. | Asadharana laksana of bhutas | 2.12 |
| 39. | Akasa mahabhuta | 2.12 |
| 40. | Vayu mahabhuta | 2.13 |
| 41. | Tejo mahabhuta | 2.13 |
| 42. | Jala mahabhuta | 2.13-2.14 |
| 43. | Prithvi mahabhuta | 2.14 |
| 44. | Atma | 2.14 |
| 45. | Purusa | 2.15 |
| 46. | Manas | 2.15 |
| 47. | Antah karana catustayam | 2.15 |
| 48. | Antah karana trayam | 2.15 |
| 49. | Guna | 2.16 |
| 50. | Samanyam | 2.16 |
| 51. | Visesam | 2.16 |
| 52. | Samavaya | 2.17 |
| 53. | Abhava | 2.17 |
| 54. | Pramanas | 2.17 |
| 55. | Darasanas and their accepted pramanas | 2.17 |
| 56. | Pratyaksa pramana | 2.18 |
| 57. | Classification of pratyaksa pramana | 2.18 |
| 58. | Types of indriyartha sannikarsa | 2.18 |
| 59. | Pratyaksa badhakabhavas | 2.18-2.19 |
| 60. | Anumana pramana | 2.19 |
| 61. | Types of anumana pramana | 2.19 |
| 62. | Hetva bhasam | 2.19 |
| 63. | Upamana pramana | 2.20-2.21 |
| 64. | Sabdha pramana | 2.21 |
| 65. | Qualities pf apta | 2.21 |
| 66. | Clinical aspects of anumana pramana | 2.21-2.22 |
| 67. | Tad vidya sambhasa | 2.22-2.23 |
| 68. | Vedas | 2.24 |
| 69. | Tantra yukti | 2.24-2.25 |
| 70. | Tantra dosas | 2.25-2.26 |
| 71. | Sapta vidha kalpana | 2.26 |
| 72. | Taccilyas | 2.26 |
| 73. | Ardasrayas | 2.26 |
| 74. | Multiple choice Questions | 2.27-243 |
| 75. | Key to Multiple choice Questions | 2.44 |
| | 3. Sarira Racana | |
| 1. | Pranas of Garbha | 3.1 |
| 2. | Sapta vidha twak and their characters as per Susruta | 3.1 |
| 3. | Sapta vidha kalas and their location as per Susruta | 3.2 |
| 4. | Origin of different organs as per Susruta | 3.2 |
| 5. | Sadanga sariram | 3.3 |
| 6. | Single parts of the body | 3.3 |
| 7. | Double organs of the body | 3.3 |
| 8. | Body parts and their number as per Susruta | 3.3 |
| 9. | Description of body parts as per Susruta | 3.4 |
| 10. | Types of asthi and their distribution as per Susruta | 3.5 |
| 11. | Types of asthi sandhies and their distribution as per Susruta | 3.5 |
| 12. | Snayus and their types | 3.5 |
| 13. | Types of Snayus and their distribution as per Susruta | 3.6 |
| 14. | Pesi | 3.6 |
| 15. | Merma Vijnanam | 3.6-3.13 |
| 16. | Mula of Yogavaha Srotas and their vidha laksanas as per Susruta | 3.14-3.15 |
| 17. | Synonyms of Srotas | 3.15 |
| 18. | Description of Twak as per Caraka | 3.15 |
| 19. | Description of body parts as per Caraka | 3.16 |
| 20. | Total number of asthies | 3.16 |
| 21. | Dasavidha pranavatanas | 3.17 |
| 22. | Panca dasa kostangas | 3.17 |
| 23. | Mahanti Chidrani | 3.17 |
| 24. | Quantity of body fluids and semi fluids as per Caraka | 3.18 |
| 25. | Mula of srotas and their pradusta laksanas as per Caraka | 3.19-3.21 |
| 26. | Multiple Choice Questions | 3.22-3.42 |
| 27. | Key to multiple choice questions | 3.43 |
| | 4. Sarira Kriya | |
| 1. | Ayu | 4.1 |
| 2. | Synonyms Ayu | 4.1 |
| 3. | Sarira | 4.1 |
| 4. | Composition of Sarira | 4.1 |
| 5. | Dosas | 4.1 |
| 6. | Sapta dhatus | 4.1 |
| 7. | Trimalas | 4.1 |
| 8. | Dosas and their bhautitaka composition | 4.1 |
| 9. | Dhatus and their bhautika composition | 4.2 |
| 10. | Malas and their bhautika composition | 4.2 |
| 11. | Dhatus and their upadhatus | 4.2 |
| 12. | Dosas and their main sites | 4.2 |
| 13. | Dosas and their normal functions | 4.3 |
| 14. | Dosas and their gunas | 4.3 |
| 15. | Dosa and their predominance in relation to age and time | 4.4 |
| 16. | Dosa predominance and their related type of agnies and diseases | 4.4 |
| 17. | Dosas and their relation to kosta | 4.4 |
| 18. | Dosas and their relation to prakriti | 4.5 |
| 19. | Dosas and their Samaka rasas and kopaka rasas | 4.5 |
| 20. | The relation of asrayi and asraya of dosa Dhatu malas | 4.5 |
| 21. | Dosas and their relation with Triguna | 4.6 |
| 22. | Tridosas and their seats in the body | 4.6 |
| 23. | Dosas and their types | 4.6 |
| 24. | Five types of Vata and their sites and functions | 4.7 |
| 25. | Five types of Pitta and their sites and functions | 4.8 |
| 26. | Five types of Slesma and their sites and functions | 4.9 |
| 27. | Dhatus and their main functions | 4.9 |
| 28. | Sapta dhatus and their normal functions as per Susruta | 4.10 |
| 29. | Sapta dhatus us and their vriddhi ksaya laksanas as per Susruta | 4.10-4.11 |
| 30. | Dhatus and their vriddhi and ksaya laksanas as per Vagbhata | 4.12-4.13 |
| 31. | Dhatus and their malas | 4.14 |
| 32. | Malas and their main functions | 4.14 |
| 33. | Normal functions of Trimalas as per Susruta | 4.14 |
| 34. | Trimalas and their vriddhi ksaya laksanas | 4.15 |
| 35. | Characteristic features of normal Sukra | 4.15 |
| 36. | Characteristic features of normal Rakta | 4.15 |
| 37. | Artava | 4.16 |
| 38. | Artava dosas and their laksanas | 4.16 |
| 39. | Characteristic features of normal artava | 4.16 |
| 40. | Stanya | 4.16 |
| 41. | Stanya sravaka bhavas | 4.16 |
| 42. | Quantity of stanya | 4.16 |
| 43. | Ojo vijnanam | 4.17 |
| 44. | Characteristic features of normal ojas | 4.17 |
| 45. | Functions of ojas | 4.17 |
| 46. | Ojo dosas | 4.17-4.18 |
| 47. | Manas | 4.18 |
| 48. | Ahamkara types | 4.18 |
| 49. | Satvikahamkara laksanas | 4.18 |
| 50. | Rajasahamkara laksanas | 4.18-4.19 |
| 51. | Tamasahamkara laksanas | 4.19 |
| 52. | Satva sara purusa laksanas | 4.19 |
| 53. | Sad cakras | 4.20 |
| 54. | Sad cakras location, tatva and adhisthana sakti | 4.20 |
| 55. | Sad cakras shapes and bijaksaras | 4.20 |
| 56. | Multiple Choice questions | 4.21-4.40 |
| 57. | Key to Multiple Choice Questions | 4.41 |
| | 5. Dravya Guna | |
| 1. | Rasas and their bhautika composition | 5.1 |
| 2. | Gunas their uttama, mabhyama avara | 5.1 |
| 3. | Gunas and their bhuta predominance | 5.1 |
| 4. | Virya and vipaka vadas and their contributors | 5.2 |
| 5. | Important groups of drugs (Gunas) | 5.2 |
| 6. | Drugs and their botanical names (family wise) | 5.3-5.16 |
| 7. | Drugs and their important synonyms | 5.16-5.21 |
| 8. | Drugs and their English names | 5.21-5.23 |
| 9. | Drugs and their types | 5.24-5.27 |
| 10. | Rasa, vipaka, virya of drugs | 5.28-5.37 |
| 11. | Drugs and their active principles | 5.37-5.49 |
| 12. | Drugs and their karma (Main action) | 5.49 |
| 13. | Drugs of different actions on sukra with best examples | 5.50 |
| 14. | Drugs and their main indications | 5.50 |
| 15. | Agrya dravyas and their karma/indication | 5.51-5.53 |
| 16. | Drugs and their prabhava | 5.54 |
| 17. | Multiple Choice Questions | 5.56-5.110 |
| 18. | Key to Multiple Choice questions | 5.111-5.113 |
| | 6. Rasa Sastra | |
| 1. | Books and authors | 6.1-6.2 |
| 2. | Books and their chapters title | 6.3 |
| 3. | Group of drugs and their contents | 6.3-6.4 |
| 4. | Yantras and their uses | 6.5 |
| 5. | Musas and their uses | 6.5 |
| 6. | Kosti and their uses | 6.6 |
| 7. | Putas and their measurements | 6.6 |
| 8. | Putas and their uses | 6.7 |
| 9. | Drugs of Rasa Sastra | 6.7 |
| 10. | Maharasa group of drugs | 6.7 |
| 11. | Uparasa group of drugs | 6.7 |
| 12. | Sadhrana group of drugs | 6.8 |
| 13. | Dhatu/Loha group of drugs | 6.8 |
| 14. | Upadhtu/Up loha group of drugs | 6.8 |
| 15. | Ratna group of drugs | 6.9 |
| 16. | Uparatna group of drugs | 6.9 |
| 17. | Drugs and their synonyms | 6.9-6.14 |
| 18. | Drugs and their types | 6.14-6.20 |
| 19. | Drugs and their superior varities | 6.20 |
| 20. | Drugs and their grahya laksanas | 6.21-6.27 |
| 21. | Dosas and different drugs | 6.28-6.29 |
| 22. | Drugs and their important minerals | 6.29-6.30 |
| 23. | Drugs and their chemical names/formulas | 631.-6.32 |
| 24. | Metals and their relations with grahas | 6.33 |
| 25. | Ratnas and their relation with grahas | 6.33 |
| 26. | Drugs and their sodhana dravyas | 6.34-6.35 |
| 27. | Drugs and their marana dravyas | 6.36 |
| 28. | Bhasmas and their colours | 6.36 |
| 29. | Drugs and their mythological origin | 6.36 |
| 30. | Types of Parada gati | 6.37 |
| 31. | Asta Samskaras of Parada and their uses | 6.37 |
| 32. | Asta samkaras of parada and their processes | 6.37 |
| 33. | Parada bandhana | 6.38 |
| 34. | Metals and their specific gravity | 6.39 |
| 35. | Gems and their specific gravity and hardness | 6.39 |
| 36. | Bhasma pariksa | 6.39-6.40 |
| 37. | Drugs and their atomic weight | 6.40 |
| 38. | Drugs and their melting point | 6.40 |
| 39. | Parpati preparations and their ingredients | 6.41-6.42 |
| 40. | Kupi pakva rasayanas and their ingredients | 6.42-6.43 |
| 41. | Multiple Choice Questions | 6.44-6.98 |
| 42. | Key to Multiple Choice Questions | 6.99-6.102 |
| | 7. Bhaisajya Kalpana Vijnanam | |
| 1. | Collection of drugs per Caraka Samhita | 7.1 |
| 2. | Collection of drugs as per Raja nighntu | 7.1 |
| 3. | Collection of Jangama dravyas as per Susruta | 7.1 |
| 4. | Mana | 7.2 |
| 5. | Magadha mana | 7.2 |
| 6. | Drugs and their self life | 7.3 |
| 7. | Anukta padarthas an their grahya padarthas | 7.3 |
| 8. | Caturgunita sutra of Sarangadhara Magadha mana | 7.3-7.4 |
| 9. | Kalinga mana | 7.4 |
| 10. | Kasya kalpana | 7.4 |
| 11. | Kasya yoni | 7.4 |
| 12. | Pancavidha kasaya kalpana | 7.4 |
| 13. | Sadvidha kasaya kalpana | 7.4 |
| 14. | Sapta vidha kasaya kalpana | 7.4 |
| 15. | Preparations and their general dose as per Sarangadhara | 7.5 |
| 16. | Kalpana and their synonyms | 7.5 |
| 17. | Different kalpanas and their ingredients Quantity | 7.6-7.7 |
| 18. | Different kalpanas and their praksepa | 7.7-7.8 |
| 19. | Kalpanas and their characters | 7.9 |
| 20. | Multiple Choice Questions | 7.10-7.36 |
| 21. | Key to Multiple Choice Questions | 7.37-7.38 |
| | 8. Swastha Vritta Vijnanam | |
| 1. | Purusarthas | 8.1 |
| 2. | Ayurveda prayojana | 8.1 |
| 3. | Dwividha | 8.1 |
| 4. | Tridandas | 8.1 |
| 5. | Definition of Health (as per W.H.O.) | 8.1 |
| 6. | Definition of Swastha purusa | 8.1 |
| 7. | Ayu | 8.1 |
| 8. | Types of Ayu | 8.1 |
| 9. | Dina carya | 8.1-8.2 |
| 10. | Danta dhavana | 8.2 |
| 11. | Gandusa dharana | 8.2 |
| 12. | Anjana | 8.2-8.3 |
| 13. | Dhumapana | 8.3 |
| 14. | Vyayama | 8.3-8.4 |
| 15. | Abhyanga | 8.4 |
| 16. | Udvartana | 8.4 |
| 17. | Snana | 8.4 |
| 18. | Vastra dharana | 8.4 |
| 19. | Paduka dharana | 8.4 |
| 20. | Padatra dharana | 8.4 |
| 21. | Chatra dharana | 8.5 |
| 22. | Dhanda dharana | 8.5 |
| 23. | Trayopa stambhas | 8.5 |
| 24. | Ahara | 8.5 |
| 25. | Ahara vidhi visesayatanas | 8.5 |
| 26. | Karana samskara types | 8.5 |
| 27. | Ahara vidhi of upayoga samstha | 8.5 |
| 28. | Dwadasa asana vicara | 8.6 |
| 29. | Dwadasa asana vicara and their indication | 8.6 |
| 30. | Vairodhika ahara | 8.6-8.7 |
| 31. | Ahara dravya pariksa bhavas | 8.7 |
| 32. | Viruddha ahara | 8.7 |
| 33. | Complications of viruddha ahara | 8.8 |
| 34. | Viruddha ahara and its prabhava | 8.8 |
| 35. | Hita an ahita dravyas as per Caraka | 8.9 |
| 36. | Nutritional disorders | 8.10 |
| 37. | Ratricarya | 8.11 |
| 38. | Sandhyakalina | 8.11 |
| 39. | Nidra | 8.11 |
| 40. | Types of Nidra | 8.11 |
| 41. | Effects of Sleep | 8.11 |
| 42. | Effects of akala sayana | 8.11 |
| 43. | Causes of Sleeplessness | 8.11 |
| 44. | Complications of Anidra | 8.11 |
| 45. | Treatment of Anidra | 8.12 |
| 46. | Braimhacarya | 8.12 |
| 47. | Astanga maithuna | 8.12 |
| 48. | Maithuna nisiddha stri | 8.12 |
| 49. | Maithuna nisiddha kala | 8.12 |
| 50. | Complications of Atimaithuna | 8.12 |
| 51. | Ritu carya | 8.13 |
| 52. | Ritu and their months | 8.13 |
| 53. | Adana kala | 8.13 |
| 55. | State of does during different seasons | 8.13 |
| 56. | Types of dravyas used during different seasons as per Vagbhata | 8.13 |
| 57. | Types of liquids used during different seasons as per Vagbhata | 8.14 |
| 58. | Ritu haritaki | 8.14 |
| 59. | Hemantaritu carya | 8.14 |
| 60. | Sisira ritu carya | 8.15 |
| 61. | Vasanta ritu carya | 8.15 |
| 62. | Grisma ritu carya | 8.16 |
| 63. | Varsa ritu carya | 8.16 |
| 64. | Sarad ritu carya | 8.17 |
| 65. | Ritu sandhi | 8.17 |
| 66. | Qualities of antariksa jala in different ritus | 8.17 |
| 67. | Asta vidha nindita purusa | 8.17 |
| 68. | Asta dosas of atisthula purusa | 8.18 |
| 69. | Eight causative factors of atisthula purusa | 8.18 |
| 70. | Causative factors of atikrisa purusa | 8.18 |
| 71. | Dosas of atikrisa purusa | 8.18 |
| 72. | Complications of Atikrisa purusa | 8.19 |
| 73. | Adharaniya vegas | 8.19 |
| 74. | Adharaniya vegas | 8.19-8.20 |
| 75. | Adharaniya vegas and their treatment | 8.21 |
| 76. | Dharaniya vegas | 8.21 |
| 77. | Important factors and their agrya karmas as per Caraka | 8.22-8.24 |
| 78. | Multiple Choice Questions | 8.25-8.44 |
| 79. | Key to Multiple Choice Questions | 8.45-8.46 |
Sample Pages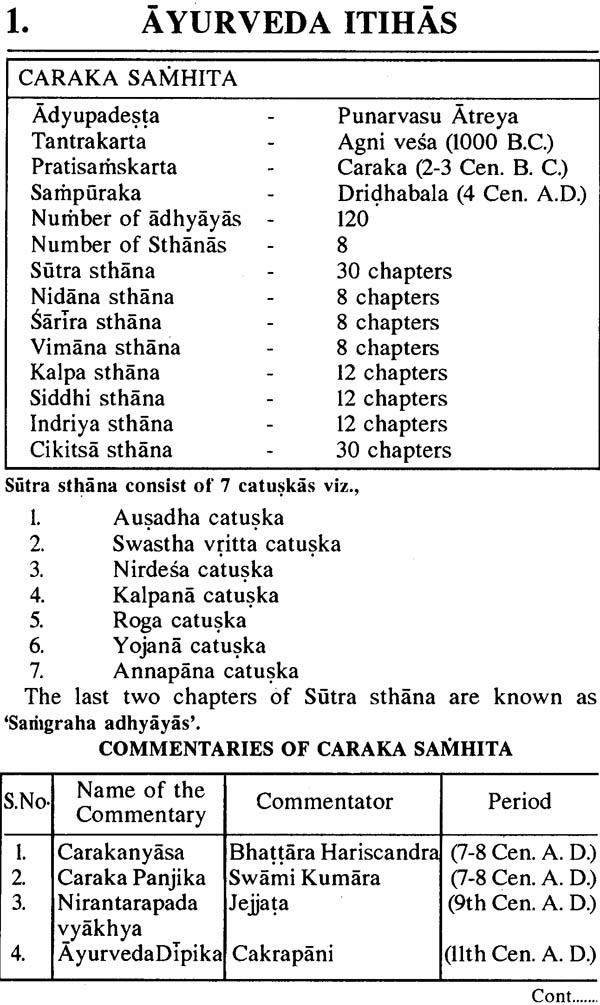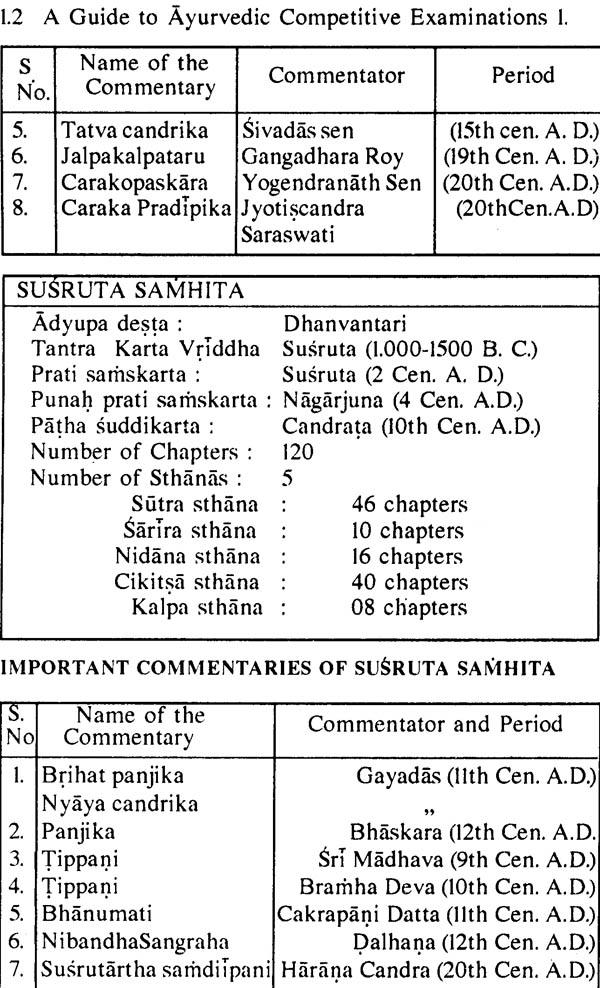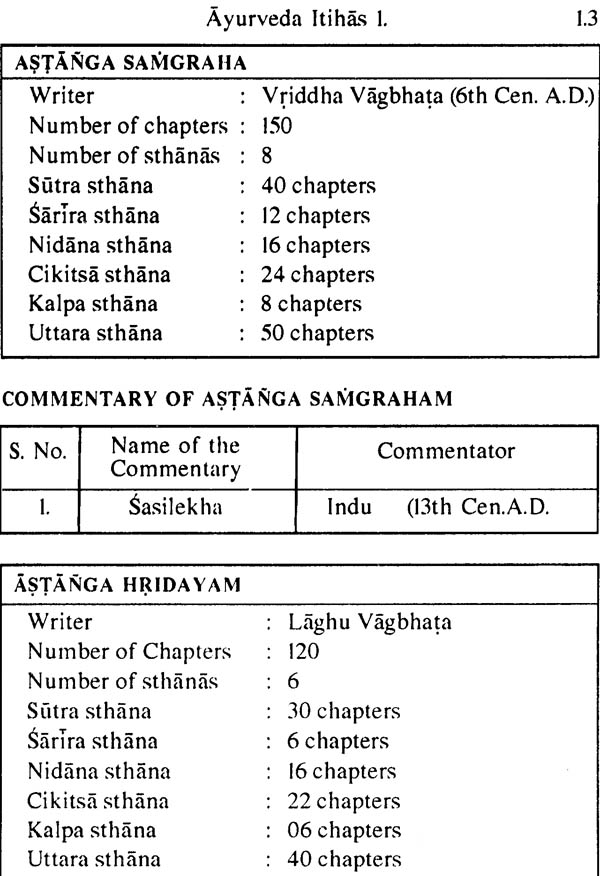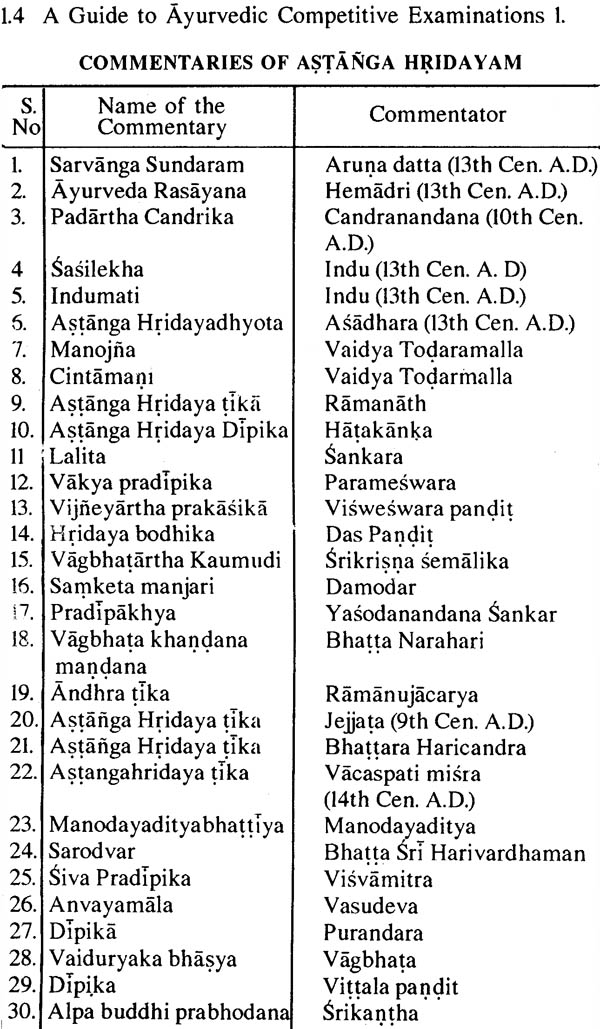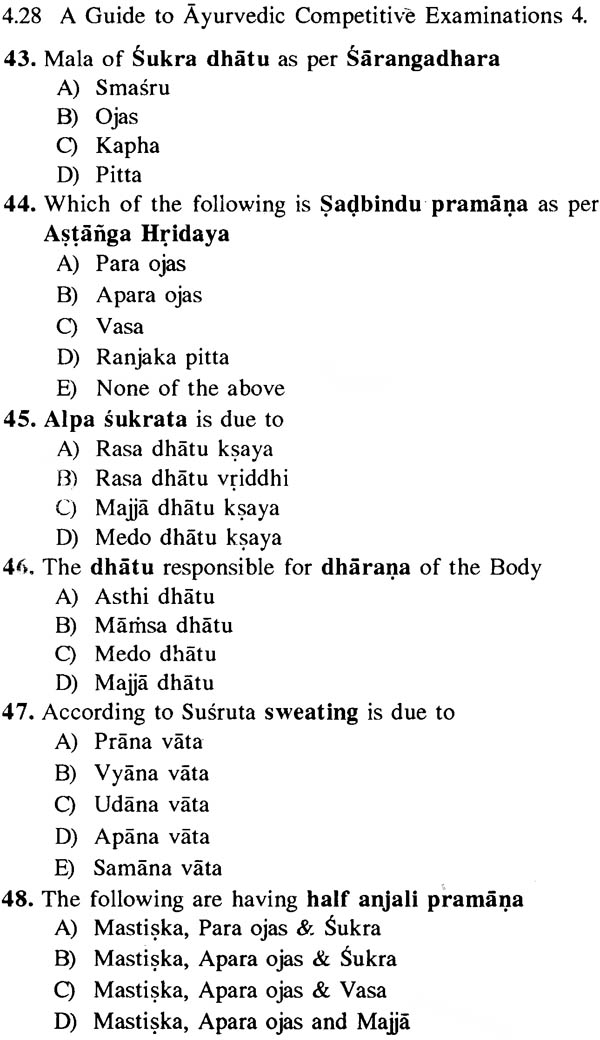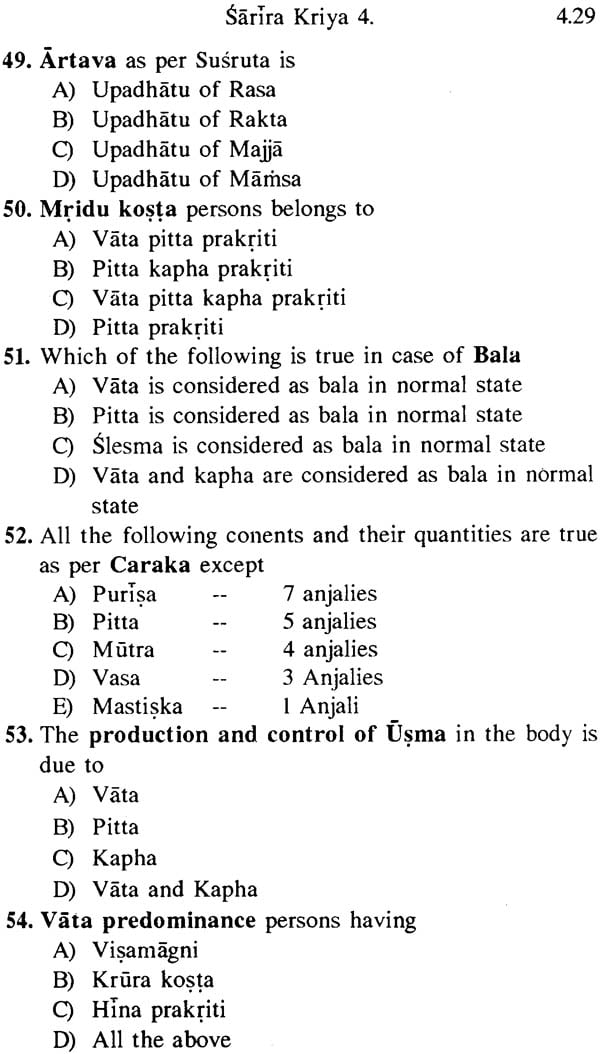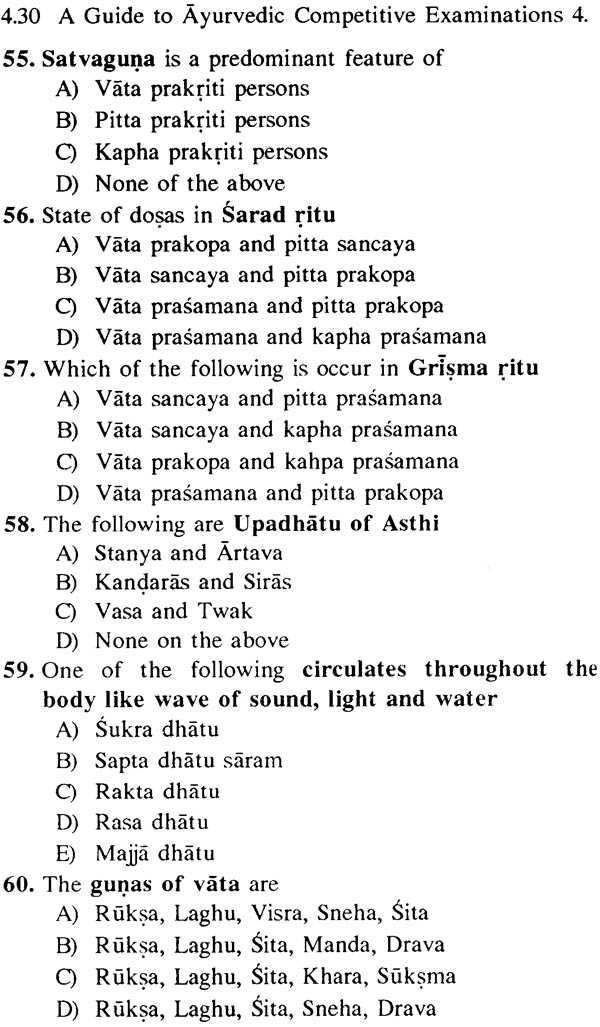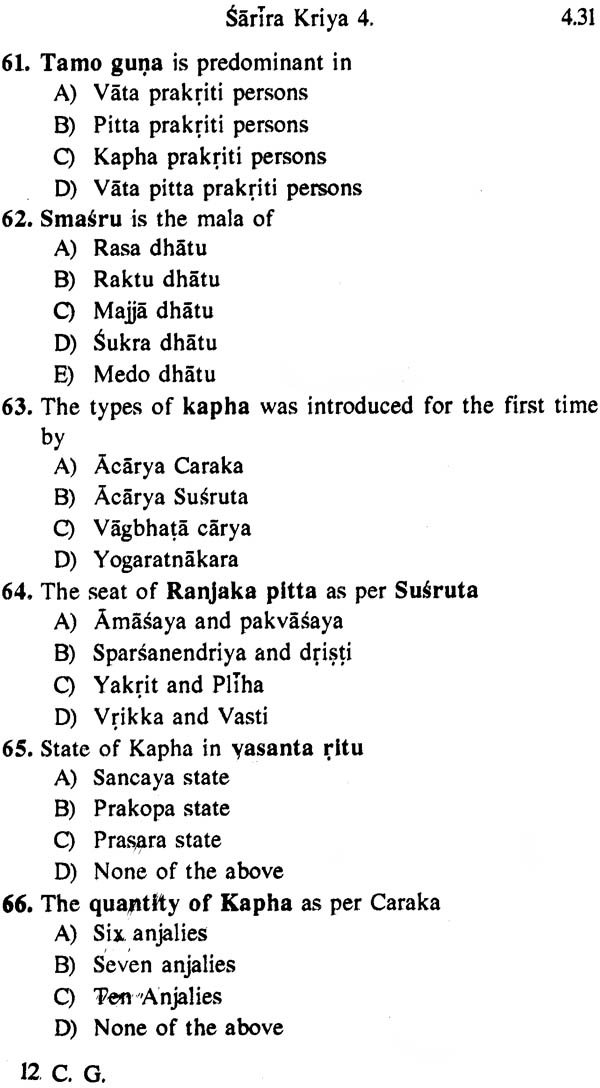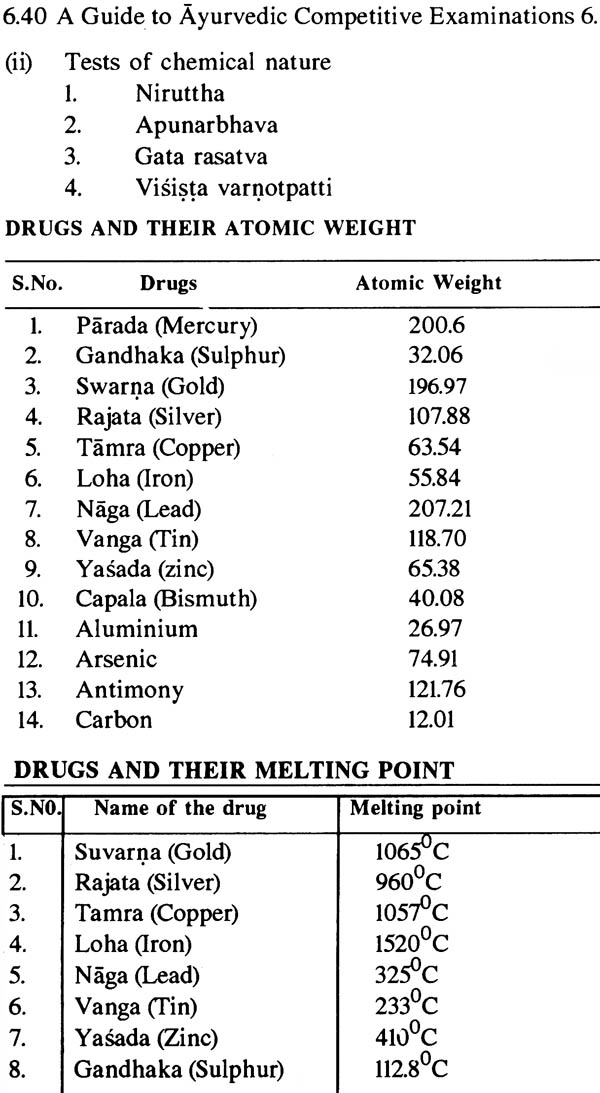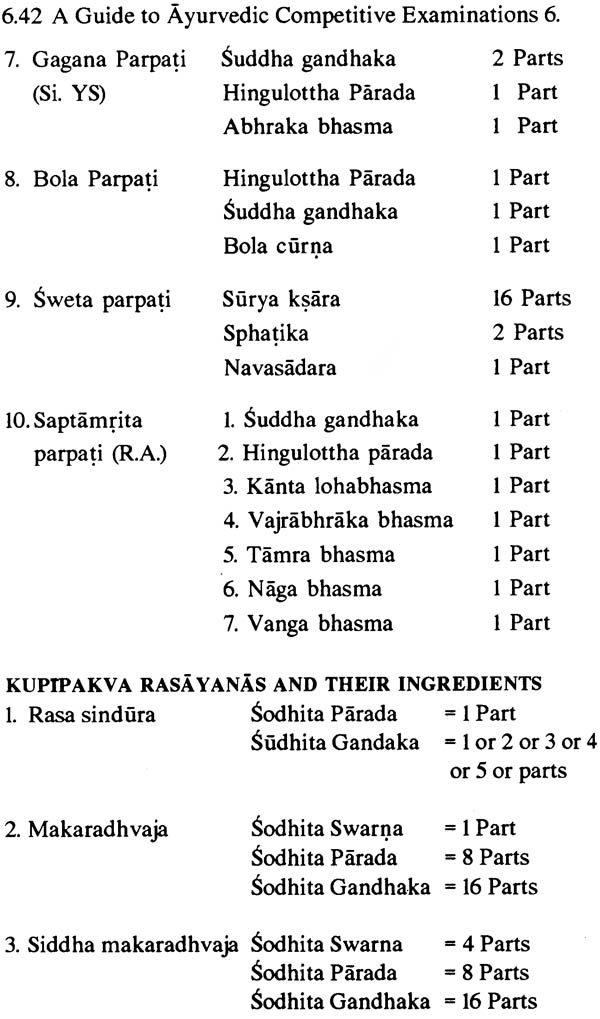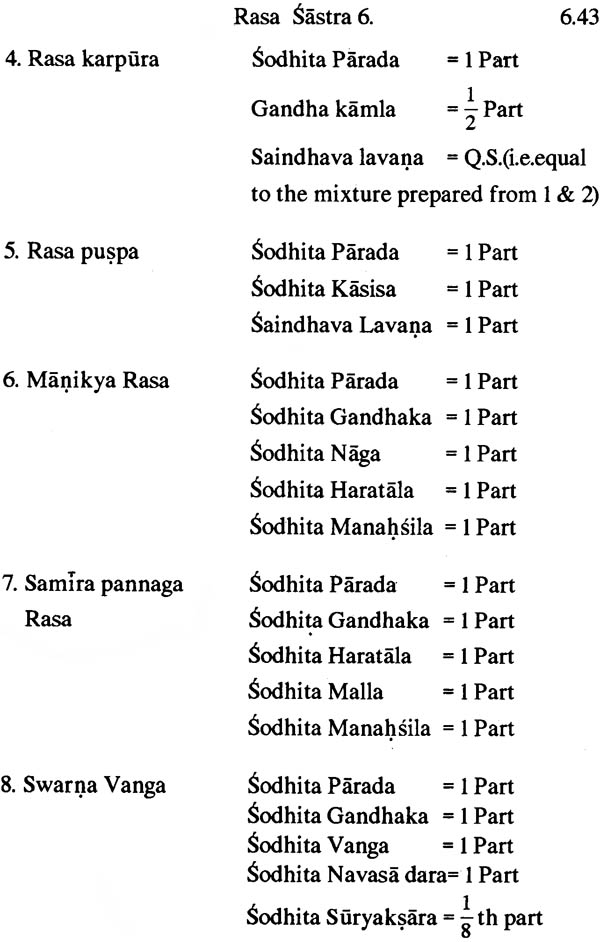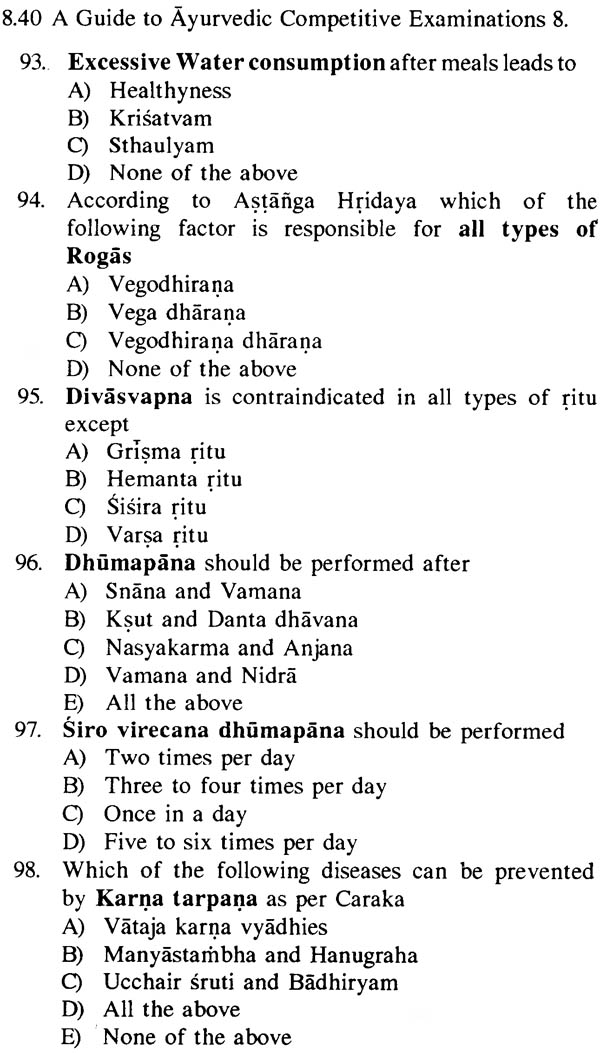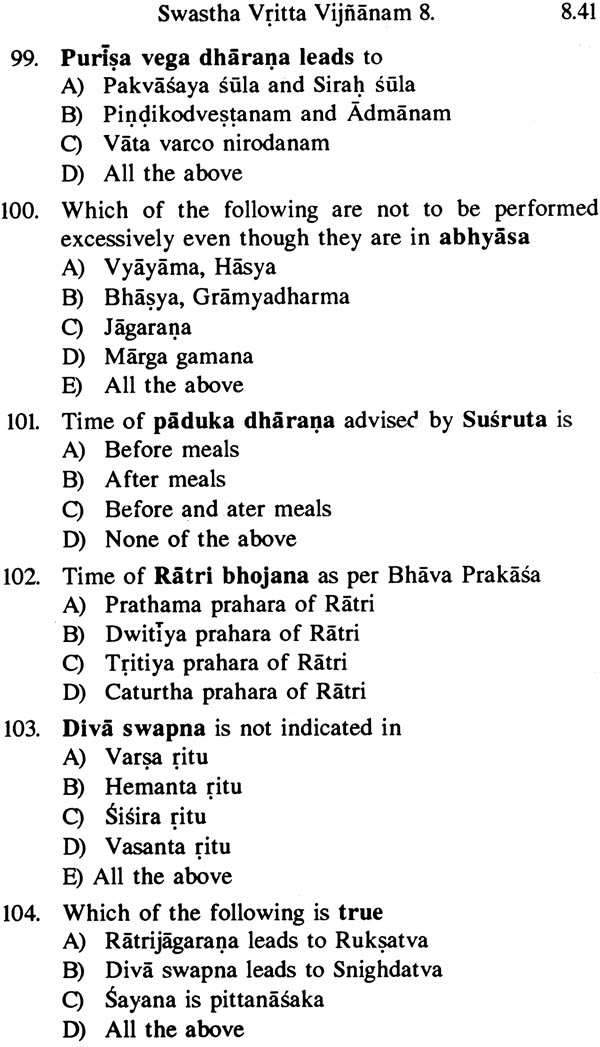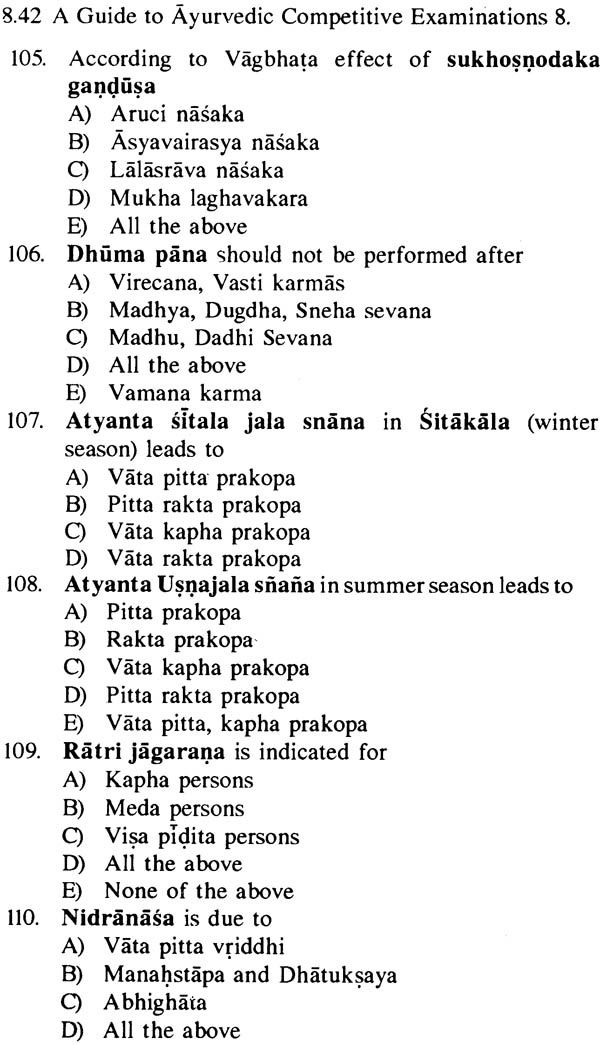 ---
We Also Recommend