Handbook on Invasive Plants of Kerala
$4100

$41.00
Tax included.
Shipping
calculated at checkout.
---
---
Book Specification
Book Description
Foreword
Invasive plants are usually introduced species that can thrive and spread aggressively outside its normal range. They can cause serious ecological disturbances by altering habitats and reducing biodiversity. Such plants are highly adaptable, aggressive and have high reproductive capacity. Kerala, with its longtime maritime history, has paved way for introduction of large number of invasive plants.
As part of biodiversity awareness programmes, Kerala State Biodiversity Board is bringing out series of handbooks on the common flora and fauna of Kerala. The handbook on Invasive plants of Kerala is an attempt to facilitate correct identification of plants in field. The book has information on country of origin, popular synonym, common name, local name, ecology and distribution of about 82 species of terrestrial and semi-aquatic plants. The book has compartmentalized invasive species into red (high risk), brown (medium risk), blue (low risk) or green (insignificant) according to the probable impact risk due to each species. Global Invasive Species Database has included Singapore daisy (Sphagneticola trilobata) as one among 100 of the world's worst invaders, which is widespread in Kerala.
The Board congratulates Dr. K. V. Sankaran, Dr. T. A. Suresh and Dr. T.V. Sajeev for the efforts they have put in this study and for bringing out a handy reference book on Invasive plants of Kerala. I am sure this book will be of use to students, researchers, field level workers and general public in identifying species and also will seek attention in managing and controlling its spread.
Preface
The mandate of the Kerala State Biodiversity Board is the conservation of biological diversity, the sustainable use of its components and the fair and equitable sharing of the benefits from the use of genetic resources. Awareness creation, constitution of Biodiversity management Committee (BMC), preparation of Peoples Biodiversity Register (PBR) and conservation activities are the major programmes.
In order to achieve these, the Kerala State Biodiversity Board has initiated many plant programmes and one among this is the preparation of Handbooks. Kerala State Biodiversity Board has already brought out a series of Handbooks on Common trees, Medicinal Plants, Fishes, Butterflies, Amphibians, Mushrooms etc.
The preparation of Handbook on "Invasive Plants of Kerala" was entrusted to Dr.K.V.Sankaran, Director, Kerala Forest Research Institute, Peechi, considering his vast experience in the field. This handbook deals with 82 species of terrestrial and semi-aquatic plants. For each plant, the Scientific names, Synonyms, Common names, Family name, ecology, distribution and the taxonomic characters are given. The Scientific names of the plants are given in alphabetic order for easy reference and the index to local names and common names will help to locate the plant easily on the book. Another remarkable feature of the book is the very attractive photographs of the habit, flower, fruit and seed with Kerala distribution chart. The above features definitely make this book an easy identification Manuel for the technocrats as well as layman. We hope that this book will help in identifying and studying the invasive plants of Kerala.
Introduction
This book, for the first time, brings out a concise list of invasive alien plant species recorded from the State of Kerala. Eighty two species of terrestrial and semi-aquatic plants are included here all of which call for urgent attention in terms of control and management. We have not dealt with invasive aquatic species in this compilation since they occupy a different ecological niche and need to be treated separately.
Invasive alien species are those which spread outside their normal distribution range and become invasive in their new locations. Their spread is aided by international trade and tourism especially import of goods and items such as seeds, grains, fruits, pets etc. At the new place, they escape the predator pressure, which kept their population in check in the native range, and thrive outcompeting and displacing native species. Kerala, with its longtime maritime history, has paved way for introduction of a large number of the such invasive plants. Intentional introductions were for specific purposes such as agriculture, forestry, ornamentals and the like- introduction of the rubber tree is a case in point. This book, however, does not list these alien species since left to themselves, they are seldom invasive and they do not spread unaided. There is an array of other species which have been intentionally or inadvertently brought to the State and have established here and are spreading fast. They impose huge costs in terms ecological destruction, economic damage and detrimental social effects including harm to human health. This book is about them.
The first step in trying to contain a biological invasion is to identify which alien species are invasive in nature. In the biodiversity rich tropics, this in itself is an onerous task. It may also be noted here that we have lost a lion's share of our native diversity to these invaders - the exact number, perhaps we will never know. However, since the State is having a rich taxonomic literature and we know what we have now, it was easy to differentiate between the native and the alien species. To collect information included in this book, we laid close to 4000 observation points across Kerala. Our objective was a qualitative appraisal of the invasive alien species scenario in the State. Each observation point was selected on the basis of visual observations on the presence of plants and their characteristic invasive behavior. All species thus listed were vetted against the checklist of the native flora of Kerala. Eighty two species remained, which were subjected to Invasive Species Risk Assessment based on internationally tested procedures.
**Contents and Sample Pages**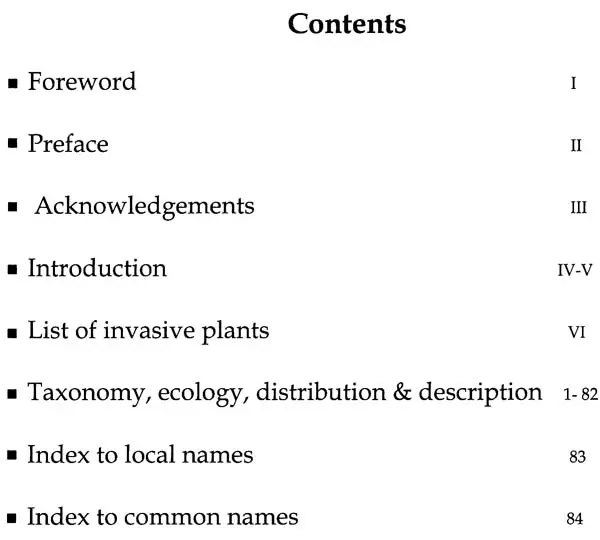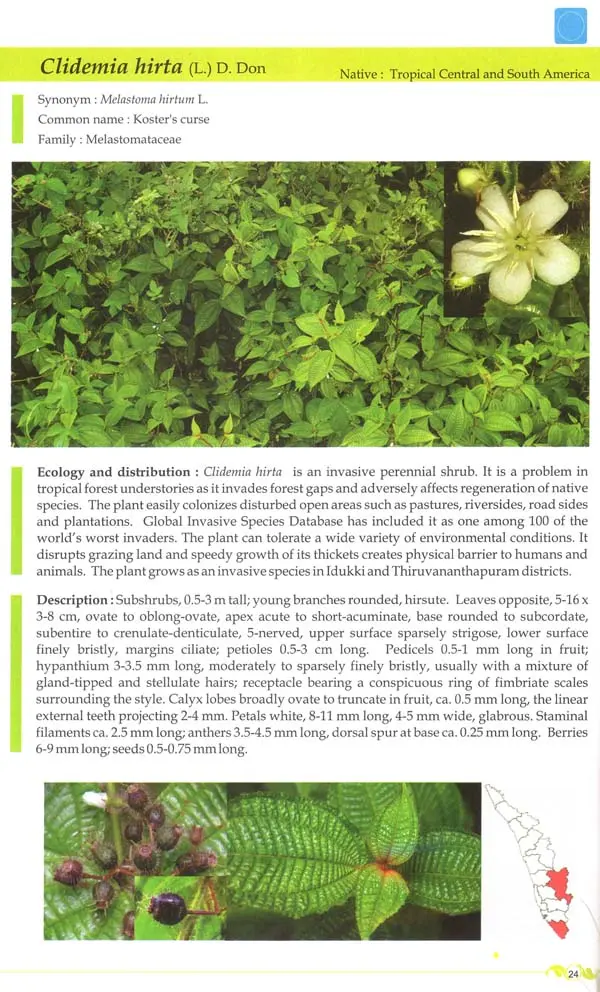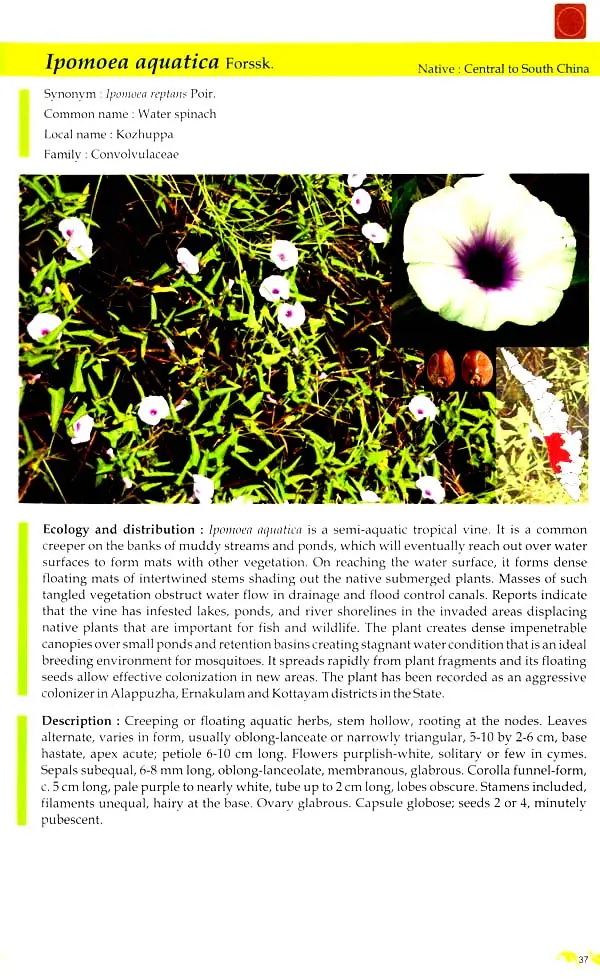 ---
We Also Recommend