The Heartfulness Way - Heart Based Meditation for Spiritual Transformation
$3400

$34.00
Tax included.
Shipping
calculated at checkout.
---
---
Book Specification
Book Description
About The Book
As we manoeuvre the many demands Af of relationships, career, property and health, we often sense a void, a feeling of alienation from our true selves. Is it possible for one planet to orbit so many suns? We have many centers in our lives, yet where is the true centre, the deepest centre that lies at the core of every heart?
Building on India's ageless oral tradition, Kamlesh D. Patel - widely known as Daaji, the fourth guru in the Heartfulness lineage - traces a seeker's journey as he examines the nature of spiritual search. Through a series of illuminating conversations between a teacher and a student, Daaji reveals the principles of the Heartfulness practice and philosophy to Joshua Pollock, a Heartfulness practitioner and trainer.
About the Author
Known widely as Daaji, Kamlesh Patel is an original voice in an ancient tradition. His teachings arise from his personal experience on the path of Heartfulness, while reflecting his deep spirit of enquiry and respect for the world's great spiritual traditions and scientific advancements.
Daaji practised pharmacy in New York City for over three decades before being named as the successor in a century-old lineage of spiritual masters. Fulfilling the many duties of a modern-day guru, he extends his support to spiritual seekers everywhere.
JOSHUA POLLOCK is a Heartfulness trainer and practitioner from the United States. An accomplished Western classical violinist, he has performed and taught throughout the world, including multiple collaborations with composer A.R. Rahman. Pollock is a dedicated spiritual aspirant, and is enthusiastic about sharing his passion for meditation, frequently lecturing at private seminars, holding practical demonstrations in corporate, educational and governmental settings, and providing ongoing individual support to local seekers. Pollock holds a Bachelor of Musical Arts degree from Indiana University and two master's degrees from Guildhall School of Music and Drama in London. He currently resides in India with his wife and their two children.
Preface
WE NEVER KNOW what life has in store for us and what is just around the corner. That is part and parcel of the mystery and beauty of living. I have received many blessings during my six decades on this Earth, and one of those happened while I was a teenager, studying pharmacy in Ahmedabad in India in 1976. Thanks to one of my college pals, I came across Heartfulness meditation, and a few months later was face-to-face with a remarkable man who immediately became my first guru and who guided me in this practice. His name was Ram Chandra, and we called him Babuji.
Introduction
IN AUGUST 2015, as I sat in my home office in Chennai, India, my wife appeared with my phone. 'It's Kamlesh calling from Europe,' she said, laughing. Apparently, our two-year old daughter had answered the phone and held her own conversation with him for some time before my wife noticed. When I picked up the phone, he said, 'I would like you to write a book about meditation. I immediately agreed, but I also had a little trepidation. Because Kamlesh has been meditating for over forty years and is a spiritual guide to seekers all over the world, I felt he was far more qualified to write a book on this subject.
**Contents and Sample Pages**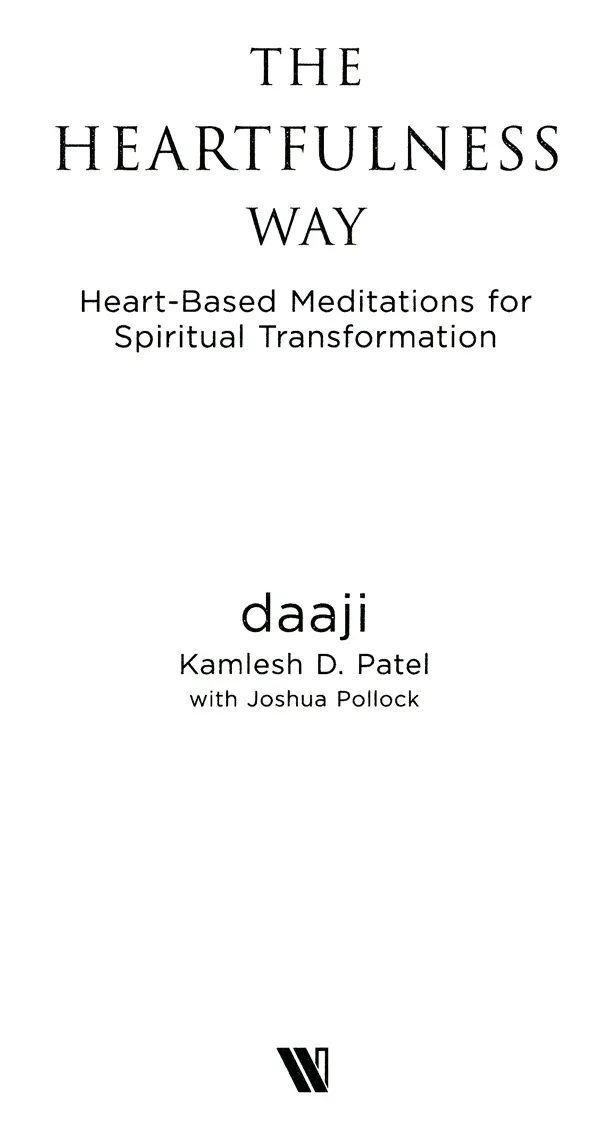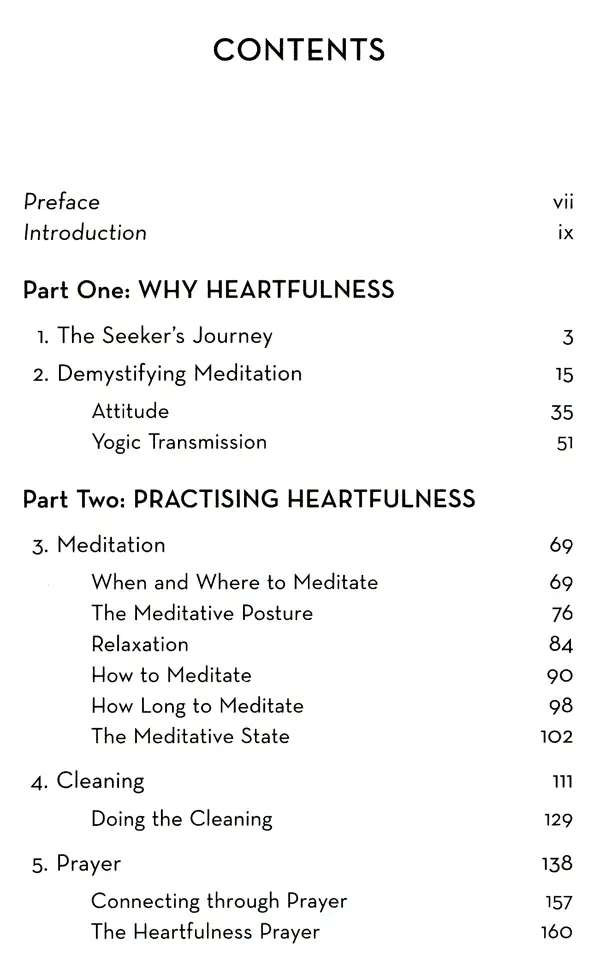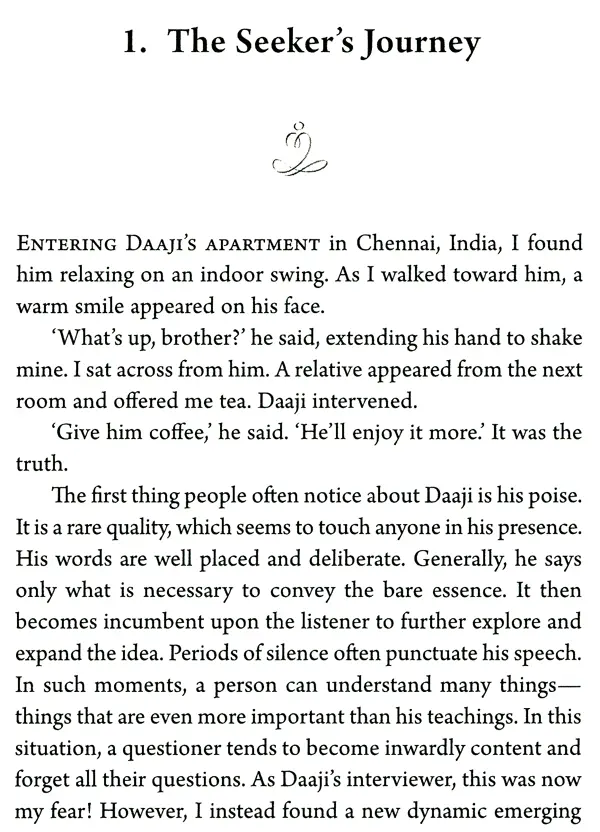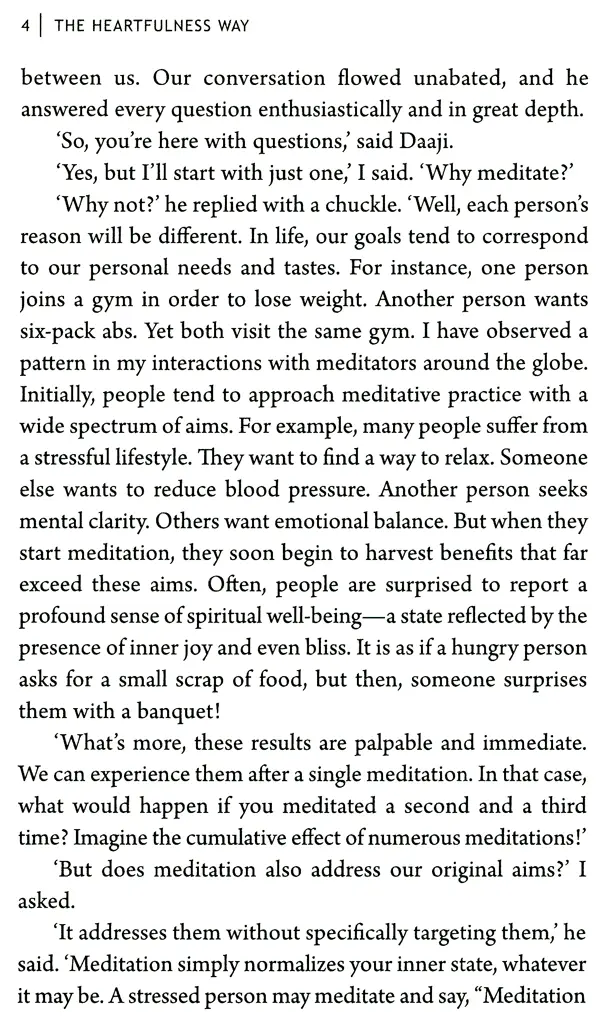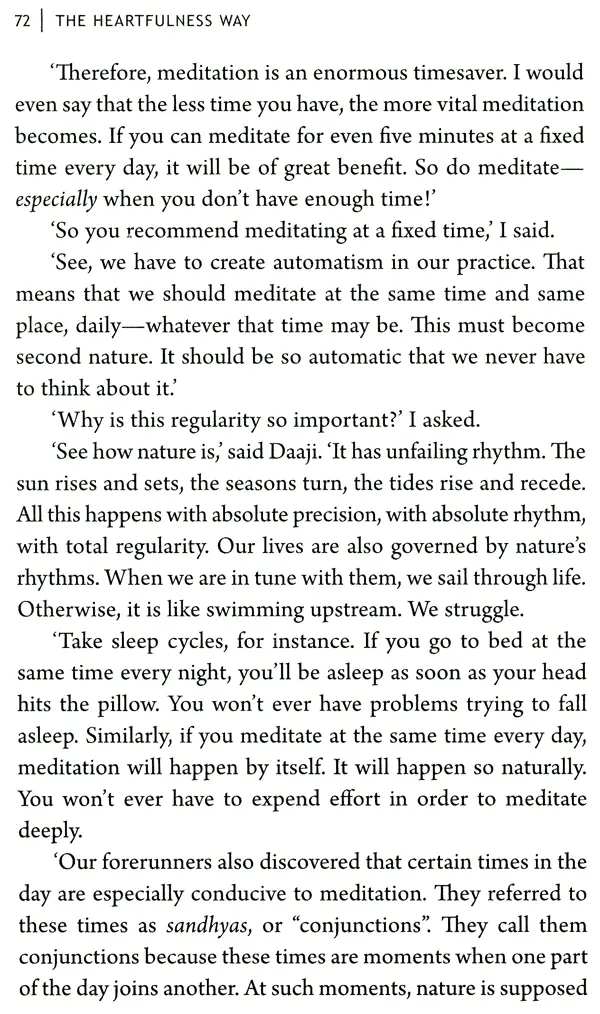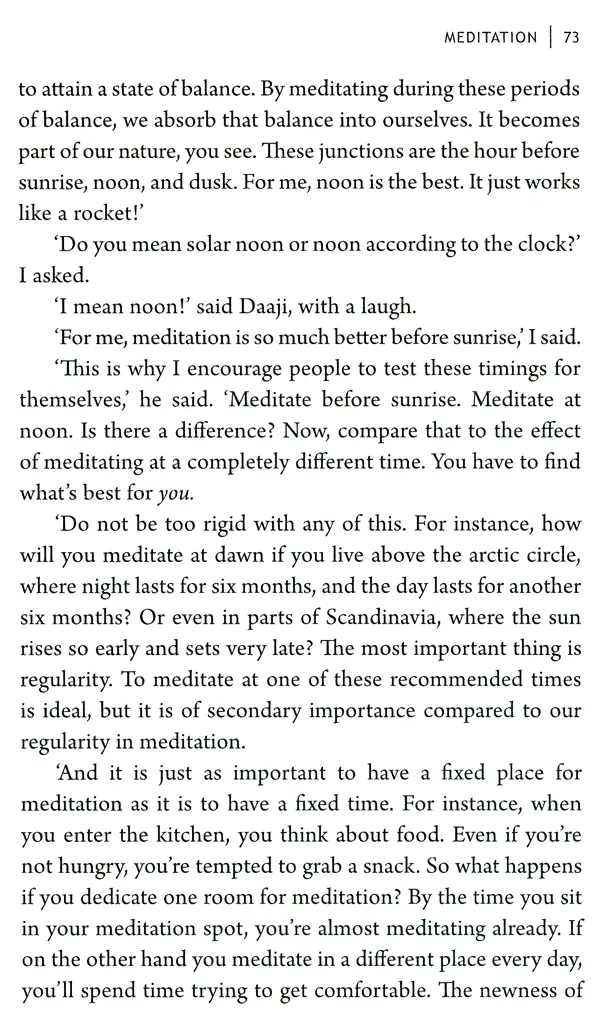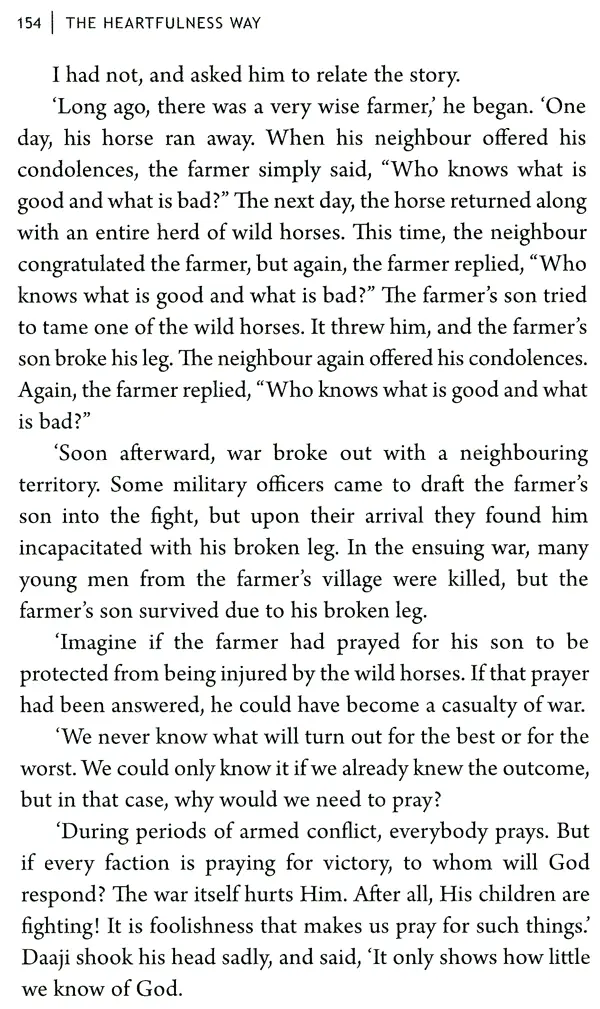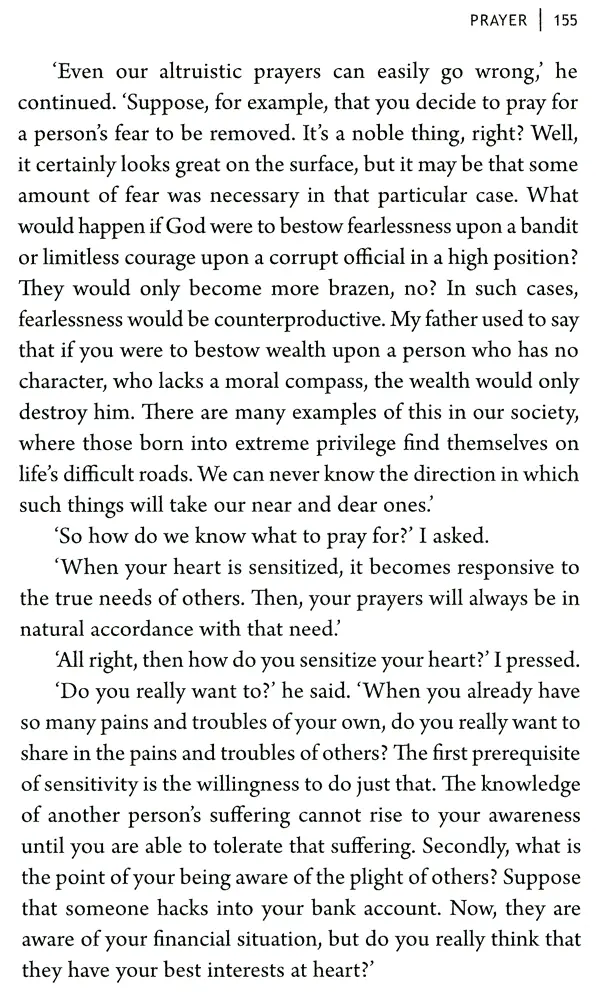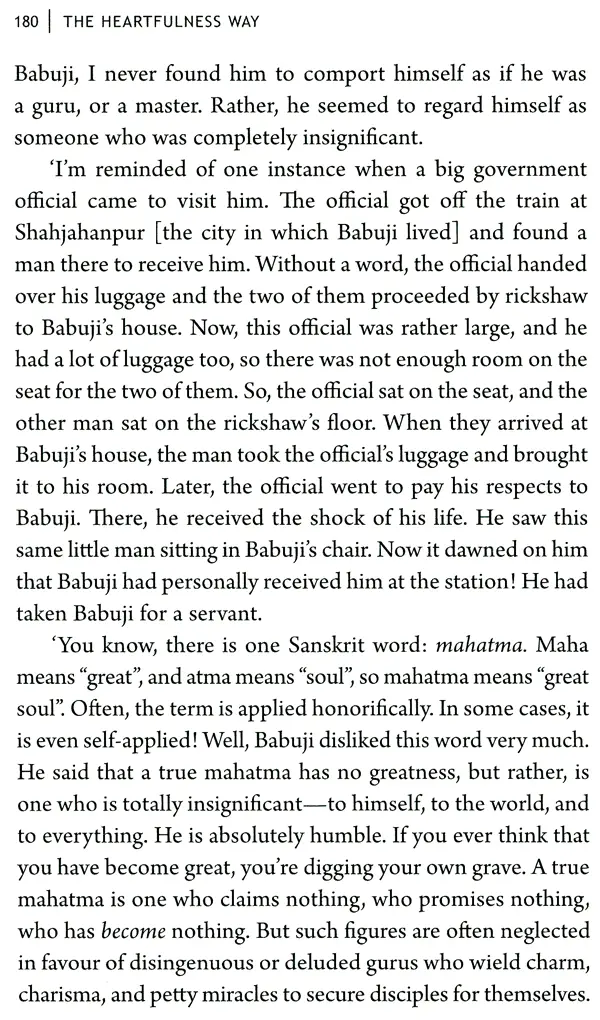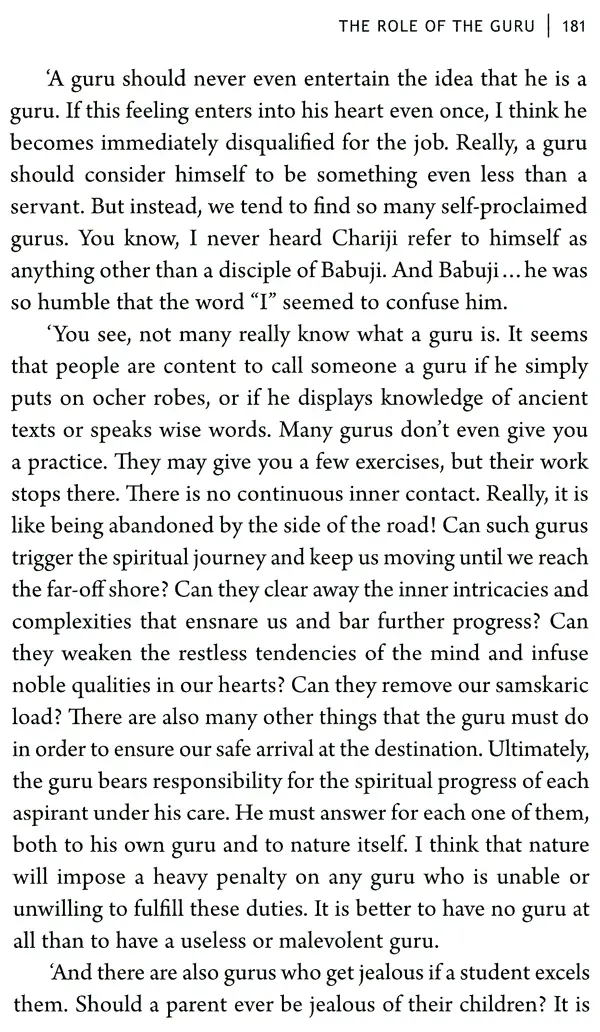 ---
We Also Recommend