Hijam Anganghal Singh- Makers of Indian Literature
$2000

$20.00
Tax included.
Shipping
calculated at checkout.
---
---
Book Specification
| | |
| --- | --- |
| Item Code: | UAM254 |
| Author: | E. Dinamani Singh |
| Publisher: | SAHITYA AKADEMI, DELHI |
| Language: | English |
| Edition: | 2007 |
| ISBN: | 8126025166 |
| Pages: | 48 |
| Cover: | PAPERBACK |
| Other Details | 8.50 X 5.50 inch |
| Weight | 80 gm |
Book Description
About The Book
HIJAM ANGANGHAL SINGH (1892-1943)- an Indian poet and dramatist in Manipur, studied upto the sixth standard only, and worked as petition-writer at the then Cheirap Court at Imphal. In early youth he composed several lyrics and songs and some of these where published in the Lalit manjari patrika in 1933. In 1938, his Singel Indu (Sweet Indu), an epic poem in Manipuri, appeared; Nimai sannyas, a play, was written in 1927 and another play Thambal Chongbi in 1928. Ibemma, a social play, was staged several times. Yaithing Konu and Jahera are two of his novels and Thambal (Lotus) is an allegorical essay. His best work is Khamba Thoibi sheireng, on the story of 'Khamba and Thoibi'. His poetry is marked by a yearning for the lost glory of Manipur and the splendour that was Manipuri. His novels are socially alive and certain problems are brought into focus. He was associated with several literary and cultural organisations of Manipur and was an important member of the Manipuri Sahitya Parishad, Imphal, in its initial stages and took active part in founding many theatre houses in Imphal. He was awarded the 'Kaviratna' title posthumously by the Manipuri Sahitya Parishad in 1948 in recognition of his literary merits.
About the Author
Dr E. Dinamani Singh (b. 1940), Professor of Manipuri at Manipur University, has published eight collections of short stories, five critical works, three books of poetry, one collection of short plays, one novel, five translations etc. He received the Sahitya Akademi Award in 1982, the Manipur State Kala Akademi Award in 1985 the Sahitya Akademi Translation Prize 1994 etc.
Preface
To know the mind of an author is very difficult. But to comprehend the process of creativity of the author is next to impossible. And again to make others know about the mind and feelings of the author is fraught with danger. Even then as literature demands these tasks, one must do it by all means. Keeping this notion in view I am trying to know and let others know about Anganghal Singh, one of the makers of modern Manipuri literature. He was one of the rare breed of poets who produced the modern Manipuri literature as it appeared virtually from the beginning of the first decade of the twentieth century.
In fact, almost all the genres of modern literature as such, started to flourish with forms and techniques in Manipuri during the first half of the twentieth century. It may be said that Anganghal explored every genre flourished during the age except literary criticism. Anganghal mixed with the best minds of his time. As a writer he remained attentive to the views of his fellow writers and critics on his works and he also preferred to record his observations on the writings of others. But he never wrote criticism.
**Contents and Sample Pages**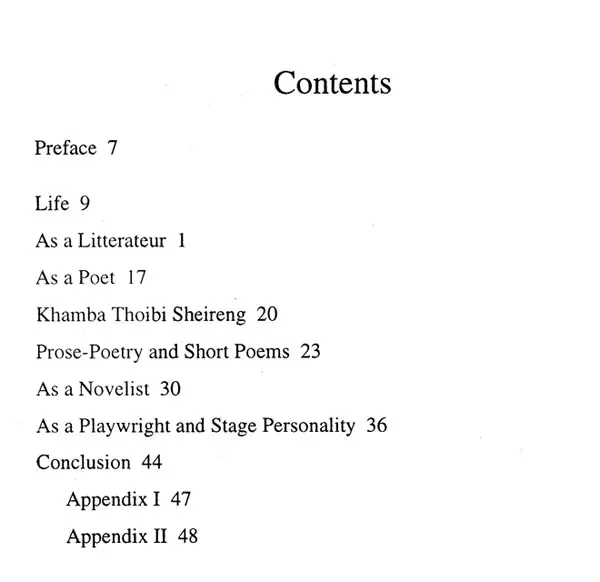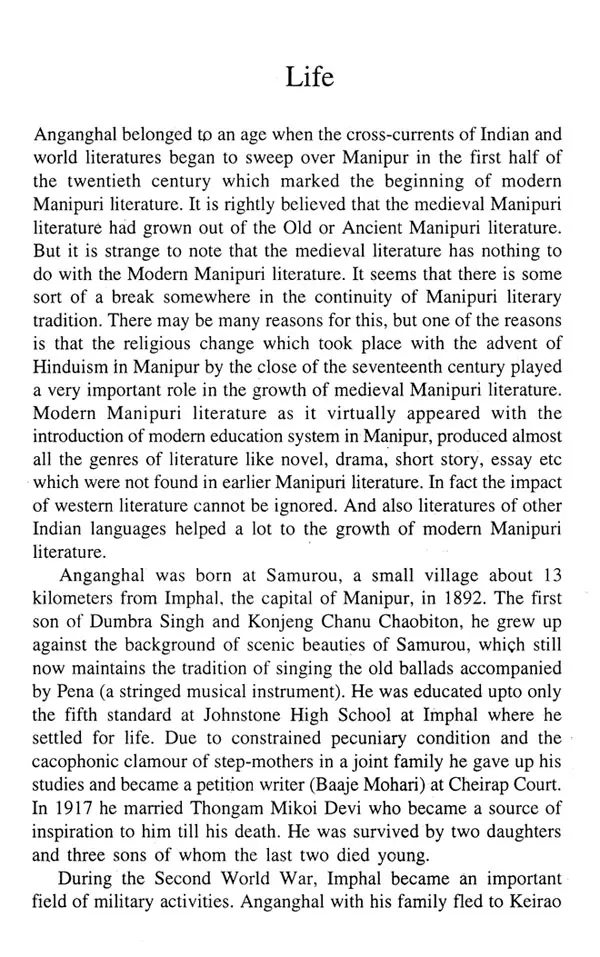 ---
We Also Recommend