Hinduism in Manipur
$2880

$28.80
Tax included.
Shipping
calculated at checkout.
---
---
Book Specification
Book Description
About the Book
This historical treatise fundamentally dilates upon the progress of Hinduism in Manipur during the eighteenth and nineteenth centuries, and highlights the far-reaching impact of Hinduism on the contemporary society, indigenous religion and culture, language and literature, art and architecture, sculpture and iconography, coins and epigraphy, and music and dance. It also focuses on religious and cultural assimilation and syncretization. It presents a balanced account of Hinduism that flourished and coexisted with primordial religion in Manipur during the period.
This work is of immense use to those who are genuinely interested in the study of the evolution of Hinduism in Manipur.
About the Author
G.P. Singh, is Emeritus Professor of History, University of Manipur, Imphal. He is former Fellow of the Royal Asiatic Society of Great Britain and Ireland, London, and former member of Indian Council of Historical Research, New Delhi. He has been associated with several academic and professional bodies at both national and international level. He has been carrying out an extensive research for over three decades on different aspects of ancient Indian history and culture and on ancient Indian historiography. He has to his credit about seventy research papers published in reputed historical journals, national and international. The history and civilization of north-east India has been one of the areas of his study and research. In this area too, he has contributed numerous papers to journals and books. He has authored twelve scholarly books which have been widely acclaimed by the scholars (in the field) in India and abroad. Some of his prominent works include. The Kirätas in ancient India: A Historical Study of their life, Culture and Civilization: Early Indian Historical Tradition and Archaeology: Political Thought in Ancient India: Facets of Ancient Indian History and Culture New Perception; Ancient Indian Historiography: Sources and Interpretations: Republics, Kingdoms, Towns and Cities in Ancient India; Kingship in Ancient India Genesis and Growth: Historicity of Rama and Krsna; Literary, Historical, Archaeological and Scientific Perspectives; Perspectives on Indian History, Historiography, and Philosophy of History; and Historical Researches into some Aspects of the Culture and Civilization of North-East India.
Preface
This treatise deals with history of Hinduism in Manipur in the eighteenth and nineteenth centuries and its impact on the contemporary society and culture with focus on religious and cultural assimilation, syncretization and integration. It throws light on the impact of Hinduism on all aspects of life and culture of the Meitei people in the valley of Manipur.
The work is based on native chronicles, numismatic and epigraphic evidence and other reliable sources.
The work, I believe, will be useful to those who intend to carry out further historical disquisition into the subject.
Book's Contents and Sample Pages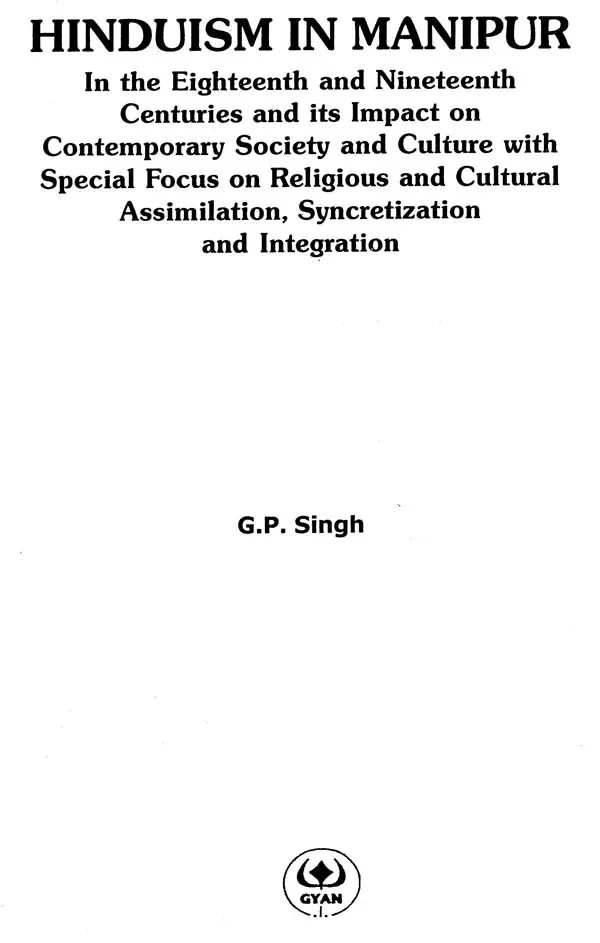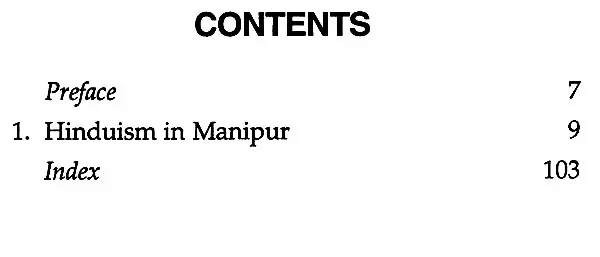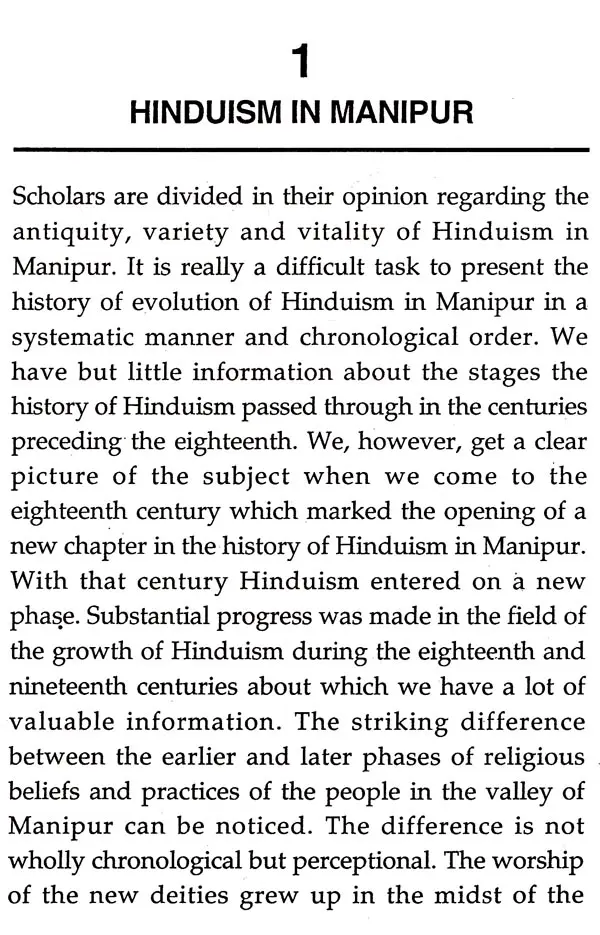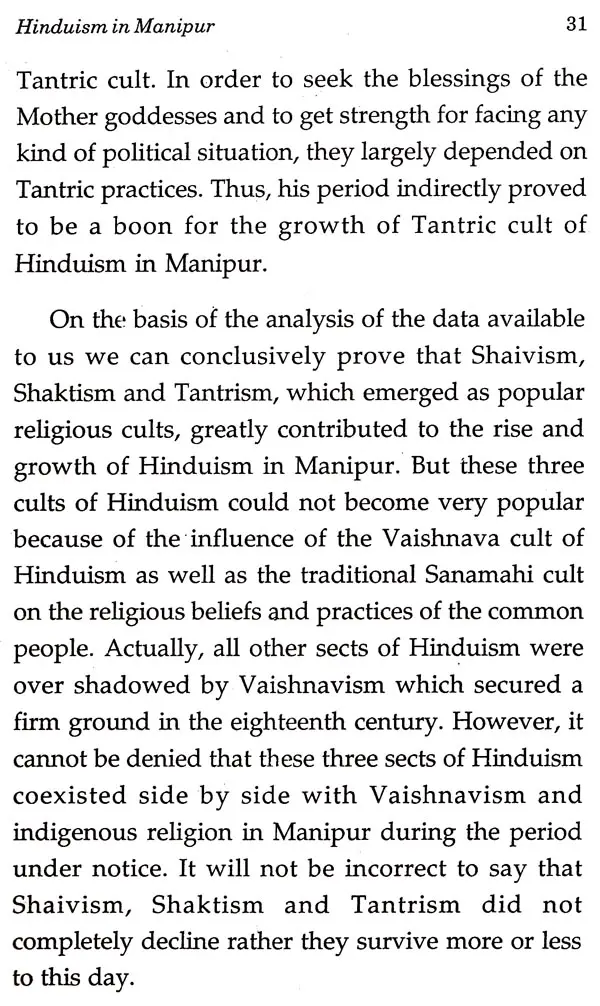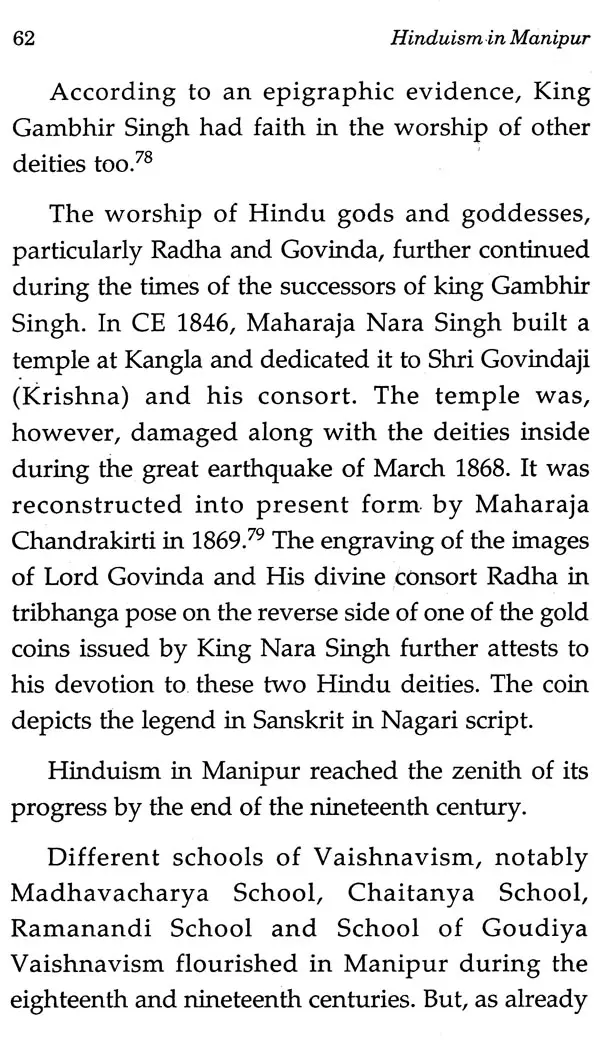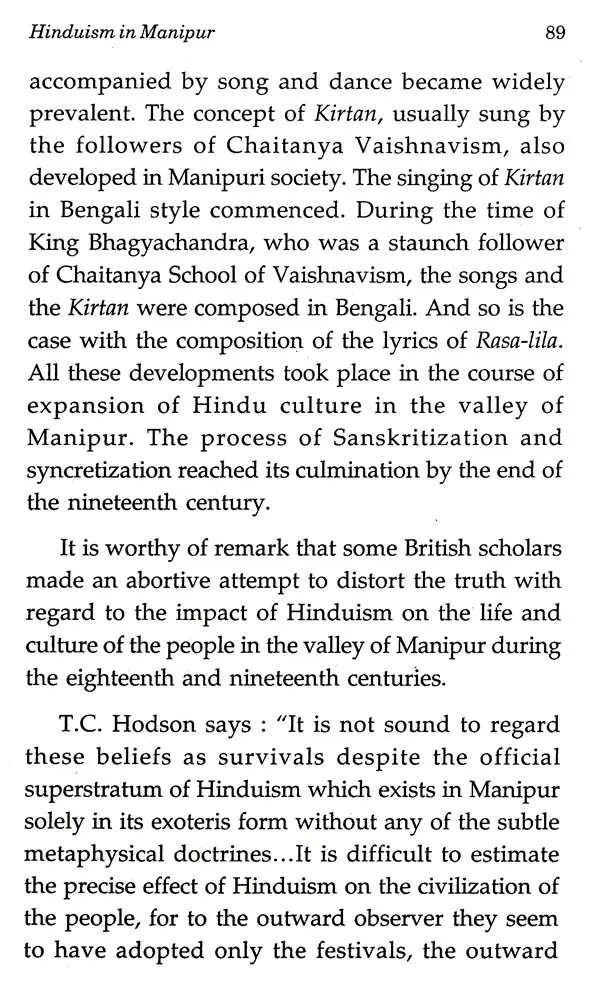 ---
We Also Recommend