Historical Fine Arts and Asian Culture- An Art Craft and Skill Designing with Science and Technolgy
$15300

$153.00
Tax included.
Shipping
calculated at checkout.
---
---
Book Specification
| | |
| --- | --- |
| Item Code: | UAJ746 |
| Author: | Shekhar Chandra Joshi |
| Publisher: | Research India Press |
| Language: | English |
| Edition: | 2020 |
| ISBN: | 9789351711667 |
| Pages: | 380 (Throughout B/W Illustrations) |
| Cover: | HARDCOVER |
| Other Details | 11.50 X 9.00 inch |
| Weight | 1.20 kg |
Book Description
About The Book
Fine Arts are an integral part of culture that builds a strong society. Branches of Fine Arts are major components that also play important role in evolution of our civilization across the world. Asia, home of many ancient civilizations, is better known for unified culture due to FineArts too. Asian culture including Indian is colourful and immensely interesting.
History of Fine Arts goes back into the remote past when human developed various perceptions and sense of expression of emotions and ideas in various medium and methods. Later it was classified into painting, sculpture, architecture (visual arts), literature/poetry and performing arts (music, dance and drama/theatre) which actually form a huge gamut of fine arts.
This edited book comprising many articles in reveals different thoughts, visions and solutions within related branches of fine arts including Indigenous, Folk and Tribal Arts, as well as major angles of Asian culture are thoroughly discussed with visuals.
Gradual progress of science and technology influenced fine artists as well as craftsmen and other artists for their use in adopted mediums and techniques. This book reveals how ancient and historical artists in India and remaining part of Asia create their art, the methods and materials they use for their art craft and culture, what ancient and historical art teach contemporary artists working today and what the historical and aesthetical approach was across Asia?
Nevertheless this book is a unique attempt at storytelling of socio-religious beliefs and current myths and truths of Asia including India. It is hoped that this publication will be beneficial to researchers, educationist and students for their further research in each concerned filed as well as interdisciplinary research and knowledge.
About the Author
Professor (Dr.) Shekhar Chandra Joshi (b. 1961) did Diploma in Art Masters Training (A.M.T.), Masters in Art (M.A.), Ph. D. and D.Litt. He has an excellent academic career with gold medal in PG and the highest degree of D. Litt earned in the subject.
He is the recipient of prestigious International fellowship of Korea Foundation, Seoul where he worked for six months; several Research Grants of the University Grants Commission, Department of Culture, Government of India. He attended conferences personally and presented his papers on art and culture including Tibetan and Buddhist Art from time to time in University of Cape Town; Vienna University, Austria; RMIT University, Melbourne; University of Toronto etc. He convened more than a dozen State / National / International Conferences/Seminars/ Workshops.
Dr. Joshi is both art connoisseur and a practicing artist of high stature and competence. His paintings have been exhibited and collected in India and abroad including South Africa, France, Australia, Korea, and Canada etc. His research contribution and art have been published in national and international journals of academic repute including the newspapers and magazines.
His published books are entitled 'Tribal Arts', 'Art and Craft of Uttarakhand', 'Art And Communication', 'Importance of Art', 'Adhunik Chitrakala Ka Itihas', 'Kala ke Sidhhant avem Chitrakala ke Rang', 'Chitrakala avem Lokkala Vividh Ayam', 'Korea ki Kala'; reviews and monographs on 'Fantasy of Raga', Hoard Holy and Heritage, Exhibition's catalogues of 'AIAA' and UAWA etc. to his credit. He has written units on art and history for NIOS,IGNOU, New Delhi and UOU, Uttarkhand.
Besides, he has written articles and research papers for various magazines and research journals few of which have been translated and published in Russian and other languages. He has also been performing for the radio and T.V. He was honored by 'Award of Artistry', 'Global 'Outstanding Peace Activist Award", 'Agnipath Kala Rattan Samman', Uttaranchal Kala Samman, awards of 'Mohan Upreti Lok Sanskriti Kala' and Snehil etc.
Starting his career in education as an art teacher in Silor Mahadev (Almora), Okhal Kanda (Nainital), and Lecturer in UPSS, Sarojini Nagar (Lucknow) he also worked as Reader in Fine Arts Assam (Central) University, Silchar, Assam; and held the position of Dean, Faculty of Visual Art; Head, Department of Drawing & Painting of Kumaon University (Nainital), Proctor and Senior Programme Officer NSS of Kumaun University Soban Singh Jina Campus, Almora, Uttarakhand, India. He is also an editor of International Journal of Visual Arts Studies and Communication (IJVASC). He is also in the jury, member Expert Committee of NCTE, Expert of e- Content- Massive Open Online Courses of UGC including Peer Committee Member of NAAC, observer (UGC Net, NEET, and CBSE), advisor (NCERT), convener and experts of committees, boards and bodies in the journals, institutions, organizations and universities.
Dr. Joshi is presently working as Professor & Dean Faculty of Visual Art Kumaun University and Head, Department of Drawing & Painting of Kumaon University at SSJ Campus Almora, Uttarakhand, India.
Foreword
This book titled as 'Historical Fine Arts and Asian Culture: An Art Craft and Skill Designing with Science & Technology" edited by Prof. Shekhar Chandra Joshi captures a wide spectrum of diverse themes and provides a deep insight into the various facets of fine and performing arts. It blends them with the architecture, science and technology and appears to be a laudable attempt to examine arts, crafts, and performing arts in the perspective of science and technology. Although I have not gone into the text of the book in detail, yet still believe that it is a 'must' read for all those who appreciate arts and craft. The book evolves around India but has set Asia as its broader canvas probably for the fact that it is an offshoot of International Conference on topic "Historical Fine Arts and Asian Culture" that was organized in 2017 by Prof. Joshi. It is an outcome of careful recasting and compilation of the papers that were presented, and even those that could not be presented. This worthy effort shall get real appreciation if this book reaches every interested reader.
I congratulate Prof. Joshi for this significant contribution to the world of arts and crafts and wish him good luck in his one of the finest endeavours.
**Contents and Sample Pages**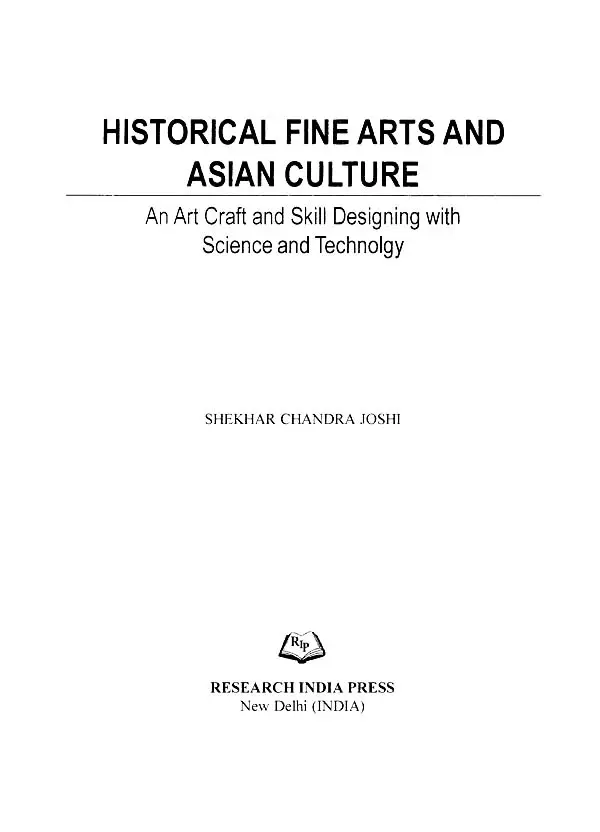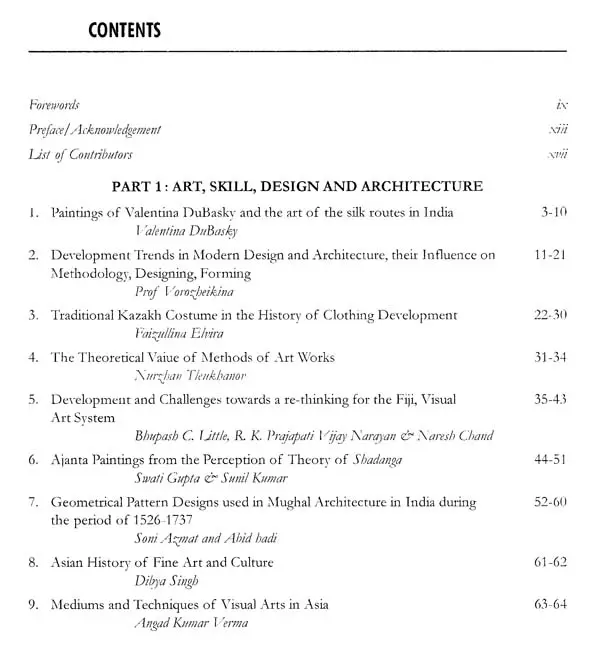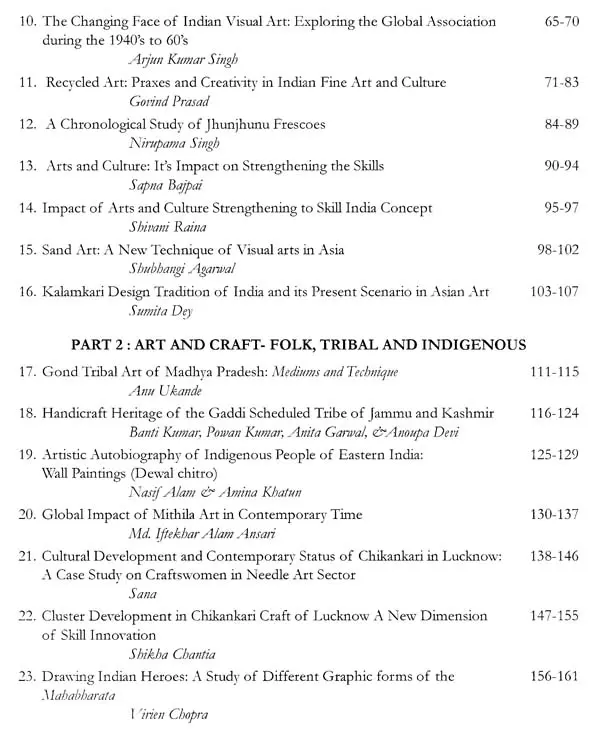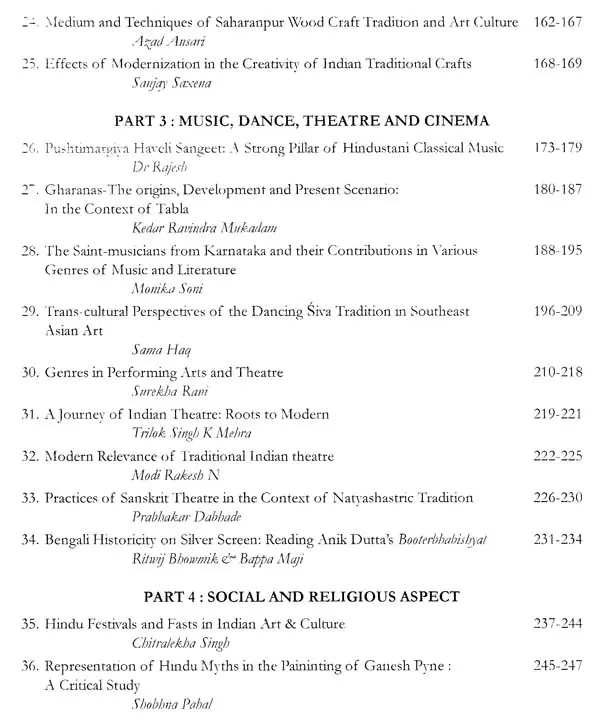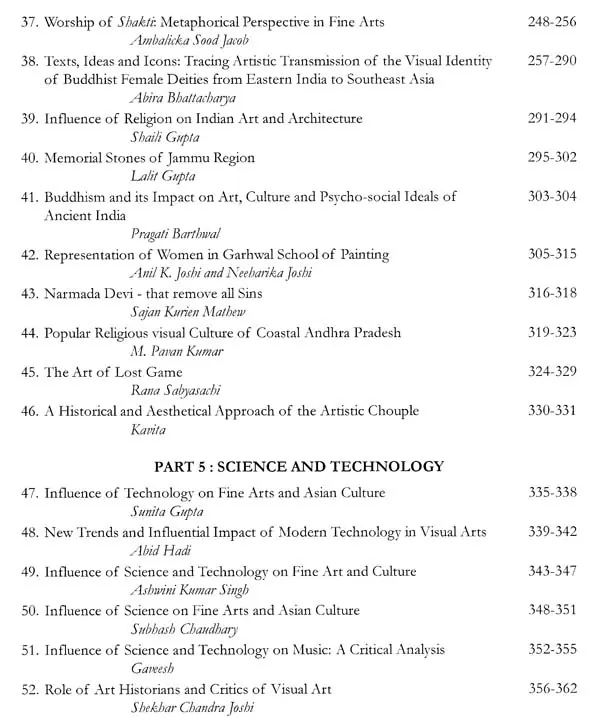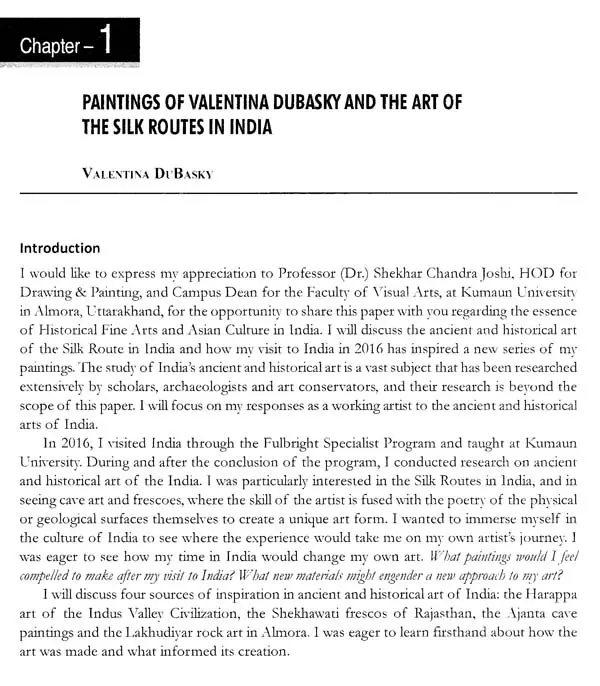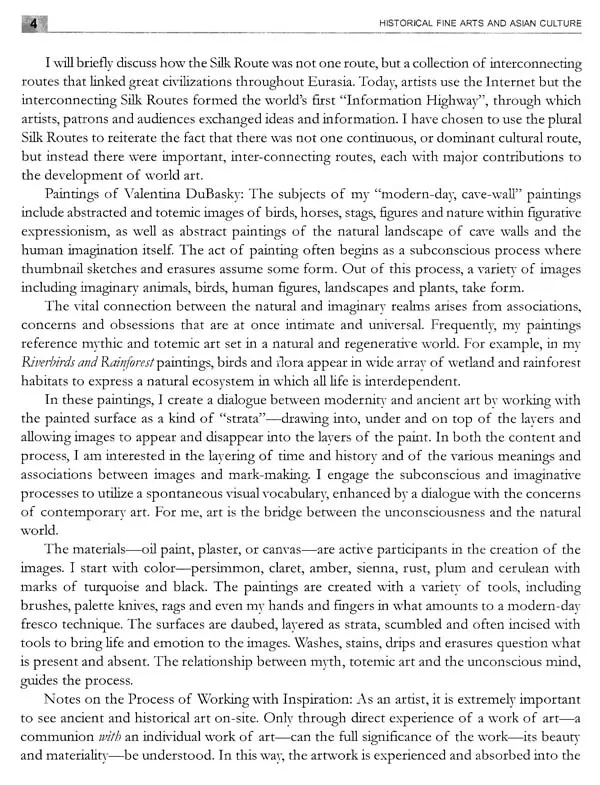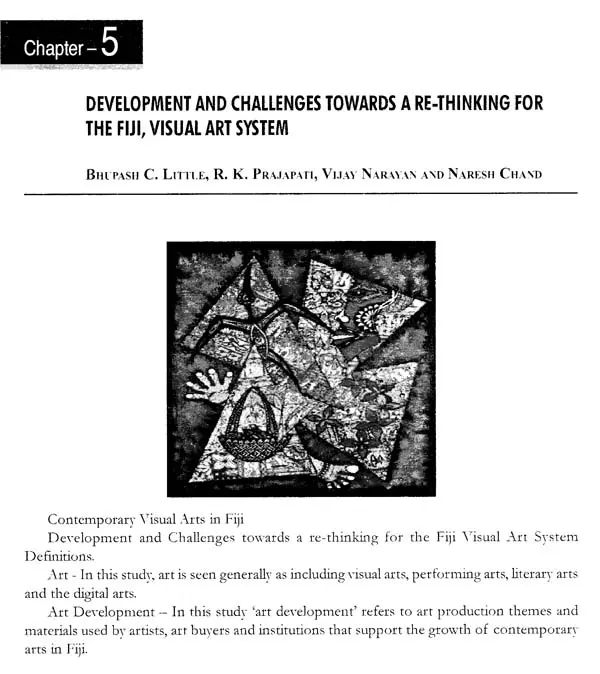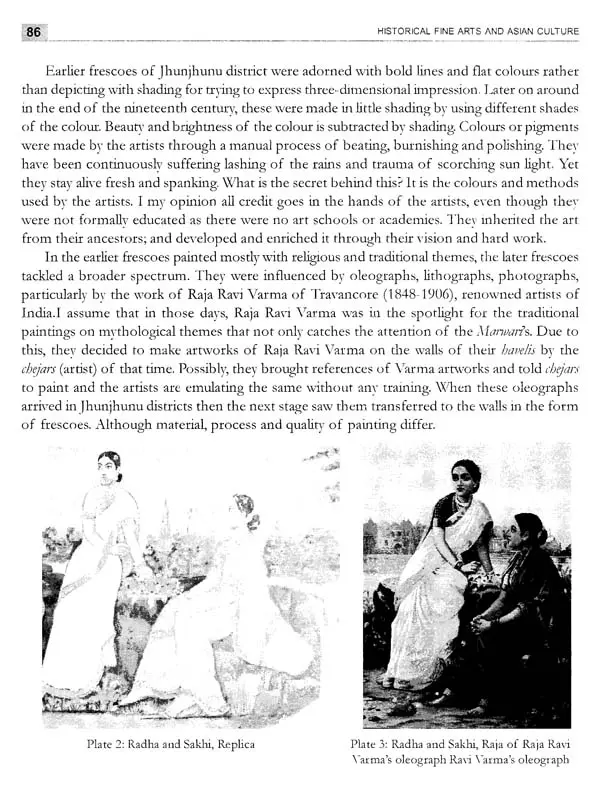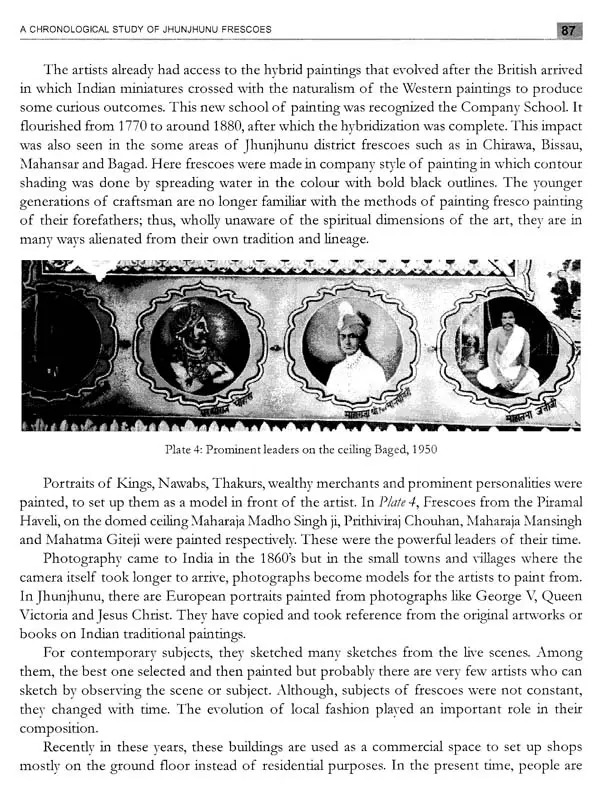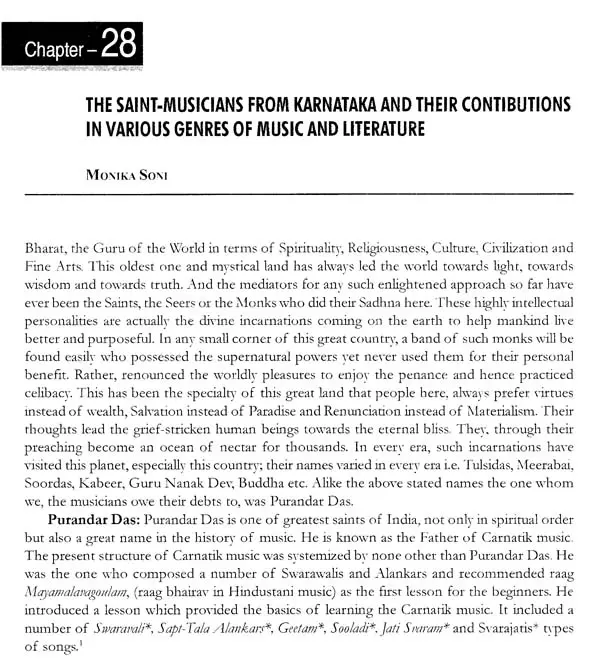 ---
We Also Recommend