History of Ayurveda
$2800

$28.00
Tax included.
Shipping
calculated at checkout.
---
---
Book Specification
| | |
| --- | --- |
| Item Code: | NAI146 |
| Publisher: | Chaukhamba Surbharati Prakashan |
| Edition: | 2013 |
| ISBN: | 9789382443803 |
| Pages: | 250 |
| Cover: | HARDCOVER |
| Other Details | 8.5 inch x 5.5 inch |
| Weight | 400 gm |
Book Description
About the Book
The book "Body-Mind-Spirit Integrative Medicine in Ayurveda, Yoga and Nature Cure" produced by the well known author Professor Ram Harsh Singh is a comprehensive write- up on the subject touching a wide range of related topics. Integrative medicine is an approach to life, health and cure taking into consideration the life as an unified continuum of physical body, mind and spirit in one sweep. The present book attempts to identify this central idea in practice of popular traditional health sciences like Ayurveda, Yoga and Nature Cure. The ancient concept of body-mind-spirit continuum in the field of health care and cure is re-catching the attention of medithinkers globally once again and hence it is necessary to say that it is not a new wave of thoughts, rather it is one of the most ancient view points which formed the basic matrix of the practice of medicine in ancient India.
The book is presented in 65 brief and reader-friendly chapters divided in five sections dealing with 1. Ayurvedic Medicine and its quantum logic, 2. Nature cure and Bio purification, 3. Yoga physiology, 4. Yoga therapy and 5. Parapsychology and occult experiences. The book described in details the fundamental principles of Ayurved identifying the nature of body-mind-spirit continuum in the genesis of life process, health disease, diagnostics and cure. The subsequent sections deal with Yoga and Nature cure in real practice settings. The last section summarises the current trends in study and practice of parapsychology and quantum healing which is gradually gaining scientific support.
About the Author
Dr. Deepak Yadav 'Premchand' completed his B.A.MS from Smt. K.G.M.P. Ayurveda College, Mumbai in 2003 and M.D. (Ayurveda Siddhanta and Darshan) from Ayurveda College, Sion, Mumbai under the guidance of Dr. G.S. Puradkar in 2007. After P. G. in 2008, he joined Veenavadini Ayurvedic Medical College, Bhopal as a Lecturer in 2010; then joined as Lecturer in Sushrutha Ayurvedic Medical College, Bangalore and continues till date.
His works include 'Ayurveda Itihaas' (Hindi), 'Ayurveda cha Itihaas' (Marathi), 'Ayurveda Snatakottara Pravesha Pariksha Margadarshika' (Hindi) and 'Astang Hridyam Surasthan' (English).
Preface
This work is literal translation of the previous work, on this subject, in Hindi and Marathi languages with required changes suggested in the new syllabus by the CCIM.
It is of utmost importance for the students, pursuing Ayurvedic course, to learn about the historical background of the science. It provides them with base to understand the initiation, growth, downfall, and renaissance of the science.
Study of history also introduces students with various available literatures on the subjects of Ayurveda.
Hope this work, like its previous editions, would suffice the need of not only FYBAMS students but also for students preparing for Post-graduation examinations, teaching faculty etc.
Author is thankful to Mr. Navin Gupta and Mr. Neeraj Gupta 'or their encouragement and support.
Contents
| | | |
| --- | --- | --- |
| | Preface | v |
| Syllabus | | vi |
| l. | Introduction | 42736 |
| 2 | Samhita Period, Texts and Sages | 18-50 |
| 3 | Pratisamskarta (Redactors) Period and Sages | 51-53 |
| 4 | Samgraha (Compilation) Period, Texts and Sages | 54-101 |
| 5 | Commentators | 102-116 |
| 6 | Ayurveda in Modem Times | 117-160 |
| 7 | Ayurveda and Other Cultures of the World | 161-174 |
| 8 | Influence of Ayurveda on Greek System of Medicine | 175-184 |
| 9 | Teaching Methods in Ayurveda | 185-193 |
| 10 | Publications (Magazines/Books) in Ayurveda | 194-204 |
| 11 | World Health Organization | 205-206 |
| | Appendices | |
| | Appendix-I: Books on History of Ayurveda | 207 |
| | Appendix-2: History of Modem Medical Science | 208-211 |
| | Appendix-3: Various- Acts, Laws related to Ayurveda | 212-223 |
Sample Pages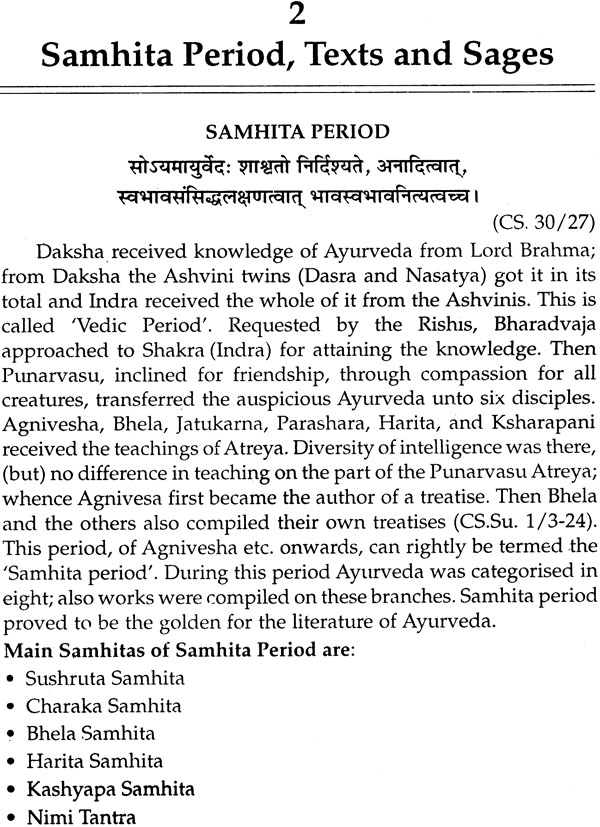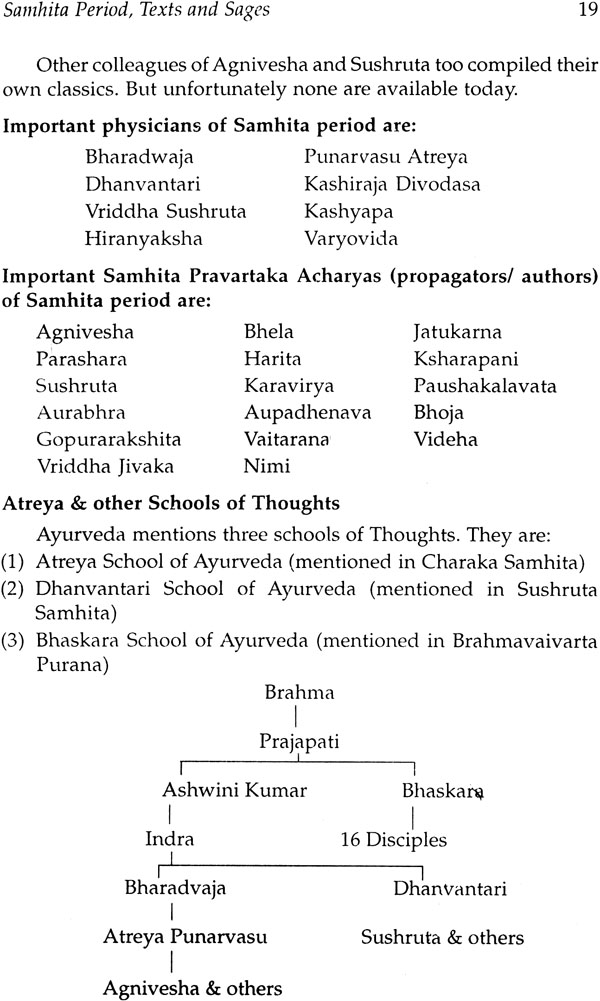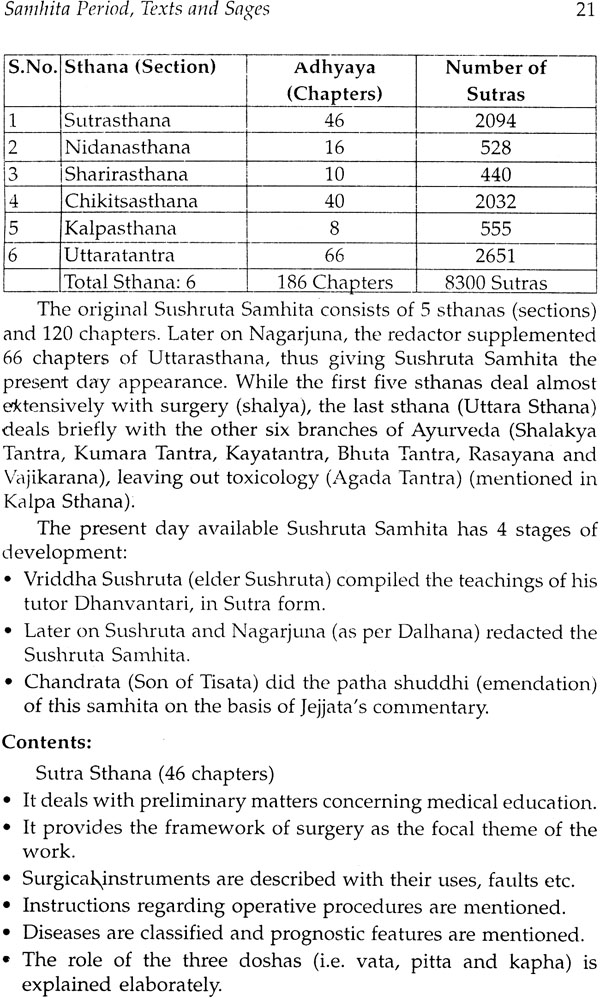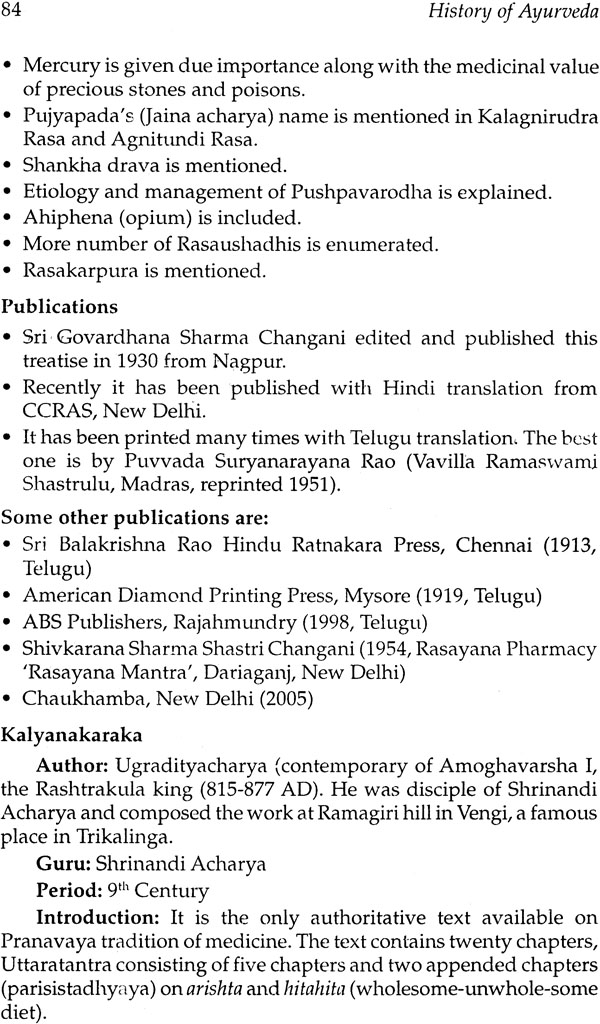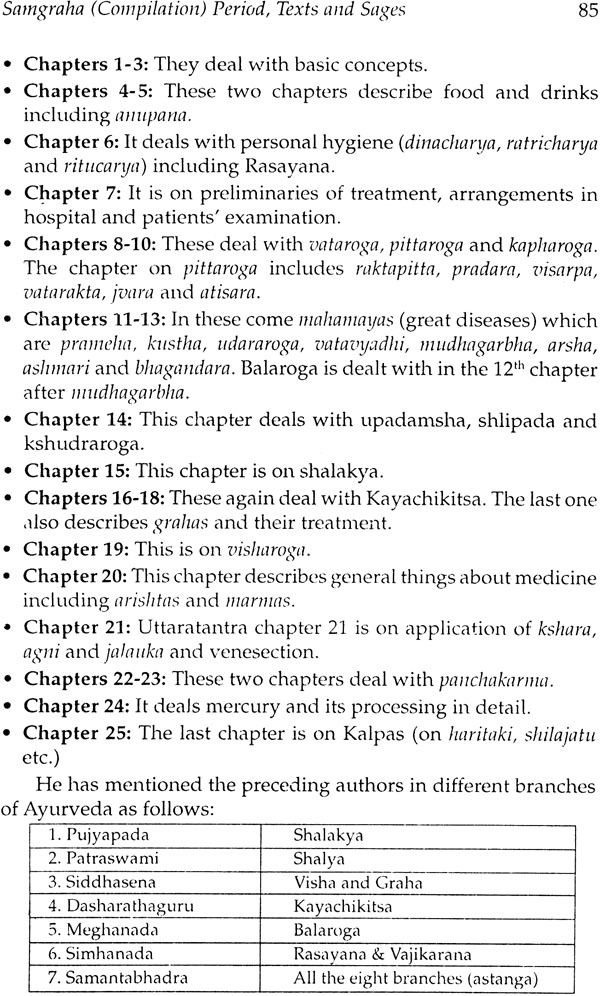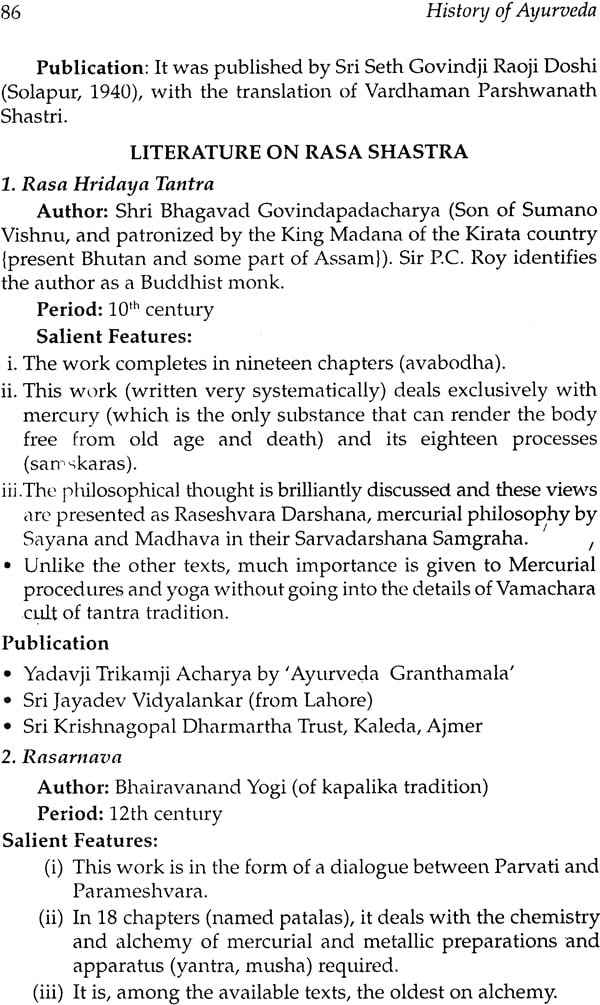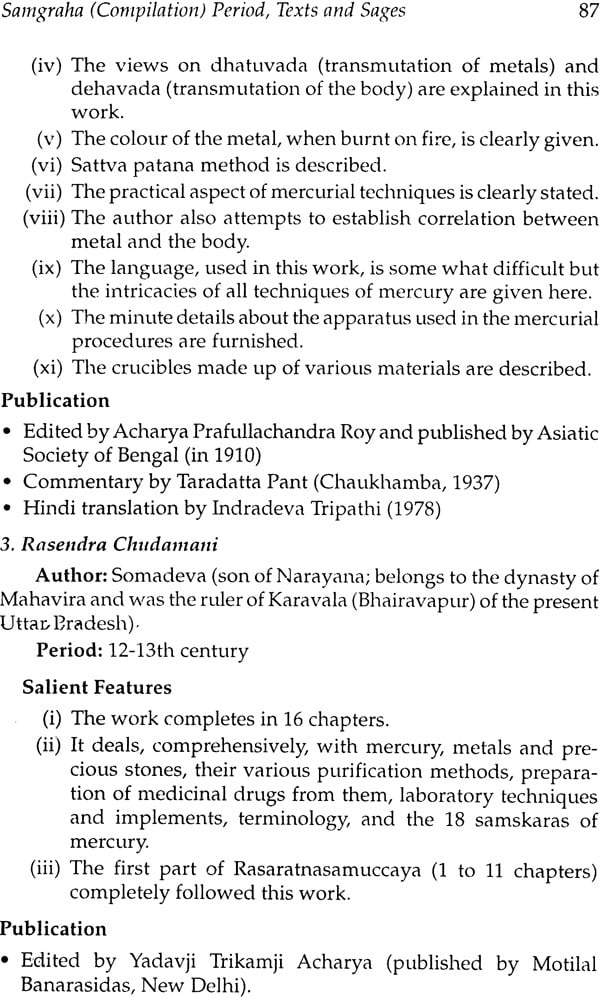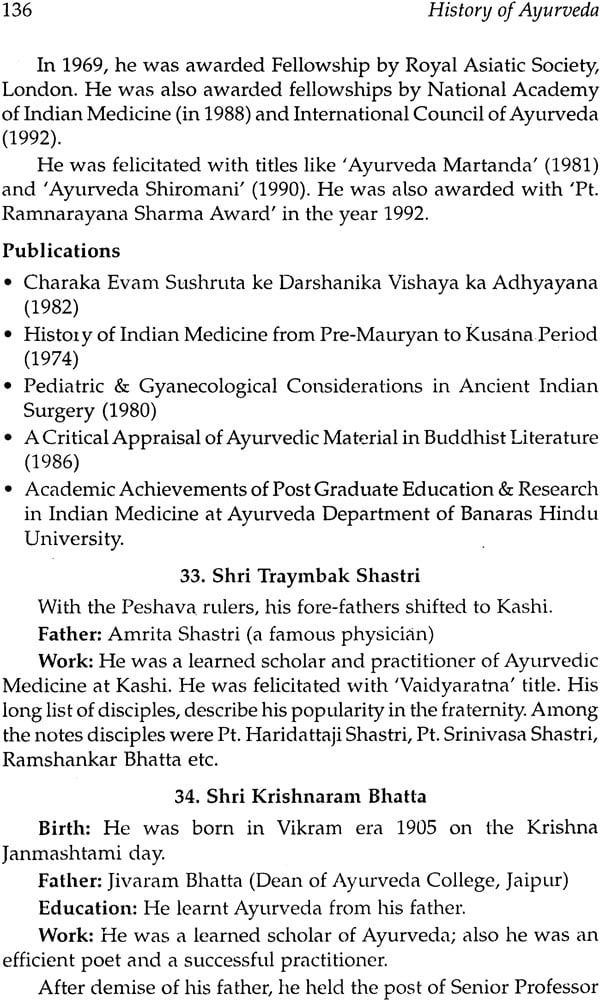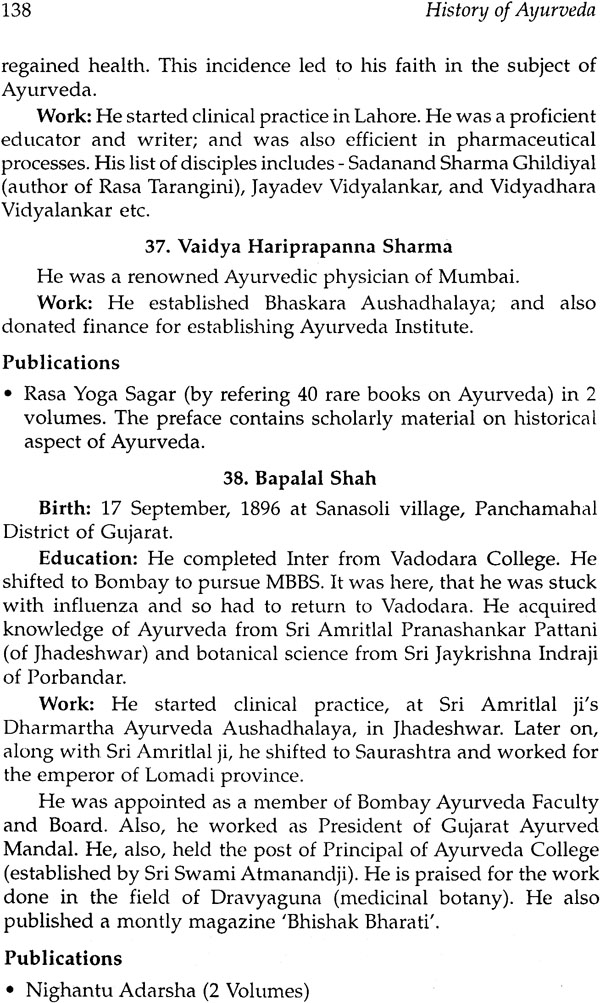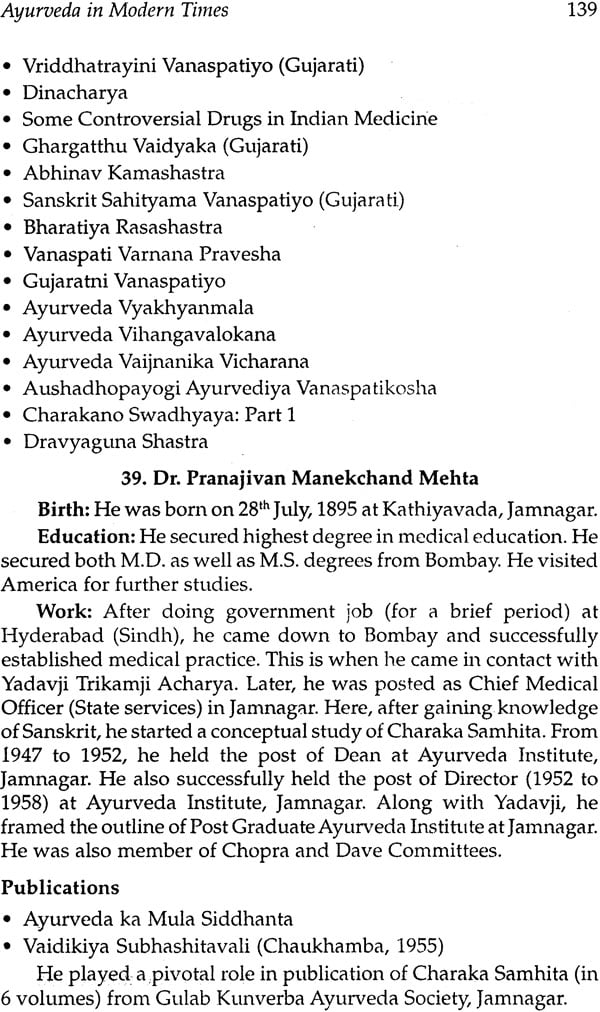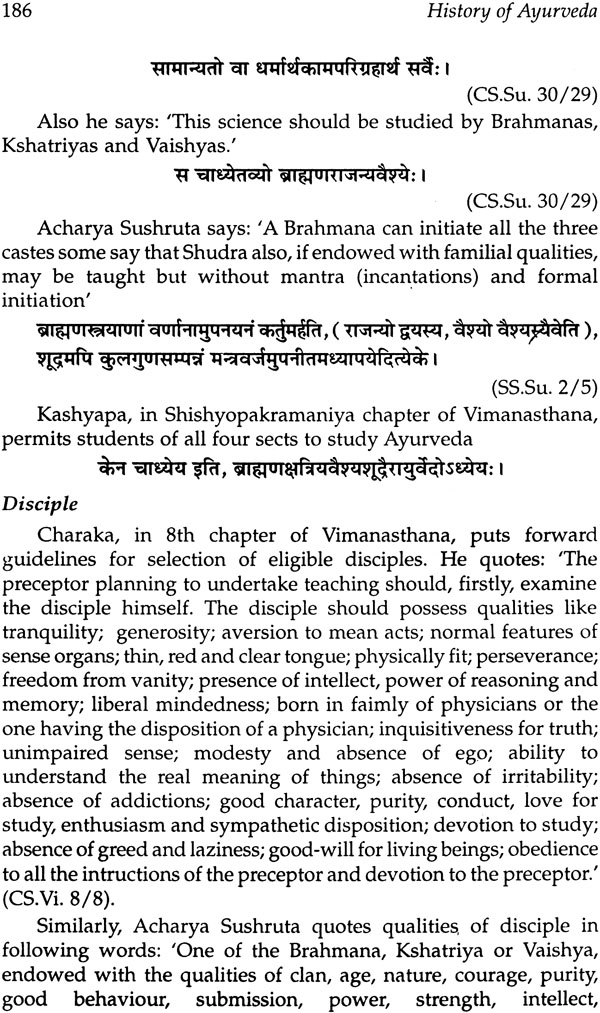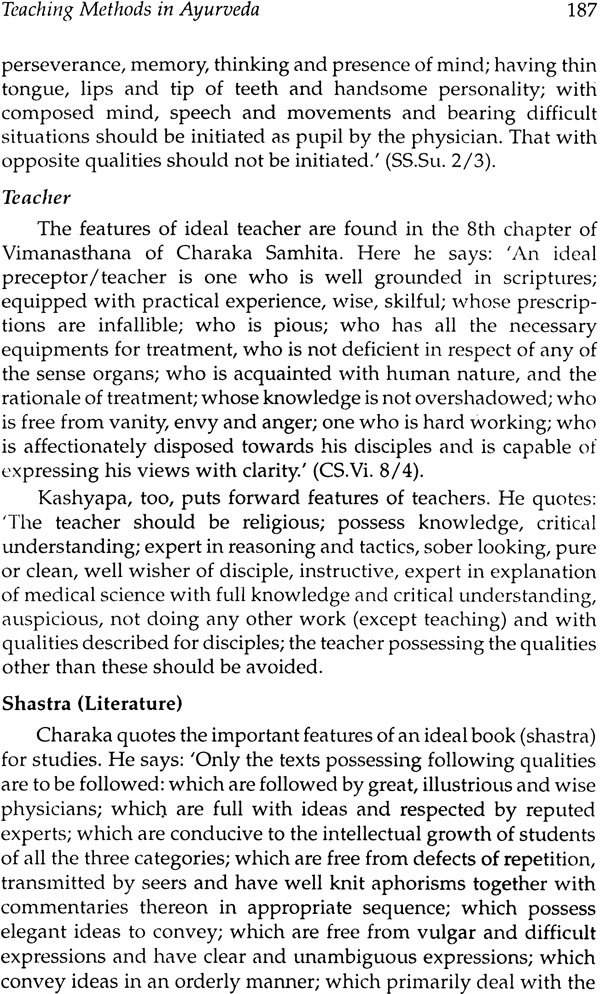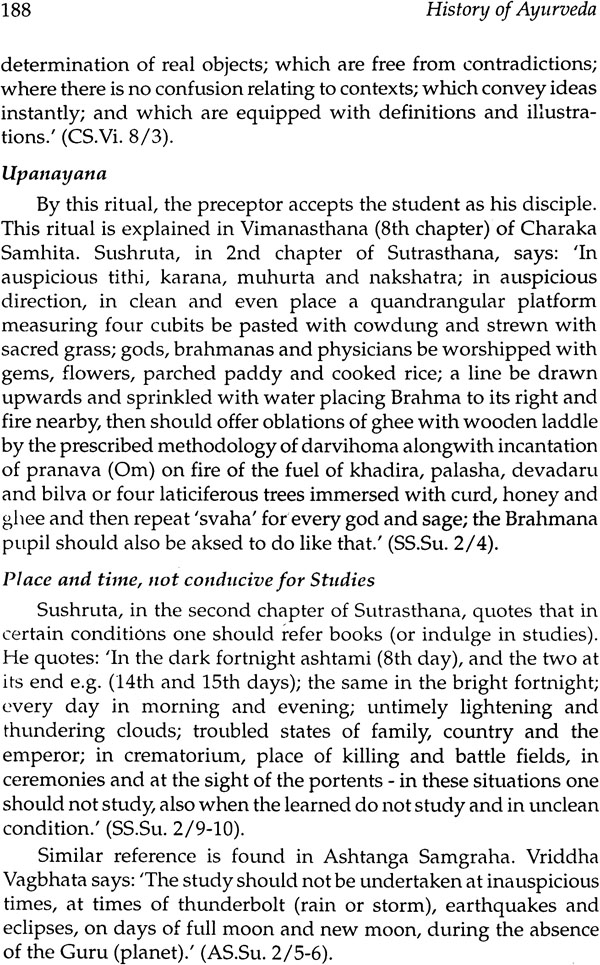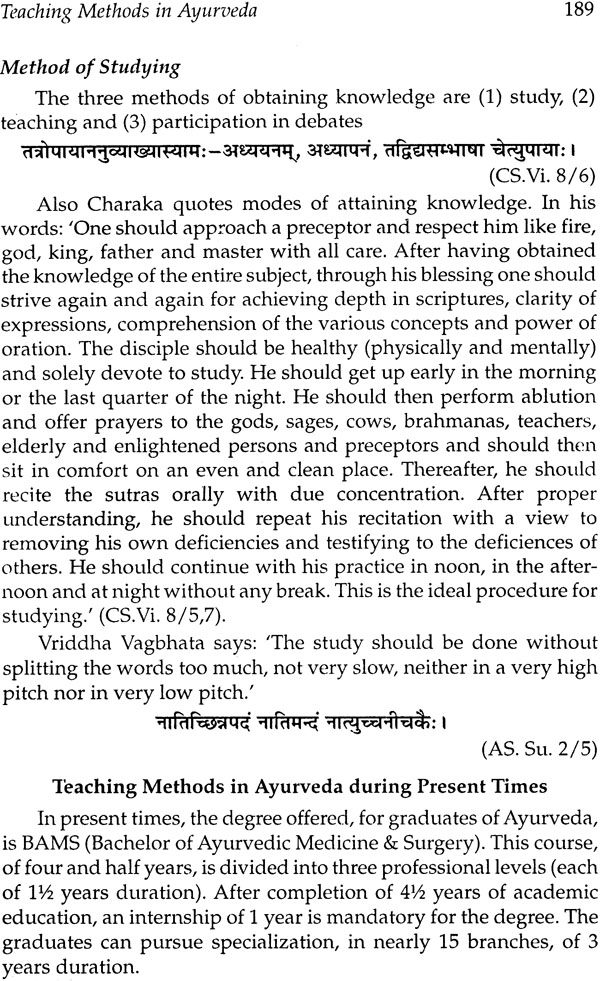 ---
We Also Recommend