The Holocaust of Indian Partition: An Inquest
$6600

$66.00
Tax included.
Shipping
calculated at checkout.
---
---
Book Specification
Book Description
From the Jacket
The Partition of India was a traumatic event. Apart from destroying the unity of India, the two-nation theory created a divide between the Muslims and non-Muslims which has not been easy to bridge. Bur, more important was its tremendous human cost-loss of about a million people. This holocaust, which Nehru described as a man-made Greek Tragedy, is the focus of this book. Based on extensive and in-depth research, it sheds new light on several important issues.
The book surveys the critical 18 month period preceding the transfer of power which saw widespread communal hatred and violence. The poison of communalism had seeped so deep that it should have been evident to anyone that transfer of power was not going to be peaceful. But, the British and the leaders of the two would be dominions- India and Pakistan-failed to see this writing on the wall. The book vividly brings out the holocaust, makes a clinical and thorough inquest, and concludes that, with foresight and planning, its extent and severity could have been reduced substantially. Analysis of such a monumental tragedy inevitably leads to a critical appraisal of the role played by the authors of the tragedy, and the actors who played a part in it-on stage, backstage and in the wings.
The book argues that Nehru and Patel must have been aware of the seriousness of Jinnah's illness and still pressed for partition. India, which is better off with partition, should be eternally indebted to them for their farsightedness, political courage and statesmanship. United India would have been unliveable, ungovernable, and unsurvivable. With its wide canvass, this fascinating and thought-provoking book is a must read.
About the Author
Madhav Godbole (b. 1936) has a M.A. in development economics and M.A. and PhD in economics (University of Bombay). He joined the Indian Administrative Service in 1959 and resigned as Union Home Secretary. He has been secretary, Urban Development, and secretary, Petroleum and Natural Gas in Government of India, Principle Finance secretary, and chairman, Maharashtra State Electricity Board in Government of Maharashtra. He worked in the Asian Development Bank, Manila, Philoppines, from 1980-85.
He has written eleven books in English and Marathi. He has co-authored the working paper, A Quest for Good Governance based on his public interest litigation in the Supreme Court. He also writes on current issues in newspapers and reputed journals.
After retirement, he worked as chairman of several Committees: state level economic reforms, co-operative sugar factories, Enron Power Project, power Sector reforms, amongst others.
He is the recipient of chinmulgund Public administration Award and Dr. M. Visvesvarayya Memorial Lifetime Achievement Award.
CONTENTS
| | | |
| --- | --- | --- |
| | Preface | xi |
| | Maps | xiii |
| 1 | Introduction | 1 |
| 2 | Prelude to Partition- Communal Civil War | 24 |
| I | Introduction | 24 |
| II | Rapidly Deteriorating Communal Situation | 25 |
| III | Jinnah's Call for Direct Action | 32 |
| IV | Great Killing in Calcutta and Riots in East Bengal | 34 |
| V | The Bihar Riots | 48 |
| VI | Increasing Arc of Communalism | 55 |
| VII | Punjab- The Epicentre of Communal Violence | 59 |
| VIII | Toll of Communal Violence | 80 |
| IX | Inadequate, Indisciplined and Communalized Police Force | 83 |
| X | Rapid Growth of private Armies | 88 |
| XI | Army- the Main Instrument for Containing Communal Violence | 91 |
| XII | Civil Service in Doldrums | 92 |
| XIII | Use of force-Legal Implications | 101 |
| XIV | Role of the Press | 102 |
| XV | General Atmosphere in the Country | 105 |
| 3 | The Holocaust | 109 |
| I | The 3rd June Announcement | 109 |
| II | Unending Communal Carnage | 114 |
| III | Assurances to Minorities | 126 |
| IV | Hell Broke Loose in Independent India and Pakistan | 134 |
| V | Biggest Migration in History | 178 |
| VI | Unwelcome Refugees- A Crying Shame | 280 |
| VII | The Death Toll | 214 |
| 4 | The Principal Actors | 223 |
| I | Indian Leaders through the Eyes of the British | 224 |
| II | Mountbatten | 230 |
| III | Gandhi | 243 |
| IV | Nehru | 253 |
| V | Jinnah | 265 |
| VI | Vallabhbhai Patel | 269 |
| VII | Relations between Nehru and Patel | 273 |
| VIII | Supporting Actors | 278 |
| 5 | The Inquest | 286 |
| I | The Holocaust-Varied Reactions | 286 |
| II | Nagging Questions | 300 |
| 1 | Unwarranted haste in transfer of power | 300 |
| 2 | There were clear forewarnings of the holocaust | 311 |
| 3 | Pleas of the Sikhs fell on deaf ears | 322 |
| 4 | Demands for exchange of populations | 336 |
| 5 | Empty threats vs. actual use of force | 349 |
| 6 | Non-arrest of Sikh Leaders | 358 |
| 7 | Myth of the Punjab Boundary Force | 363 |
| 8 | Premature withdrawal of British troops and officers | 377 |
| 9 | Division of the Indian Armed Forces | 385 |
| 10 | Partition with undecided borders | 392 |
| 11 | Civil administration in doldrums | 400 |
| 12 | Political Parties and Communal violence | 409 |
| 13 | Gandhi's reluctance to visit the Punjab | 413 |
| 14 | There was no contingency Plan | 415 |
| III | No Enquiry, Not Even A Monument | 425 |
| 6 | The Partition in Retrospect | 428 |
| I | Introduction | 428 |
| II | Jinnah's illness | 433 |
| III | Interim Government with Two Cabinets | 439 |
| IV | Compromises at What Cost? | 444 |
| V | Unpartitioned India: Ungovernable, Unliveable | 463 |
| VI | The New Beginning | 476 |
| VII | Lessons of Partition and Portents | 496 |
| VIII | India will Have to Find its Own Answers | 543 |
| Appendix I | With a Refugee Column | 548 |
| Appendix II | Retrospect | 553 |
| Appendix III | Mountbatten's Self-defence | 555 |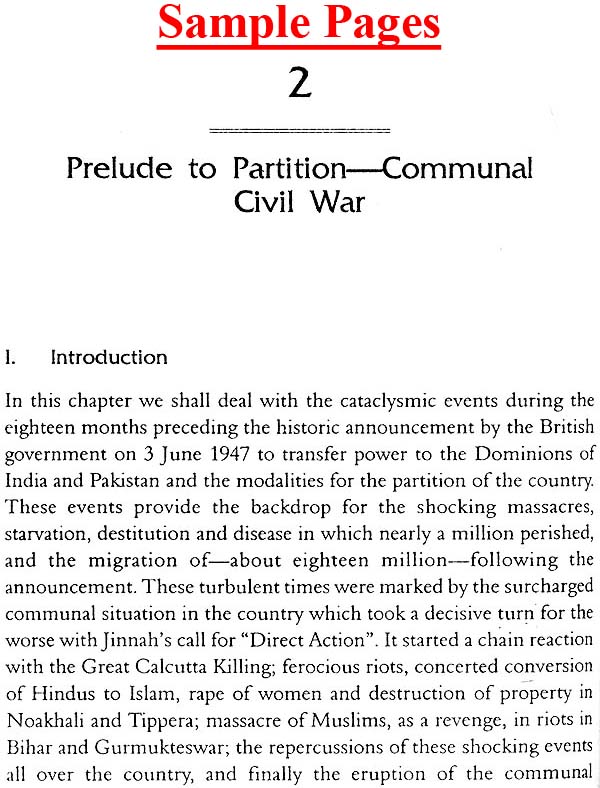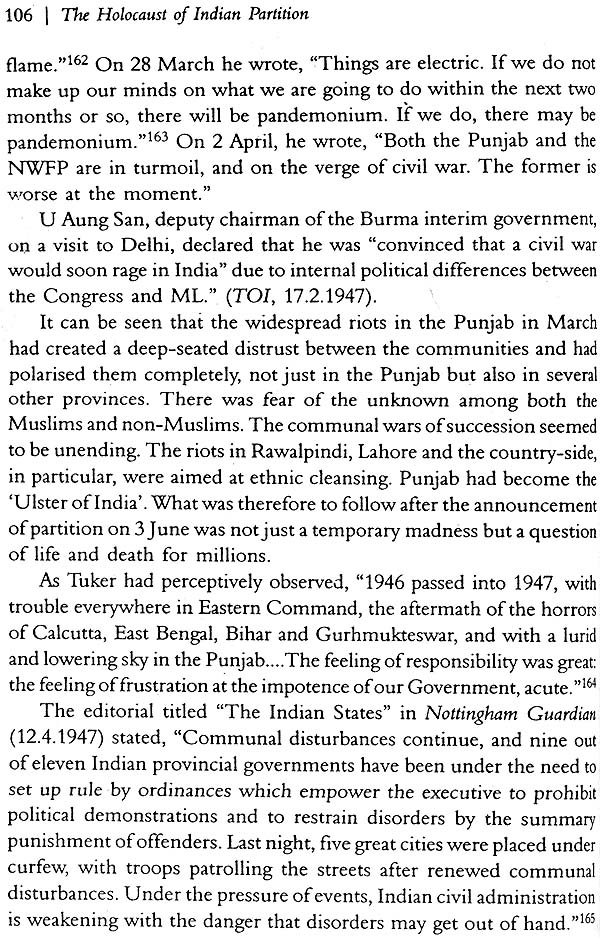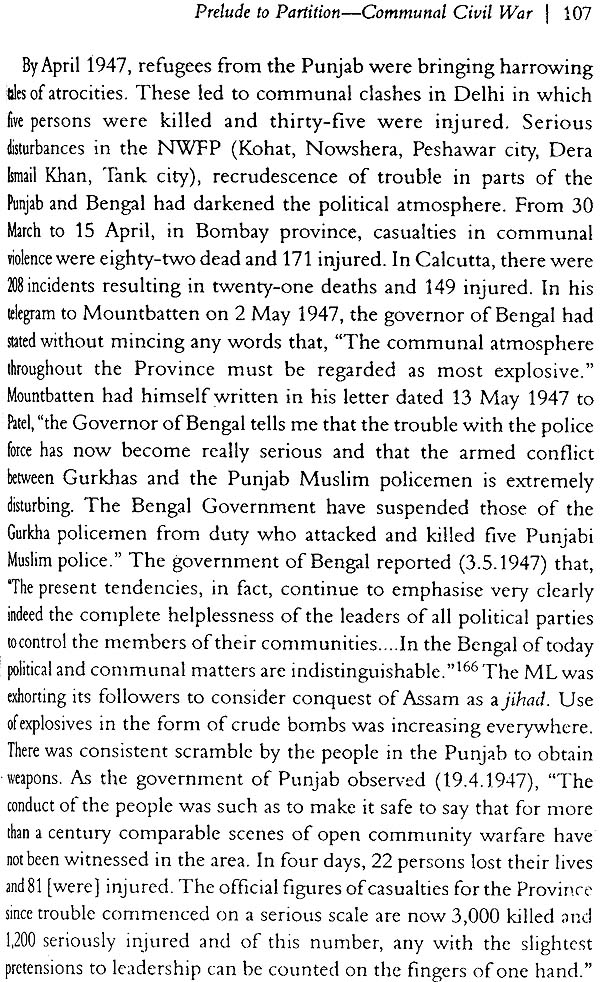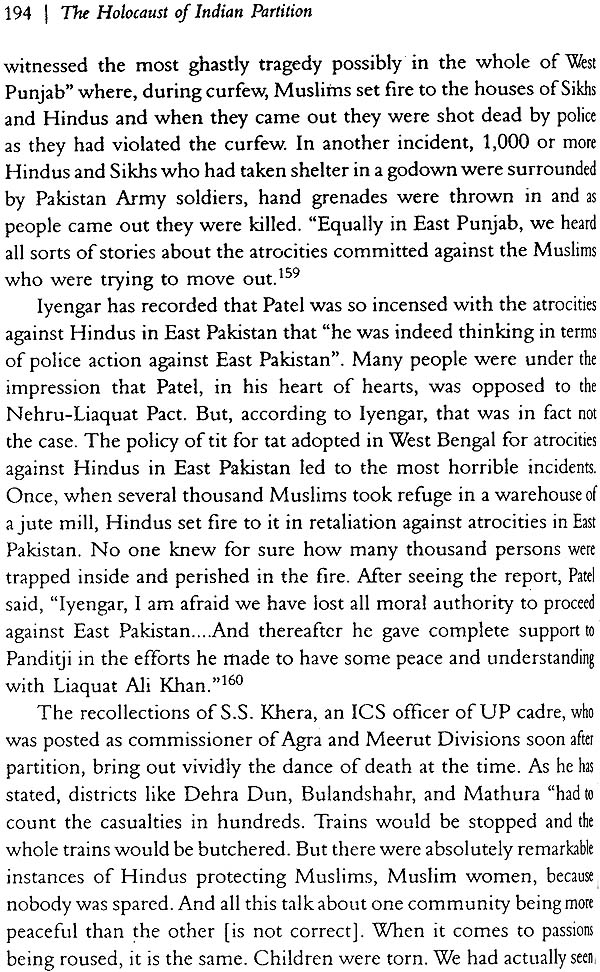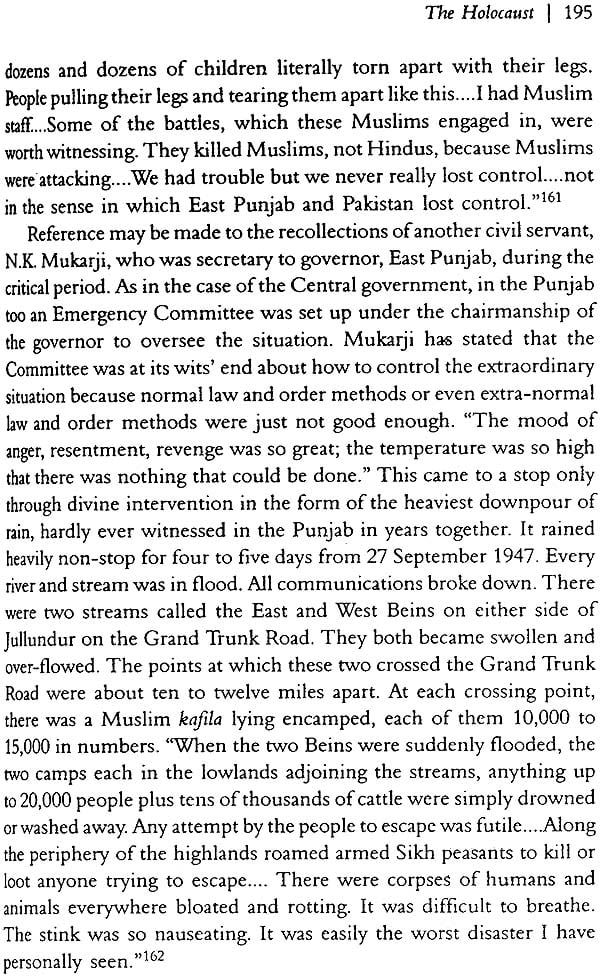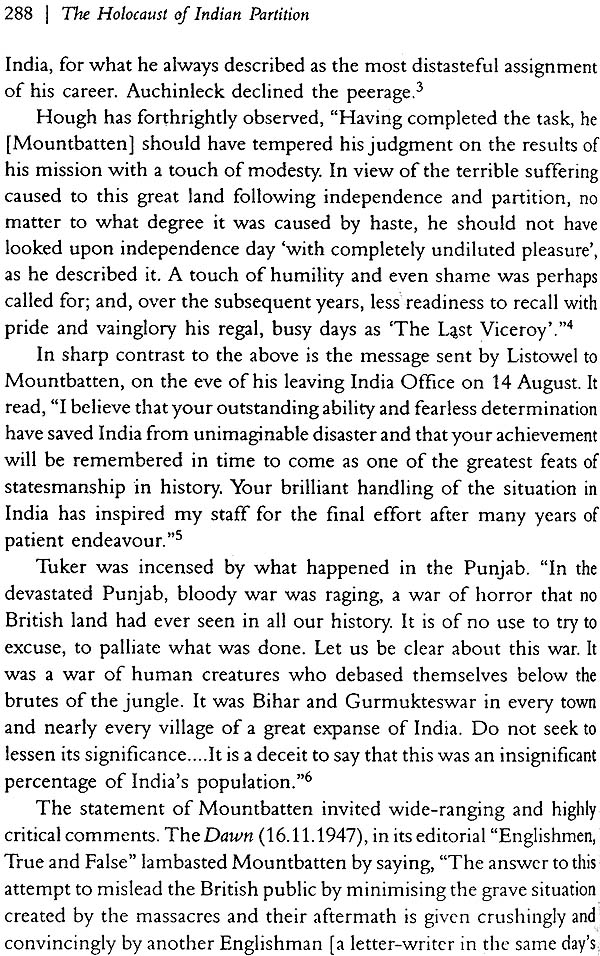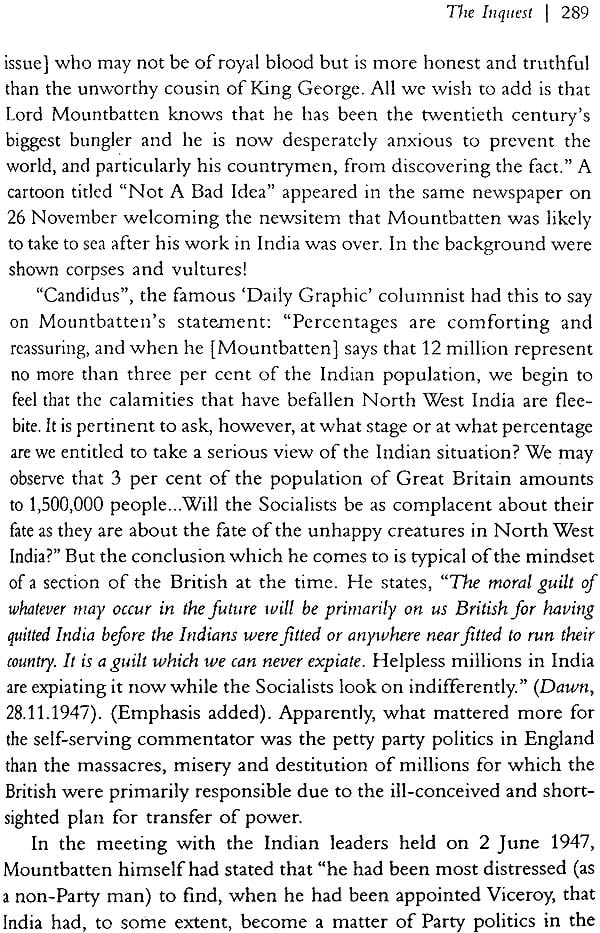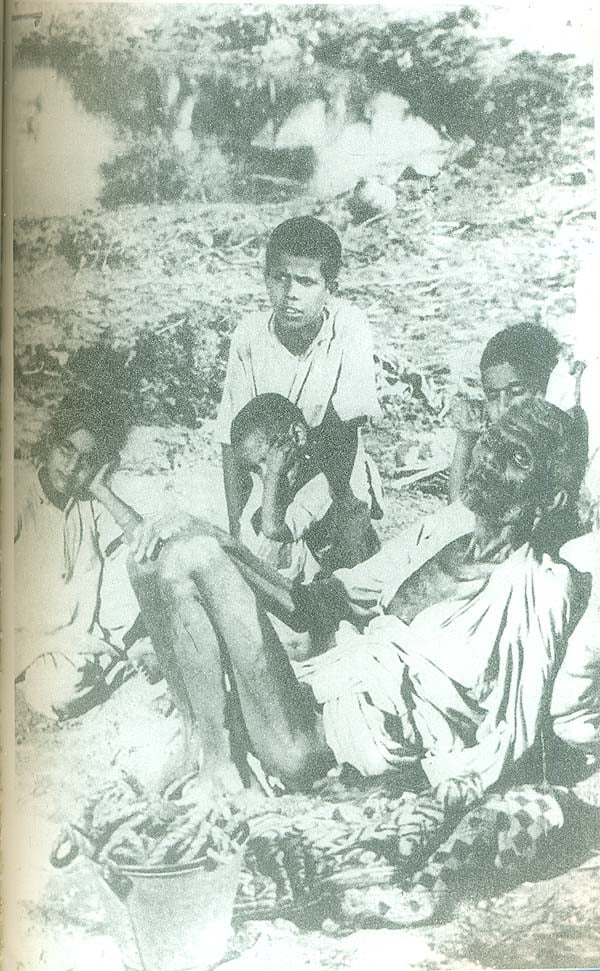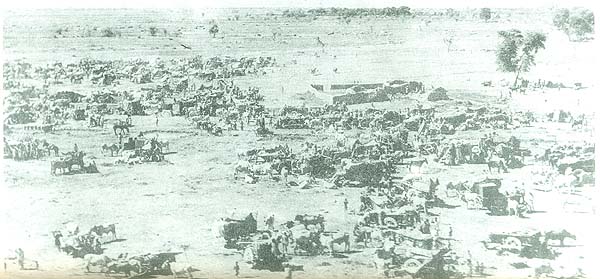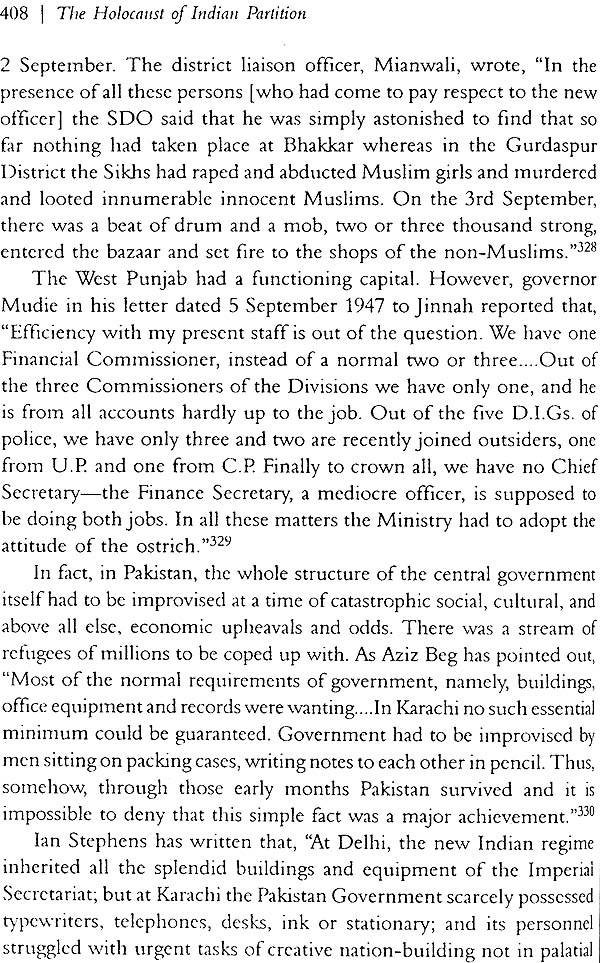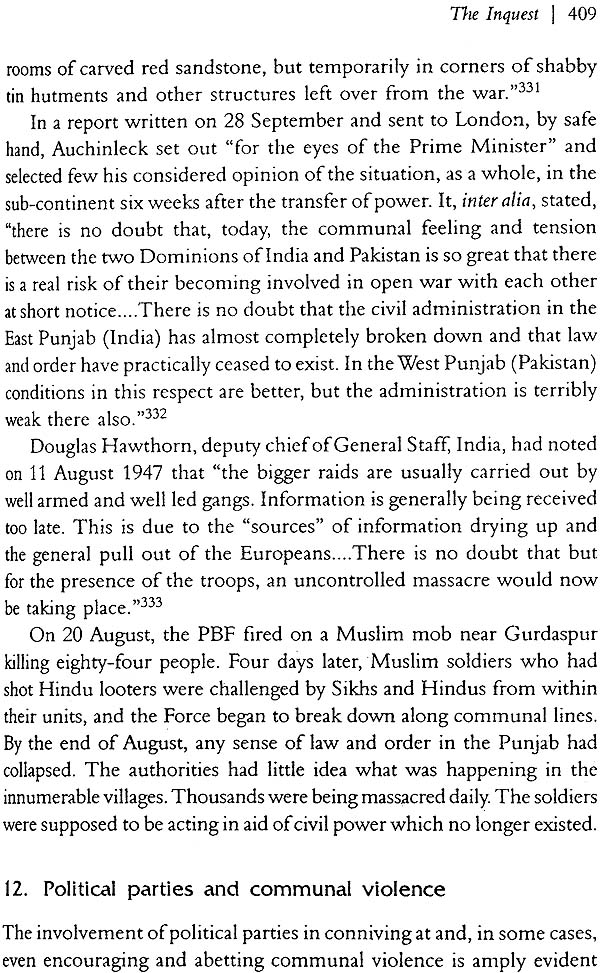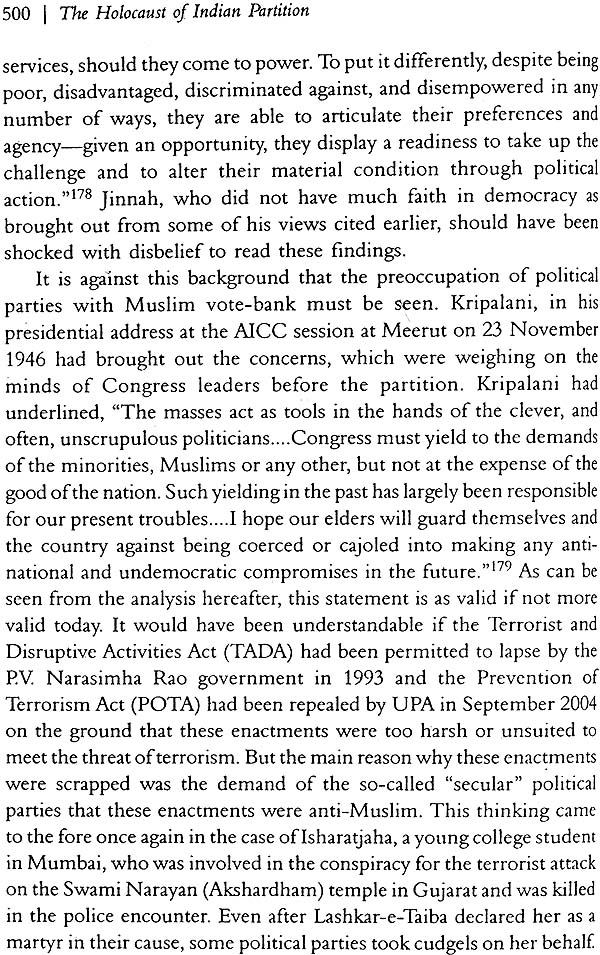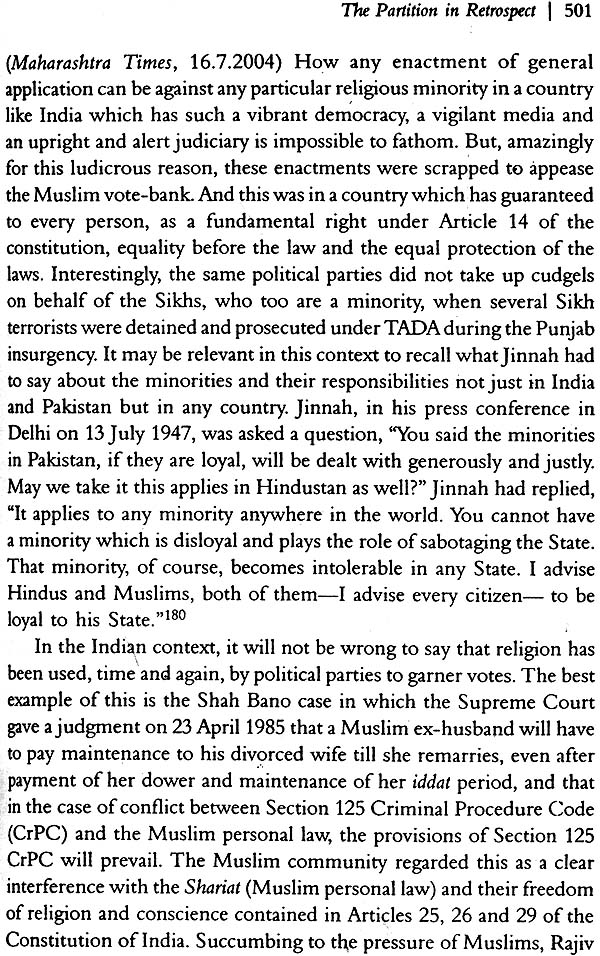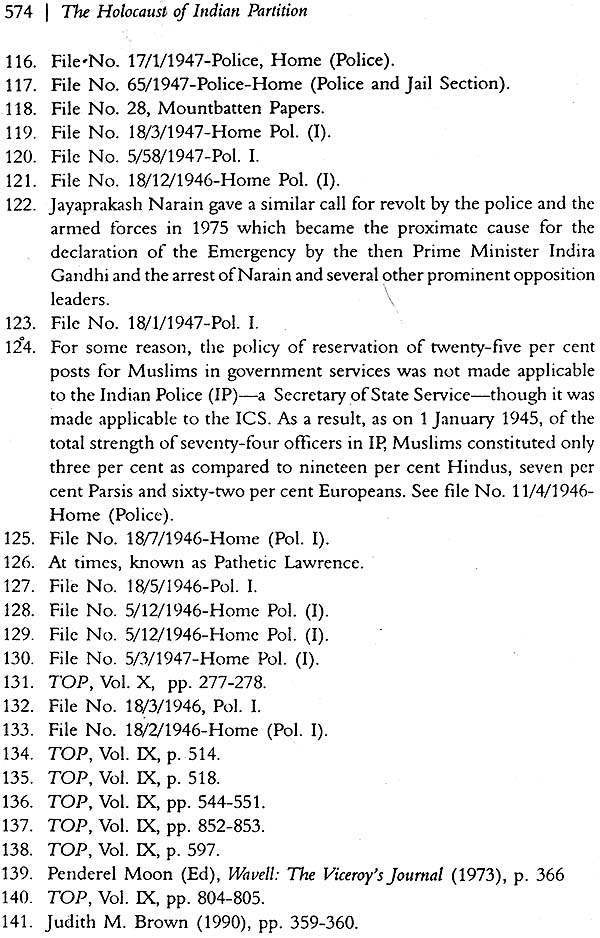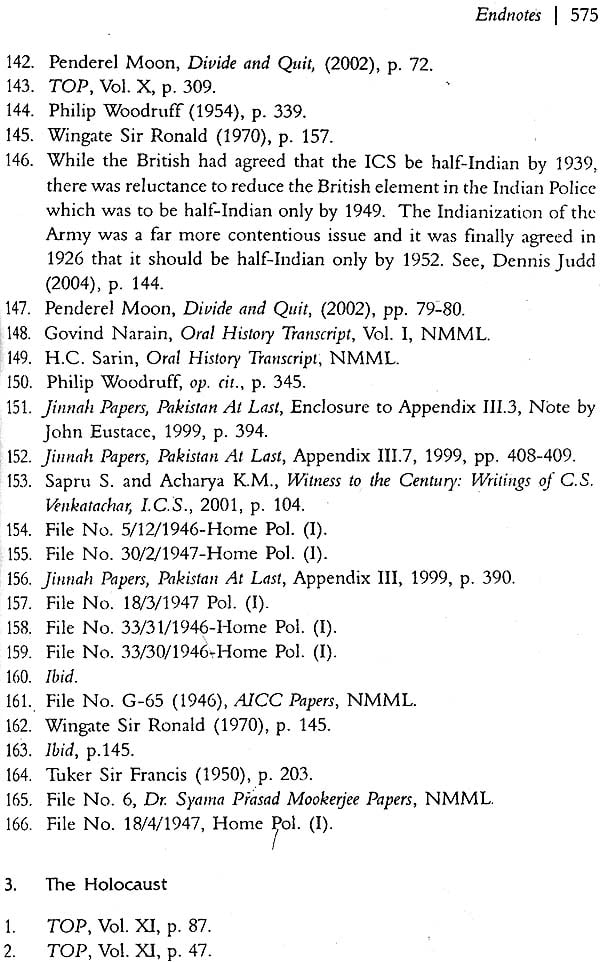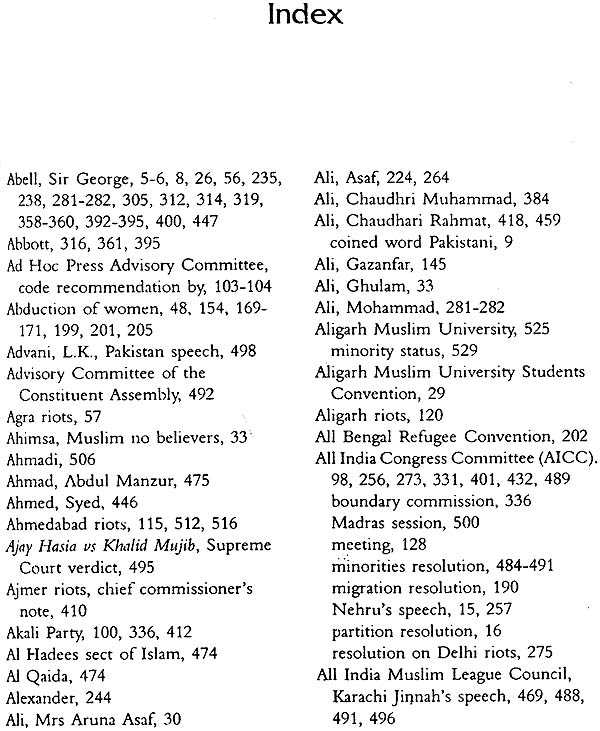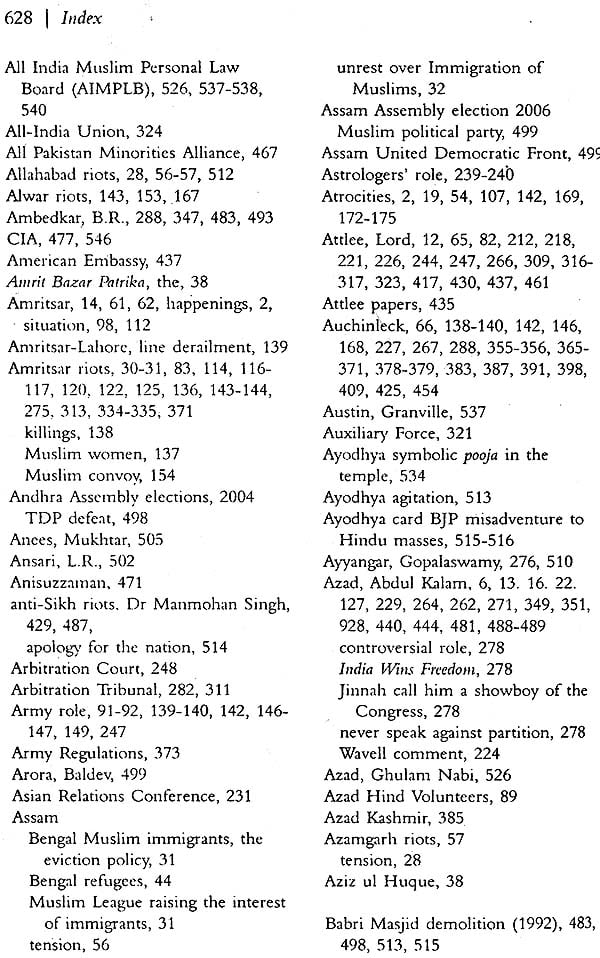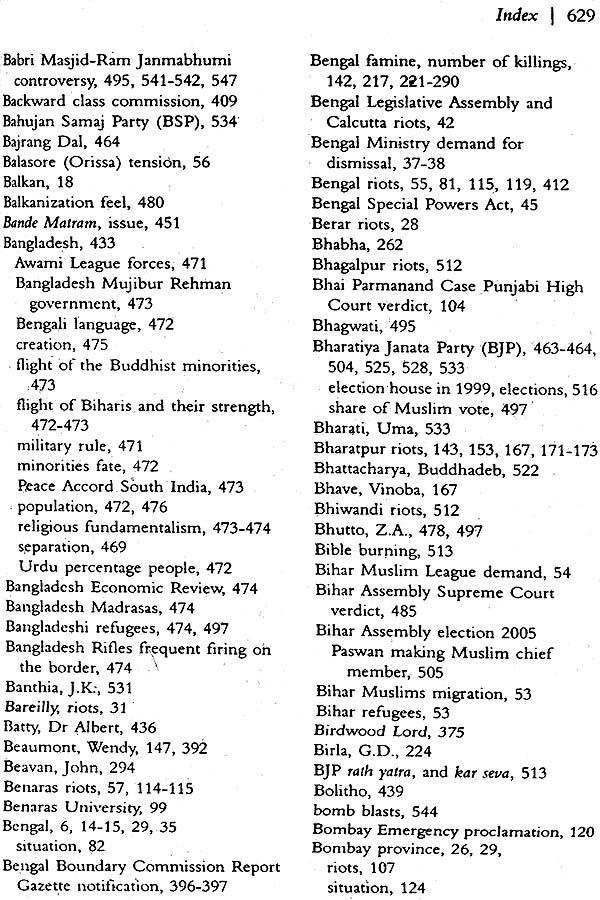 ---
We Also Recommend