Immortal India- Vol- III (An Old and Rare Book)
$2600

$26.00
Tax included.
Shipping
calculated at checkout.
---
---
Book Specification
| | |
| --- | --- |
| Item Code: | UAT322 |
| Author: | J. H. Dave |
| Publisher: | Bharatiya Vidya Bhavan |
| Language: | Sanskrit and English |
| Edition: | 1991 |
| Pages: | 247 |
| Cover: | PAPERBACK |
| Other Details | 7.00 X 5.00 inch |
| Weight | 240 gm |
Book Description
About the Author
Professor Jayantaknshna Hankrishna Dave MA. LL.B. (S.C.), Mahamahopadhyaya. Vidyavachaspati, is the Hon. Director of the Bharatrya Vidya Bhavan and the author of several leamed works. He has been a member of the Senate of the Bombay University and the Varanasi Sanskrit Univrsity. A versatile writer. noted scholar and leading Advocate of the Bombay Bar, he had a brilliant academic career winning many a coveted prize. He has been awarded the Upadhl of Vidya-Vachaspati and thereafter at Mahamahopadhyaya by H.H. the Dwarka Sharadapeeth Shankaracharya. He had his legal training under late Shri KM. Munshi. He was tor some time Chief Justice of the Banaswara State of Rajasthan. His great erudition in Sanskrit and Dharmashastra has made him an authority on Hindu Law. He has worked as recognised Post-graduate Professor for MA (Sanskrit) for 5 years, has been a part-time Professor of Law in the K.C. Law College, Bombay and recognised Post-graduate Profession of LL.M. and a guide for Ph.D. in law of the Bombay University. He is qui vive to the cause of Sanskrit. He was appointed as a member of the Sanskrit Commission by the Government of India in 1957 and was a member at the Central Board of Sanskrit Studies constituted by the Government of India as per the recommendations of the Sanskrit Commission. He has been in various committees of the Government at India connected with Sanskrit including the Kendriya Sanskrit Parishad, also in the Maharashtra Sthayee Sanskrit Sakti etc. He is the Honorary General Secretary of the Sanskrit Vishwa Parishad for more than 12 years and is the Editor ct 'Bharatiya Vidya' (Research Quarterly). 'Bhavan's Joumal (English Fortnightly) and "Samvid (Sanskrit Quarterly). He was also the editor of "Bharat (Hindi Monthly). He was deputed as Bhavan's delegate to the world conference on Religion and Peace held in Japan in October 1970 and is also a member of its follow-up council.
Works: immortal India Vols. I to IV, History of Gujarati Culture in Hindi (published by the UP. Government, Gujarati Sahiyano Suvama Mahotsava and Arachina Saraswats Pravaha, Vyavahara Prakasha (critically edited) Part 1, Part of Feihasta Prakasha: Amar Bharat (3 Vols. Guj.) Critical introduction to Shakta Sampradaya (Guj). General Editor of the Upanishadic project in five volumes, Editor of six volumes in the Singhi series, Editor of Manusmriti in six volumes, writer of several Sanskrit poems, numerous essays, and papers etc.
Introduction
The series of articles on the various Tirthas and ancient spots under the title of "IMMORTAL INDIA", first appeared in the English fortnightly Journal of the Bharatiya Vidya Bhavan, "BHAVAN'S JOURNAL". Subsequently they also appeared in Hindi in the Bhavan's Hindi fort nightly journal "BHARATI". Some of the articles have also been translated in different Indian languages under special permission. A few were also reproduced in the Bombay State Transport Review'. To meet the constant demand of having them collectively in a book form, the Bharatiya Vidya Bhavan has decided to publish them in its Book University Series in parts.
The information collected under the various titles is not necessarily exhaustive. Apart from his own observations, the writer has also collected notes from numerous earlier works and authorities. Some of them are indicated in the text. But the writer takes this opportunity to acknowledge his indebtedness and gratitude to all of them, whether specifically mentioned or not. An attempt has been made in these articles to give an account based on History, Tradition, Vedic, Epic and Puranic Literatures, Sanskrit digests on Tirthas, Inscriptions and other sources. Religious movements and associations of saintly personalities are also noted. The purpose would be served if the account creates an interest in the readers about the various ancient and holy spots, and a visit to them if possible.
**Contents and Sample Pages**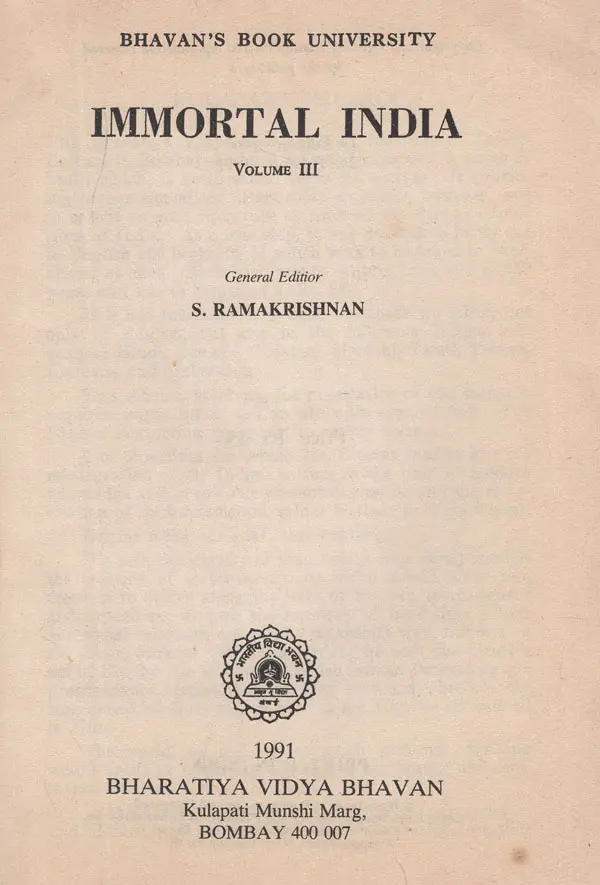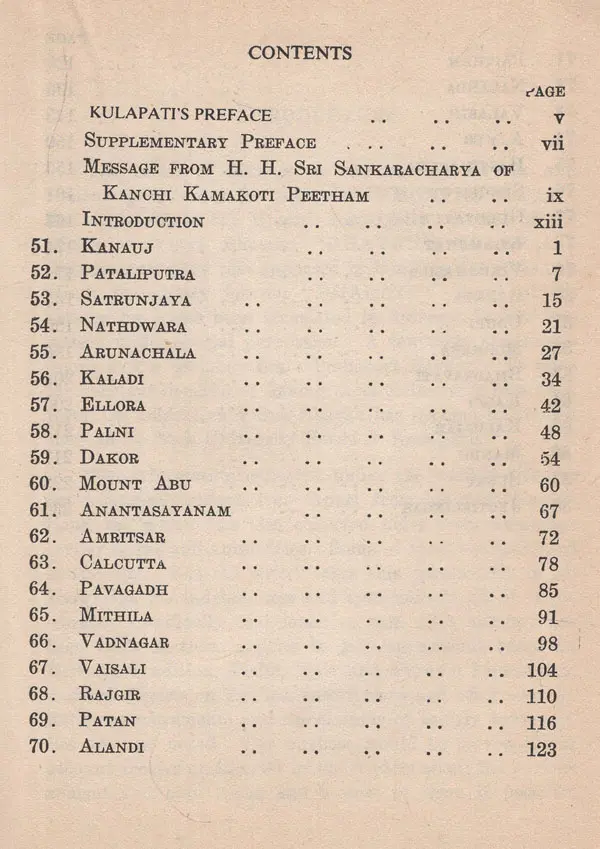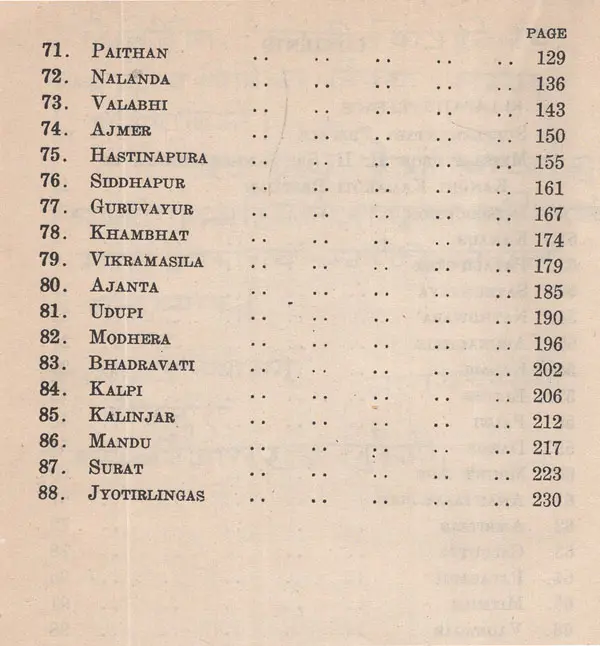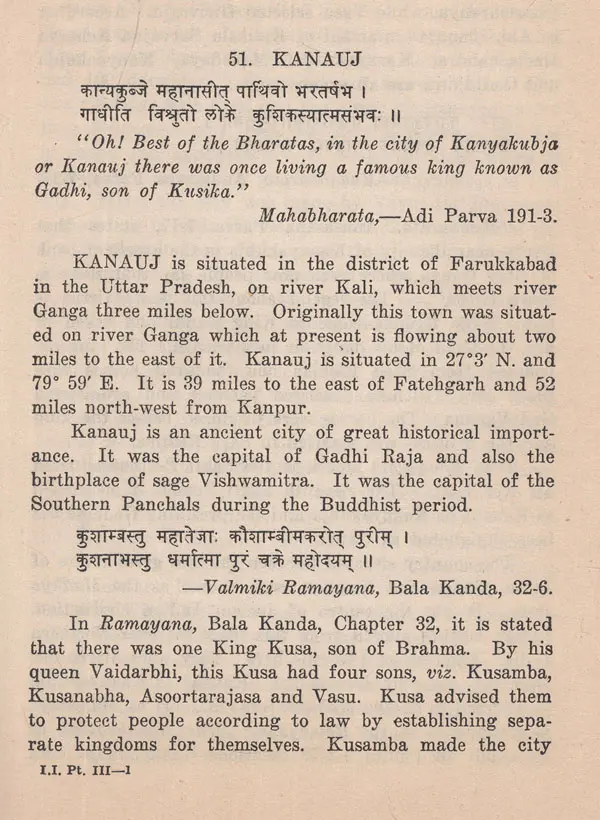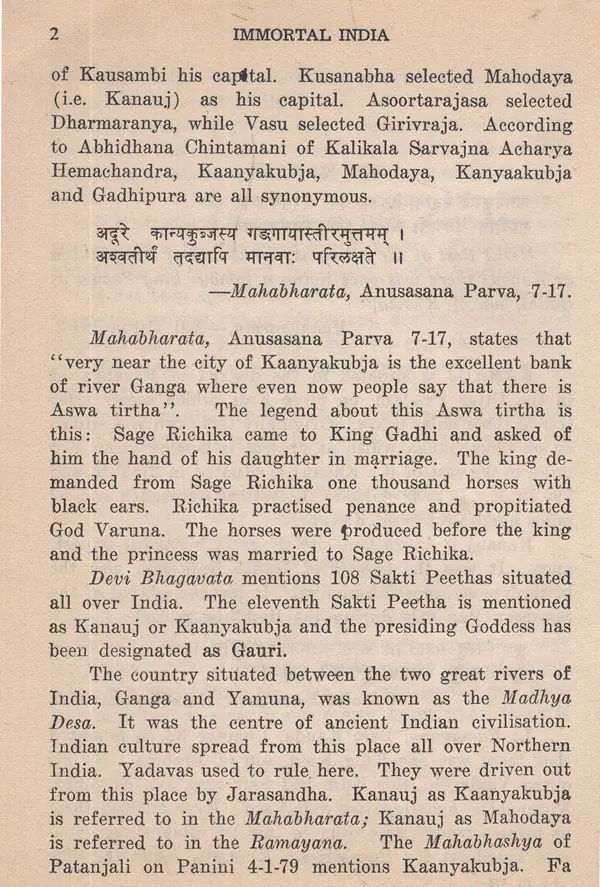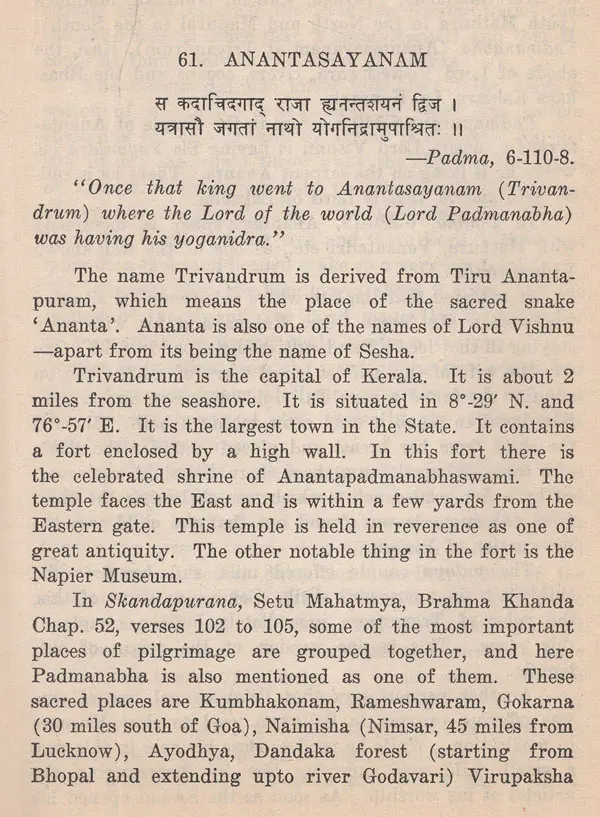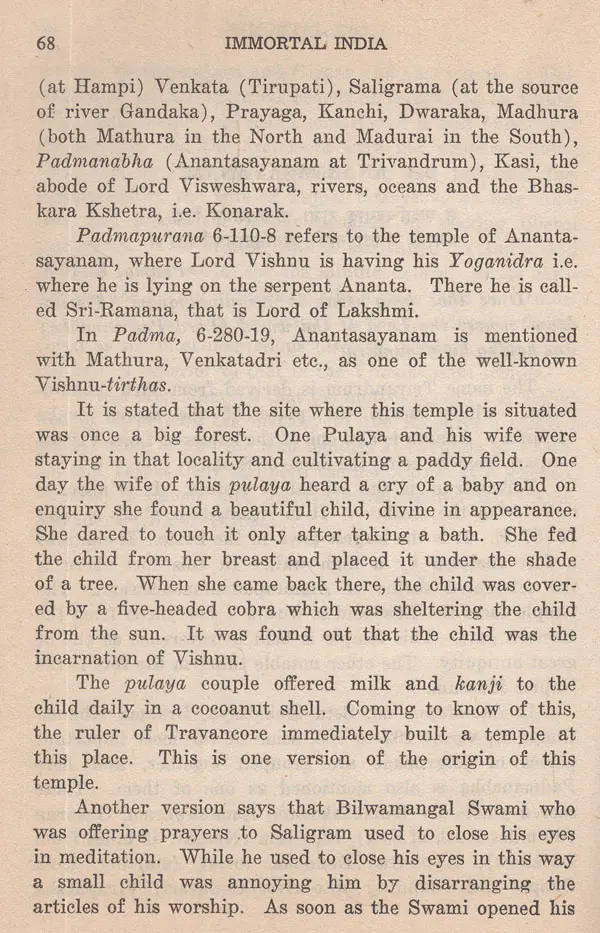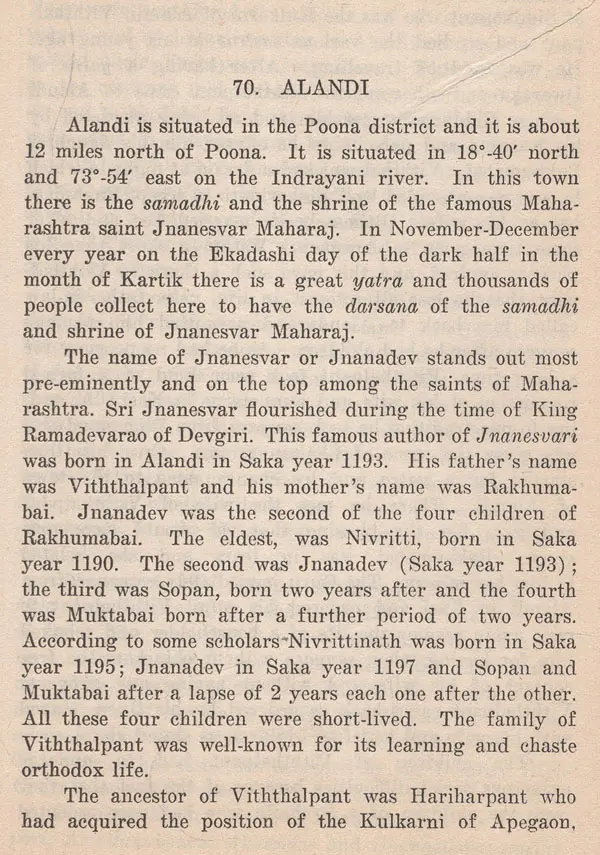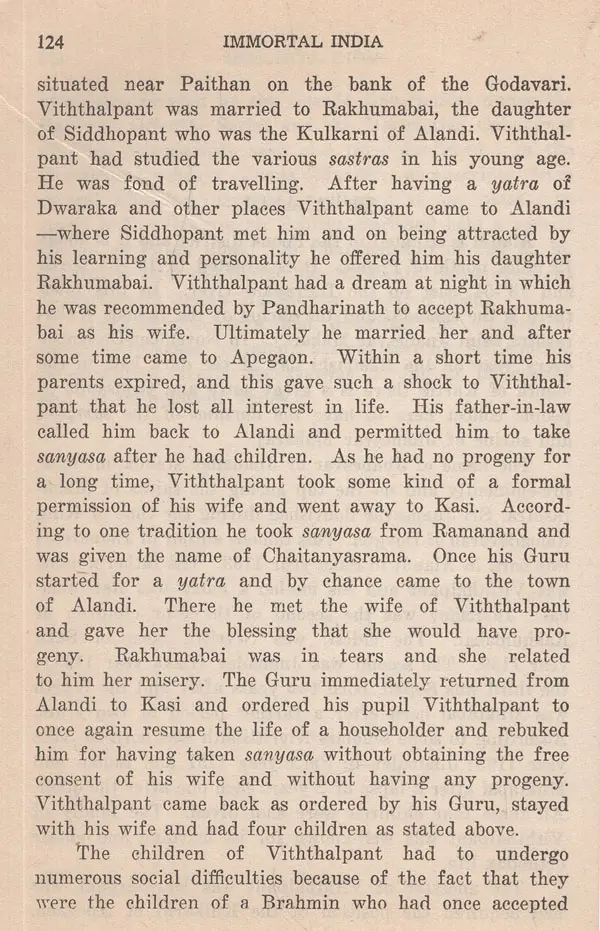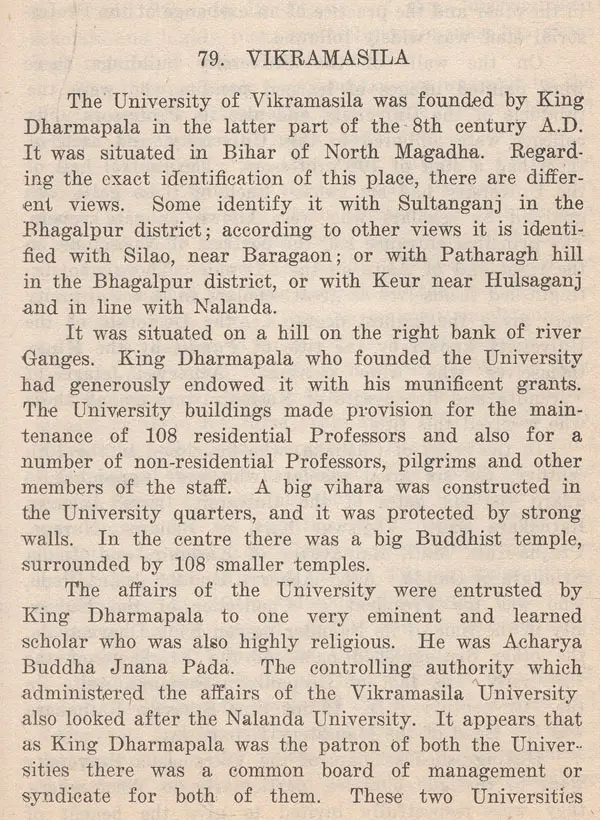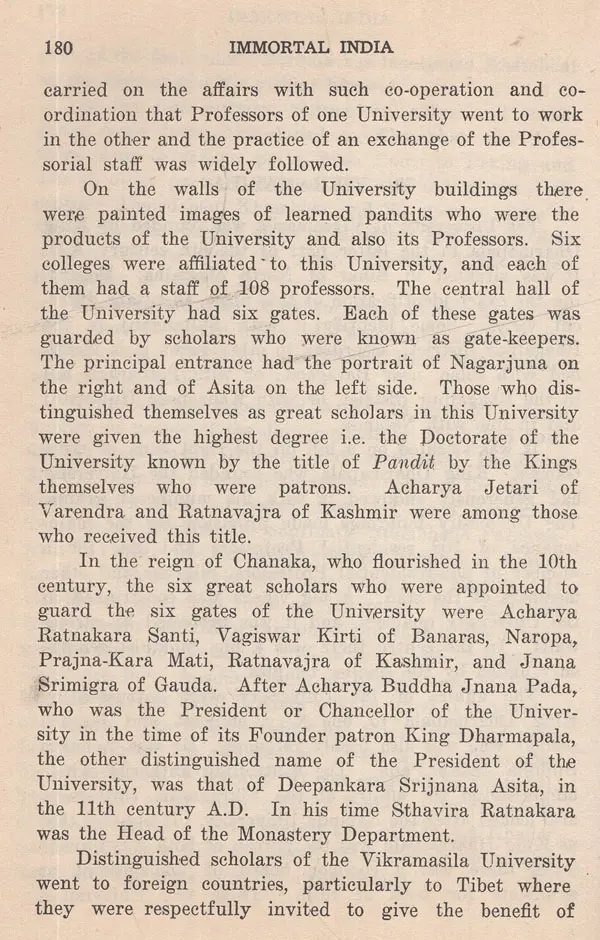 ---
We Also Recommend