India 50 Years of Independence: 1947-97 Status, Growth & Development- Culture and Politics (Part-21)
$2560

$25.60
Tax included.
Shipping
calculated at checkout.
---
---
Book Specification
Book Description
About the Book
It has been felt that political instability in nations is usually the result of incongruence between political process and political values, political institutions and political beliefs and ultimately between political structure and political culture. It is in this context that the present book seeks to explore the cultural aspect of Indian polity during last 50 years. The study can be fascinating as India represents a classic case where an old society and a new state strive to co-exist and sustain each other. There seems to be a crisis of paradigms. about what India seeks to be. It remains basically a traditional country drawing its strength from an old society and civilization. However, industrialization and modernization have drawn wide range of people into the economic and political process transforming economy and polity on the one hand and moral values and social and political institutions on the other.
This book offers an analysis of the changes in social structure, cultural values and political institutions. This analysis is based on a critical understanding of the political evolution of India since earliest times; its political traditions, ideas and institutions; their interaction with culture; the colonial encounter and the changes that followed; political ideas that evolved during the national movement, political institutions adopted by free India; their relevance and acceptability among masses, their capacity to solve the problems; the changes in patterns of leadership and political values and beliefs in post independence India.
About the Author
Dr. Sushma Yadav is a Reader in Political Science at Delhi College of Arts & Commerce, University of Delhi. She is the author of many books. Presently she is an elected member of the Academic Council, University of Delhi.
Dr. Ramavtar Sharma, is Principal, Maharaja Agrasen College, University of Delhi. He has edited and authored a number of books.
Introduction
Culture is an all embracing term which includes all significant aspects of man's life beginning from philosophy and religion and ending with social institutions and behavior. The vitality of culture springs not from any particular man of genus but from uninterrupted flow of generations of men across the centuries. It is always dynamic and assimilates the best in every epoch. That is why the elements of even the most ancient cultures have not died but have survived and have been so refined, polished and transformed as to fit in the succeeding culture.
Culture is the essence of civilization. It does not appear in forms of massive edifices. Yet it refines, polishes and makes life beautiful. Civilizations rise, fall and sometimes totally disappear. But culture not only survives. it gets enriched during periods of ferment. Thus it strives to reconcile spirit with matter. Therefore, no future progress and development can be complete without engaging oneself with one's culture.
The Indian culture consists of a number of cultural beliefs, ritual patterns and behavioral norms which have evolved over centuries and this is also reflected in the political culture of Indian masses.
**Contents and Sample Pages**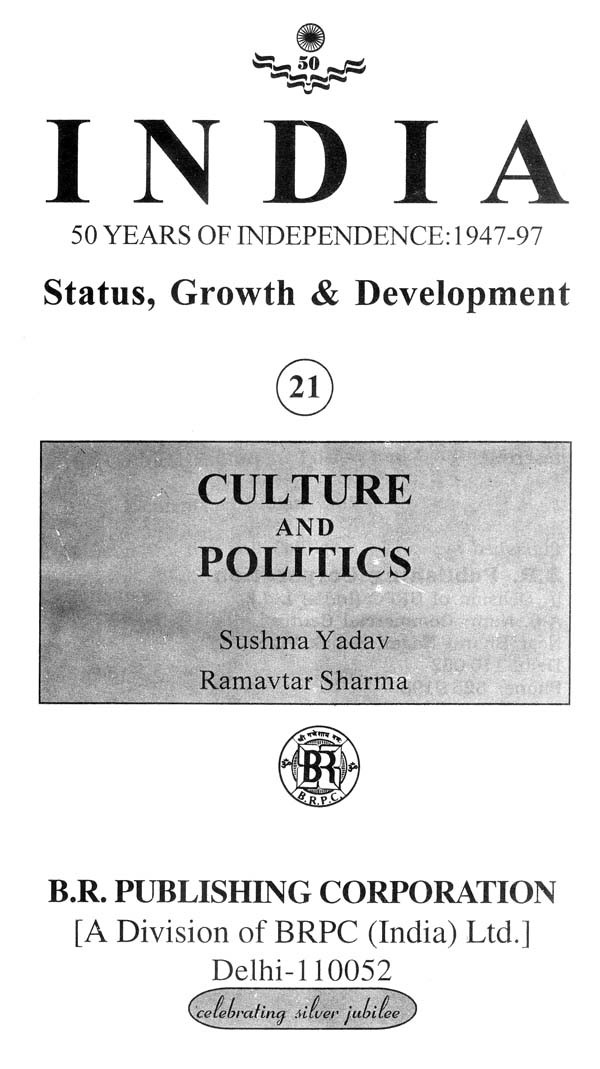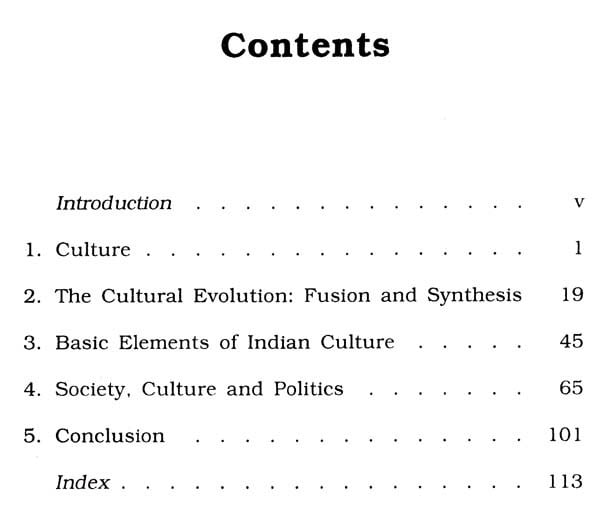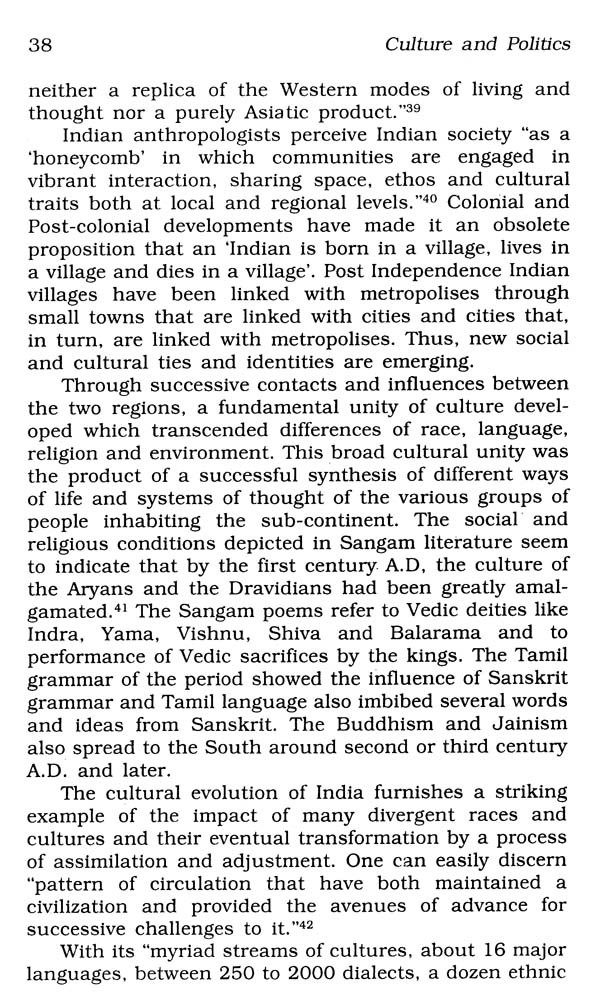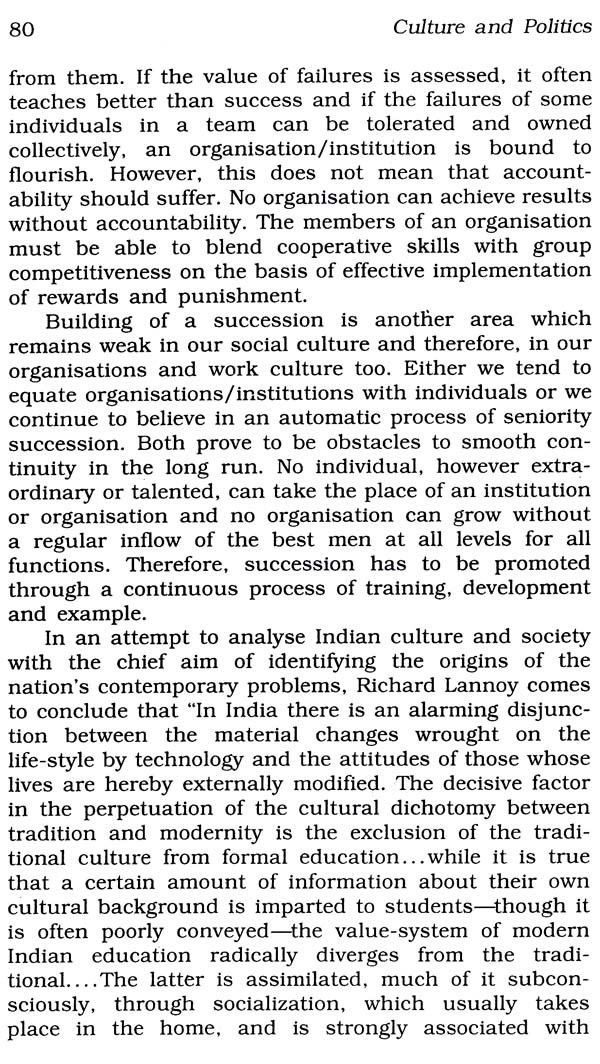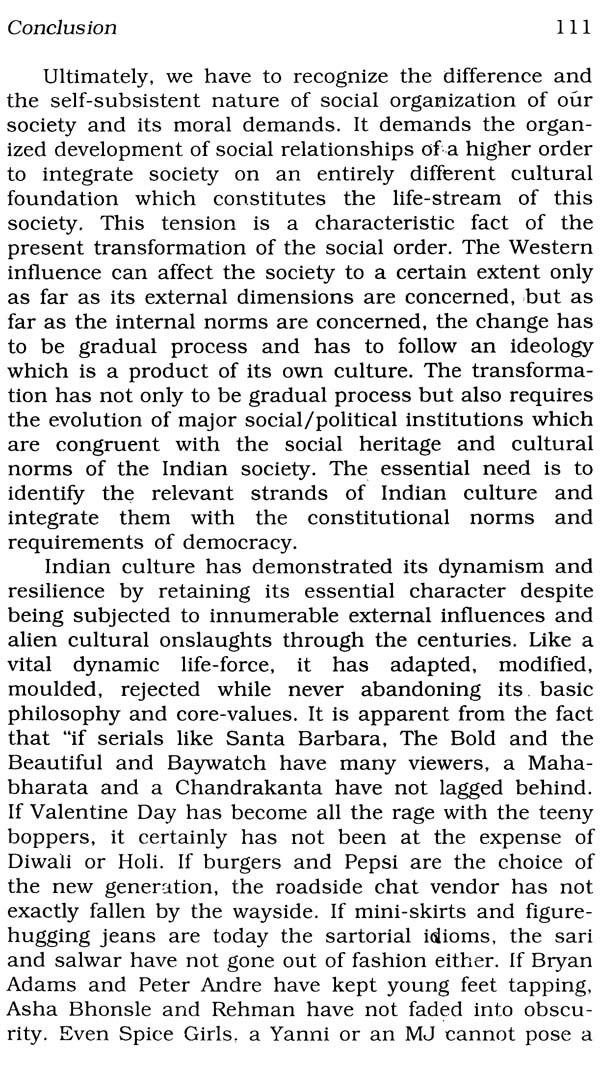 ---
We Also Recommend