Indian Archery
$5920

$59.20
Tax included.
Shipping
calculated at checkout.
---
---
Book Specification
| | |
| --- | --- |
| Item Code: | UAM321 |
| Author: | G. N. Pant |
| Publisher: | Agam Kala Prakashan, Delhi |
| Language: | English |
| Edition: | 2018 |
| ISBN: | 9788173201813 |
| Pages: | 458 (Throughout B/W Illustrations) |
| Cover: | HARDCOVER |
| Other Details | 9.00 X 6.00 inch |
| Weight | 810 gm |
Book Description
About The Book
The Indian Archery, the most original and pioneering work, is the outcome of eighteen years of dedicated research of the author. Based on the first-hand knowledge of the bows, arrows, quivers etc. Preserved in the different, museum, private collections, armouries of the erstwhile princes, Ordnance Depots and police headquarters, this monograph deals with almost every aspects of Indian Archery worth knowledge.
Pre-and protohistoric archery, as revealed through the archaeological excavations, and of the historical period, as gathered from the literary, numismatics, epigraphics and sculptural sources and that illustrated in miniature and wall paintings and painted manuscripts has been fully exploited. The different shapes of bows and arrows together with the material, technique, modes of operation, decoration applied to them and bowyers have been discussed in detail.
Quiver and its counterparts jaibah saghdag and girban, arrow-head-extractor and arrow-puller, gosha-gir and kardang nalika, arrow-guide and nao, shooting glove and bracer, tip and tab and other accouterments of Indian Archery have been given their legitimate place.
Archery as a pastime, the games associated with it and its presents status in India are a few other aspects which have been taken into account. Profusely illustrated with 400 lines drawing and 110 plates, all authentic and accurate, the treatise has emerged as a comprehensive reference work.
D. Elmy, the renowned archer and scholar, London, calls it a 'milestone in Indian Archery and W.F. Paterson, the foremost archer, doubts" if anyone else in India will be able to produce such an excellent work in the near future".
About the Author
Born in 1940 at Singhai (Lakhimpur Kheri, UP) Dr. Gayatri Nath Pant had a distinguished career. After passing His M. A. and B. Ed. examinations from Lucknow University, he obtained his doctorate on" Ancient Indian Arms from Sagar University and D. Litt. From University of Magadh. His proficiency in Sanskrit enabled him to study classical literature. He has 250 research papers to his credit.
Dr. Pant's first book Indian Weapons was published in 1066 and second, Studies in the Defence History-a Bibliography in 1970. The gigantic work, Studies in Indian Weapons and warfare, published in 1970, fetched him the President of India's acclaim and his Bhartiya Ashtra-Shstra won of him Acharya Narendra Dev Special Award. His other notable publications are Indian Arms and Armour in three volumes, Indian Archery, ( 1980), Indian Shield (1982), Catalogue of Indian Arms in the Hamurgisches Museum, Wes Germany (1984). Mughal Weapons in The Baburnama (1989), Catalogue of Edged Arms in the Salar Jung Museum, Hyderabad ( 1989), etc. A numbers of monographs are in press.
Dr. Pant has prepared half a dozen catalogue of arms and armour and has studied the collection of almost all the Indian Museum. He has traveled erstwhile USSR, UK, Germany, France, Netherlands, USA, Africa, etc, And studied the oriental arms preserved there.
Dr. Pant is the member of Archer Antiquaries London, Arms and Armour Society", London, Rifle Association of India', New Delhi, etc, executive member of the International council of Museum', Paris, and editor, Journal of Indian Museum. He is adviser to the Archaeological Survey of India and the Ministry of Defence on all the matters pertaining to old arms and armour. He has been elected fellow of royal Astatic Society (FARAS), London, and fellow of the Educational Consultants of Oxford Ltd. (USA). At present Dr. Pant is the Director/ Pro-Vice-Chancellor of the National Museum Institute (Deemed University)
Foreword
In his important work, Certain Discourses Military, first published in 1590, Sir John Smythe wrote:"...I will now further show the wonderful effects that hath been wrought by divers sorts of foreign bows,... that by such notable effects by them performed all such are of sound judgement, not carried with toys, fancies, and new fashions, may very well know that God hath given such exceeding and excellent effects unto that weapon that of all others it hath ever been, and yet may be justly accounted, the chief weapon of battles and conquests."
Introduction
In India in almost every war recorded, either Puranic or historical, bows and arrows loom large. The Indians, specially the ancient Hindus and the medieval Mughals, cultivated archery most assiduously. Bow was the weapon par excellence and bowmen constituted an invariable concomitant of ancient armies. In view of the importance of archery an elaborate course of training was prescribed for those who aspired to occupy important positions in the military services of the state. For the bow, as is the modern rifle, was a weapon of precision, and the effective use of it was a fine art.
**Contents and Sample Pages**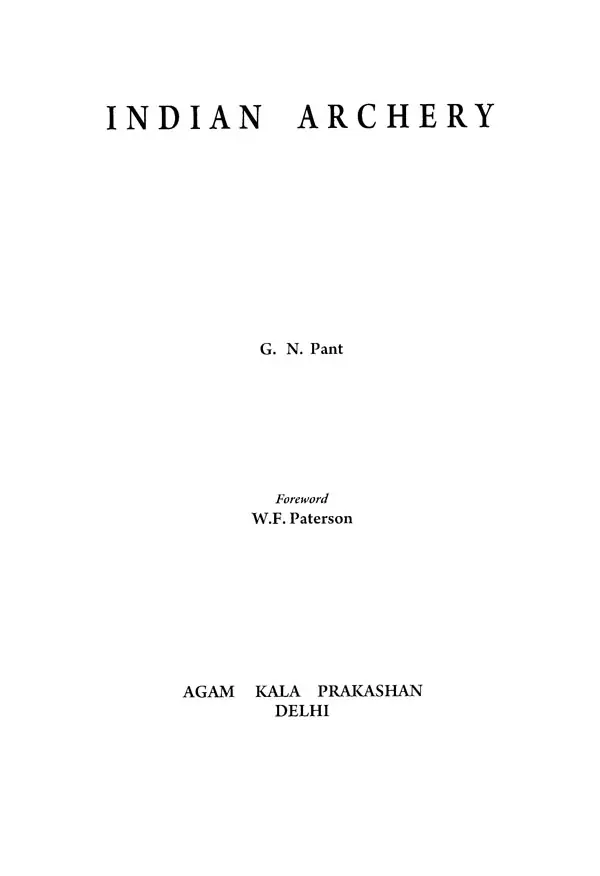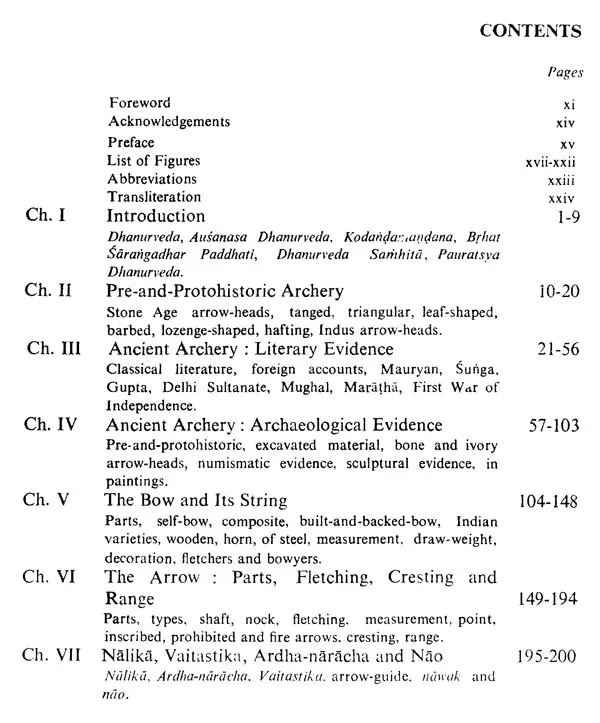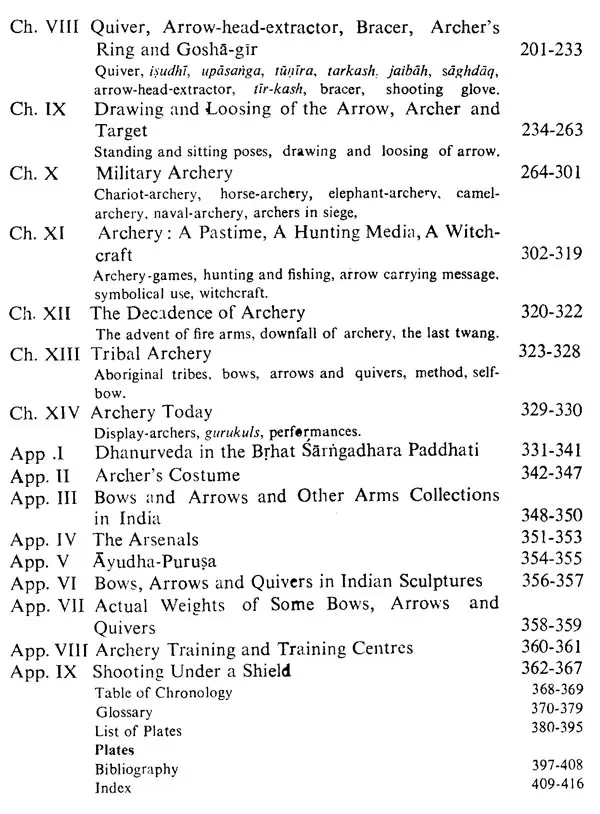 ---
We Also Recommend