Indian Geospatial Infrastructure
$4560

$45.60
Tax included.
Shipping
calculated at checkout.
---
---
Book Specification
| | |
| --- | --- |
| Item Code: | UAI424 |
| Author: | Prithvish Nag |
| Publisher: | Bharati Prakashan, Varanasi |
| Language: | English |
| Edition: | 2021 |
| ISBN: | 9789388019859 |
| Pages: | 224 (Throughout B/W Illustrations with Maps) |
| Cover: | HARDCOVER |
| Other Details | 10.00 X 7.50 inch |
| Weight | 600 gm |
Book Description
About The Book
This publication has been brought on the occasion of 250" years of existence of the Survey of India and diamond jubilee of the National Atlas & Thematic Mapping Organization; both are the national mapping organizations of the Department of Science & Technology, Government of India. This book. reflects about the magnitude of the Indian cartographic empire now, with the involvement of technology, more popularly known as Geospatial Infrastructure. The former organization basically specializes on topographical mapping while the latter is on atlas and thematic mapping Hence the objectives have been different. Nevertheless, both of them have contributed towards the development of geospatial data in the country. In addition, Natural Resources Data Management System (NRDMS) and National Spatial Data Infrastructure (NSDI), again under the Department of Science & Technology, contributed towards the development of this soft infrastructure at policy level and providing funds. The events in both the organizations are also meant for introspection. New challenges and opportunities have to be explored.
Over the years, the author has been associated with several international and national institutions; and has been delivering lectures and publishing research papers and books on the related topics. The chapters contain here are collection of such initiatives, but modified, expanded and enlarged considering the recent developments. Some chapters have been specifically written in order to fill up the void. This will help in making the application of geospatial technology in more professional way.
Various institutions have included courses in geospatial technology. It is expected that this book will help them in modifying their syllabus. Hence, chapters like legal and managerial issues of geospatial data have been included. The objective here is to take the understanding and application of this technology to the next higher level.
About the Author
Gold Medalist from B.H.U; Ph.D. on Zambia; Post-Doctoral research from School of Oriental & African Studies, University of London; Recipient of Commonwealth Bursary by Royal Geographical Society on its 150h anniversary, Author of over 158 papers and 72 books; Experience of digital technologies, including digital mapping and remote sensing from very early age; Scientist/Engineer in ISRO; UN Consultant in Oman; Chairman of international commissions: ICA, PCGIAP, ISCGM; Member of IGU Commission (1980-88); former Director, NATMO; former Surveyor General of India (thrice). Vice-Chancellor. Mahatma Gandhi Kashi Vidyapith, Varanasi; Uttar Pradesh Rajarshi Tandon Open University, Allahabad; and Sampurnanand Sanskrit Vishva Vidyalaya, Varanasi. Provided institutional leadership; Introduction to digital age in national mapping institutions: NATMO, Survey of India and Development Council (Muscat); Successful transformation administrator, Delivered prestigious lectures in India and abroad: ITC (The Netherlands), Convocation address etc; Chairman of several national bodies: INCA, IASLIC, DST, TIFAC-CORE Committee on Environmental Geometrics (JNTU) etc. Recipient of BHU Distinguished Alumnus Award; Bhaskar Award and Indian Geospatial Leadership Award 2015 for "Making a Difference" President's nominee to : (a) BHU & Allahabad Courts, (b) Executive Council Member to Manipur and Mizoram Universities.
Preface
The first edition of this book was brought out in 2016. Within last four years all the copies were exhausted due to its sale in India and abroad. The demand persisted and my publisher insisted to bring out the next edition. Unknowingly, on one hand, we found that this book met the requirements of several stake-holders. On the other hand, it became handy reference book for several undergraduate and postgraduate students studying geospatial and related technologies. These technologies have expanded in a big way during the concerned period. Further, geospatial industry leaders also find this book useful for promoting their business interest.
It is expected that this edition will also be appreciated as a new and related chapter on Big Data has been added.
Foreword
I am delighted to write a Foreword for a book which is being brought out on the occasion of two very important events, ie the 250th year of existence of the oldest scientific organization of the country Survey of India and the Diamond Jubilee of the National Atlas & Thematic Mapping Organization, Both these surveying and mapping organizations are associated with the Department of Science & Technology, Government of India. Over the years, both of them have developed expertise and reputation for excellence in their respective fields of specialization. The former is known for topographical mapping, maintaining the coast line and international boundaries and recently digital topographical database. The latter organization is also internationally known for its atlases and thematic maps of all sorts, and recently for large scale thematic mapping under the Golden Map Service mega project.
Such events are occasions not only for celebrations, but for introspection as well. The scientists of both the organizations should review their activities so far, and, based on the technological options and demand for new products and services, should chart out their course of action. There has to be new vision and new missions to take these organizations forward to greater heights. Both these organizations occupy place of pride in scientific world in India. The time has come for them to justify their position Smart cities, Digital India, Make in India and several other new initiatives of the Government have extended new opportunities to such institutions. How can they relate to these initiatives? How can the aspirations of the common citizen of the country be met? How do these organizations fit into the changing technological scenario? These are some pertinent questions which have to be answered, Let us identify 2016-17 as the Year of New Initiatives in Surveying and Mapping"
I am glad that Dr Prithvish Nag who was Surveyor General of India and Director, National Atlas & Thematic Mapping Organization has brought out this publication on the above mentioned twin events. This book should provide a basis for introspection and for chalking out a new course of action. We want both the organizations to be active, vibrant and become centerpieces in the process of development of the country.
Introduction
Map is an attempt to depict the features of the globe as a whole or a part of it on a paper. Thereby a three dimensional model is to be shown on a two dimensional space Hence, some adjustments are to be made for such transformation in a scientific way. These transformations depend on the use or application of the spatial information. Hence, the choice of datum, projection, plotting techniques and symbols become relevant. Apart from the scientific component, the artistic components are equally important. The way of presentation, design, choice of colours and symbols, visualization and the message or theme communicated or highlighted have also become integral part of map making.
With the advent of digital technologies, the process of map-making has changed significantly The scientific components have become more accurate while the artistic or design components have become more dependent on the options available with the software than on drawing skills As a whole, maps, either in hard copy form or soft copy, have become more software driven. With such changes the preparation of maps or spatial data, the applications have multiplied enormously. One of the important applications is in the field of disaster management.
Cartography is about maps. This includes the art, science and technology of map making Cartography has always been closely associated with geography and surveying The early mapping may be associated with the development of symbolization (or presentation) method that was used by early mapmakers. The definitions tend to emphasize map-making while recent definitions also include map use within the scope of cartography.
Cartography has evolved in response to theoretical developments, technological changes and changes in society's information needs. With the advancement of technology, mapping technology has undergone major changes. Inventions like photography, aerial photography and remote sensing have added new dimensions. to the methods of map making and reduce the time involved in the production of a map. Topographic maps are produced using aerial photographs, photogrammetry and remotely sensed image processing using ground control points to ensure positional accuracy. However, not all maps are concerned with location of physical features. Thematic mapping expanded rapidly following the introduction of censuses and other surveys which made available extensive demographic and socio economic data The past two decades have seen dramatic changes in cartography due to the development in computer and communication technologies. Earth observation satellites now provide coverage of earth surface at a variety of spatial resolution ranges from sub-meter to several kilometers. Global Positioning System (GPS) allow precise of horizontal and vertical determination of horizontal vertical positions. Computer mapping systems have evolved in geographical information system (GIS) which are widely used in planning resource e management and facilities management applications. Development of desktop mapping tech technology and internet access to electronic data sets had made powerful map-making technology available to anyone with a personnel computer.
Cartography embraces production of various topographical engineering. geographical, thematic and derived maps, which are essential tools for planning and developmental activities. Cartographic products are base material for planned development, sound administration, national security and military operations, management of natural resources, peaceful coexistence and every facet of nationwide activities. The defense forces, planners and other law and order enforcement agencies, economists, geologist and all other working in creative sciences find a map an indispensable tool.
Conventional Cartography
The traditional view of cartography focused on map making and the cartographer is the mapmaker. Map is a communication medium, which represents the spatial relationships among the individual pieces of data. The map user "reads" the map and interprets its information content in the context of his or her own objectives and knowledge of the environment or spatial pattern, which the map describes. A base map in its detailed form would be a topographical map. These maps are very frequently used as base map for thematic mapping and other planning and developmental activities. There are number of primary elements the topographical maps such as graticules or grid, drainage patterns, relief, settlements, communication systems, administrative units, geographical names, hill shading, forest areas and basic land use patterns.
Thematic information on map are represented with symbols, which could be qualitative, or quantative The qualitative representation pertains to symbols while quantitative information can be a size or numbers. A map showing qualitative and/ or quantitative information on specific feature or concept is related to thematic map. In its conventional and normal use, the term thematic map excludes topographical map. From theoretical point of view, topographical map also present a special theme: cartography.
In India, topographical maps on various scales are available. The maps on scales 1.250,000, 1:50,000 and 1:25,000 are being prepared to meet the requirements of the defense forces and for developments activities in the country. With the completion of 1:50,000 topographical survey of the whole country, India has joined the selected group of the countries, which have the complete map cover on the national scale Large scale maps are being prepared in different parts of the country for developmental projects niz hydroelectric projects, irrigation projects, industries establishments, canal area development, flood plain zoning and other various developmental activities. Tunnel alignments, underground power houses, monitoring geometrical shapes of various structures requires accurate determination of coordinates in plan and height which is prerequisite for any such activity. It is imperative to say that cartography and planning have to be properly interlinked and have to be dovetailed for scientific developments of a region.
All the developmental activities require prior mapping. The ecological complexities of the environment can be assessed only with periodic preparation of maps of the concerned areas A topographical map of region depicting its landforms, drainage, coastal features, vegetation, communication and other detailed distributions provides the knowledge of the relationships of various factors necessary to plan and carryout intensive development activity effectively. With sophistication in the field of aviation, communication, meteorology. hydrology, forestry, tourism, urban and rural development, environmental planning and education, the demand for cartographic products have multiplies over the year.
Cartographic Development
At present we are in the midst of an information explosion, particularly our physical world and environment. Information now can be obtained by remote sensing in which imaging systems utilize various types of radiation sensors both within and beyond the visual spectrum Analysis and processing of large volume of information have been made possible by the rapid advancement in computer technology. This in turn has generated a great deal of interest, activity and research in information management. Variety of useful mathematical and statistical procedures which come to the assistance of cartographer, especially statistics made it possible to have precise tool for expressing mathematical relationships interconnecting observed data. The increasing interest and need to deal with large data sets made the use of computers obligatory. This resulted in the introduction and development of whole range of new procedures, not limited to statistical manipulation of data in all aspects of map making operations.
**Contents and Sample Pages**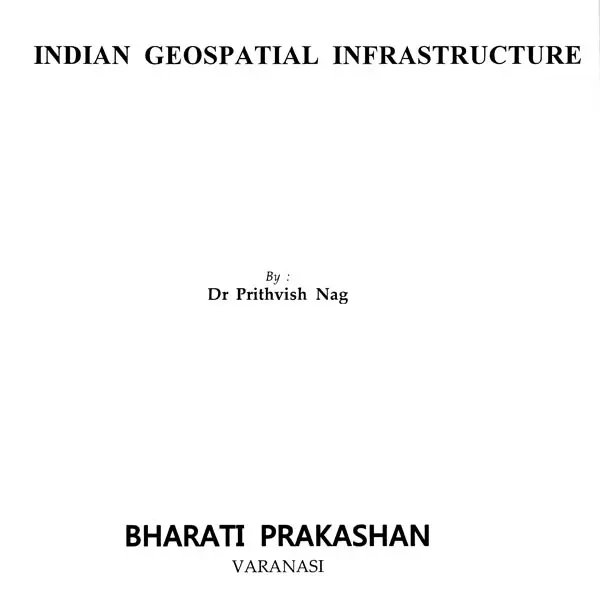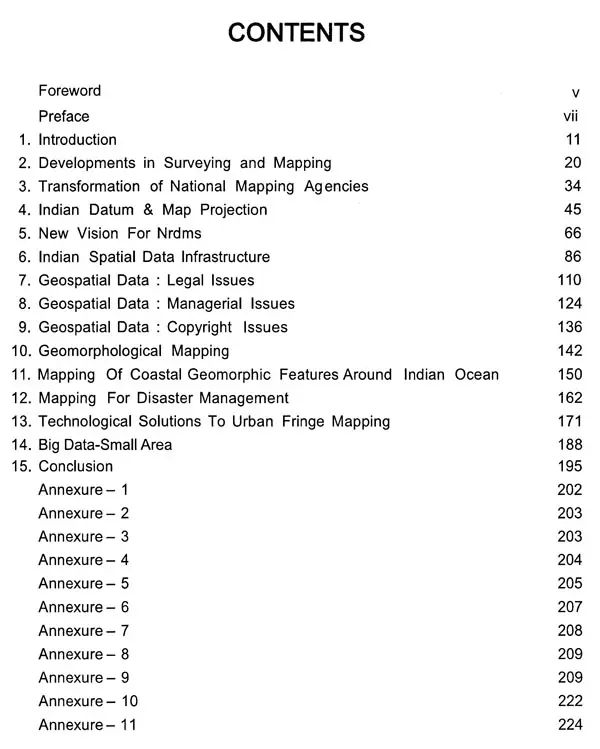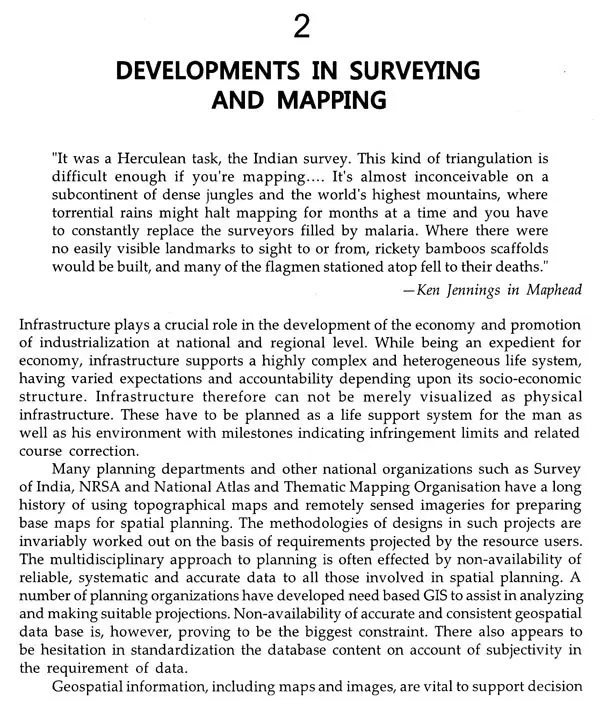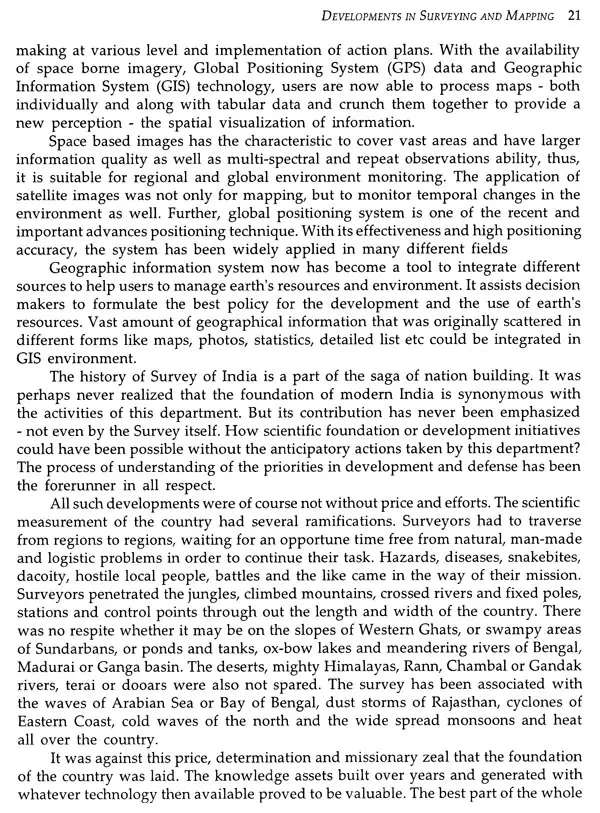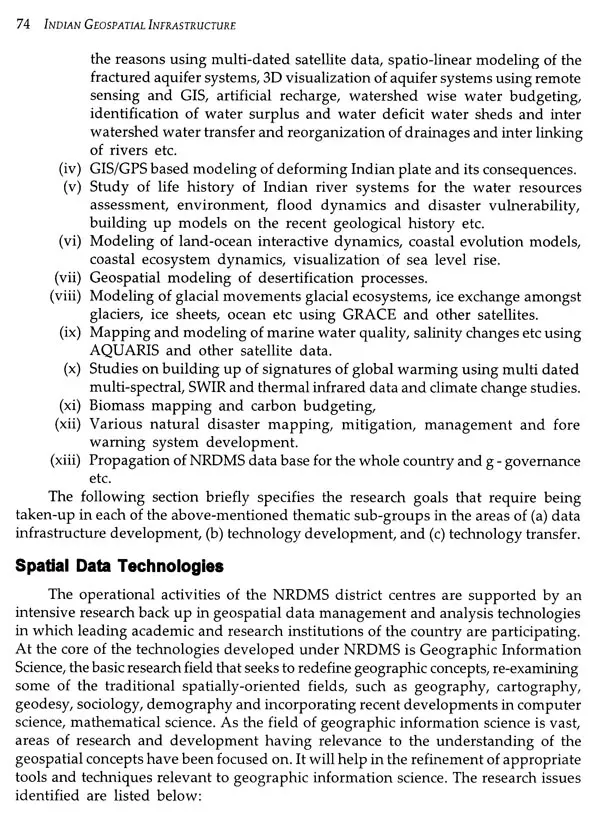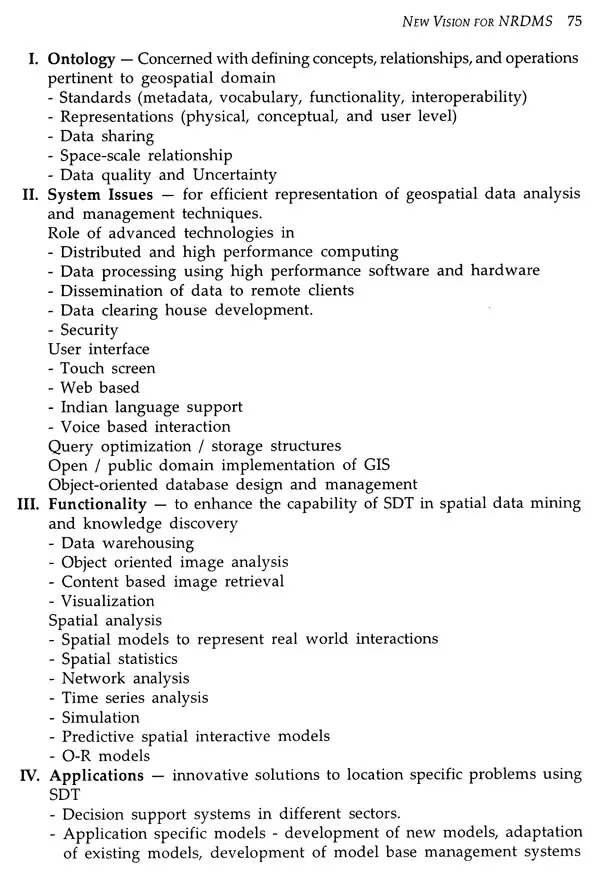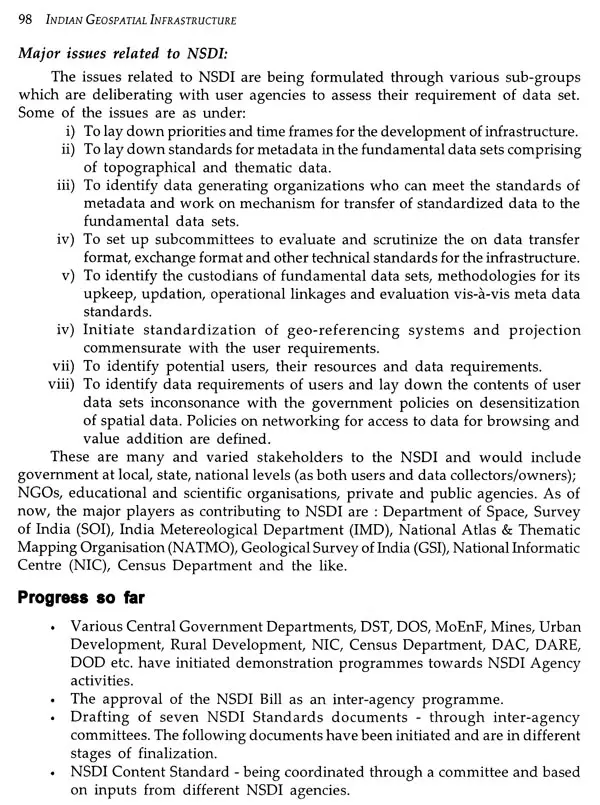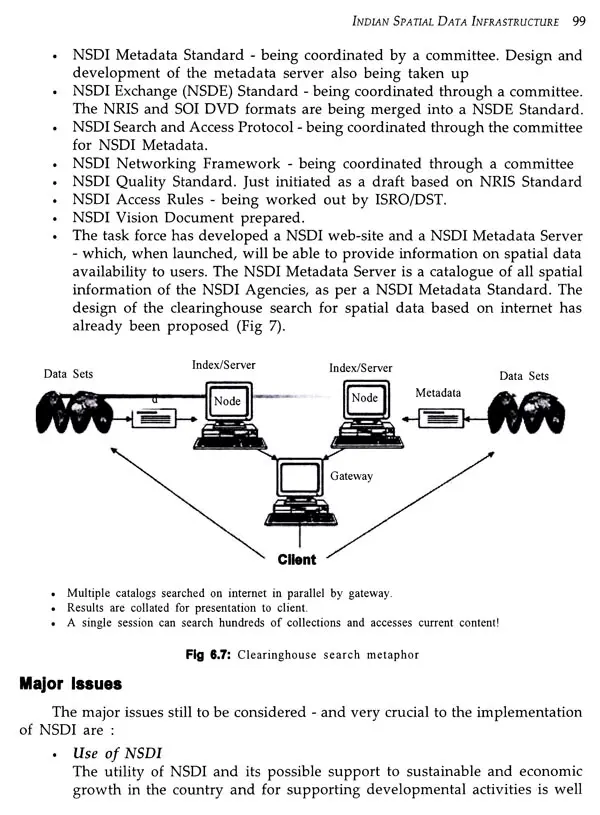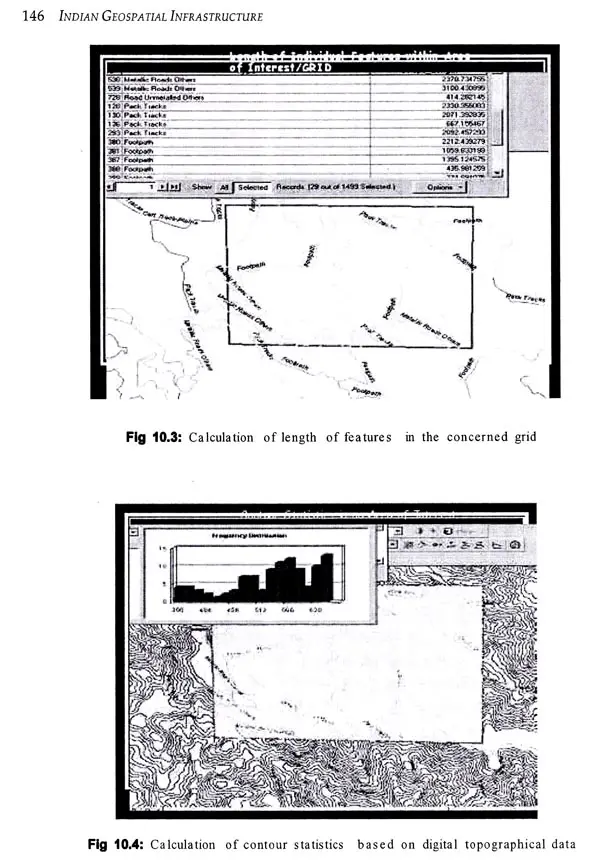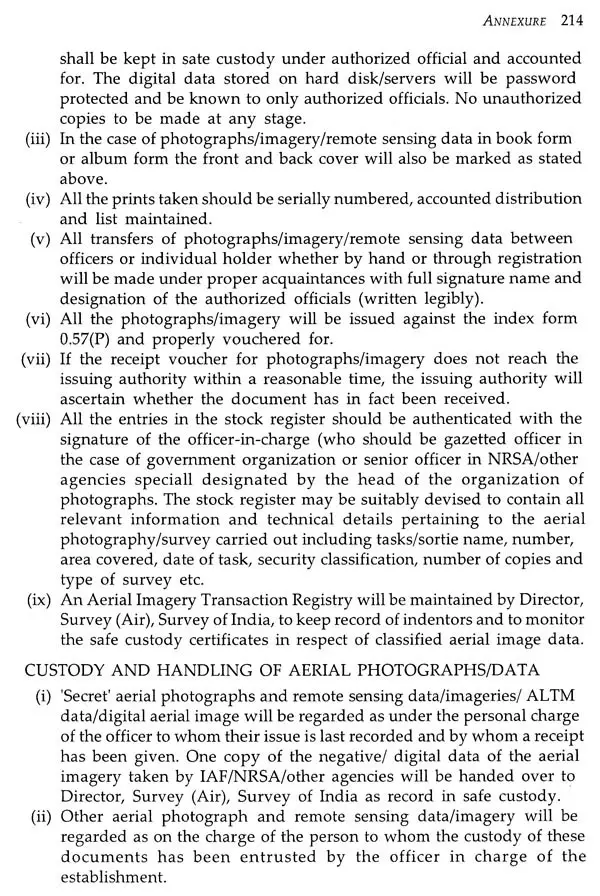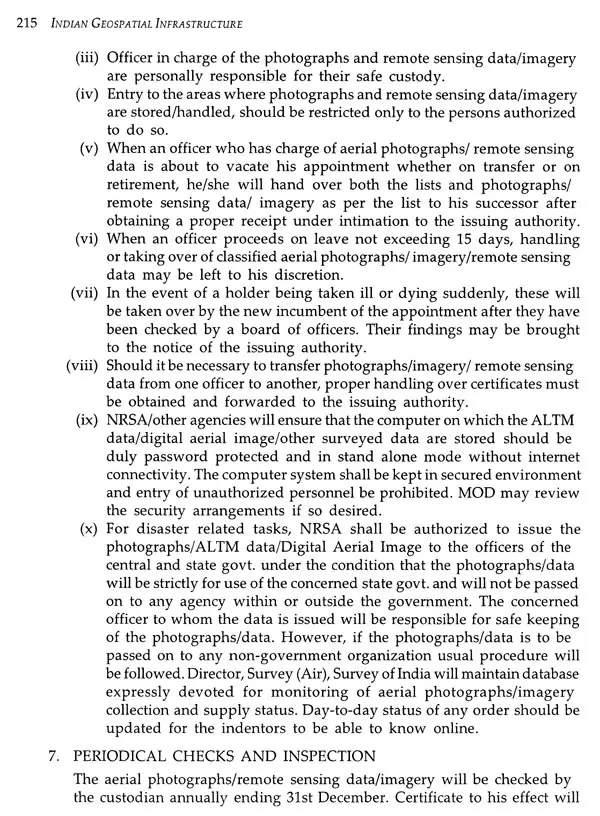 ---
We Also Recommend