Indian Ivories- A Survey of Indian Ivory and Bone Carvings from the Earliest to the Modern Times
$7600

$76.00
Tax included.
Shipping
calculated at checkout.
---
---
Book Specification
| | |
| --- | --- |
| Item Code: | AZG160 |
| Author: | V.P. Dwivedi |
| Publisher: | AGAM KALA PRAKASHAN, DELHI |
| Language: | ENGLISH |
| Edition: | 2019 |
| ISBN: | 9788173201936 |
| Pages: | 214 (Throughout B/w Illustrations) |
| Cover: | HARDCOVER |
| Other Details | 11.00x9.00 inch |
| Weight | 830 gm |
Book Description
Foreword
Dr. V.P. Dwivedi has honoured me by asking me to introduce this book to his prospective readers, particularly to those scholars and connoisseurs in the field of Indian arts and crafts, who came for bone and ivory carvings. I do this with pleasure with some amount of gratitude since this book has made me more well-informed and more knowledgeable than I was in this limited field.
Since the late Dr. Moti Chandra's excellent monograph (1959) there has been no significant publication on Indian Ivories. But his monograph was more in the nature of an historical study that left out more or less the pre-and protohistoric period and lacked information on the material of ivory and on the tools and techniques of ivory carving. The All-India Handicrafts Board also published more than one short monograph on ivories, but these were confined to more recent times, the historical situation serving as a thin back-drop; they provided, however, some information in regard to tools and techniques.
Dr. Dwivedi's book which deals not only with the history of ivory but also bone carvings and this, from the prehistoric centuries of the Indus Valley civilization right up to modern times, is thus a more comprehensive one providing much greater details than one can find in any other publication on the subject. It is also much more uptodate in regard to historical, literary and archaeological informa tion. But where it seems to score is in the provision of information regarding ivory and bone as materials for carving and regarding tools and techniques of carving these materials. The book is thus a competent and adequate guide to the understanding of the art and craft of ivory and bone carving in India. I only wish Dr. Dwivedi made an analytical study, period by period, of the literary and archaeo logical data available in regard to the clientele and the market of this art and craft, so that his readers could have an idea of the social and economic background of this artistic activity.
I would commend this book to the attention of our serious students in this field.
Preface
The mythological story Bsi Dadhic's bones being used as wespen by Indra as young boy made me wonder the bones weapons. When grew up subject studies and learnt about the arrow-heads, ches. Obviously ivory also included Dr. Moti alas see work printed, encouraged work the subject. researches, those of Dr. Vogel, Hackins, Douglas Barrett, Dr. Kramrisch, Dr. Van Lohsen, Sri M.N. Deshpande, Miss Auboyer scholars provided me guidelines to proceed further researches. Among the young scholars mention may be made Dr. Lala Adays Narain's works this field. most sincere thanks teacher He went manuscript thoroughly, and provided needed for an ivory work. guidance and continued interest, they would not have in am beholden to him. grateful to Prof. Dikshit and Prof. Puri, both of them took keen interest the progress my work.
Dr. N.R. Banerjee, Director, Dr. Banerjee, Assistant Director and Dr. P. Gupta, Keeper of National Museum, New Delhi showed keen interest in work and made suggestions. am grateful all them. Thanks also due Shashi shouldered the heavy proof but prepared Index well. help the would not have been such short time. Tiwari matters concerning literary and him help. also remember my colleague, Morley, Sri Sivaramamurti, former directors of the National Museum, always encouraged to complete work obliged many esteemed suggestions. grateful to them.
Help was also received from my colleagues Dr. Sharma, N. Pant, Smt. K. Lal, Dr. and Amarendra Nath. sincere thanks all them. Sarvasti Mohan Lal, Chandra Prakash, Smt. Kamlesh Gambhir and Gyan Prakash were immence help. am thankful them. Sri. S.P. Nanda Sri Nematullah Shah have helped in photography deserve special thanks for same. Sri R. Chatterji C.M. Srivastava A.S.1. helped for photographs.
Introduction
Human inventiveness finds fulfilment in pursuits primarily utilitarian value; but craving for aesthetic expression combines beauty with utility whatever he seeks create. Association the essence real relationships; it endears articles of everyday use their owners, who embellish them with aid creative The warrior's love his weapon is revealed in the ornamental delicately carved ivory comb, hair-pin or mirror handle. these are works of art, true and fine.
If female figure carved in stone labelled an example of fine art, similar specimen in bone or ivory every right similarly, and should be treated lightly ill-treat tion 'minor art, simply because of its medium small size. The ivory mirror handle dug out from the ruins Pompeii compete in quality with the creations Indian art the stone medium. Similarly, the Kanoria Buddha (Pls. 82) marvel of Kashmir artists' skill miniature ivory carving. His oval face closed eyes reflects depth his reverie; and the minutest detail, as vajra Indra, been with greatest care. Again, during the Pala when imparting metallic finish to stone sculptures became the order day, the Pala ivory-carvers not behind, as evidenced by the small statue recently acquired by the of Museum, Bombay (Pls. and 99). The dissertation, therefore, a modest though determined attempt at vindicating the value Indian and ivory carvings" objects art, and at rescuing many unknown unsung masterpiece from limbo forgotten things. Whereas there have been dozens of publications on sculptures and paintings in the recent past, there practically been none ivory or carvings, or, for that matter, on any one the so called arts.
The present monograph enlarged and revised version of the Ph.D. thesis approved by the Lucknow University. Originally chapters (upto A.D.), more chapters been added, one on Mediaeval and another Modern ivories, make it more comprehensive useful. Material these two chapters has been gathered during course my extensive to various museums country abroad. Travel Mediaeval exhibition catalogues, have also been 1965 at on the 'Decorative India' was held the Prince of Wales Museum, wherein on ivory carvings also took place. Dr. Moti Chandra, the distinguished of the exhorted work on subjects like bone, ivory, wood and such carvings, were neglected earlier research scholars. His pioneering article 'Ancient Indian Ivories" Bulletin museum inspired me undertake work on this subject. cannot find to express gratitude Moti Chandra for encouragement always gave tackle topic.
**Contents and Sample Pages**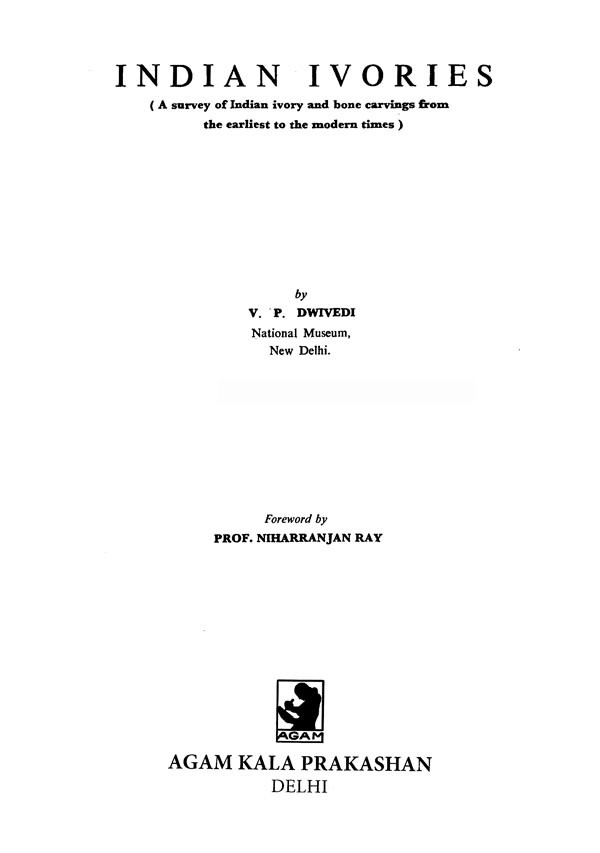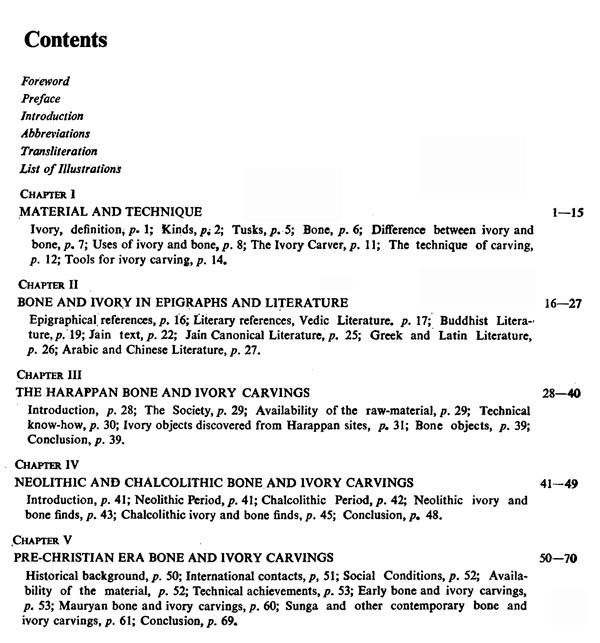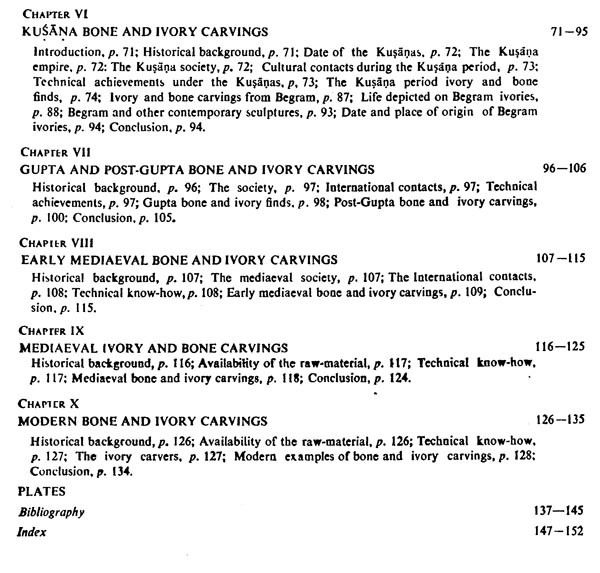 ---
We Also Recommend