Indian Karnatic Music- Sri Purandharadhsar Kirthanas English With Notations)
$2500

$25.00
Tax included.
Shipping
calculated at checkout.
---
---
Book Specification
Book Description
About the Author
Smt. S. Vijayalakshmi.comes from a traditional music family, very closely associated with the great musical genius Sri Ariyakudi Ramanuja lyangar. Her father was a very good Veena Player. She passed the higher grade exams in 1st class in both Vocal and Veena at the age of 12.
Her Guru Smt. R. Jayalakshmi was a student and senior disciple of Sri Ariyakudi in Vocal and learnt Veena from Karakudi Sambasivalyar.
Even at an earlier age she used to sing in the Margazhi Bajans in Mylapore participated by prominent musicians of those days like Sri Papanasam Sivan and Aadhi Varadhachar. She has been teaching Vocal & Veena for the past 54 years in the classical pani of Sri Ariyakudi dynasty. She has coached many students for different levels of exams, who have passed with bright colours.
She has been regularly taking part in the singing of "Pancharathna krithies" at many Sabhas and institutions during the "Aradhana festivals every year." She is highly proficient in rendering the krithies of Sarvasri Thyagarajar. Muthuswamy Dikshidhar, Syamasastri, Swadhi Thirunal, Papanasam Sivan and other famous composers. Apart from teaching Vocal and Veena, she not only finds time to tend her family but also enthralls audiences with her occasional stage performances whenever called for.
In June 2006 she was honoured by the "TAMBRAS with the title SANGEETHA BHOOSHANAM" for her dedicated service in the field of Camatic Music. She has been bestowed with a fine Lakshiya Skill besides a good Lakshana Gnana.
She has published Theory books in Tamil and English for both Lower and Higher grade Government examinations. Besides these, now she has brought out two books, one on 'Abyasa Gana and other on 108 Krities of Sri Thyagaraja Swamigal.
Preface
Indian Karnatic music is a very great and precious treasure to our Music world. Our Classical Music has been in existence from the creation of the world. We have inherited plenty of wonderful Krities and Kirthanas composed by many eminent devine composers like Thalappakkam Sri Annama charya, Sri Purandaradhasar, the Trinities Sri Thyagarajar, Sri Mutthuswami Dhikshidhar, Sri Syama Sastrigal and many other famous Vakkeyakaras. Though many of those krithies etc., are not in practice, we should atleast safeguard the available Krithies with dedication and preserve them as a priceless tressure.
As desired by a lot of Music Rasikas and elders, I have taken sincere efforts to collect some devine 'Dhasarpadhas' and published in this book with Swara sahithyas. In this Publication, I have brought out some of the Naama Kirthanas and Sampradhaya Kirthanas composed by Sri Purandara dhasar. While some of the krithies are having Pallavi, Anupallavi and Charanas, some others have only Pallavi and Charanas. I have identified about 160 Krithies, 5 Ugaa bhogas of Sri Purandhardhasar and 3 Krithies composed by Sri Vijaya Vitala dhasar on Sri Purandhara dhasar with Notation.
I seek the blessings of the Almighty to make the people to render and hear these devine Krithies in both vocal and Instrumental music created by the Great 'Sangeetha Pithamaha' Sri Purandharadhasar and get the devine benefits.
I humbly request all the Music lovers and elders to bless me and condone the errors if any. I express my sincere and humble respects and gratitude to Prof. Sri. R. V. Krishnan, former Vice Principal of T.N. Govt. Music college and Sangitha Rasiga Sri.E. Seshadri, who were instrumental in bringing out this publication for their valuable guidance and help.
**Contents and Sample Pages**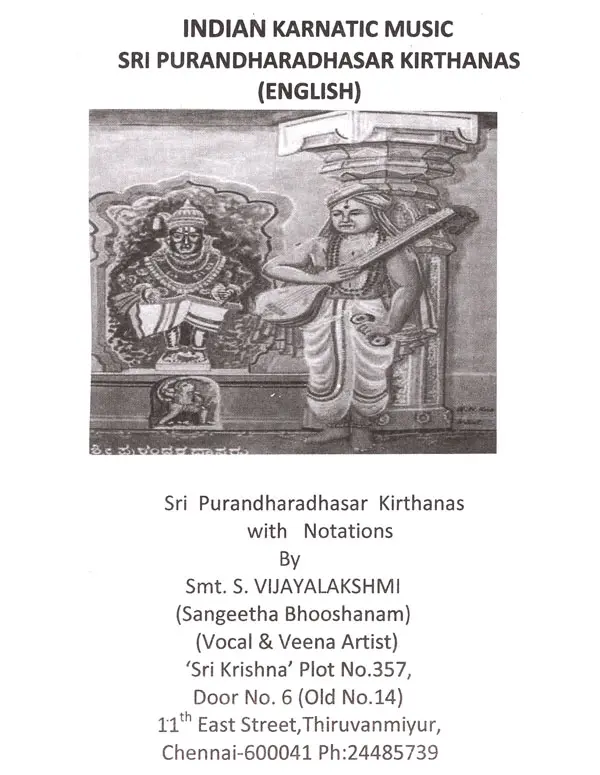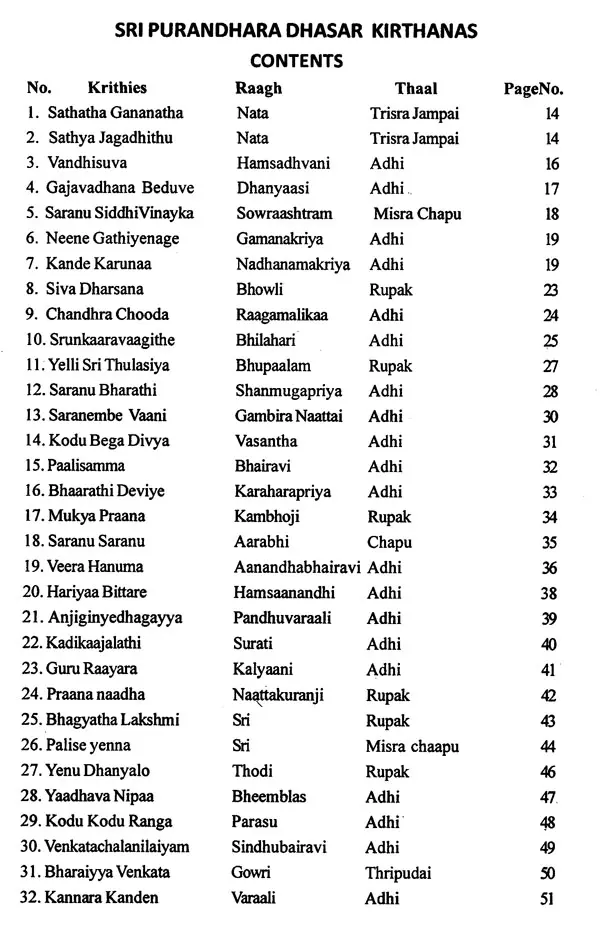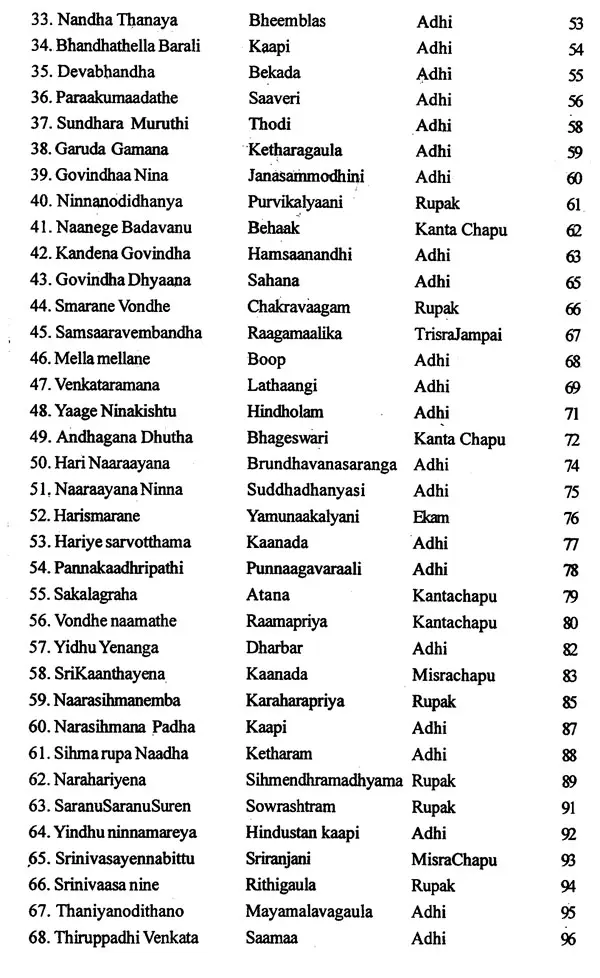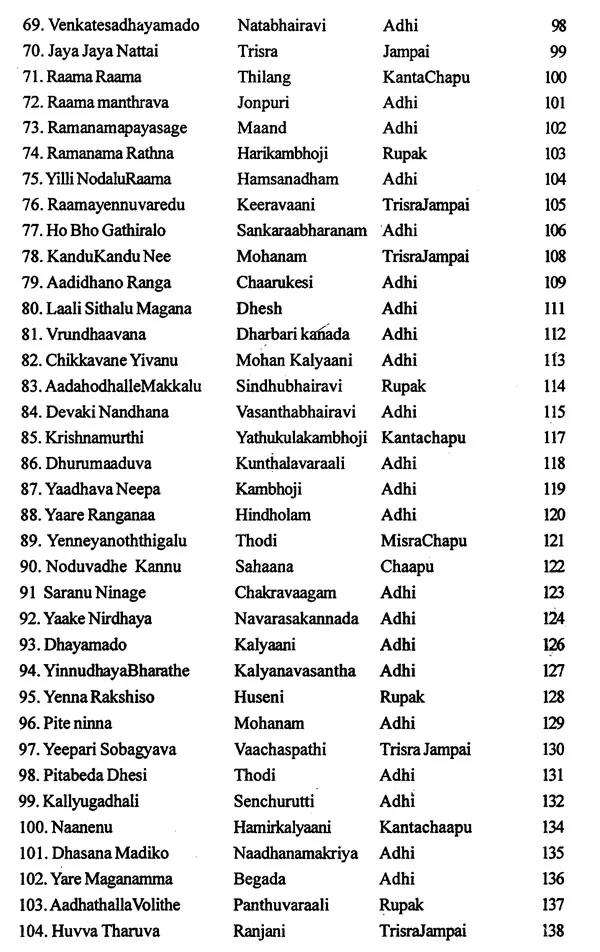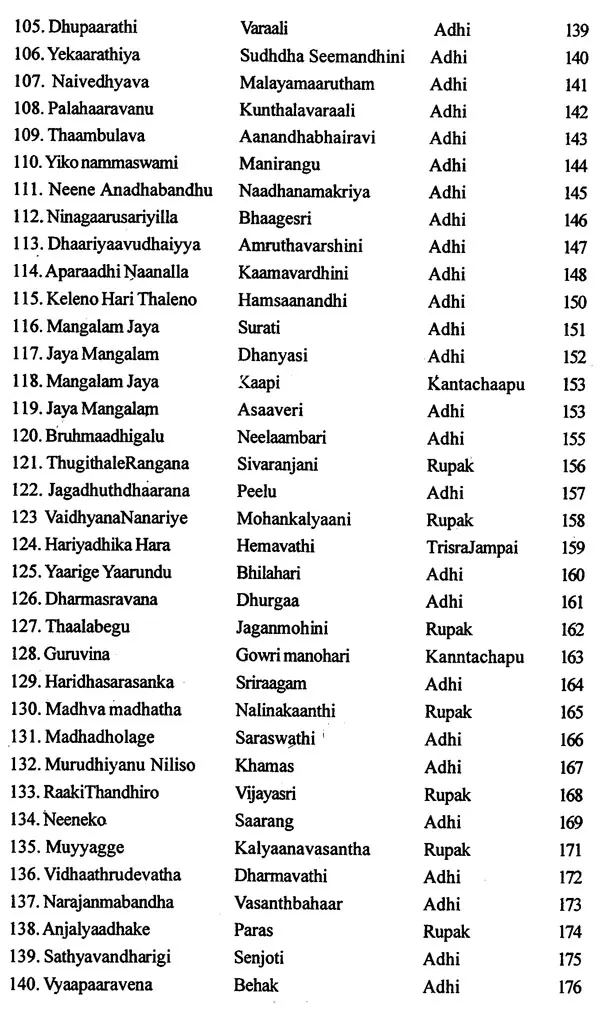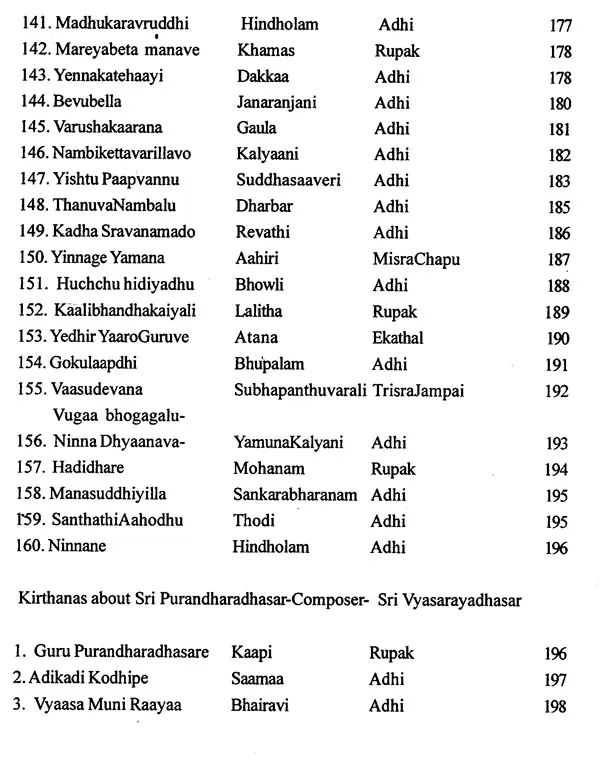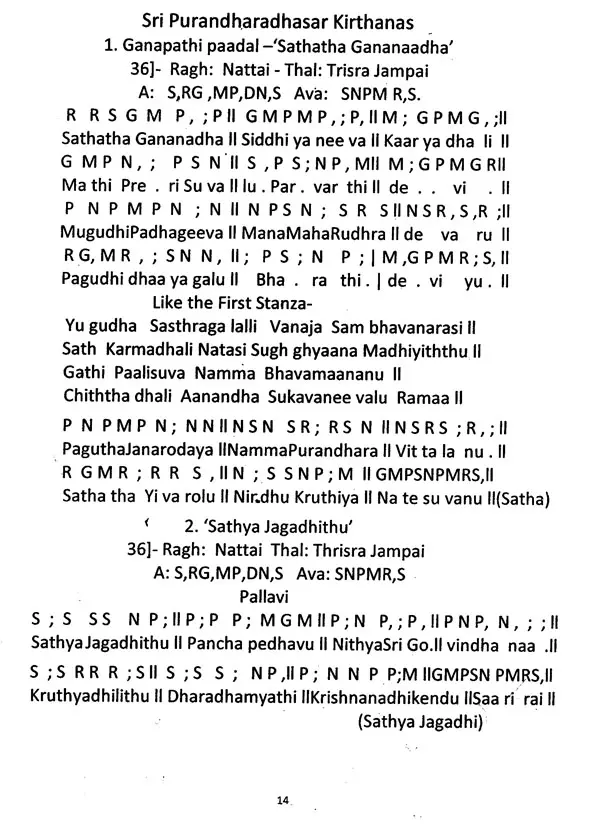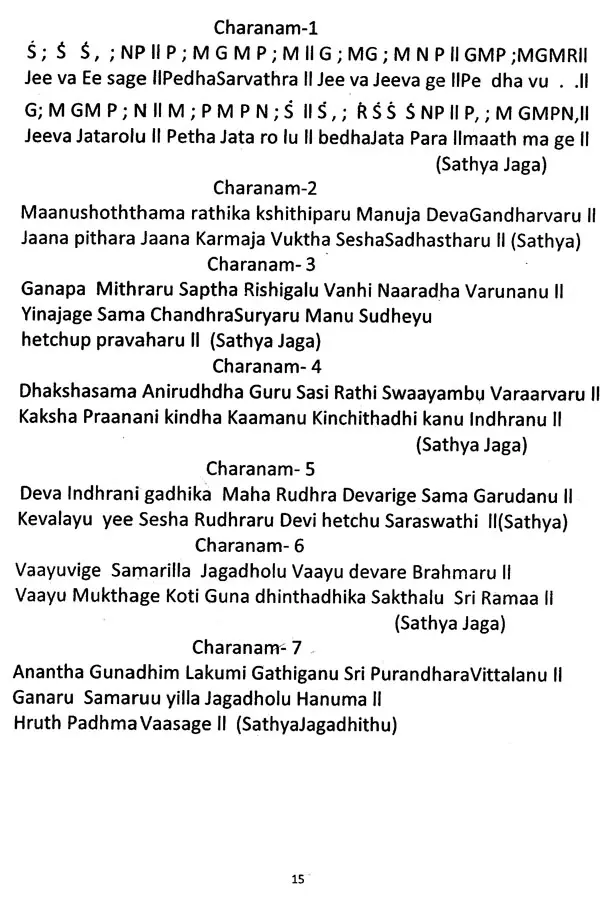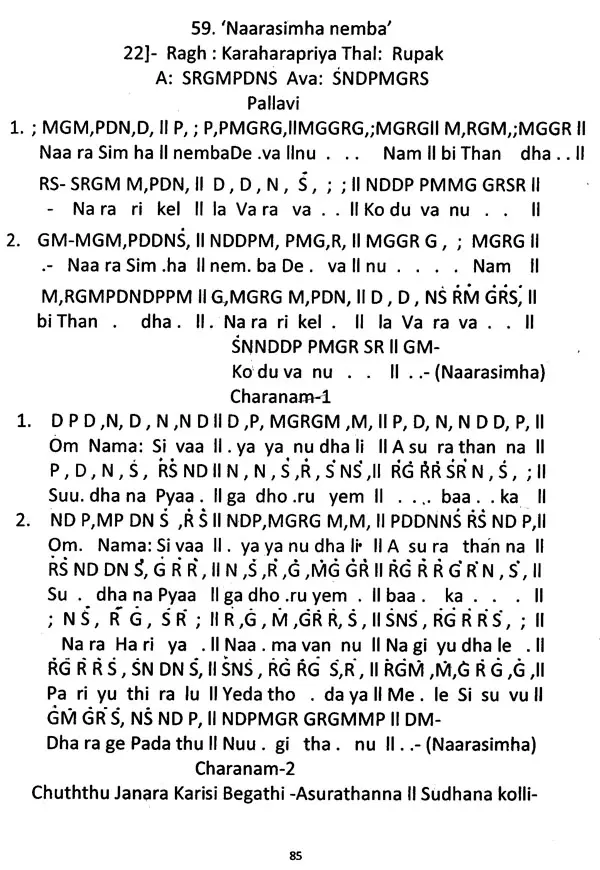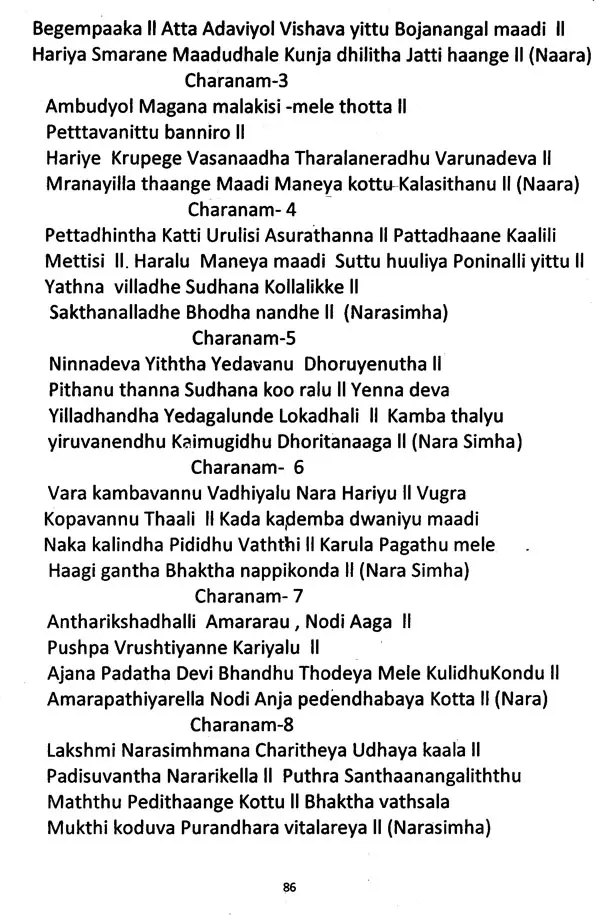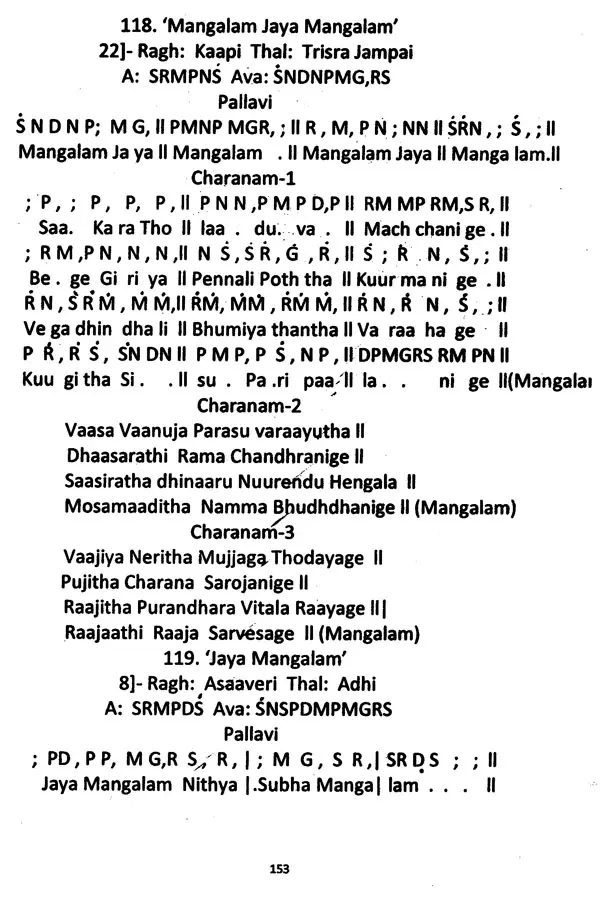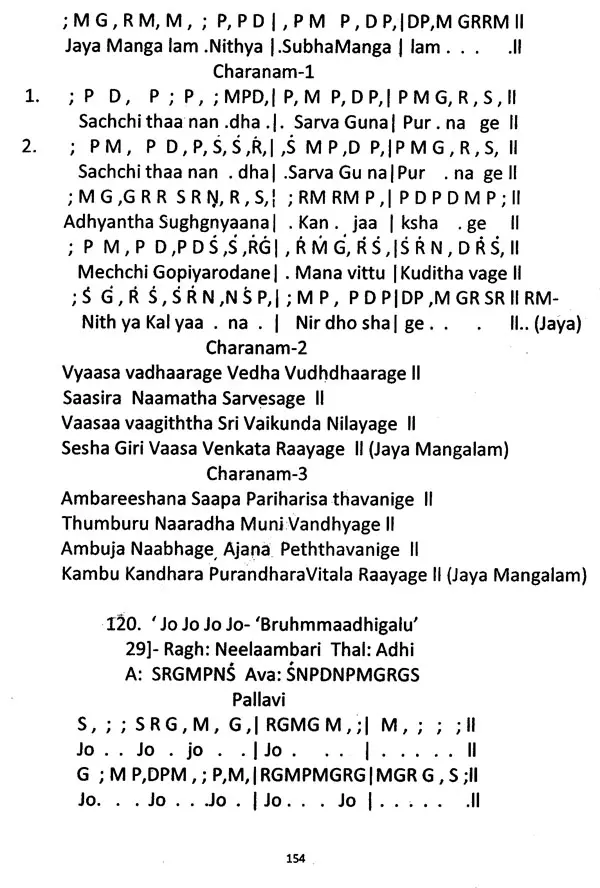 ---
We Also Recommend