Inner Dialogue with Sai Baba
$3600

$36.00
Tax included.
Shipping
calculated at checkout.
---
---
Book Specification
Book Description
About The Book
Even though the writer addresses Sai Baba, this book is intended for anyone in search of God. She poses the questions we all ask, when we set out on the spiritual path. Actually she addresses the Atma, another name for the Higher Self that resides in all of us This Higher Self can manifest itself on earth in human form and as such has been given different names in the various cultures and religions, names as Rama, Krishna, Jesus. .Buddha and so on. However, we always deal with the same principle. namely God, who can manifest in different forms, but who ultimately transcends any form and is worshipped as the Formless Principle resid ing in all of us and animating everything living from within. If you re place the name of Sai Baba for one that represents your chosen deity. you may benefit greatly by these lessons which teach us how, by living righteously and in accordance with God's will, we can be happy in the present, critical age.
About the Author
For many years Geesje Lunshof (poet, teacher, writer) wandered through the world on a spiritual quest. Finally, in the late seventies, she returned to her native country, the Netherlands, where she settled down. as an English teacher. In 1980, she heard of Sai Baba for the first time. Soon, it became clear to her that He represented the end of her search. In 1991, after het second trip to Sai Baba in India. Sai Baba started answering her many questions in an inner dialogue. This took place through the process of written questions and answers. As many of these questions and certainly all the answers are of general interest, is gradually became clear to her that she must not keep the dialogue to herself, but should share it with others.
Foreword
I have been given the honour to write some words as an introduction to the book you are about to read.
Right from the start you will be confronted with the doubts that Geesje Lunshof was seized with when she received these Lessons from Sai Baba I am glad that in this respect she really made it difficult for herself or else this work could not have come about as purely as it has Fortunately Baba kept the awareness alive in her that writing down the material and distributing it was her duty, with the fortunate outcome that many may become acquainted with it and may benefit from it spiritually
In the bibliography of Sai books there are some books based on messages of Sai Baba that come across to me as being totally in the spirit of Baba. These are the books written by Lucas Rally. Charles Penn and Little Heart, whose works have a place of honour on many a book-shelf of Sai devotees. In my opinion the book before us belongs in the same category, owing to the purity of intent, the selfless attitude and the profound light that Swami throws on His teachings. The book "Invitation to Glory" by Howard Murphet was my first introduction to Baba. I still remember, as if it were yesterday, that from the first that I had struck gold. On reading the first pages of this book I received again the same feeling that it is real, true and pure and most valuable for our bont page I knew spiritual walk through this life. In fact it is not just a book - it is a series of LESSONS to be studied repeatedly, with close attention, which offer new insights, discernments and perspectives into Baba's teachings and which will then reverberate in our daily life, for the good of ourselves and everyone and everything around us.
You know when our beloved Swami gives a discourse He always has some speakers-students, teachers or any other prominent devotees-speak before He does. We then listen very obediently to the "first course" but can't wait to hear the "main course", Swami Himself speaking, for that is what we came for! Well, start in the same manner with your reading, studying and ruminating upon the splendid material that is waiting for you. It is as a rich meal with many nutritious, spiritual dishes. Enjoy it and may Swami bless you abundantly while doing so. To Him the sole honour! Om Sai Ram.
Introduction
This volume contains a collection of spirimal teachings, which have come to me from Sai Baba since August 11, 1991. Sometimes the messages I get are strictly personal, but usually they are of a general nature. The more personal teachings have not been recorded here, only those teachings which could also be significant to others. The process takes place in writing, by means of question and answer. A message often begins with a question, usually of a spiritual nature, which keeps on posing itself to me. The moment I write down such a question, the answer comes automatically to my mind, after which question and answer succeed each other until there is nothing left to ask any longer.
As said, the immediate cause of such dialogue can be a spiritual question, but it can also be a dream, in which Baba is present and which I do not completely understand, or a spiritual experience undergone by me, the meaning of which I can't quite grasp.
It took a long time before I had enough confidence to acknowledge that it really is Sai Baba who communicates with me in this manner. So, for the past few years I have only read these teachings to two friends and for the rest I did not have any idea what to do with them. In spite of my friends' assurance that it really could be no other than Baba, I was not so sure myself. "Just suppose that it isn't Him, that I myself am doing it, wouldn't that be terrible," I would think. "Then I really would have landed in an enormous ego-trap"
Slowly but surely I began seeing things in a slightly different perspective, for even if it was me, it was still a very pure and deep part of myself, to which I had no access whatsoever in normal daily consciousness. The answers were often so wise and so different from what I was able to conceive with my normal intelligence, that they could come from no other than my deepest soul, the Atma. And isn't that precisely what Sai Baba is, the deepest soul, the Atma, who resides in our hearts? This put me at ease in so far that it made me less diffident about asking spiritual questions. But still, I lacked the confidence to do more with the dialogues than reading them to one or two special friends. Of course to me they were of great value, especially the personal ones. Still I realised that a great number of the teachings could be of general interest. "Why worry," I would think then, "If Baba wants others to know of them, it will surely happen".
I continued with them; it had almost become second nature, that's how wonderful it was to communicate with. Him in this manner and I often felt Him very close at those moments. But the feeling "what if it isn't Him, but me," kept gnawing at me and often even stopped me from taking up my pen to let Him work through me.
Book's Contents and Sample Pages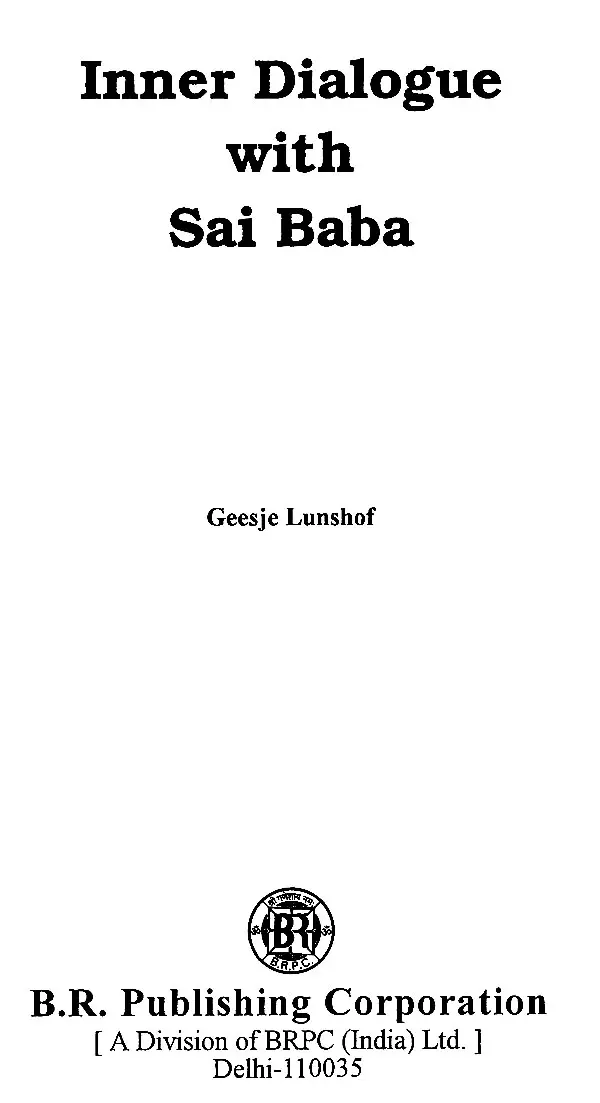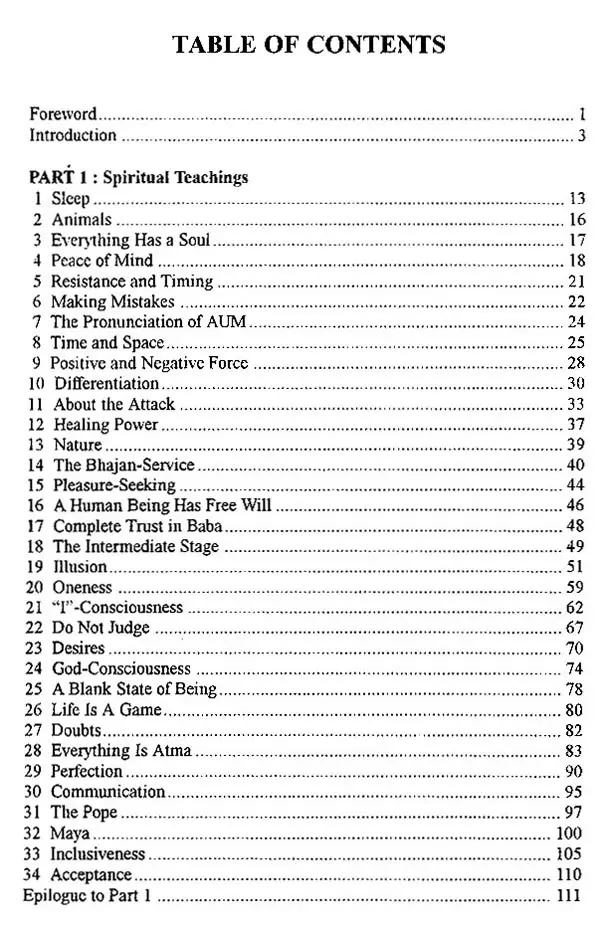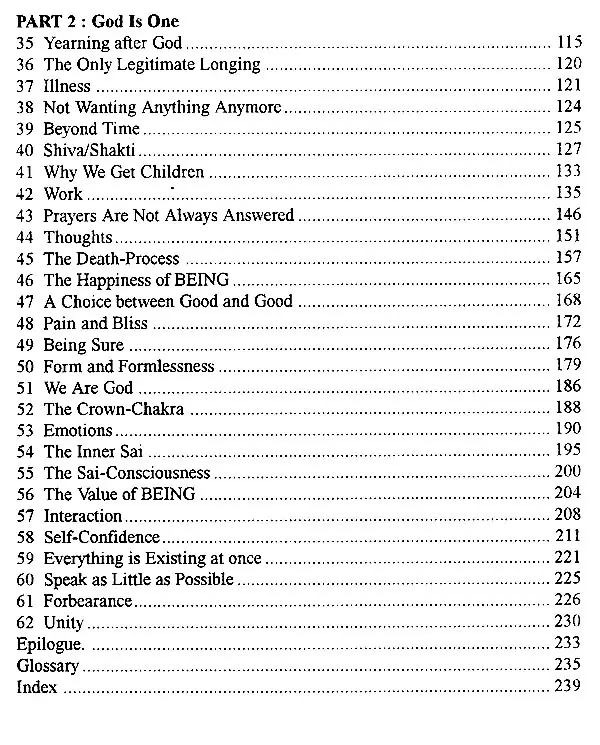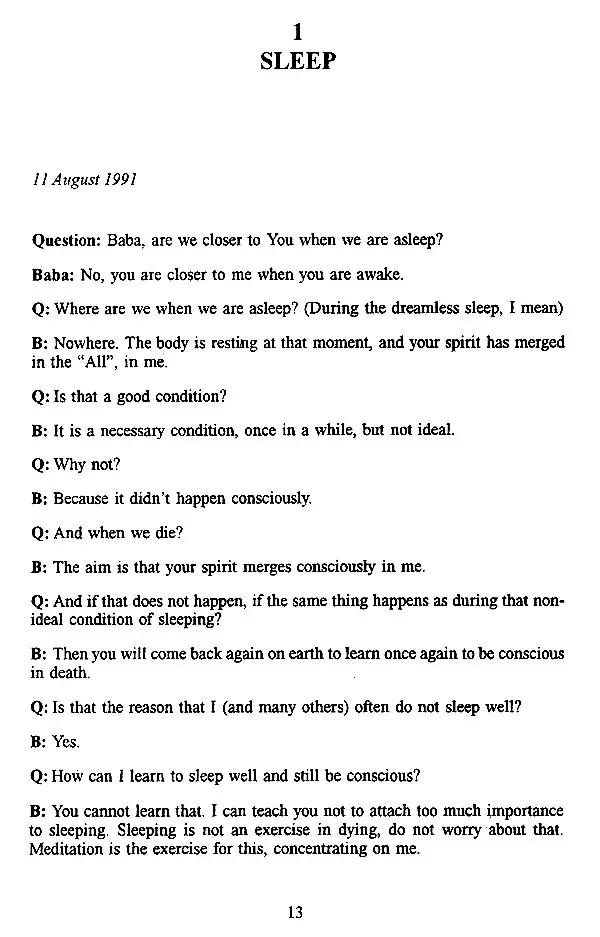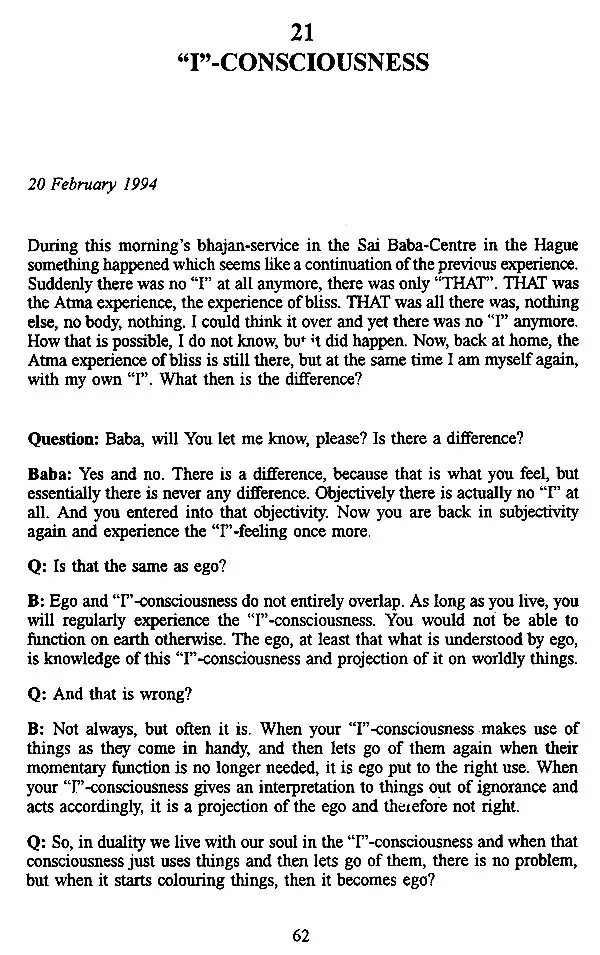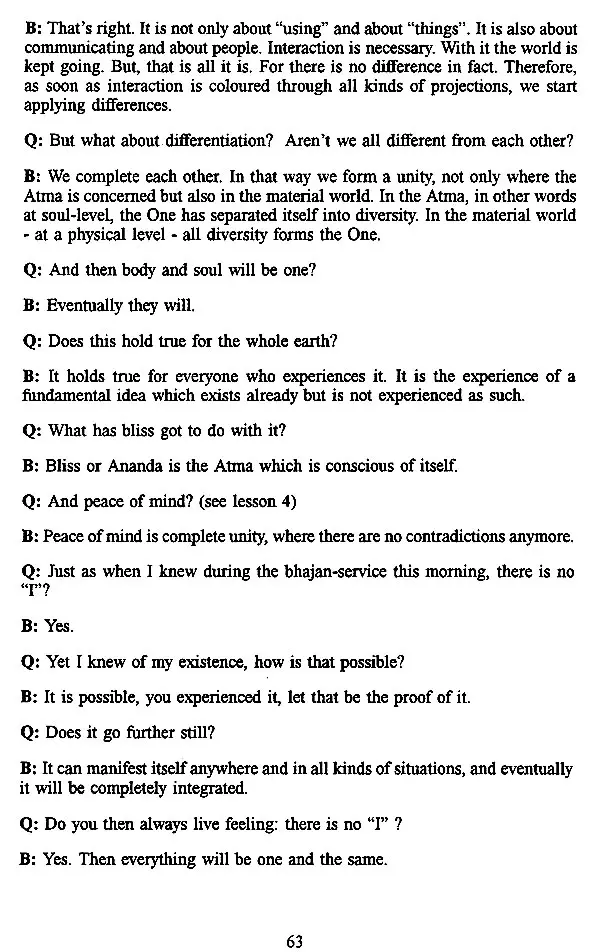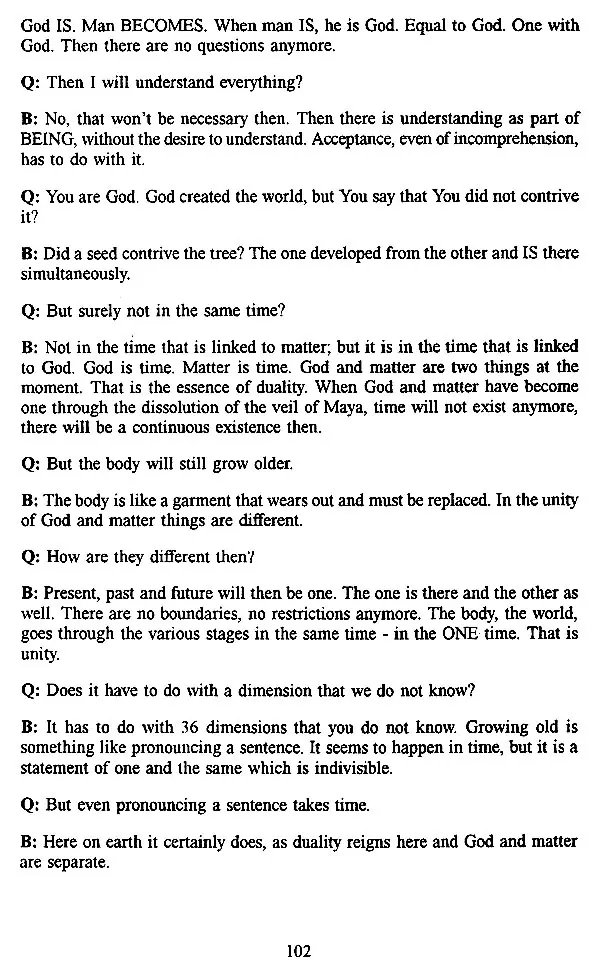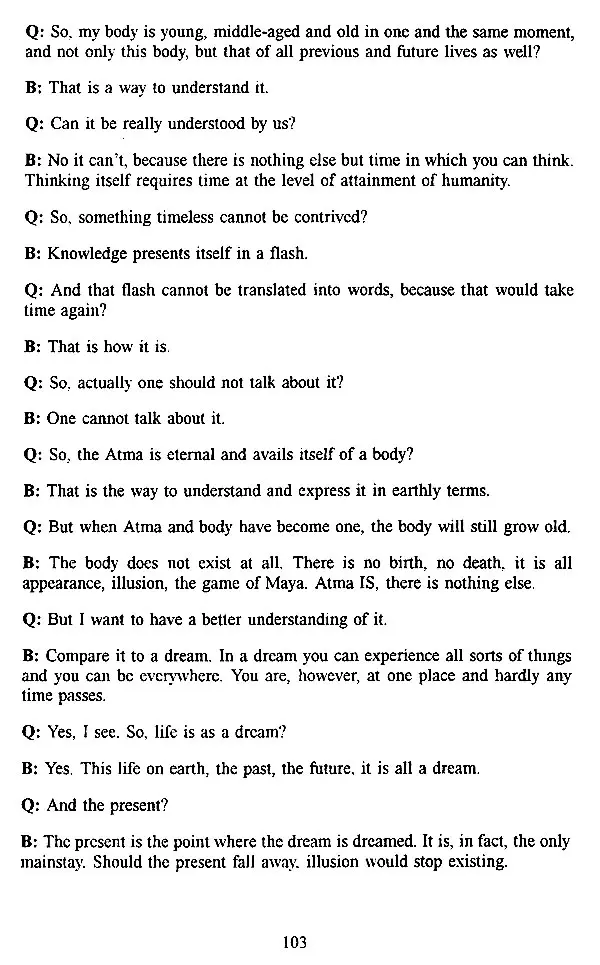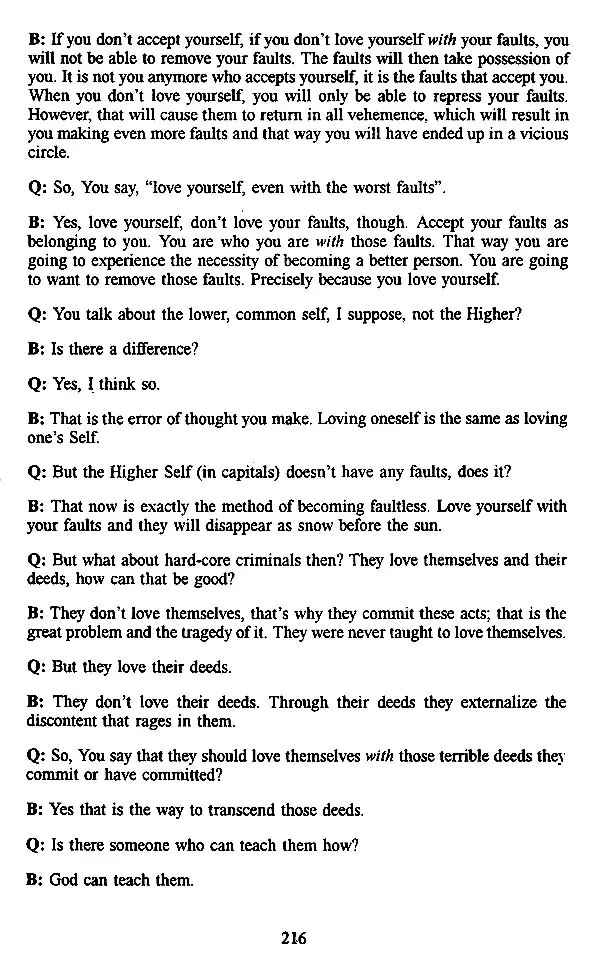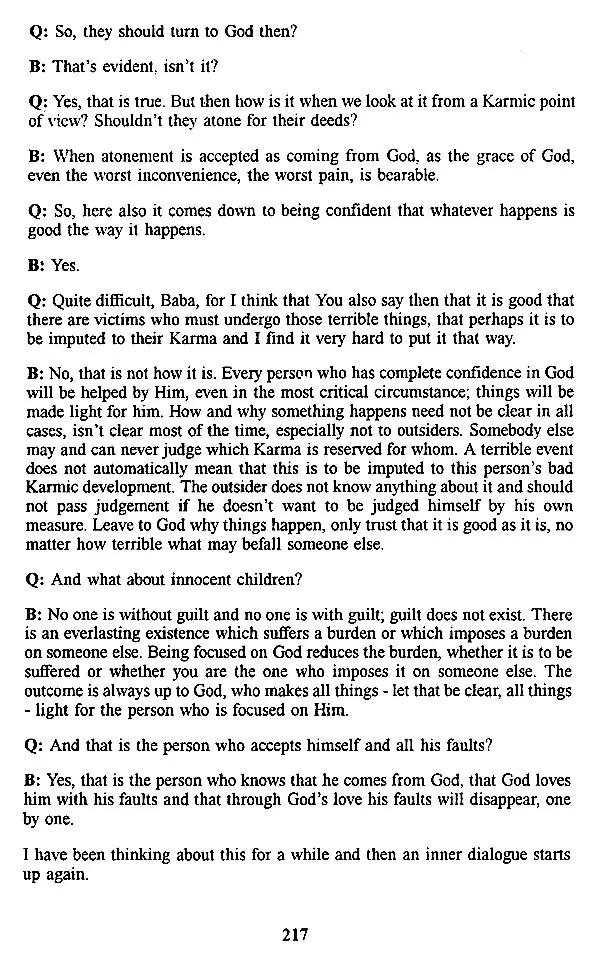 ---
We Also Recommend