Inscriptions of Morena-Sheopur Material for the History of Gopadri Region
$16400

$164.00
Tax included.
Shipping
calculated at checkout.
---
---
Book Specification
Book Description
About the Book
Inscriptions are undoubtedly the primary source of information for the chronological reconstruction of all the aspects of Indian History. Present study on the Morena and Sheopur inscriptions is an endeavor to bring together and study over five hundred published and unpublished inscriptions, with text in Roman script having international dialectic system and arranged in chronological order, along with analytically classified data in each inscription and general introduction makes the book a corpus of the inscriptions of Morena-Sheopur Districts. The historic account are given from the viewpoint of an understanding of the of epigraphic evidences and ferreting out material for the rulers and the beneficiaries, royal personages, administrator, administrative terms, trade and commerce, religious persuasion, bhanarakas, content śrávakas, poets, scribes, engravers, as well as the occasion and purpose of the grants, year and other astronomical account, construction or renovation of temples, installation of images, digging or renovation of tanks or wells, planting of gardens, memoirs of the deceased persons, topographical details, evolution of languages and scripts, etc. A treatise of facts dovetailed with inscriptive narratives from historic accounts, this book tries to uncover the time and glory of the region that history books mostly left out of its narrative. The present volume brings to light all the available information on the historical and archival records of Morena-Sheopur inscriptions. Together with the data which has been assimilated by experts in the field of epigraphy, history, its interpretation in terms of reconstruction of the regional landscape adds further value to this study. The documentation and detailed study of the inscriptions compiled in this book would certainly be useful to the historians and researchers of political and cultural studies, especially for those who are interested in the local history of Gopädri Region (Northern Madhya Pradesh). The discussion and synthesis of the collected information from the region has been weaved in a way that will provide an interesting and thought-provoking reading to the scholars.
About the Authors
Dr. Arvind Kumar Singh (b. 1959) is Professor and Head of Ancient Indian History, Culture and Archaeology in Jiwaji University, Gwalior. He is genuinely involved in teaching and innovative research, particularly in the field of Paleography and Epigraphy. Fellowships and Projects from different agencies were awarded to him. He is author of eighteen books and over one hundred thirty research papers. Professor Singh has edited one felicitation volume, one commemoration volume, volumes of two seminar proceedings, and is the chief editor of a bi-annual journal namely Puranveshana: Indian Journal of Archaeology and Tradition.
Dr. Navneet Kumar Jain (b. 1977) did post graduation in Ancient Indian History, Culture & Archaeology (2001), Ph.D. (2007) and P.G. Diploma in Museology (2008) from Jiwaji University, Gwalior. He worked as an Associate Fellow in a Major Research Project of UGC (2009-10). He is editor of Prachin Tirth Jirnoddhar, Lucknow (2009-10), Puranveshana (from 2007), Delhi and Jnanadesana, Indore. More than 80 research papers, 5 felicitation/commemoration volumes and 13 books to his credit. Dr. Jain honored by Kundakunda Jnanapitha Award (2011), Acarya Santisagar Channi Smriti Award (2012), Prof. M. K. Mathur Memorial Award (2014), and now sincerely .engaged in field survey and books writing.
Preface
Inscriptions are the most significant source of information for reconstruction of our past. The nature and purport of the inscriptions are diverse. Many inscriptions are commemorative or donatives in nature, while others deal with political, religious, commercial compacts or deal with matters of revenue, law, temple administration, trade and commerce, the construction or renovation of temples, their adjunct renovation of tanks, reamble and and annexes, consecration of the temple or image, excavation and construction or wells and water cisterns. The royal records generally contain a preamble: I an operative part having details. Creation of endowments of land and money to religious institutions and personages received great thrust with the revival of the brahmanical religion when more and more temples and brahmanas got misappropriated in course were being endowed with such grants. It is likely that many such lands got t of time and the royal donors found it necessary to include imprecatory statements and stanzas pronouncing curses and punishments on those who would dare flout the donations made by them. Some of them are simply label inscriptions that record the names of pilgrims, sculptors, stone-masons and vandals. Looking into the urgent need of document and study of the inscriptions of Gopadri region (Northern Madhya Pradesh) district-wise and till date in the series two volumes on the Gwalior inscriptions have been published in 2016, one book on Jain inscriptions of Bhind district (in Hindi) in 2017, two volumes on the Shivpuri inscriptions in 2018, one book on Jain inscriptions of Gwalior district in 2018, and one book on Jain inscriptions of Datia district (in Hindi), in 2018, while other on Jain inscriptions of Morena and Sheopur districts (in Hindi) is under publication.
**Contents and Sample Pages**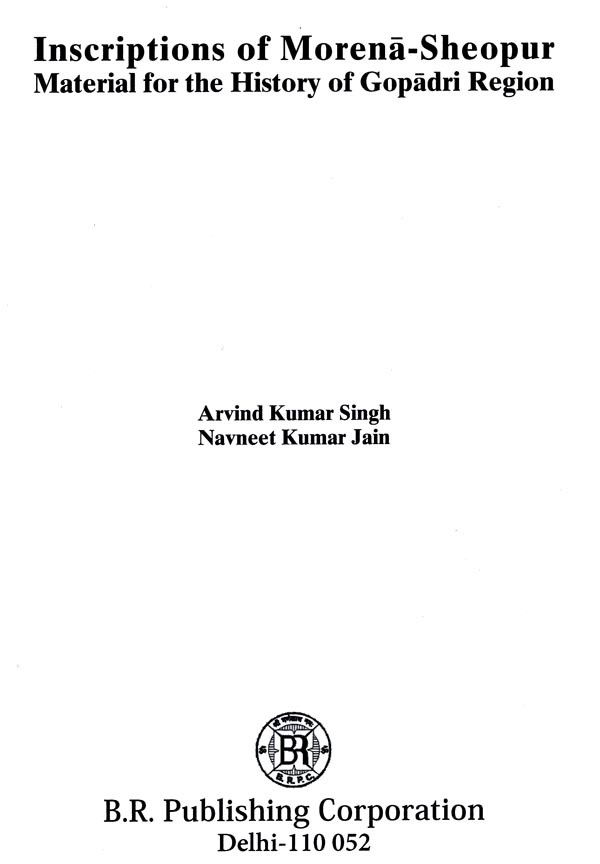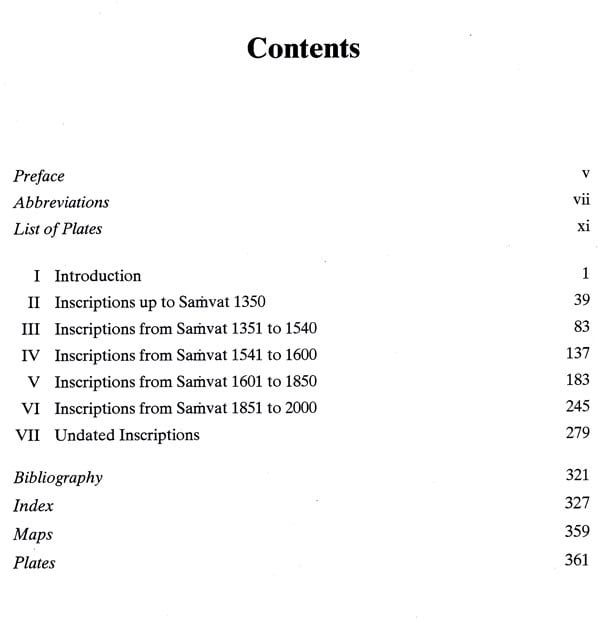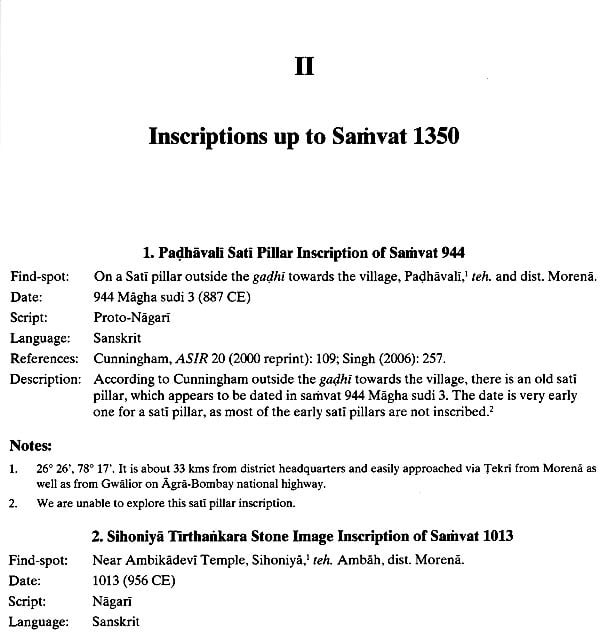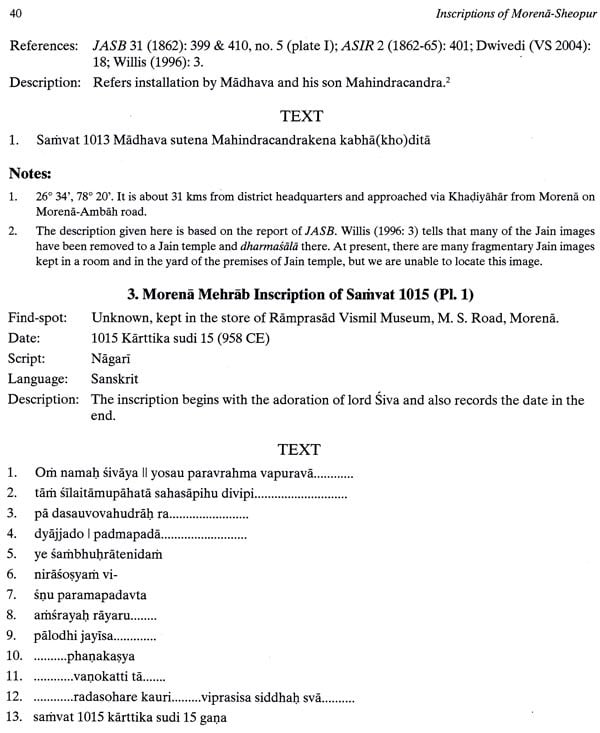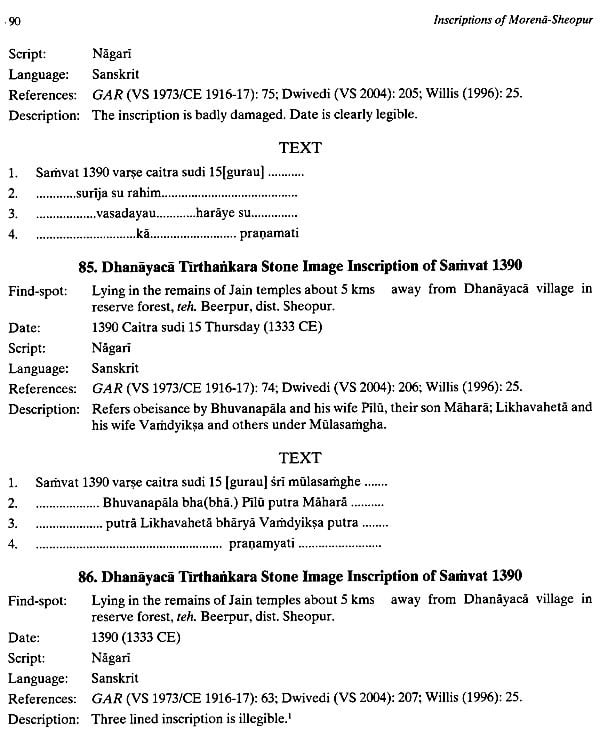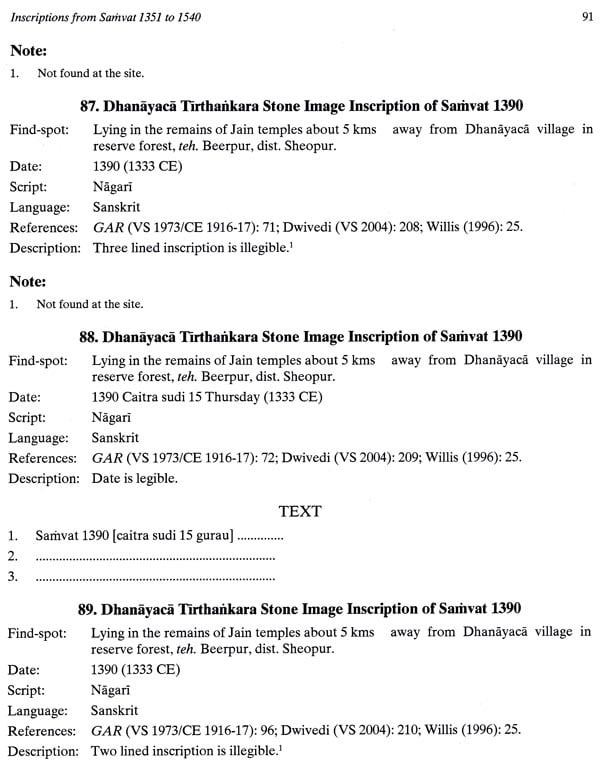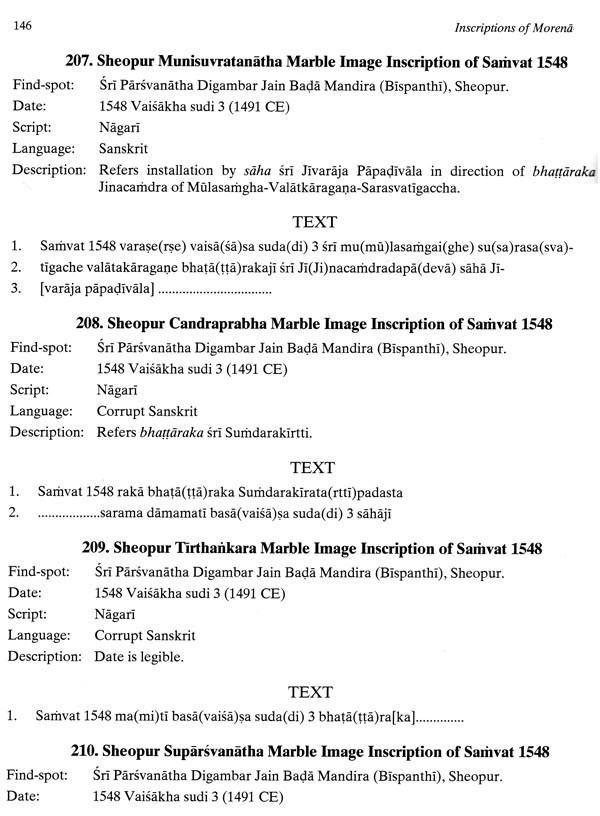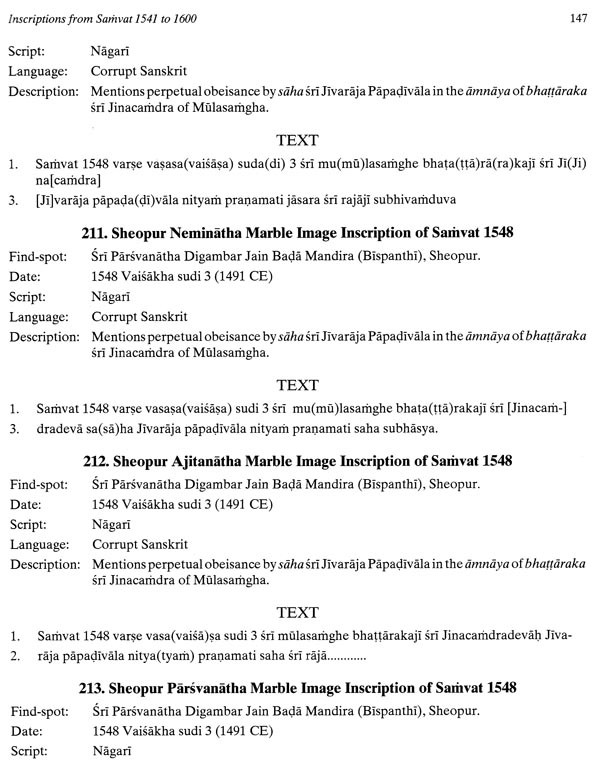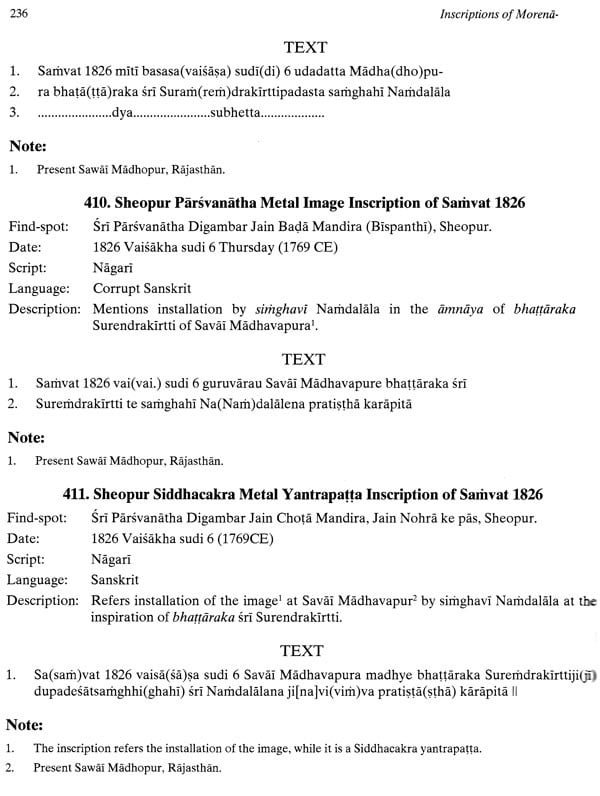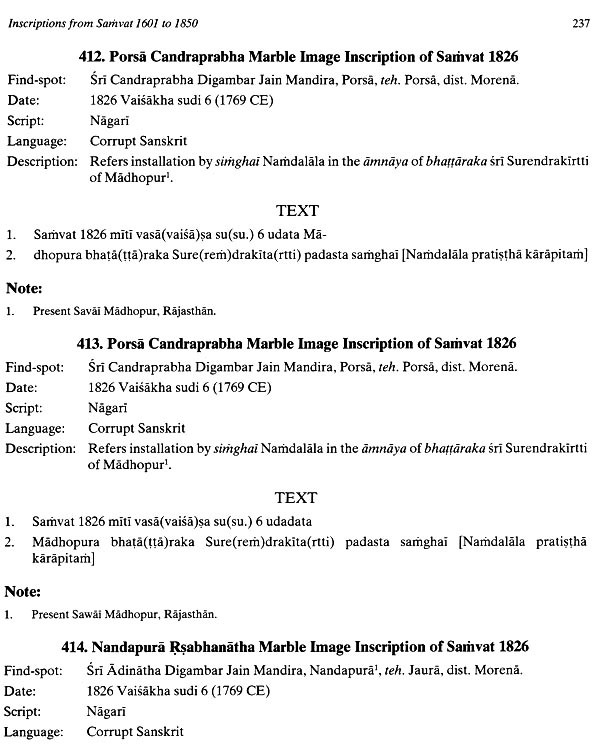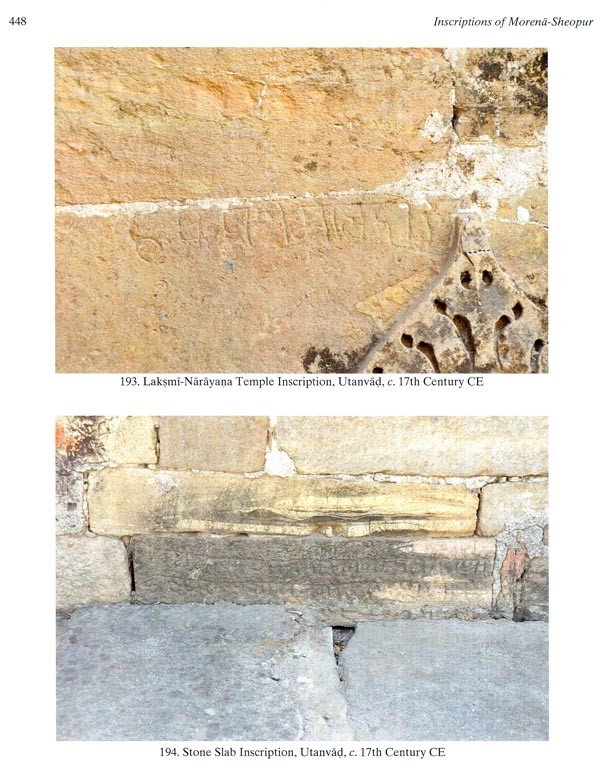 ---
We Also Recommend