Irula (Kerala Tribal Series- 4)
$1700

$17.00
Tax included.
Shipping
calculated at checkout.
---
---
Book Specification
| | |
| --- | --- |
| Item Code: | NAX141 |
| Author: | S. Prema |
| Publisher: | Dravidian University Campus |
| Language: | English |
| Edition: | 2008 |
| Pages: | 50 (Throughout B/W Illustrations) |
| Cover: | PAPERBACK |
| Other Details | 9.00 X 6.00 inch |
| Weight | 90 gm |
Book Description
PREFACE
Dravidian University is an outcome of a dream, a great vision aiming to integrate people of sister languages though identified differently, but belonging to the same cultural roots. Though they sound different, their meaning and soul is one. The Dravidian family of languages now established to be around 27 is one of the oldest civilizations of the world, perhaps the only extant one with richness of its ancient character. It has been the endeavour of the university to strengthen the age old linguistic, cultural, emotional and geographical bonds among the Dravidians and promote a spirit of integration through research.
There are about 27 languages with different subgroups and sects, so far enumerated as belonging to Dravidian languages. Only four of them arc well developed with scripts and historical legacies. Among the rest, Tulu has considerable socio-economic advancement. The rest of the languages do not have a written tradition, though they have a rich oral tradition. Socially and economically, theirs are highly backward societies. They are often categorized as 'Tribes', some of them as 'primitive tribes', far away from the modern developments in scientific, technological and socio-economic areas.
Therefore, there is a great historic need and responsibility for the entire nation to equip them with necessary educational tools at all levels and modern perspectives of life affecting their socio- economic advancement on par with the other citizens of the nation at the same time duly preserving their cultural identity, in other words-our cultural roots. The richness of their knowledge and wealth of wisdom. which stand above all scripts and tongues. forming part of the glittering glory of the nation, have to be revitalized.
As a part of encouraging Research in and outside the country in Dravidian Studies with an indigenous thrust Dravidian University has launched a project to publish a series of Monographs on Tribes. In its first phase, it is planned to publish monographs of tribes of Kerala and several scholars who are working on different tribes are invited to submit the monographs in a specified format. Dr. K.M Anil is entrusted with the responsibility of coordinating this as editor of the series. It is interesting to see that several scholars responded to our call and invitation. We requested scholars to submit the scripts on the basis of their research on a specific tribe of Kerala.
Dravidian University has chalked out a programme of publishing monographs on all the major and minor tribes of the Dravidian family of languages and the four Dravidian states highlighting their socio-cultural aspects. Establishing museums for each of them and preparing grammars and comprehensive descriptive lexicons is another ambitious project of the University. All this is going to materialise with the proposed Centre for Preservation of Endangered Dravidian Languages.
Dr. S. Prema, the author has exhibited her vast experience of field research and prepared this monograph on Irula: The Dancing Community of Attappady. I thank the author for her efforts.
**Contents and Sample Pages**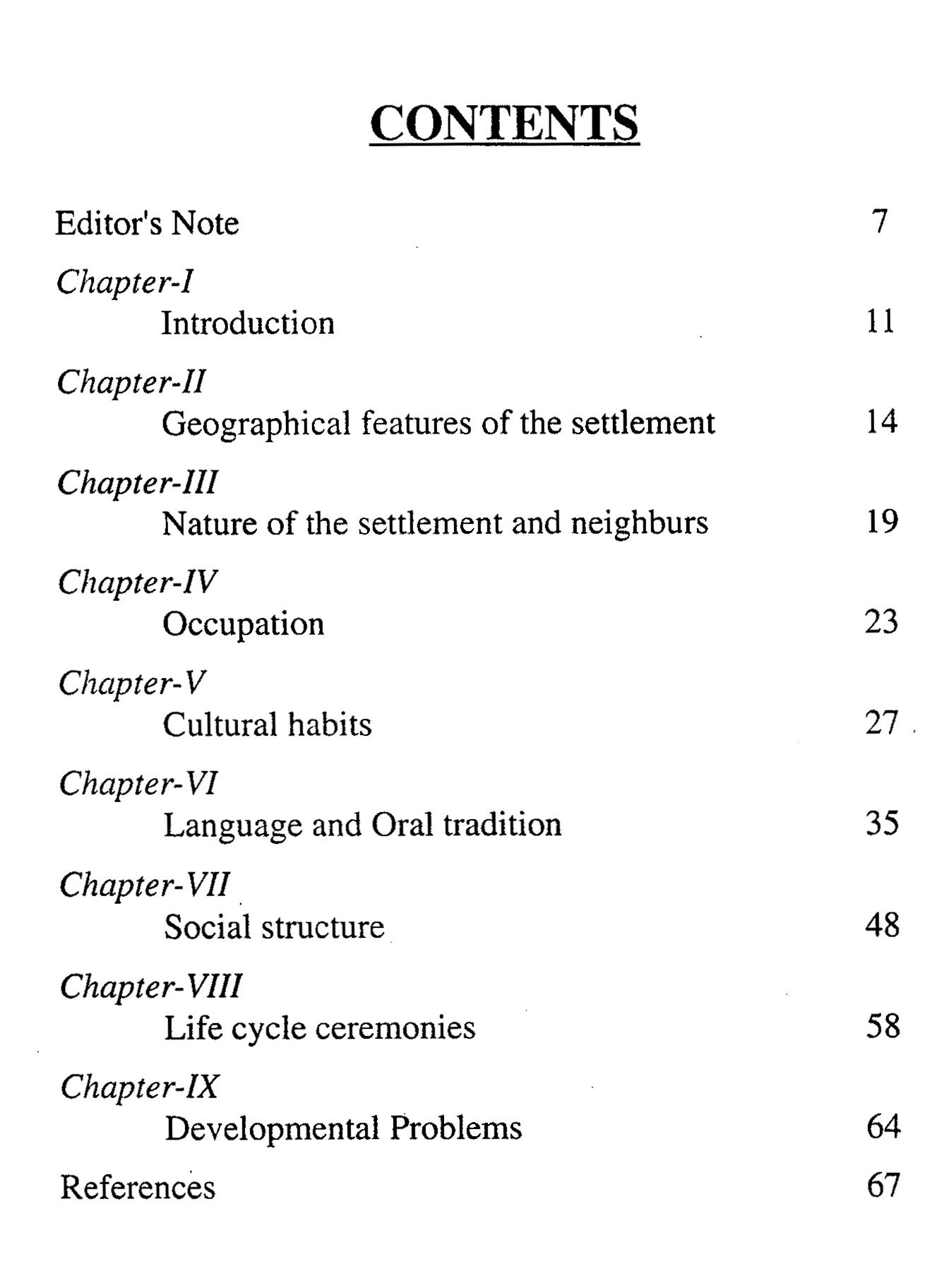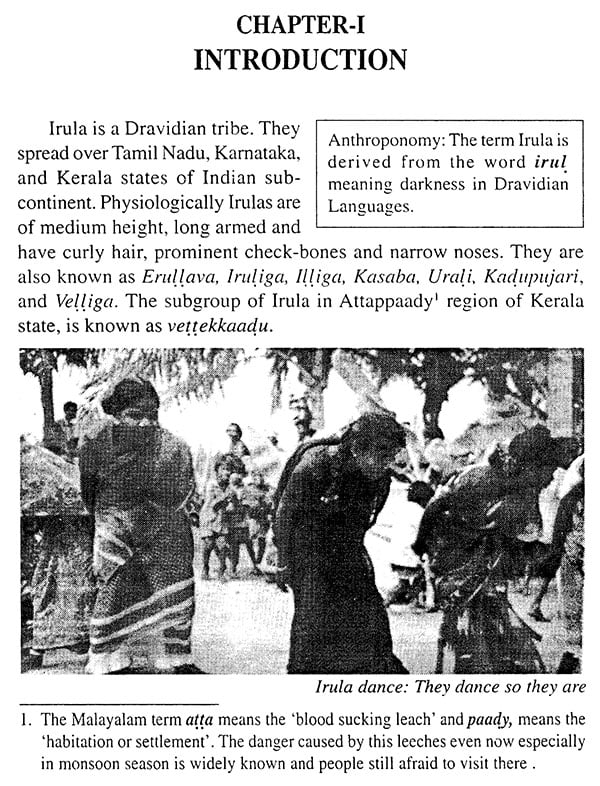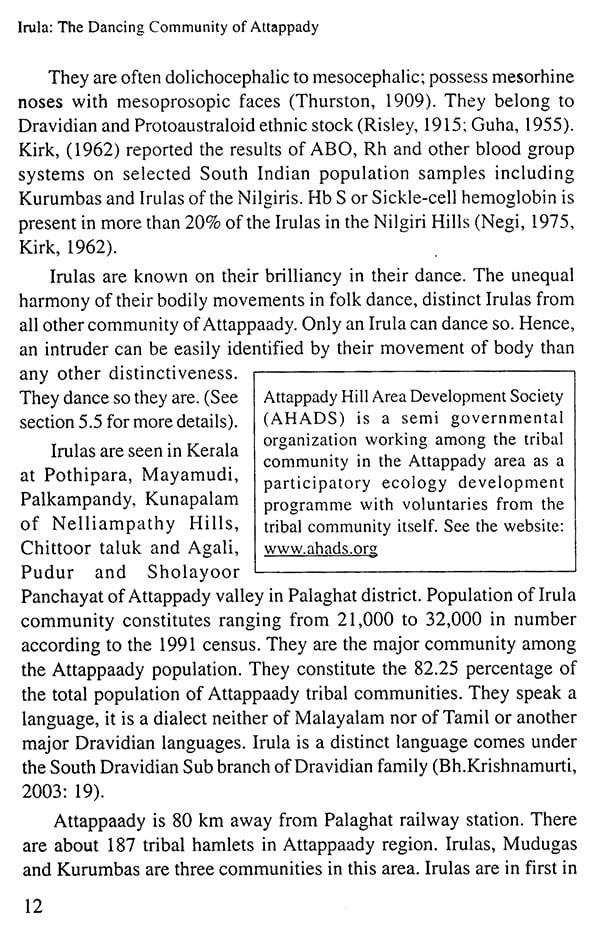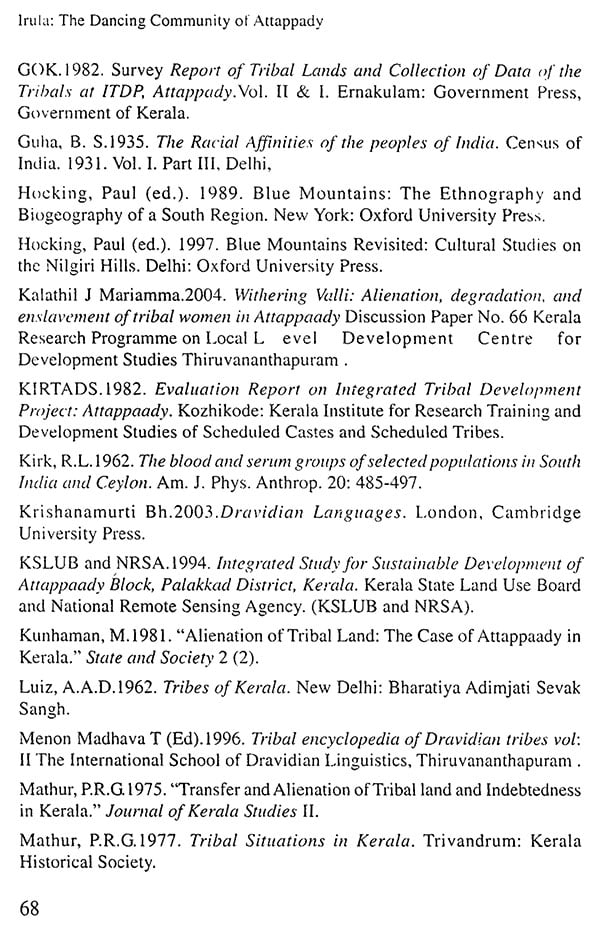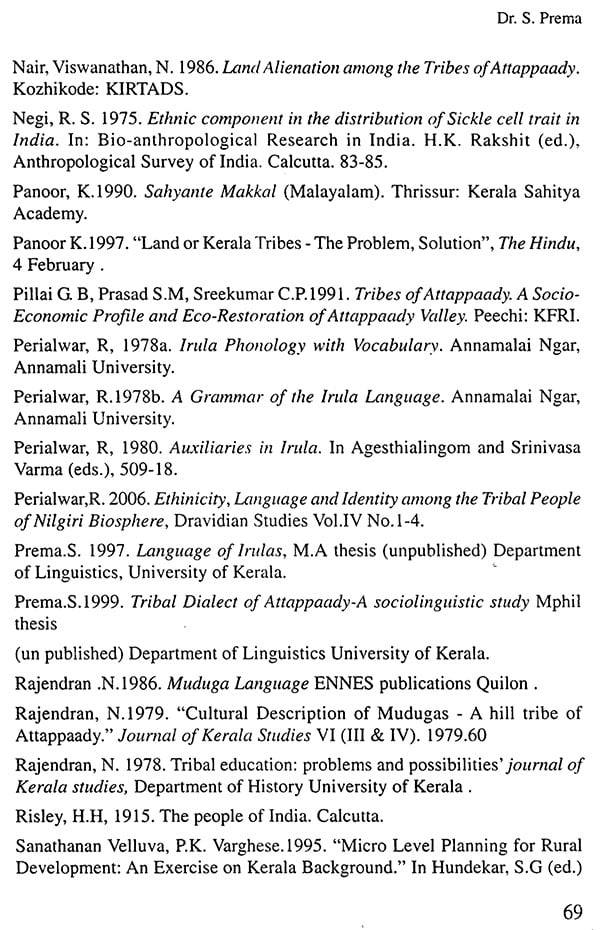 ---
We Also Recommend