The Jagannatha- Vallabha Nataka (A Study with Introduction and Translation)
$2960

$29.60
Tax included.
Shipping
calculated at checkout.
---
---
Book Specification
| | |
| --- | --- |
| Item Code: | UAO011 |
| Author: | Dr. Rajalaxmi Swain |
| Publisher: | Bharatiya Kala Prakashan |
| Language: | Sanskeit Text with English Translation |
| Edition: | 2002 |
| ISBN: | 8186050779 |
| Pages: | 198 |
| Cover: | HARDCOVER |
| Other Details | 8.80 X 5.80 inch |
| Weight | 380 gm |
Book Description
ABOUT THE BOOK
The Jagannatha-Vallabha-nataka by Raya Ramananda occupies an important place in the history of Sanskrit Literature in general and in the devotional literature of Gaudiya Vaisnavism in particular. Consisting of five Acts it deals with the love sports of Śri-Radha and Śrī-Kṛṣṇa. In dramatic form it seems to be the first imitation of Jayadeva's Gita-Govinda based on the same Kṛṣṇa theme. It is, so to say, a dramatic display of what Jayadeva has depicted in a lyrical form in his Gita Govinda.
Translated into regional languages, this important Visnuite text was published more than once; but it was not available in devanagari character so far. Now the publication of this text with English Translation and a detailed general study fulfills a long-felt need of the Classical Sanskrit Literature.
ABOUT THE AUTHOR
After passing M.A. from the Utkal University Rajalaxmi Swain joined Surajmal Saha College, Puri as a Lecturer-in-Sanskrit. She was awarded Ph.D. by the Utkal University in the year 2000. Actively engaged in search Dr. (Smt.) Swain is now devoting her time to the study of other manuscripts of Orissa.
FOREWORD
It gives me great pleasure to write a few words by way of introducing Dr. (Smt.) Rajalaxmi Swain, Lecturer-in-Sanskrit, Surajmal Saha College, Puri (Orissa) to the world of scholarship. through her work: "The Jagannatha-Vallabha-Najaka: A Study" with Introduction and Translation" of Ramananda Raya. This represents with some changes her doctoral thesis accepted by the Utkal University, Bhubaneswar (Orissa).
Like other parts of India (Bharatavarsa) Orissa has contributed significantly to the growth and development of Sanskrit literature and it has produced the unforgettable gita-kavya literature. Jayadeva (12th century A.D.) has given us very charming, sweet, melodious and immortal gitakavya viz the Gita-Govinda. It is a lyrical poem with dramatic elements and depicts the amorous dalliances of Radha and Krsna. It has been a source of many later works. dramatic and poetical. Out of approximately 128 imitations of Jayadeva's Gita-Govinda, the Jagannatha-Vallabha-Nayaka (JVN) is possibly the first imitation in a dramatic form on the same theme by Ramananda Raya (also known as Pattanayaka, 16th century A.D.) who was a poet, the Krsnaite devout worshipper and an exponent, naturally, of the Radha-Krsna philosophy. He was also a high official (governor/minister) of Prataparudra of the solar dynasty of Puri. This play in five acts is also known as Ramananda-Sangita-Nataka, which goes clearly to suggest that it is a musical play. It contains 21 ragas and the stanzas in these ragas are copiously quoted by later musicologists in their work. The play was written sometime between 1497 A.D. -1509 A.D., possibly before the advent of Caitanya Mahaprabhu to Puri. The latter and Ramananda used to meet each other; the latter was much admired by Caitanya Mahaprabhu.
PREFACE
Inspired by my father I was interested in research after my Post-Graduate studies. My father Sri Arjun Charan Swain happens to be a close friend of Dr. A.C. Swain, formerly Professor and Head of the Department of Sanskrit, Utkal University, Vani Vihar, Bhubaneswar. In fact I was a student of Professor Swain from 1982 to 1984 during my Post-Graduate studies. As advised by him, I decided to carry on research on an Orissan Manuscript, particularly on the Jagannatha-vallabha-nataka of Raya Ramananda in the year 1992.
During the early years of 16th century Raya Ramananda composed this drama on the amorous sports of Radha and Krsna and it was staged at Puri during the rule of king Prataparudra (1497-1540 A.D.) Because of its mellifluous musical songs it was highly appreciated by the devotees of Gaudiya Vaisnavism as they considered the reading, reciting and witnessing this drama a kind of their pious duty. Owing to its popularity this drama was widely circulated at that time and it reached different parts of India. As Gauranga Gopala Senagupta points out in the Preface to his work Jagannatha-vallabha-nataka, Ramanārāyaṇa Vidyaratna was the first person to get this drama published twice from Murshidabad, Berhampur, Bengal in the year 1874 and 1889. After him many scholars and devotees of Gaudiya Vaisnavism have translated the drama into their respective mother-tongues. Even before the printing machine came into use, maintains Senagupta, the manuscripts of that drama were available in Viśvabhāratī (Santiniketana), Asiatic Society, Sanskrit College Library, Calcutta, Dhaka University Library, Madras Government Library, Bhandar kar Oriental Research Institute, Poona and also in Tubingen University, Germany; but despite this assertion of Senagupta, it is a fact that the manuscript of the Jagannatha-vallabha-nataka is now rarely available. Senagupta procures only three manuscripts on the basis of which he has edited the text of the drama published by Baulman Prakashan. Calcutta in the year 1992. With constraints and hardship we have collected only six different texts of the work-three printed texts in Bengali language and three in Oriya language including one manuscript from Orissa State Museum, Bhubaneswar.
The work is divided into two parts. Part I deals with a critical study of the Jagannatha-vallabha-nataka whereas Part II contains English translation, Sanskrit text of the play and the bibliography. The Part I consists of six Chapters. In the Chapter I, I have given a short introduction to the summary of the five Acts of the play and a brief description of my collection of six texts of Jagannatha vallabha-nataka on the basis of which a correct text of the play has been prepared. Chapter II deals with the life and the time of Raya Ramananada Chapter III discusses other works of the play wright. Chapter IV comprises assessment of the different characters of the drama e.g. Śrikrsna the hero, Śri Radha the heroine, Viduşaka the jester, Madanika and her friends. Chapter V contains a critical estimate of the drama along with the play wright's acquaintance with the rules of dramaturgy. And finally in Chapter VI I have tried my best to show the merit of Raya Rämänanda as a dramatist, and also his mastery over the science of music.
I am thankful to Sri Karunakar Bisoi, Curator, Orissa State Museum for having provided me with a xerox copy of Jagannatha vallabha-nafaka bearing No. SMS 66 in the beginning of my research work.
I am grateful to the Manager, Haridasa Thakur Matha Baba Natabar Das, Puri due to whose kindness I was able to procure from their library xerox copies of two Bengali texts-one by Ramanarayana Vidyaratna and the other by Jyotiścandra Sarma.
I will fail in my duty if I do not keep on record the sincere help and co-operation extended to me by Sudip Chatterjee the Librarian of Jagannatha-vallabha Matha, Puri for he has made many rare books available to me during the period of my research.
**Contents and Sample Pages**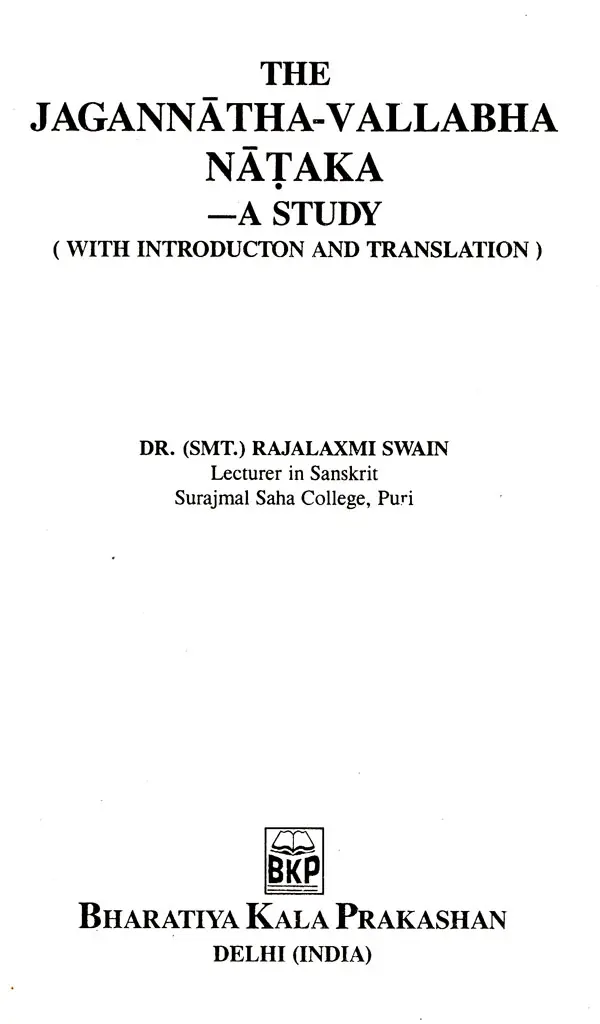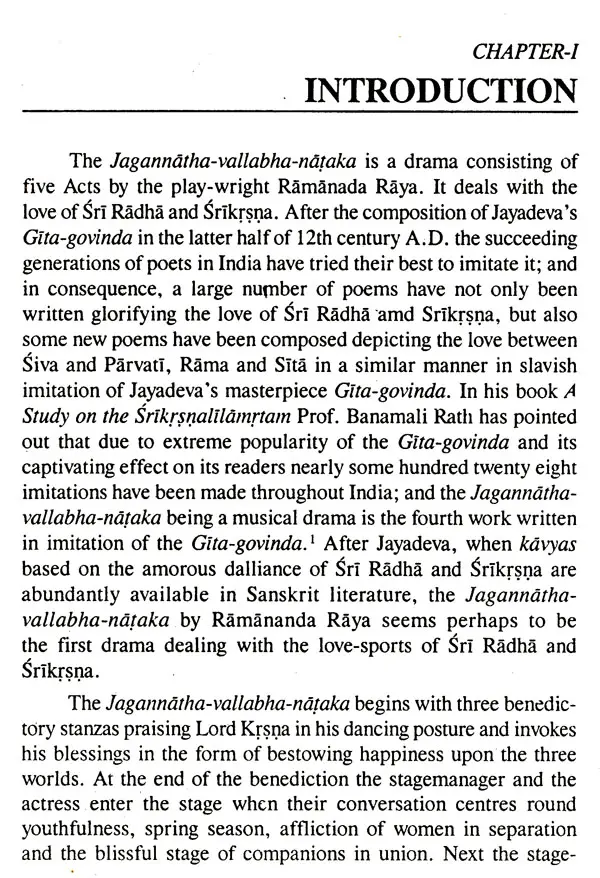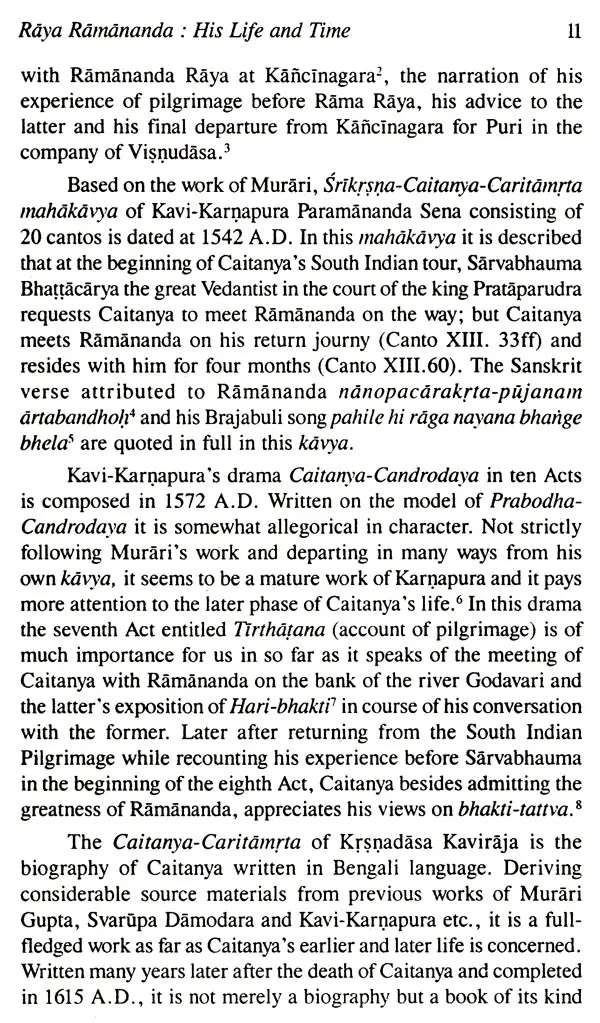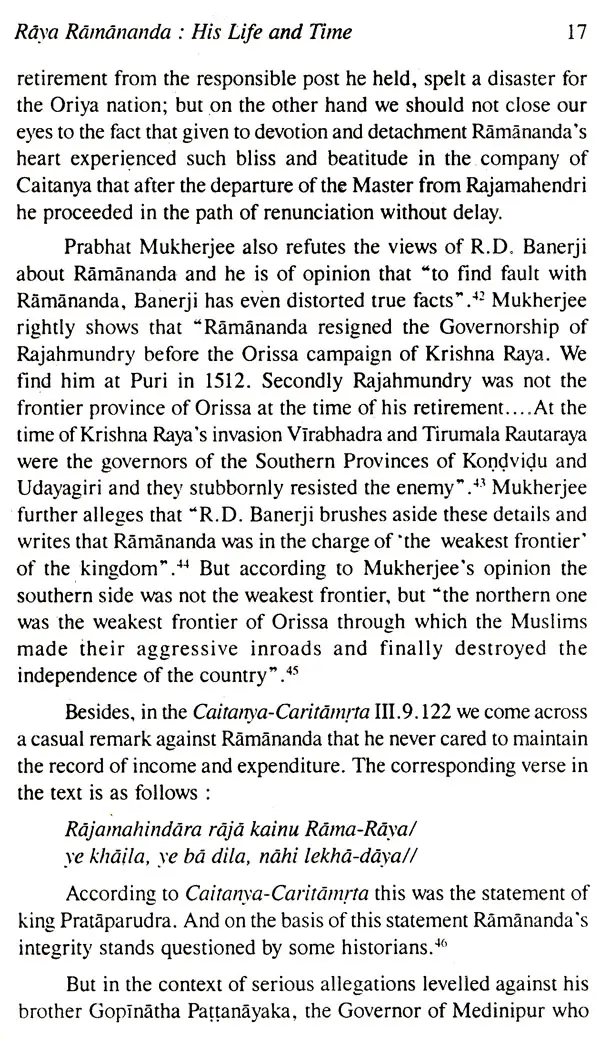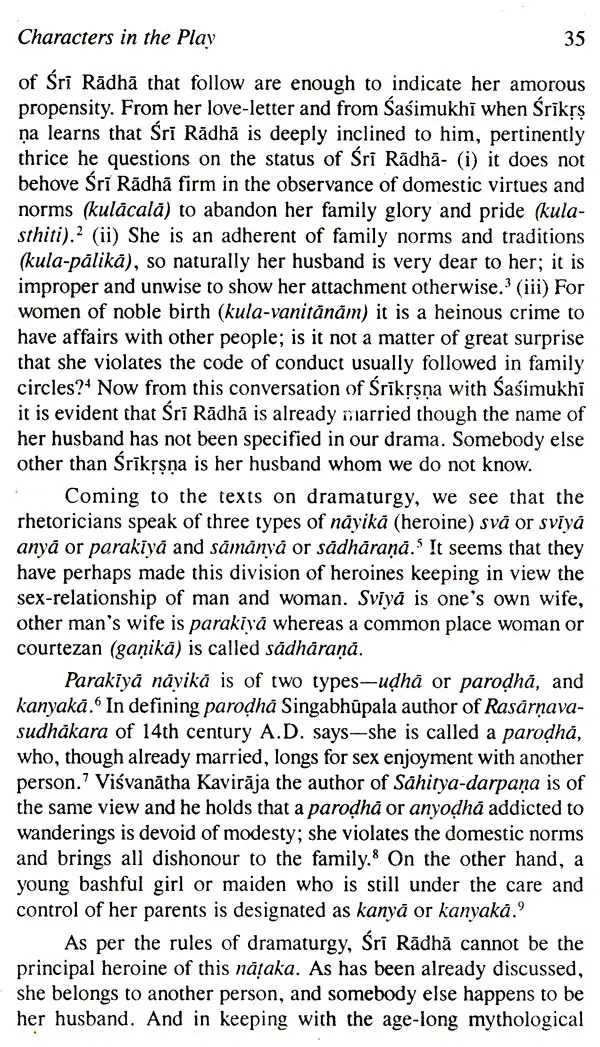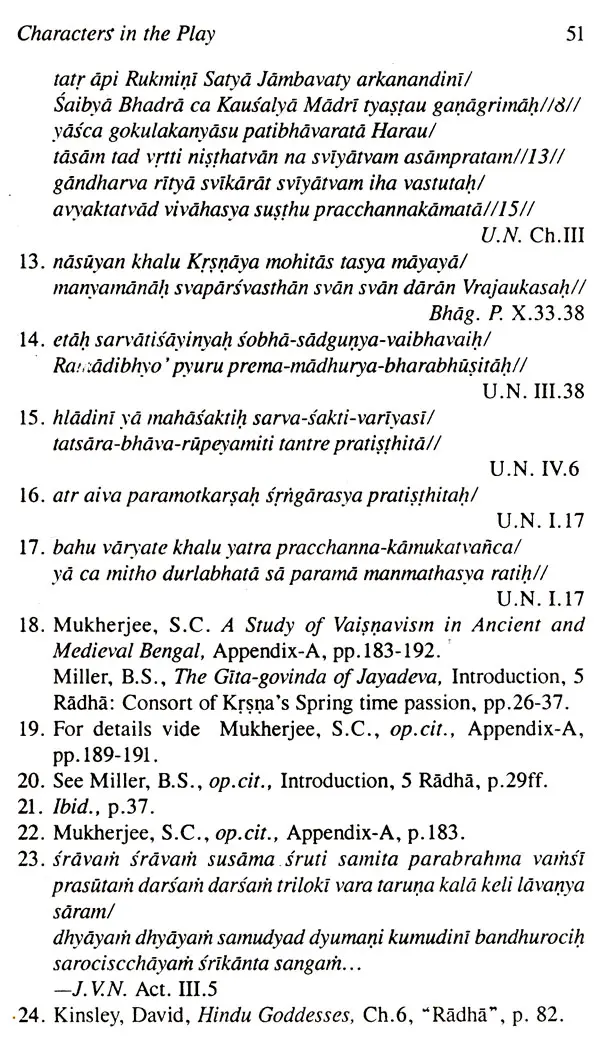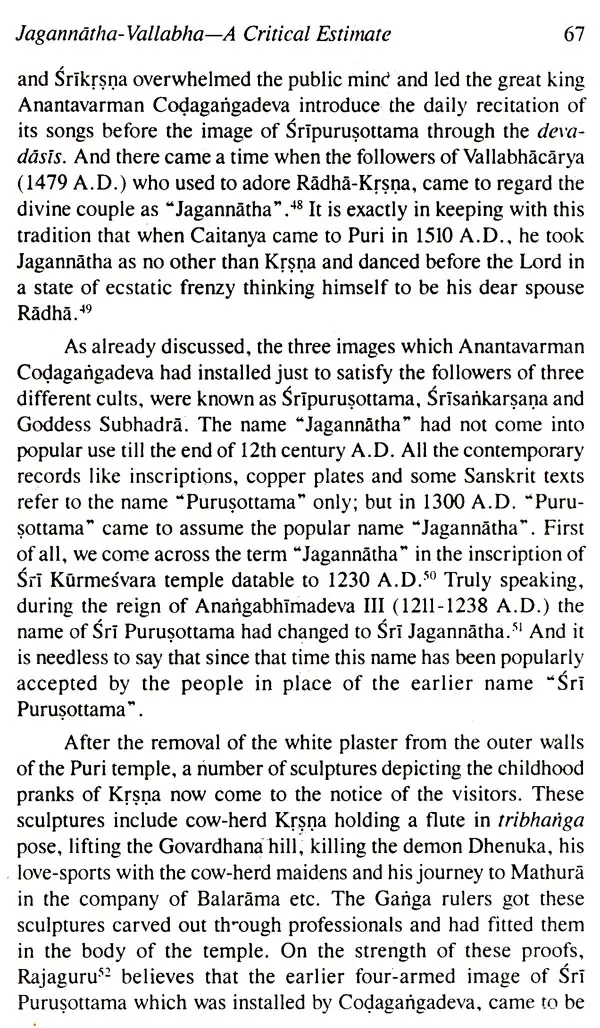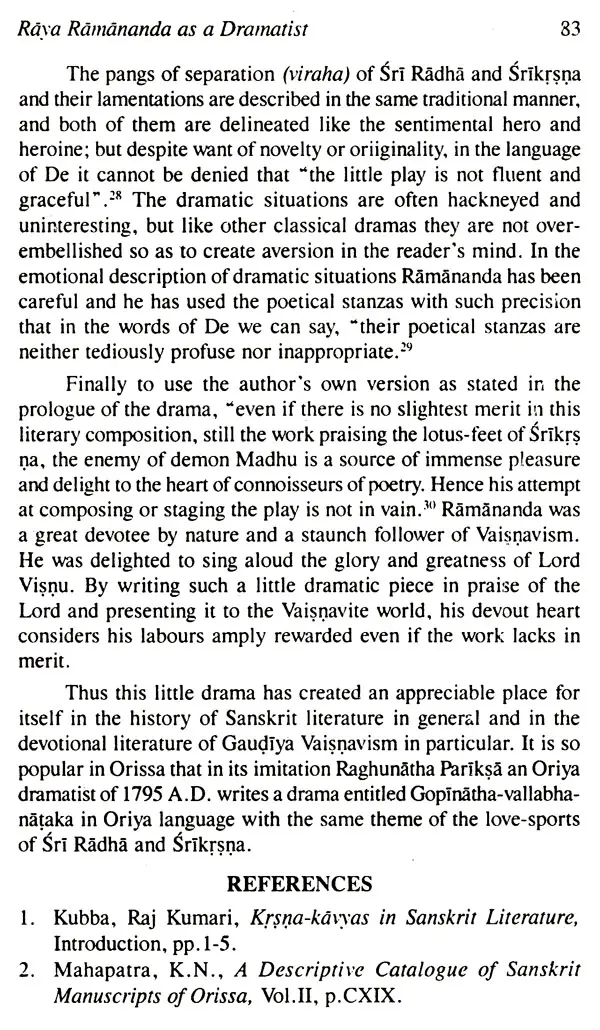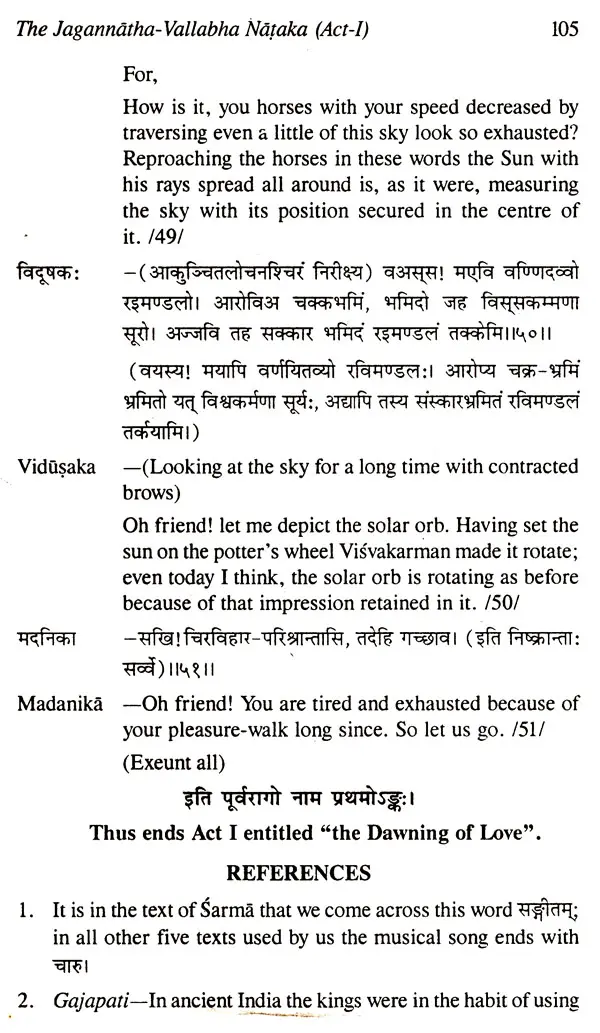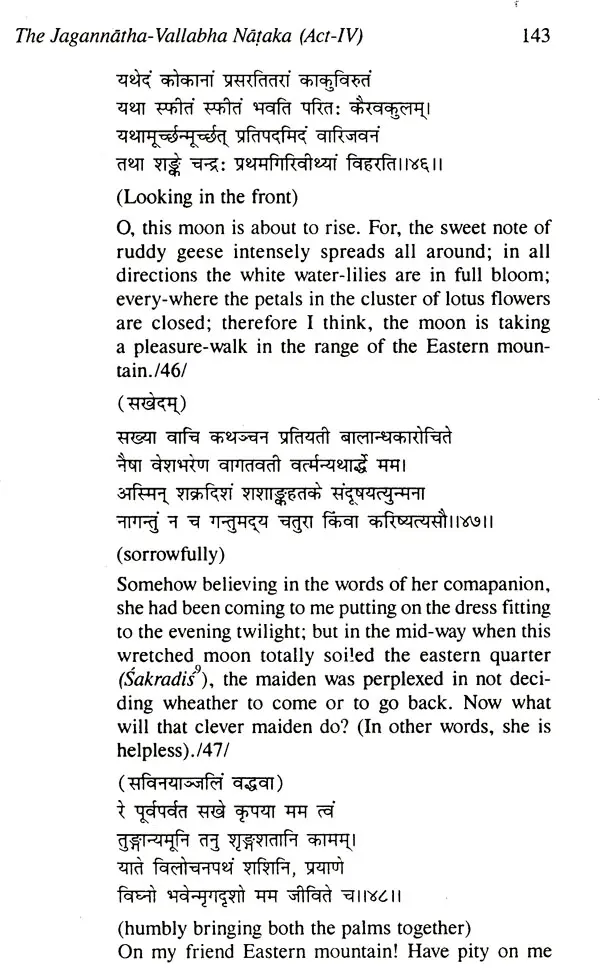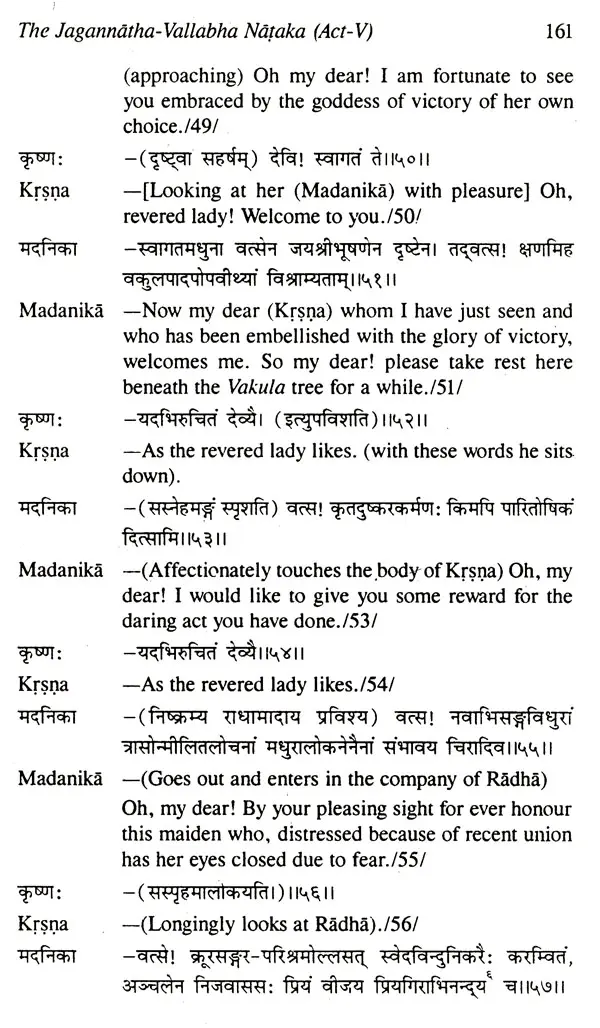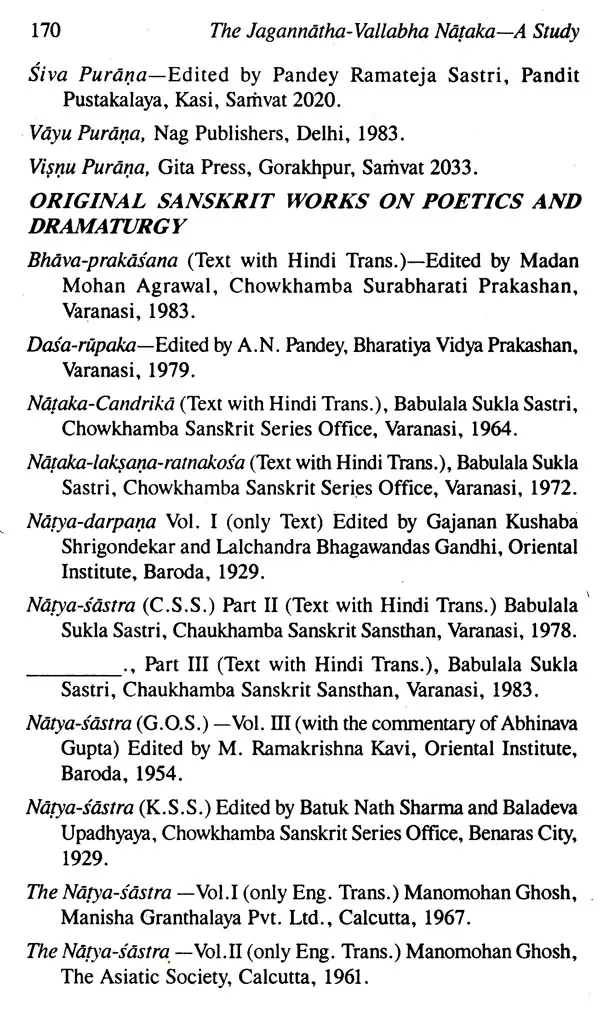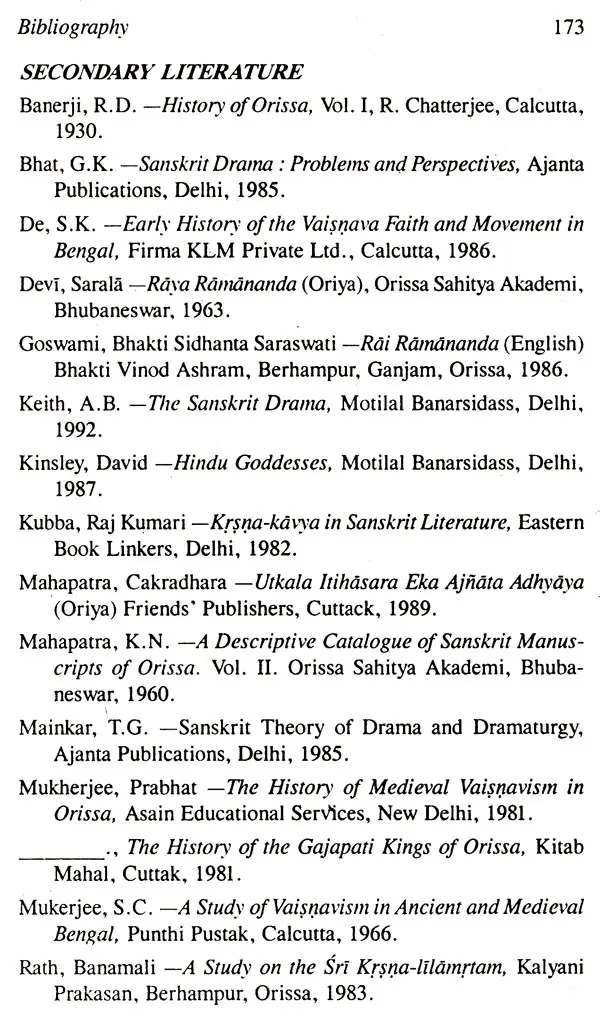 ---
We Also Recommend