Jayanta Mahapatra- A Reader
$4600

$46.00
Tax included.
Shipping
calculated at checkout.
---
---
Book Specification
| | |
| --- | --- |
| Item Code: | AZG181 |
| Author: | Durga Prasad Panda |
| Publisher: | SAHITYA AKADEMI, DELHI |
| Language: | ENGLISH |
| Edition: | 2018 |
| ISBN: | 9789387567665 |
| Pages: | 482 |
| Cover: | PAPERBACK |
| Other Details | 8.50x5.50 inch |
| Weight | 780 gm |
Book Description
About the Book
Jayanta Mahapatra: A Reader is a comprehensive volume that brings together carefully curated works of and on Mahapatra, one of the major voices among the Indian English poets. From his deft and lucid compositions that effortlessly take us from a melancholic world to that of passions to unquestionably brilliant reflections on his works, this book exposes the vastness of his imagination and creative genius. Apart from Mahapatra's indelible poems, this Reader is a rich and sophisticated tapestry of critical essays, interviews and poems from scholars like K. Satchidanandan, Keki N. Daruwalla, John Oliver Perry, P. P. Raveendran, R. Parthasarathy, Arvind Krishna Mehrotra and Madhu sudan Prasad, among others.
Jayanta Mahapatra (b. 1928) has earned a considerable reputation as a poet both in India and abroad for his powerful, haunting and visionary work. He has 42 books to his credit including Close the sky. Ten by Ten, Svayamvara and Other Poems, A Father's Hours, A Rain of Rites, Waiting. The False Start, Relationship, Dispossessed Nests, and Burden of Waves and Fruit: Poems. His works have been widely anthologized, and accounts on him and his poems have appeared in many reputed journals of the world. He has won many coveted awards including the Jacob Glastein Memorial Award, Padmashree Award and the Sahitya Akademi Award. He was the Indo-Soviet Exchange Writer in the USSR in 1985, and in 1986 a Resident Poet at the Rockefeller Cultural Foundation in Lake Como, Italy.
About the Author
Durga Prasad Panda (b. 1970) is a bilingual poet and critic whose works have appeared in reputed journals across the country and abroad. Publications apart, his honors include Indian Literature Translation Prize, Utkal Sahitya Samaj Youth Award and Kalinga Litfest Award, among others.
Introduction
With the formal assignment from the Sahitya Akademi to edit a Reader on Jayanta Mahapatra, I telephoned him to convey my happiness and to seek his blessings for the project. However, he appeared cool and somewhat unenthusiastic about the project, even as he was excited to talk to me after so many years. In a tired voice and with a tone of resignation he replied, "Durga, why waste your time and energy on a very old man like me! I am a spent force. These things have stopped exciting me anymore" Then he hung up. Later on he gave in to my persuasion and told me in clear terms, "Do it only if you are really interested and only if you really "'love' my poetry".
I have no qualms about admitting that I have learnt the fine art of writing poetry virtually holding his frail hands while treading on the mysterious path of words. 'JM' as we fondly call him has obviously been a firm support to many like me, unlike many high-browed ones of his Poetry.
There are obvious advantages of editing a comprehensive 'Reader' of a poet while the poet himself is very much alive and around (amen to that). Making the most of his availability and accessibility I persuaded him to write a small note, 'ON MYSELF' exclusively for this 'Reader' which he promptly obliged.
Coming from a gentle, suave, unassuming and somewhat shy and reclusive poet of his stature, this note was certainly a bonus. For many of us who have grown up reading Jayanta Mahapatra, it is heartening to know that Sahitya Akademi has come up with the idea to bring out a 'Reader' on him which seems long overdue.
**Contents and Sample Pages**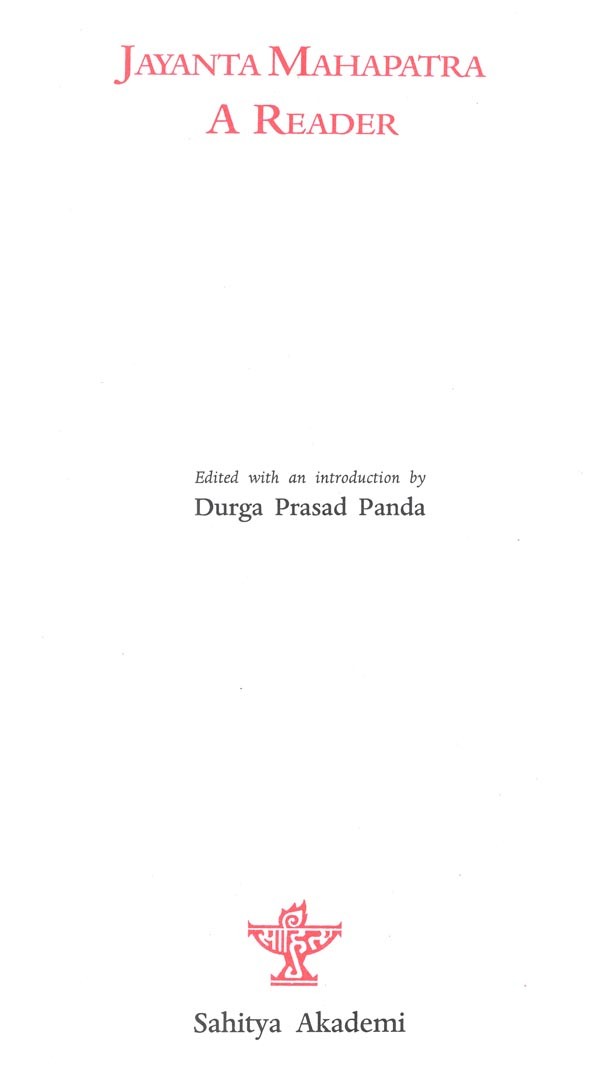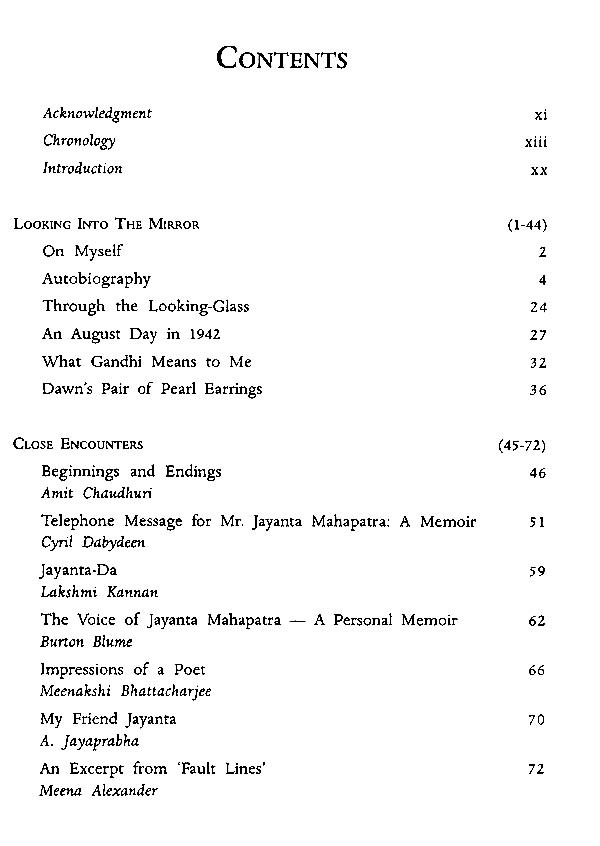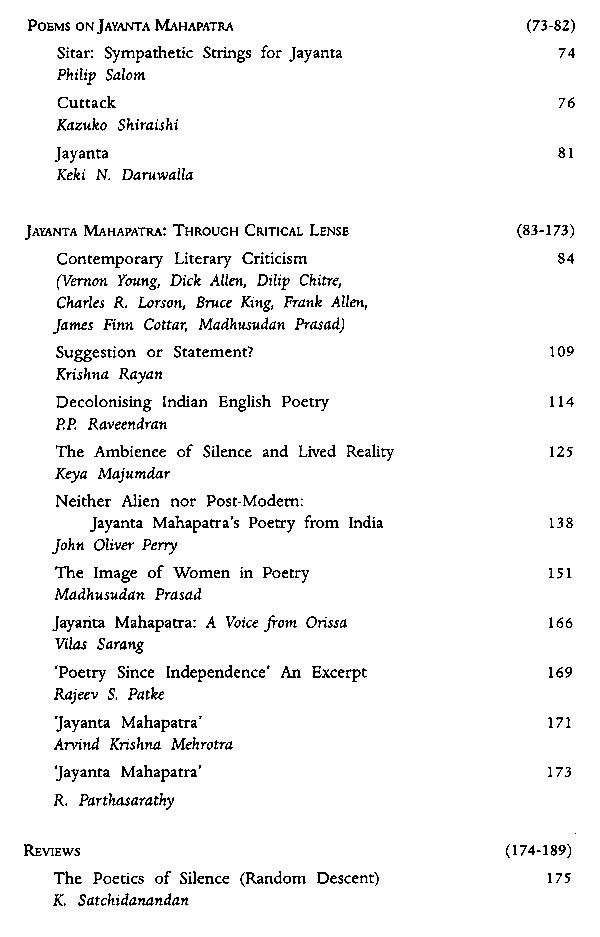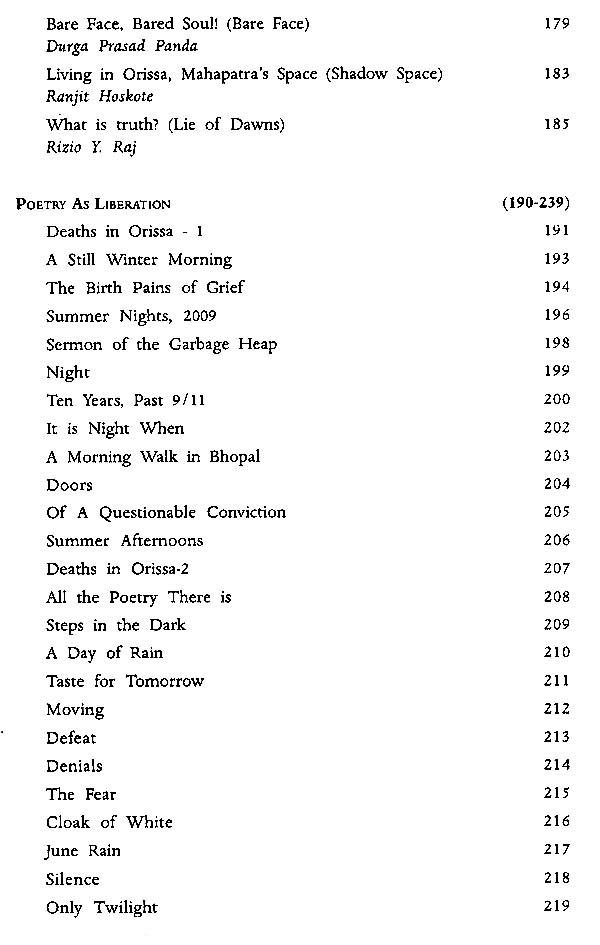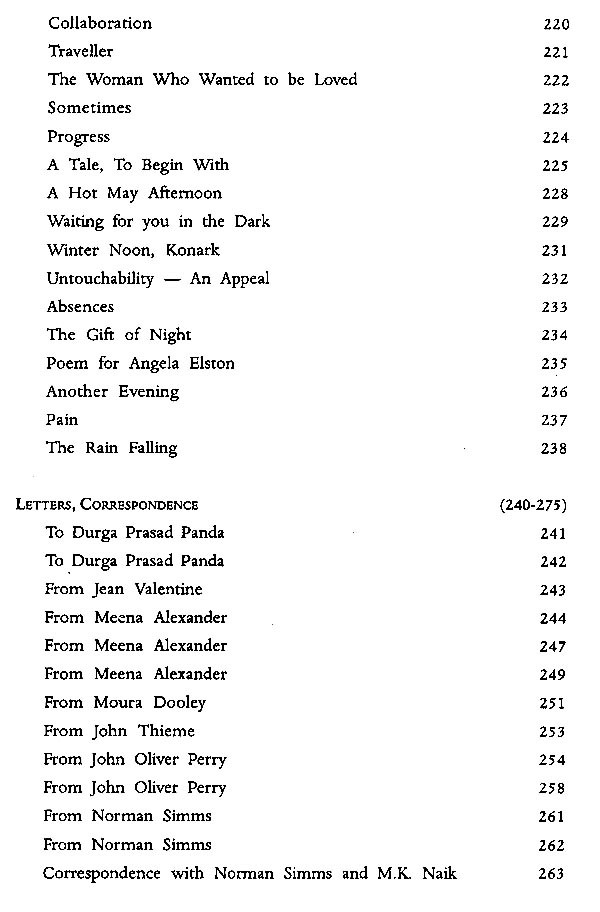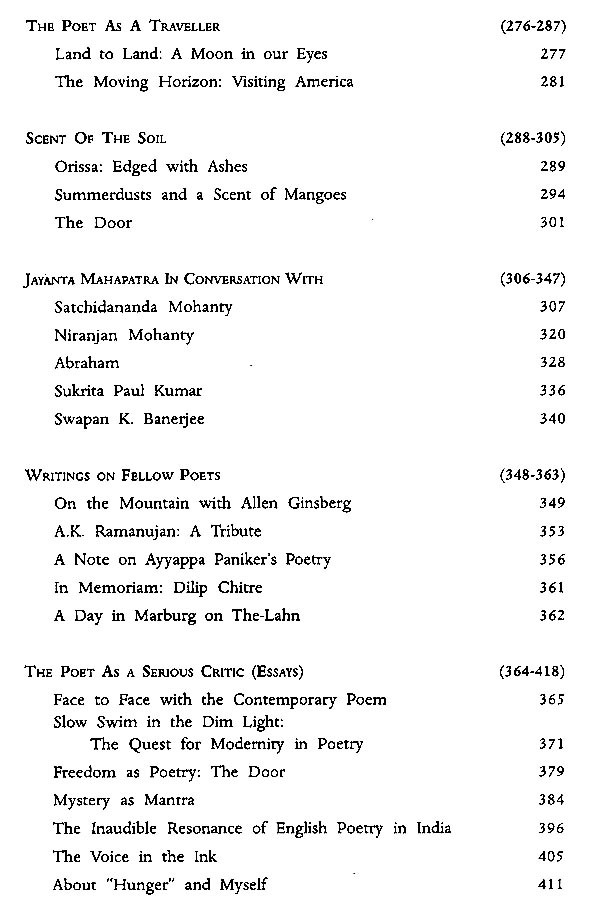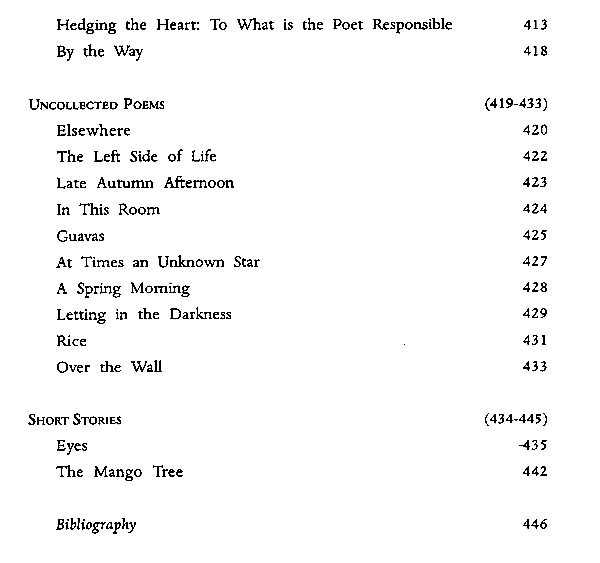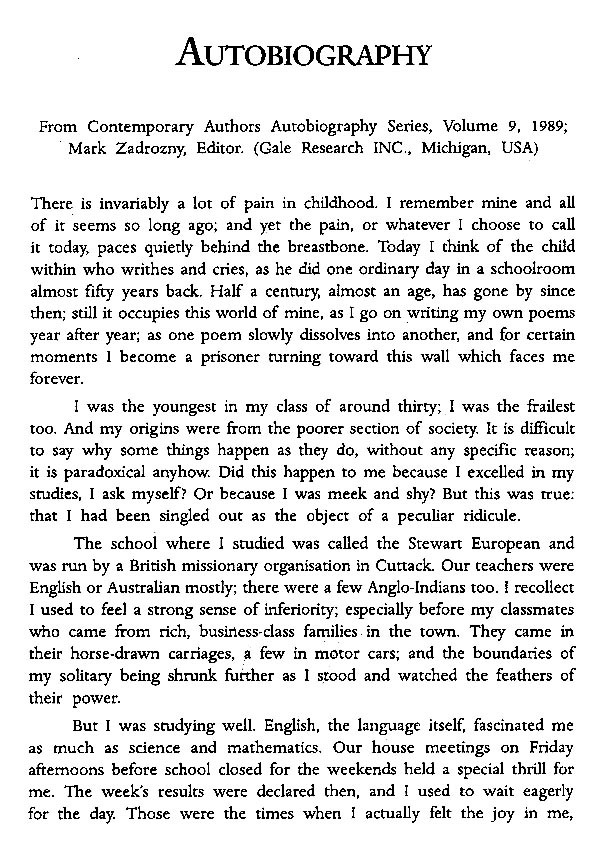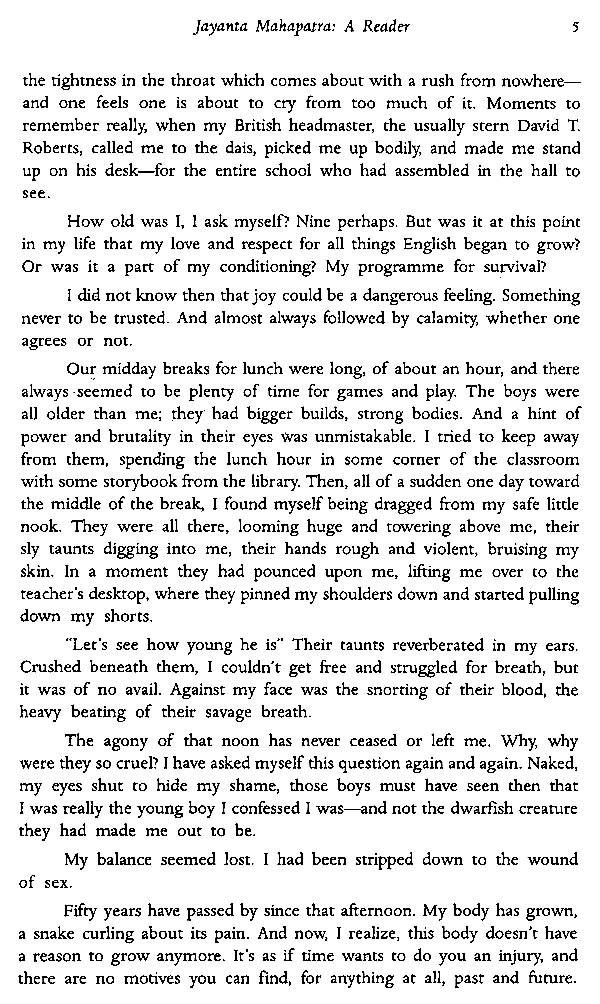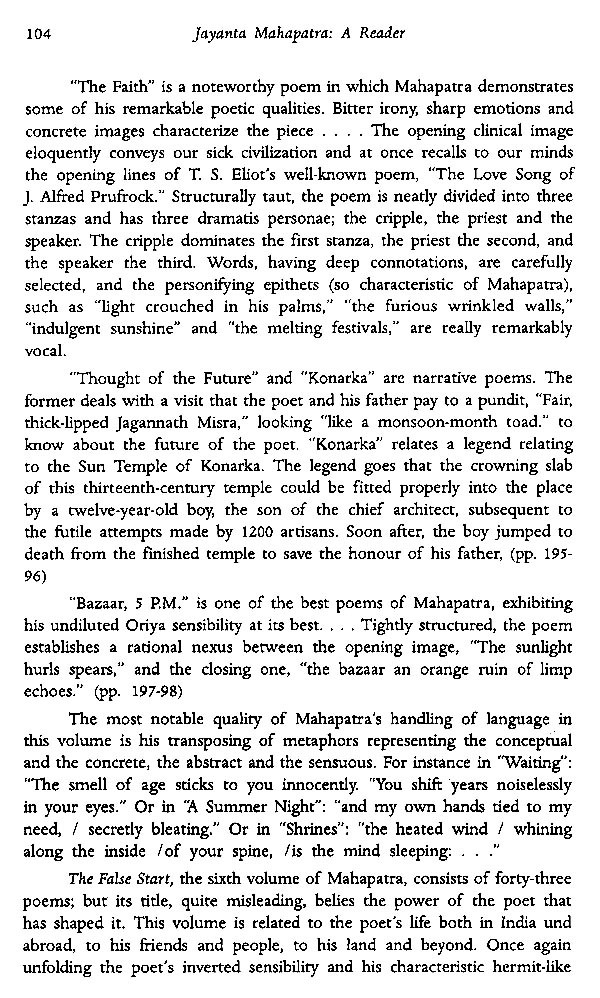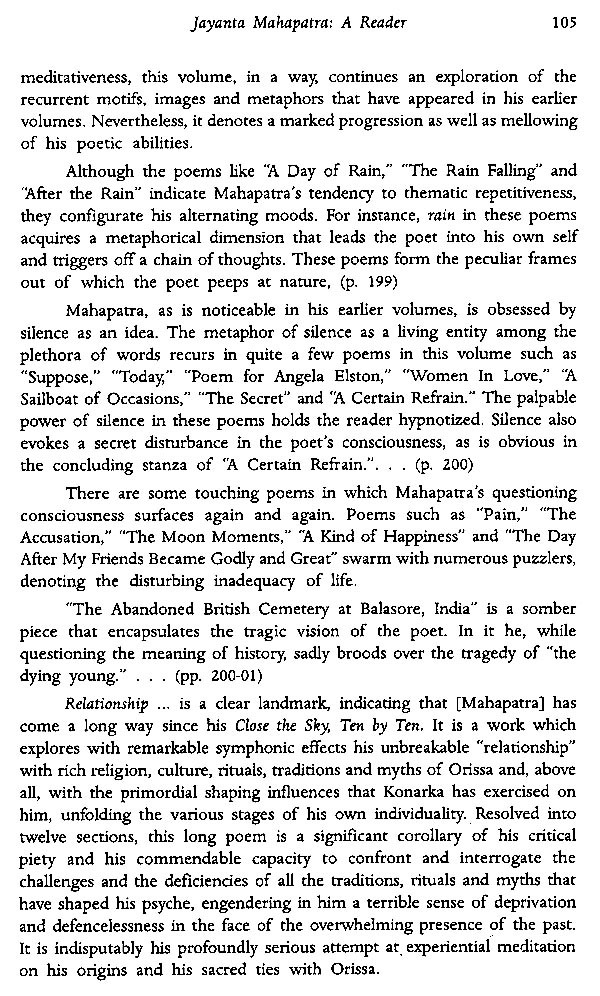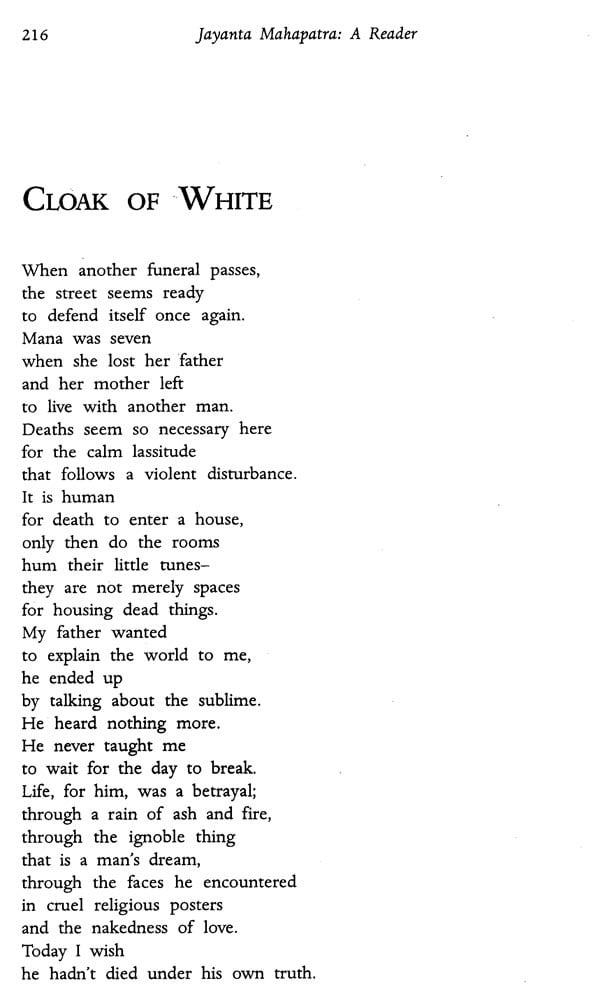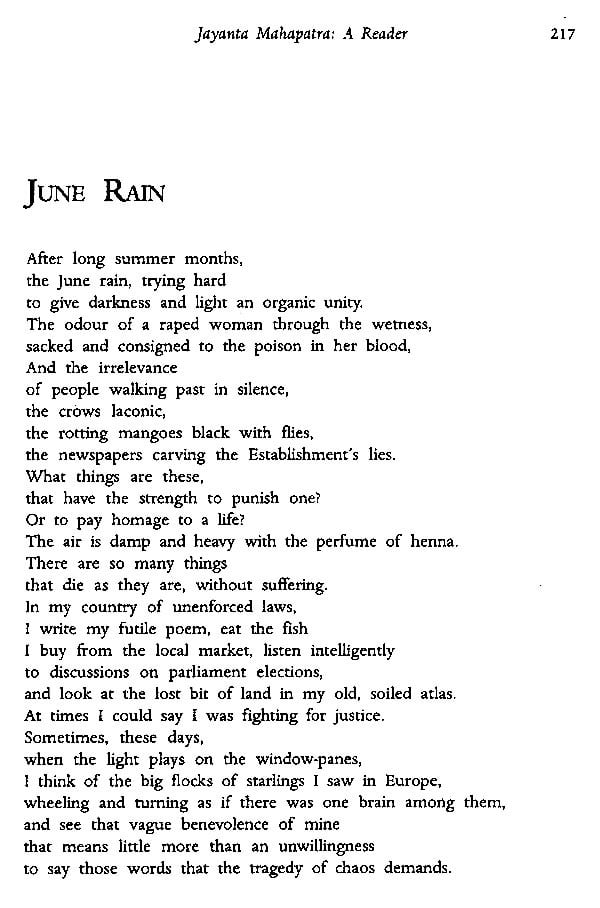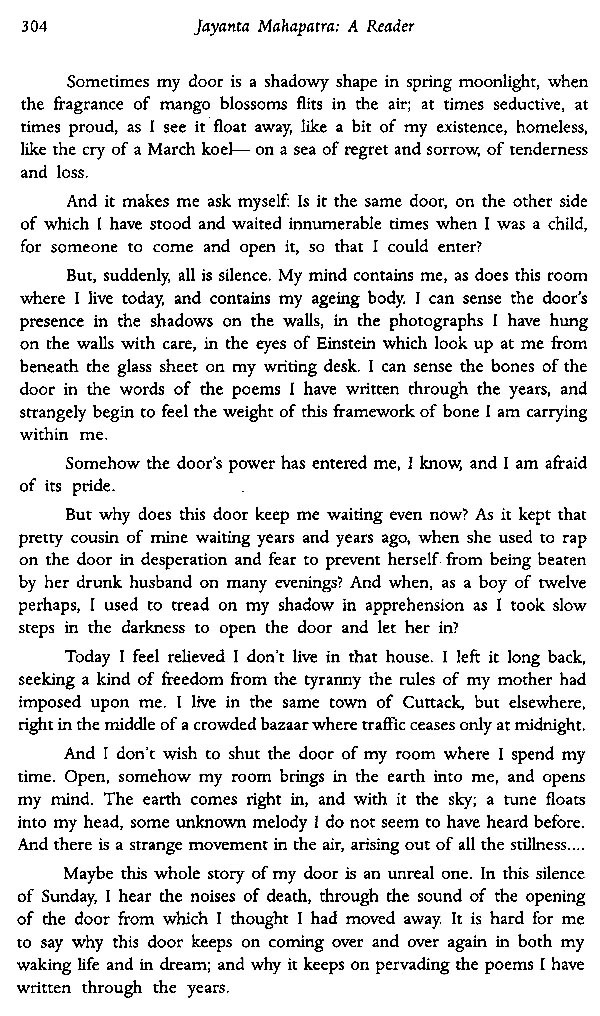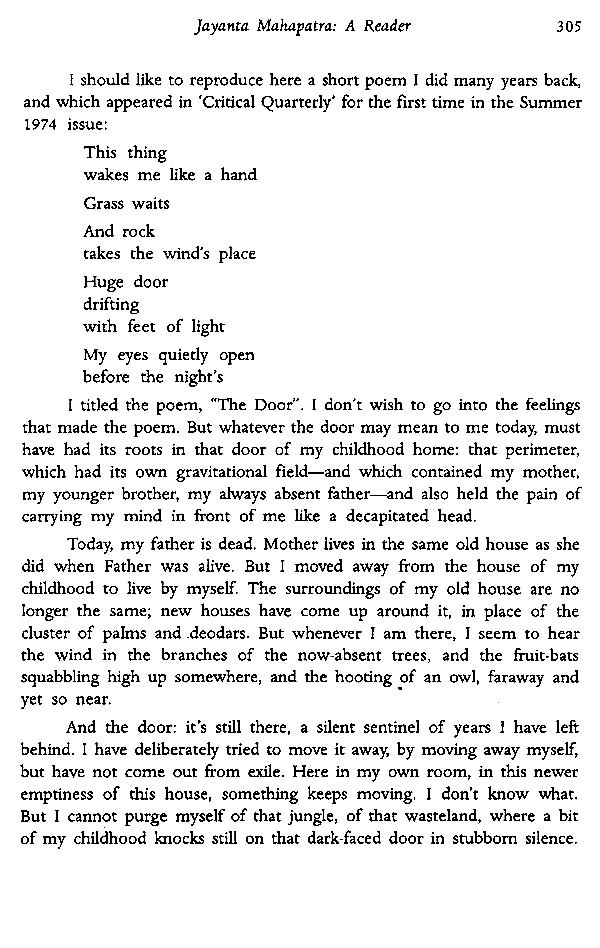 ---
We Also Recommend